Meridian G95 review
One box to rule them all? That's the G95's plan – it offers fabulous DVD and CD playback, bags of power and great style. But it also costs nigh-on four grand…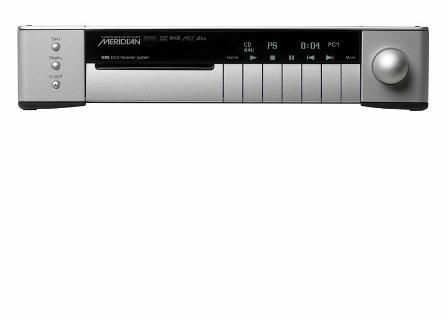 Choosing the right combination of hi-fi and home cinema kit from the hundreds of options out there can be a brain-melting experience. That's why so many buyers splash out on Bose and B&O kit – it's just so much less hassle and, in fairness, either brand's systems are pretty good to look at and listen to.
But for some, 'pretty good' doesn't quite cut it. If we were about to drop serious cash on something seriously sexy, we'd expect nothing less than cutting-edge tech and red-hot sound and vision peformance. Which is where the G95 comes in.
Plenty under the bonnet
The latest brainchild of Cambridgeshire-based AV supremos Meridian, it's essentially three devices in one: a fabulous DVD player, an awesome CD player, and a thunderously powerful home cinema receiver, complete with DAB and FM radio – and the whole shebang stands just 9cm high.
Traditionally, all-in-one systems have been more about style than substance, but not here. The G95 has bags of power – 500w in total – arrayed in five 100w channels of Class D digital muscle.
That gives it all the drive most rooms, speakers and eardrums could reasonably ask for. Yet, because the amps run cool and take up minimal space, the Meridian's chassis is no bigger than one of the company's acclaimed DVD players.
Film star
Speaking of which, the G95 also includes a slot-loading disc drive on its fascia, capable of playing DVD-Video, DVD-Audio, CD and more. Video output is via HDMI (of course), with full 1080p upscaling, while a useful smattering of component, S-Video and composite video ins mean you can connect other video sources to your G95 and upscale all of them to that same 1920×1080 resolution.
It's a shame it doesn't have additional HDMI ins though – you have to use a Meridian-built external HDMI switchbox, which costs extra. There's also no provision for a trick remote-compatible iPod dock, either, unlike Arcam's Movie Solo.
Picture perfect, sound stupendous
In action, the Meridian's picture performance is just fabulous. True, it's stuck with playing plain old DVDs, not Blu-ray or HD DVD, but you know what? It doesn't really matter. Not when pictures are this sharp, colourful and eye-poppingly real.
The Meridian handles motion with masterful control, snaps foreground details into focus unerringly, keeps background noise to the barest of minimums and generally looks rather lovely whatever you play.
And the sound is even better. True, the Meridian can't handle 7.1, but the five channels of muscle it does provide are forceful, authoritative and fabulously well-controlled, even at very silly volumes.
Switching to stereo CD replay – often a pitfall of systems of this type – is just as rewarding, the Meridian placing voices and instruments confidently on a believable and utterly coherent soundstage. You'd have to spend a lot of cash to get separates kit to deliver anything like this level of ability – and that's surely the G95's killer appeal.
Related reviews