Mazda MX-5 review
The world's best-selling two-seater roadster just got better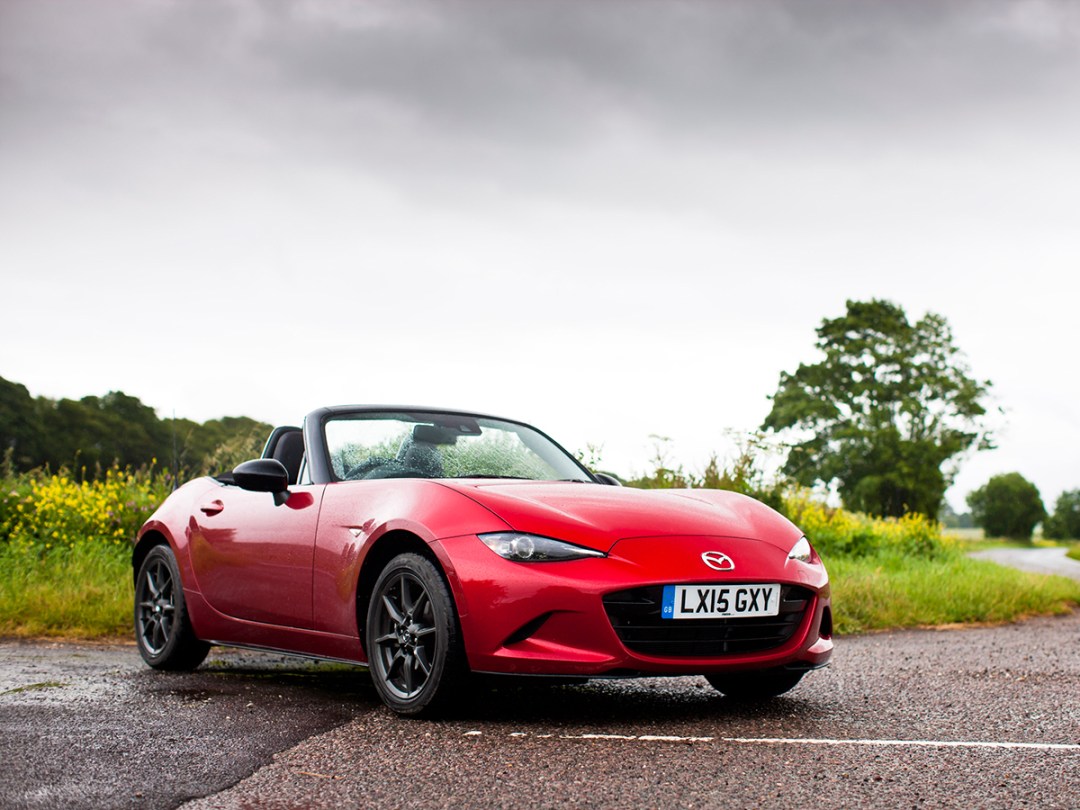 The Mazda MX-5 has been around for 25 years now. 25 years. Back then there was no iPhone, no PlayStation and Windows had only made it to 2.0. We're not sure what people did back then either.
Over the last two-and-a-half decades various new MX-5s have been launched, but the basic recipe has remained the same – two seats, fabric roof, no weight, little money, lots of fun.
And now we find ourselves in the presence of the new, fourth generation model. It's curvier and techier, but is it still as tasty?
Bucking the bloated trend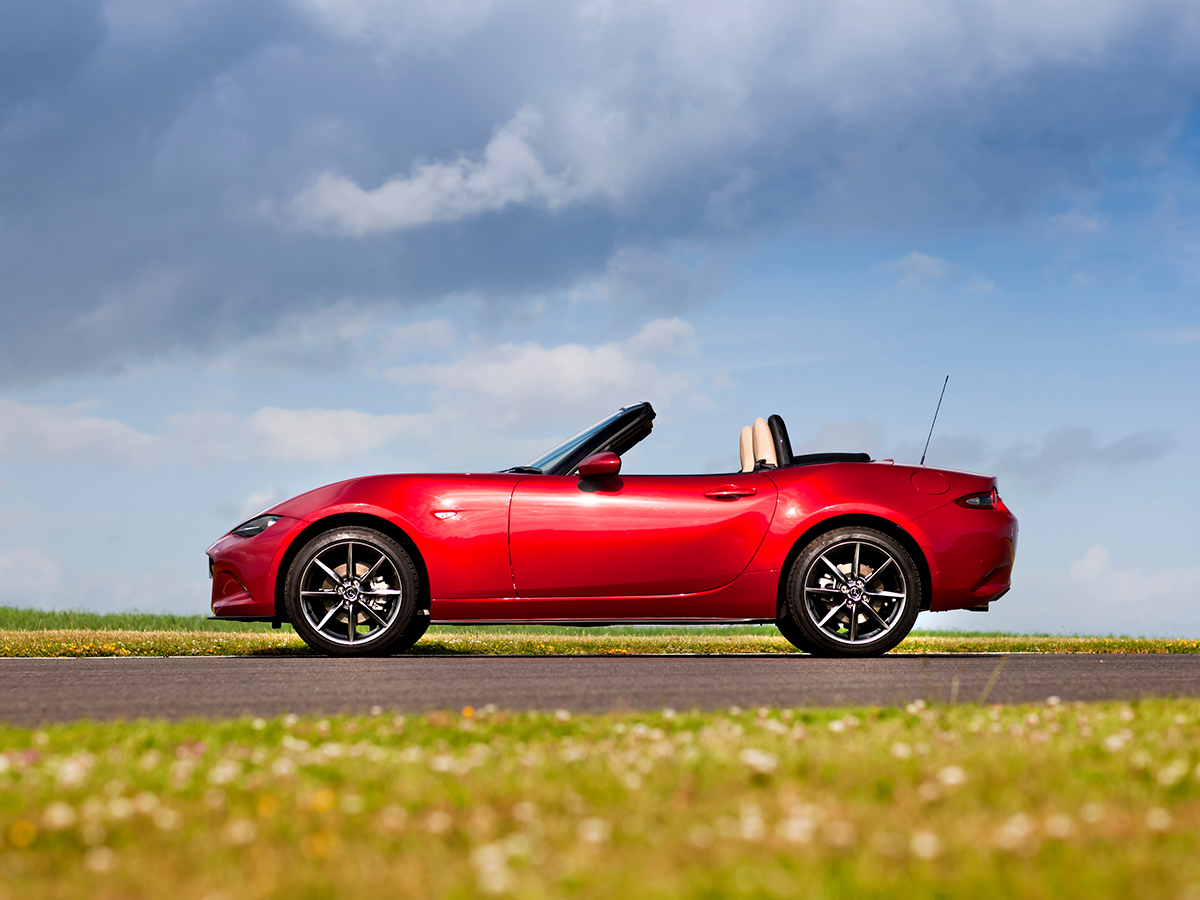 Perhaps the first thing to slap you in the chops when faced with the new MX-5 is just how teeny weeny it is.
Most modern cars have piled on the pounds as they reach old age. Just look at BMW's Mini, which now resembles a small bus, and Volkswagen's famous Golf, which struggles to fit in a supermarket parking space.
However, Mazda's latest MX-5 has the same footprint as the original model, which was launched way back when MC Hammer was flashing his gold pants, and has shed 100kg over its bulbous predecessor. In plain speak, it has returned to the lithe country road destroyer that it once was, which is fantastic news for anyone who likes to drive like their Calvins are on fire every now and then.
The staggering weight loss also means the range of small petrol engines have less mass to heft around, which greatly improves straight-line speed while reducing fuel consumption. A big bouncy burger bonus, whichever way you look at it.
It's all growed up inside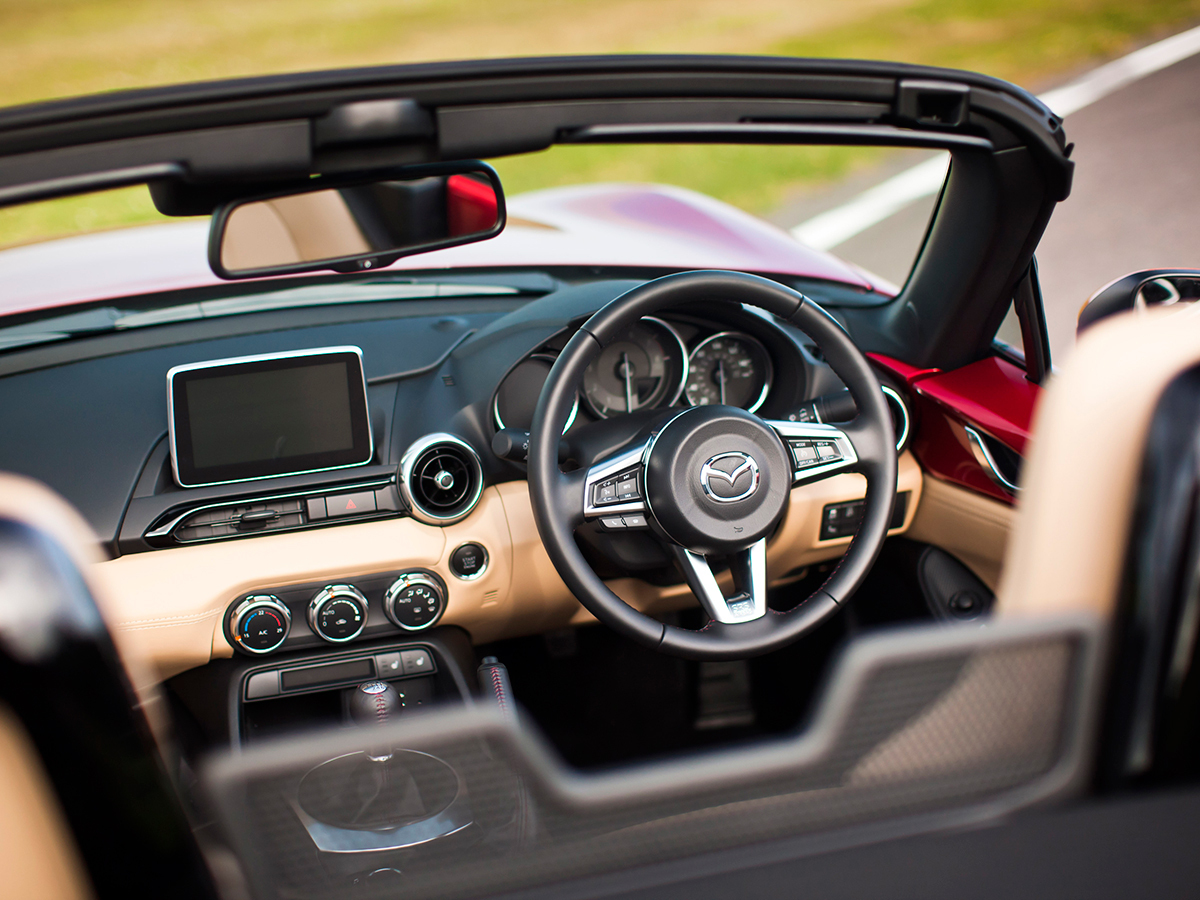 A £19k roadster is never going to compete with the sumptuous interiors of Audi, Mercedes and BMW but previous models have been scarily lacking basic creature comforts.
Not so with the latest model. In fact, even mid-range SE-L models get a swanky 7- inch touchscreen display with rotary dial controller as part of the new MZD- Connect system.
Part with a little more currency and you get navigation, dig deeper still and you'll be treated to a Bose sound system with neat speakers stowed in the headrests, so you can enjoy tunes even when the fabric top is dropped.
Mid-range models also get two USB inputs (handy for charging multiple devices) and voice-activated access to a number of apps on the move when a smartphone is tethered. Facebook and Twitter are part of the bundle, as well Aha and Stitcher for internet radio.
The infotainment system might not pack the same processing power as its German contemporaries but the simple layout provides everything a driver could possibly need without getting in the way of the driving.
Styled with speed in mind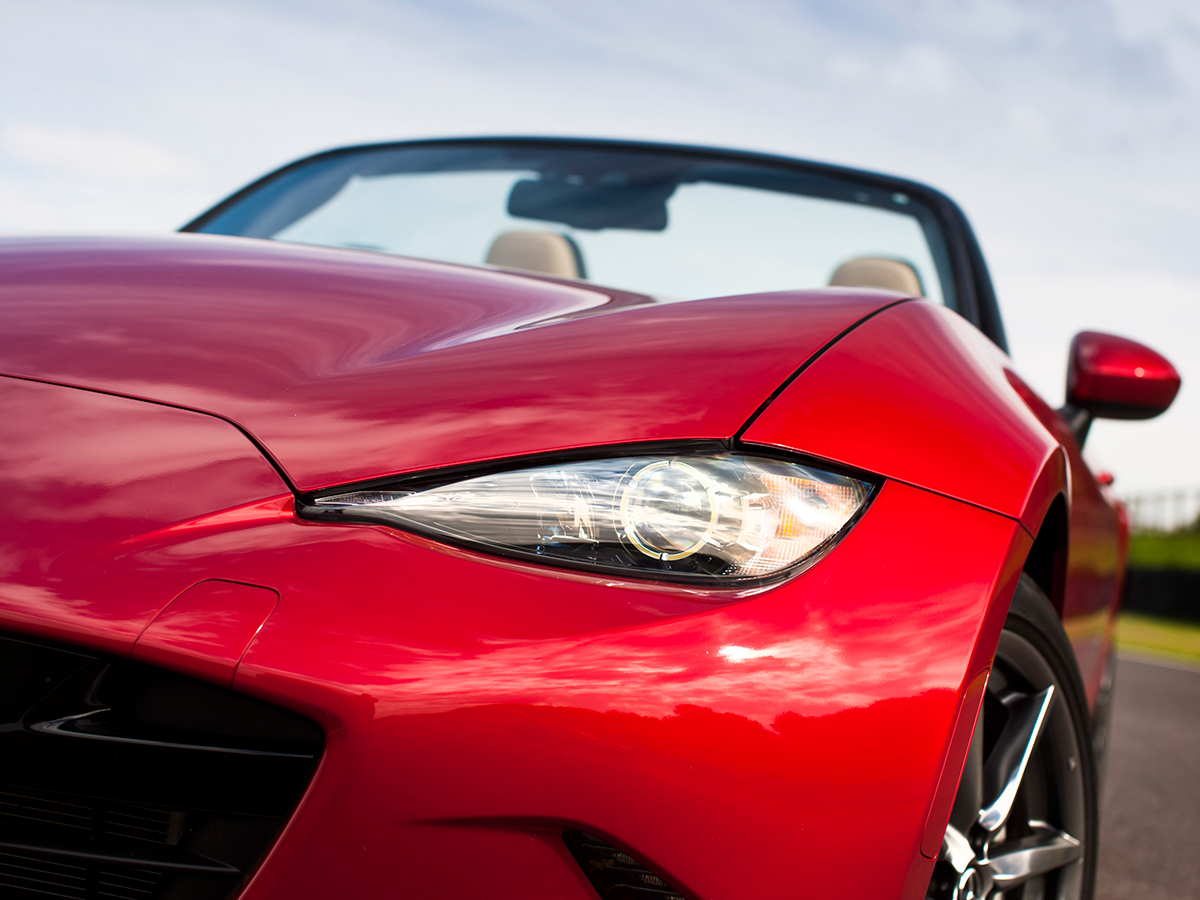 Previous MX-5 models have been accused of being a little soft – lacking the aggressive lines and purposeful stance of rival roadsters. The latest model has addressed this with a front end that looks like a big, metal shark.
In fact, if you stare at the fourth generation MX-5 for long enough, it starts to look like a miniature F-Type. Just don't tell Jaguar that.
Razor sharp LED headlamps and ultra-bright daytime running lights at the front send the package upmarket and a heightened version of Mazda's flowing Kodo design language at the flanks and rear ensure it swivels heads wherever it goes.
It's no Lamborghini, but it is impressively stylish for a car that costs about the same as a mid-sized family hatchback.
Punchy not powerful
Two four-cylinder petrol engines are available from launch: a 1.5-litre unit that develops 129bhp or a 2.0-litre version, which offers 158bhp. Naturally, it's worth plumping for the latter if you're considering regular track days but that doesn't mean the 1.5 isn't worth talking about.
In fact, on the twisting Scottish test route, the smaller engine actually proved more fun. It makes a cracking noise and it loves to be taken to the very top of its rev range, which just makes the soundtrack even better.
The Mazda MX-5 will never be described as blisteringly quick, especially with the current crop of hot hatches kicking out in excess of 300bhp, but it constantly involves the driver and never stops being fun.
Mazda engineers have tweaked everything, from the suspension set-up to the slick-shifting six-speed gearbox, to supply constant feedback to the driver and make him or her feel like an F1 driver on a daily basis.
Tackle a corner at 50mph and it feels like twice the speed, such is the level of grip and feedback from the well-sorted machine.
Even a trip to the supermarket can be a barrel of laughs, but if you don't fancy driving like a lunatic, it will settle down and cruise the motorways with only a touch of wind noise entering the cabin via the manually retractable fabric roof.
Pack lightly humble helmsman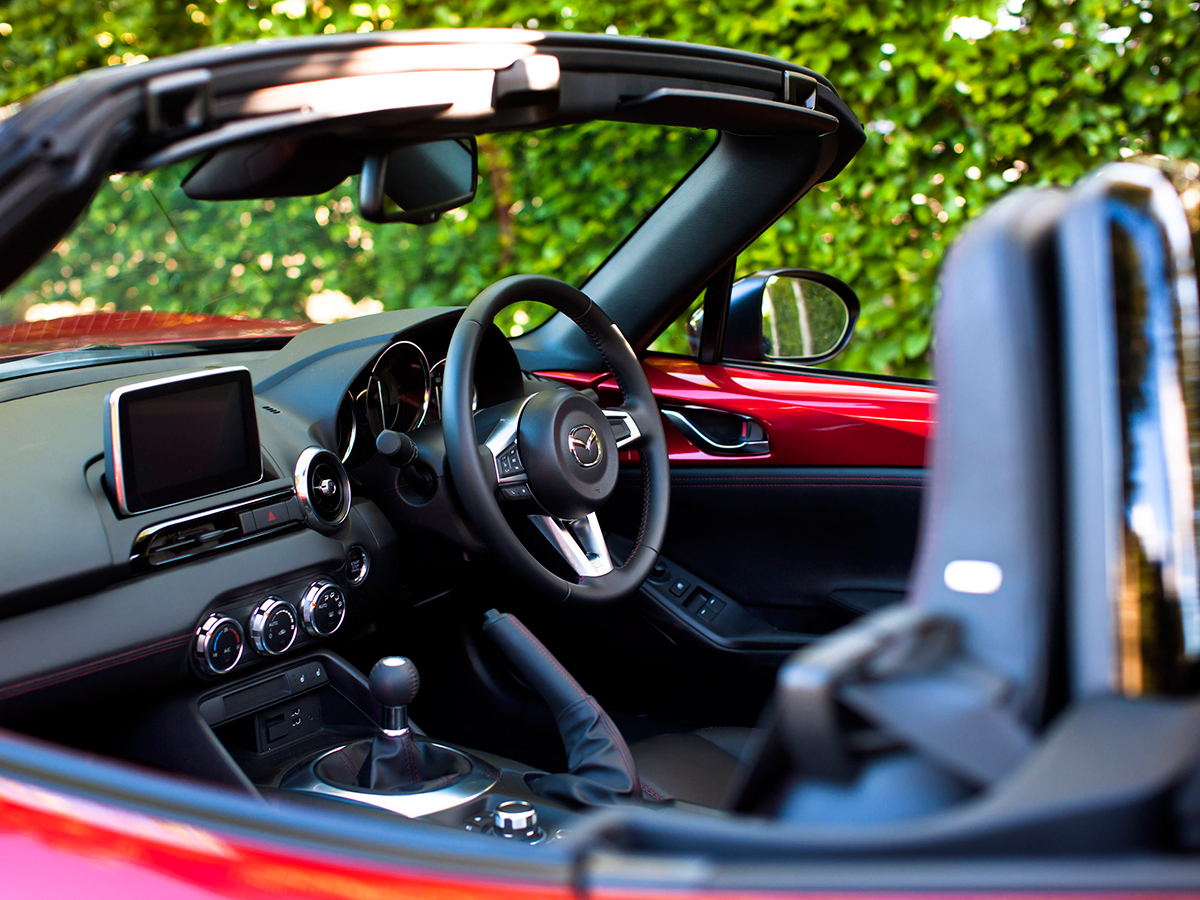 I've said it before but I'll say it again: this is a car for those who like to drive rather than waft to a destination, so that means storage space isn't exactly generous.
The boot can fit a couple of weekend bags at a push and the cabin lacks cubbyholes for snacks and drinks. A pair of removable cup holders prove handy, as they can be stashed near the driver's elbow or down by the passenger's knee, but there's a distinct lack of glove box.
A central cubbyhole just about houses the car's user manual and there's a small space in the dashboard for one smartphone, but you'll have to duke it out for space if both occupant's mobile devices decide to die at the same time.
You've been warned: a pair of pants will have to last the entire weekend and the toothbrush might have to reside in your back pocket but you'll be having too much fun to care.
Mazda MX-5 Verdict
The original Mazda MX-5 took the world by storm when it was first launched. It was cheap, reliable and brilliant fun to drive. 25 years later, that's still the case – this is another belter with the same endearing qualities.
It's got sharp styling, the latest interior tech and more powerful and efficient engines, but it hasn't lost the sense of fun and connection with the road that cars costing twice the price still fail to find.
Granted, it's not particularly practical, but there are very few machines on the market that can raise smiles quite like this, especially when you consider £18,495 buys access to the MX-5 club.
Do yourself a favour, ditch the excessively powerful hot hatches and overly styled German roadsters and opt for the cheap as chips Mazda. It's the most fun you'll have this side of £30,000.
Tech specs
| | |
| --- | --- |
| Model | Mazda MX-5 1.5-litre SE-L Nav |
| Price | £19,845 |
| Engine | 1496cc, 4-cylinder petrol |
| Power | 129bhp/150Nm torque |
| 0-62mph | 8.3 seconds |
| Top speed | 127mph |
| Fuel economy | 47.1mpg |
| Emissions | 139g/km CO2 |
Stuff Says…
Good news! The MX-5 is still small, light, reliable, cheap and ridiculously good fun to drive but now it looks fantastic and boasts the latest interior tech.
Good Stuff
Excellent value for money
Stupidly fun to drive
Latest infotainment tech
Bad Stuff
Basic interior
Not a lot of boot space
Lacks face-melting power