Logitech Driving Force EX review
Logitech have become the name to watch in game steering wheels - but can this cut-price model live up to its predecessors?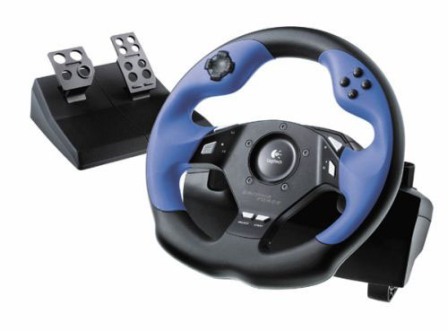 For years, gaming steering wheels were usually made by fly-by-night companies who produced low-quality dreck that went wonky after a few goes.
Then Logitech came along. The first company to really get a handle on analogue steering in game wheels, they attained cult status with the Driving Force Pro, the official wheel for racing blockbuster Gran Turismo 4. This is the follow-up, which adds PS3 compatibility into the mix via the PS2/3 adaptor – and fortunately it's a chip off the old block.
Smooth operator
Steering is almost unimaginably smooth – wrestle with the wheel to really cut into a bend, though, and the Logitech really comes into its own.
The force feedback in the Driving Force EX genuinely feels like it has a life of its own. While it can't do the 900 degree wrestles of the £90 Driving Force Pro, it kicks back convincingly with any game that's Logitech force-feedback compatible. Which is most racing games.
As ever with steering wheels, there's the odd game that doesn't respond – in some racers it's easier to use X and Square on the wheel here rather than the analogue pedals for acceleration – but racers such as Gran Turismo, TOCA and Colin McRae turn in belting performances. While it's not quite as good as the Driving Force Pro, this is still pretty darn good and has a more realistic price for most armchair racers.