LG G3 review
How do you follow the 2013 Smartphone of the Year? By keeping everything that made it so special and adding a whole lot more, of course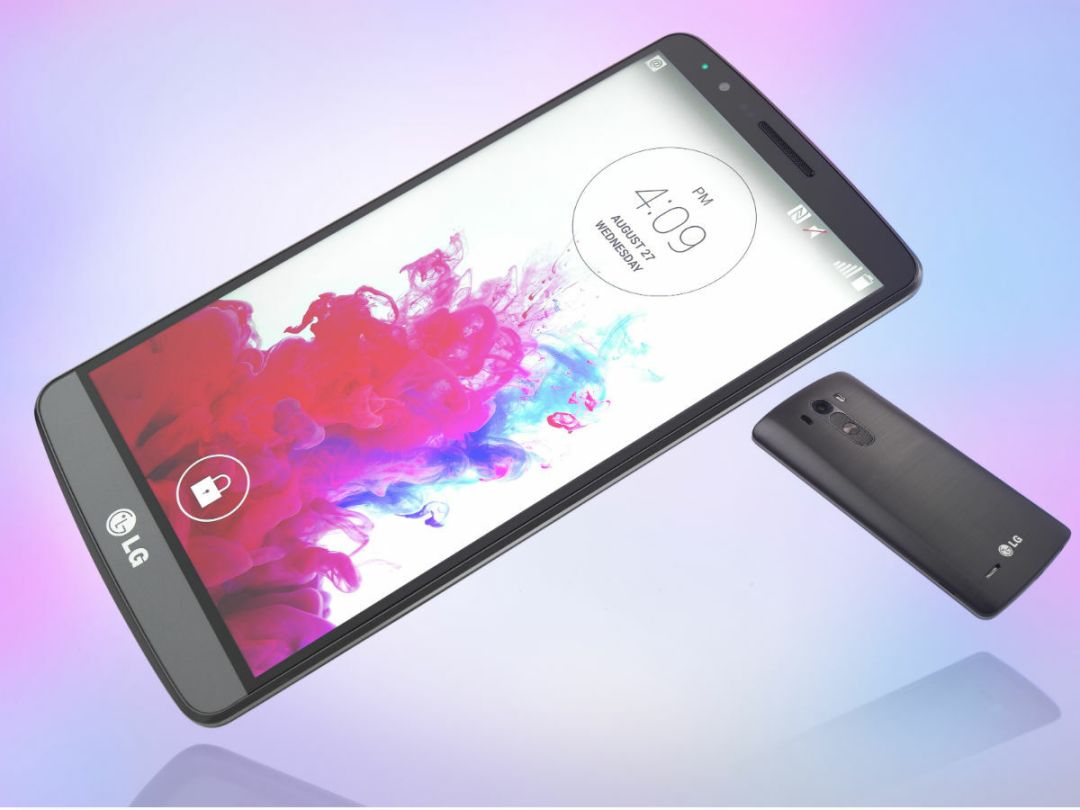 The LG G2 took us by surprise: not even future-gazing Stuff staffers predicted its 2013 reign over our Smartphones Top 10 and its Gadget of the Year win.
But eight months older and wiser we can't possibly be surprised by its successor the G3. After all, we're ready for it now; expecting great things from it, even. Plus, with phones of the calibre of the HTC One (M8) and Samsung Galaxy S5 already on the shelves, it faces tougher competition than last year's model.
That's the theory at least – but it's all rubbish. Because somehow, the G3 has surprised us once again. It's surprised us with its pixel-crazy 2K screen, with its bezel-less design, with its lovely metal-that's-really-plastic build. And most of all, it's surprised us with just how much of an improvement over the G2 it is.
NB The handset tested here is a Korean model, rather than the version that will be available soon in the UK. We'll be testing the UK model just as soon as we can and will update this review with our findings accordingly.
Sophie Charara and Esat Dedezade contributed to this review.
READ MORE: LG G2 vs G3: 10 reasons to upgrade
Build: plastic but fantastic
The G3 is one hell of a big phone, but you'd never guess just from holding it. It has a 5.5in screen – up from 5.2in on the G2 – which puts it firmly into phablet territory, but it somehow fits that display into a smartphone-sized body.
How does it do this? By all-but doing away with the bezels. The G2 was already pretty good in this regard, but the G3 takes it to a new level; from the front, it's almost all glass.
It's also surprisingly easy to hold and use despite that big screen. That's thanks to the noticeable curve round the back, which makes it easier to grip and fools your hand into thinking that it's smaller than it is. You won't need to stretch your fingers in order to reach the top of the screen.
Speaking of the back, it's a mostly plastic affair but again you might well be fooled into thinking otherwise. Though the G3's body is technically 80% polycarbonate, the 20% of metal mixed in with it gives it a premium look, even if it can't quite match the HTC One (M8)'s premium feel. We'd certainly choose it over the Galaxy S5's plaster-like back, and while the Sony Xperia Z2's slab-of-glass design might be prettier, you'd rather have this in your hands (or pockets) than Sony's hefty handset.
The G3 is also considerably lighter than both the M8 and Z2 – and unlike either of those phones has a removable rear cover too. That allows for a battery swap-out, should you need one, and also gives you access to the microSD slot, which would otherwise have to sit on the G3's pristine sides. Plus, it makes wireless charging possible, if you team it with a suitable charger.
If you do juice it up via the traditional microUSB port, you'll notice that there's no pesky removable plastic cover; of course that also means that it's not waterproof in the way that the Sony and Samsung phones are, which has to earn it a tick in the minus column.
Loved the rear buttons on the G2? You'll adore the G3's improved versions. Where the power and volume controls on the G2 were somewhat unsightly, they now have a nice textured finish and a sophisticated design, which makes them both easier to locate and to work out which is which.
G2 upgraders will adapt to the G3's new design like a fish to water, but that's not to say first-time users will be baffled by the rear placement. Sure, you might struggle to find them the first few times but in our experience new users get about a 90% hit rate within seconds of picking the phone up. Using your index finger, to be honest, will soon feel more natural and less strenuous than stretching your thumbs to the sides of the Galaxy S5, One (M8) or Xperia Z2.
Display: pixel assault
This is where the G3 really shines – that amazingly sharp 2K display. It's bigger and sharper than those on any of its rivals, while fitting in a similar size body. Pretty cool, huh? With 2560 x 1440 pixels adorning its IPS+ panel, your peepers are going to get one heck of a treat. In terms of pixel density it equates to 534ppi – higher than any phone we've yet seen.
So how much difference does it make in real life? A fair bit, actually. While its true value is felt only when you press your nose against the screen, or have the right 2K content, even the naked eye can spot how fine the edges of app icons are on the G3 when compared to those on the Samsung Galaxy S5, HTC One (M8) and the Sony Xperia Z2.
It also means that it'll look just as good when viewed from further away, and bear in mind that if LG had stuck with a 1080p display on a screen of this size, it would lack sharpness compared to its slightly smaller rivals.
We placed the G3 side-by-side with the Galaxy S5, without revealing the resolution of the two devices to anyone. Nearly 100% of the people we asked spotted the difference in screen quality almost immediately, pointing out the sharpness of the G3's display.
As far as the colour palette goes, the G3 aims for the natural look. It's noticeably cooler than the Galaxy S5's warm AMOLED display, and not quite as punchy either. Grass looks like real grass, for instance, rather than some ultra-green alien variety.
The One (M8) and Xperia Z2 fall somewhere between the two extremes, and which you prefer will depend to a large extent on, erm, which you prefer. The G3 would be our pick for films, on account of the more realistic hues – particularly when it comes to skintones – but for games and web browsing the S5 will look more vibrant. The G3's also slightly lacking in the contrast department, and doesn't have the deep black tones that you'll get from the One (M8).
Outside, it's a decent performer. Its auto-brightness adapted swiftly, beaming crystal-sharp images, videos and text to our pupils. But it definitely doesn't go as bright as the S5: a good thing in terms of battery life, less so if you're viewing it in bright sunshine. Plus, the default video player automatically dims videos to a lower brightness level – so you'll want to use an alternative such as VLC.
READ MORE: LG G3 vs HTC One (M8): the weigh-in
Camera: laser-sharp focus
You probably already read about the laser-focus camera, but let's just make it clear: it's a work of genius.
The laser enables the G3 to focus more swiftly than any of rivals and also means that you can take a series of photos simply by tapping the screen repeatedly. That's right – no need to do one tap to focus/refocus and another to actually take the photo: just let the laser do the work, tap and you're done.
Admittedly, the Galaxy S5 comes close in terms of autofocus and speed, and the One (M8) and Xperia Z2 aren't that far behind either. We're talking milliseconds either way – but that can make the difference between a crisp shot and a blurry mess on occasion.
As far as the 13MP photos themselves go, expect minimal noise, sharp details and well-balanced colours. And this isn't just the work of the 2K screen. We used a 13in MacBook Pro (non-Retina Display, by the way) to view photos taken on the G3, S5, M8 and Z2 on, and the G3's shots were both less blurry and less noisey.
If daylight shots are great, the G3 is similarly fantastic in low light. That's partly down to the laser – which grabs focus more accurately in murky conditions than a conventional autofocus – but also down to impressively noise-free shots. Plus, with the dual-LED flash deployed, human subjects look less washed out, though there is still a tinge of overexposure when the flash tries to compensate for less well-lit environments. The M8 beats it when there's almost no light, but in most conditions the G3 fares very well.
Like the G2, the G3 is armed with optical image stabilisation. Sharper images are a given, since it'll combat any blurriness induced by shaky hands; we found it particularly useful when we were trying to balance the phone while attempting to take a macro shot. But like its earlier phablet cousin the LG G Pro 2, the G3 is armed with OIS+ rather than the standard OIS. This uses software tricks to further ramp up the stabilisation effect, and it appears to work very well.
OIS+ also serves another purpose – namely enhancing the after-image focusing option, or Magic Focus in LG's lingo. It's a feature that's also found on the One (M8), but where that phone has a dedicated second lens for that purpose, the G3 instead takes multiple images at different focal lengths with the one lens. The results aren't quite as impressive as those from the M8, but in some situations it works quite nicely, enabling you to change the focus of a picture after you've taken it.
All that jazz with the different shooting modes? Gone with the wind. Compared to the G2, the camera interface is a simple affair, with only four main modes – dual, panorama, magic focus and auto. It's beautifully clean and basic.
Of course if you do want more control, you can have it. And when you do dabble with its settings, there's a lot more you can do with it. The aforementioned cheese shutter has its moments, and is most accurate when we uttered "kimchi" to activate the shutter.
The front 2MP camera is designed for both video calling and, in a very 2014 manner, selfies. The good news is, you won't have to tap the screen to activate the timer. In a move somewhat inspired by the gwiyomi viral video, you can hold your hand in front of the camera, clench your fist, and it'll activate the timer. It makes sense, as it reduces the chance of you losing your grip and watching the G3 plummet to its death.
Quality-wise it's clear, though not amazing in poor light, and probably about on a par with the HTC One (M8) for Skype duties.
Elsewhere, there's also 4K video, which is generally very smooth. Nor does it make the handset get too warm, as the Xperia Z2 has a tendency to do.
READ MORE: Sony Xperia Z2 review
Performance: harnessing the dragon's power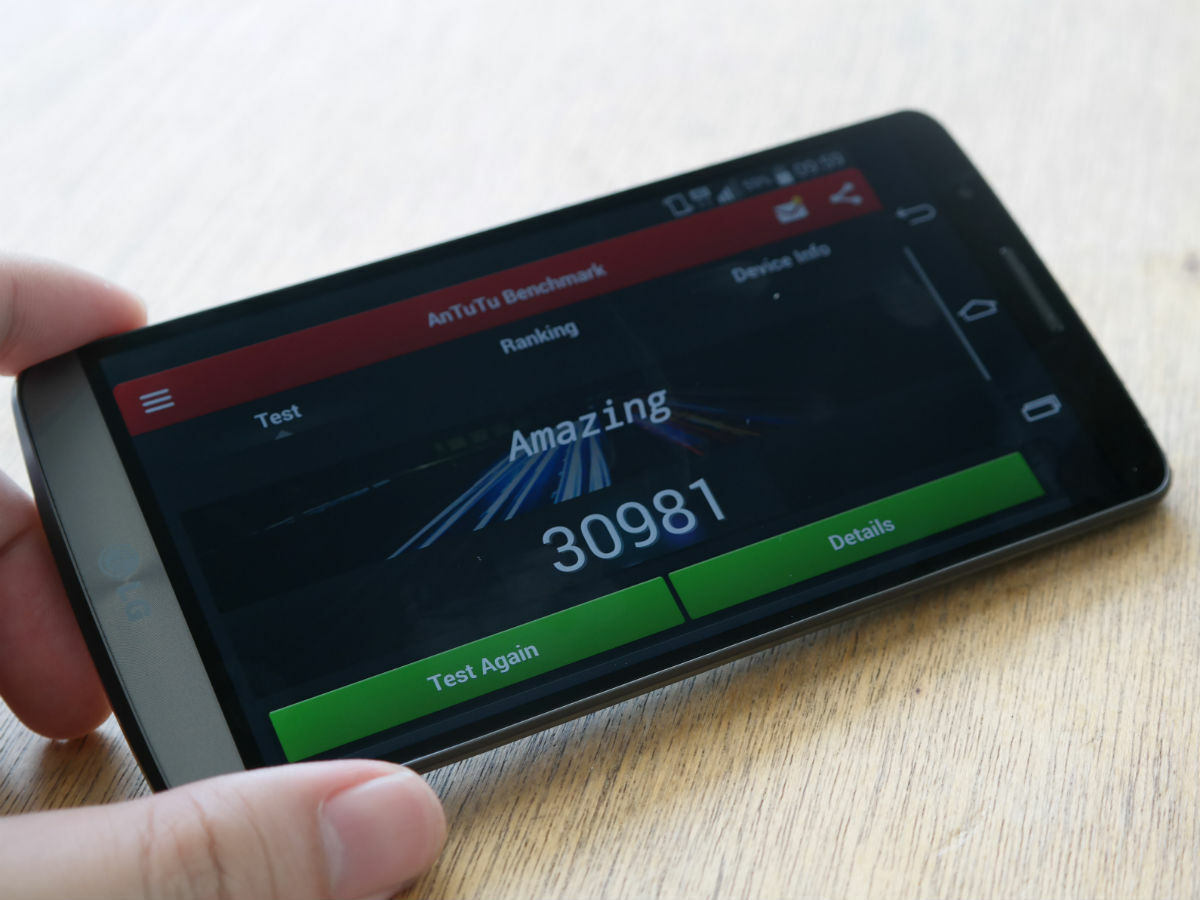 The G3 tested here packs a quad-core Qualcomm Snapdragon 801 processor running at 2.5GHz, 3GB of RAM and 32GB of storage. That version won't be available in the UK though (at least not for a while), so we'll have to put up with a 2GB RAM/16GB storage model. Will that make a difference to performance? It's possible. But then again, the G2 also has 2GB of RAM, and we never noticed so much as a stutter on that.
Anyway, back to the G3. Let's start with the numbers: AnTuTu scores of between 30,981 and 32,844 for this unit place it slightly lower than the M8, while Geekbench 2 returned 2427 (higher than M8) and Sunspider 884.1ms (about the same as the G2 and lower than the M8). There's not much between the G3 and its rivals, basically.
In practice, the review unit showed none of the stutters we experienced on the pre-production unit we tried out last month: so, no lag from the dialler or when swiping through contacts. More importantly, apps loaded in a mere 2-3 seconds and even graphically intensive games such as Injustice: Gods Among Us were handled by the G3 like a pro.
Just because we could, we threw up to 16 apps, which included Dead Trigger, Injustice and the recent Watch_Dogs mobile game, into the fray. None of that fazed the G3, even as we made short work of enemies with characters from the DC universe. Admittedly, there was some slight lag in the menu transition, and new apps loaded slightly more slowly, but overall it performed as well as we could've hoped given what we were doing to it.
Web browsing is a joy: on a 4G connection, pages load blazingly fast, filling the screen in just a few blinks. It also handles full HD films with aplomb – there's absolutely no lag and we didn't spot any frames dropping during action sequences. Bear in mind that pupil-searing screen and you've got a top-notch movie player. The speaker is also vastly improved over that on the G2 – it's now a 1W affair located round the back of the phone and while it's not as good as the dual speakers on the M8, it's on a par with the Z2 and S5 and is thus perfectly usable.
LG G3 Tech Specs
Operating System: Android 4.4 KitKat
Processor: 2.5GHz Qualcomm Snapdragon 801 quad-core processor
RAM: 3GB (2GB version available)
Screen: 5.5in True HD-IPS + LCD with 2560 x 1440 resolution (534ppi)
Camera: 13MP rear, 2MP front
Storage: 32GB internal (16GB version available), plus microSD up to 128GB
Data: 3G / 4G/LTE
Battery: 3000mAh
Size: 146.3 x 74.6 x 8.9 mm
Weight: 149g
OS: simple and clean
The G2's skin was a bit of messy affair, but LG has stripped out a whole load of features for the G3 and it's a big improvement.
Turn it on and you'll be greeted by a much cleaner user interface. The most prominent change is in its notification screen – clean as a whistle, with nary a sign of the clutter and cartoonish icons that plagued its predecessor.
We still prefer the HTC M8's Sense 6 skin overall, but where the G2 was held back by its OS, the G3 faces no such problems. It even has a few nice new features of its own.
Take Smart Clean for instance, which clears up cache files that would otherwise use up precious storage space. OK so space shouldn't be a problem given the microSD slot, but a little housekeeping will always help keep the user experience smooth. One warning though: Smart Clean will remove downloaded files, so if you've been swiping photos from the web, you'd best keep them stored somewhere else, like Google Drive.
Then there's Smart Notice, which is like Google Now in that it serves up cards featuring suggestions such as activating your battery saver when the G3 is running low on juice. It also works seamlessly with the LG Health function, giving you a day-by-day update and reminder that it's time to get off your lazy backside and shed those accumulated calories.
LG Health is itself a useful tool. It uses the phone's sensors to measure the number of steps you've taken, then works out how many calories you've burned. It's probably not quite as accurate as a Jawbone Up or other basic fitness tracker, but it's close enough that you won't notice much difference over the course of a day. Lugging the phone for a quick run isn't a major chore given how light the G3 is, although you might want to strap it to an armband to focus on the run.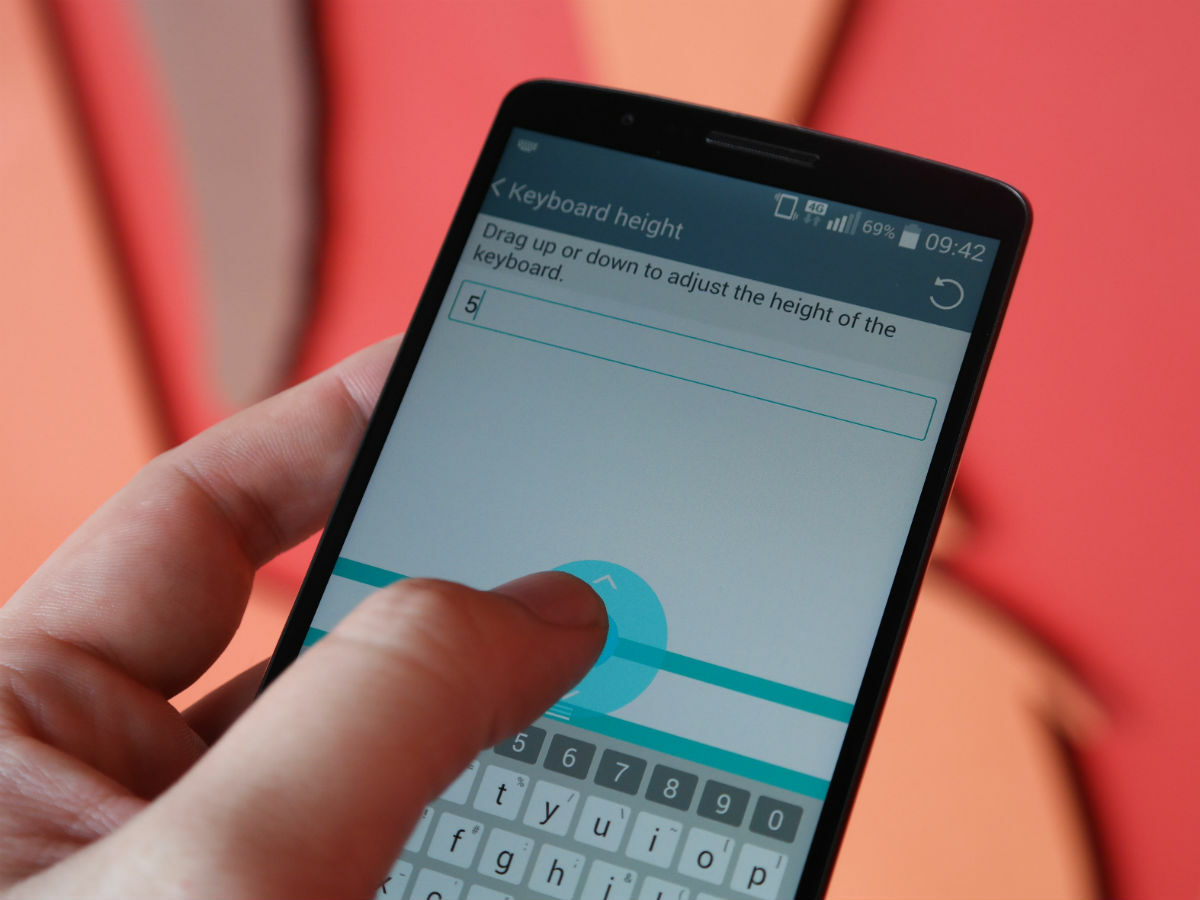 Out of all of the improvements, it's the Smart Keyboard which will make the biggest difference. Much like Swype, the semi-sentient keyboard picks up on your most frequently typed words, and learns which autocorrect terms are the ones you'll need more often. And yes, you can simply swipe across letters rather than painstakingly type each one. Correcting your messages is also much easier – simply press and hold the spacebar, and you can scroll along the message to where the correction is need. Plus, there's no need to stretch your thumbs when the autocorrected word appears – just swipe along the left or right side to select the right word.
Keyboard adjustments, such as splitting for two-handed use or swiping the keyboard to a side for one-handed operation, are retained. A new addition is height adjustment, which either gives you more screen space to read your typed messages or enables thicker thumbs to get more space between letters, and thus reduce typos.
Features wise, the usual suspects are still around. Knock On is present and correct, and we love being able to double-tap the screen and glance at your notifications rather than having to pick up the G3 and click on the rear power button. But the M8 and Z2 also have that ability now – whereas they don't have LG's Knock Code. This lets you set a combination of taps to unlock your phone, and it quickly become essential.
There's also a Dual Window function which works with LG and Google apps and which makes good use of all that screen space. The Samsung S5 can do the same thing, but is a little bit better in that it also works with third-party apps such as Evernote and Facebook.
READ MORE: Everything we know about the Samsung Galaxy S5 Prime
Accessories: a window of shortcuts
This year, LG's adding a whole load of accessories to complement the G3. First and foremost is its flip cover, which adopts a circular porthole to display brief information rather than the G2's rectangular-shaped window. Similar to its predecessor, essential functions such as the music player, camera, call logs, messaging and LG's health tracker will appear in the small window. With the camera, it's particularly useful when you need to take a quick snapshot, while LG Health will guilt-trip you into walking home to shed those extra calories after that indulgent dinner.
As for wireless charging, anything that conforms to the Qi standard will work, but LG's own wireless charger is quite a nifty little thing. While we didn't manage to try the unit in this review, we definitely like the idea of placing the phone upright and reading our emails while the wireless charger juices it up.
READ MORE: Samsung Galaxy S5 review
Battery: better than expected
We're looking at a 2K screen. That's way more pixels for the 3000mAh battery to power, and despite LG's assurances to the contrary, it doesn't quite have the stamina that the G2 has.
On average, we got about 15 hours from it. And given that our daily usage includes plenty of web surfing, Facebook and YouTube-watching, plus the usual calls and WhatsApp messages in-between and some intensive use of its 13MP camera, that's still pretty good
As usual, we gave in to our sadistic streak, activated the G3's Wi-Fi connection and ran a full HD video at half brightness to stress test its uptime. Within the first hour, we noticed a 10% dip, and once we'd switched over to a 4G connection at the 50% mark, the G3 managed a total mileage of nearly nine hours.
So, while it doesn't quite manage the nearly invincible 19 hours of real world usage we got from the G2, the G3's 15-hour mileage comes pretty close, and is a testament to the power-saving features that LG has implemented. It also compares favourably to its rivals. We'd put it on a par with the Z2 and S5 and slightly ahead of the M8. But they're all pretty close, and the fact is that as with most smartphones you'll get a day's use out of it then charge it up overnight.
On that front, its charger can stand toe-to-toe with The Flash, juicing up the unit to a full charge under two hours. Plus, with the battery now being removable, you can always carry a spare with you for emergencies.
READ MORE: HTC One (M8) review
LG G3 Verdict
As we said at the start of this review, the G3 surprised us. While we hoped it would continue the great work started by the G2, we weren't expecting it to prove quite so much of a leap forward. Most phone upgrades these days are incremental, after all, but the G3 is manifestly better than its predecessor.
And that's the case in almost every regard – from little touches such as the sleeker back buttons to the sophisticated look of its 20% brushed-metal body and major changes such as the bigger, better 2K screen and laser-assisted camera.
The only way in which it's not better than the G2 is on battery life, but considering all that LG has crammed into the G3, the fact that it still lasts 15hrs is to be applauded.
Ultimately, there's barely a single thing wrong with the G3 and so, so much that is right with it. Good luck trying to surprise us with the G4, LG.
Stuff Says…
A staggeringly good smartphone with barely a single flaw. We love it
Good Stuff
Big, pixel-packed 2K screen
Laser-assisted super-camera
Blistering performance
Bezel-free design
Bad Stuff
Battery life good, but not G2-good
Metal look, but not metal feel
Screen not the brightest