Lenovo Yoga Slim 9i Gen7 review: one lavish laptop
An especially sleek thin-and-light with 12th-gen Intel power
Yes, the Lenovo Yoga Slim 9i really does from from the same company that makes ThinkPad business laptops. This especially attractive ultraportable borrows styling tips from the smartphone world, and is a whole lot easier on the eye than the current crop of MacBook-a-likes doing the rounds.
It's not just a pretty face, either. 12th-gen Intel CPUs promise top-tier performance, while an OLED display panel and speakers tuned by Bowers & Wilkins should deliver cinema-grade picture and sound.
Luxury never comes cheap, though, and there's no shortage of competition. The 14in MacBook Pro, Microsoft Surface Pro 9 and Dell XPS 13 Plus are all stunning machines in their own right – has Lenovo done enough to earn a place among them?
Design & build: going for gold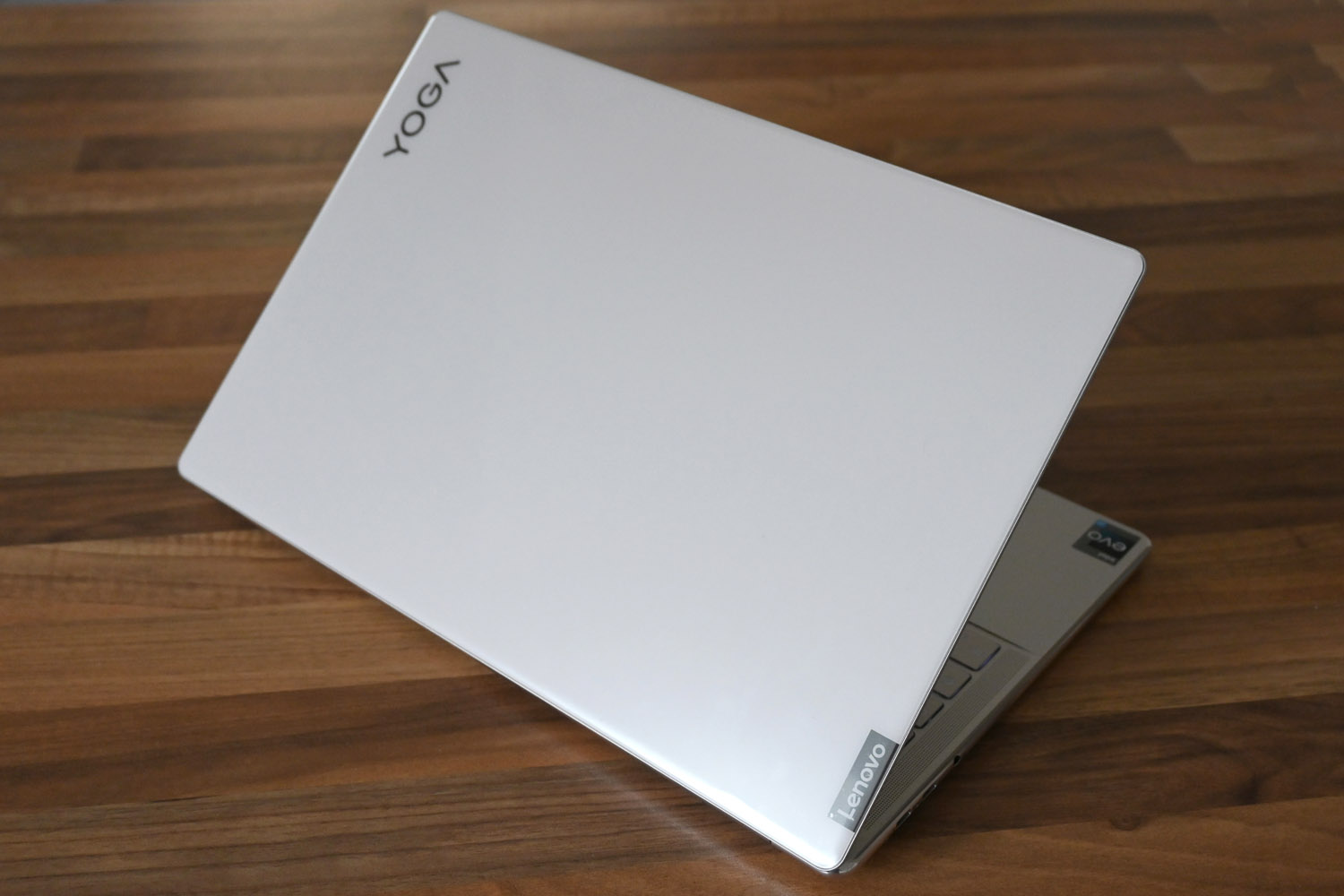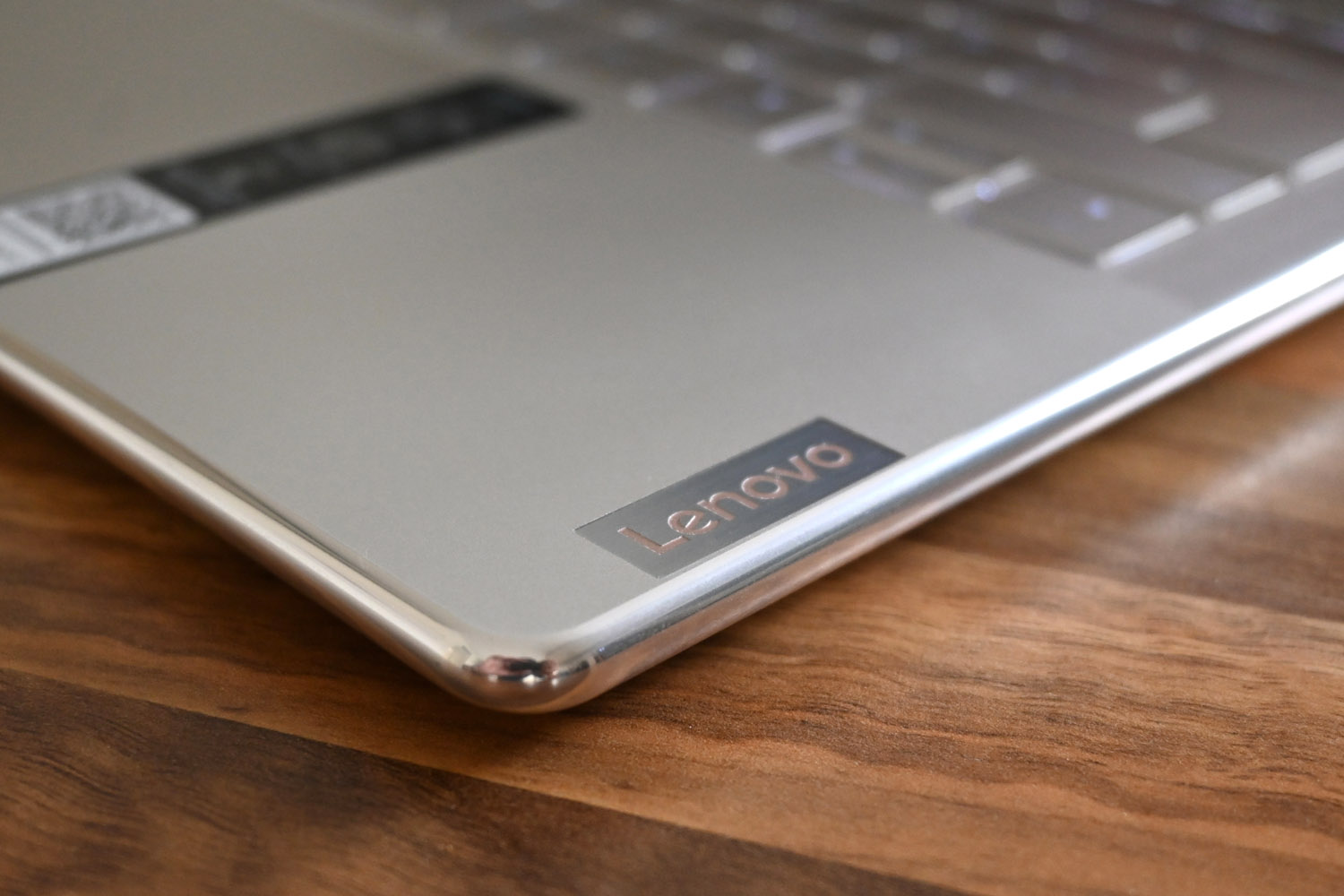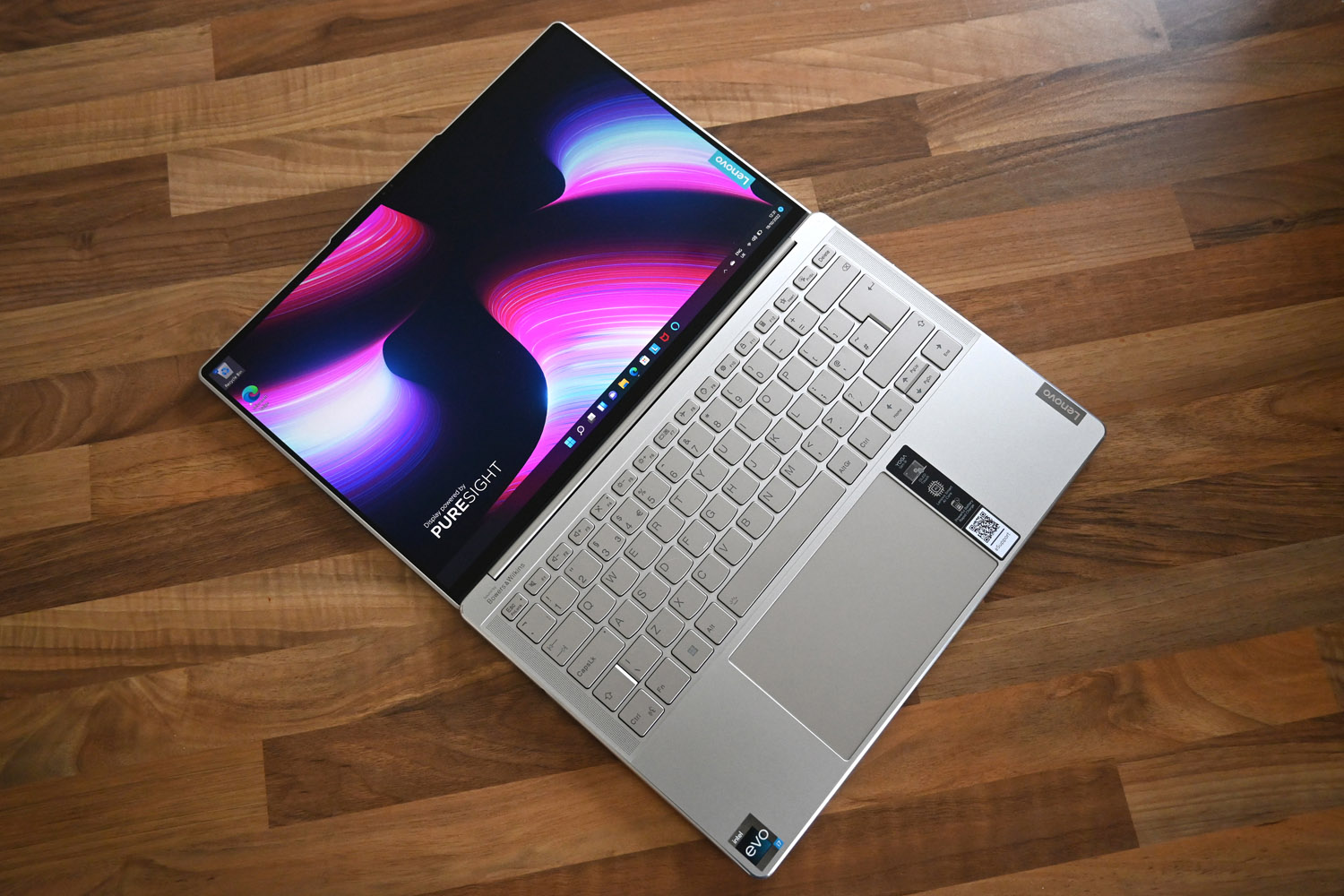 Lenovo has done away with sharp edges and 90-degree angles for the Yoga Slim 9i, in favour of curves and rounded-off edges you can't help but run your fingers along. The polished aluminium glints in the light and the pale gold compliments the white glass lid. It's definitely more attractive than Lenovo's colour name ("oatmeal") suggests, and a refreshing change from the monolithic new MacBook Air.
Open the lid and the polished finish gives way to a more understated matte, which does a good job of hiding fingerprints. Ultra-skinny screen bezels and slim speaker grilles flanking the keyboard hammer home that this is a premium machine. It's a fairly light one, too, weighing in a hair under 1.4kg. It's physically on par with many 13in machines, so will do just fine for hybrid working. And of course, this being a Yoga, the screen folds back a full 180 degrees.
Ports are limited to just three USB-Cs (two on the left, one on the right), and a 3.5mm headphone port. All three double as Thunderbolt 4 ports, though, so can be used for displays, data transfers or even hooking up an external GPU. A physical kill switch for the built-in webcam will please the privacy-minded, too.
There's no fingerprint sensor here, but you do get Microsoft's Windows Hello facial recognition for hands-free logins. There's an IR camera as well as a 1080p webcam built into the screen bezel, so it'll work in the dark, and can usually match your mug in a little under a second.
Screen & sound: a treat for the eyes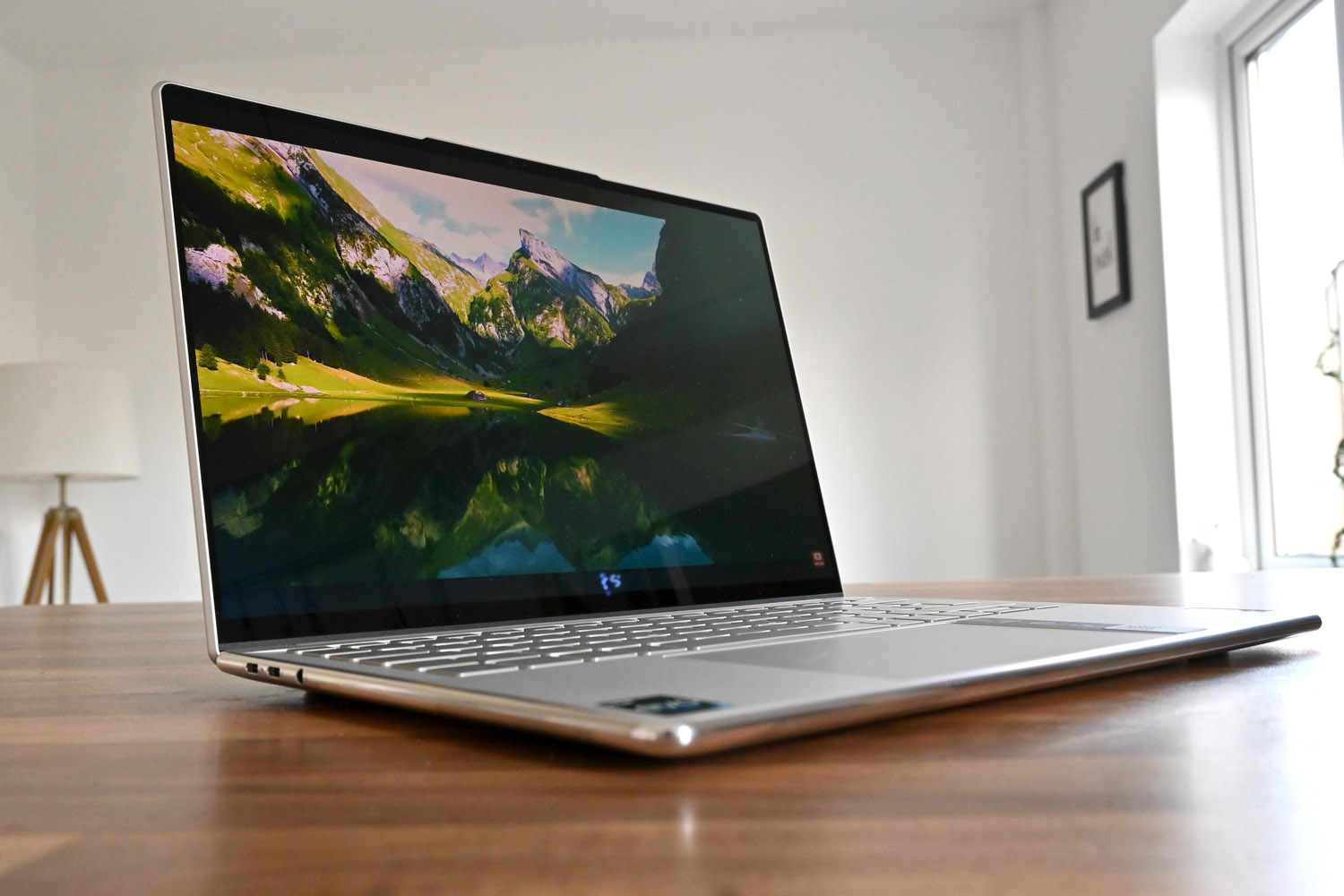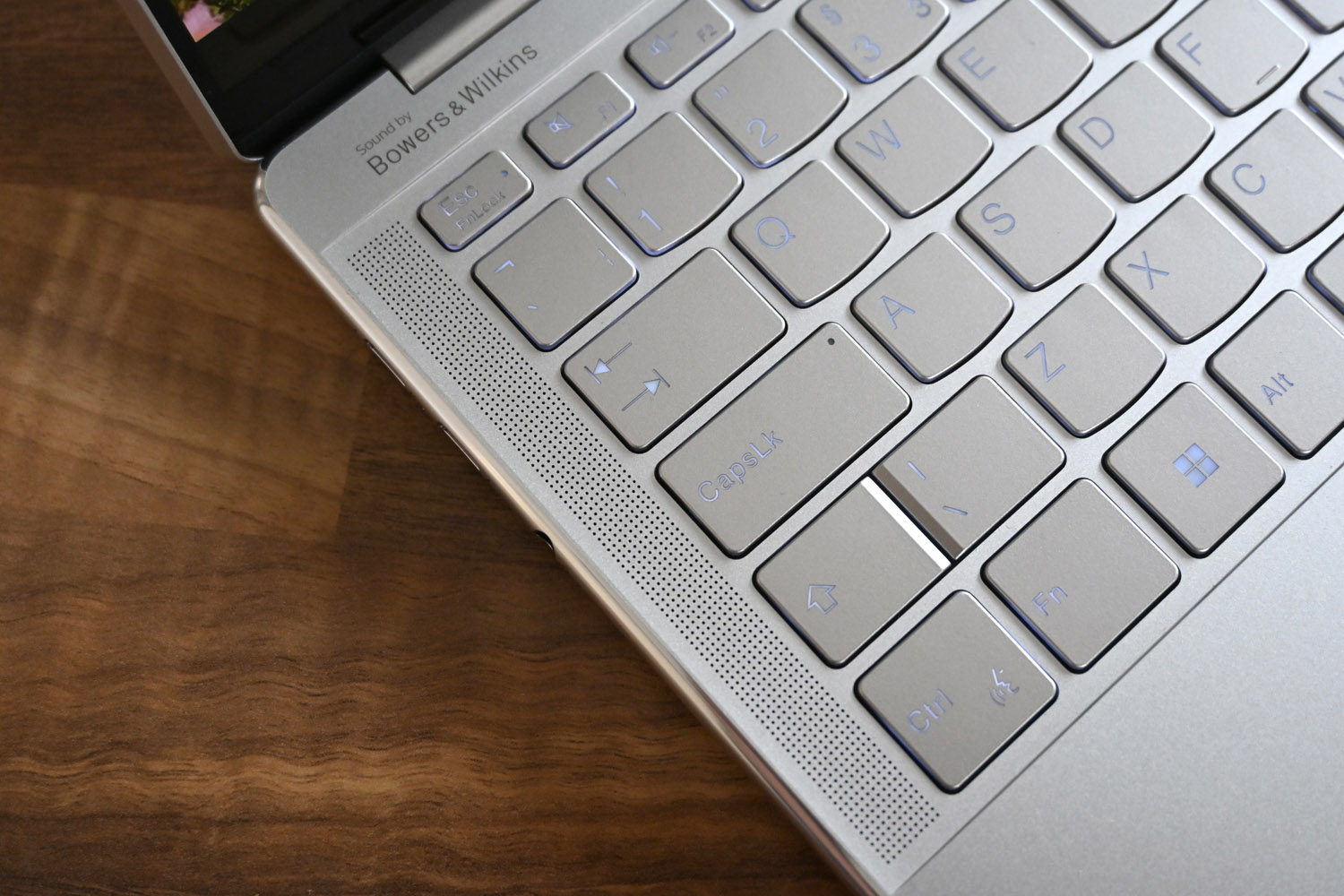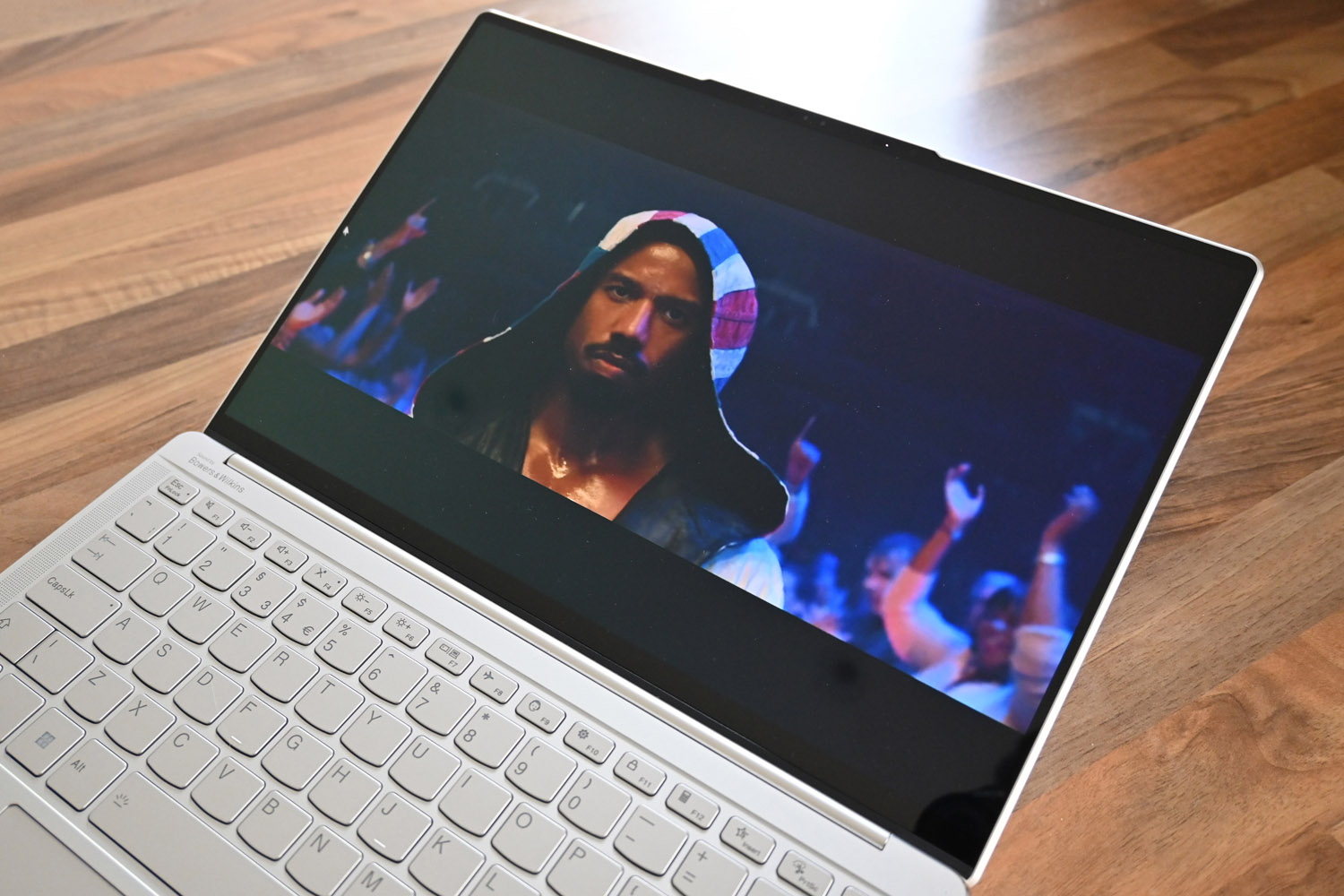 Take one look at the Yoga Slim 9i's gorgeous 14in OLED display and it's hard to believe there's an even better one available to those willing to splash a bit of extra cash. The standard laptop has a 2880×1800 resolution panel, but you can step up to 4K for an extra £100 – as long as you don't mind the hit to battery life that comes with all those extra pixels.
Both have the same 400 nits peak brightness, 100% DCI-P3 colour coverage and Dolby Vision support, along with DisplayHDR 500 True Black certification from screen experts VESA. That translates to epic image quality, with perfect blacks, exceptional contrast and especially vibrant colours. HDR content looks luscious and the X-Rite colour assistant software lets you quickly swap between colour profiles when accuracy is needed.
There's a good reason to stick with the regular panel, though. Refresh rate tops out at a smoother 90Hz, which is easier on the eye and allows for stutter-free scrolling. The 4K display only manages 60Hz – although if you'll be spending most of your time untethered from the mains, you'll probably want to stick to 60Hz anyway to extend battery life.
The touchscreen is responsive and we had no trouble working in a sunlit room, although the glossy coating can make reflections a bit of a pain. Good job the viewing angles are superb, then.
The B&W-tuned quad speakers are the perfect match to the screen. They've got real presence, even before you crank the volume, with clean vocals and a crisp high-end that doesn't stray into sharpness as you turn things up. It gets impressively loud when you want it to, although there's only so much low-end four fairly tiny drivers can produce. If you want big bass, headphones are still the way to go.
Keyboard & touchpad: doesn't quite click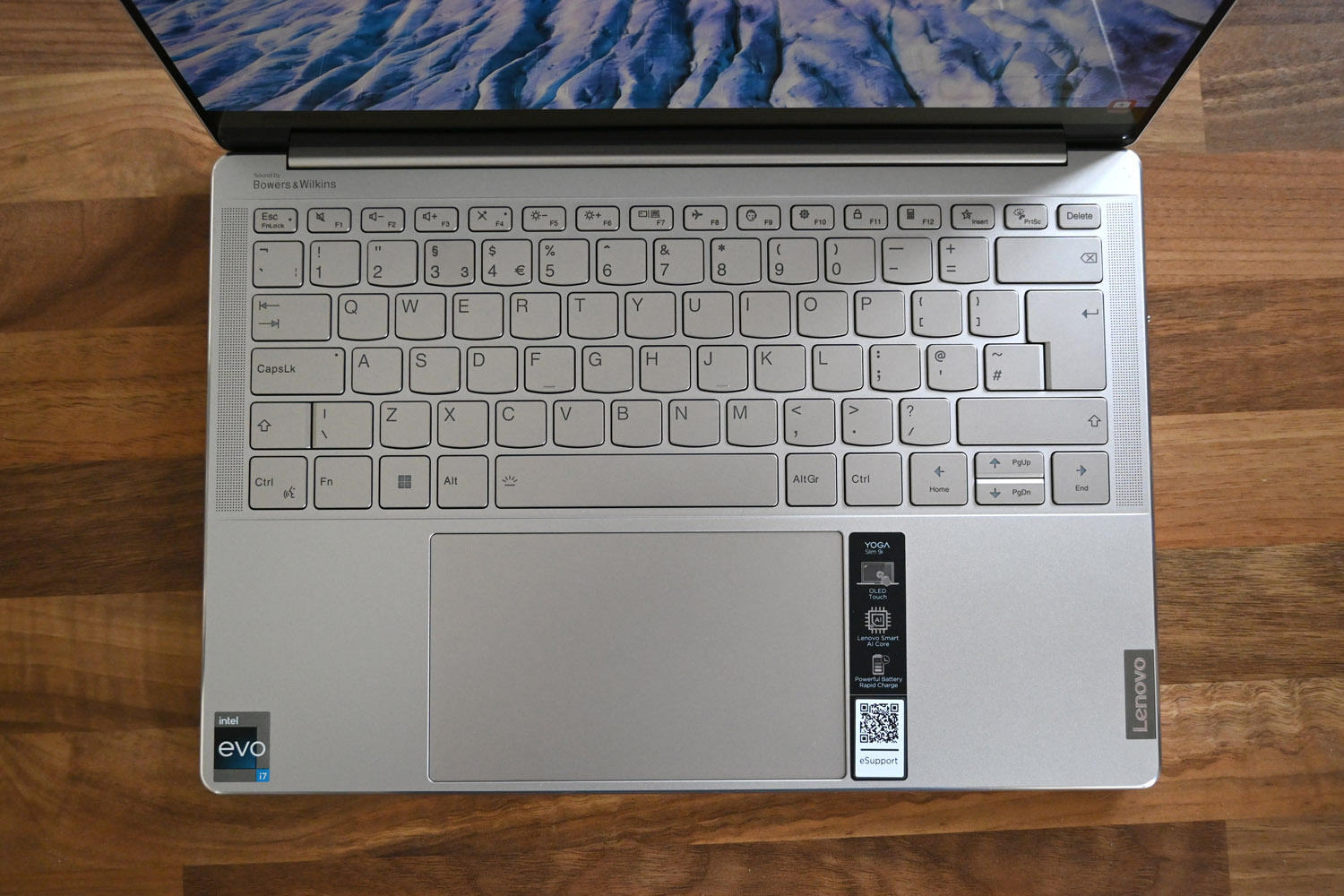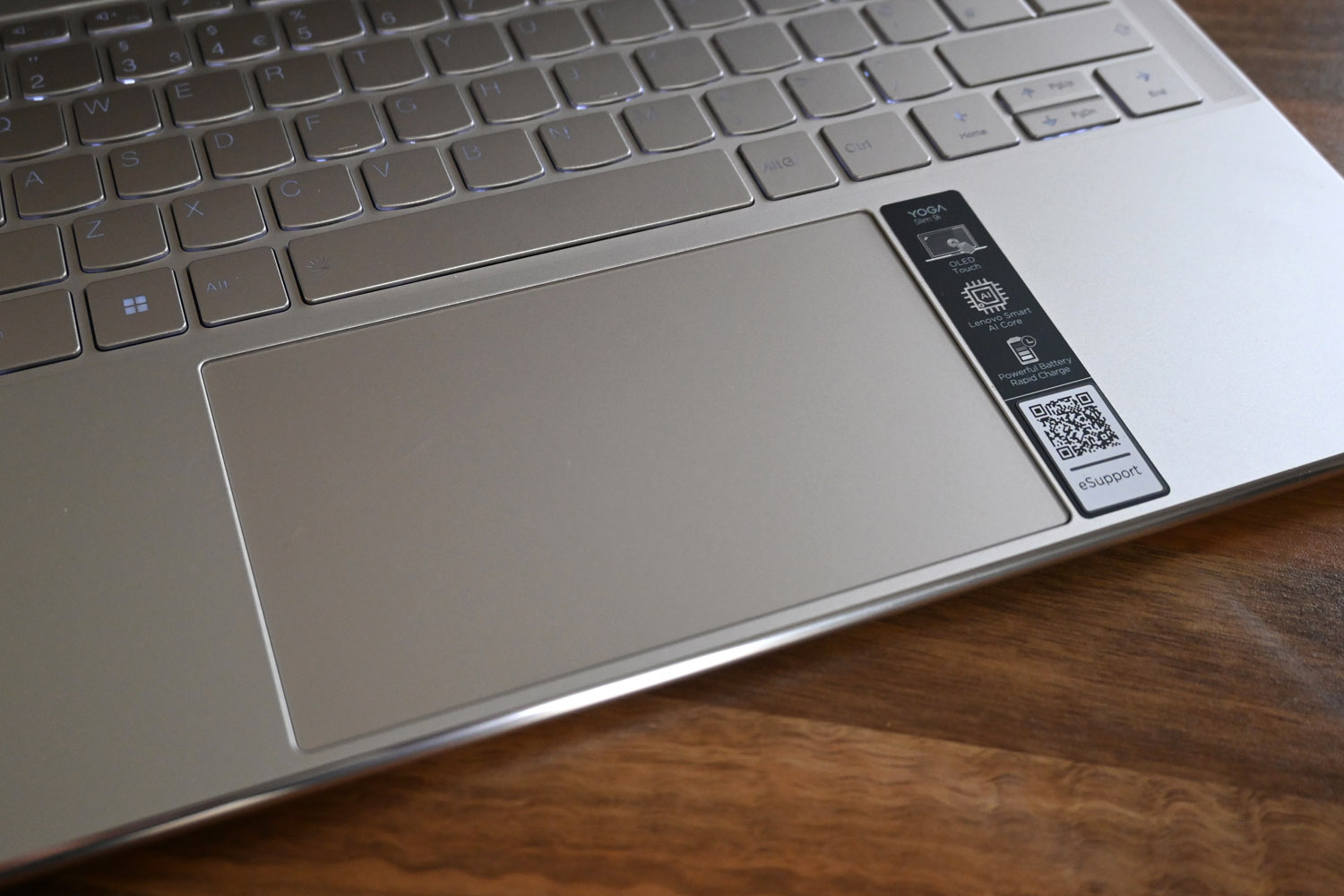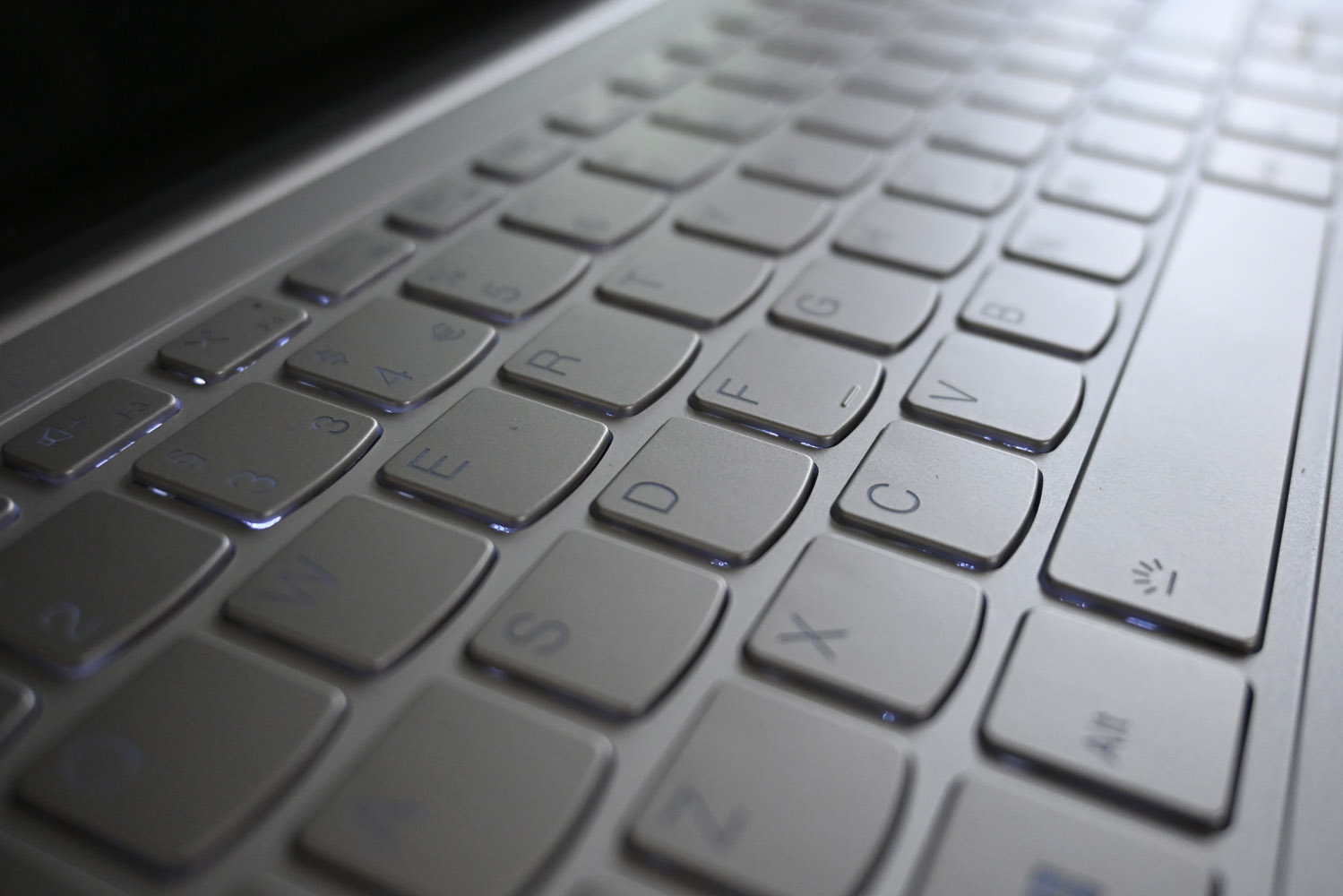 The Yoga Slim 9i's keyboard has almost a complete set of full-size keys, with just the arrow and function keys having to slim down in order to leave enough room for the speaker grilles on either side of it. Everything is sensibly spaced and comfort isn't a concern, with plenty of space to rest your wrists either side of the expansive touchpad.
There's a small bit of flex when you really bash the keys, but for general typing it feels perfectly firm. The main drawback is a lack of travel, with keys bottoming out quite quickly. They're reasonably springy, but it just isn't as satisfying to type on as some key rivals. We also noticed a few instances of double-registered key presses, something we didn't encounter on the latest MacBook Air or Dell XPS 13 Plus.
Having gold-coloured keys and a white backlight isn't the best combination, either. It's handy when working in the dark, but does the opposite during the day, actually making it harder to make out the characters. At least there's an auto mode that turns the light off in well-lit areas.
The touchpad, on the other hand, is excellent. It's giant, with an aspect ratio that matches the screen and with support for multi-touch gestures. There's a satisfying mechanical click when you press down with any force, but it's just as adept at recognising lighter taps.
Performance & battery life: fast doesn't mean best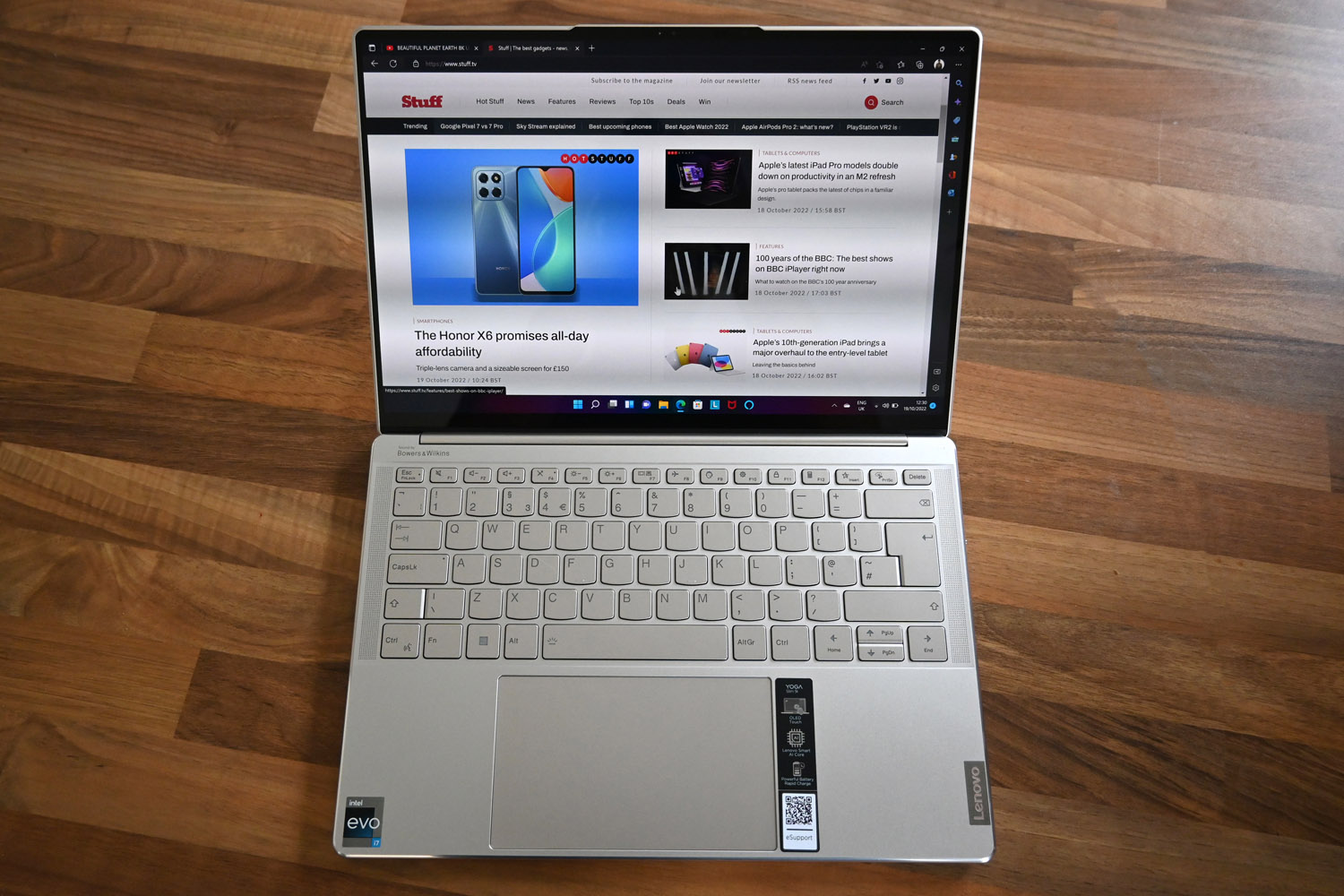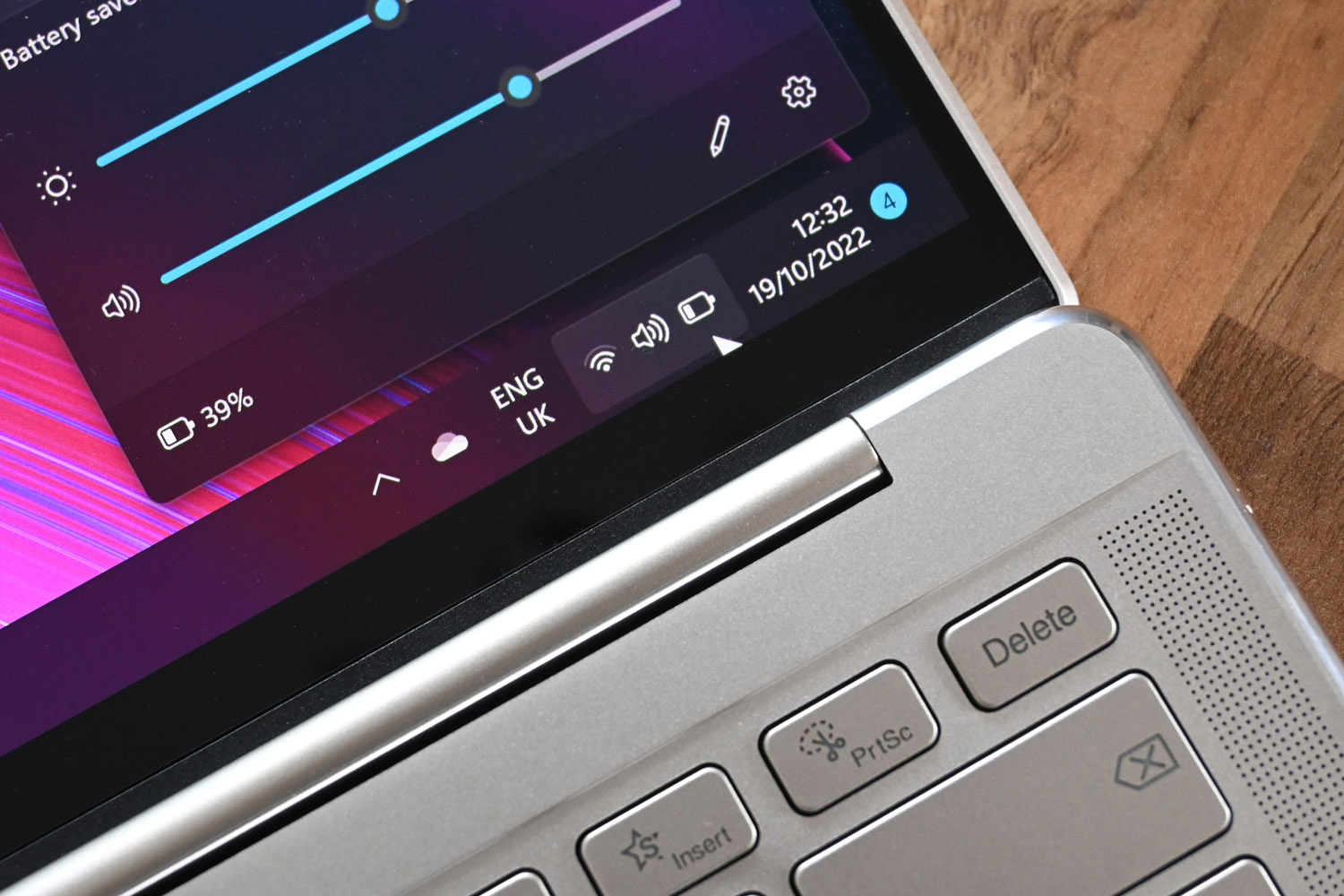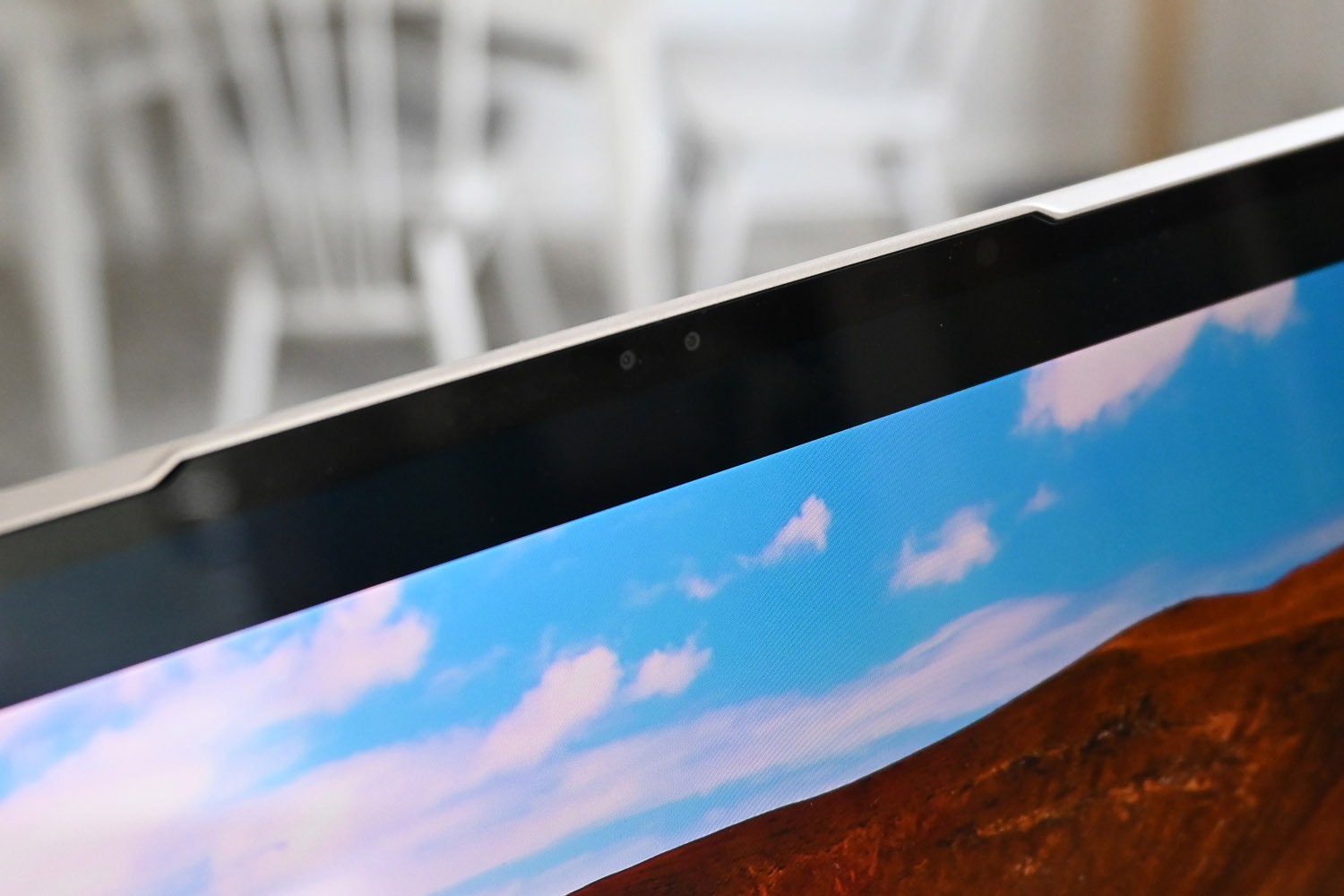 With a 12th-gen Core i7 CPU and 16GB of RAM running the show, the Yoga Slim 9i isn't hurting for performance. In fact, you could argue it has a little too much of the stuff: the i7-1280P is a 28W chip, which means it sucks down a fair bit more battery power than Intel's 15W U-series models.
The 1280P's extra performance cores do make a difference on the desktop, keeping demanding apps more snappy and responsive than any previous-gen CPU, but we're not talking a giant step up here. It can handle image edits in Photoshop and will churn out 4K videos when asked, but the fan has to work overtime once you start pushing it hard. The noise isn't super-loud, but definitely noticeable.
Intel's Iris Xe GPU is also clocked a little higher here than they are on U-series chips, but we're still talking integrated graphics here: modern games are going to need to run at 720p and with detail settings dialled down to get playable frame rates. Less intense titles like Diablo Immortal were perfectly playable with a mix of low and medium settings.
Still, for a thin-and-light that's mostly going to be running word processors and web browsers, we'd prefer better battery life. The Yoga Slim 9i isn't a poor performer in this area, managing a little over six hours in everyday use – but it's a long way shy of an M2-powered MacBook. Expect less if you'll be watching a lot of HDR videos.
Lenovo Yoga Slim 9i verdict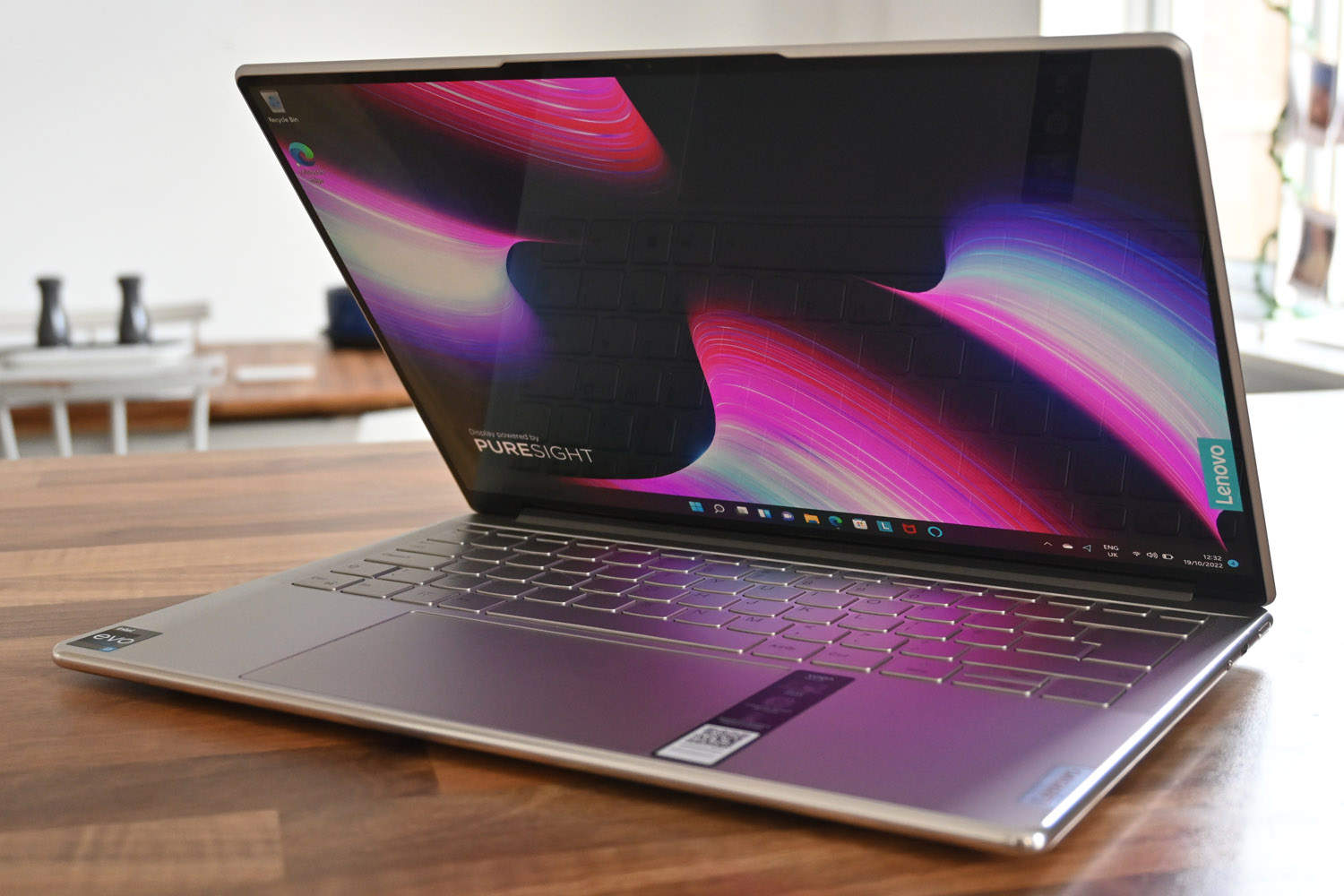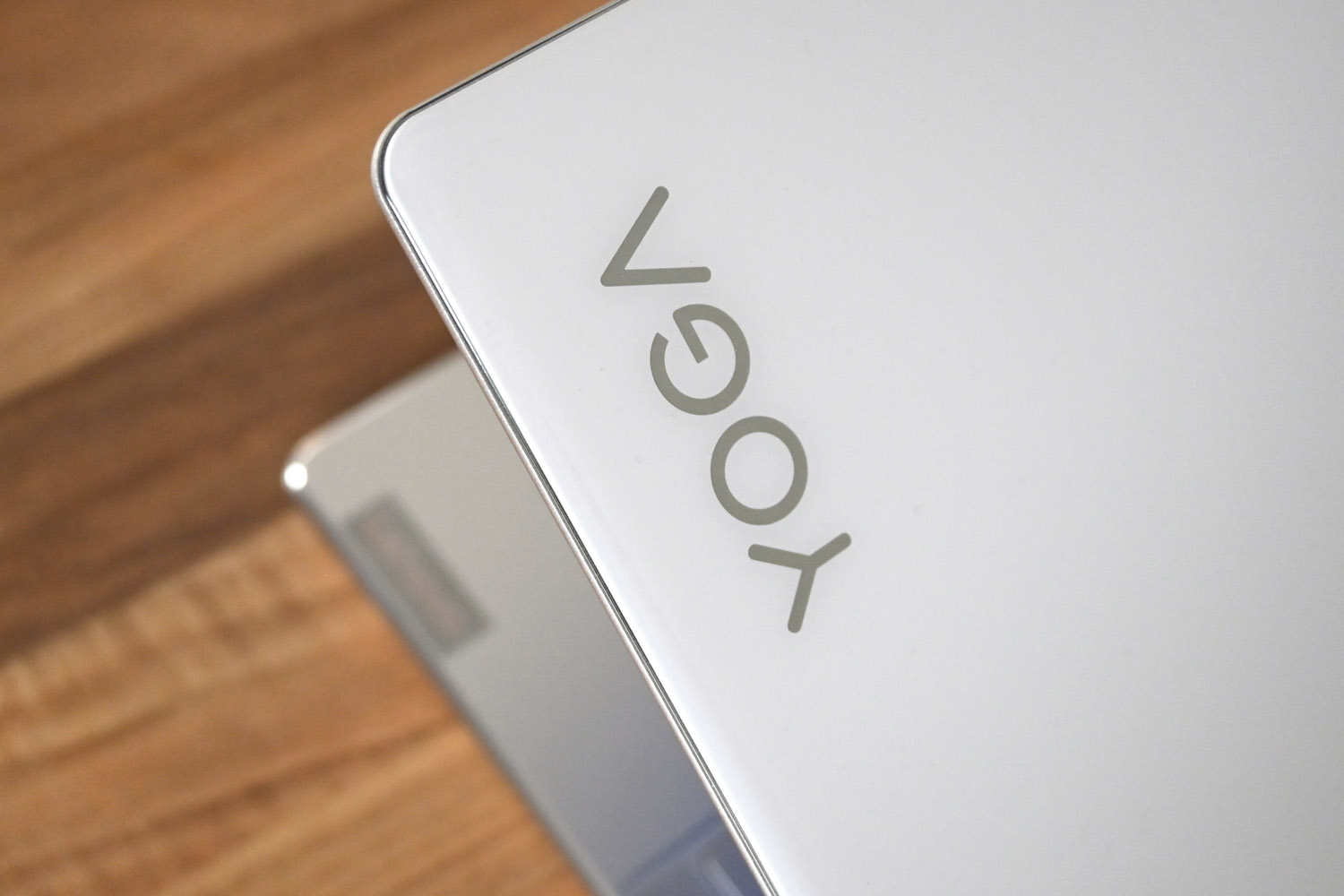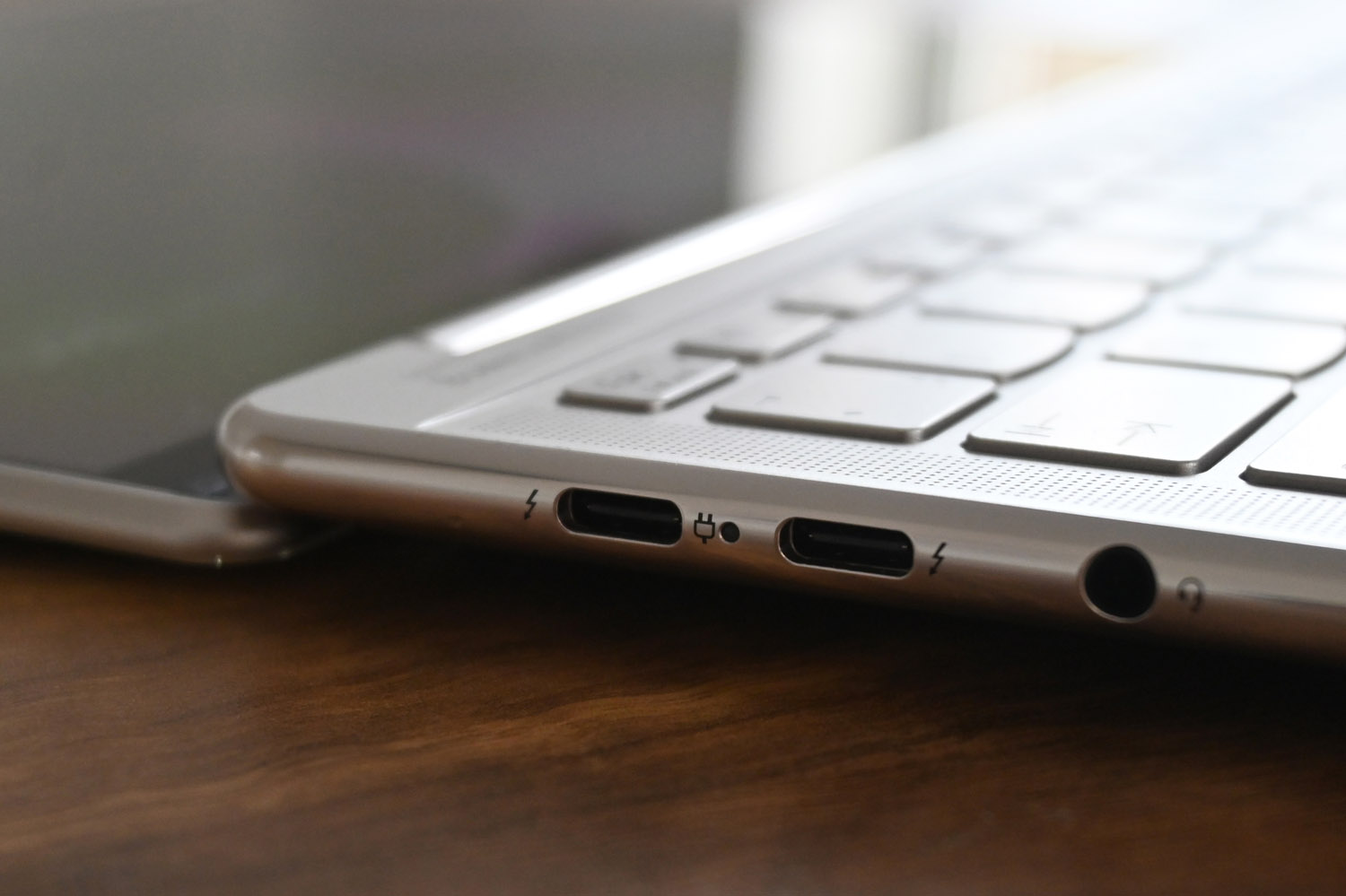 Whether you're a sucker for styling, expect top-tier performance or want a display worthy of a boxset binge, the Yoga Slim 9i delivers on all three fronts. It's a brilliantly capable work machine with the screen and speakers to entertain once you clock off.
The 28W CPU might actually be overkill in a machine this small, though. It also has a knock-on effect on battery life, which is merely OK. The shallow keyboard will take some getting used to as well.
It falls just short of brilliance, and the high price will likely be a turn-off, but still succeeds as an all-rounder you'd be proud to pull out of your laptop bag.
Stuff Says…
A gorgeous looking and potent ultraportable. The Yoga Slim 9i doesn't have the most satisfying keyboard, and it's mighty pricey, but the OLED screen is impossible to ignore
Good Stuff
Gorgeous OLED display
Bespoke styling is easy on the eye
Bad Stuff
Keyboard not too satisfying to type on
Similarly-priced MacBooks offer better battery life
Lenovo Yoga Slim 9i (2022) technical specifications
| | |
| --- | --- |
| Screen | 14in, 2880×1800 OLED |
| CPU | Intel Core i7-1280p |
| Memory | 16GB RAM |
| Graphics | Intel Iris Xe |
| Storage | 512GB/1TB |
| Operating system | Windows 11 Home |
| Connectivity | 3x USB 4/Thunderbolt, 3.5mm headphone port |
| Battery | 75 Wh |
| Dimensions | 315x214x15mm, 1.39kg |