Lenovo Yoga C930 review
Lenovo's flexible form factor laptop returns with a stylus in tow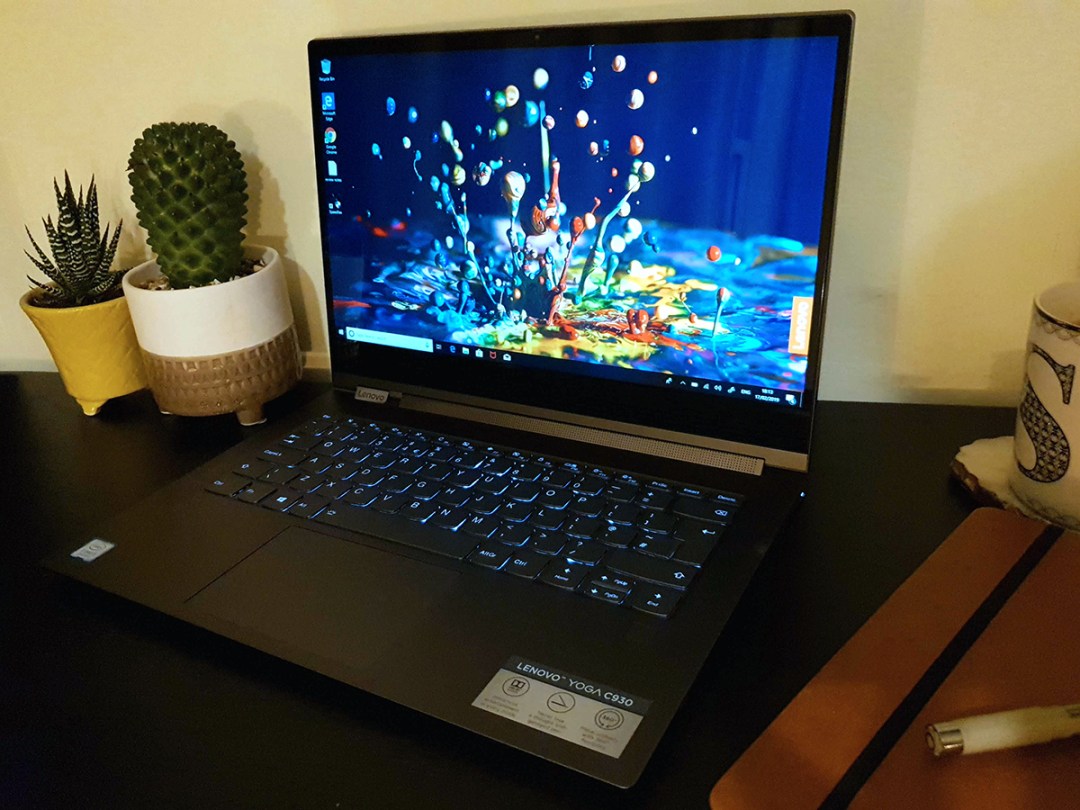 The Swiss army knife of the Windows laptop world, Lenovo's transforming Yoga line-up, has been showing everyone else how to get multitasking right for years.
If you're after a work machine, a touchscreen, an extra-large tablet and freestanding tent-style display in a single device, the Yoga has been your go-to notebook. When Lenovo threw a stylus into the mix last year, it even added digital sketchpad to that list.
The C920 wasn't perfect, though, so now we're back for a second attempt. The Yoga C930 is more of a minor revision than major overhaul, fixing a few of its predecessor's flaws while adding some welcome extras and headline features like Dolby Vision support.
The thing is, Swiss army knife is handy in a pinch, but we'd still take a screwdriver when doing DIY, or a can opener when hankering for some baked beans. Is the multi-talented Yoga 930 finally good enough to take on laptops that are dedicated to one singular purpose?
DESIGN & FEATURES: SKETCH IT OUT
With decidedly less bling than Yoga models past, and funky colours ditched in favour of more sellable greys and whites, the C930 isn't the most exciting-looking machine. Its aluminium build feels premium enough, but the sharp lines make it look a little business-y.
The glitzy watch band hinge that was a staple of previous Yoga machines is gone, replaced with a more simple setup that hides of the C930's best features: a tiny Dolby Atmos-certified soundbar. It's angled to always face outwards, whether you're in laptop, tablet or tent mode, so you get the best audio however you want to use the machine.
The new design works just like before, letting the laptop flip onto itself to turn the Yoga into a massive tablet, or half-way to stand up like a tent. It holds the screen in place while working in laptop mode, but isn't so stiff that it's a pain to transform. Windows detects the mode change straight away, flipping the screen orientation to match.
The other major change is the bundled active stylus, which is now fully integrated into the laptop body. Last year's Yoga 930 made do with a cheapo plastic pen holder that hooked into one of the USB ports, blocking it (and the power button) when the pen was stowed.
Now, it pops out of the top edge of the laptop, which is a real improvement. It charged while docked, and is great for note-taking, simple sketching and navigating tablet mode without leaving greasy fingerprints all over the rather pretty display. However, it's not pressure sensitive, and is a little on the small side, so isn't quite as useful as a Surface Pro pen would be for creative pros.
The C930 isn't exactly a porker, and at 1.4kg it's a bit of a featherweight, but there's still room at the side for a full-size USB3 port, two USB-C Thunderbolt ports and a 3.5mm headphone jack. If you want to output video to an external display, or download files from an SD card, you'll need a dongle.
A fingerprint reader sits on underneath the keyboard, which isn't quite as slick as the dual-function power button on Huawei's Matebook X, but does at least let you skip the Windows 10 lock screen without tapping in a password. One other neat little privacy-related feature? The sliding cover on the built-in webcam, to make sure no-one's spying on you.
LENOVO YOGA C930 KEYBOARD & TOUCHPAD: FEELS FAMILIAR
If you've spent any time tapping away on a Lenovo keyboard over the last few years, you'll feel right at home with the Yoga C930. Lenovo has kept the design almost identical, with large, Chiclet-style keys that are sensibly spaced apart, with decent travel and a bright backlight for night time working.
You get a separate row of shortcut keys above the number keys, so you don't have to mess around with the Fn button just to tweak volume or screen brightness, and because the power button sits at the side of the machine, instead of near the delete key, you don't have to worry about accidentally putting the machine to sleep every time you make a typo.
Is it as slick as Apple's butterfly-style keys? Not quite, but this tester didn't have to content with constant mistakes while writing this review. As far as keyboards go, that's all you really want.
The touchpad isn't quite as slick, with a few sensitivity issues and an overly large area dedicated to the right click action. You can switch this off in the settings menus and opt for a two-finger click instead, which results in far fewer misclicks. Multi-touch gesture recognition was very good, although as with all Windows laptops, it struggled to compete with Apple's excellent glass touchpad for accuracy and ease of use.
DISPLAY & SOUND: SOME KIND OF VISION
And now we come to the most divisive aspect of the C930. For £1200, is a full HD resolution really enough? Because that's what you get here.
To step up to 4K, you're looking at another £300, which also includes CPU, memory and storage upgrades. Both an Apple MacBook Air and Dell XPS 13 can deliver more pixels for similar cash, even if other specs aren't identical.
Still, Full HD is a good match for the integrated GPU, ensures the battery isn't being sapped by having to render extra pixels, and it provides plenty of detail for web browsing, image editing or watching 1080p video.
It's a 13.9in panel with skinny bezels that aren't quite Dell XPS 13 or the Huawei Matebook Pro levels of skinny, but Lenovo has saved enough space that the 930 is barely any bigger than a regular 13in laptop from a year or two ago.
The big news here is Dolby Vision support, meaning ultra bright whites and deep dark blacks to give compatible movies real pop. It's a little more complicated than that, though. Windows doesn't recognise it as an HDR display, and it's only an 8-bit panel with 300 nits maximum brightness. The Dolby Vision you get here isn't as retina-soothing as one you'll get on a 4K telly, then.
HDR videos on YouTube and Netflix play nicely – but only in Microsoft's Edge browser. If you're a Google Chrome convert, you're out of luck. SDR content still looks bright and colourful, although contrast isn't exceptional and dark blacks appear slightly washed out if you go looking for them.
Viewing angles are exceptional, although the glossy screen coating makes light reflections a bit of a problem, especially if you plan on working outdoors. The screen just doesn't get bright enough to combat direct sunlight.
Where the C930 really excels as a multimedia machine is through sound. The speakers are all built into the hinge, and can really crank up the volume. Even when turned up to full, we couldn't detect any hints of distortion, so you can listen to tunes or watch videos without having to reach for a pair of headphones. There's even decent separation, which comes into its own when watching Netflix streams.
PERFORMANCE: CORE BLIMEY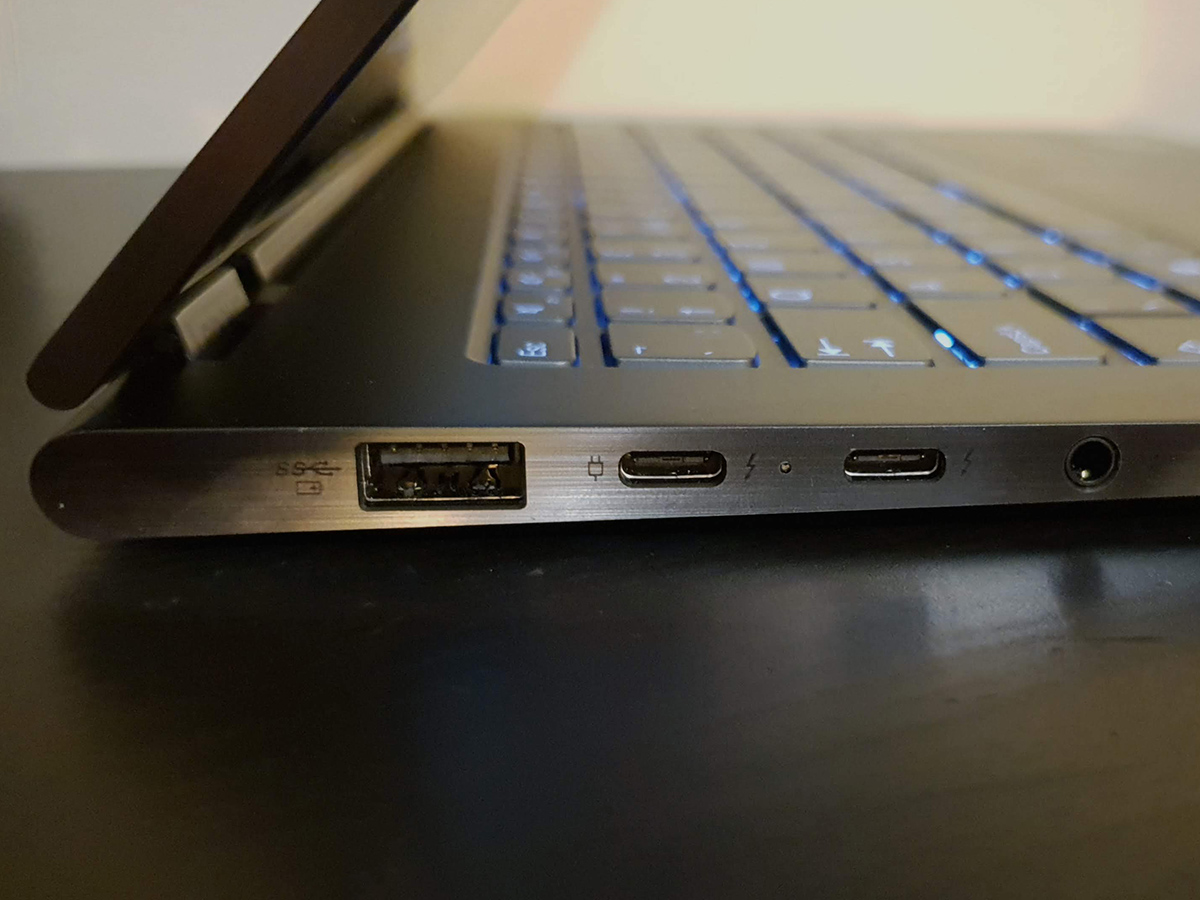 1.6GHz – doesn't sound like a lot, does it? There are smartphones with higher CPU speeds.
Intel's eighth-gen Core i5 processor is no lightweight, though. It's a dual-core chip that can crank its silicon up to 3.4GHz when you need more grunt. Paired with 8GB of RAM as standard, it's more than capable of handling the kinds of jobs an ultra-portable machine will be tasked with.
That includes streaming video, web browsing and office work, as well as photo editing, where it is largely silent. Anything more strenuous like video rendering or working with 4K footage will be asking a lot, but the Yoga can still power through without its fans sounding like an angry beehive.
A Core i7-equipped XPS or MacBook will outmatch it for raw power, but you'll be looking at a significantly higher price for the privilege of better benchmark numbers. For most people, the C930 has plenty of power.
It does make do with Intel's UHD 620 integrated graphics, which isn't going to be up to the task of playing games at full resolution. Take battle royale darling Fortnite: dial the details down and stick to 720p, and you'll manage between 30 and 50fps, but push higher and those frame rates start to plummet.
Simpler 2D titles like Blizzard's card combat game Hearthstone fare much better, and older titles are much happier to play smoothly, but this isn't a machine to replace a gaming PC or console.
In this entry-level configuration, the C930 comes with 256GB of PCI-E SSD storage, which is super quick and enough capacity for a healthy chunk of files, photos and multimedia.
BATTERY: STAYS TETHER-FREE FOR LONGER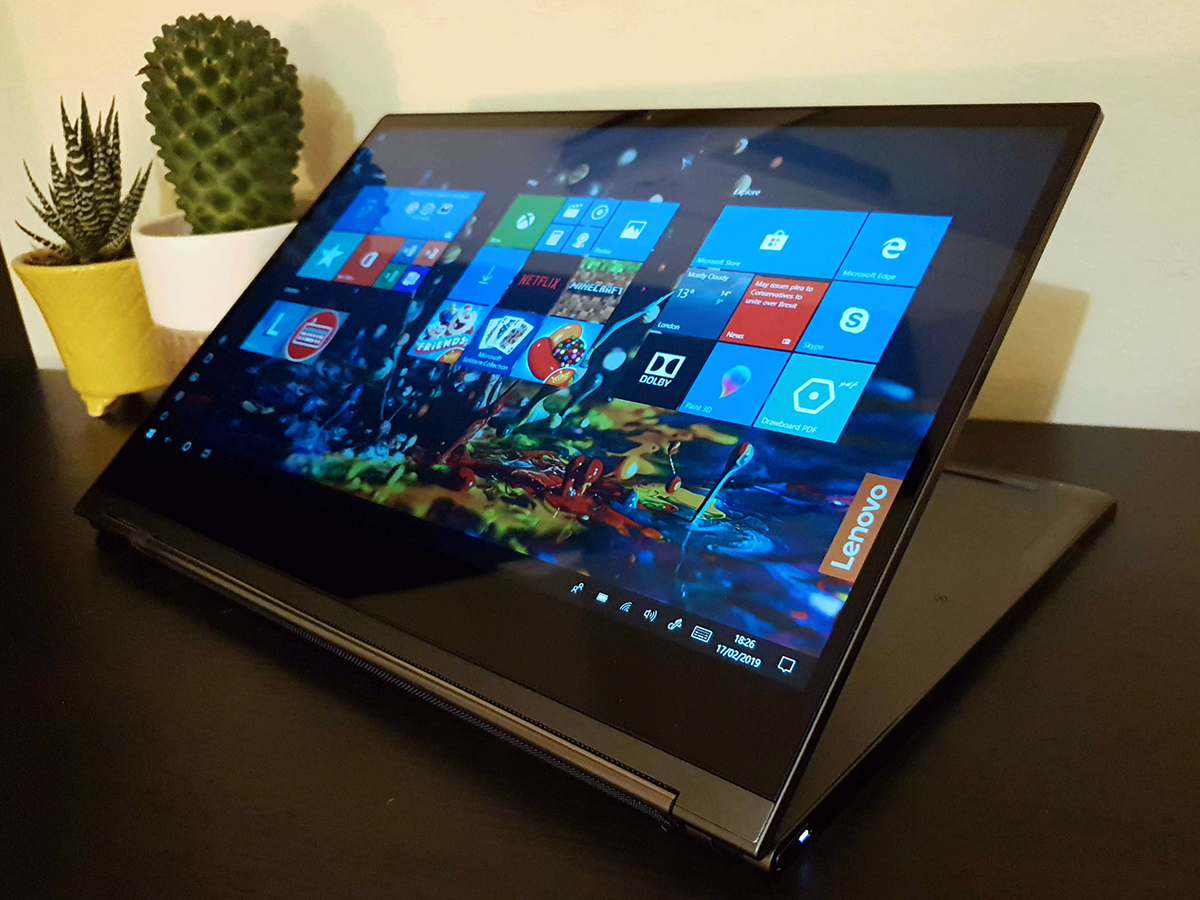 There's not much point in a laptop you can lug around everywhere if it can't go for more than a few hours without needing to top up from the mains. That's not an issue for the Yoga C930, which can comfortably go for almost an entire working day on battery power.
For simple stuff like typing and web browsing, it comfortably managed up to 13 hours on a full charge, which is more than enough to get through a nine-to-five without needing to bring the charging cable with you. As long as you stick to half brightness, anyway.
Video playback is a bit more intensive, especially if you insist on playing Dolby Vision content that cranks the display brightness up to full. Still, almost eight hours of looping video only falls behind the Dell XPS 13 and 13in Apple MacBook Pro.
Either of the two USB-C ports can be used to recharge the laptop, and the adapter itself is fairly lightweight. If you've got juice to spare, the full-size USB port can top up your smartphone even while the C930 is sleeping.
LENOVO YOGA 930 VERDICT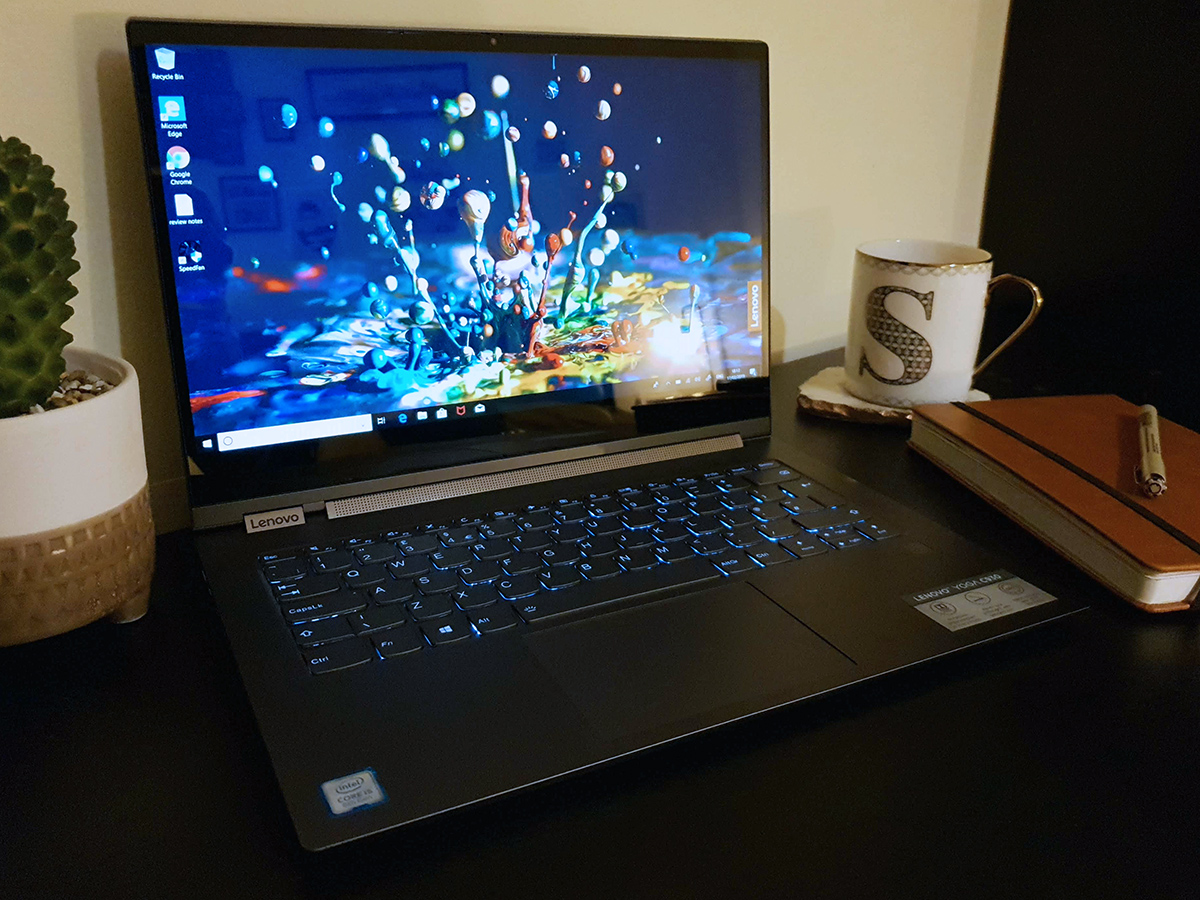 A true multi-purpose machine like the Yoga 930 could be the ideal laptop for a lot of people. It's powerful, long-lasting and has a keyboard that's perfect for bashing out page upon page of copy (as this reviewer can attest).
The convertible design lets it double up as a slick multimedia machine, with Dolby Vision and capable speakers being the icing on the cake – even if HDR playback isn't as straightforward as Lenovo would like you to think.
Creatives will appreciate a stylus that doesn't get in the way, now, too. If you only need one of these things, there are more affordable laptops out there, while Apple's MacBook Air can be found for the same amount with only slightly less internal storage.
Find room in the budget for an extra £100 or so and you can get a machine with a 4K screen, like Dell's XPS 13 or the Apple MacBook Pro, or a Surface Pro with a capacitive stylus for art pros. Of course, none of 'em will fold into a tablet.
For real flexibility, if not outright excellence, the Yoga 930 should still tick plenty of boxes.
Stuff Says…
A multi-use machine that does well in almost every area – but there are purpose-built alternatives that make more sense for those searching for specifics
Good Stuff
Integrated stylus is handy for creatives
Superb sound for such a skinny laptop
Can't argue with performance or battery life
Bad Stuff
Dolby Vision support more limited than a true HDR display
Stylus not as clever as a Surface Pro
Premium price