Lenovo Yoga Book with Android review
This keyboard-toting tab is crying out for creative types to take note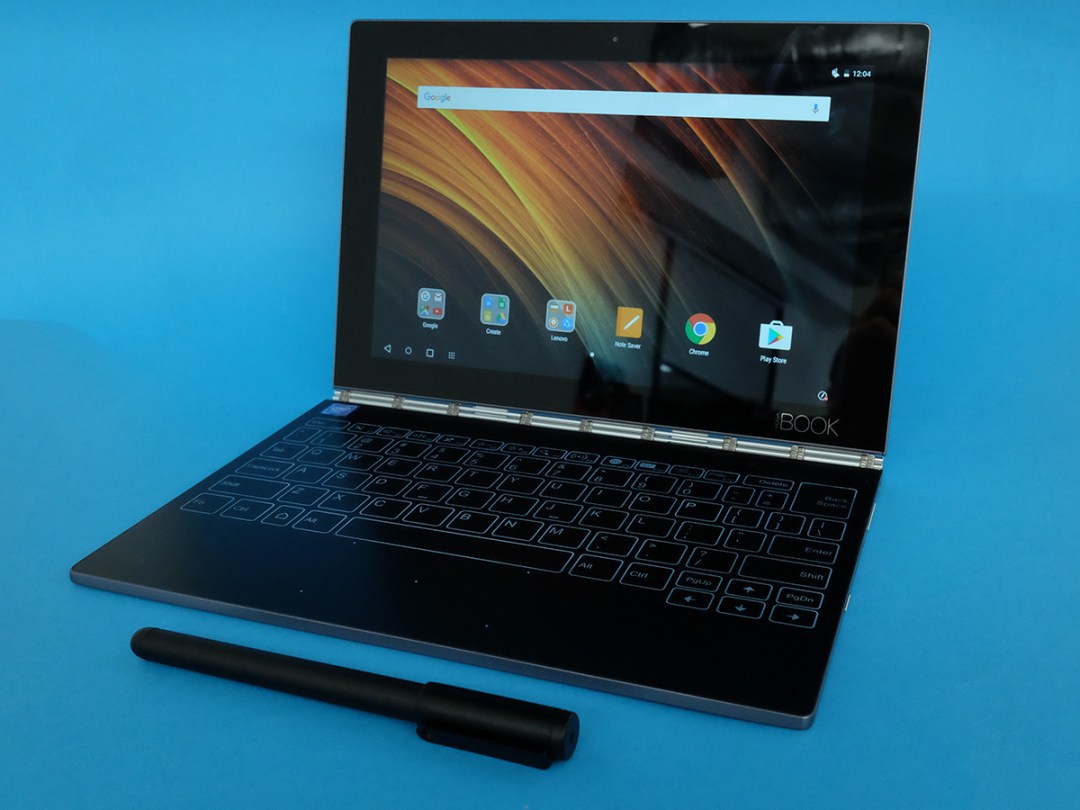 A 2-in-1 that works just as well in tablet mode as it does as a laptop? Impossible, surely!
Not if Lenovo's Yoga Book has anything to say about it.
With unique features and slick sci-fi styling, this pencil-thin hybrid is probably the most exciting convertible we've seen all year. And not just because of those drop-dead gorgeous looks.
It's all down to a cunning touch-sensitive keyboard that doubles up as a drawing pad. That's right – this is a 2-in-1 with serious sketch appeal.
Whether you're a diagram doodle bug or art-addicted scribblenaut, be prepared to want one.
LENOVO YOGA BOOK DESIGN: AN OPEN BOOK
The Yoga Book is, at its most basic, a 10.1in Android tablet mated to a flip-out keyboard. But come on – that's like saying a Formula One car is just an engine and some wheels.
It's a whole lot more exciting than that sounds.
Lenovo has been pumping out convertible laptops for years now, but the Yoga Book is the first that doesn't just feel like a laptop with a funky hinge.
There is a funky hinge, of course – the whole thing flips open a full 360°, so you can use it as a laptop or tablet, lay it flat like a book, or fold it back on itself as a kickstand.
Closed up, the Yoga Book is just a few millimetres thick, and it's astonishingly light too. 690 grams? I've got paper notebooks that weigh more than this.
Sure, it's light enough to throw in a bag, but the super-sturdy mix of magnesium and aluminium won't show up scratches. It looks like a million bucks, too.
LENOVO YOGA BOOK KEYBOARD: JUST MY TYPE
Flip open the Yoga Book and its gorgeous illuminated keyboard springs to life.
It's completely flat and smooth, so it'll take a while to get used to typing on – you're tapping on a smooth bit of glass, after all.
Still, it's pretty nifty for writing up emails, as you haven't got an on-screen keyboard taking up half the display. Because it's completely flat, it doesn't feel weird to hold when it's folded up in tablet mode, either.
It vibrates with every key press, so you get a bit of feedback when you're typing, but it took me the best part of a week to get to grips with it. Expect plenty of typos until you've got the hang of it.
LENOVO YOGA BOOK SKETCH PAD: TAKE NOTE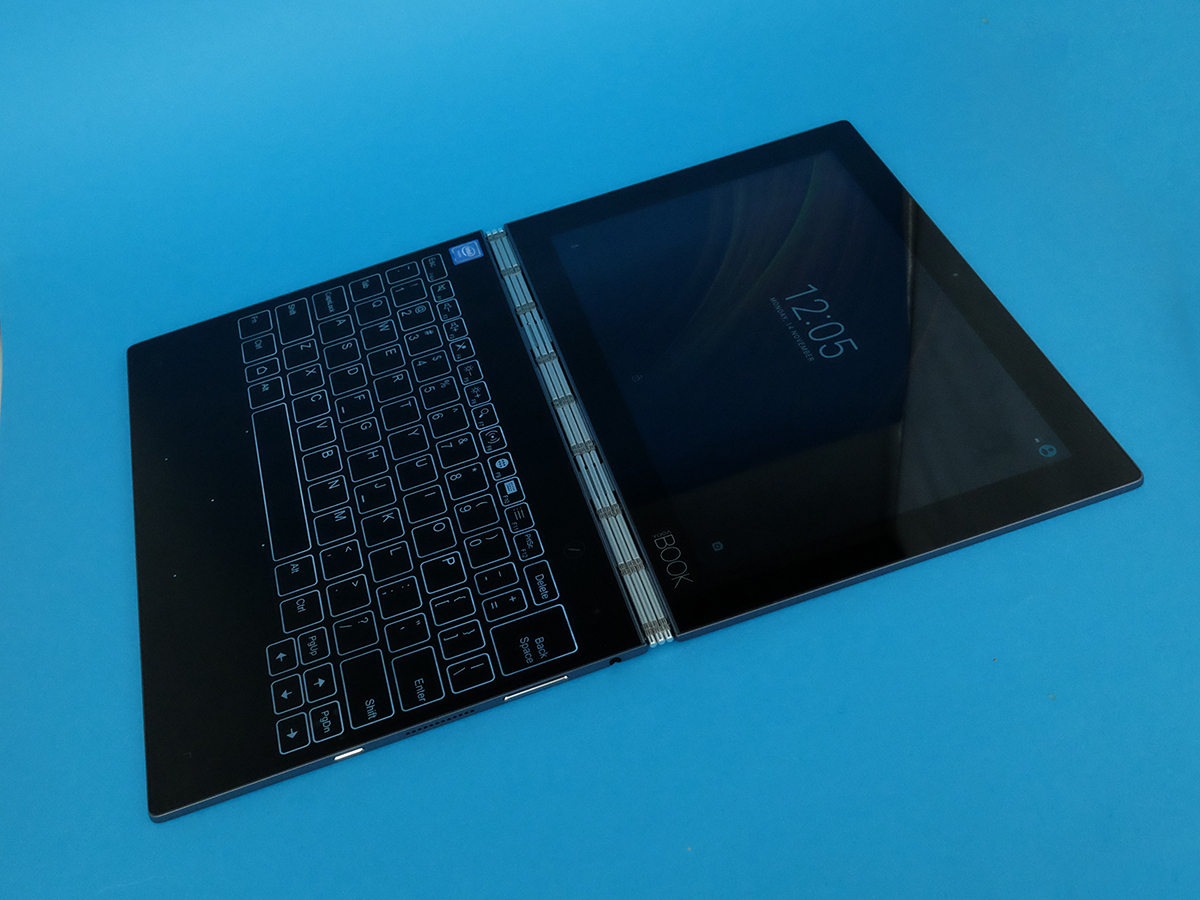 Typing? Handy. Turning your keyboard into a digital drawing pad? Absolutely brilliant.
The Yoga Book's bottom half doubles as a Wacom surface, for sketches, scribbles and other pen-based shenanigans.
You toggle the keyboard off with a short tap to an icon in the corner. From there, you can slap a piece of paper over it and get an instant digital version of whatever you sketch. Neat.
Swapping into Pen mode opens the Note Saver app, so you can power down the screen and save on battery while you scribble away. It's harder to judge how legible your notes will be without the screen on, mind.
LENOVO YOGA BOOK STYLUS: PENCIL ME IN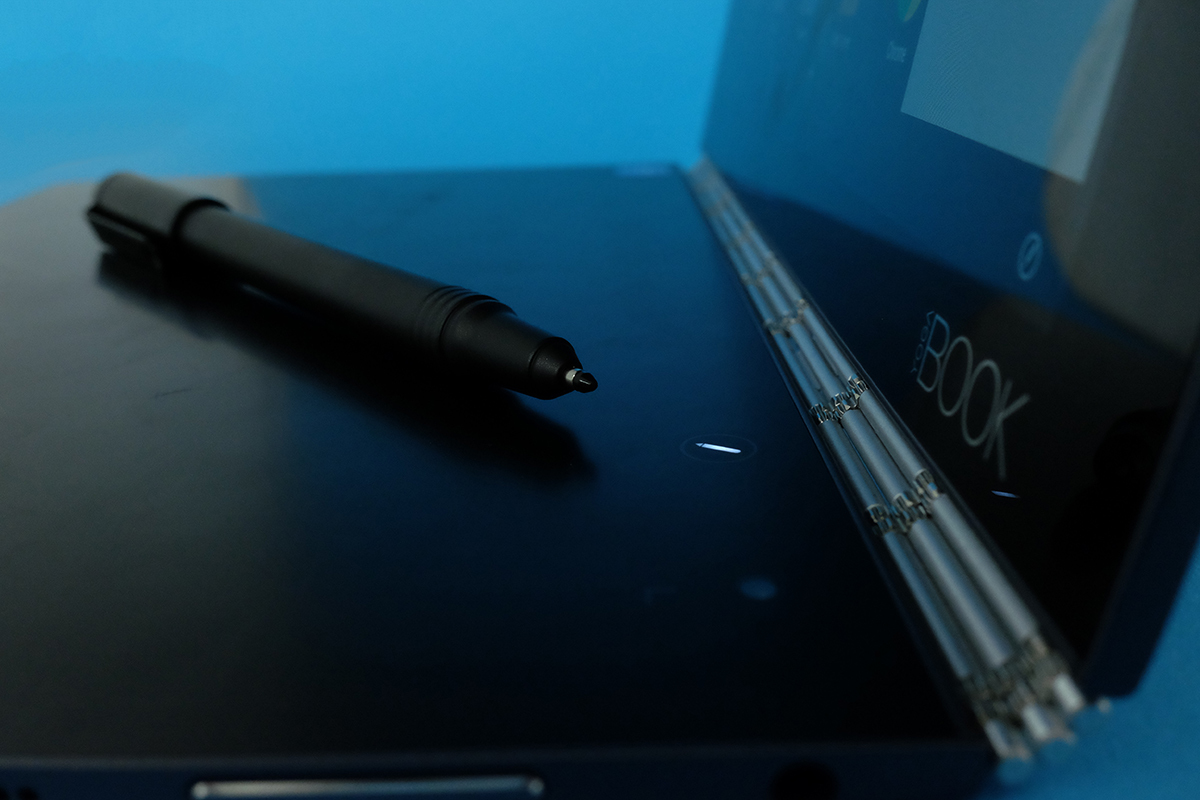 A sketchbook without a stylus would be pretty useless. That's why Lenovo bundles the Yoga Book with the Real Pen. Odd name, but hell, it'll come in more handy than a Theoretical Pen.
It looks and feels just like any other stylus. Y'know: long, thin, pointy at one end.
It works great when you're in Pen mode, but it doesn't work on the tablet's screen at all. That would have been a nice bonus – something for the sequel, Lenovo?
The stylus tip can be yanked out and swapped with a regular pen tip, so you can doodle on actual paper. It's fiddly, but saves having to carry two pens around. It ain't gonna stop you scribbling on the touchpad when you forget to change the tip back, though.
A place to store it would have been handy. There's a magnet to keep it locked to the tablet, but it's not strong enough to keep it there when you lob the Yoga Book into a bag. Cue frantic scrabbling every time you want to take a note. Annoying.
LENOVO YOGA BOOK DISPLAY: SCREEN TEST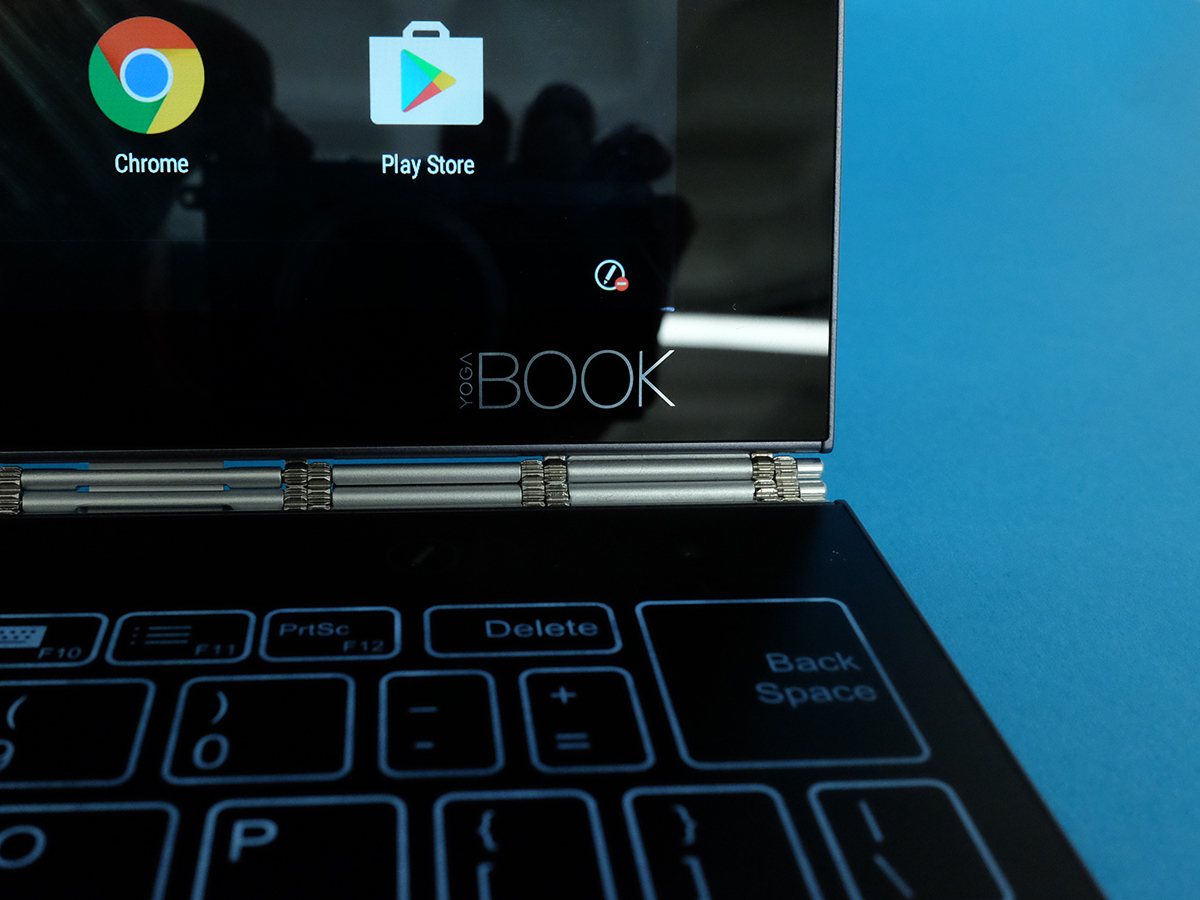 Remember when 1920×1200 used to set pulses racing? We're well past that point now, but it doesn't mean you shout write the Yoga Book off right away.
Stretched over 10.1in, that resolution is still high enough to make your pics look sharp and detailed. Sure, it won't be as sharp as a 2K or QHD display, but it's fine for note-taking, web browsing and general sketchbookery.
The IPS panel has decent viewing angles, and at 400nits it's easily bright enough to use outdoors without squinting like a mole.
Colours and contrast are about right for the cash, with fairly vibrant colours that won't impress if you're used to AMOLED displays. Still, there's enough pop to give your drawings and photos a pleasant visual punch.
The Yoga Book holds its own when it comes to movies and video, thanks to stereo speakers and Dolby Atmos sound. The latter is basically an EQ setting that does a reasonable job at faking surround sound, but either way things sound crisp and clear, even at higher volumes.
LENOVO YOGA BOOK PERFORMANCE: SPLIT THE ATOM
There's not a lot of room for high-end internals, seeing how the whole thing is so thin, but Lenovo has still managed to squeeze in an Intel Atom CPU, 4GB of RAM and 64GB of internal storage – plus a microSD card for adding more capacity later.
An Intel Atom isn't all that suited to heavy lifting, and it'll struggle to play demanding games at silky smooth frame rates too.
With Android running the show instead of Windows, you won't notice lag or slowdown quite so often, but it's there if you look closely – apps can take a few seconds to load, and Asphalt 8 isn't quite as fluid as on an iPad. Graphics settings take a hit, too – effects are missing in a few places.
For everyday working, though, it's more than powerful enough. Stick to one or two apps, and keep your multitasking to web browsing or email, and it'll feel perfectly snappy.
On the other hand, an Intel Atom is great for battery life. The Yoga Book routinely lasted up to 15 hours on a single charge – that's enough for some serious scribbling, as long as you aren't also streaming video or hammering Candy Crush.
LENOVO YOGA BOOK SOFTWARE: SET THE BAR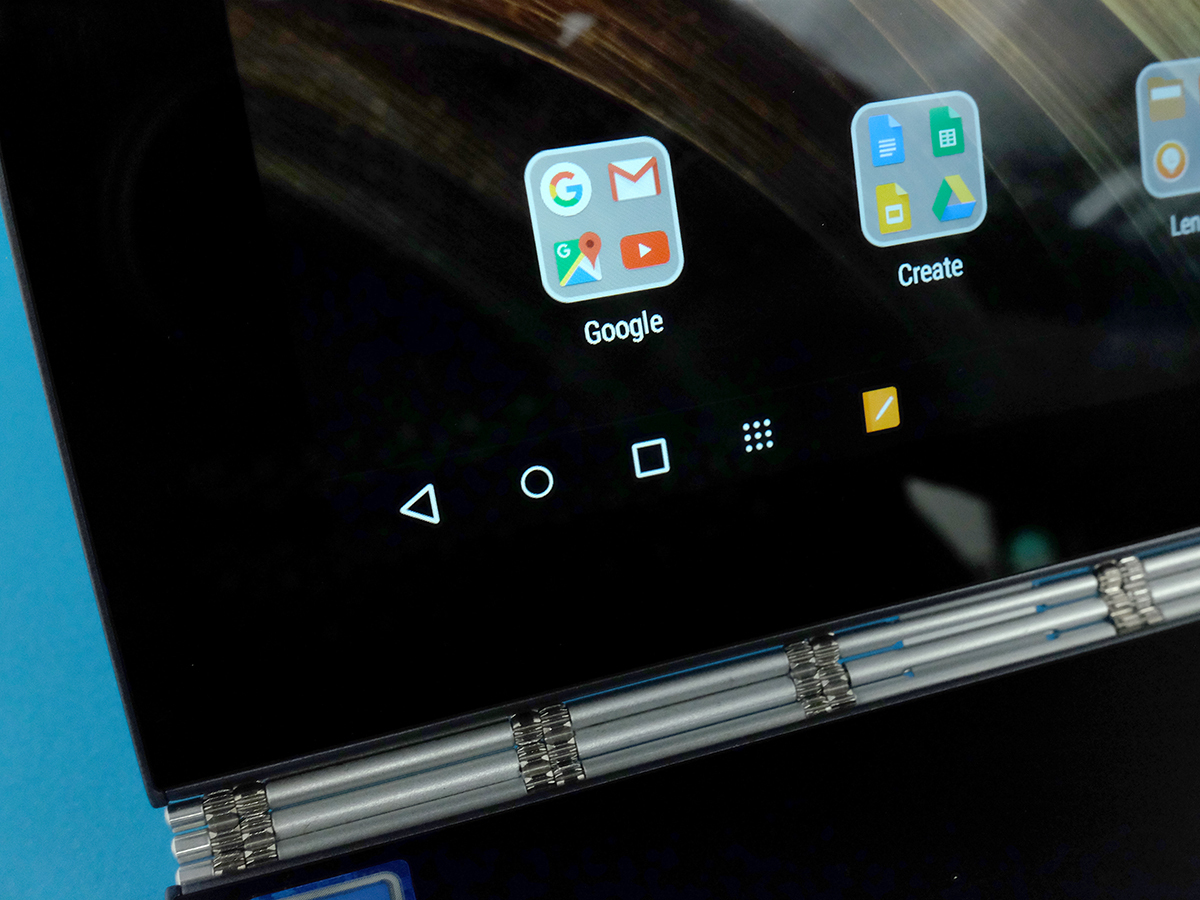 You won't miss Windows for work, as Lenovo has given Android a desktop-esque overhaul. App icons running the bottom of the screen, a multi-window mode – the works.
Not every app plays nicely in a window, though, and you can't resize them either – you're stuck with a 50:50 split.
The Yoga Book is stuck on Android Marshmallow instead of the latest v7.0 Nougat version, too. That could be a problem for serious artists: with no Photoshop or other top-end art apps, it might be worth stepping up to the more expensive Windows version instead.
Otherwise, Lenovo hasn't filled the on-board storage with too many own-brand apps. There are a few, sure, but for the most part I ended up using Google's own apps for getting work done.
LENOVO YOGA BOOK CAMERA: SNAP HAPPY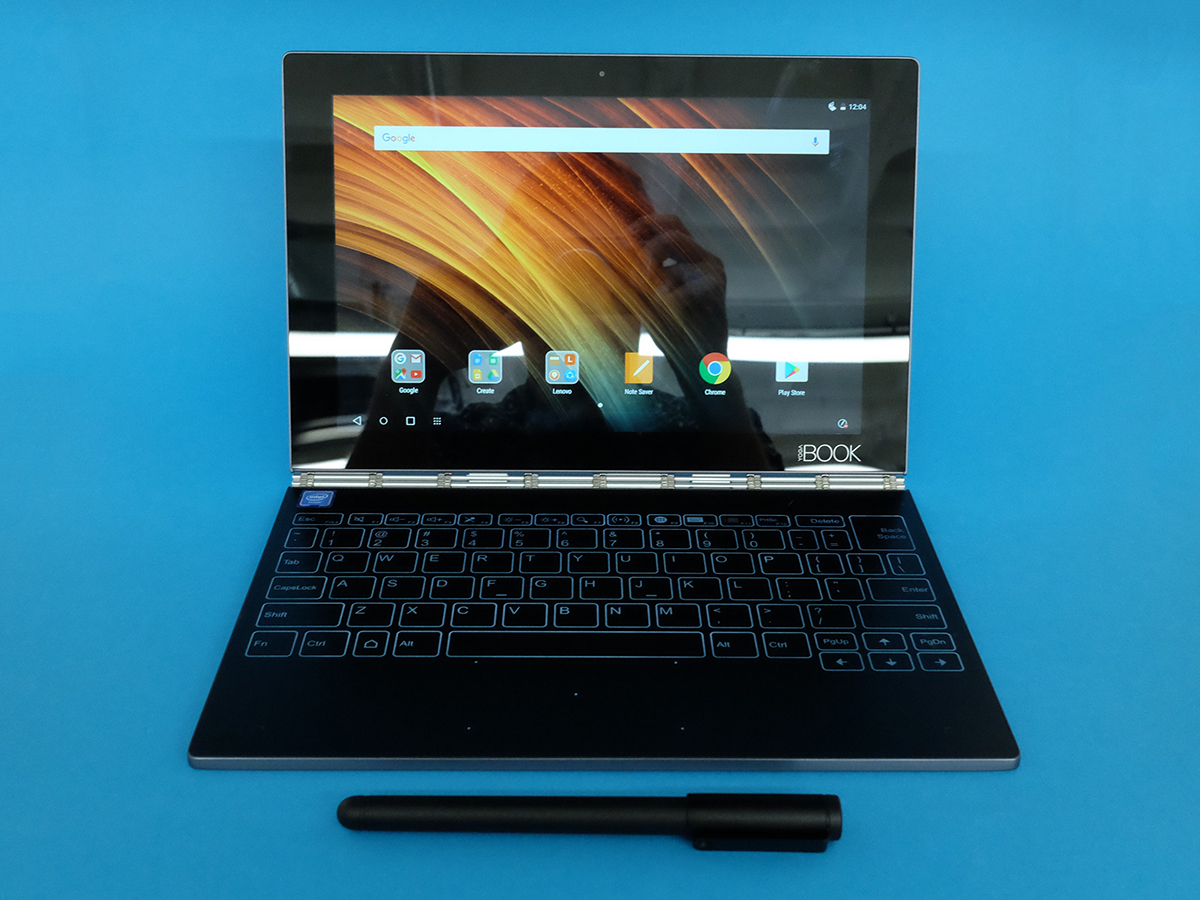 A 2MP front camera and 8MP rear snapper are par for the course in a 2016 Android tablet, so the Yoga Book delivers on that front. Neither are particularly impressive, though.
There's a lot of lag between tapping the shutter button and the photo saving, so expect to miss a fair few action shots while you wait for the camera to catch up.
You'll notice plenty of grain as soon as the light goes down, as it just can't cope without bright sunshine. Get the conditions right and it'll do well enough for Facebook uploads, but
Lenovo's camera app is equally basic, with only a few settings to tweak and modes to play with. Seriously, stick to your phone where possible – you'll get much better results.
Lenovo Yoga Book with Android verdict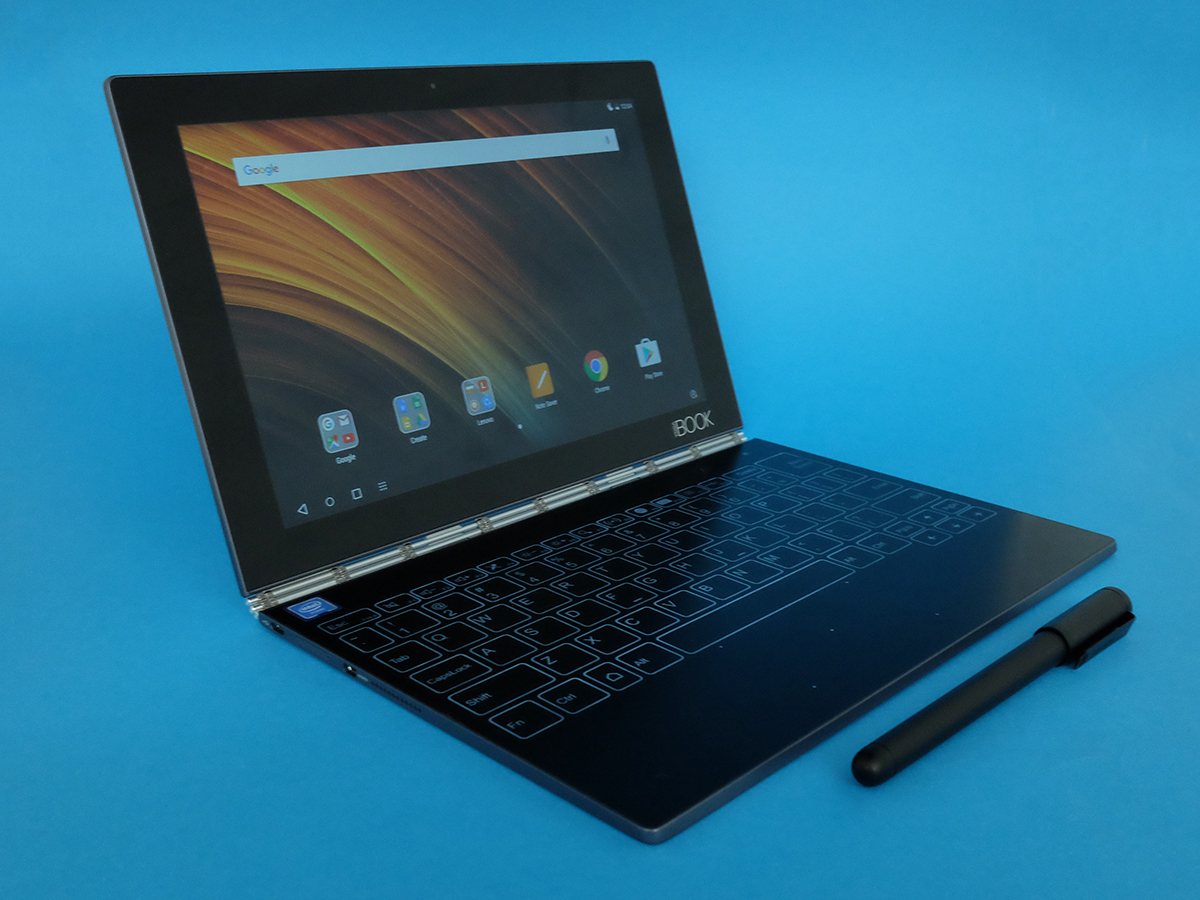 There's never been a hybrid laptop or tablet that felt quite as complete as the Yoga Book.
It's slim and light enough to lug around in one hand, but folds out when it's time to type or draw. Android isn't as flexible as Windows when it comes to art apps, but this is still the closest we've come to a completely digital doodle pad – and we love it in spite of a few flaws.
The charmingly clever keyboard should be a real draw for artists. It's not time to ditch pen and paper for good just yet, especially if you don't use a stylus already (it won't make you want to switch) but as a flexible 2-in-1, there's nothing better.
Buy the Yoga Book here from Lenovo
Tech specs
| | |
| --- | --- |
| SCREEN | 10.1in, 1920×1200 IPS LCD |
| CPU | Intel Atom x5-Z8550 quad-core |
| MEMORY | 4GB RAM |
| CAMERA | 8MP rear w/ autofocus, 2MP front w/ fixed focus |
| STORAGE | 64GB onboard, microSD expansion |
| BATTERY | 8500 mAh |
| OPERATING SYSTEM | Android 6.0 Marshmallow |
| DIMENSIONS | 257×9.6x171mm, 690g |
Stuff Says…
It's so kooky, we just can't help loving the Yoga Book's concept – even if it's not perfect
Good Stuff
Minority Report styling
Awesome double-act keyboard and drawing pad
Decent performance and battery life
Bad Stuff
Get ready for plenty of typos (at first)
Multi-window isn't perfect yet
Few dedicated drawing apps on Android