Lenovo Thinkpad X1 Carbon (7th gen) review
The long-lasting lightweight that'll help you escape the office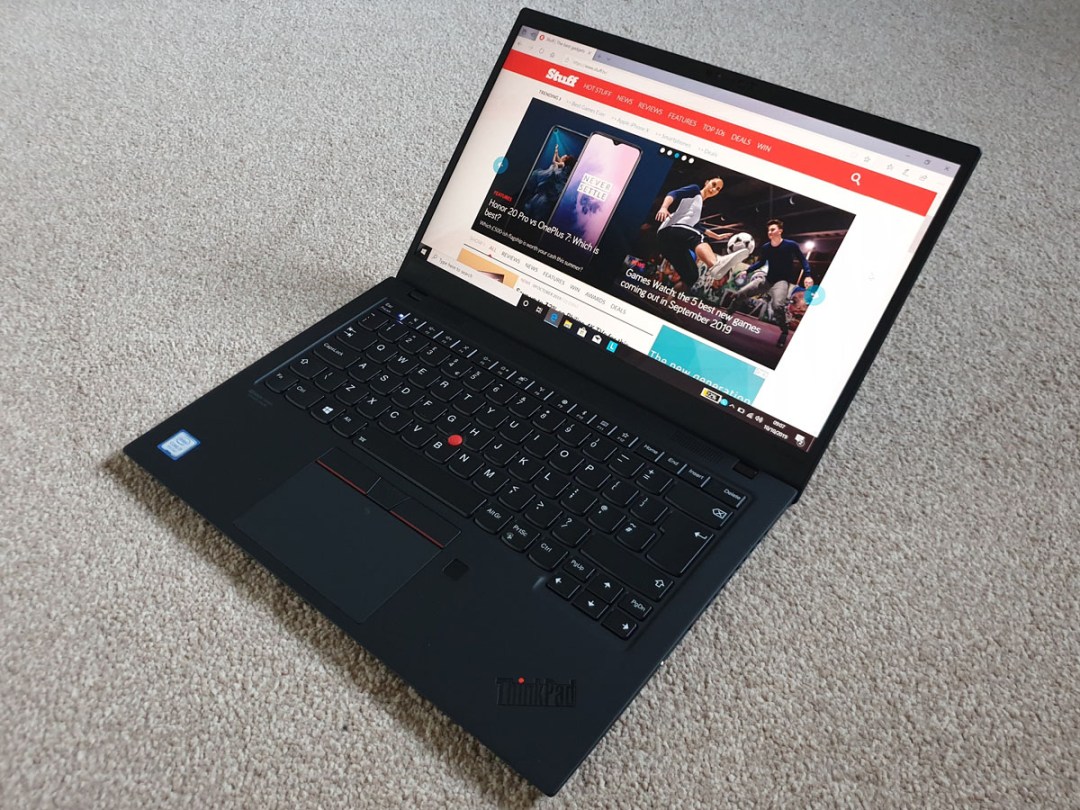 The classic ThinkPad is about as integral to office life as "world's best boss" coffee mugs, sad-looking pot-plants, and laser printers that exist solely to inform you they're low on toner.
That's great if you're still living in the '90s, but less so for modern, open-plan types that have ditched chairs for bean bags and the water cooler for an in-house barista. It's why Lenovo has tried to inject a bit of cool into this year's ThinkPad with a Formula 1-inspired makeover, as well as a series of hardware upgrades.
The X1 Carbon now lives up to its name with a carbon fibre-effect finish, while a 4K HDR screen should appeal to movie buffs that have never worn a suit and tie in their lives. Think you know ThinkPad? Think again.
LENOVO THINKPAD X1 CARBON DESIGN & FEATURES: IT'S HIP TO BE SQUARE
The hard angles, straight lines and matte black finishes show this is a laptop that means business, with the subtle carbon effect on the lid being the only thing you could feasibly call a design flourish. It's not as in-your-face as the finish on Dell's XPS 13, but it's still more exciting than plain black.
Pop one of these next to a 90's-era IBM ThinkPad and you'd probably spot the heritage, but it'd take about four X1 Carbons stacked on top of each other to match it for thickness. The X1 is a miniscule 15mm thick, and weighs just over a kilo. Even with the charger in your bag, this isn't a laptop that'll drag you down.
Lenovo has found space for plenty of ports, though, including two USB-C/Thunderbolt 3s, two regular USBs, and a full-size HDMI port. If you want wired Ethernet, though, you'll need to splash out on a dongle. There's no card slot any more, either, which could be a problem for photographers.
Security-conscious users have the choice of Windows Hello facial recognition using the built-in webcam, or digit scanning using the fingerprint reader next to the touchpad. The webcam has a little privacy shutter, which is a neat addition. It saves on tiny Post-It notes or blobs of Blu Tack anyway.
LENOVO THINKPAD X1 CARBON KEYBOARD & TOUCHPAD: GET THE POINT
Think "great laptop keyboards" and Lenovo's name should be pretty near the top of the list. The X1 Carbon delivers tactile typing on keys that have plenty of travel, are sensibly spaced and give good feedback to each press – you'll be typing at full speed almost straight away.
There are a few awkwardly placed keys, though, like the function key that should really switch places with the left Control key. Anyone that hasn't developed years of muscle memory on MacBook keyboards will be constantly confusing the two.
Spend a lot of time in cramped economy seats trying to get work done? Lenovo's trademark pointer stick makes it much easier to navigate the desktop than a touchpad when you've got no room to move. The touchpad buttons sit above it, rather than below, so you can reach them easily when twiddling the stick.
It's a shame the touchpad is a little on the small side, and a little stiff to click. You can customise the sensitivity to compensate for the lack of room to drag your finger, but a more reactive pad would be better still.
LENOVO THINKPAD X1 CARBON DISPLAY & SOUND: PHWOAR-K
You can buy an X1 Carbon with a boggo 1080p screen, but for kicking back with a movie once the work day has ended, you'll want to pay the extra cash for the 4K alternative. With four times as many pixels to play with, images and video look brilliantly crisp and detailed. At 14in you're gaining an inch of screen over similar ultraportables, too.
It's a super-bright, 500 nit panel that's good for HDR playback and Dolby Vision support. It's not going to knock the socks off an OLED telly for deep blacks and high contrast, but Netflix's Mindhunter looked suitably moody and impactful. Colours are particularly vibrant, and largely accurate too.
Oddly, the brightness level jumps much more between 90% and 100% than any other setting, so it's one you'll want to reserve for movie marathons only. Staring at spreadsheets? Save your retinas and dial the light down a notch or two. The glossy finish can also make light reflections a bit of a nuisance, but viewing angles are pretty decent and the screen hinge will hold any angle you tilt it to.
The built-in speakers can't deliver a sonic punch on par with the visuals, even with the addition of two upward-firing drivers above the keyboard. They're fine for YouTube clips, but you'll want headphones for longer watching.
LENOVO THINKPAD X1 CARBON PERFORMANCE: NO CORES FOR ALARM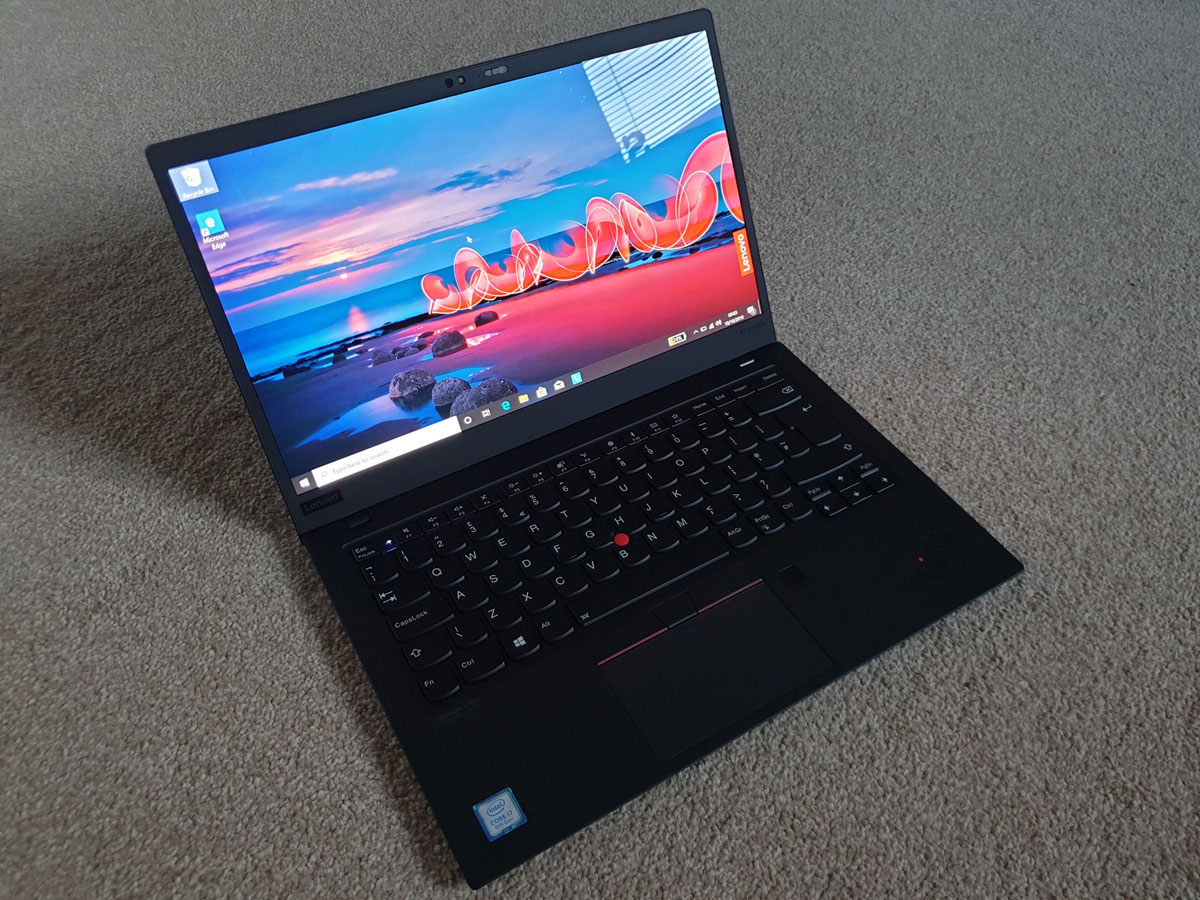 Now that ultraportable laptops aren't allergic to high-performance parts, Lenovo has crammed our X1 Carbon with an 8th-gen Intel Core i7 CPU and 16GB of RAM. With a boost speed of 4.6GHz there's more than enough grunt to keep even the most tab-happy of Chrome browsers running smoothly.
Spend your days editing 4K videos? It'll get the job done eventually, but you need to think more PowerPoint and less Premiere Pro – the i7-8565u might have four cores but it's still low-voltage silicon designed with efficiency in mind rather than brute strength.
Intel's UHD 620 integrated graphics really aren't meant for serious gaming, especially at this machine's native 4K resolution. It'll cope with older and 2D titles, and even some simpler modern stuff if you dial the details down, but don't expect frame rates to nudge north of 30fps.
It's worth remembering that Intel's new, 10th-gen Comet Lake CPUs are right around the corner, and Lenovo has already committed to adding them to the ThinkPad range. If you can wait, there might be more performance on offer, but if not, there's hardly a shortage of it here.
LENOVO THINKPAD X1 CARBON BATTERY: CAN'T STOP ME NOW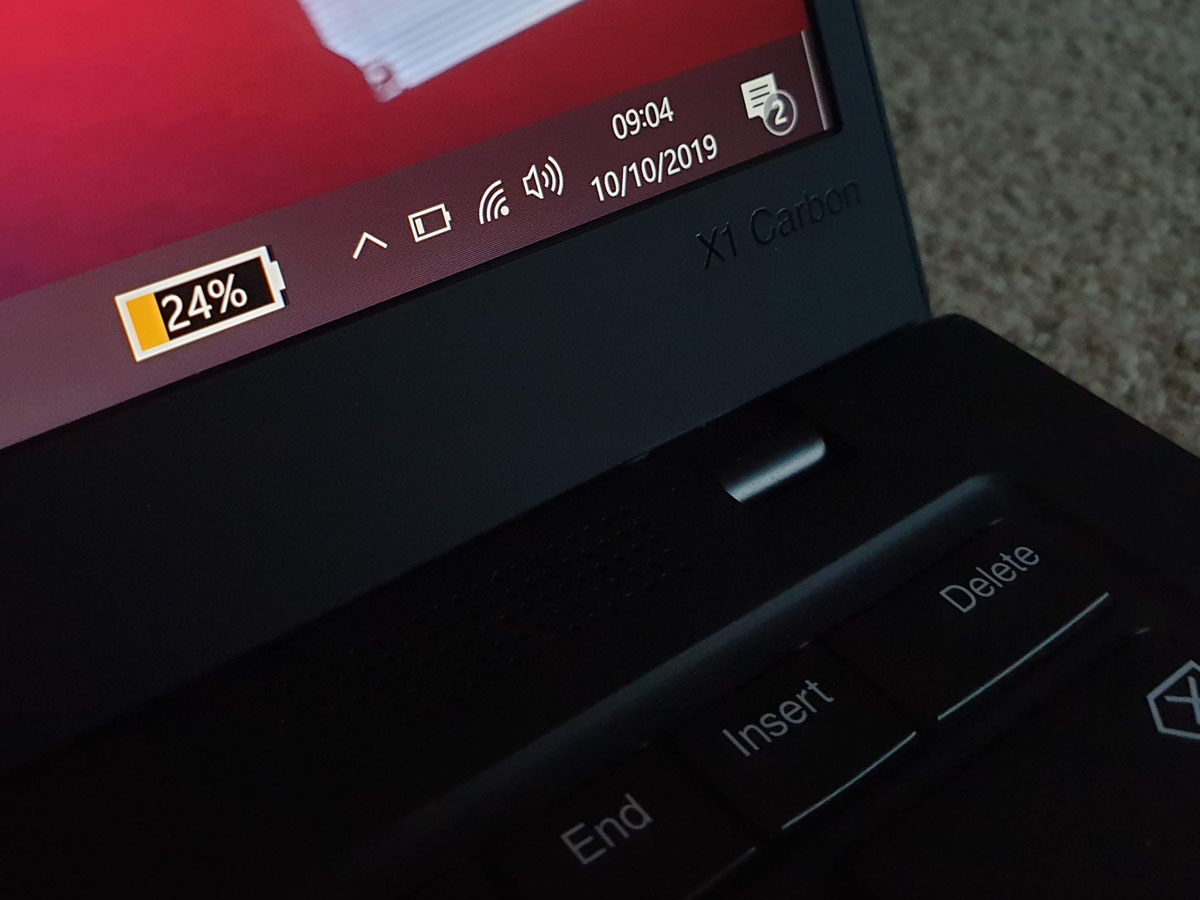 It might have one of Intel's zippiest CPUs and a body so slim there's barely room for batteries, but the X1 Carbon can keep on ticking when you pull the plug. It typically lasts between eight and nine hours of the usual daytime work grind, but only if you dip the brightness down below half. That Dolby-certified screen can really crank out the lumens if you don't rein it in.
Head to YouTube or stream some 4K Netflix and you'll find that figure dropping significantly, with around five hours between charges, but that's the price you pay for all those extra pixels. Any kind of gaming has a similar effect. Stick to a 1080p panel and not only does the price drop, but you can expect battery life to almost double.
LENOVO THINKPAD X1 CARBON VERDICT
Surprise, surprise: the X1 Carbon is a super-capable business machine. There's all kinds of built-in software security, hardware helping hands and the kind of performance that'll feel right at home in the office.
What's more impressive is how Lenovo has managed to make this year's model also appeal to people that don't spend their lives in a suit and tie.
Sure, it still leans on the serious side, and won't leave gadget fans lusting like a Dell XPS or Apple MacBook might, but it's almost so light you'll want to weigh it down in a breeze. That 4K screen can handle movie streaming and spreadsheets alike.
It is mighty pricey in the top-spec configuration, though. If you want similar power for less cash, and even more style points, an XPS 13 is still your best bet.
Stuff Says…
This slim and light business-chic laptop has learned design lessons from the Dell XPS, but the X1 Carbon can't shake the boardroom completely
Good Stuff
Light enough to lug anywhere
Genuine all-day battery life
Capable desktop performer
Bad Stuff
Design a little too restrained for non-business types
No card reader
Top-spec configurations are big money