Lenovo Legion Y720 hands-on review
A VR-ready monster of a laptop
It might be one of the biggest brands out there when it comes to laptops, but Lenovo has never been bothered about gaming – until now.
The Legion Y720 might have been a long time coming, but it looks set to make a big first impression: It's got all the Intel- and Nvidia-provided power you need for VR, gamer-pleasing features like a built-in wireles adapter for an Xbox One controler, and a backlit keyboard for anyone that insists on turning their desktop into an all-night rave.
Oh, and it's the first laptop with Dolby Atmos surround sound. No biggie.
This is actually the first of many Lenovo gaming machines, which will arrive under the Legion gaming brand. Should you be excited? We went hands-on at CES 2017 to find out.
Devil in the details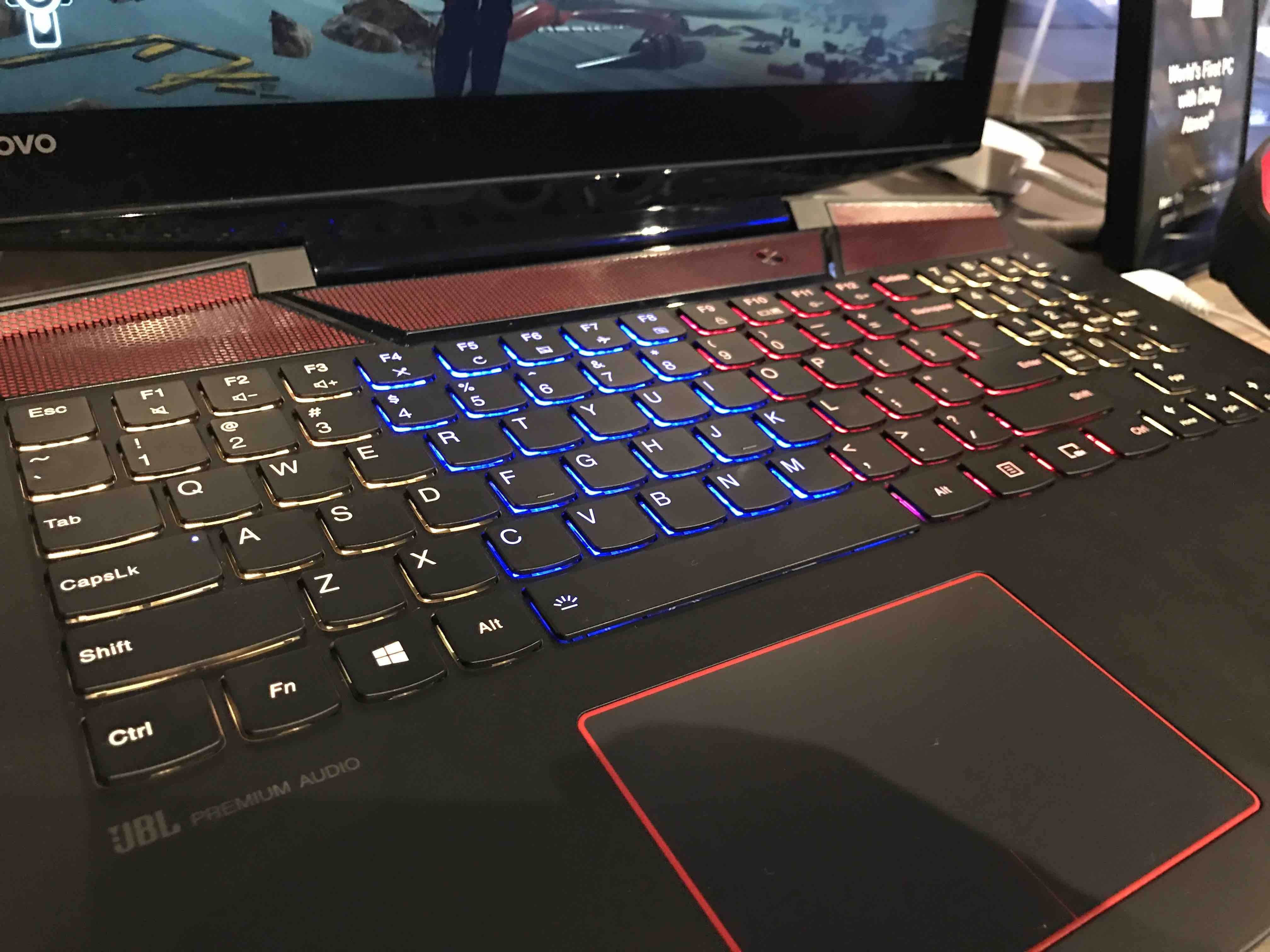 Take one look at the Legion and you just know it's a gaming laptop. Those bright LED lights, colossal display, and prominent speaker grilles are anything but subtle.
It has a lot in common with the Alienware 15: when the lid's closed, it's fairly unobtrusive (yet seriously chunky), but open it up and the lashings of red are guaranteed to get you noticed.
Underneath that cavernous chassis, the Legion Y720 ticks all the boxes for a 2017 gaming laptop. The base model kicks things off with an Intel Core i5 CPU, Nvidia GTX 1060 graphics chip, 512GB SSD and 15.6in, 1080p screen.
Got some cash to splash? You can upgrade to an i7 CPU, add a 1TB SSD or 2TB hard disk, and make the jump to a 4K display.
Annoyingly there's no way to add a better graphics card, though – the GTX 1070 and 1080 are off the cards.
Game On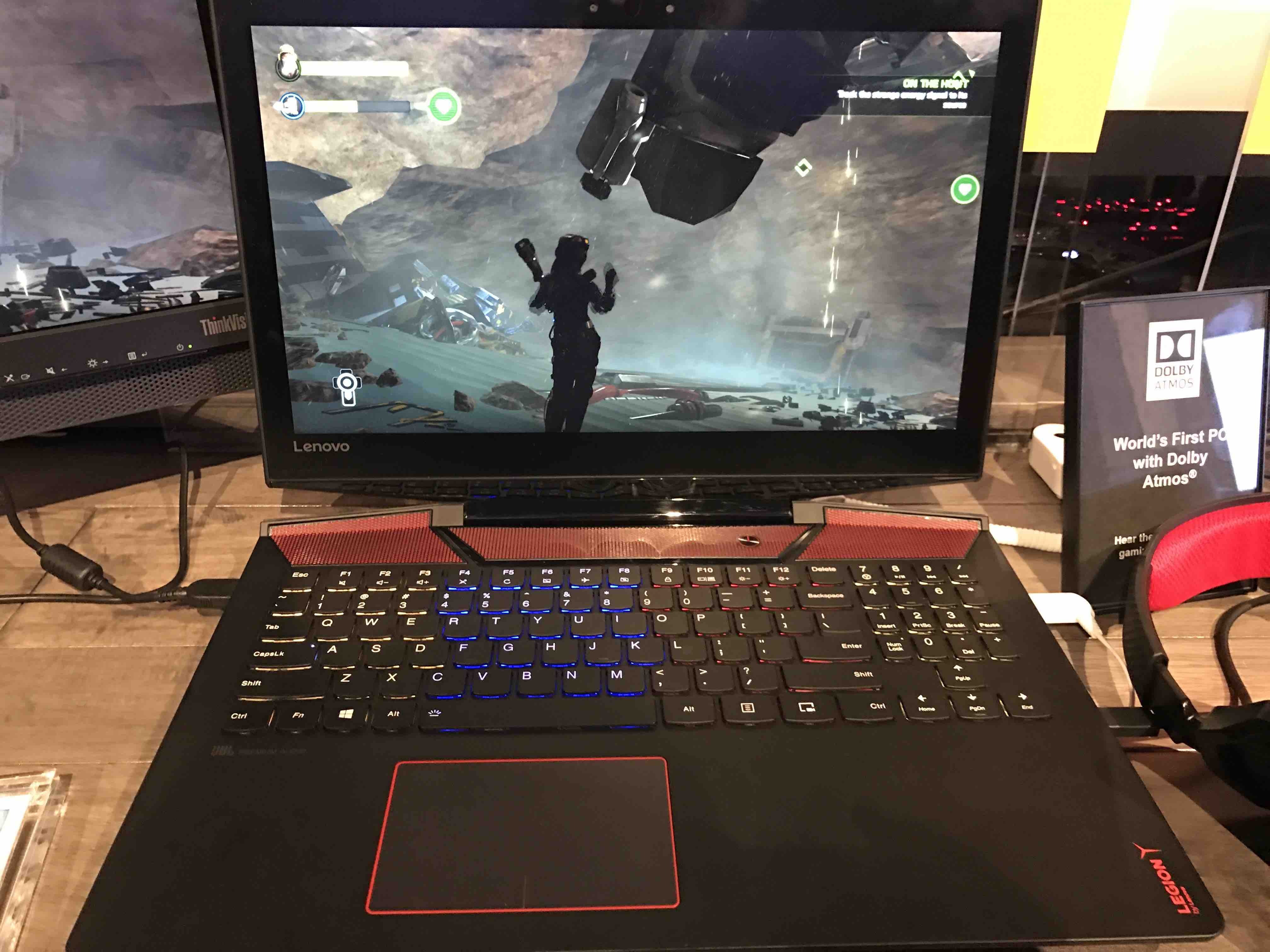 The GTX 1060 is still ready for virtual reality, though, and the Legion has all the ports you'll need to hook up an Oculus Rift or HTC Vive. There's even a Thunderbolt/USB Type-C port on top of the three regular USB3 ports. Handy.
Lenovo's Entertainment Hub software lets you watch your regular old 2D videos in VR, from inside a simulation of a cinema, and adds head-tracking to your non-VR games. We tried it out with Deus Ex: Mankind Divided, and while it takes some getting used to, works across every VR headset out there – including Lenovo's own upcoming HMD.
The Legion is also one of the first laptops we've seen with built-in Dolby Atmos surround sound. Lenovo reckons it's the first in the world with the tech, but until it actually goes on sale, there's still time for another company to swoop in and steal first place.
Either way, it's supposed to produce precisely-pinpointed surround sound from just two speakers.
It was difficult to test out properly in a trade show environment, but if you're going to be holed up in a hotel room with only this laptop as entertainment, it should be able to service your gaming, movie and music needs.
When you're not gaming, you should get about five hours of battery life – not bad for a 15in PC this powerful.
Lenovo Legion Y720 initial verdict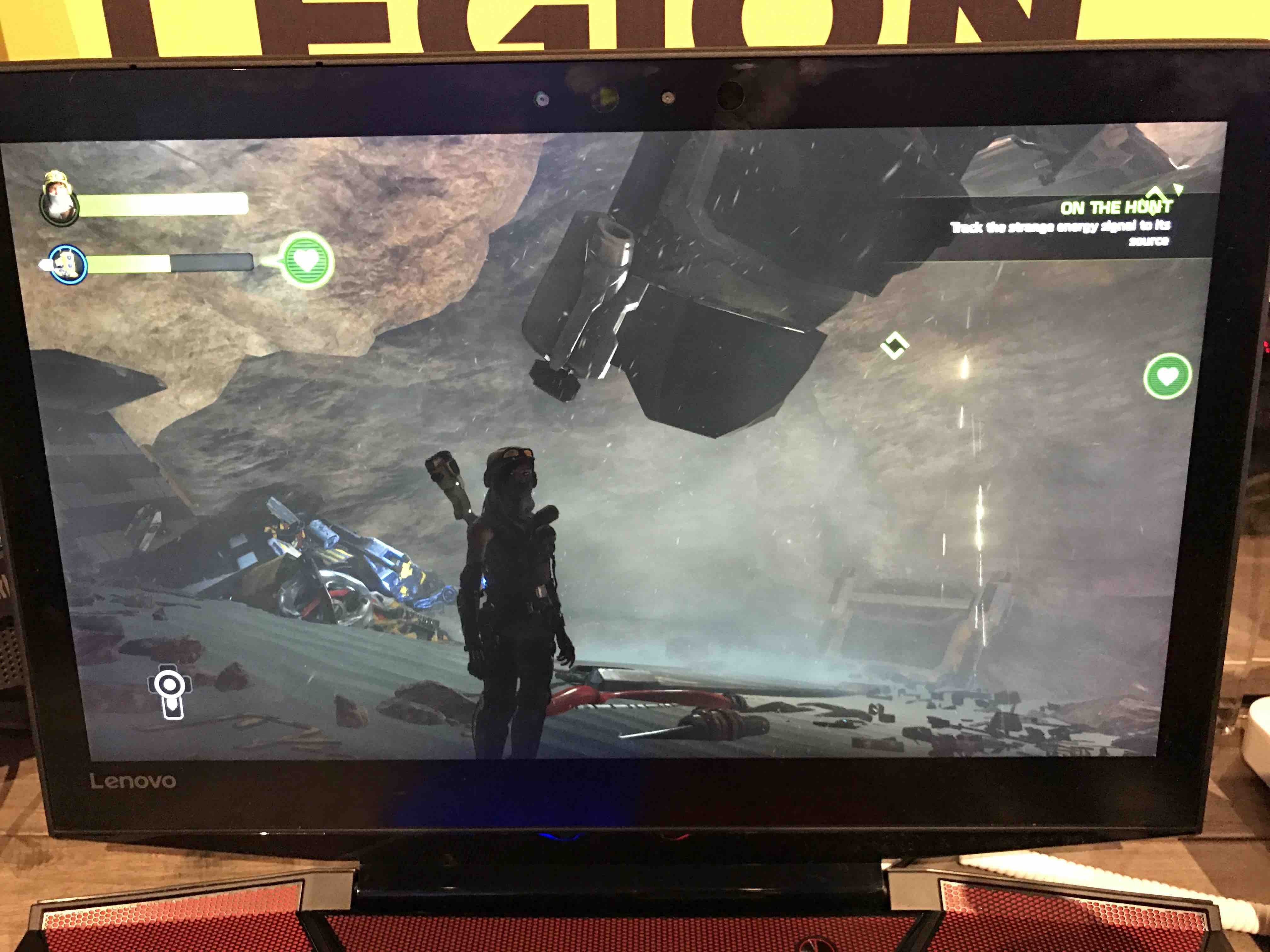 I tried the Y720 with a 4K display, which looks absolutely stunning up close. The keyboard felt great to type on, too, but I'm not convinced the multicolour backlighting is worth paying extra for.
Whether you've got a VR headset or not, though, chances are you're going to want to play some games using a gamepad, and this is where the Legion Y720 has you covered as well.
The built-in Xbox One wireless receiver lets you use up to four of the console's controllers at once, without having a mess of wires trailing from players to laptop. We love the Xbox One controller for gaming, especially in its Elite form, and expect plenty of Legion owners to make the most of this (still pretty unique) feature.
You should be able to pick up a Legion Y720 in April, but there's no word on price just yet. We're planning on giving it a full review a little closer to launch, though, so make sure to check back once we've given one a proper gaming workout.