Lego Vidiyo review
Third time funky
Lego might be the world's most valuable toy brand, but flirtation with near-death two decades back left it with a steely determination to survive long term. This manifests as periodic attempts at partial reinvention, which in Lego Vidiyo's case means another crack at bridging the physical and the virtual.
Seasoned block builders will know of Lego's prior augmented reality efforts, NEXO Knights and Hidden Side. The latter range had great sets that with a few adjustments imaginatively transformed into ghoulish monstrosities. The app, though, was duff. Fortunately, Lego Vidiyo finds the plastic block company mostly on the right track.
Putting the band back together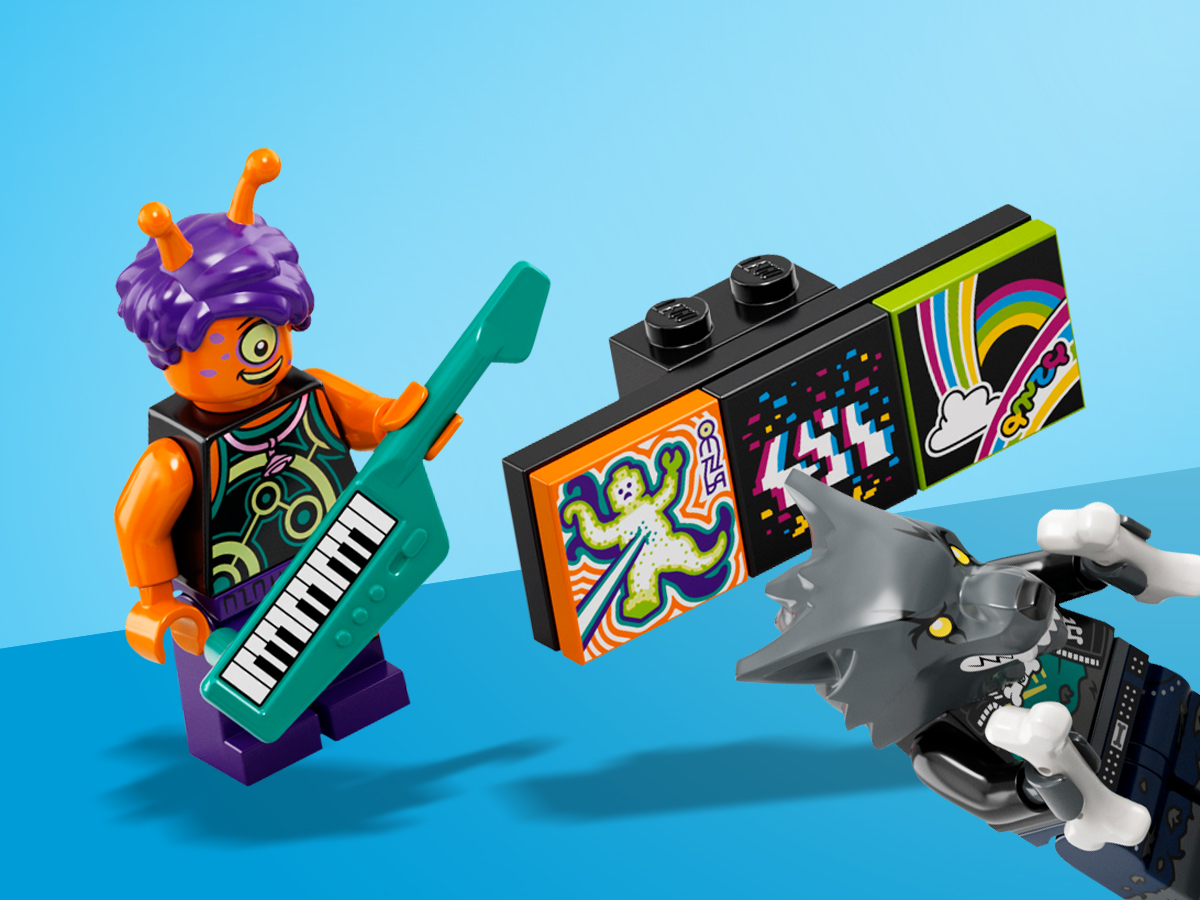 In fact, right tracks, because this Lego theme's all about music. Whereas Hidden Side found you shooting ghosts, Vidiyo has you shoot music videos for a band whose members are based on real-world collectable sets. These come in the form of blind-buy £3.99 Bandmates and larger £17.99 BeatBoxes.
The roster is varied and endearingly wacky. It includes a manic werewolf who plays drums using two massive bones, a saxophonist who's a sentient ice cream, a llama reminiscent of Bez, and a DJ unicorn. The Bandmates sets come with a simple stand; BeatBoxes are more elaborate – a combination of carry case, collapsable stage and thematic Lego Dots-like decoration on their rear.
Core to Vidiyo are the final puzzle piece, BeatBits – printed tiles whose importance becomes apparent when you start using the app. Although even if you never get that far, music-loving minifig collectors will find value enough in the Bandmates sets as they are.
Video killed the radio star
The app kicks off with you 'scanning' your physical Lego Vidiyo figures, which are then used in various combinations to form bands. Once you've set up a band, you can shoot cover art, mess about with outfits, and adjust the band's layout during performances. Over time, you can unlock additional costumes, layouts and choreography.
The meat of the app, though, is the video bit. You select a track (UMG's supplied a bunch of popular tunes), scan a Bandmate on a stand/stage that has at least three BeatBits, and position the virtual band in a real-world environment, choosing from three sizes: minifig; human; and something approaching kaiju.
As the music kicks off, your scanned BeatBits become buttons that are used for firing off special effects, such as turning the band into pandas (and having additional pandas rain on them – sorry, WWF) or having a Lego cat blaze across the screen, leaving a rainbow trail in its wake. It's all a bit psychedelic, man.
Lego Vidiyo verdict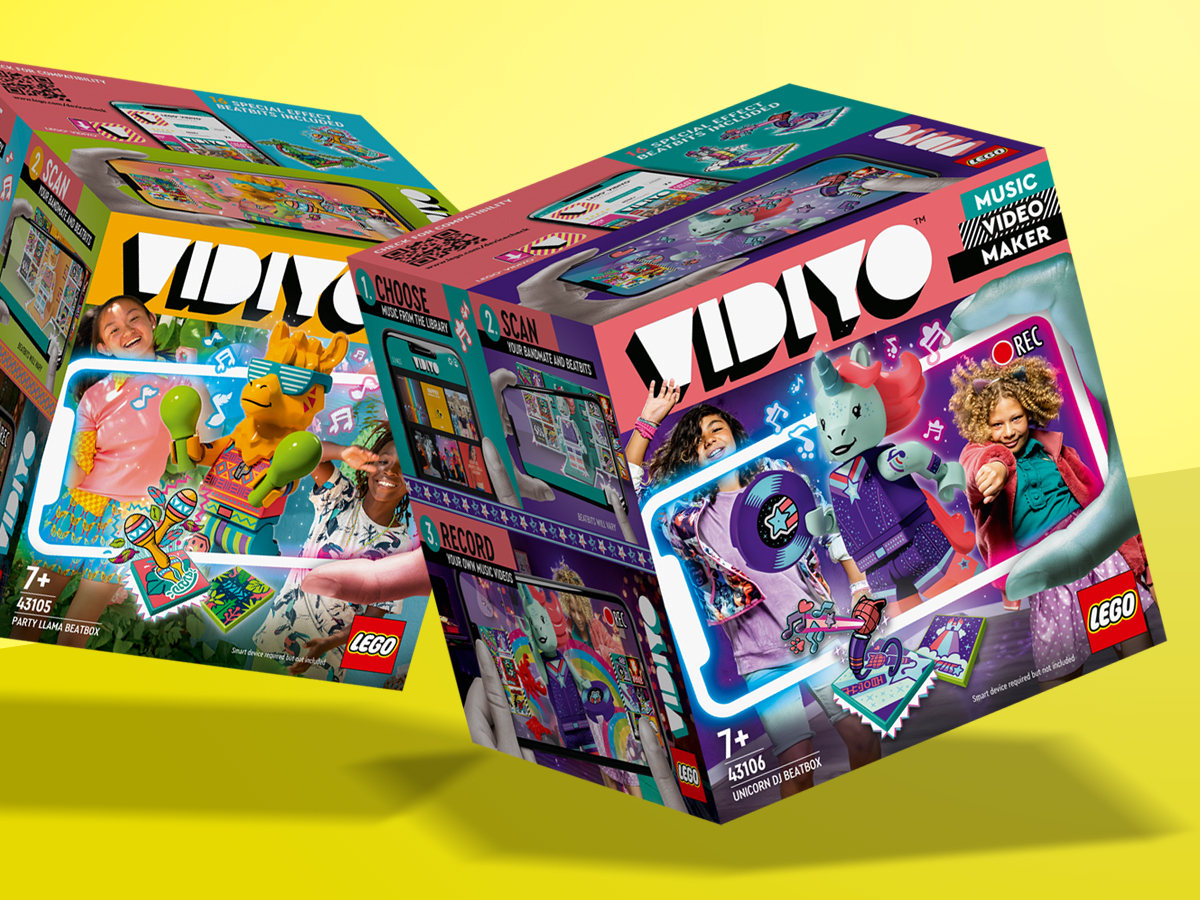 But is it any good? Mostly, yes. Our (almost) seven-year-old co-reviewer lit up when shooting videos and prodding madly at the buttons, and spent happy times customising her band and rearranging BeatBits on her BeatBox, in order to have access to her favourite effects. The app is fun and safe – every video shared to the feed is moderated; anonymity (no people; no recognisable street names) is a requirement.
The biggest stumbles are technical – load times can be long and we had issues positioning the AR environment. Too often, figures would appear microscopic unless we moved the stage to another surface and back to where we wanted it. The giant-sized band option was mostly unusable. In wanting to reduce complexity and avoid a commonplace tap-to-place/pinch-to-resize model, Lego instead made things awkward.
Still, these are simple fixes and the experience as a whole is focused and breezy – along with being in vogue, given society's obsession with pop stars and social feeds. But even when that aspect of Vidiyo fades, the minifigs are strong enough to stand out in and enliven any Lego town.
Stuff Says…
Top of the pops? It's close. Minor app flubs aside, this is a fun digital Lego experience backed by a creative, colourful cast of minifigs.
Good Stuff
Varied figures and printed tiles
Fun video shooting experience
Plenty of in-app customisation
No IAP
Bad Stuff
Positioning AR stage is awkward
Lengthy app load times
No local saves of unmoderated videos
Bandmate sets are blind buys