JVC Everio GZ-MG505 review
JVC's Everio series has taken camcorders into the 21st century, but is this latest 3CCD model a straight shooter?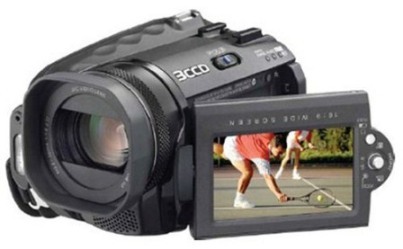 Cramming three CCD sensors into a camcorder isn't a new idea. You split the image into red, green and blue light and use a sensor to capture each, with the promise for all this hard work being brighter colours and more detail.
The MG505 packs this technology alongside a 30GB hard disk and a 5megapixel camera – but is it all a bit redundant now we're all talking about hi-def?
Well, those three CCDs do seem to make a difference, so at least you can see what your money's got you. The MPEG2 footage is reasonably detailed, although little better than you get from the other Everios, and the colours are incredibly vibrant.
It's a double-edged sword, though, as sometimes brighter colours get so saturated that they lose detail and become a blobby mess. As for sonics, the stereo sound recording is as good as it gets from built-in mics.
A big 2.7in LCD swings out from the side to act as your eyes – no optical viewfinder here. It's widescreen to cope with the 16:9 recording option and is very bright, which is good for shooting in heavy sunlight. But that's about all that's good about it. It's smeary, grainy and washed out, turning any normal, well-lit scene into a slushy mess.
Storage for your movies comes courtesy of a 30GB hard disk, which is good for 7 hours at DVD quality – reserved for weddings, where you want to capture every memory – or up to 38 hours in the economy mode – best kept for births, where a memories are best kept lo-res, for the sake of all concerned.
The MG505 also uses those three 1.33megapixel sensors to pull together 5MP stills. No, we don't get the maths either, and the photo quality is, er, a bit rubbish. The exposures were all over the place but mostly really underexposed, so the pics came out far too bright. If you want to shoot stills, get a proper 5meg camera and leave the JVC to doing its day job.
Delving into the menus, you find a few interesting features to stem your incompetence and counter difficult conditions. For instance, you'll want the Drop Detection on so the hard disk protects itself if you clumsily pitch your camcorder off the edge of a table.
Image stabilisers have become expected at this level and this one is pretty effective – try turning it off and witness the wobble – and the Windcut option helps drown out some of that fierce crackling when filming near tornadoes.
Despite how fat it looks in pictures, this is one surprisingly compact 'corder. It's really comfortable to hold and you won't struggle to reach the main controls – record and zoom.
The other buttons are revealed by folding out the screen, which is fiddly – especially having the menu button on the side where you can't really see it and the navigation joystick on the screen frame. The on switch is also on the wrong side, so you need your left hand to power up.
Ultimately flawed, then, and without hi-def this pricey movie cam will never get to Hollywood.