Jaguar F-Pace first drive review
A tech-stuffed SUV that's a big car for Jaguar - in more ways than one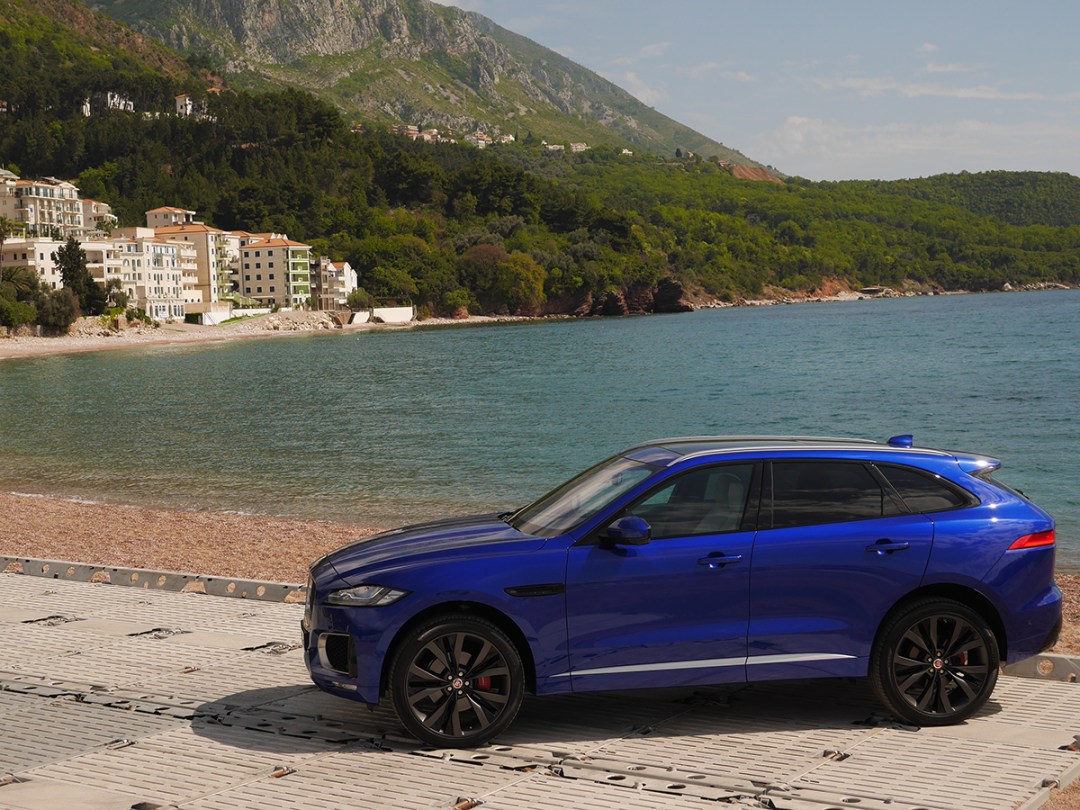 A fast, luxurious, all wheel-drive SUV that can get you where you're going in style, but handle a spot of off-roading too. That'll be a Land Rover, right?
Not so fast. Stablemate Jaguar has been working on a little something of its own. It's called the F-Pace, and it's got every chance of beating Land Rover at its own game.
Take some signature Jag styling, a serious helping of in-car and safety tech, more interior space than practically any other car in its class, and bolt it all to a brutal 3-litre, supercharged V6 petrol engine. It's a recipe that's guaranteed to make an impression.
The F-Pace is more than the sum of its parts, though – as I discovered with Jaguar on the windy mountain roads of Montenegro.
Mean machine
It's a lot taller than the Jags you're used to seeing cruise past you on the motorway, sure, but just look at it – there's no mistaking the F-Pace for anything but a Jaguar. There's even some F-Type lineage going on at the rear.
That mean grille up front, gorgeous brake lights on the back, and that swooping bodywork all make for an imposing image when you've got one approaching in your rear view mirror. Jag's launch had been going for weeks by the time I arrived, but I still got plenty of admiring looks when behind the wheel.
Don't get too attached to those massive 22in black alloys, though, or the brilliant Caesium Blue paint – those are reserved for the limited run First Edition model, which is already sold out worldwide. At roughly £54,000 it wasn't cheap to begin with, but adding on tech toys and extras bumps the price to an eye-watering £72,000.
There'll be time to talk tech later. First – that engine. It's not as aggressive or throaty as a V8, and it's up to personal taste whether you prefer the supercharger's high-pitched whirring over the dump valve pop you'd get from a turbocharger, but it's still a seriously potent powerplant for a car this big. Pumping out 375bhp, it'll hit 0-62 in a little over 5 seconds, and will keep going all the way up to 155.
There's more than enough grunt on tap to overtake most of the people you're sharing a road with, although most people will probably end up with the slightly slower (though more economical) 2-litre turbodiesel.
Kickdown through gears could be a little quicker from the 8-speed automatic gearbox, but I only really noticed it on bendy B-roads, where you'll have a lot more fun with the paddle shifters.
I didn't expect it to grip as well as it did around Montenegro's vicious hairpin bends, and Jag's engineers have done a stellar job getting rid of body roll. This isn't just an XF undeneath – as much as 85% of the parts are brand new for the F-Pace.
So it's got the power and handles well enough to make B-roads fun when you've not got a cabin full of passengers, but what about getting those wheels muddy? You'd expect the F-Pace to do well here, considering Jag shares a factory with Land Rover, and happily it doesn't disappoint.