Jaguar E-Pace (2018) first drive review
Jaguar's cub sets the standard for small SUV styling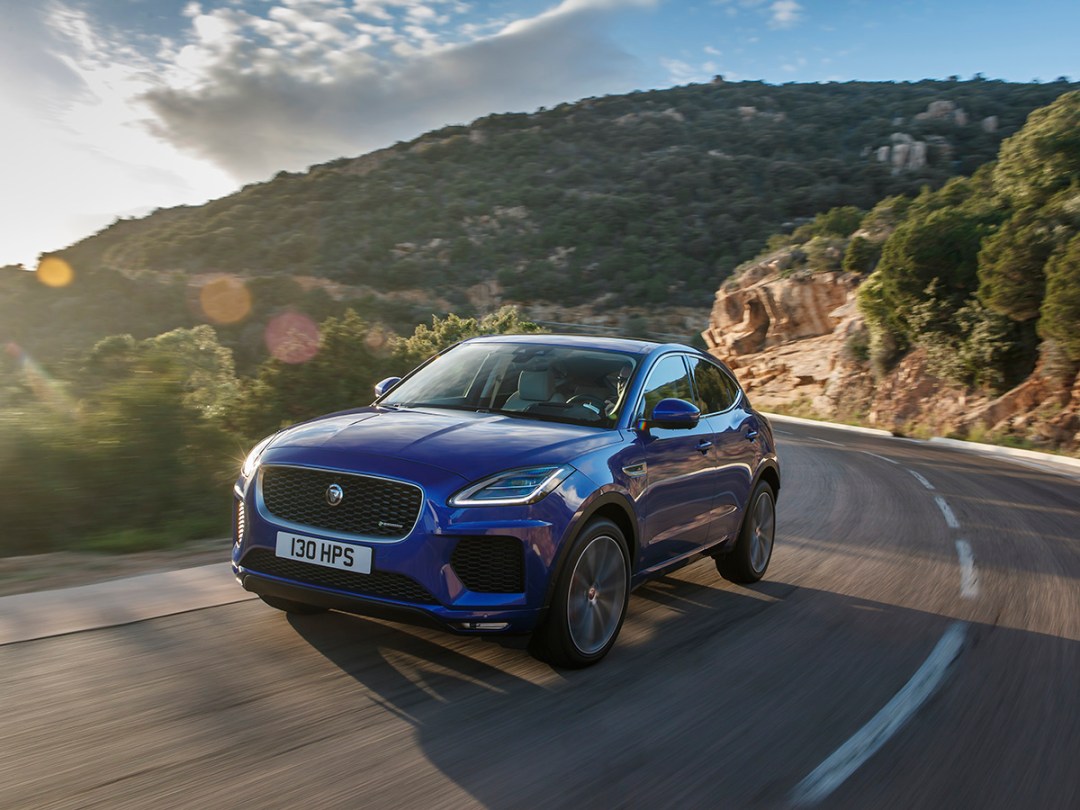 Bob Dylan seemed like an appropriate soundtrack to my time behind the wheel of Jaguar's baby SUV.
OK, he might not have actually been singing about the steady march of Sports Utility Vehicles replacing the traditional saloon, but still – The times they are a-Changin' .
Only five years ago, Jaguar sold about 60,000 cars. Total. It now sells that many F-Pace SUVs alone. Those are some serious numbers, so if big and tall is what the people want, you might as well give it to them.
Enter the E-Pace, a more compact SUV that still makes room for the whole family, but loses none of Jaguar's signature styling. It's on track to be Jag's most popular car, but as I found out on the winding mountain passes of Corsica, there's substance beneath that stunning exterior.
Design & Exterior
Jaguars have always had that certain something. Whether it's the luxury of the XJ, the sporty stance of the XE, or the sheer menace of the F-Type, they all have head-turning good looks. The E-Pace is no exception.
Put one side-by-side with an F-Type and it's easy to see the design influences. Sure, it's taller, wider, and a lot less angry, but those swpping headlights at the front and hunched rear arches are pure F-Type.
At roughly the same size as stablemate Land Rover's Evoque, it still has real road presence, even if it's a lot shorter than the giant F-Pace. It's deceptively compact to drive, though, or at least it felt as much on Jag's tennis ball-and-traffic-cone-avoiding precision course.
The familiar, open-mouthed grille up front borrows a lot from the F-Pace, too. Some might say it looks like an F-Pace that's been squeezed together a bit, with the tall cabin and shorter wheelbase, but when you look at what else is out there for your cash, the E-Pace is still a gorgeous car.
The Borasco Grey paint is a real head-turner, too. Ignore anyone that calls it glorified primer. Pair it with some black alloys and it looks even meaner – but only if you have the cash to splash on the upgrade from the base spec.
Cabin & In-car tech
Slide into the excellent sports seats (part of the R-Dymanic trim package) and it's easy to see where the E-Pace steps up its game. A luxurious interior that puts other SUVs to shame is exactly what you'd expect from Jaguar.
You get a similar driver/passenger split to the one you'd find in the F-Type, right down to the grab handle beneath the centre console. That location might work for a low-slung sports car, but it's a little awkward here. The traditional gear lever is distinctly un-Jag-like, too, but should keep any newcomers to the brand happy. It feels a bit sportier than the rotary dial you'll find in the F-Pace, anyway.
Physical switches and dials have been relegated to climate control and the like, with a 10in TouchPro touchscreen sitting pride of place in the centre of the swooping dashboard. It handles all the infotainment, navigation and vehicle settings, either through the standard stereo system or the optional 825W Meridian speakers. Which sounded pretty epic when I streamed some tunes from a phone paired over Bluetooth.
TouchPro has a responsive UI that's easy enough to adjust on the move, and while not quite as intuitive as Audi's Virtual Cockpit or BMW's iDrive in its vanilla guise, you can add the optional 12.3in digital instrument panel and you can spend less time turning your head.
The heads up display does an even better job, adding a rev counter/shift indicator when driving in sport mode, as well as navigation directions and the current speed limit.
This is all on top of the basic spec, which arrives with keyless ignition, cruise control, parking sensors, autonomous emergency braking, LED front and rear lights, and a rear view camera. Those of you with an active lifestyle can even swap your keys for a waterproof wristband, so you can head off surfing, skiing or whatever else it is you do to make the rest of us look bad, without having to bring a car key along for the ride.
Interior & storage
Beyond the driver's seat, the E-Pace continues to impress. It might not be massive on the outside, y'see, but it's like a TARDIS when it comes to storage.
The E-Pace has hidden cubby holes and storage units everywhere, with ample room in the door pockets, a sizeable glovebox, and a central storage box with space for two bottles of wine – there's probably space for the accompanying cheeseboard, too.
Flip down the rear seats and you've got a respectable 1234 litres of room for luggage. You might still struggle to squeeze in a sofa (in case you were looking to move furniture in style) but there's easily room for a mountain bike, without having to remove the wheels first. With the family on board, there's still a substantial 577 litres in the boot. Three USB ports should keep everyone in the back seats happy, too.
For total capacity, the BMW X1 might have the edge, but the E-Pace isn't exactly hurting for it either.
Overall build quality is very good, if not quite class-leading. The steering wheel has a few too many buttons, perhaps, and some of the plastics feel a little cheap, but you'd have to go hunting for them.
The E-Pace on the road
Come in to the E-Pace expecting a similar drive to the rest of Jaguar's cars (the ones that sit closer to the ground than this, anyway) and you'll be disappointed. The steel construction makes it heavy, the tall body affects handling, and the large 20in wheels make the ride just a little harsher than you'd expect. Underneath that F-Type inspired styling, the E-Pace shares a platform with Land Rover's Evoque, only here you get a partly fixed suspension thats gives sharper handling.
This is an SUV that aims to be sporty, with a ride to match, which isn't great for slow-speed town driving. You feel a lot more than you'd expect through the rubber. Pick up speed out in the sticks, though, and it begins to make more sense. That stiffness helps keep the car planted in corners, with sharp and precise steering that only reaches understeer if you're really going in hard.
In the D240 diesel model, the 9-speed automatic gearbox could be a little more refined. The engine has plenty of torque, but takes a while to get going in any gear, and hangs on to each cog just a little too long. It only barely manages the 0-60 dash in under 10 seconds, a side effect of that heavy chassis.
The paddle shifters make a lot more sense in the P300 petrol, which is much more entertaining to drive. It sounds more lively, is far quicker off the line at junctions, and made light work of tight Corsican hairpins. It's enjoyable, if not as much as an XE saloon, but then that's not what these cars are about. If you get where you're going too quickly, no-one will be able to see you lording it over the rest of the road. Better to go slow and soak up all the admiring stares.
Off-roading
Let's be honest: you could probably count the number of E-Paces that will ever be driven off-road on one hand – but that doesn't mean I didn't want to see how it coped once you take away the tarmac. It does have a shared lineage with the Land Rover Discovery, after all.
Mud, rocky paths and loose sand were all handled with ease, although admittedly the gradients were hardly huge. All Surface Progress Control, a kind of slow-speed cruise control for particularly tricky terrain, is on-board, but none of the routes I took gave any reason to use it. The E-Pace was quiote comfortable in its standard drive mode.
I even managed a spot of fjording, crossing a river deep enough to send water splashing over the bonnet as I ploughed into it. No snorkel required.
The all-wheel drive system helps, with either a Haldex-based system in the standard car or more sophisticated Active Driveline setup in the top-end petrol and diesel models. It's the latter system that gives a hint of rear-wheel feel, but only if you're chucking the car out of corners with real anger. It's not exuberance of the kind you'd expect to see in any true rear-driven Jag.
Jaguar E-Pace (MY2018) initial verdict
As energetic as it might be in 300bhp petrol guise, Jaguar reckons only one will be sold for every three diesel E-Paces that roll out of the factory. It's easy to see why: by the time you've added a few options, the price has nudged north of £50k. That puts it against the larger BMW X3 and Alfa Stelvio, which are perhaps more entertaining behind the wheel.
A car like this is all about appearances; you're better off sticking with an entry-level diesel model and slapping on some options. It handles just as well on the road, keeps the excellent interior, and in R-Dynamic trim, is easily one of the best-looking small SUVs around.
There's no question Jaguar has nailed the styling here. Does that make this a bit of a fashionista SUV? Maybe, but when raw power isn't a priority, that can only be a good thing.