Huawei Nova review
Huawei's minimal mid-ranger looks like a Nexus 6P that shrunk in the wash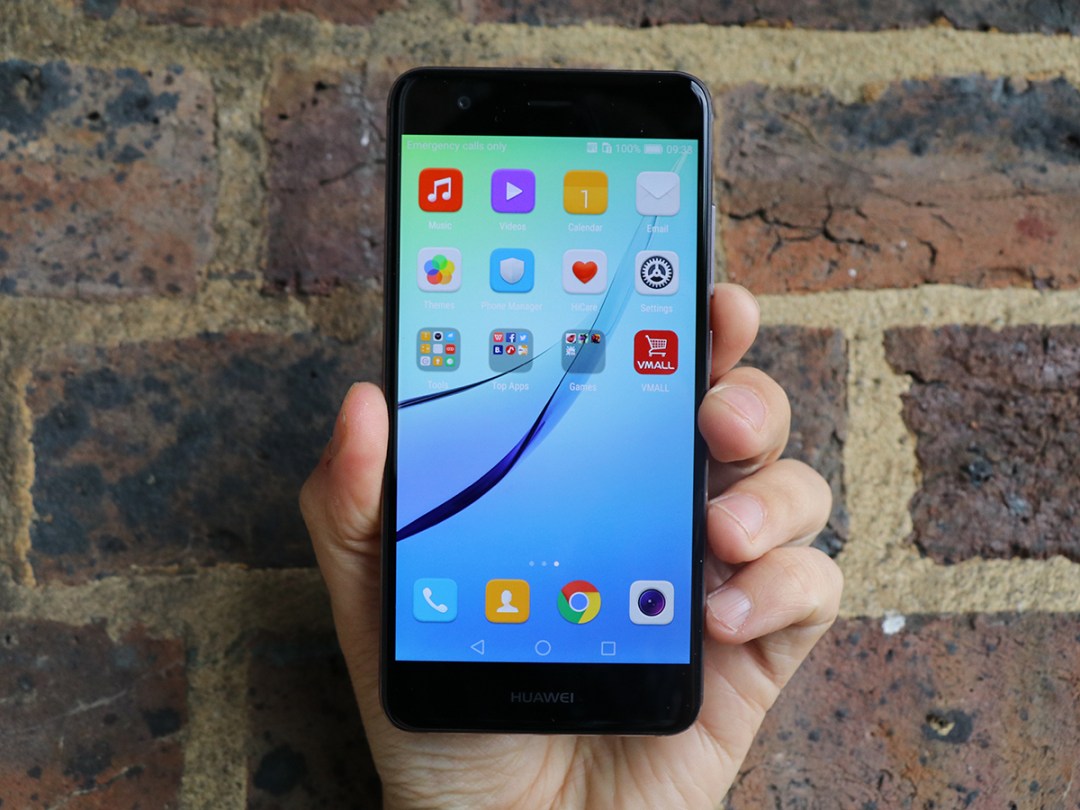 Is there really any need to buy a flagship phone any more?
Mid-range handsets have been knocking it out of the park recently, packing top-notch design and powerful performance into devices that won't break the bank – so pretty much everything you could want from a phone.
It's not just upstarts like OnePlus out to save you cash, either – big hitter Huawei is in on the act, too. After sub-brand Honor came close with the Honor 8 earlier this year, Huawei's going it alone with the Nova.
Top-end specs are nice and all, but they can feel a bit like overkill. There's none of that here: the Nova has enough power for most people, the features you'd expect for your cash, and a design that won't let anyone else know you aren't rocking the latest and greatest phone around.
If this is what counts as mid-range, I'm not sure I'll ever buy a flagship phone again.
SHARP DRESSER
No, this isn't a Nexus 6P that's shrunk in the wash – the Nova might borrow a few design elements from Google's top phone, but has a few of Huawei's own signature touches.
The diamond cut edges that glint in the light, for example. You won't get that on any plastic-fantastic budget phone.
It's got curves in all the right places, sitting comfortably in your palm without digging in, and the sandblasted finish on the back panel gives you something to grip onto. It's not gritty and coarse like some similar finishes I've seen on other phones.
At 7mm thick it won't bulge out of a skinny jeans pocket, but isn't so thin you'll be scared of snapping it.
The combination of glass and metal makes a reassuring change from the cheaper plastic phones I'm used to seeing, even at this price, and the curves help give it a unique look that leaves the P9 comfortably out in front as Huawei's flagship.
You get a USB-C port on the bottom, but thankfully there's still a 3.5mm audio jack on the top – no messing around with Bluetooth or cable adapters just yet. There's a combination card slot for a SIM and a microSD card, too: useful for when you've filled the 32GB of built-in storage.
SCREEN TEST
Does anyone really need more than 1080p in a 5in screen? Nah, not really – Huawei has nailed the display sweet spot with the Nova, so you're never left wanting more pixels.
The LCD panel pumps out bright, colourful images with plenty of pop, without looking too overblown. Crank that brightness up to max and you'll need sunglasses to use it in the dark, though.
You can tweak the screen if you're not a fan of its out-of-the-box looks, too. Warm and cold colour temperature presets are nice, but complete RGB control is even better. Throw in a blue light-sapping late night mode and there's very little to complain about.
Even viewing angles are above average for an LCD. OLED is still the cream of the crop when it comes to contrast, naturally, but the Nova holds its own at this price.
JUST A SNAP
That big black bar covering the camera module? If it looks familiar, it's because Huawei has borrowed it wholesale from the Nexus 6P it designed for Google.
Not that it's a bad thing, though – it gives the Nova a slick look, hiding the lens and flash to really focus in on a minimal look.
On paper, the Nova's 12MP snapper should be capable of some decent shots. It's got large 1.25um pixels and an f/2.2 lens for letting in lots of light. It certainly feels fast, snapping photos without any noticeable lag, although HDR shots took a little longer.
It does a great job in brightly lit outdoor scenes, capturing plenty of detail, exposing correctly and keeping colours looking natural. Huawei's processing is a little aggressive when it comes to sharpening, and if you zoom in beyond 50% you'll spot the limits of the sensor, but really it'll do everything required of it to fill your Facebook feed with photos.
Huawei's camera app has plenty of modes, filters and settings to play with, but the low light Super Night mode only really works properly if you've got a tripod handy. Otherwise, noise starts to creep into handheld shots once the sun goes down. You'll want to use the flash for anything beyond dusk.
The 8MP sensor on the front takes clear selfie shots, too, but there's no front-facing flash to go with it.
A competent pair, then, but the OnePlus 3 still has the edge thanks to its optical image stabilisation keeping your shots sharp, even when you're hands aren't steady.
DROID RAGE
The fingerprint sensor is far enough below the camera that you shouldn't get grubby prints all over the lens. It's stupidly fast, unlocking the phone in 0.3 seconds, and has built-in gesture support for dragging down the notification tray without actually reaching up to the top of the screen. Handy.
Huawei's other software tweaks might not be quite so welcome, if you're a big fan of stock Android. Emotion UI has definitely improved this year, but it's still a big departure from Google's original design.
Like how there's no app drawer, for example.
Your apps just fill up the home screens instead, which can make it a nightmare to find something specific. It's a good job you can hide all of Huawei's pre-installed bloat with a two-finger gesture, or dump unwanted apps into folders.
There are built-in themes that can add a bit more customisation, but you're stuck with a lot of Huawei's bundled apps – there's no way to delete them completely. That means you only have 24GB of the 32GB total storage to play with, but at least you can add a microSD card to one of the dual-purpose SIM slots.
POWER HUNGRY
OK, so a Snapdragon 625 CPU and 3GB of RAM aren't going to blow away any benchmark high scores – in fact, they're barely much faster than the chips you'll find in an entry-level phone. Still, the combination is more than zippy enough to run Android 6 – even with Huawei's EMUI tweaks running on top.
I couldn't spot any lag or stutter when jumping between apps, opening games, or multitasking. Normally Huawei uses its own Kirin chips, so finding Qualcomm under the hood is a bit of a departure, but one that really helps when it comes to battery life. Snapdragon CPUs are a lot more power efficient, and also come with fast charging so you aren't tied to a plug socket for hours on end.
Huawei reckons the 3020mAh battery is good for up to two days of light use, a 30% improvement over its last mid-range phones. I didn't quite manage that much, but then I was constantly streaming music, playing Hearthstone and watching YouTube videos. Even so, I got through an entire day before it was time to reach for the charger.
Snapdragon is also pretty tasty when it comes to gaming, too. I could play Hearthstone without any slowdown, even when landing an effects-heavy card combo chain.
Huawei Nova verdict
I'm a big fan of the Nova's all-metal build, and it ticks all the right boxes when it comes to hardware. Extras like the fingerprint sensor, which are quickly becoming must-haves for any phone, are welcome too.
If you can live with a custom Android skin, it definitely beats the plastic fantastic of other cheap phones out there. The only problem is price.
The OnePlus 3 is still one of the best value phones out there right now, and even a Brexit-related price hike can't change that. You're getting much more phone for your money, complete with customisable covers and Stock Android.
Don't mind EMUI? Then Huawei's own Honor sub-brand is killing it right now with the £370 Honor 8. It's got a better camera, more powerful CPU and arguably a slicker design.
That leaves the Nova treading water a bit. Hopefully Huawei sees this and drops the price a bit – find one for under £300 and it's still a cracking phone.
Tech specs
| | |
| --- | --- |
| SCREEN | 5in, 1920×1080 LCD |
| CPU | Snapdragon 625 octa-core |
| MEMORY | 3GB RAM |
| CAMERA | 12MP rear, 8MP front |
| STORAGE | 32GB onboard, microSD expansion |
| OPERATING SYSTEM | Android 6.0.1 Marshmallow |
| BATTERY | 3020mAh |
| DIMENSIONS | 141x69x7.1mm, 146g |
Stuff Says…
Another mid-range marvel from Huawei, but the Nova can't quite dethrone the OnePlus 3
Good Stuff
Familiar design adds a touch of class
Snappy performance and decent battery life
Bad Stuff
There's no escaping EMUI
Camera quality is only average for the money
Can't beat the OnePlus 3 for value