Huawei MateBook X Pro review
A slimline beauty that's ready to crash Apple's party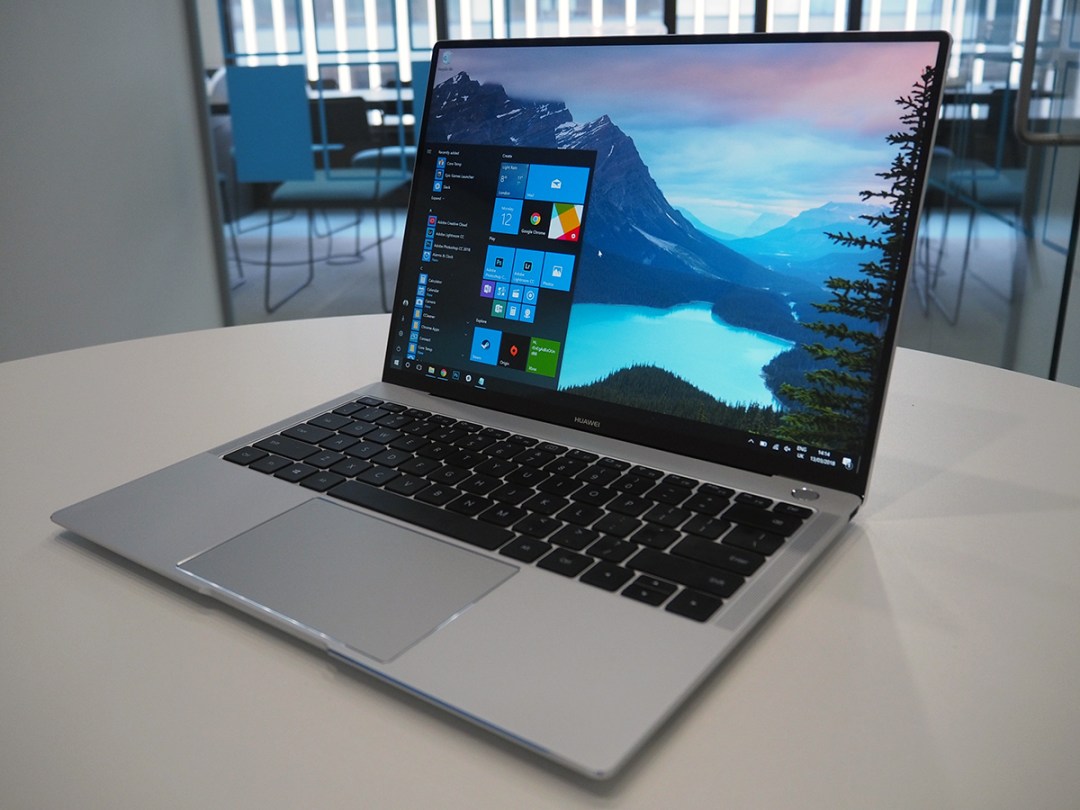 Imagine competing for gold at the Winter Olympics – but it's only been twelve months since you first strapped on a pair of skis.
That's essentially what Huawei is doing with the MateBook X Pro.
Last year's MateBook X was the first time the company had ever attempted to make a laptop, and came impressively close to the 12in MacBook, with only a few hiccups along the way. Now though, its successor is comfortably ready to take on the might of Apple's MacBook Pro.
This slim, sleek machine borrows more design inspiration from the latest smartphones than from competing laptops, with a near bezel-free screen, fingerprint-sensing power button and incredibly compact dimensions. Then it goes one better with dedicated graphics, and more raw power than you'll find in Apple's elder statesman.
If performance, portability and a design good enough for the catwalk are what you're looking for in a Windows laptop, then look no further.
Huawei Matebook X Pro Design & Build
Every millimetre counts when it comes to a high-end ultra-portable, but the MateBook X Pro is off to a good start: it's both thinner and lighter than the 13in MacBook Pro.
At 1.33kg it's light enough to slip in a bag and forget it's even there, especially because it barely takes up any space. Measuring 14.6mm at its thickest point, it's barely any bulkier than an issue of the world's greatest gadget magazine.
Once you open it up, though, it feels a lot bigger than it actually is. That's because the screen cuts incredibly close to the edges, for a near-borderless 91% screen to body ratio. It's a touchscreen too, for those that actually like the gestures built into Windows 10. And since it's made of Gorilla Glass, it should shrug off your greasy fingerprints without leaving any scratches.
The only way to make the screen so big was to move the webcam from its traditional spot in the centre of the top bezel – but unlike Dell's awkwardly off-centre XPS 13, Huawei has cleverly pocketed it away underneath a button on the keyboard.
This neat, space-saving design might not create the most flattering angle for video calls, but it means security-conscious users can rest easy. Should any unscrupulous hackers gain access to the camera, all they'll see is blackness – until you pop it up, of course.
The all-aluminium build, expansive touchpad and black keyboard flanked by speaker grilles certainly look familiar, but it's great to see Huawei hasn't completely followed Apple's MacBook Pro formula.
Case in point: in addition to two USB-C ports and a 3.5mm headphone port, you also get a regular USB port here, so you don't have to mess around with dongles. An SD card reader would have been a nice addition, though.
Huawei Matebook X Pro Screen & sound
It's no bigger than the average 13in laptop, but those skinny screen bezels help Huawei squeeze a 13.9in panel into the MateBook X Pro. The 3:2 aspect ratio feels expansive, and with an impressive 3000×2000 resolution, you'll have no trouble working on two things side-by-side.
That pixel count soundly beats both the 13in and 15in MacBook Pros. A few Windows programs can still be a little tricksy with high resolutions, but it ensures everything looks crisp and detailed for the most part.
Huawei reckons the LCD panel has a 1500:1 contrast ratio and covers 100% of the sRGB colour gamut, which should make it ideal for editing photos and other colour-sensitive work. It certainly looks impressive, with real depth to images and vibrant colours across the board.
A maximum brightness of 450 nits isn't the highest we've seen in a laptop, but it's still more than enough to see clearly if you're working outdoors, or in direct sunlight.
Viewing angles are exceptional, too – great if you've got some friends gathered round the laptop to watch a movie or look at holiday photos, but worth remembering if you're working on something sensitive.
It's not quite as jaw-dropping as the OLED panel on Lenovo's Yoga X1, but it's among the best LCD screens you'll find on a Windows machine.
Sound quality hasn't been forgotten, either: the MateBook X Pro has Dolby Atmos audio, just like the original MateBook X did. Here, though, Huawei has split the frequency range between four speakers – two underneath for bass, and two on top for the mid-range and treble.
It really makes a difference, giving an impressively nuanced sound that you can really hear travelling across the four separate channels. As small-scale Atmos-certified kit goes, it delivers a convincing approximation of surround, and avoids distortion when you crank up the volume.
You'll still get better results from a decent pair of headphones, but it's perfectly suited to streaming video or background music.
Huawei Matebook X Pro Performance
For such a skinny machine, the MateBook X Pro isn't short of speed: it's packing an 8th generation Intel i7 CPU, along with 16GB of RAM and a speedy 512GB NVMe SSD.
The i7-8550U is a chip normally reserved for chunkier laptops, but Huawei reckons it is able to keep the silicon cool enough to run it at peak performance. That should give it an edge over M-series Intel CPUs, which are what you'll find in most ultraportables.
It certainly didn't struggle with anything we could throw at it, keeping the CPU at its boosted 2GHz speeds in desktop apps like Photoshop and Premiere Pro. A Core i7 is probably overkill for web browsing and word documents, so there's no reason to worry if you'll be sticking to the simple stuff.
Gaming is also on the cards, because this is one of the thinnest laptops around with a dedicated graphics card. Nvidia's GeForce MX150 comes with 2GB of memory, which is a welcome step up from Intel's integrated GPU. If you were buying a MacBook Pro, you'd need to invest in the more expensive 15in model to get Radeon graphics.
If you're reasonable with the resolution and settings, it's possible to play even new titles. Epic's built-and-battle-em-up Fortnite copes well at 1500×1000 with a mix of low and medium details. The fan kicks up to audible, but not annoying levels while you're playing – but you shouldn't notice if you pop on some headphones while you're gaming.
If that's just not good enough, you could hook up an external graphics card to the Thunderbolt 3 port on the side. Nvidia's GeForce GTX 1080 can handle most games at the laptops' native resolution, although the card (and enclosure to run it with) is quite an investment.
Battery life was one of the original MateBook's weak points, but the Pro copes very well away from the mains considering the uprated hardware. It has a 57Wh cell that can last for up to 10 hours at a time when doing simple tasks like video playback at half brightness.
In real world use, we managed around eight hours between top-ups, which is merely average for the class, but a big improvement over its predecessor. This is just about enough to get through a work day without needing to break out the charger, but try anything more intensive and you'll be out of juice far sooner.
Huawei Matebook X Pro keyboard & touchpad
We has no complaints about typing on the comfortable keyboard, which uses large Chiclet-style keys with a surprising amount of travel, given how supermodel-skinny the laptop is. There's less feedback here than you'll find on Apple's MacBook butterfly keys, but it was still able to get us through an entire working day of emails and editing, without us wanting to reach for a different machine.
The whole thing is backlit, so your text isn't full of typos when you're working in the dark, and Huawei calls it 'spill-proof', too – not that we've chucked our morning cup of coffee over it just to be sure.
The webcam is hidden amongst the function keys, and pops up and down with a satisfying spring. The power button isn't quite so stealthy, as it sits above the keyboard on its lonesome, but it does have a Windows Hello-friendly fingerprint sensor built into it.
That means you can power on the MateBook with the correct digit, and have it automatically skip the lock screen, which is very handy.
Huawei has fitted a huge slab of a touchpad below the keyboard, which is great for nipping around the screen quickly. It's a little overly sensitive to multi-touch gestures, which can lead to accidentally zooming in or out of web pages, but you can disable the ones you don't use in Settings.
Huawei Matebook X Pro verdict
The MateBook X Pro feels like the Windows-powered Apple alternative people have been waiting for.
It has a higher resolution screen and skinnier bezels than the MacBook Pro, superior graphics, and undercuts it by £200. Oh, and there's an honest-to-goodness USB port, because there's plenty of tech that hasn't upgraded to USB-C just yet.
The MateBook's touchpad isn't quite as slick, though, and while the cat's eye-esque camera is a smart way of getting more screen for your money, it doesn't create the most flattering angle for video calls. Windows will still be a dealbreaker for some, too.
Some Windows-based rivals might cost less, and have their own unique styling rather than mimicking Apple's established design, but can't match the MateBook for GPU performance.
So if some minor quibbles don't bother you, this is a fantastic ultraportable with enough power for just about all your desktop duties.
**We've scored this product in good faith based on Huawei's predicted retail price. We reserve the right to adjust our score if the final UK prices change**
Tech specs
| | |
| --- | --- |
| SCREEN | 13.9in, 3000×2000 LCD |
| CPU | Intel Core i7-8550U 8th-gen |
| MEMORY | 16GB RAM |
| GPU | Nvidia GeForce MX150 |
| STORAGE | 512GB NVMe SSD |
| OPERATING SYSTEM | Windows 10 Home |
| CONNECTIVITY | 2x USB-C/Thunderbolt 3, 1x USB3, 3.5mm audio out |
| BATTERY LIFE | 57Wh non-removable |
| DIMENSIONS | 304x217x14.6mm, 1.33kg |
Stuff Says…
A seriously stylish and powerful Windows laptop with some clever ideas to get the maximum display for your dollar
Good Stuff
Ultra-skinny screen bezels
Powerful CPU/GPU combo for an ultraportable
Loads of storage and respectable battery life
Bad Stuff
Touchpad can be finickity
Webcam angle isn't very flattering
Looks a little too familiar