Huawei Mate 30 Pro review
How do you solve a problem like no Play Store?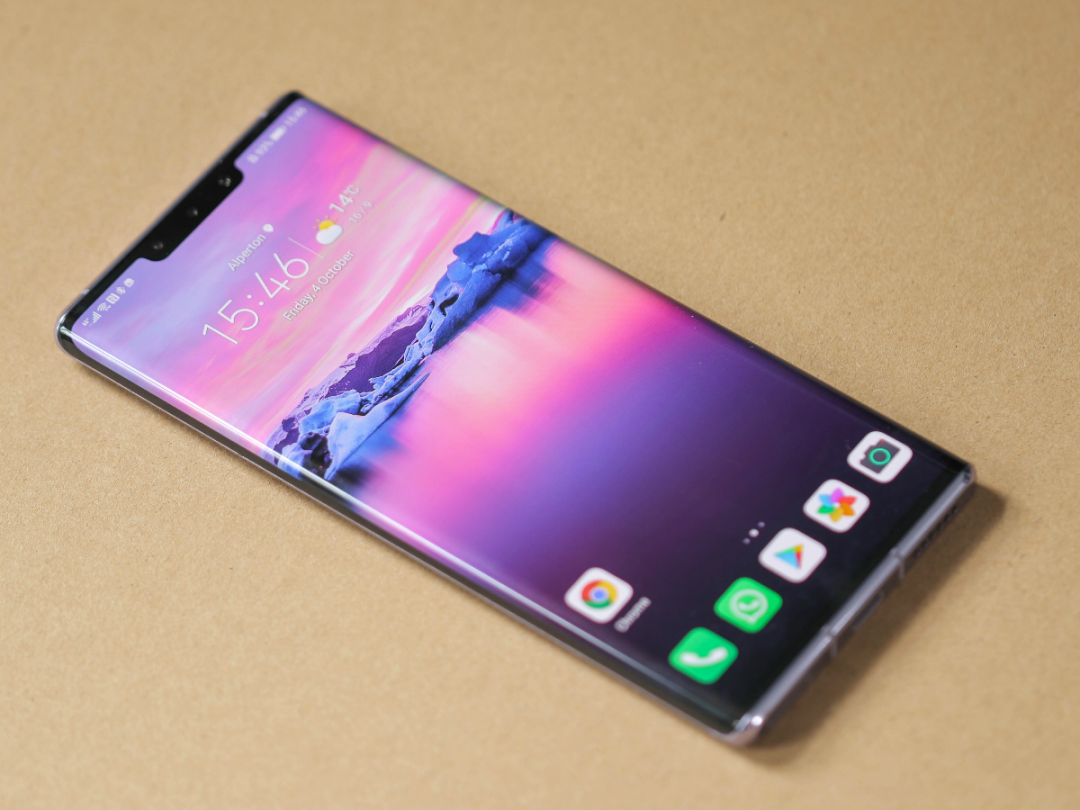 When it comes to writing the 2019 chapter in the history books there will be plenty of bonkers stuff to include. There was Nigelfest, the theft of the gold toilet from from Blenheim Palace, and who even knows how the WAGatha Christie saga is going to end? But one of tech's weirdest is probably Donald Trump's ongoing beef with Huawei.
In case you aren't in the loop, the US government has blocked Huawei from having access to the Google Play Store and other Google apps. Its latest flagship, the stunning Mate 30 Pro is the first casualty of this war, and we're warning you, despite its sensational design, innovative camera system and ample power and battery, this is going to be one bittersweet review.
Note: We reviewed a Chinese import Mate 30 Pro. Regional device functionality and performance may vary.
Design: A slice of tomorrow
Costing full-fat flagship buck with a confirmed European price of €1099, it's no wonder that as soon as you get the Mate 30 Pro in your hand, the design and screen suck you in like a siren's song.
A sliver of metal along the sides, the solid, polished top and tail and the curved glass either side all make the Mate 30 Pro feel as good as it looks – and that's fantastic, for the record.
Around the sides you'll find a power button but no volume rocker – bold move Huawei. To change the volume, you need to double-tap the top left or right edge of the screen, then slide up or down.
There's a lone USB-C port at the base, no headphone socket, and a loud-speaker, as well as a dual-SIM slot. At the top is an IR blaster and around the back is that bold round camera surround and some fingerprint-loving glass.
The Mate 30 Pro is available in four eye-catching colours, Space Silver, Cosmic Purple, Emerald Green and Black and a couple of vegan leather editions too. It's also IP68 water and dust resistant, with Gorilla Glass 6 protection for added peace of mind.
Screen: Vignette to the max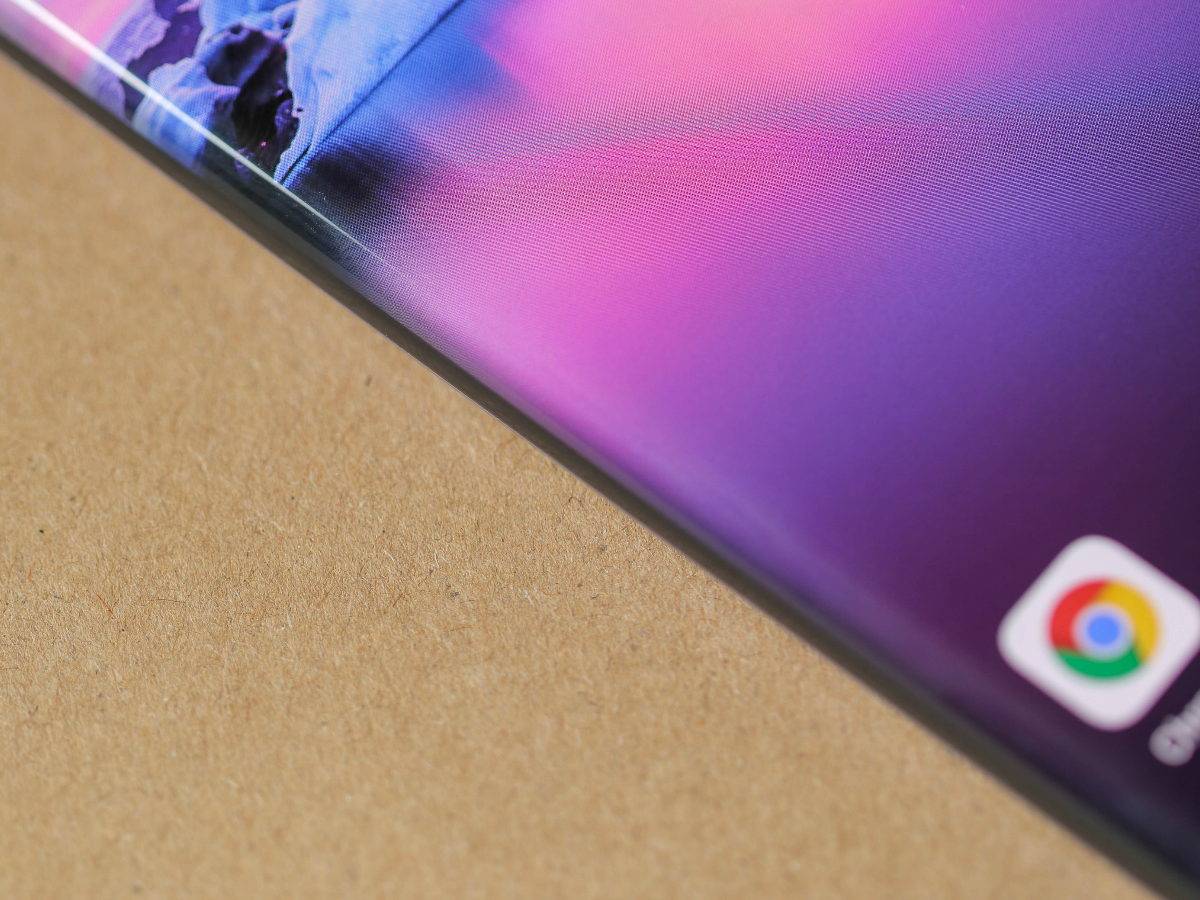 Switch it on and that glorious design makes way for the star of the show: an almost wraparound 6.53in OLED display with a 94.1% screen-to-body ratio and 18.5:9 aspect ratio. It looks dreamy.
With a resolution of 1176×2400, it isn't as sharp as flagships like the OnePlus 7 Pro and Samsung Galaxy S10, but it still looks crisp if you don't have microscopes for eyes, and the colours pop beautifully.
The notch will put some off, and so too will the extreme curves on the edges. Both of these can be zapped in the settings though, hiding them with black bars that look invisible thanks to the OLED's deep, inkiness.
Viewing angles are great. Even if there is some colour shifting, it's no more pronounced than on other OLED flagships, but the mega-curve on the left and right does create marked vignetting – cool from an Instagram-filter-on-everything point of view, less cool from a screen integrity one.
Interface: Playtime is over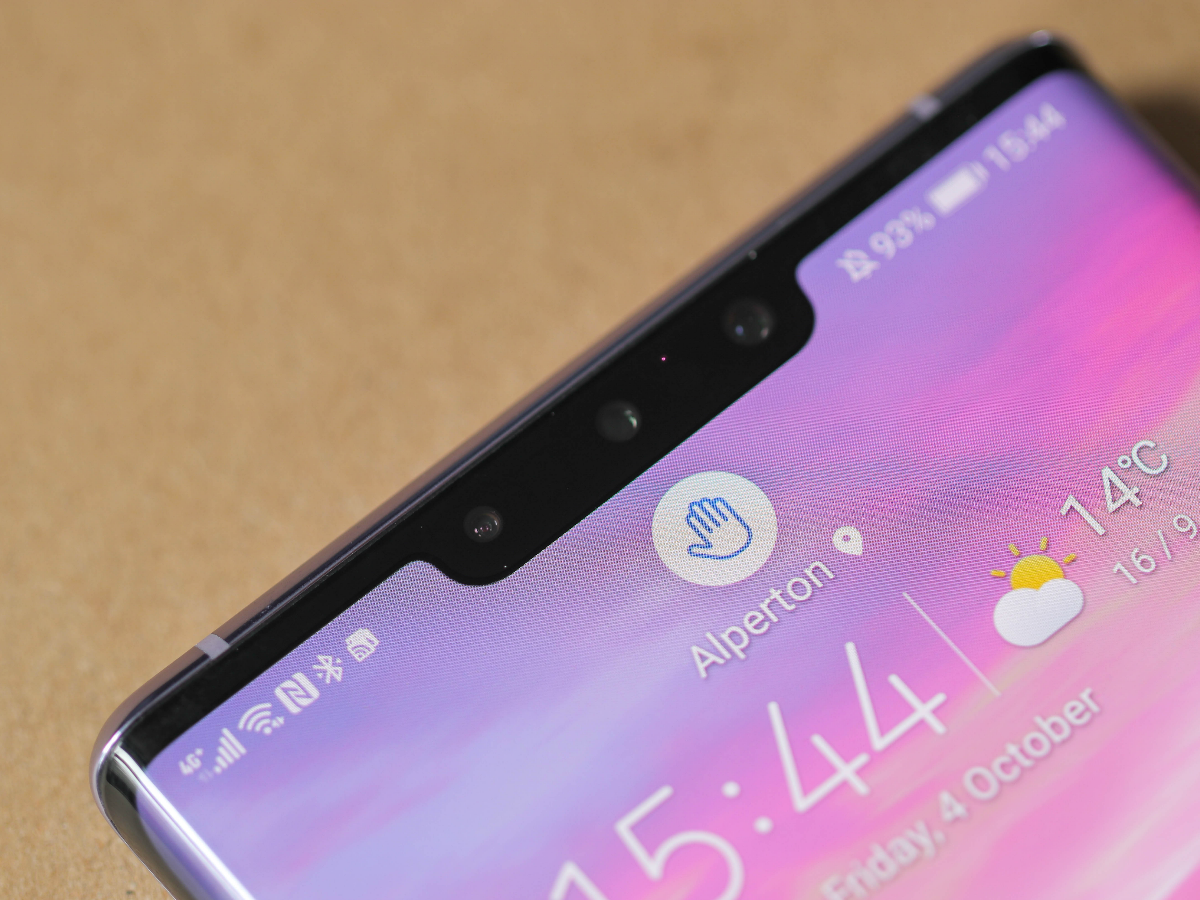 Running Android 10 with EMUI 10, it's a crying shame the Mate 30 Pro isn't a knockout – the lack of Google Play services is a fatal blow here.
The core experience feels similar to the P30 Pro. There are home screens, an optional apps tray and notifications too. Everything looks a bit cleaner than it does on older flagships, with Huawei borrowing some UI design cues from the OnePlus 7 Pro and Samsung Galaxy S10.
The new volume control, which compensates for the lack of a physical button, is wonderful at times and stressful at others. On first use it's witchcraft. It works well and slides are coupled with a satisfying, stepped haptic feedback. In the real world, however, it falls short because you can't change the volume when the screen's off. This is irritating, especially in cinemas, beds or anywhere dark that doesn't benefit from an edge-to-edge sunbeam emitting from your hand. It seems Huawei's scientists were so preoccupied with whether or not they could, they didn't stop to think if they should.
The Mate 30 Pro also crams some smart future tech into the notch that enables gesture control. You can scroll with a wave of your hand or make a fist while hovering over the display to take a screenshot. This all feels like sci-fi fluff to us, even if it does work better than the implementation on LG's G8.
We sideloaded the Play Store onto our review device out of necessity, and once we did, the experience was fantastic. That said, its availability has been on and off in our time with the phone and privacy issues concerning the sideloading method have peaked too.
If you're wondering whether you could do without it, the interface is very limited from an app-ecosystem point of view. Huawei's own App Market is terrible, and if you sideload apps they won't auto-update so will fall behind when it comes to security updates and new features. Additionally, game saves, Android Pay and more are linked to your Google account, so without the big G, the Mate 30 Pro is impossible to recommend to all but the most Google-averse Android user.
Camera: Simply the best low-light camera phone
The camera on Huawei's Mate 30 Pro excels across the board but at night it really comes into its own.
The 40MP RYYB main sensor is making its encore after debuting on the sensational P30 Pro, but now there's also an ultra-wide 'cinema' camera with a 40MP sensor and an f/1.6 lens, compared to iPhone 11 Pro's 12MP ultrawide sensor. The telephoto camera, meanwhile, features 8MP resolution with an f/2.4, 3x zoom lens, and, to cover all bases, a 3D depth sensor joins the trio too. Meanwhile, the front-camera has a terrifyingly sharp 32MP sensor.
Just like the OnePlus 7T, the Mate 30 Pro is pegged to get you incredibly crisp macro shots as close as 2.5cm, but our device didn't focus nearer 4cm – still a solid effort.
What is handy, however, is the fact the ultra-wide camera features autofocus, so can lock-on for macro shots too. Once focused, they look striking, with stacks of background blur and a sharp focal point.
Standard shots in auto mode are also top quality, with crisp detail and punchy colours. Dynamic range is solid, though not always iPhone 11 Pro Max solid, and while contrast and saturation do sometimes look a bit boosted, turning off AI scene-detection evens things out.
The phone makes light work of shooting 60pfs 4K and is capable of 7680fps, which is mind-blowing and almost painfully slow. This is an excellent party trick, but luckily, it's backed up by an even better auto mode, with stabilisation, clarity and sound recording quality all impressive.
The Mate 30 Pro doesn't revolutionise smartphone video in the way Huawei suggested it might at the phone's launch event, but it does still nail it.
Performance: Gamer's delight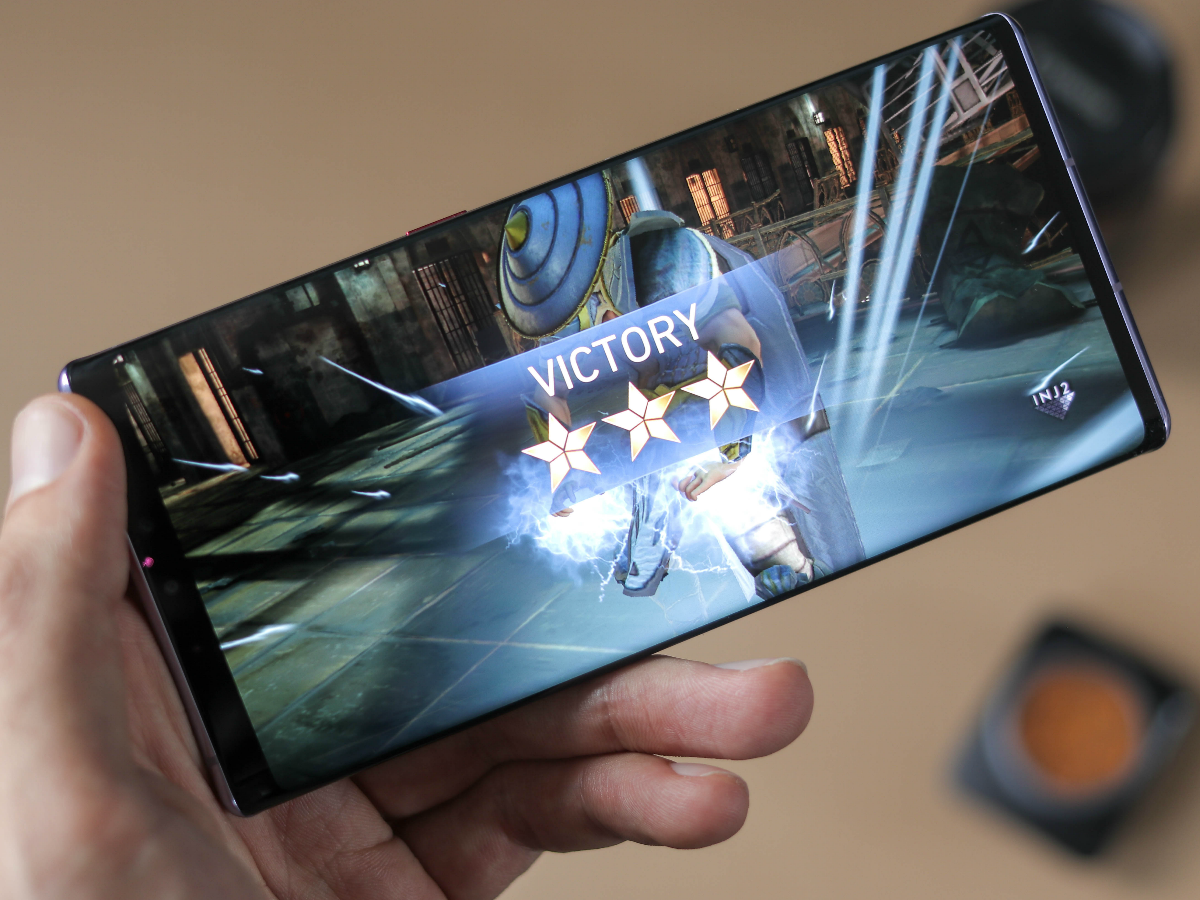 There's only one aspect of the Mate 30 Pro's performance we didn't love: the mono speaker, which is loud and clear but just too easy to cover up when holding the phone in landscape mode. Everything else is top quality.
Starting with gaming, Huawei's new UI gives you in-game options to eke the most out of the experience and even turn the display's corners into L and R buttons which work like a charm.
The phone also benchmarks like a Snapdragon 855 device with its Kirin 990 and 8GB RAM, performing sensationally across all the games we threw at it. With the Play Store side-loaded it even worked with Play Games, so our saves loaded up painlessly. We would have liked a 90Hz or 120Hz screen as found on the ROG Phone 2, but 60Hz still looks good.
The Mate 30 Pro's biometrics all work to perfection too, with an under-display fingerprint scanner and a very secure face-unlocking. There's also an ample 256GB storage, and a Nano Memory Card slot to boost it.
Battery: Bigger is better
The Mate 30 Pro's 4500mAh battery is huge and very, very clever. Not only does it last more than a day and stretch across two if you aren't a power user, it charges quickly too – from 0-100% in under 75 minutes.
With speedy 27W wireless charging onboard as well, the phone can charge faster wirelessly than Apple's iPhone 11 will using the power brick it ships with.
The Mate 30 Pro's also loaded up with tonnes of power-saving optimisations too, making it one of, if not the best, flagships out now from a battery point of view.
Huawei Mate 30 Pro verdict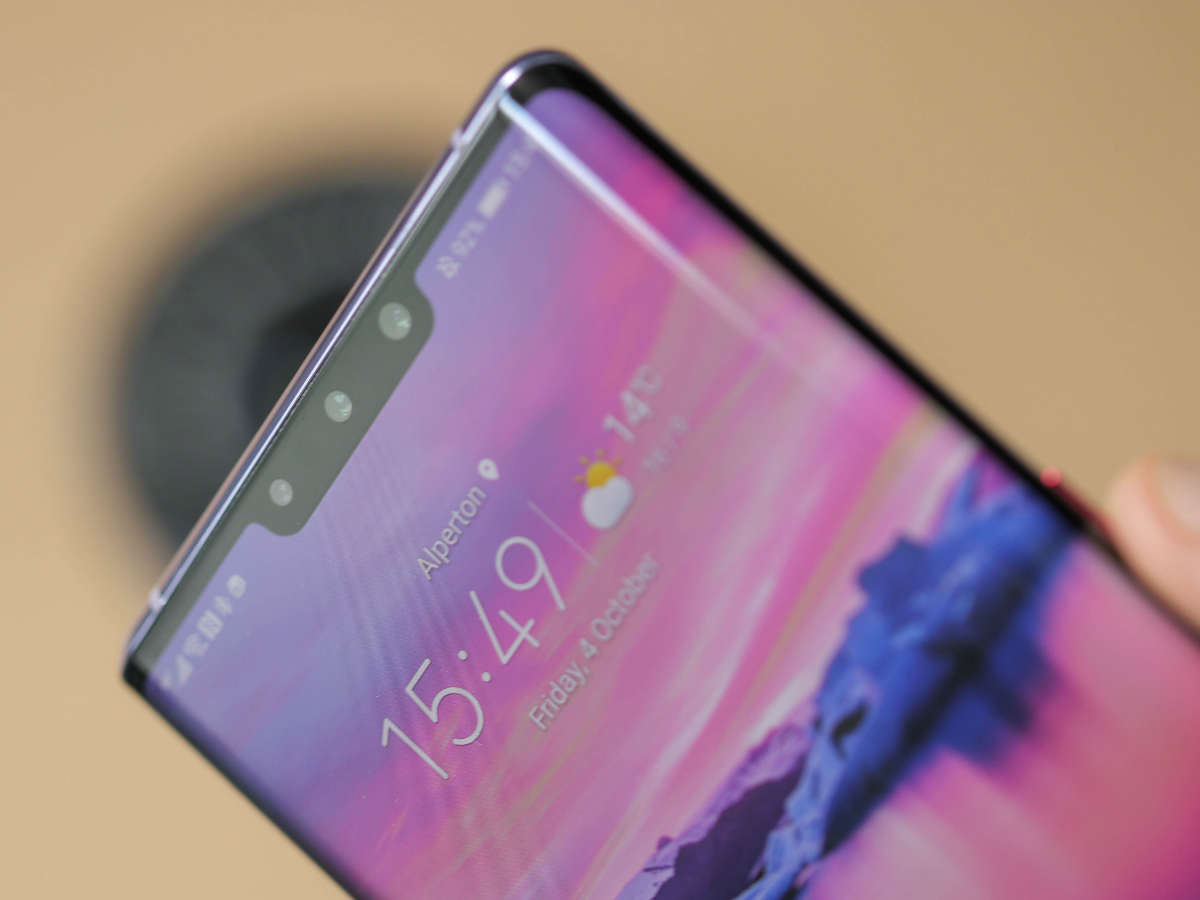 All things said and done, the Mate 30 Pro looks and feels like a slice of the future. It's bold, is arguably the best-looking phone of its generation, has a champion of a camera, stacks of power and an engulfing screen.
Getting it with no Play Store is an expensive gamble, though, which makes it impossible to recommend to almost anyone in the west.
Stuff Says…
Until it gets the Google Play Store, admire from afar – 2-star app-support, 5-star (almost) everything else
Good Stuff
Gorgeous design
Fantastic camera
Excellent battery life
Bad Stuff
Missing Play Store
No volume buttons
Screen vignetting