Huawei Mate 20 review
Can a stripped-back flagship really capture enough of the real thing to stand out?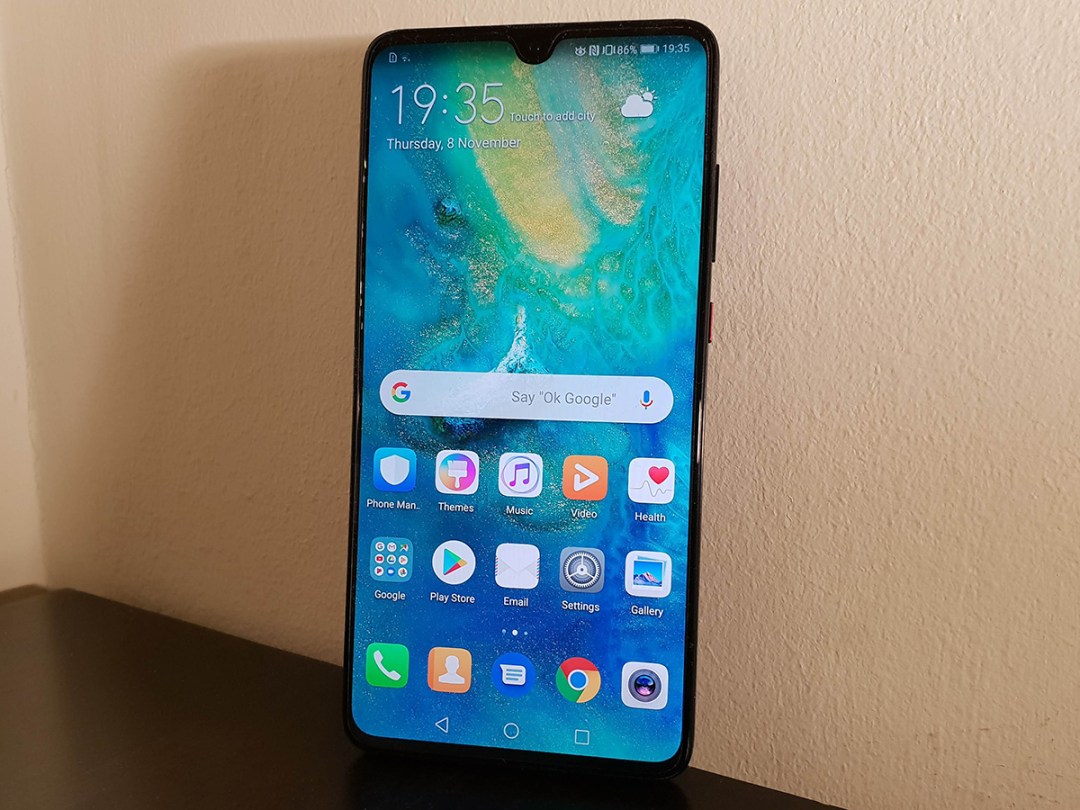 You would think deciding whether to go for Pro or not would be straightforward enough.
Huawei's latest smartphone is also its greatest – but is damn expensive as well. If it's out of your budget, a phone with 80% of the hardware and a nearly identical feature set sounds like the next best thing.
That's pretty much the case for the Mate 20, which is some £150 less than the Mate 20 Pro (going by predicted pre-launch pricing). Both phones are rocking triple cameras, a giant screen (complete with notch) and the fastest components Huawei makes.
But can a cut-down flagship ever hope to capture the same magic as its bigger brother – or would slipping one of these into your pocket leave you with a serious case of buyer's remorse?
DESIGN: FAMILIAR YET DIFFERENT
They might share a name, but the Mate 20 and Mate 20 Pro are two very different phones. The more expensive sibling gets funky curved glass and an ultra-thin frame, while this makes do with a flat screen and slightly thicker aluminium at the sides.
There's also the small matter of the drastically different display notches. The Mate 20 does without fancy face scanning (although can still recognise your mug to unlock itself) and so only needs a tiny teardrop to fit its selfie camera.
With the screen taking up the entire front of the phone, the fingerprint sensor has been moved to the back. No in-screen scanning here, unfortunately, but at least it's in a sensible place and scans your digits very quickly.
It's also around the back where you'll spot the three (yes, three) camera sensors, arranged in a square along with the LED flash. It's a very slick design, and one we're certain will be making an appearance on Huawei's future phones.
Water resistance has been cut from the spec sheet, but on the plus side, the Mate 20 has a headphone jack – something you won't find on the more expensive Pro.
Otherwise, glass and metal is pretty much the norm for top-spec phones now, so this isn't really treading new ground. Quite why you'd buy one in black when Huawei also sells it in eye-catching, two-tone Twilight colours is a mystery, though. That's like being handed a box of Quality Street and taking the Milk Choc Block.
There's also a Midnight Blue version with a vinyl-like texture for extra grip – which would certainly come in handy, as the Mate 20 we tested was slippy, and all too easy to let slide off a desk or sofa cushion.
CAMERA: THERE'S THREE, Y'SEE
Flip them over and the Mate 20 looks every bit as promising as its bigger brother. Both have the same telltale raised square that holds three rear cameras: one main, one zoom and one wide-angle, plus an LED flash for the all-important symmetry. Plus a Leica logo that really hammers the point home.
Here's the thing, though: none of the Mate 20's snappers are the same as what you'll find in a Pro. Instead of 40MP, the main camera drops down to 12MP. The wide-angle makes do with 16MP instead of 20MP, and while both phones have an 8MP telephoto, here it's set up for 2x zoom instead of 3x. Optical image stabilisation has been ditched, too.
You're still getting an ultra-versatile camera here, mind. The wide-angle lens doubles up for macro shots as close up as 2.5cm, and portrait mode uses multiple lenses to add bokeh blur. Image processing is consistent across all three cameras, and Huawei's clever image-stacking Night Mode lets you take impressively clean low-light images too. You've effectively got a camera bag full of lenses and a tripod – but one that slips in a pocket, not over your shoulder.
Image quality isn't up to the same standard as the Mate 20 Pro, which means it also falls behind the Pixel 3, but there's really not a lot in it. Feed it enough light and the main camera takes brilliantly detailed, well-exposed photos that show punchy colours and great dynamic range – even without manually shooting in HDR, because Huawei still refuses to add an auto HDR mode.
If you zoom in on any given picture, but particularly ones of trees, flowers and water, you'll spot the limitations of the processing, with a lack of ultra-fine detail – but only really at a per-pixel level.
If you're just chucking your snaps straight onto the 'gram, your social followers will never notice. Night shots are impressive, although side-by-side with a Mate 20 Pro reveals just what a difference optical image stabilisation makes.
The results here just aren't quite as good, even if they are still a step up from most other smartphones.
Zoom in to 2x and images are still recorded at 12MP, suggesting the main snapper is giving the telephoto a helping hand. Finer details and noise levels aren't quite as good, but still very high overall.
You can't use this lens in low light, with the camera instead just digitally zooming and cropping down photos from the main sensor. Quality takes a noticeable hit here.
Huawei's AI image processing has more of a light touch this time around, after going overboard on the P20 Pro, so we didn't mind leaving it enabled here. It can recognise more scenes now, and merely gives contrast and image sharpening a few minor tweaks, which usually results in a superior pic.
It's safe to say Huawei has done an excellent job here, so despite the Mate 20 losing out to the more expensive Pro, it's still among the best cameraphones out there right now.
DISPLAY & SOUND: A DROP IN THE OCEAN
Instead of repeating the Mate 20 Pro's iPhone-inspired notch, the Mate 20 goes its own way with a tiny teardrop at the top of its 6.53in display. It's distinctive yet subtle, and one of the less obnoxious versions of the trend that shows no sign of going away any time soon.
The screen itself is a departure from the Mate 20 Pro: here you get LCD instead of OLED, and a slightly stretched 1080p resolution instead of 1440p. The 18.7:9 aspect ratio is skinny enough that you can actually hold the thing without your hand feeling it's attached to a medieval torture device. Which is nice.
It has all the quirks of LCD display tech, meaning exceptional brightness and ultra-white whites, but colours that aren't quite as vibrant or punchy as OLED, and contrast that leaves darker scenes lacking just a teensy bit of impact.
There are no complaints when you step outside, with the screen staying easy to read, even if colours are a little washed out under very bright light. HDR10 videos work as intended, with brightness cranking up to full whenever you press play. Viewing angles are pretty good, and colours are largely accurate too.
Unless you stick one side-by-side with a Mate 20 Pro, you'll be very happy with the screen – and even if you do, the vanilla Mate 20 isn't a million miles behind in terms of quality.
While you do get stereo speakers, the top one is more of a tweeter – most of the audio mix is pumped out of the one on the bottom edge of the phone. It's a decent combination, getting loud enough for personal listening but not an awful not more. Clarity is good, if a step behind sound giants like Samsung's Galaxy Note 9 and the HTC U12+.
PERFORMANCE: CAN'T TOUCH THIS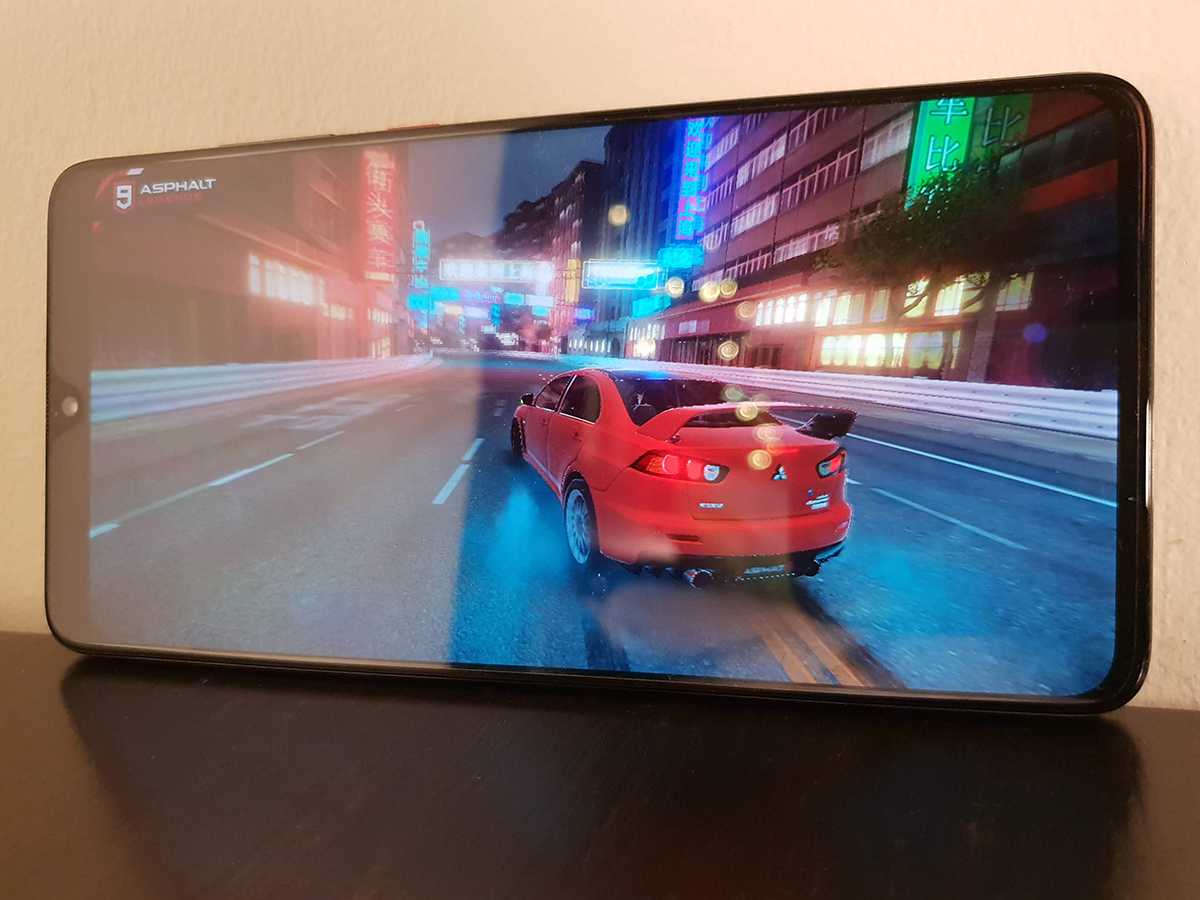 With a 7nm, octa-core Kirin 980 CPU at its heart, the Mate 20 is comfortably one of the quickest Android phones around when it comes to raw number crunching. 6GB of RAM is plenty for anything in the Google Play Store, too.
It'll outpace an Exynos-powered Galaxy Note 9 and anything with a Snapdragon 845 in 2D tasks, and it shows on the homescreen, with apps opening in the blink of an eye. Multitasking is super smooth, and it responds instantly to your taps and swipes.
All that power doesn't necessarily translate to great gaming performance, however. The most demanding 3D titles, like Player Unknown's Battlegrounds and Asphalt 9 can sometimes stutter and frame rates tumble when the going gets tough.
Still, things are much improved from previous Kirin chips: older Huawei phones would be flattened by both Qualcomm- and Samsung-powered handsets, whereas not it almost keeps pace with them.
128GB of built-in storage is easily enough for most people's apps, games, music and photos, with plenty of overspill left over. If you do run out of storage, though, you'll need to pick up one of Huawei's Nano Memory (NM) cards to add more – effectively tying your accessories into the brand, and making them useless if you decide to go elsewhere.
NM cards are no quicker than microSD, have a smaller maximum capacity (256GB) and will almost certainly cost more.This isn't a move that'll benefit customers, however hard Huawei tries to make it a standard format.
BATTERY LIFE: LASTS LONGER. MUCH LONGER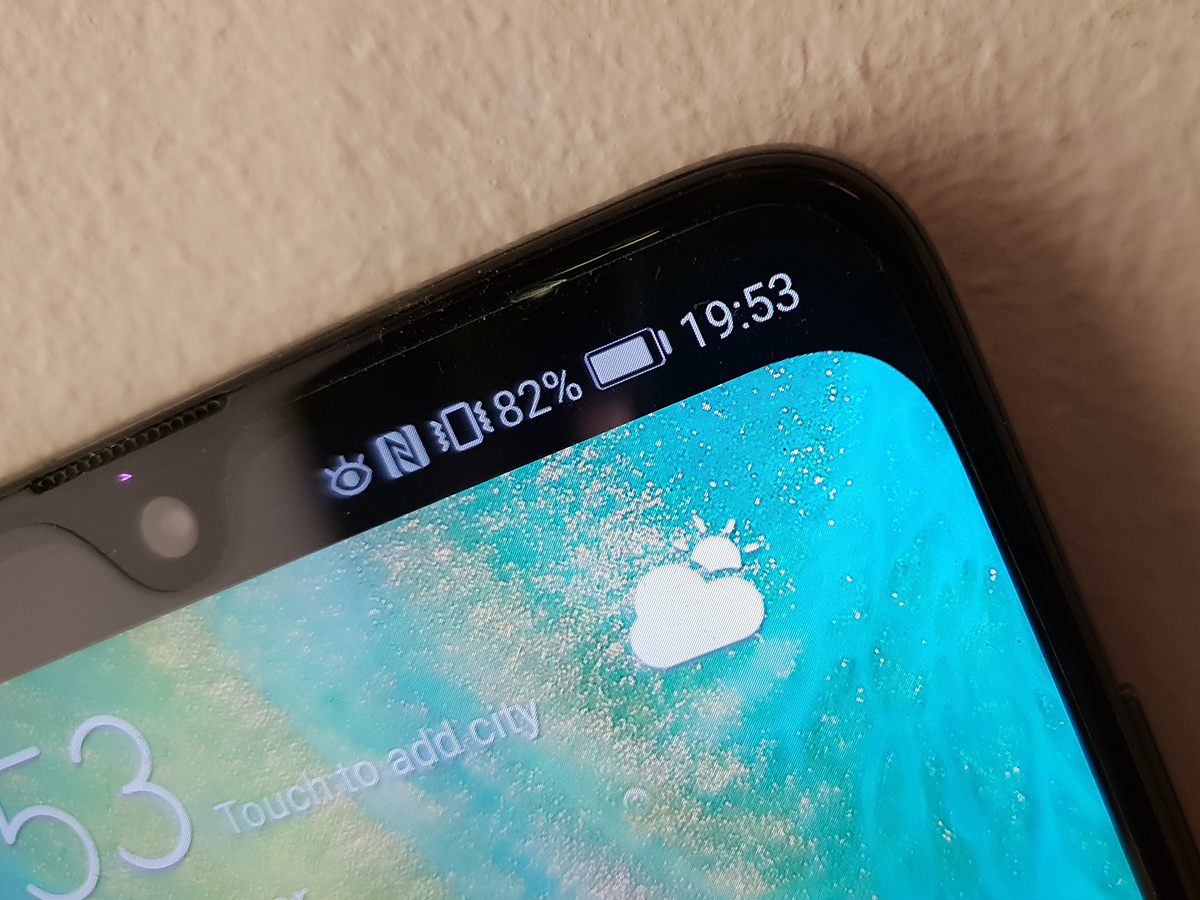 Bigger is definitely better when it comes to longevity away from the mains, which is why Huawei has fitted the Mate 20 with a 4000mAh battery. That's about as big as phones get right now (mainstream ones, anyway – let's not go down the rabbit hole of mega-battery grey imports).
So while it has to power a sizeable display – and an LCD one at that – the Mate 20 can still go for almost two days between top-ups if you really stretch it out. Most people will still want to recharge overnight for peace of mind, but forgetting to plug in won't mean a missed alarm in the morning.
Pure video playback tends to drain a full battery in around 13 hours, and gaming will leave you staring at a sapped phone in less, but these are still very respectable figures, and only slightly behind the long-lasting Samsung Galaxy Note 9.
You get a fast charging adaptor in the box, which can get you from empty to 50% in half an hour, but the Mate 20 Pro is even faster still. The luxury of wireless charging is also reserved for the more premium phone.
OS & SOFTWARE: A SLICE OF PIE WITH ADDED EMUI
Who'd have thought it – a brand spanking new phone running the very latest version of Android. It should be a given, but Android Pie has been slow to roll out elsewhere, so props to Huawei for including it on the Mate 20.
Of course, it has also stuck its EMUI interface on top. It's a big departure from vanilla Android, if not quite as dramatic as it used to be in previous versions, but still enough to feel alien if you're coming from another manufacturer.
It means no app drawer out of the box, although you can add one back in through the Settings screen. It also means a whole homescreen full of Huawei-branded apps, many of which merely duplicate Google's own.
Everything feels speedy enough, thanks to that crazy-quick CPU, but we'd be happier still if Huawei used a lighter touch with its pre-installed software.
HUAWEI MATE 20 VERDICT
Reviewed in isolation, the Mate 20 is a superb phone. It takes great photos, has oodles of power and a long-lasting battery, a huge HDR-friendly screen, and the latest version of Android.
But of course, that's only half the picture. Its bigger brother goes one better in just about every area, and despite being more expensive, is a much better phone as a result – so much so you have to question why you'd buy the vanilla Mate 20 at all.
That's kind of a moot point, though, because the Mate 20 is largely going to be sold in countries where the Mate 20 Pro isn't. You won't see the pair side-by-side in Carphone Warehouse, and you'll actively have to go out of your way to track the cheaper phone down here in the UK. I'm not convinced you should, either.
Seeing how the OnePlus 6T manages to find room in the budget for an OLED display and still come in cheaper, and the Xiaomi Mi 8 Pro has just arrived at an equally competitive £499, Huawei starts to look a little outclassed at the one-step-below-flagship level.
Stuff Says…
The Mate 20 does a lot of what makes the Pro so great – but not enough. Unless you're unlucky enough to live somewhere Huawei has deemed the Mate 20 Pro to be off-limits, this isn't the version to buy.
Good Stuff
Flagship-grade performance
Latest version of Android
Capable, flexible cameras
Actually has a headphone jack
Bad Stuff
Outshone by the Mate 20 Pro in almost every way
Proprietary expandable memory format frustrating
Limiting choice between models is anti-customer