Huawei Honor 6 Plus review
Big screen, even bigger battery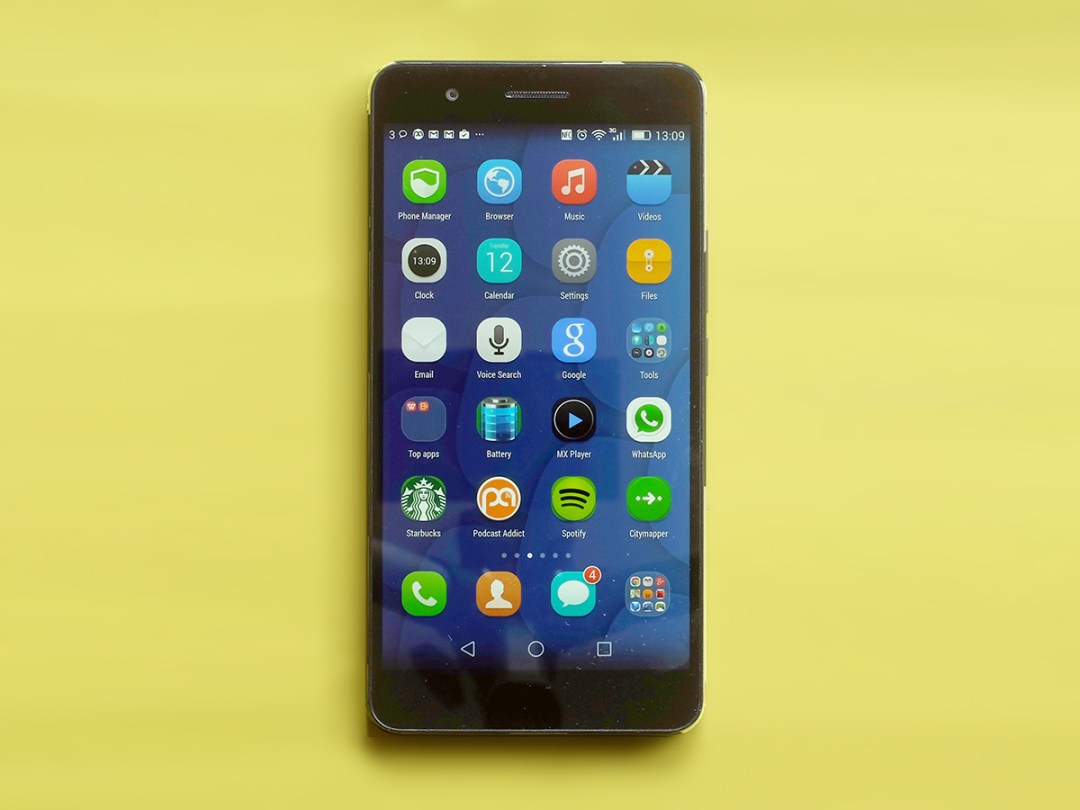 Honor is a name that has come out of nowhere. A year or so ago the brand didn't exist in the UK, but nowadays the Huawei off-shoot offers some of the best-value phones you can get.
The Honor 6 Plus isn't heading for any bargain bins, though. At £300 SIM-free it's a phone for people paying out for a decent contract as well as those who want to live the phone equivalent of a gypsy life with a SIM-only or PAYG deal.
It can't get by on the price alone, but at £200 cheaper than the LG G4 and co while offering an awful lot of the same stuff, it sure looks worth a punt. Is it? Absolutely. A massive battery, sweet screen and plenty of features make it a great choice if you're not bothered about brand kudos.
Plus-size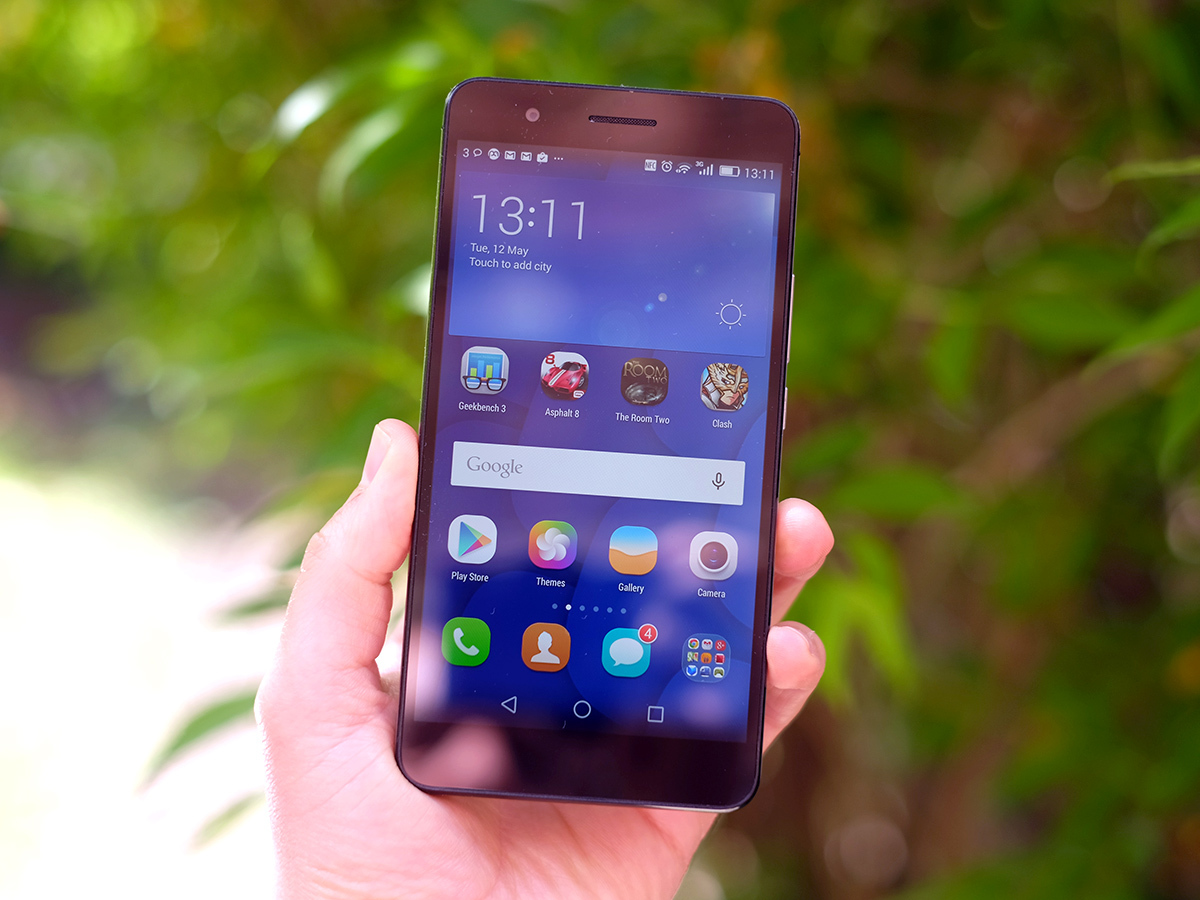 Plus in name, plus-size in design, the Honor 6 Plus is a big phone. This is a bigger, slightly more expensive alternative to the original Honor 6, a bit like how the Note series offers a blown-up version of Samsung's top Galaxy phones.
Honor hasn't shied away from making this feel like a big phone either. Like the Sony Xperia Z crowd, its shape is boxy and rectangular, rather than having smooth and curvy lines that trick you into thinking a body is thinner than it is.
I do find it a wee bit chunky, but it's only because of those severe edges. The Honor 6 Plus is only 7.5mm thick: certifiably skinny. Funny how your fingers can trick you into thinking something is bigger or smaller than it is, isn't it?
This is a pretty upscale operation too. The Honor 6 Plus has a toughened glass front that is about as simple and stark as you like. There are no hardware soft keys, no unnecessary logos. It looks good. It looks serious.
On the back is where Honor puts in a few specific little design notes. It has a transparent top layer, underneath which is a sheet of carbon fiber that sparkles a bit in sunlight. Nothing too loud, just a hint of flashiness.
Plastic backside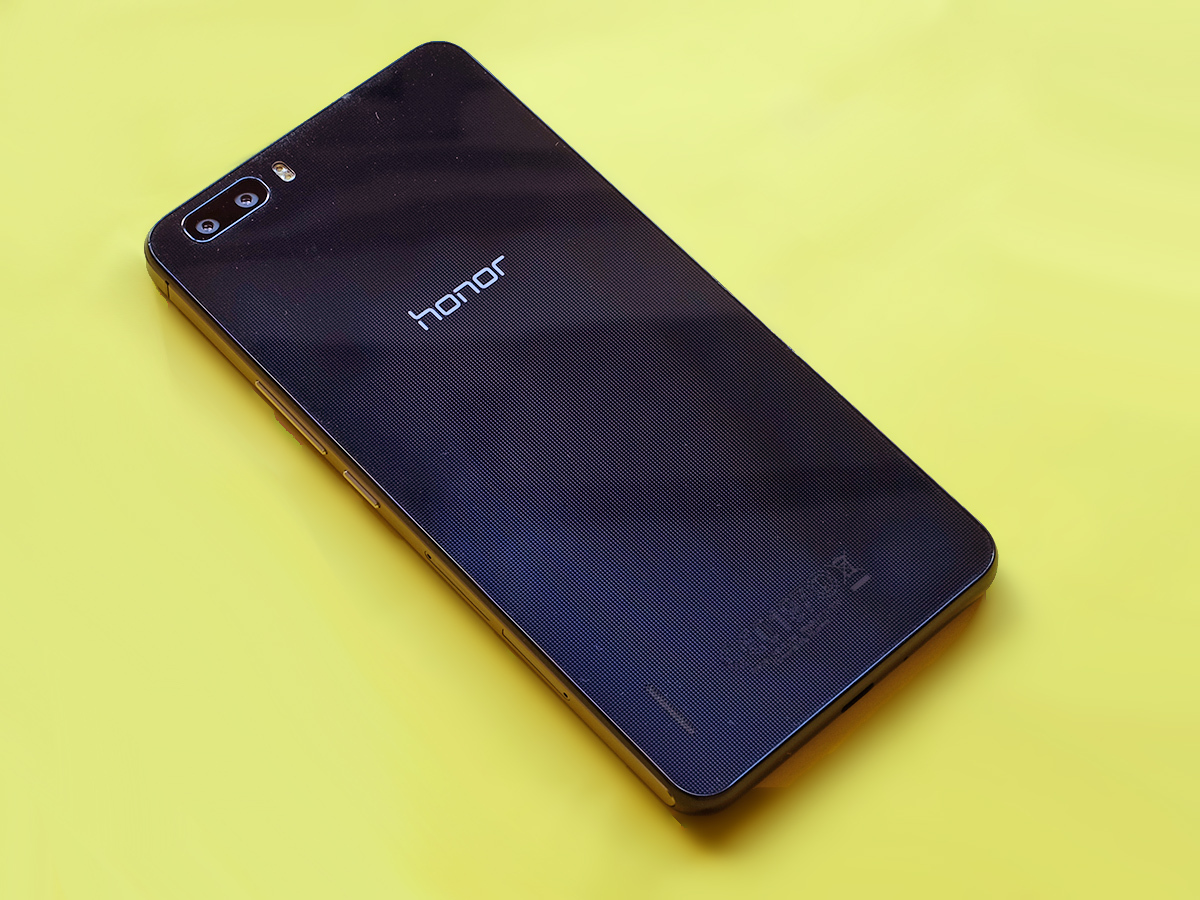 We're not quite at the level of the HTC One M9 or the Galaxy S6 here, though. That top layer on the back is plastic, not glass. On day one it'll convince you it's the real deal, but by day two or so its slightly duller feel reveals the truth.
Does it matter? I've been keeping the Honor 6 Plus in a pocket, deliberately stashing it along with keys and the odd coin. It now has a couple of light scratches, but Honor doesn't seem to be using the cheap soft plastic you get on an entry-level phone.
I'm a tiny bit disappointed, as this will make your phone age that bit quicker, but it'll also avoid shattering and the sides don't show any such kind of compromise. The Honor 6 Plus has two-tone sides, the silvery bits being real brushed aluminium and the black bits plastic. The buttons are metal too.
You're not going to make flagship-owning friends turn green with envy, but the Honor 6 Plus has classy, understated design that deserves some cred.
Elephant-style memory
At every turn it makes sure you get a bit more than you do with the competition too. Take storage. The Honor 6 Plus has 32GB plus a microSD tray on the side. Samsung's closest alternative is the Galaxy A5, which has 16GB. Not bad, right?
The Honor 6 Plus also has a lovely screen. It's big too. The display is 5.5in across and Full HD in resolution, getting you 445ppi. That's well above the Apple Retina standard so many people refer to.
Everything looks very sharp, even up-close. There is an elephant in the room, though. These days you can get the LG G3 for around the same price if you shop around, and that has an even sharper QHD screen. Admiteedly the G3 isn't long for this world, but it's still available right now so should be considered.
The Honor 6 Plus's colour tone is what I consider just about perfect. Shades pop with zingy vividness, but none of the colours look like they're about to reach out of the screen and yank out your eyeballs, as oversaturated screens can.
There's also control over the screen's white balance. What this does is to subtly alter the tone of the screen's white shades, which naturally alters every colour the screen displays. It's pretty much the best way to customise a screen, along with tweaking colour saturation, which you can't do here.
Contrast and black level are great for an LCD too. This may not be a big name in phones yet, but Honor hasn't scrimped on the screen. That said, there is one area where the Honor 6 Plus falls down just a little bit.
I took the Honor 6 Plus out for a walk with the LG G4 and Galaxy S6 to see how it copes. As you've probably guessed: the Honor doesn't have quite as good screen chops in daylight as the very best. I find the phone totally usable outdoors, it just doesn't have the sort of radical colour and contrast-boosting antics you get with the real top dogs.
For now at least it's one of the sacrifices you make by siding with Honor.
Emotional reunion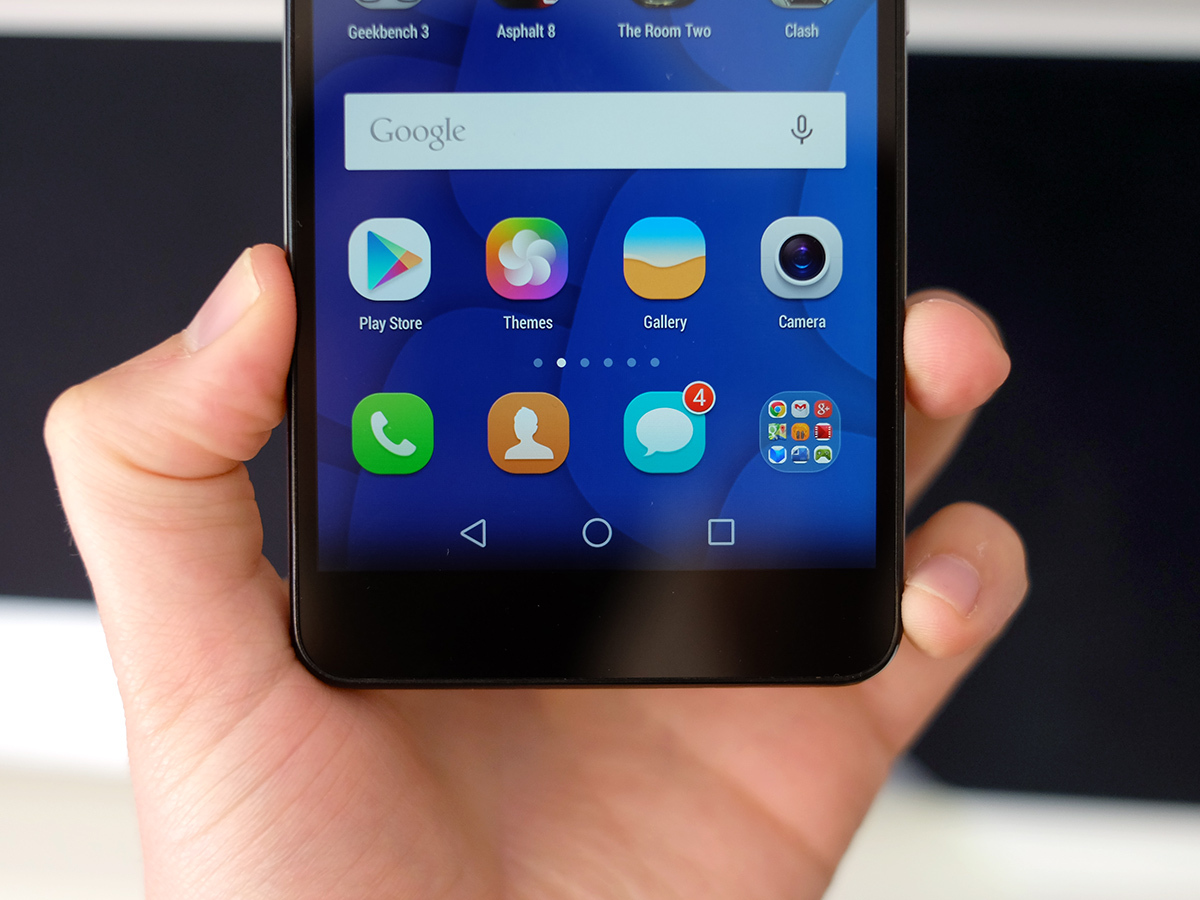 Then there's the UI. The Honor 6 Plus uses the same Huawei-made Emotion UI you'll see in phones like the Huawei P8. Except this version comes without a pig-ugly visual theme.
Fresh out of the box, it has the calm and neutral look of a vanilla Android phone. And I find it one of the most inviting looks among all the higher-end 2015 phones.
It's when you look a bit deeper than you find Emotion UI is a bit of an oddball. First, there's no apps menu. Everything you install just finds a place on a home screen, for you to sort out later. If like me you're a bit of a lazy Android user, this can become a pain, forcing you to be a bit more organised.
The tools are available, mind. The Honor 6 Plus lets you make folders, into which you can bung apps as you like. Our review unit came from Three, which currently has an exclusive on the phone, and it came with a whole bunch of Gameloft games preinstalled. A clean-up may be necessary.
The Honor 6 Plus's lock screen is also pretty odd, plastering seemingly random photos on the thing every time you try to unlock the phone. Emotion UI is unusual in parts. But it's much better than a couple of years ago when Emotion UI was flat-out bad. These days it's actually pretty good, if you can handle its quirks.
Smooth operator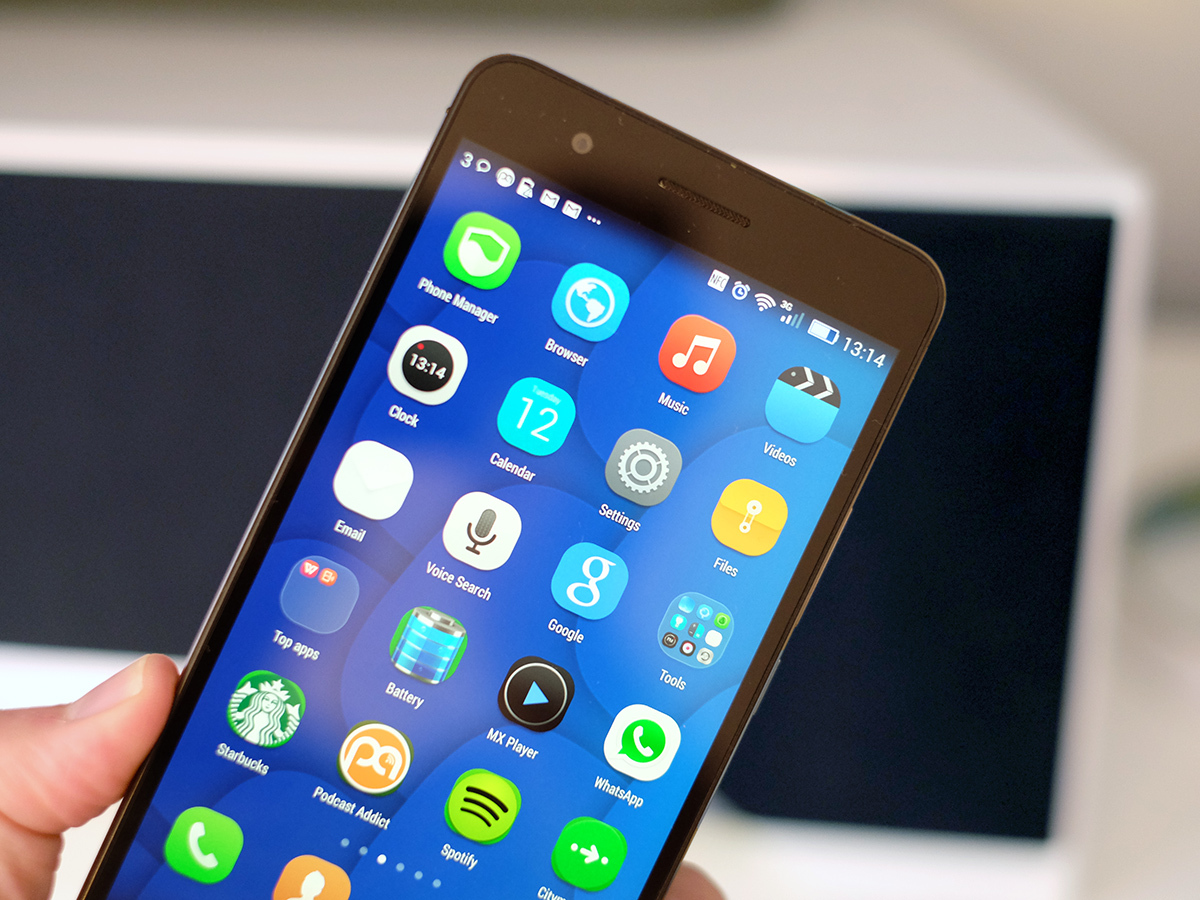 First, it runs pretty fast on the Honor 6 Plus. This feels like a snappy phone. Emotion UI also supports themes, and while the default one is by far the best to my eyes, there's plenty of customisation on tap if you want it.
Performance is the one that really matters, though. And it's not because the Honor 6 Plus has the most up-to-date processor in town. It uses the Kirin 925, a Huawei-made processor seen in top- end Huawei phones of 2014.
It's a 1.8GHz octo-core CPU, teamed-up with 3GB of RAM. It sounds impressive enough, and scores 3121 points in the Geekbench 3 benchmark. That's a way below the 4200 you'll get out of the LG G4 and the 5200-odd of the Samsung Galaxy S6, but keep in mind the £200 we're saving, ok?
Gaming the system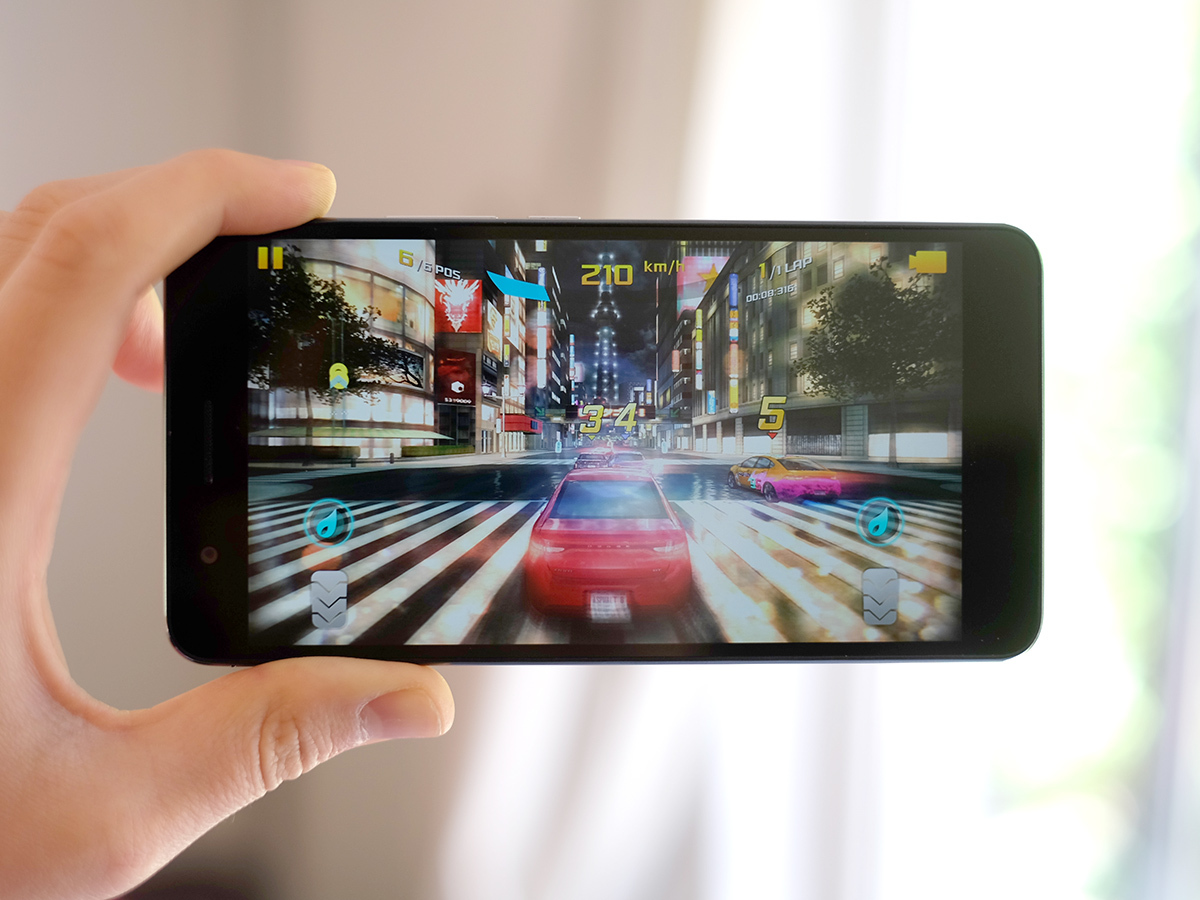 Checking out a few top 3D games, the Honor 6 Plus copes just fine. But only fine. Asphalt 8 is perfectly playable at the top visual setting, but I did notice a good few dropped frames. Look at the GPU and it's no wonder.
The Kirin 925 used here has a Mali-T624MP4 GPU, which is actually slower than some other variants of this Kirin chipset. Samsung used this Mali GPU last year in the Note 3 Neo, which is a budget variant of the full-blooded Note 3. So, yeah, the Honor 6 Plus isn't a phone for real gaming nuts, although I do find the large screen does make up for that a lot. Big size plus good quality adds to the immersion factor.
Having a kinda ageing CPU also shows in general use a bit. The Kirin 925 is made using a 28nm architecture process. This means its transistors are 28 nanometers in size. That's twice the size of the Galaxy S6's 14nm transistors, making this phone much less efficient.
So does it heat up like an Aga when you play a game? Not quite, after 20 minutes of 3D gaming the Honor 6 Plus gets warm, not hot. However, I did find doing even light tasks can heat up its gills a bit. Just streaming a podcast, you can often feel it getting a little bit warm in the pocket.
Meet the beast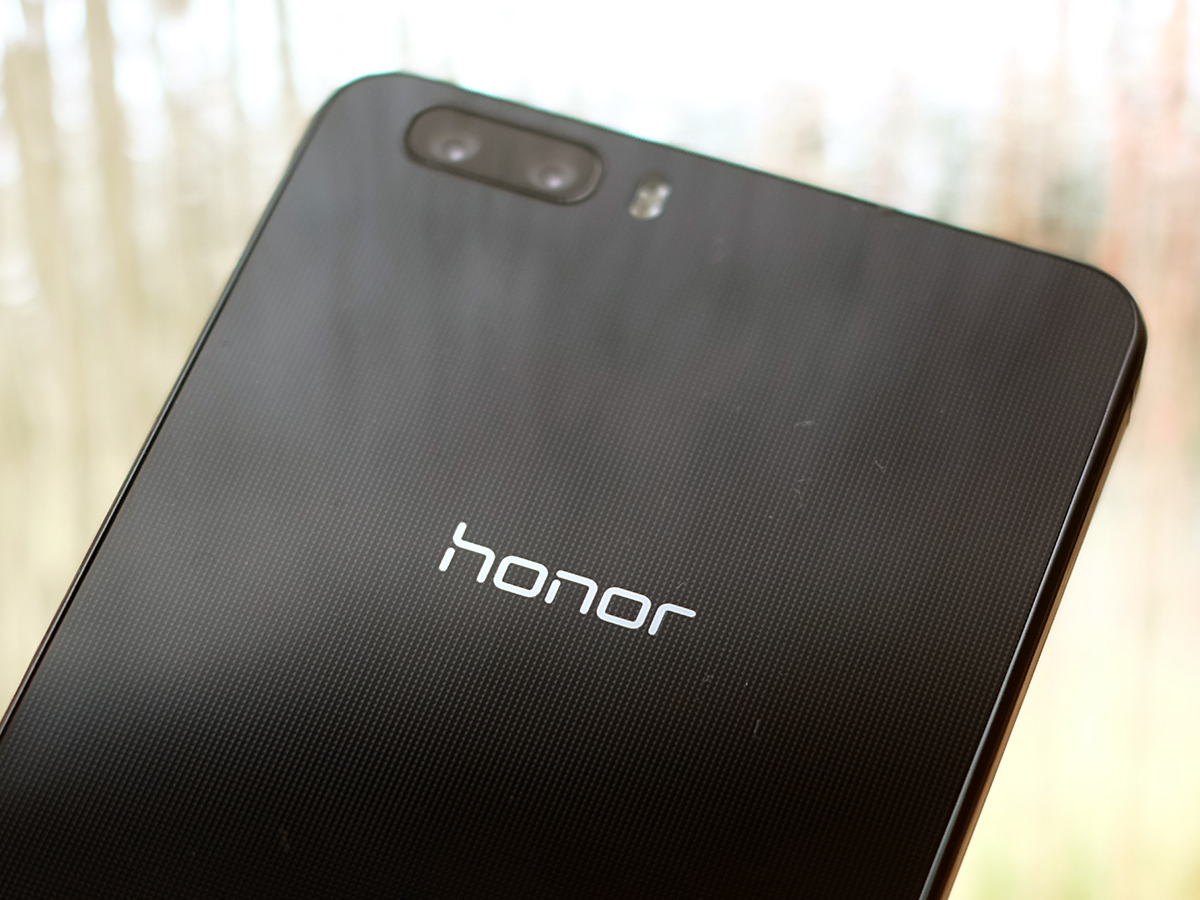 So-so efficiency is never good news for battery life. And that's why Honor has crammed a giant 3600mA battery into the Honor 6 Plus. It's a mammoth unit.
And thankfully big battery plus dodgy efficiency doesn't even-out to just ordinary stamina. With normal use, I can get to the morning of the second day off a charge with 40 per cent battery left. The brute force strategy has worked.
However, you can also see where Honor needs to improve. When playing a looped 720p MP4 video the Honor 6 Plus lasts for just under 12 hours (11 hours 43 minutes to be exact). That's fine, that's good, that's dandy. But the Galaxy S6 lasts for 14 hours despite having a 1050mAh-smaller battery and a much higher-res screen.
I still get much better day-to-day stamina out of the Honor 6 Plus most of the time, but it's not down to the smarts Honor has packed into the thing. It's sheer battery size. Just imagine how long it'd last if it had a super-efficient 14nm processor.
Three-eyed freak
There are some odd approaches in the hardware, but I guess that's how Honor can sell the 6 Plus for £300: some of its bits are old stock. Then there's the camera, which is also a bit odd.
I thought we've waved goodbye to this sort of camera nonsense, but: the Honor 6 Plus has a dual camera array just like the HTC One M8 from last year. This lets the camera brain use the parallax effect to make a rough 3D sketch of a scene, or at least tell between fairly near objects and those far away.
It has two 8-megapixel sensors, one with an f/2 lens (the main one), the other with a slower f/2.4 lens. Isn't that a bit low-res for a £300 phone these days? Absolutely, and I'm not too in-love with the results either.
The Honor 6 Plus's photos often look a bit, well, drab. They lack both the contrast and dynamic range of the best phones, making them often appear a little flat. Performance isn't too hot either. The camera's relatively slow. At £300 we're playing with the big boys, and the camera belongs in lower-mid range territory.
Dynamic range problems can generally be fixed with an HDR mode, and it can help. But it's also quite slow and results in some fairly unnatural-looking shots at times. The HDR's slow speed is particularly disappointing too, as Huawei claims to use the two cameras meaning the phone doesn't have to take multiple exposures with the same sensor. It'll even let you make 13-megapixel photos out of the two cameras' shots, but there's not all that much benefit to it.
You can certainly squeeze some good shots out of the Honor 6 Plus. But you can do better elsewhere too.
Fiddling the aperture
What about that dual-camera gubbins? It's used in a discrete 'variable aperture' mode, which is the same sort of blurry background mode we got in lots of 2014's phones. Let's be clear: the aperture is absolutely not variable, it's fixed. The Honor 6 Plus just simulates the effect of different apertures using software.
This means blurring out the background, or foreground. As with the HTC One M8, you can get some good results if you pick your subject carefully. Choosing simpler objects to shoot can result in shots that look dead arty and ripe for some Instagram love. But when I challenged it with further- away subjects or ones with complicated edges, it invariably failed resulting in some seriously dodgy-looking pics. Oh well.
Low-light performance too is fine, but nothing special. If you've heard big things about the Honor 6 Plus's amazing low-light skills don't read too much into them. That'll be using the Super Night mode, which uses an ultra-long exposure (usually 12-16 seconds) to create a virtually zero-noise photo.
It's nothing to shout too loud about: give any phone camera enough time and it'll be able to do this. Manufacturers just don't put the mode in as it's useless without a tripod or something to rest the phone on, and a totally still subject. In other words: meh.
Selfies are pretty good, though. The Honor 6 Plus has a third 8MP sensor for selfies. The tone can tend to be a bit flat once more, but the results are way better than a basic 2MP camera.
Final words
So far, more expensive flagship phones get you better efficiency, more power and a better camera. They also tend to have smarter, better speakers than the Honor 6 Plus.
This speaker sits on the totally-flat back so gets blocked quite easily, and I found it pretty easy to muffle when playing games with the 6 Plus held one way around. It's a pretty bright-sounding speaker too, lacking the bit of extra oomph I'm starting to hear more often in phone speakers.
There's plenty for Honor to tweak in future phones, but it does have 4G already, and even packs in an IR blaster. The phone stupidly doesn't come with an IR app preinstalled (ours didn't at any rate), but with a third-party one called Zazaremote I was able to control the TV with the 6 Plus in no time.
Verdict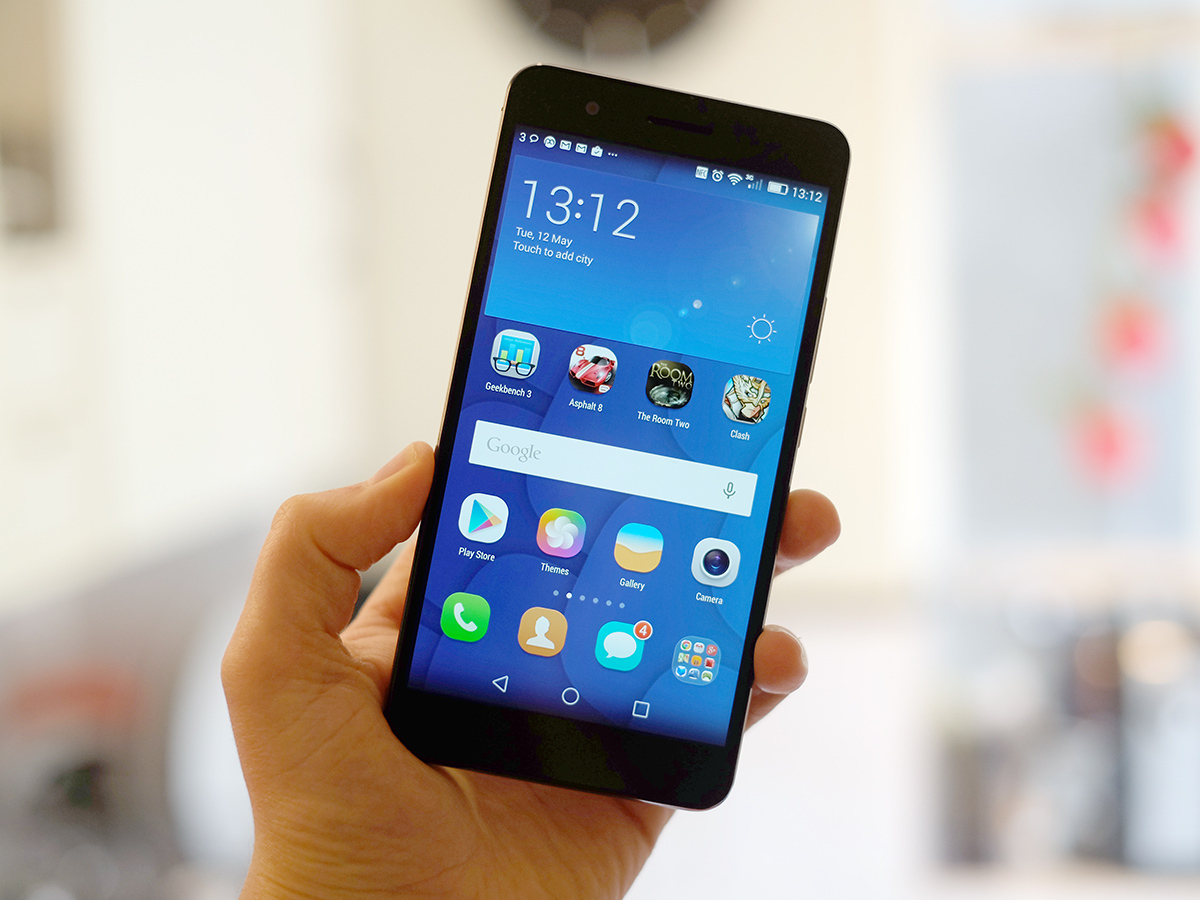 The Honor 6 Plus is a solid pick if you want a high-end phone without the top-end price. In everyday use there's nothing too glaring to separate this phone from one a good deal more expensive.
Real enthusiasts will spot where the Honor 6 Plus can't quite run with the best, though. While generally powerful, the chipset is pretty dated at this point, the camera isn't all that hot and it's a shame the rear is plastic rather than glass.
Emotion UI won't please everyone either, so make sure you're ready for it. Not dissuaded yet? The more-than-solid battery life and strong screen make it worth a closer look if you're not too tempted by the now-similarly-priced LG G3.
Tech specs
| | |
| --- | --- |
| Operating system | Android 4.4.2 |
| Screen | 5.5in IPS LCD with 1920×1080 (445ppi) |
| Processor | Hisilicon 925 1.8GHz octo-core |
| RAM | 3GB RAM |
| Storage | 32GB with microSD |
| Cameras | Dual-8MP with dual-LED flash rear, 8MP front |
| Connectivity | Wi-Fi n, NFC, Bluetooth 4.0, 4G |
| Battery | 3600mAh |
| Dimensions | 150.5 x 75.7 x 7.5 mm |
| Weight | 165g |
Stuff Says…
It doesn't have bleeding edge tech, but strong stamina and a big, bold screen win us over
Good Stuff
Great screen
Gigantic battery, decent stamina
High-end design touches
Loads of storage
Bad Stuff
So-so camera
Dated CPU
Quirky software