HTC U11 review
UPDATED: Amazon's Alexa is here - Squeeze-able sides shows HTC likes to live life on the Edge(Sense)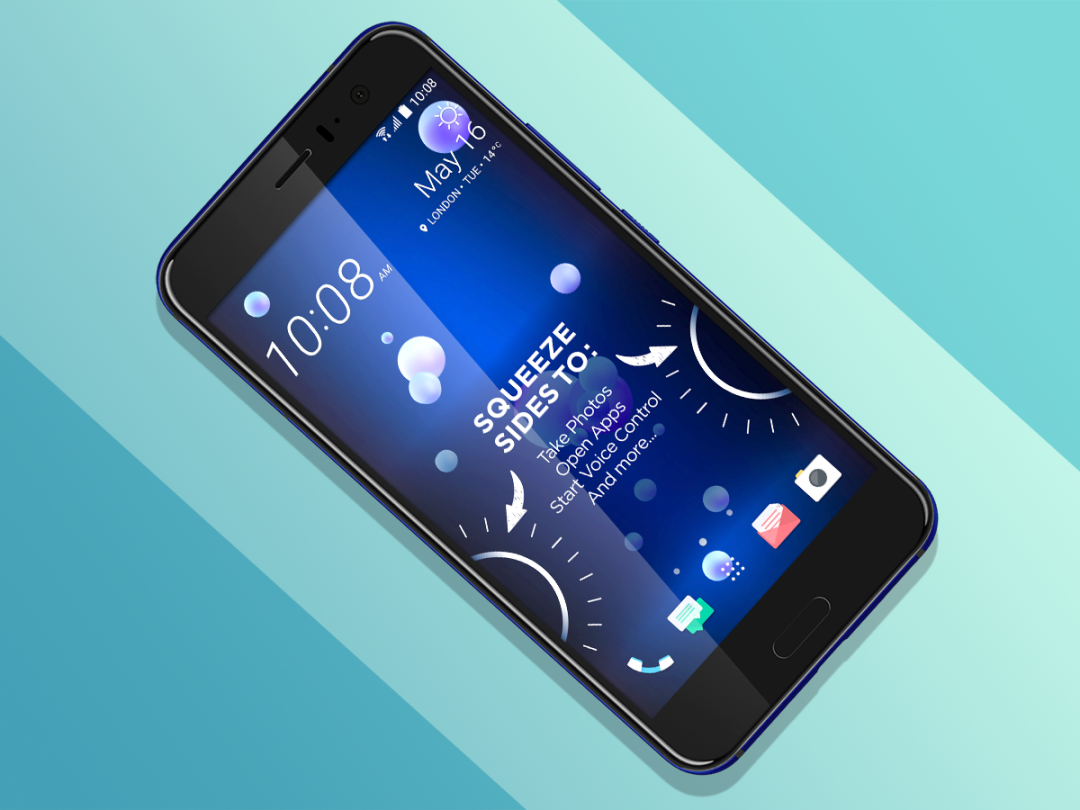 2017 might be the year of barely-there bezels and dual-camera cleverness, but for the U11, HTC has gone for something a little different.
It's a world's first – a handset with hug-friendly haptics.
Those squeeze-sensitive touch panels at the sides give you a new way to interact with your phone, one that won't have you tapping on a touchscreen. Is it unique? Definitely. But is it enough to buy a phone for?
There's more to it than that, of course. Picking up where the HTC 10 left off last year, the U11 packs in top-end specs, a laser focus on sound quality, and a set of AI assistants that are meant to streamline your life.
Oh, and it's utterly gorgeous. Let's not forget about that.
HTC U11 DESIGN & BUILD: ART OF GLASS
Aluminium has been something of an HTC trademark, ever since the all-metal HTC One arrived and every other phone company followed suit. The U11 has more in common with HTC's style-focused U range, though.
Instead of metal, you get glass – and lots of it. The entire back of the phone is covered in reflective, mirror-like Liquid Surface glass, which catches the light brilliantly at almost any angle.
It's just like a pool of water, with different coloured layers baked into the glass to create crazy combinations that look so much cooler than the flat colours you'll find on other phones. If you've ever seen one of TVR's crazy colourful sports cars, you'll know what I'm talking about. Photos just can't do it justice.
Sapphire Blue, Brilliant Black and Ice White, first seen on the HTC U Ultra, all make a return, alongside two brand new shades: Amazing Silver and Solar Red.
Only Amazing silver, a mix of blue, purple and silver shades, will be available at launch. Solar Red, easily my favourite, will come later – it appears bright crimson when you look at it face-on, but turns into a stunning gold at more extreme angles. Whichever you pick, though, the colours are truly outstanding.
Sure, glass is more brittle than metal, so you'll have to take more care with the U11 than you might have done with the HTC 10, and you'll need to keep a cloth handy to avoid it becoming a mess of fingerprint smudges and smears. But from the back, it's a properly good-looking phone.
From the front, though, the U11 doesn't look quite as radical as the competition – even if it'll feel familiar to existing HTC owners.
The 5.5in screen sticks to the familiar 16:9 aspect ratio, rather than going for something skinnier like the LG G6 or Samsung Galaxy S8, and the bezels are fairly substantial. It feels sizeable when you pick it up, but isn't so large that you won't be able to tap out texts with one hand.
A fingerprint-sensing home button still sits at the bottom, alongside capacitive Back and Recents keys – there are no onscreen keys taking up precious screen space here. The sensor is seriously quick, too, unlocking the phone almost the millisecond you brush your fingertip over it.
The 3D glass curves towards the central metal frame, on both the front and the back, so the phone sits comfortably in your hand. Which is useful, really – as it's the frame that hides the U11's most unique feature.
HTC U11 EDGE SENSE: SQUEEZE TO PLEASE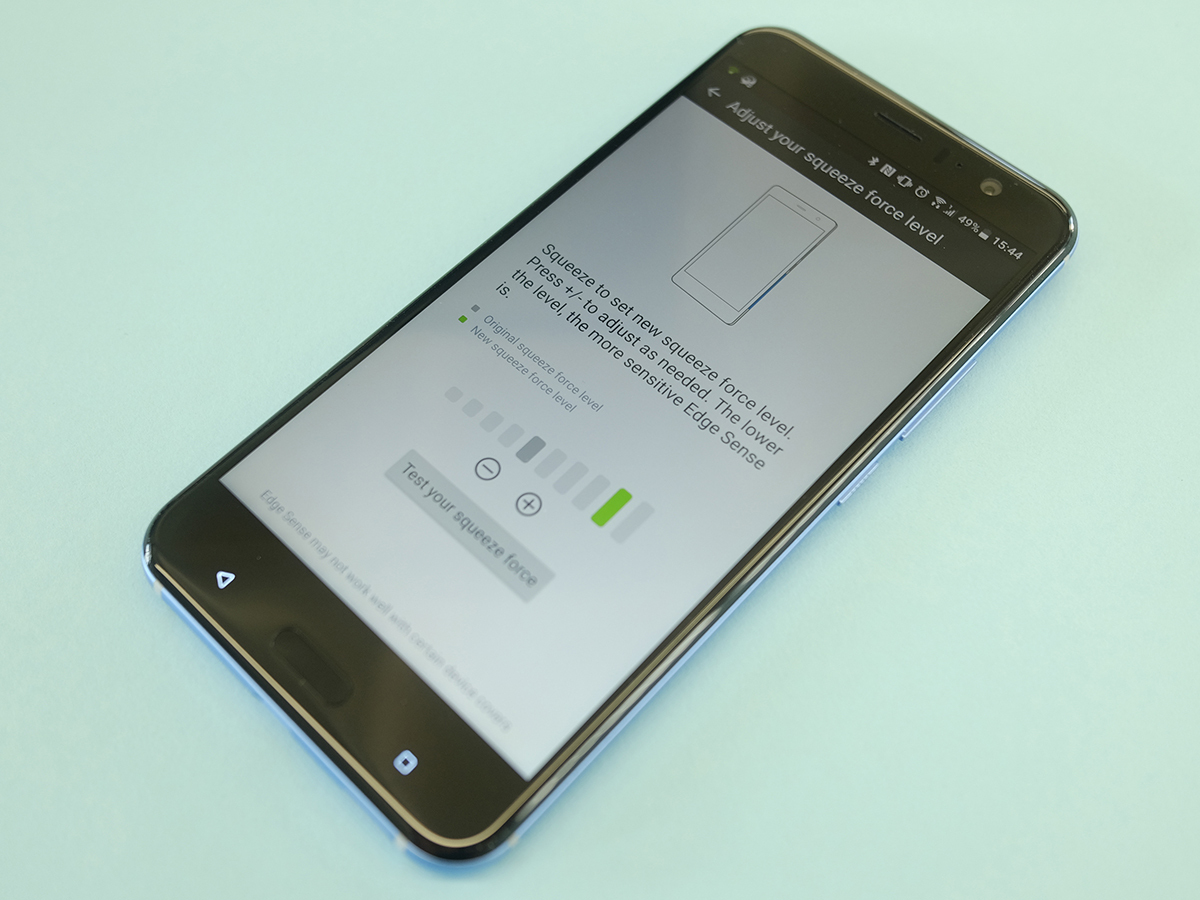 HTC calls the touch-sensitive panels built into the sides of the U11 Edge Sense: give 'em a squeeze and you can do all kinds of actions, like launch an app, turn on the torch, or even snap a selfie.
Even better, it'll work when you're wearing gloves, so you can take photos on the ski slopes without risking frostbite. Or maybe you want a neat throwback to an 80's walkie-talkie? Use it to launch Google Assistant, without having to shout "OK Google" first. It works when the screen is off, too, so you can jump straight in rather than waking the phone first.
Out of the box, you've got to squeeze pretty hard to get it to work, but a quick dive into the menus and you can adjust the sensitivity. It only recognises one kind of squeeze by default, too – you've got to turn on Advanced mode to get short and long squeezes to work side-by-side.
The sensors only cover the bottom half of the phone, though: depending on how you grip it, you might need to shimmy your hands down a bit to properly register your squeezes.
HTC has clearly given the tech some thought, adding a delay to the camera so your hand doesn't shake every time you squeeze to snap a photo, but right now it still feels more like a neat concept than a must-have addition.
That's mainly because at launch there are only a few HTC-specific apps that fully support Edge Sense. Yes, developers can now start adding their own squeezy shortcuts, and yes, HTC will eventually release an official app that will let you add personalised shortcuts to any app you've got installed, but that's all just potential as it stands. As with the LG G5's modular add-ons, how useful it ends up being will depend on how well it's supported.
So, after a few weeks of use, it hasn't transformed my handset habits. But I'll stick with it until more apps support it, and update this review with how I get on, because as a concept it's a good one.
HTC U11 SCREEN & SOUND: HERE COMES THE BOOM
Up front, the 5.5in LCD display uses an IPS panel, with a QHD resolution. That's pretty much par for the course for a flagship in 2017, and while it gives a good first impression, with bright whites, vibrant colours and high brightness, I'll have to spend more time with the phone before I can judge it on picture quality.
Audio has been a big deal for HTC for a few years, and that hasn't changed for the U11. It can handle 24-bit Hi-res audio files, and Boomsound speakers make a welcome return. This latest Hi-Fi edition of the tech turns the whole phone into a resonating chamber, which makes a huge difference to sound quality. Music tracks have real bass now, and when you crank the volume up to the max, you can feel the vibration. For listening around the house, you won't need to connect a Bluetooth speaker – the phone is powerful enough by itself.
There is something missing, though Look around the edges all you want – you won't spot a 3.5mm audio socket. It's USB-C or Bluetooth only. At least HTC bundles a USB-C to 3.5mm adapter in the box, so you'll be able to use your own earbuds if you like. It even has a built-in amplifier for driving more powerful headphones – something you won't find on other adapters.
The bundled USB-C buds also return from the U Ultra, so you might not need to supply your own pair. They've got one-touch calibration, which bounces sonic waves around your ears to get the best possible audio. They include active noise cancellation now, too, which should help you listen at lower volumes but still drown out the sounds of everything around you. I haven't had a chance to properly test these out yet, but it'll be one of the first things I do once I get hold of a handset.
The U11 has its fair share of microphones – four, placed at different points on the phone so you can record 3D audio. HTC reckons it's the best sound recording you'll get on a smartphone, but again, this is something I'll need to test out before passing judgment.
Those microphones are always on, with a 1.5m range, so you can wake the two voice assistants. That's right: there's not just Google Assistant on board, but Amazon's Alexa too. Or rather she will be, once an app update arrives in July.
Alexa has her own wake word, separately from Google Assistant, and can do everything your Echo can. It'll be the first time Alexa has properly appeared like this on a phone, and could be a major reason to pick up a U11 once she arrives.
DOES THIS SOUND GOOD TO U?
The bundled pair of USonic earbuds return from the U Ultra. They have the same one-touch calibration, which bounces sonic waves around your ears, measures the results, and then tweaks the EQ preset for more personalised audio. This does make a difference, but with no fine-grain control over the adjustment, there's no way to tone down their bass-heavy nature.
They have another party trick, though: active noise cancellation. The built-in microphones monitor the world around you, stripping out unwanted background noise while you get your jam on. The idea is you can listen at lower volumes, and avoid blowing out your eardrums.
Quite honestly, though, the effect is mild, and it isn't enough to properly drown out your fellow passengers on public transport, or the loud whirring of a plane flight. An option to increase or decrease the effect would have been very welcome indeed.
HTC U11 SOFTWARE: TALK TO ME
The U11's four microphones are always on, with a 1.5m range, so you can wake the two voice assistants. That's right: there's not just Google Assistant on board, but Amazon's Alexa too. Or at least she is if you live in the US, UK or Germany, the three countries that currently support the AI helper.
Alexa has her own wake word, separately from Google Assistant, and can do just about everything your Echo can.
It's the first time Alexa has properly appeared like this on a phone – you had to manually launch the app on Huawei's Mate 9 every time you wanted to ask her a question. Here, you can use Edge Sense to wake Alexa, but it's a whole lot more handy having her just a trigger word away – even if there's a slightly longer delay between you talking and Alexa listening here than you'd get on an actual Amazon Echo.
Alexa has plenty of advantages over Google Assistant, like better integration with all your smart home kit, so this could be a major reason to pick up a U11 if you've already equipped your house with app-enabled gear. All the Skills you've added to your account will work right away, and while Alexa can't play Spotify tunes just yet, it's pretty comprehensive in every other area.
Otherwise, the U11 doesn't feel like too much of a departure from previous HTC phones. Sense UI is back, and while it's not as overbearing as it was in previous iterations, it's still got a few quirks. Blinkfeed is just a swipe away from the home screen, and there are a fair few HTC apps that aren't quite as good as the Google alternatives they're supposed to replace.
At least the comprehensive theme support returns, letting you completely customise the look and feel of the phone if you don't like how it handles out-of-the-box.
HTC U11 PERFORMANCE AND BATTERY LIFE: POWER FOR HOURS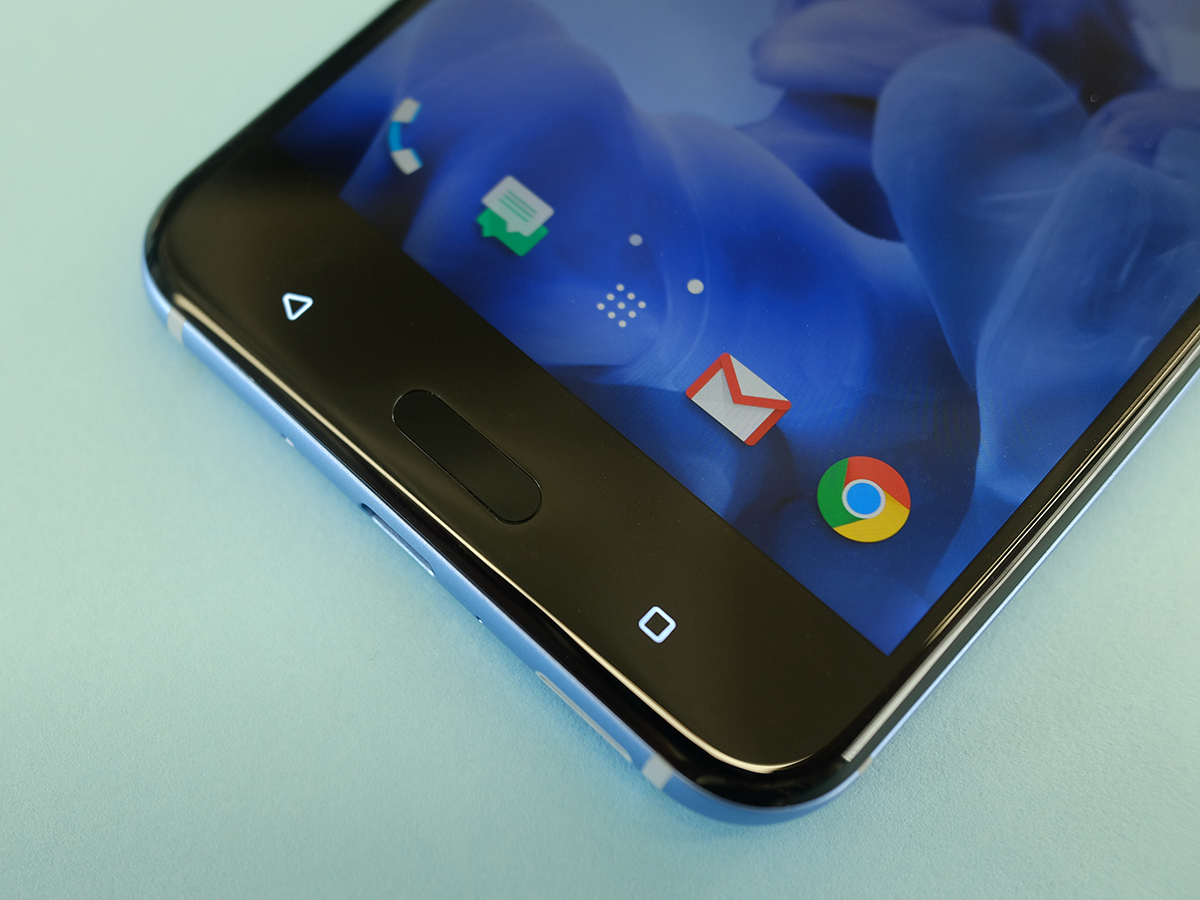 Load it up with as many homescreens, widgets and apps as you like – there's no slowing down the U11. It's powered by Qualcomm's lightning-fast Snapdragon 835, which doesn't pull any punches when it comes to performance.
There's easily enough power here to run everything in the Google Play Store smoothly, animate Android without any stutters, and generally keep everything feeling instantly responsive.
4GB of RAM should handle all your multitasking needs, too. You can always step up to the more expensive 6GB version if that's not enough for you, but the 4GB version I tested felt plenty smooth enough.
The extra cash will also buy you 128GB of storage, though – a step up from the 64GB found in the base model. Either way, you're getting a microSD card slot for slamming in extra space should you ever run out.
On paper, the one shortcoming is the battery. HTC has stuck with a 3000mAh cell, rather than try to squeeze something larger inside. In practice, though, the U11 easily manages to last an entire day on a single charge.
Play it safe, avoid streaming over 4G and give your Candy Crush addiction a rest, and you'll make it to the following lunchtime before you run out of juice. It's leagues ahead of the LG G6, and can outlast the 5.8in Galaxy S8 too.
Qualcomm QuickCharge 3.0 is on board, too, so you can top up in next to no time over USB-C, although there's no wireless charging hidden underneath that glorious glass exterior.
HTC U11 CAMERA: DEVIL IN THE DETAIL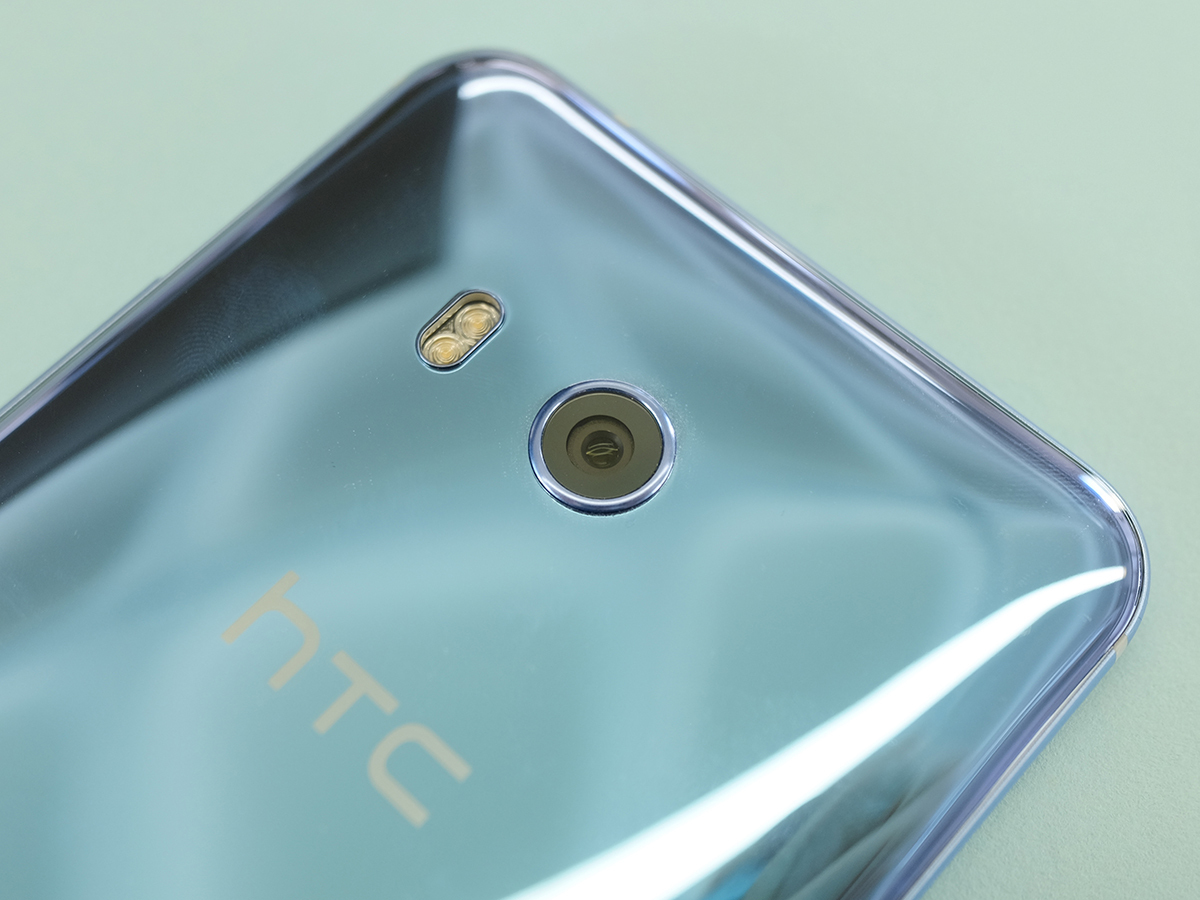 Flip the U11 over and you'll spot a single camera lens – there's no twin sensor setup here, just one 12MP snapper paired with an f/1.7 lens. That means you don't get any fancy depth-of-field effects, wide angle views, or black-and-white modes, which helped spice up the iPhone 7 Plus, LG G6 and Huawei P10 respectively.
HTC has learned a thing or two from producing the Pixel and Pixel XL for Google, though. This third-gen Ultrapixel tech ditches phase-detection and laser autofocus for dual-pixel AF, which uses the entire sensor to focus instead of tiny part of it. The result? Lightning-fast autofocus that's easily on par with the Galaxy S8.
The 1.4um pixels might be smaller than the HTC 10's 1.55um setup, but a new hybrid image stabilisation system works in conjunction with the wider f/1.7 lens to keep your shots looking crisp and detailed, even in dim conditions. It's the first time 5-axis image OIS has made it into a phone, having previously been reserved for mirrorless and DSLR cameras, and it has electronic stabilisation to back it up, too.
Always-on auto HDR is also on board for brighter images with less noise, better colours and more details. All together, it makes the U11 a welcome step up from the HTC 10.
The camera is constantly focusing, so you can shoot as soon as you tap the shutter button, but I found that the shutter itself could sometimes be a little slow. My shots were rarely, if ever, out of focus, but there's still a slight delay between tapping the screen and the photo being captured.
That's a shame, as for sheer quality, the U11 easily stacks up against the Google Pixel, Galaxy S8 and iPhone 7 Plus. The automatic HDR mode is faster here than on the Pixel, and while your pics still need to process, you aren't waiting around as long as you do with Google's handset.
Every shot is packed with detail, with rich colours that still manage to stay true to life. Noise might be higher than on the Galaxy S8, but that's because HTC isn't stripping out details with aggressive algorithms. At night, the U11 usually comes out on top, although the slower shutter speed sometimes struggles with overblown light sources.
It's an exceptional camera, if just that little bit slower than you'd expect, but the results really speak for themselves.
Video quality is on par with stills, with 4K recording at 30fps and slow-motion 1080p video at 120fps. The 3D audio recording makes all the difference when you break out the digital zoom, letting you focus on the subject and hear them clearly when you play back your clips.
HTC U11 competition
The U11 was one of the last major flagship phone launches before the summer, so it needed to do something special to stand out against the already established competition. And even with those creative colours, it isn't a massive design departure from HTC's other recent efforts.
That might make it stunning in isolation, but it looks a little bit samey when you stick it side-by-side with the LG G6 and Samsung's Galaxy S8. Both have thinner bezels, and squeeze more screen into a smaller space thanks to a new 18:9 aspect ratio. Samsung also goes the extra mile with curved screen edges. It simply feels more futuristic, and excels in just about every area. If an awkwardly-placed fingerprint sensor isn't a deal-breaker, it's easily worth the £50 extra over a U11.
Screen aside, the LG G6 also adds a twin-camera setup for wide-angle photos. It's handy to have, but it can't match the U11 for quality. It has a slower CPU, worse battery life, and costs roughly the same. For our money, HTC has the edge here.
The 5.5in Pixel XL is Google's closest rival, with an outstanding camera, phenomenal battery life and a completely stock version of Android. It costs significantly more, though, and the U11 can match it for picture quality. Unless an undiluted Nougat experience is a must-have, or you simply can't stand using an adapter for your headphones, HTC again comes out on top.
HTC U11 VERDICT
It wasn't easy to sum up the U11. It has its fair share of niggles, but plenty of redeeming features too.
The missing headphone jack is annoying, but the bundled in-ears are decent enough and active noise cancellation is a nice little extra. The camera's raw speed might not be a strong point, but you can't fault image quality. Battery life is great, too, even if small details like wireless charging are missing.
It does pretty much everything you'd expect from a flagship phone, although the Galaxy S8 does everything just that little bit better, and for just £50 more.
The software is what will make all the difference. Edge Sense might sound like a niche gimmick right now, but we thought the same thing about Apple's pressure-sensitive Force Touch screens. If developers support it, and HTC gets the customisable app ready for everyone to download, it could be really useful. The accessibility potential for people that struggle with standard smartphones is huge, too.
It's the same deal with the U11's abundance of AI. Google Assistant and Alexa in the same phone is a major deal, even if it wasn't ready at launch. Amazon's helper is here now, and it's the best implementation we've seen so far in a phone.
The U11 was an excellent phone at launch, if not quite the best. What it could turn out to be in a few months, though? The potential is really exciting.
Buy the HTC U11 SIM free here from Amazon, or on contract here
(This review used two HTC U11 handsets: a pre-release, dual-sim Taiwanese variant and a single-SIM UK variant running final release firmware. It accurately represented the experience customers got at launch when the phone went on sale.)
Tech specs
| | |
| --- | --- |
| SCREEN | 5.5in 2560×1440 IPS LCD |
| CPU | Qualcomm Snapdragon 835 |
| MEMORY | 4GB / 6GB (4GB model tested) |
| STORAGE | 64GB / 128GB (64GB model tested) |
| CAMERA | 12MP, 1.4um pixe rear with f/1.7 lens, OIS, EIS, UltraSpeed (dual pixel) AF / 16MP, f/2.0 ultrapixel front |
| OPERATING SYSTEM | Android 7.0 Nougat |
| BATTERY | 3000mAh non-removable |
| DIMENSIONS | 154x76x7.9mm, 169g |
Stuff Says…
Unique features and a delectable design help the U11 stand out, but don't quite do enough to usurp Samsung's Galaxy S8 as the 2017 smartphone to beat
Good Stuff
Gorgeous glass is a real attention-grabber
Plenty of performance, but with great battery life
Loudest smartphone speakers around, and noise-cancelling in-ears are a great bonus
Camera quality is top-notch
Bad Stuff
Colours aside, design doesn't exactly stand out
Camera can't quite match rivals for speed
No headphone jack is annoying, even with an adapter in the box
Edge Sense a bit limited at launch