HTC Desire 626 review
Can HTC match the mighty Moto G?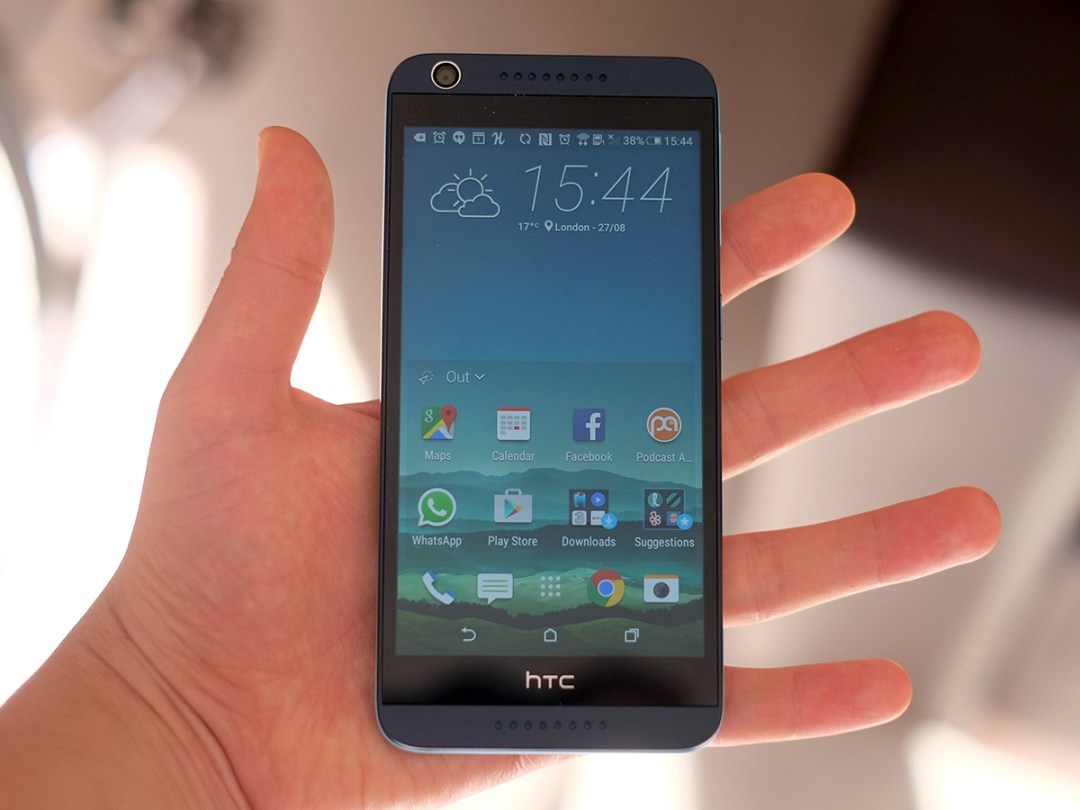 It took a while, but the big boys of the phone world are finally starting to catch up with what Motorola offered with the Moto G back in 2013. HTC's latest stab is the Desire 626, a mid-range phone with a 5in screen, colourful design and pretty attractive price: around £195 without a contract, or free on contracts of £12.50 a month.
While this Desire's unibody design looks deceptively premium, the new Moto G offers a much better camera, better general performance and superior battery life. 
Still, if you like HTC's style this is still a solid mid-range phone.
Blue and blue
The HTC Desire 626 looks oddly similar to the HTC Desire Eye, even though this phone is about £100 cheaper. It has a boxy, two-tone design, with our review phone rocking a little blue inner part sandwiched between dark blue front and rear bits.
You might assume that, given the sensible price, the back is a removable bit of plastic. However, this is much closer to unibody style. The Desire 626 battery is hidden away, with all the bits you need to access hidden under a flap on the side. That includes the microSD and nano SIM slots. There's another gap in there for a second SIM, but the version winging its way to the UK doesn't seem to actually let you slot one in.
Think that's a big loss? Be sure to check out the Honor 6, which is widely available in the UK in its dual-SIM form.
It feels pretty good, though. While all-plastic, there's a nice soft touch finish throughout and while the smoothly-curved sides are still fairly boxy, the 8.2mm thickness means it's not too hard to handle. The HTC Desire 626 feels a similar size to the Moto G, maybe a little smaller.
Easily swayed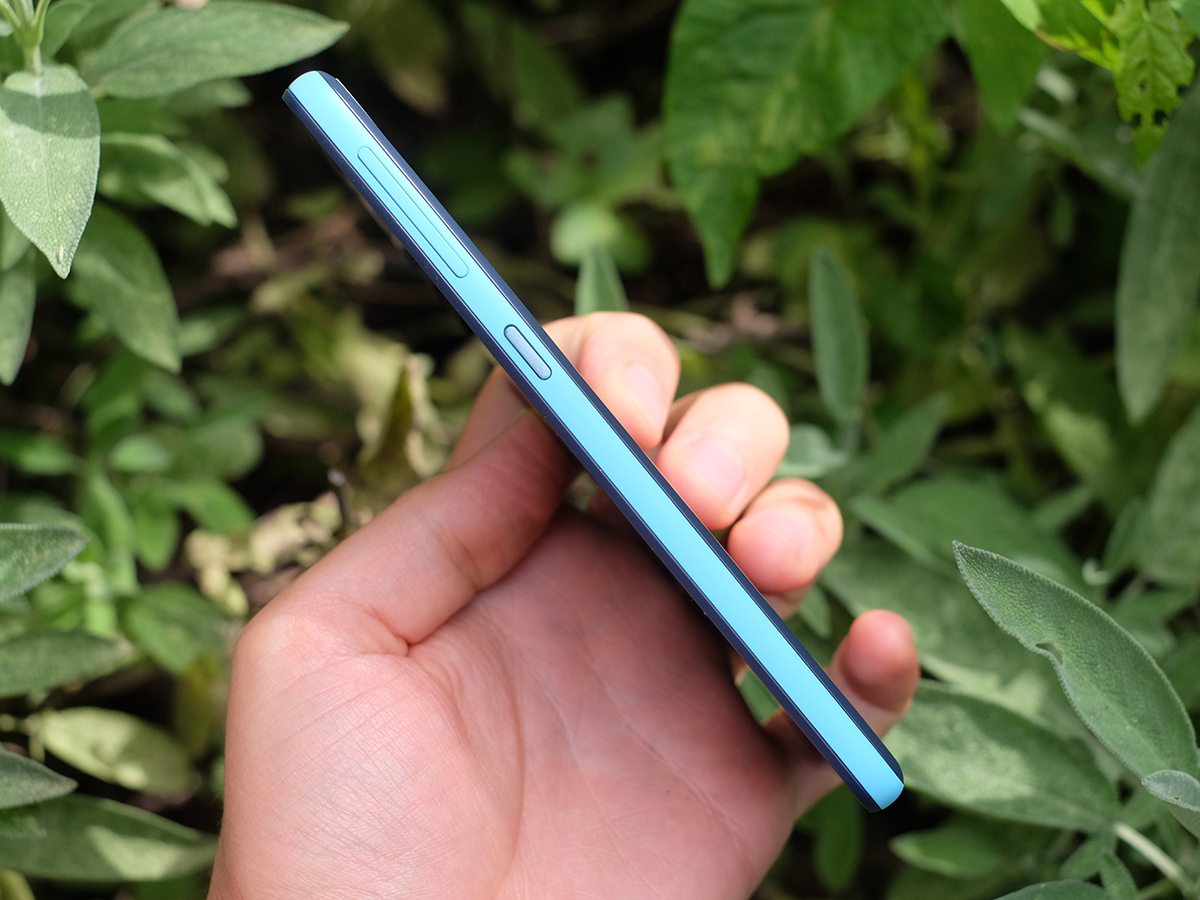 I was a tiny bit alarmed by how easy the phone is to bend, though. You can curve the thing backwards with hand pressure. It seems HTC may be masking shoestring-style construction with the unibody aesthetics, which generally make you think a phone is higher-end. Basically it tells us there's not a rigid steel/metal structure underneath.
Still, it should prove adept-enough at dealing with the slings, arrows and door keys of a life in your pocket. The HTC Desire 626 has scratch-resistant Gorilla Glass on its front, and the plastic finish actually seems more prone to fingerprint smudges than scratches.
It seems a bit less tough than the HTC Desire Eye, which has a similar design but is otherwise higher-end. Contrary to the look of the HTC Desire 626, the phone doesn't have BoomSound speakers either. HTC is trying to dupe you into thinking it does with those equal-size grilles at the top and bottom of the phone, but really only the bottom one functions as a main speaker.
The top one is a plain old call speaker. Sound quality is nowhere near as exciting as that of the BoomSound brothers, either, being less weighty and less warm. It's roughly the cheap smartphone norm. Expecting top-tier sound quality from a phone at this price was probably a bit ambitious. But it would have been nice, wouldn't it?
Making Sense of screen and software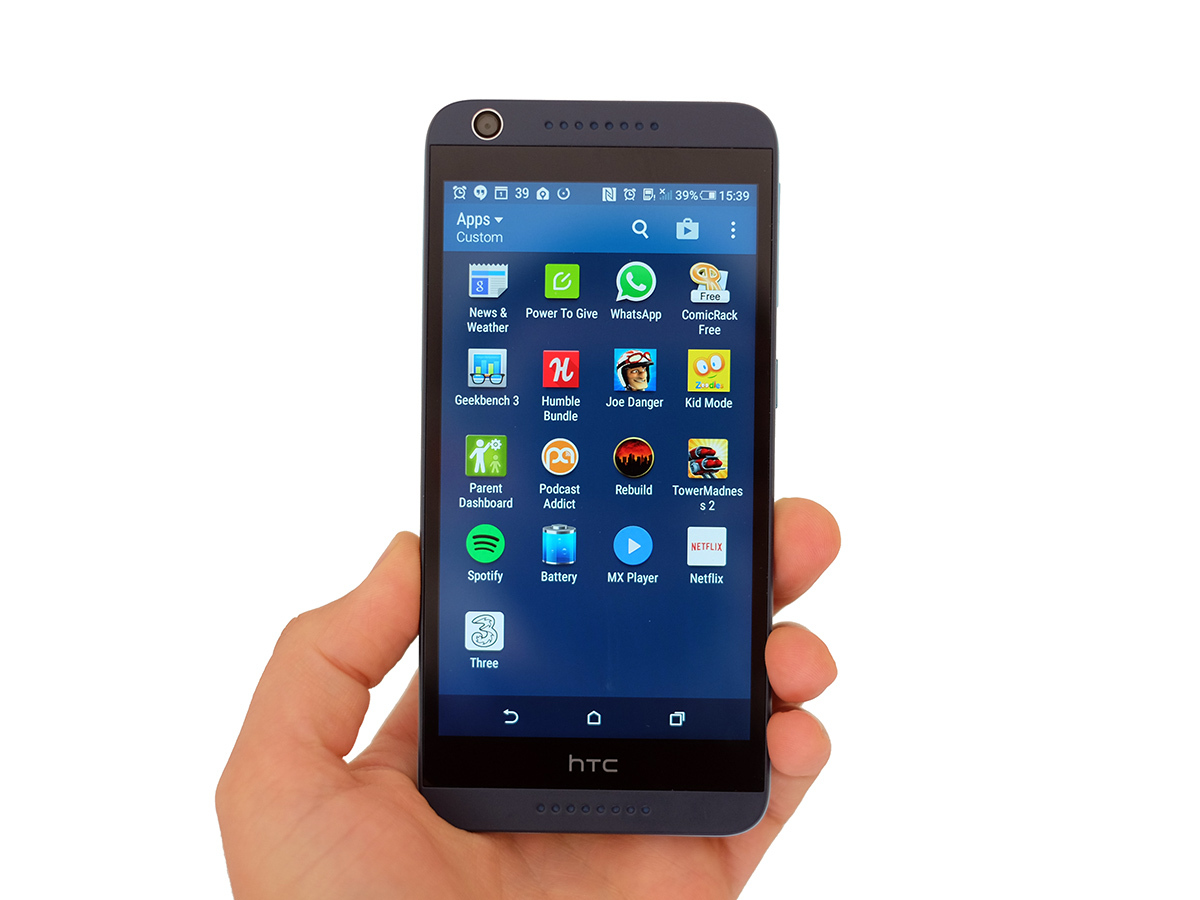 Then there's the screen, which too is the classic upper-budget spec of 5in across, 720p resolution. HTC does seem to have put some work in here, though, after the Desire 620 was accused of offering poor colours compared with some rivals.
The HTC Desire 626 has pretty good colour, for a cheaper phone anyway. Top brightness is decent, but it does struggle on the sunniest days. It's also a bit more fingerprint prone than the Moto G, suggesting it uses an older form of toughened glass.
How the phone actually looks is totally different to the Moto G, though. Despite running Android 5.1 Lollipop, the look of the Desire 626 is determined 100 per cent by the HTC Sense 7 interface. It's the same software we saw on the HTC One M9, complete with BlinkFeed, custom themes and, sadly, a look that is dating rapidly.
Perhaps my eyes are just tired of the HTC Sense visual style, which has remained as it currently appears since way back in 2013 when the first HTC One came out. It lacks some of the friendly plain-ness of default Android Lollipop, or the very latest Samsung Android interface.
As with LG's custom UI, HTC Sense could really do with a refresh. It also has a fair bit of appy bloat, with things like HTC Club, Power to Give, HTC Dot View and the Zoe app going straight on the 'to ignore' list. However, the HTC Desire 626 does at least let you do this officially, by hiding absolutely any app you like in the apps menu.
Custom build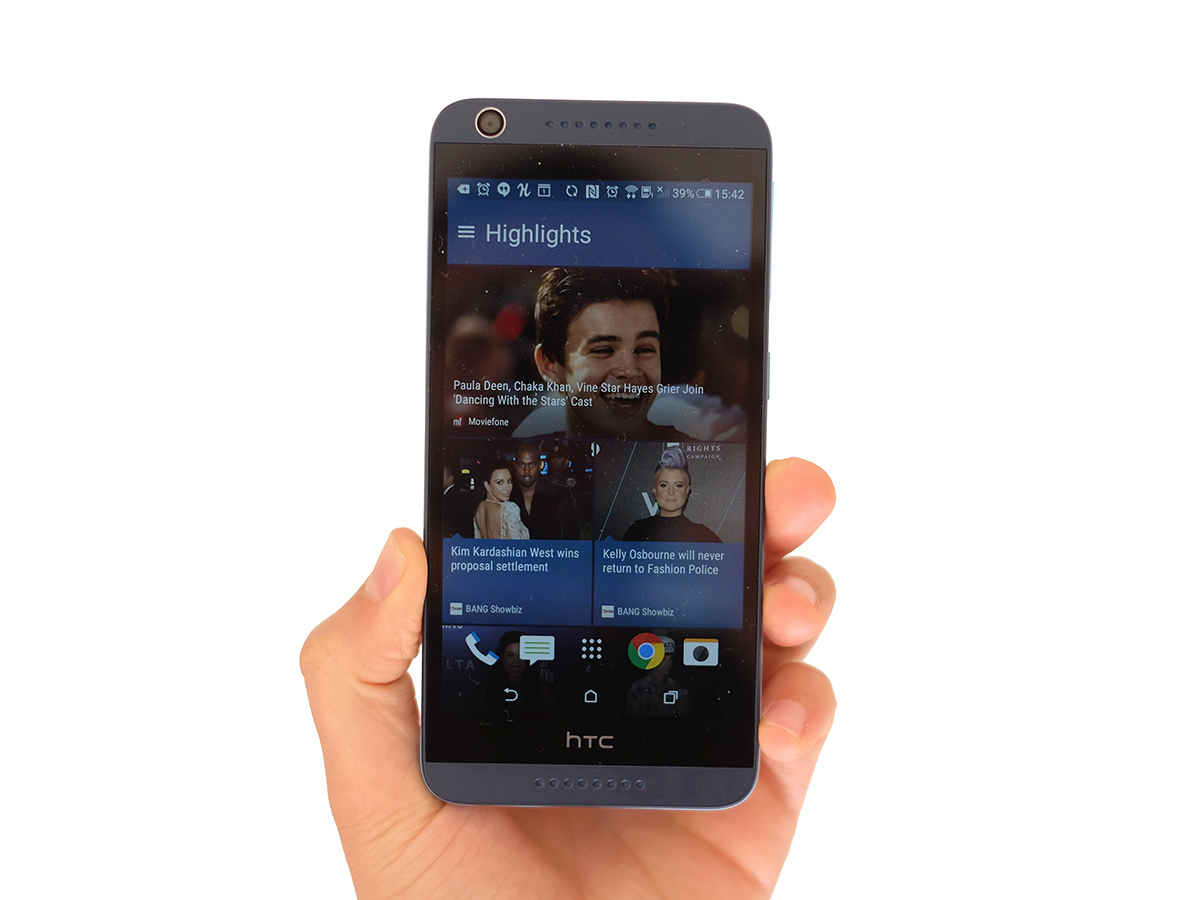 What it lacks in discretion is makes up for with customisation. At this point Sense 7 offers loads of themes that alter things like app icons and the wallpaper. None truly simplify the UI, but being able to alter the look near-automatically is neat.
There are a few other HTC Desire 626 software features worth noting, too. Sense Home is a little box of app shortcuts whose contents can be customised depending on whether you're at work, at home or somewhere else. You might want Netflix, a few games and Facebook at home, Citymapper added when you're out and at work… some boring apps that make you look like you care more about work than your really do.
While this feels like a feature jammed-in just to give Sense 7 something new to boast about, some of you will probably find a use for it. I'll admit: I haven't.
BlinkFeed is pretty neat at this point, though, if you take the time to customise it. Lots of you may have met it already, but if not, it's a slick scrolling feed of news stories. You can then read the full article right from your homescreen. It's easy to tweak what goes in there, and you can also weave-in social network updates from Facebook, Twitter and so on.
I used to be the kind who would switch BlinkFeed off on day one. But even I have to admit it's a pretty good way to waste a few minutes these days. If you still hate it, it's easy to 'switch off' too.
Even those who hate Sense altogether needn't necessarily be put off. You can always install the Google Now UI, after all.
Low on puff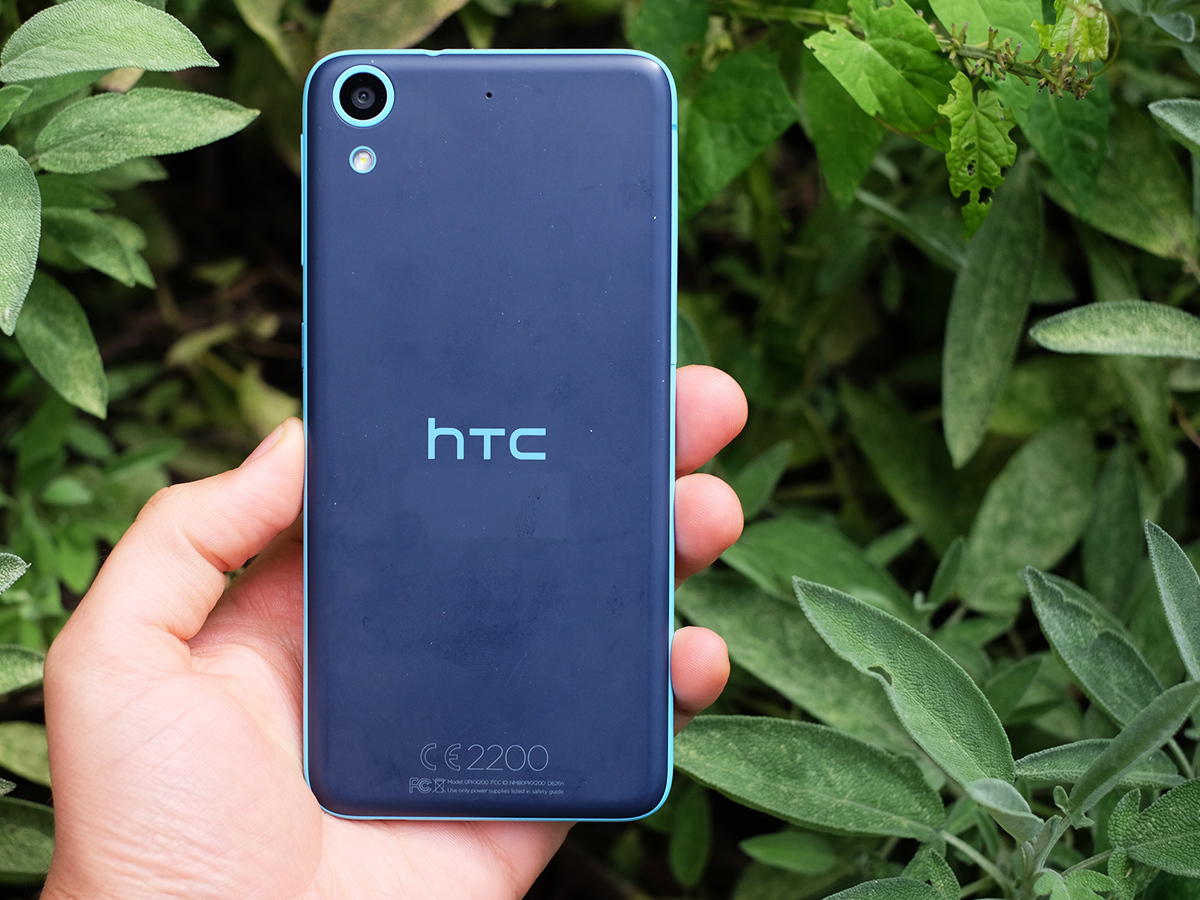 Some things can't be changed so easily, of course, like battery life. The HTC Desire 626 has a pretty meagre 2000mA unit, a chunk smaller than the 2470mA unit of the latest-gen Moto G. It's even smaller than the battery of the Desire 620, which at least has 2100mAh.
Stamina is passable. Light users can get a day's use out of it without too much effort. However, if you start streaming audio or browsing the web a bit in those idle moments, it's just that bit too easy to drain down before bed time. Playing a 720p video on loop, the HTC Desire 626 lasts eight hours: not dreadful, but worse than the Moto G by more than a hour and change.
You imagine HTC thought it'd be fine to chip down the battery a bit because of a new more advanced CPU, but the Desire 626 has the same chipset as the old 620: a Snapdragon 410. This is an entry-level 1.2GHz CPU, and here it's paired with 2GB RAM.
This is a good job too, as we've seen a bunch of entry-level 1GB phones that feel pretty sluggish. The HTC Desire 626 isn't quite as smooth as the 2GB Moto G, and I did notice that navigation of the UI takes a hit while the phone is downloading apps or app updates in the background. We imagine the 1GB RAM version would be a lot worse. Avoid it if stumble on it in your travels. In the Geekbench 3 benchmark it scores 1465, which is a decent score from the Snapdragon 410.
All the camera gear, no idea
At times it can seem like HTC doesn't really make the most of the hardware it has to work with, and that's certainly true of the camera too. The HTC Desire 626 has a 13-megapixel camera on the back and a 5-megapixel one up front. That's the new gold standard for more affordable mid-range phones.
Give it a nice, easy-to-judge scene and sure enough the Desire 626 can manage a decent amount of detail. However, with anything more taxing the camera invariably falls flat on its face. Rather like the HTC One M9, it's hugely prone to both under and overexposure, most commonly resulting in photos duller than an HR department's proper code of conduct manual.
Left to its own devices the HTC Desire 626 seems at times almost totally unable to judge a scene correctly.
Colours are often a little undersaturated in the images the phone does judge respectably too, meaning even the hits don't reach that high. Low light performance is fairly poor, predictably enough. It struggles to focus in low lighting, but the biggest issue I found is that any light sources cause great big distortions blooming out from the lamps. Night street scenes look pretty ugly.
Its certainly not impossible to get the odd good shot out of the HTC Desire 626, but the hit rate is not good. Not good at all. In this sense it's pretty similar to the Sony Xperia M4 Aqua, which has a similarly ropey main camera. While I feel I've already mentioned the Moto G one time too many already, its camera is far superior, offering much nicer colour tones and the ability to deal with much more taxing lighting.
It's another sign that specs don't tell you everything, as both cameras have 13-megapixel sensors and f/2.0 lenses. In its favour, the HTC Desire 626 is pretty fast, letting you take a bunch of shots in quick succession and suffering from minimal shutter lag. It's just a pity the photos aren't a bit more consistent.
The selfie cam seems to fare a bit better, perhaps because the task of just getting someone's face up to the right level makes things that bit simpler.
HTC Desire 626 verdict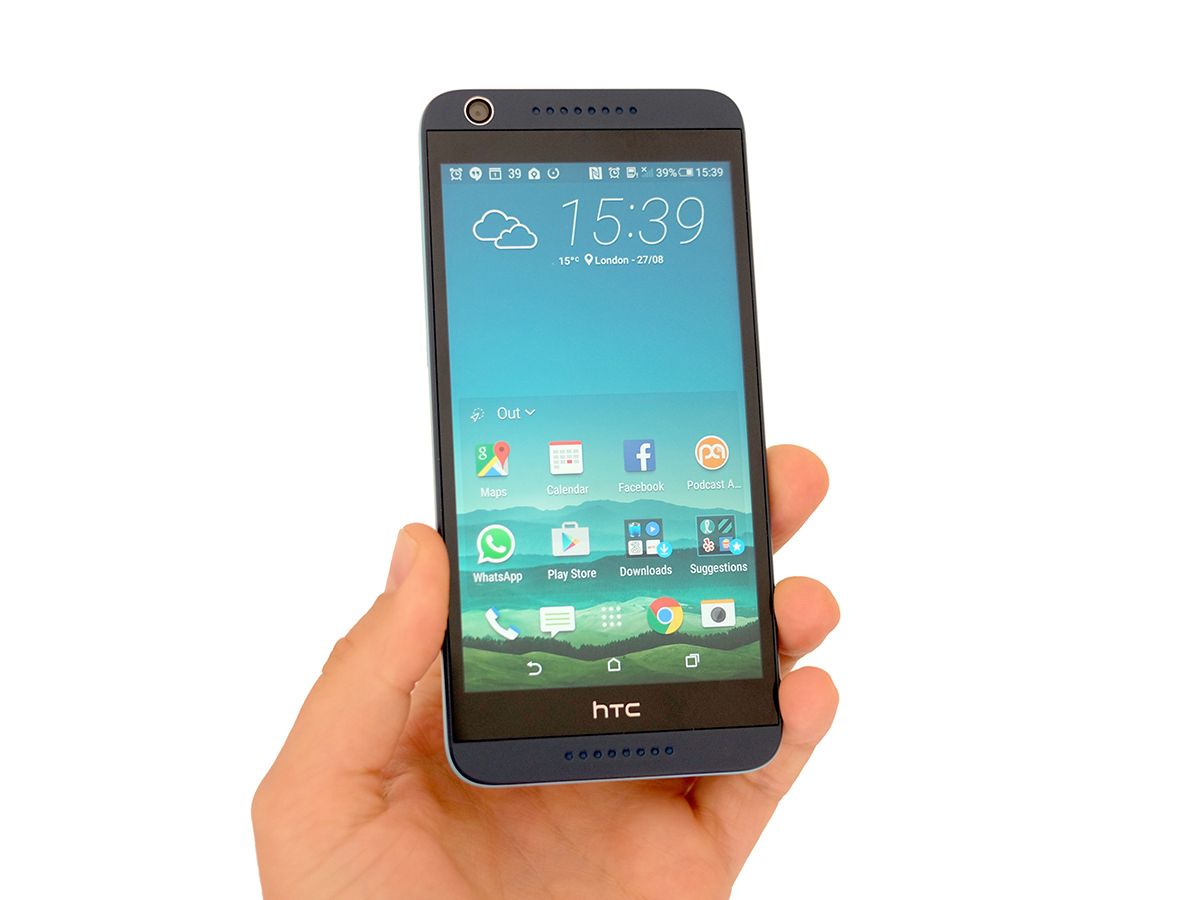 The HTC Desire 626 is a decent stab at a phone that gets you a large, sharp-ish screen and decent performance for a reasonable price. You won't have to sign up to a 2-year contract just to be able to afford it.
It's a capable phone with a design that avoids the bland style of some other cheaper models. However, we crucially just didn't find it as much fun to use as some other phones at the price. The Moto G 2GB edition costs similar money and offers a better camera and much more stamina. And for just a bit more the Honor 6 gets you a superior screen, battery life and camera.
This all means, despite making a respectable case for your cash, the Desire 626 doesn't quite compare to its rivals.
Stuff Says…
A selection box of hits and misses, resulting in a middle-weight contender at best.
Good Stuff
Cute two-tone look
Fairly good screen
Decent value
Bad Stuff
Mediocre battery life
Disappointing camera
Slightly suspect build
Non-BoomSound speakers