Honor 9X Pro review
Honor goes it alone - but going Google cold turkey ain't easy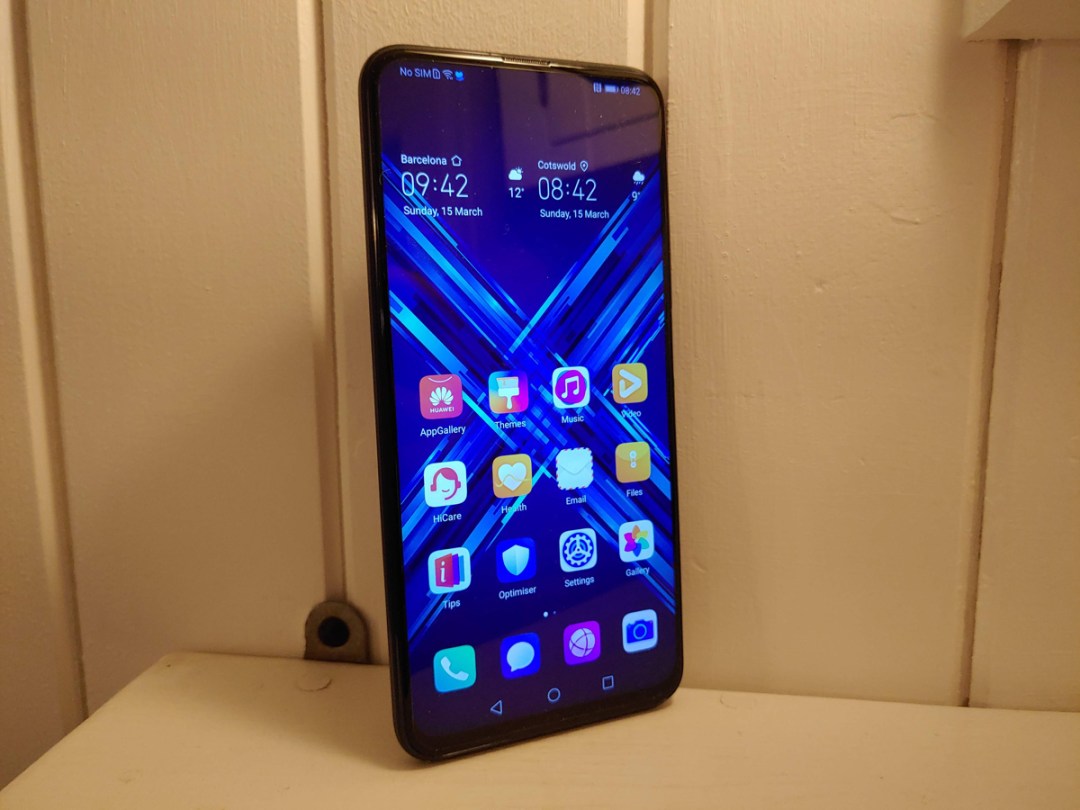 Thunder and Lightning. Salt and Pepper. Ant and Dec. Some pairings seem destined to be together forever. But can you really have Android without Google?
Huawei was forced to find out last year when a certain orange-faced US President threw his toys out the pram and decided the Chinese company was a security risk. One trade blacklist later and Google's software was suddenly forbidden fruit, for both Huawei and its younger, hipper Honor division.
The 9X Pro is the first Honor phone to arrive following the dispute, and does so with Huawei's version of the Play Store. It also sees a few hardware upgrades over the vanilla 9X we reviewed late last year, and the name suggests it's a better handset all round – but is this one case where you'd be better off not going for Pro?
DESIGN & FEATURES: GLAZED OVER
The 9X Pro, at the very least, hits all the right hardware notes. Little has changed in terms of styling from the original 9X – but then why would it? Honor had crafted a solid mid-range phone that was easy on the eye, with a pop-up selfie camera that freed up the whole front of the handset for a sizeable screen.
The biggest change is the switch from plastic to glass on the back panel, and the 9X Pro is all the better for it. The 9X felt like a budget phone, but that's not the case here. The shiny finish might still be a fingerprint magnet, but it now has the heft of something that costs significantly more.
A bumped-up three lens camera setup makes a return on the rear, sticking up just enough to not catch on your jeans pocket every time you go to pull it out.
You get an honest to goodness 3.5mm headphone socket at the bottom of the phone, along with USB-C charging – still not a guaranteed inclusion for affordable handsets.
Neither is a fingerprint sensor, but Honor has delivered a doozy: the 9X Pro has a side-mounted scanner, just like a top-end Sony Xperia or Samsung Galaxy S10e. It's quick, doubles as a power button, and sensibly placed so your thumb finds it every time. Shame it's not quite so simple for southpaws, though.
DISPLAY & SOUND: BYE BYE BEZELS
At 6.6in, the 9X Pro's LCD screen is no shrinking violet, and with the front-facing camera now hiding underneath until called upon, there's not a lot of bezel to get in your way. It's a palm-filling display, with a 2340×1080 resolution that's a small step up from Full HD to account for the extended aspect ratio.
As far as LCD panels go, image quality is respectable, with ample brightness and decent contrast, though colours aren't nearly as vibrant as more expensive OLED phones. The colour temperature is completely customisable, though, so you can set things how you like very easily.
Little has changed from the 9X on the sound front, with a mono speaker at the bottom of the phone still in charge of all audio duties. It's easy to accidentally muffle it with your palm, and it's rather tinny when you crank up the volume. Aside from catching up on TikTok clips (just about the only video/social media app available to download on this phone) you'll want to invest in some earphones.
CAMERA: THREE'S A CROWD
We weren't all that impressed with the 9X and its triple-camera arrangement, and with it being identical here, it would largely fall to software processing tweaks to help the 9X Pro chalk up a win here.
Unfortunately, that doesn't seem to be the case. The 48MP main snapper, which uses pixel-binning to take 12MP photos, still struggles with unevenly lit scenes, often overexposing the skies and making scenes seem brighter than they are in reality. HDR is still buried in a menu, rather than being an onscreen toggle, but doesn't do all that much to rescue your photos.
Colours are more pleasing with Honor's AI scene recognition switched on, although this also adds a lot of postprocessing and oversharpening, which won't be to all tastes. Low-light shots get a helping hand from the Night mode, which is better than most entry-level phones, but a serious step back from the Pixel 3a's Night Sight. Portraits get bokeh blur courtesy of a 2MP depth sensor, but the results are no better than phones that exclusively use software to defocus.
The wide-angle camera is a noticeable step down in quality, with even more exposure issues and clear lens distortion and a real lack of detail. It fits more in the frame, but the results aren't all that great.
Up front, the 16MP pop-up camera isn't all that quick to show itself, but feels sturdy enough and retracts automatically if the phone takes a tumble. In good light it does a good enough job, but defaults to a strong beauty filter that eliminates every line and wrinkle from your face.
OS & SOFTWARE: NOTHING TO SEE HERE
This where things get ugly for Honor. Without Google Play, the 9X Pro is severely held back in what you can do with it.
Want to watch a YouTube video? Better open the web browser, as there's no dedicated app any more. Want to scroll through your social media channels? That'll be the web browser again, as there's no official Twitter, Facebook or Instagram app. Need to sort out some online banking? Open the web browser. Need directions? Web browser.
I'm being a little unfair, as there are third party alternatives to a lot of these apps. So many, in fact, it's nearly impossible to work out which ones are actually any good. The Huawei app gallery is full of knock-offs and confusingly-named, loosely-related software. It's like a throwback to 2012 and Windows Phone 8, which suffered the same calamitous third party software support.
No Google support means no Android Auto for when you hook the phone up to your car, of course. Oh, and don't forget that wearable on your wrist: its companion app almost certainly won't be available.
With no easy workaround to get the Google Play Store (and therefore all the apps you'd actually want to use) installed, the 9X Pro feels completely hobbled right out of the box.
Maybe third party app makers will eventually get on board – but that's not a bet worth making when there are plenty of alternative handsets out there for similar money. The vanilla Honor 9X included.
PERFORMANCE: RIGHT ON THE MONEY
The vanilla Honor 9X was a bit weedy when it came to CPU grunt, so it's great to see this Pro model arrive with some different silicon. The Kirin 810 isn't going to trouble flagship phones in the benchmark tables, but it's able to run Android fairly smoothly – even if it is Android 9, a version behind the current latest and greatest.
Find a few demanding apps and you can stretch the 6GB of RAM, forcing the phone to suspend and reload when quickly switching between open apps, but otherwise it manages to avoid much lag or stutter when focusing on one or two things at a time.
The slightly faster CPU helps improve frame rates in games, too. This is one area where the Huawei storefront is fairly well stocked, so there's a wide range of titles to choose from. Asphalt Legends can run at high detail settings without too much slowdown, so gamers should be happy enough.
BATTERY LIFE: HARD TO DRAIN
With so few apps to give it a good workout, it's a genuine challenge to run down the 9X Pro's 4000mAh battery.
It's big enough to comfortably last all day, and even if you do manage to find a few games worth playing in the Huawei storefront you should still make it from morning to night without needing to top up in between.
Naturally there's no wireless charging at this price, and it's not especially quick to top up over a cable, either. Expect a couple of hours tethered to a mains socket to get from empty to full.
HONOR 9X PRO VERDICT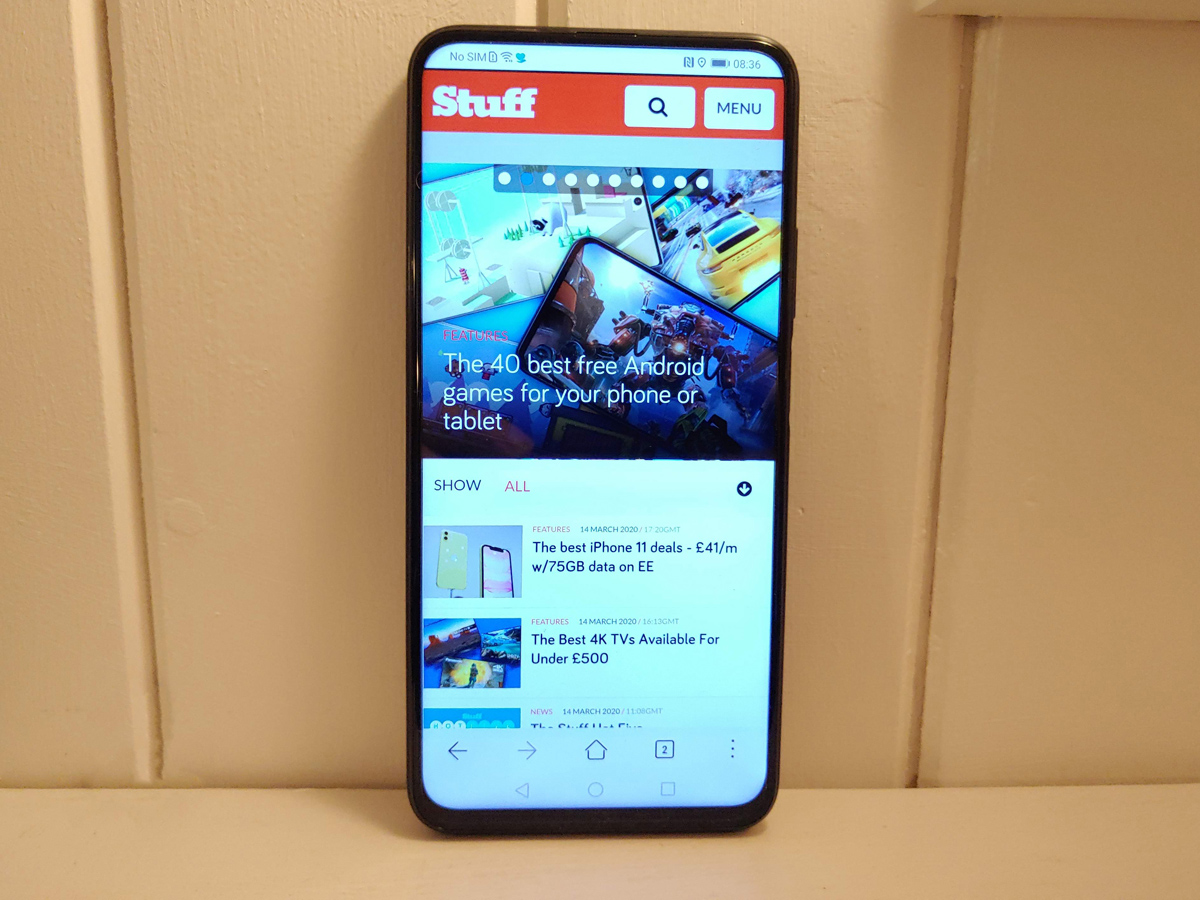 It's affordable, looks the part and has decent hardware for the money – but the 9X Pro is seriously flawed without Google Play Services onboard.
It's hard to think of anyone that genuinely wouldn't need a single one of Google's apps, never has the desire to scroll through social media, stream video or keep in touch with friends and family through ubiquitous chat apps like WhatsApp. They are essentially all off-limits here, with Huawei's alternative storefront looking absolutely barren.
Perhaps third party developers will show up and start supporting it, but right now, it seems unlikely. This might be one handset that was better off staying in China than making the trip to Europe, where we're simply not ready to give up on the software we take for granted every day.
Tech specs
| | |
| --- | --- |
| SCREEN | 6.59in, 2340×1080 LCD w/ 19.5:9 aspect ratio |
| CPU | HiSilicon Kirin 810 octa-core |
| MEMORY | 6GB RAM |
| CAMERA | 48MP, f/1.8 main, 8MP, f/2.4 ultrawide, 2MP, f/2.4 depth-sensing rear w/ LED flash. Pop-up 16MP, f/2.2 front |
| STORAGE | 256GB on-board, microSD expansion |
| OPERATING SYSTEM | Android 9 w/ EMUI 9.1, Huawei mobile services |
| BATTERY | 4000mAh non-removable |
| DIMENSIONS | 163x77x8.8mm, 206g |
Stuff Says…
A glaring lack of Google apps and miniscule third party support cast a heavy shadow on what is an otherwise well-equipped mid-ranger. Here in Europe, the Pro is simply not as usable as the vanilla 9X
Good Stuff
Glass back a step up from plastic 9X
Side-mounted fingerprint sensor is well placed
Full-screen display thanks to that pop-up selfie cam
Bad Stuff
Huawei mobile services sorely lacking
Main camera still merely OK, wide-angle still sub-par
No cheaper than regular 9X