Honda Civic e:HEV review: a perfectly sensible hybrid hatch
All-new hybrid Honda Civic makes a lot of sense right now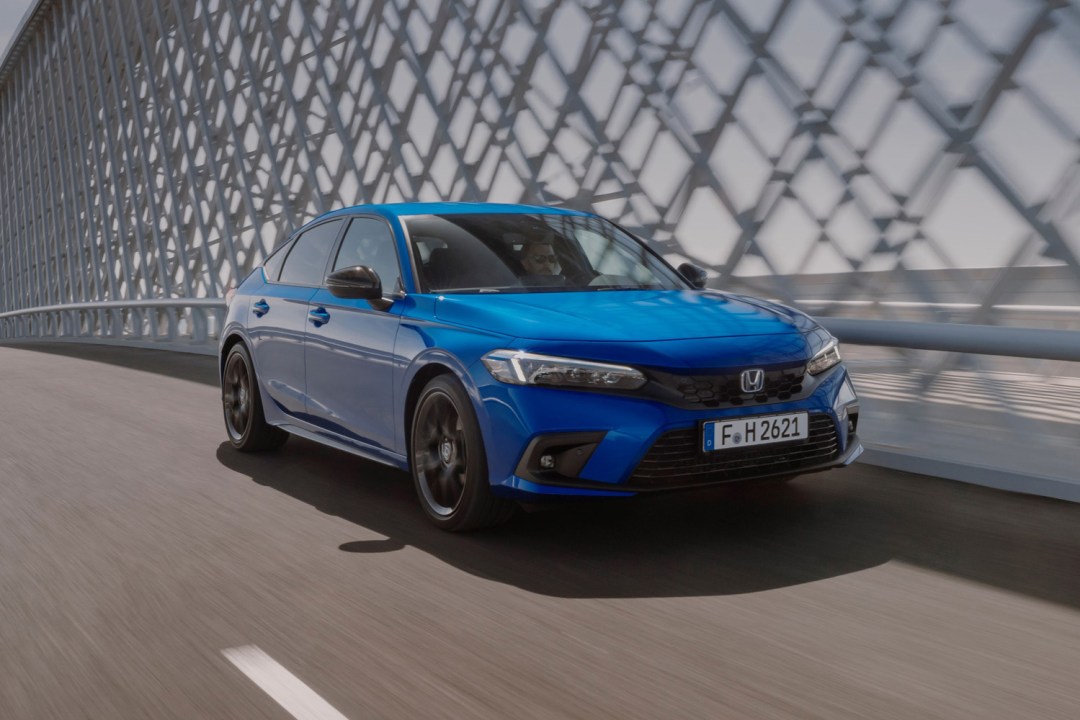 Honda has always had a reputation for delivering cars that are well-built, reliable and, occasionally, a little bit dull too.
There have been exceptions, of course. The S2000, NSX and Civic Type R are prime examples of what the Japanese carmaker can do when it sprinkles on a little bit of the magic dust. The regular Honda Civic though has always just been there, ever since 1972, surviving through 10 different generations over the years. Now though, in its eleventh incarnation, the humble Civic has returned as an all-new hybrid.
It's a far cry from the old days, although there's still an emphasis on frugal-ness when it comes to filling up at the pumps. At a time when petrol has never been more expensive, that could be one of the main things people consider when they take a closer look at the Civic hybrid. It's also got all the good stuff that comes with owning a Honda, which means it's sensible, practical and won't fall apart any time soon. But is it any good?
The styling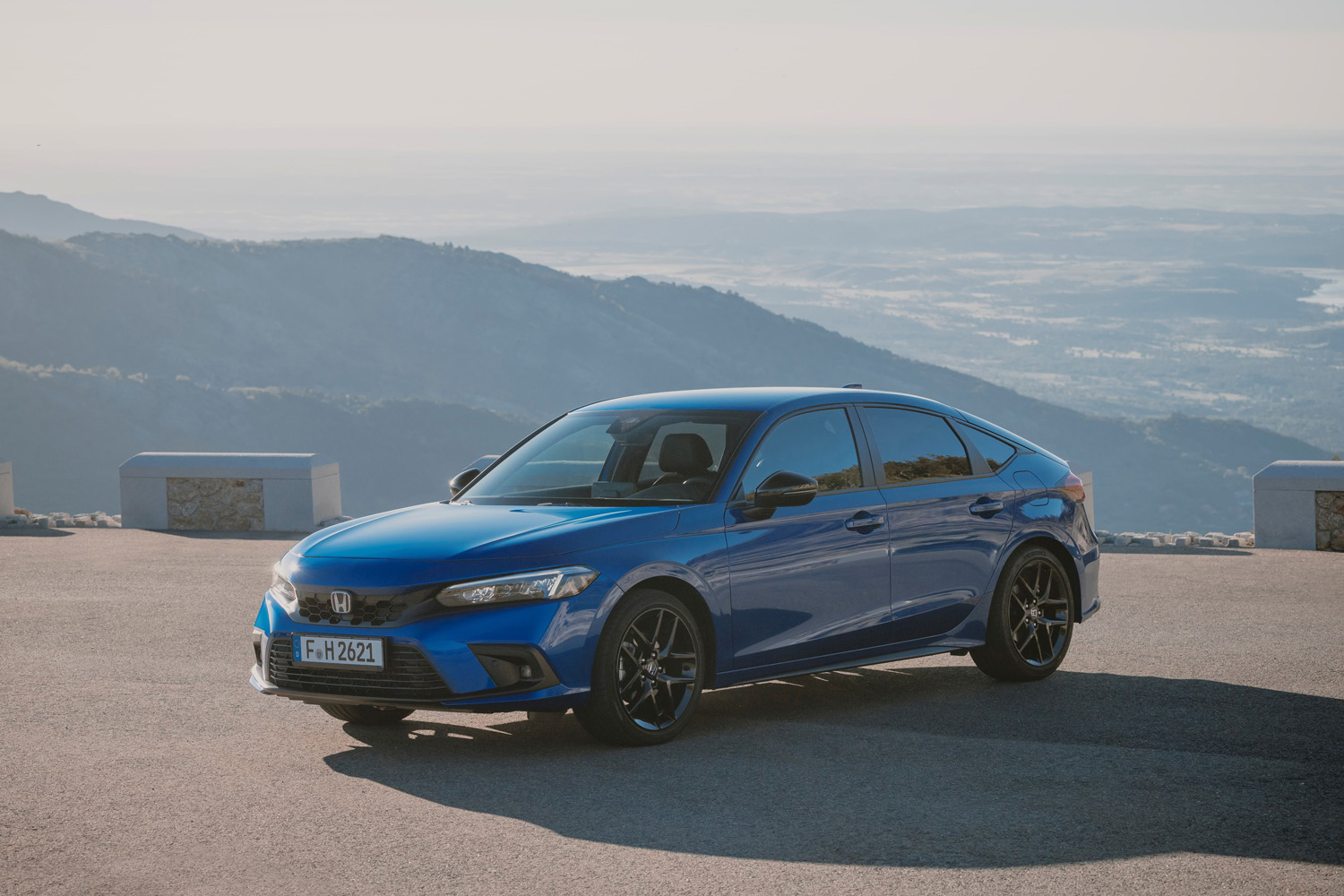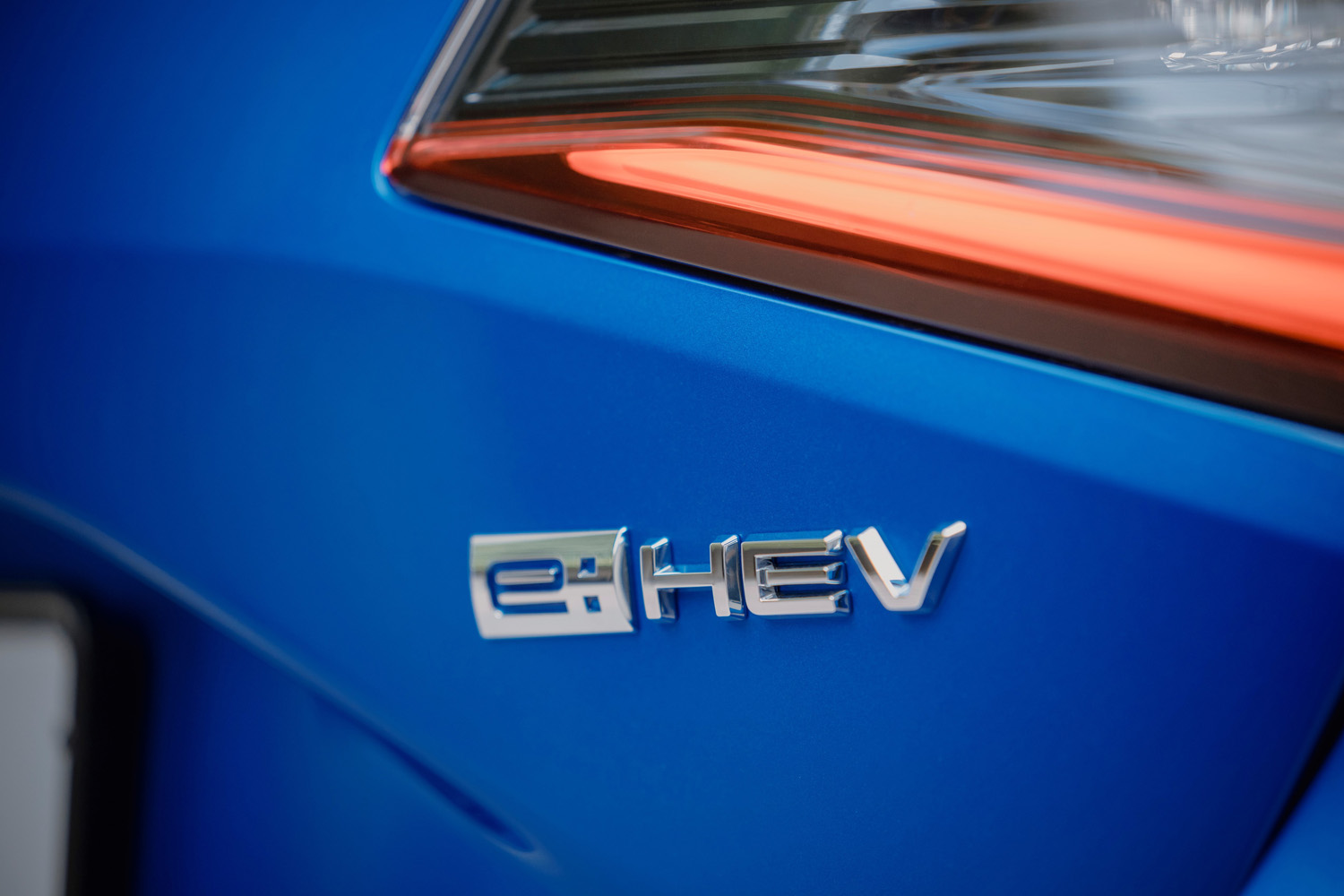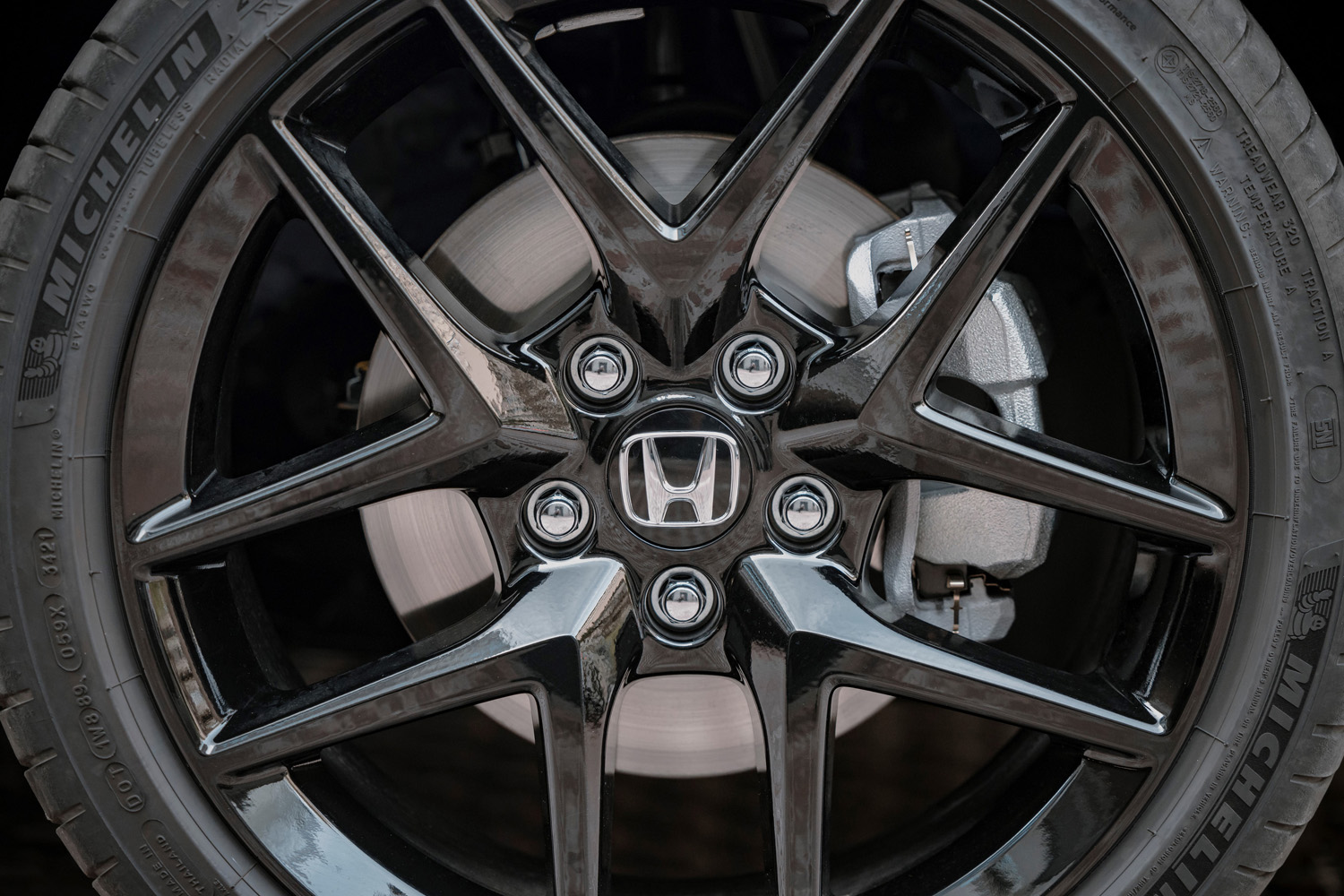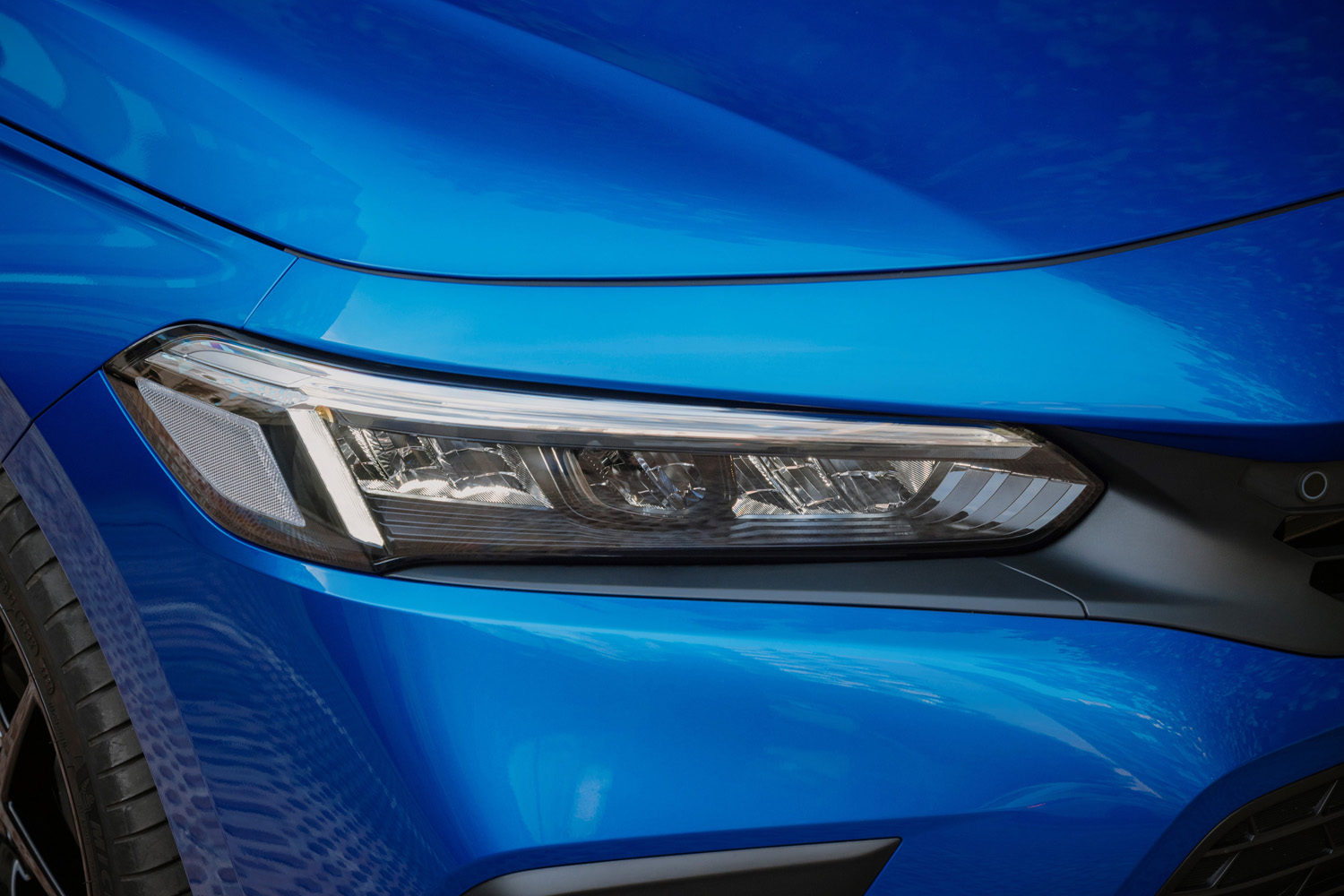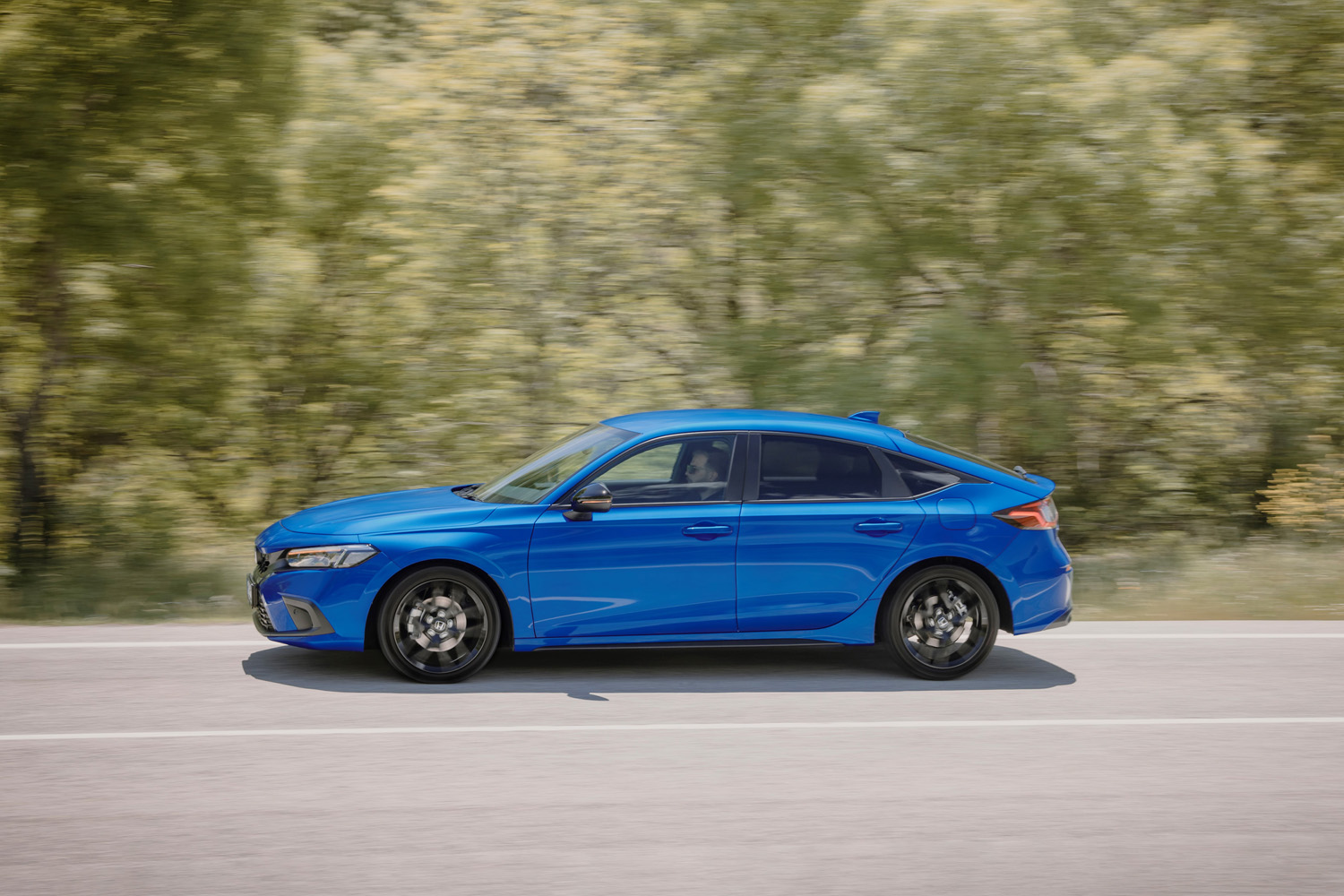 Honda has stuck with a hatchback-only design for the all-new hybrid Civic, so you can forget shopping for a saloon. The format is fairly predictable in that respect, because Honda knows exactly what sort of people are going to be buying this car in any great numbers: families. That said it's quite low, having had 25mm lopped off the roofline, but that actually makes it more appealing to look at. The styling has a lot that will feel similar to owners of recent Civic models, but there are some zingy touches if you look hard enough.
The new Civic line-up starts with Elegance trim, which comes with 17in alloys, fabric seats, front and rear parking sensors and a rear camera. Up front there's a 7in instrument binnacle hooked up to an eight speaker infotainment system, with navigation and Apple CarPlay/Android Auto. The Sport grade gives the seats a fabric and synthetic leather combo overhaul, sports pedals, LED fog lights and gloss black mirrors. These are complimented by satin-style black window surrounds and 18in black alloys.
Advance grade cars top the range, with a cracking Bose audio system, panoramic sunroof, adaptive beam headlights and a sizeable digital instrument cluster. Two-tone alloys, leather seats and a heated steering wheel complete the collection of goodies. All grades get Honda's Sensing collection of driver aids.
There's been no skimping on space inside. This is a very roomy-in-feel car, with Honda liberating an additional 35mm of legroom in the back – partly by extending the wheelbase by 30mm. Naturally, the doors close with that reassuring clunk that Honda does so well. It suggests things have been bolted together well and that's certainly the case as you take your first tour of the interior. The dash looks good with its long, straight horizontal lines while the centre console features a very basic looking and totally functional shifter that works exactly as expected.
Honda's engineers made a big point about how the air vents had been designed to better move air around around the cabin – but we'd say their slightly quirky styling was more of note. The seats are comfy enough, and you get a host of options when it comes to adjusting the steering and driver seat. That ensures the Civic feels accommodating for anyone, be they small or tall.
There's a very sizeable boot out back, with 410 litres available in the Sport model. The posher Advance grade car slips down to 404 litres, but this is still more than enough for what most family buyers want from a hatchback. Fair play to Honda for getting the space levels right on the money.
The drive
Visually the new Civic doesn't add anything particularly revolutionary into the mix, but Honda has certainly been working hard behind the scenes to develop an interesting powertrain. What you get here is a 2.0-litre petrol engine, augmented by an electric motor to produce an e:HEV hybrid setup that drives the front wheels. There's no plugging in, because it's effectively a self-contained powerplant.
The combination delivers brisk motoring, with 181bhp on tap making the Civic more than able to hold its own on the roads. The big difference is the fact that you have an electric motor that takes credit for much of the action.
You'll need to choose the Sport specification for a little more in the grunt department, and even then 0-62 is 7.8 seconds, compared to 8.1 seconds on the less able cars. Nevertheless, Honda has done a great job making the petrol and electric pairing a reasonably smooth success. Around town, the driving is effortless. Get the Civic on to more challenging B roads where you can tweak its nipples though, and it really starts to come alive. The motorway experience is standard fare, though that's not really a criticism.
The eCVT automatic gearbox makes driving as easy as pie, but does tend to take the edge off proceedings a little bit. Things get a little bit revvy if you floor the accelerator as you experiment with its capabilities for keeping up with your foot movements. There's a Sport drive mode on offer, which does its best.
The ride feels quite firm, which for a family hatchback might not always go down well with other people in the car. However, the fairly low-slung and quite wide stance inspires plenty of confidence around tight corners. Wind up the engine a bit and the Civic actually starts to be quite a lot of fun. It bodes well for a Type R edition, put it that way.
The technology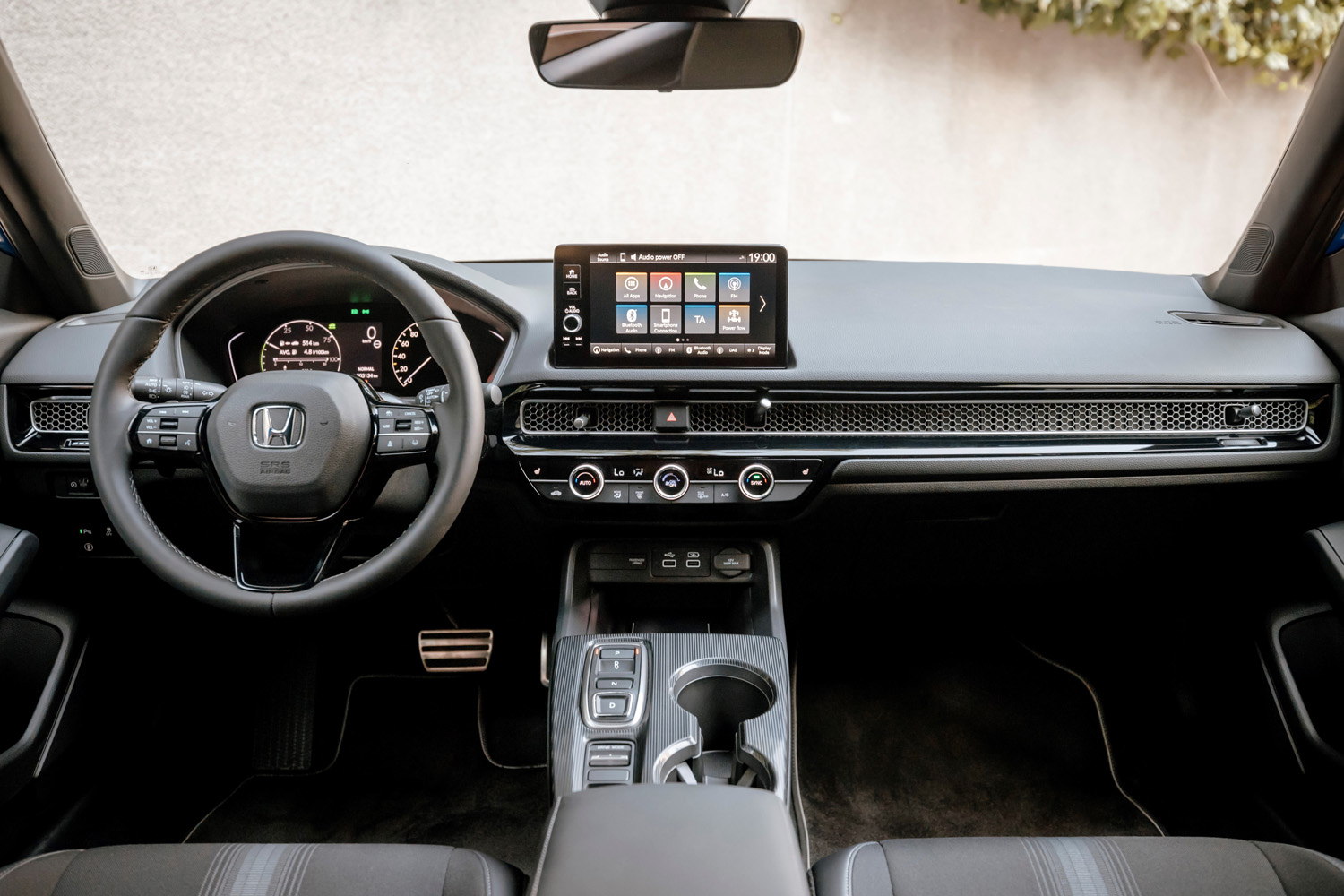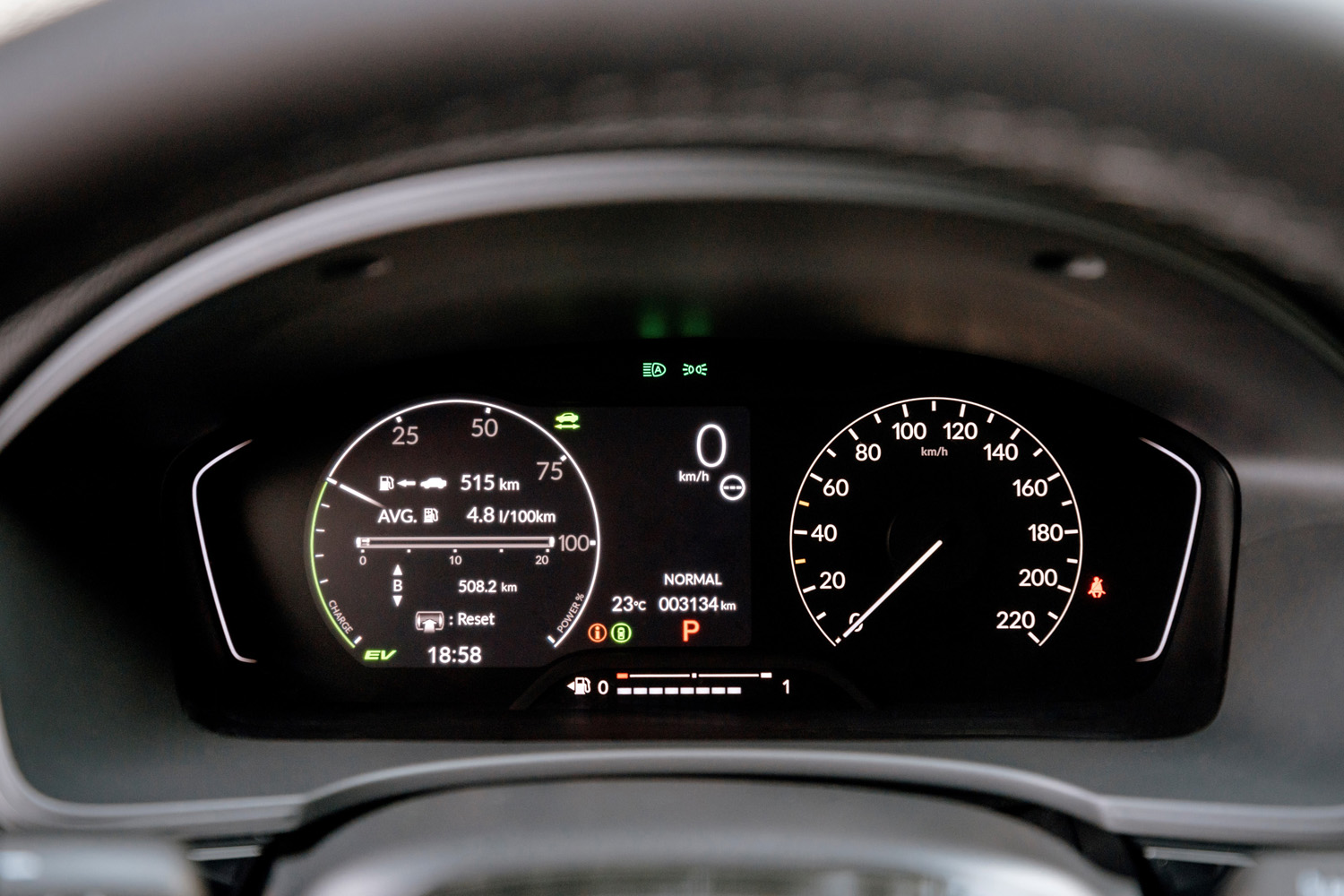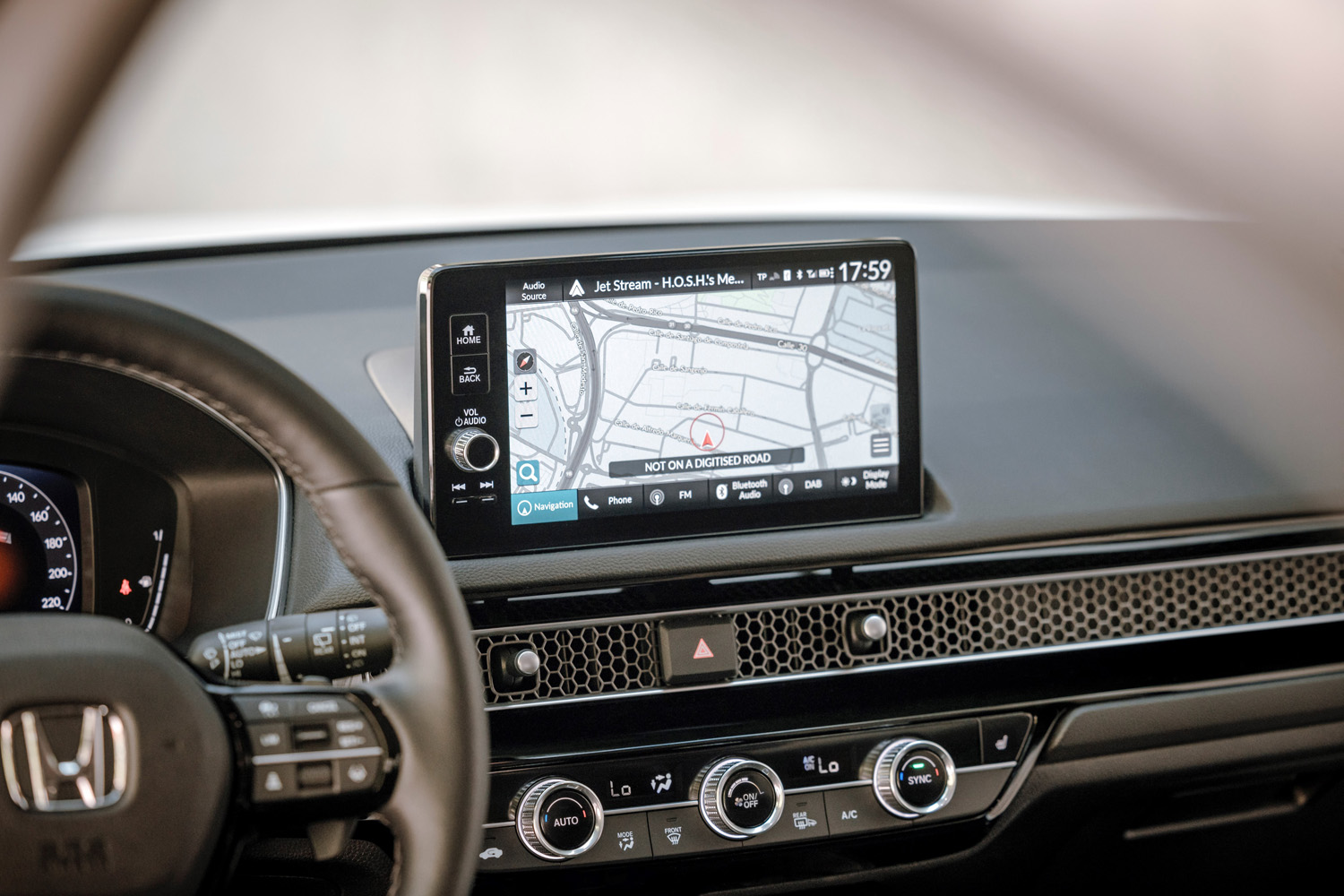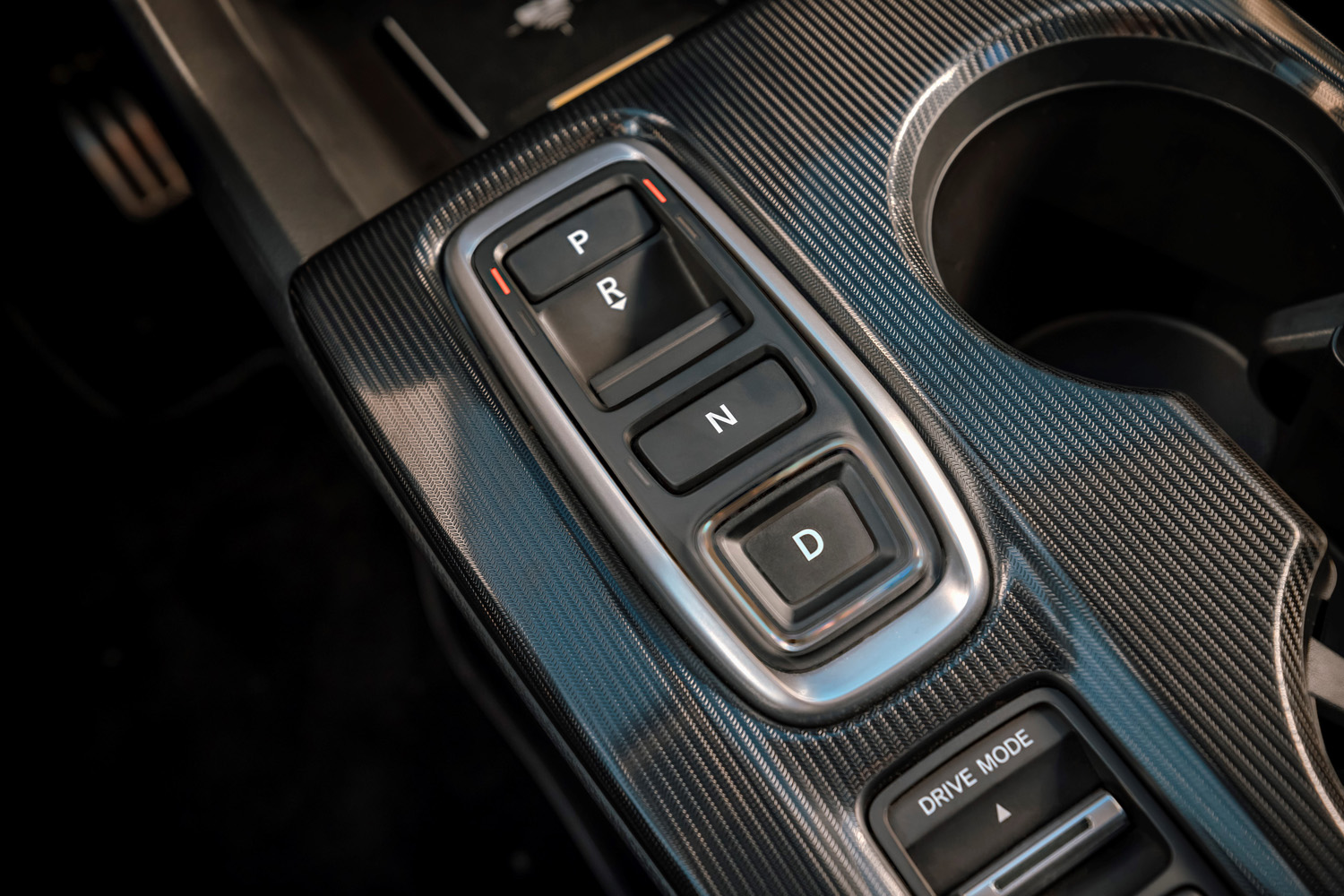 There's quite a lot inside the Honda Civic that doesn't surprise and is, perhaps, a little predictable. Nevertheless, if you're on the hunt for tech you won't have to look too far. The 9in infotainment system is the pick of the crop and this has been positioned high up, so it's easier to digest information without shifting your eyes from the road too much. It works.
This screen has been nicely put together, with a crisp and clear layout that's pretty easy to get the hang of. As is fairly standard nowadays, you can dip into either Apple CarPlay or Android Auto if you prefer to bypass Honda's attempts and do your own thing.
The good news is that there are also manual controls on offer for the all-important climate controls, which makes a lot of sense. Even more so in a car that will be frequented by children, complete with all the distractions that come with it.
Honda Civic verdict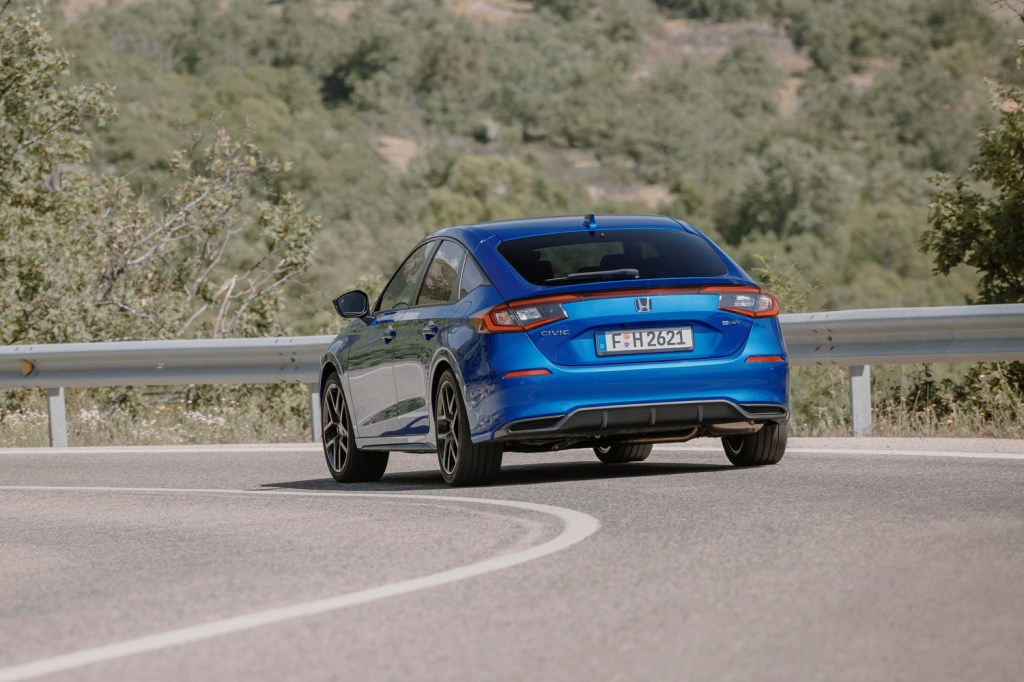 We kicked off by mentioning the Civic Type R and, interestingly, Honda has said it's working on a version based around this new-gen car. That might pique your interest if you're not too bothered by everyday hatchbacks like this one or, perhaps, the latest hybrid Toyota Corolla. However, if you're all about owning a car that's as frugal as it is practical, the Honda Civic e:HEV shouldn't disappoint.
Frequently, you feel as though you're in a 'regular' EV, though that changes somewhat when you put your foot down. Thankfully, the switching back and forth is smooth and largely seamless.
Honda reckons over 60mpg is possible from this hybrid arrangement too and, even on a spirited test drive, we see no reason to dispute the figures based on our own readings and calculations. And once you've bedded in and figured out how best to enjoy its hybrid charms, the Civic can be quite good fun to drive.
Oh, it's very sensible, but the low chassis makes the hatchback quite nifty on occasions.
Stuff Says…
A practical design, quality build and decent fuel economy make for a very sensible family car indeed
Honda Civic Hybrid technical specifications
| | |
| --- | --- |
| Engine | 2.0-litre petrol |
| Battery | 1.05kWh |
| Power | 181bhp |
| Torque | 232lb ft |
| 0-62mph | 8.1sec |
| Top speed | 111mph |
| Fuel economy | 60+ mpg |
| Charge rate | Self-charging |
| Cargo volume | 404 litres |