Google Pixelbook review
ChromeOS goes upmarket, but who's it for?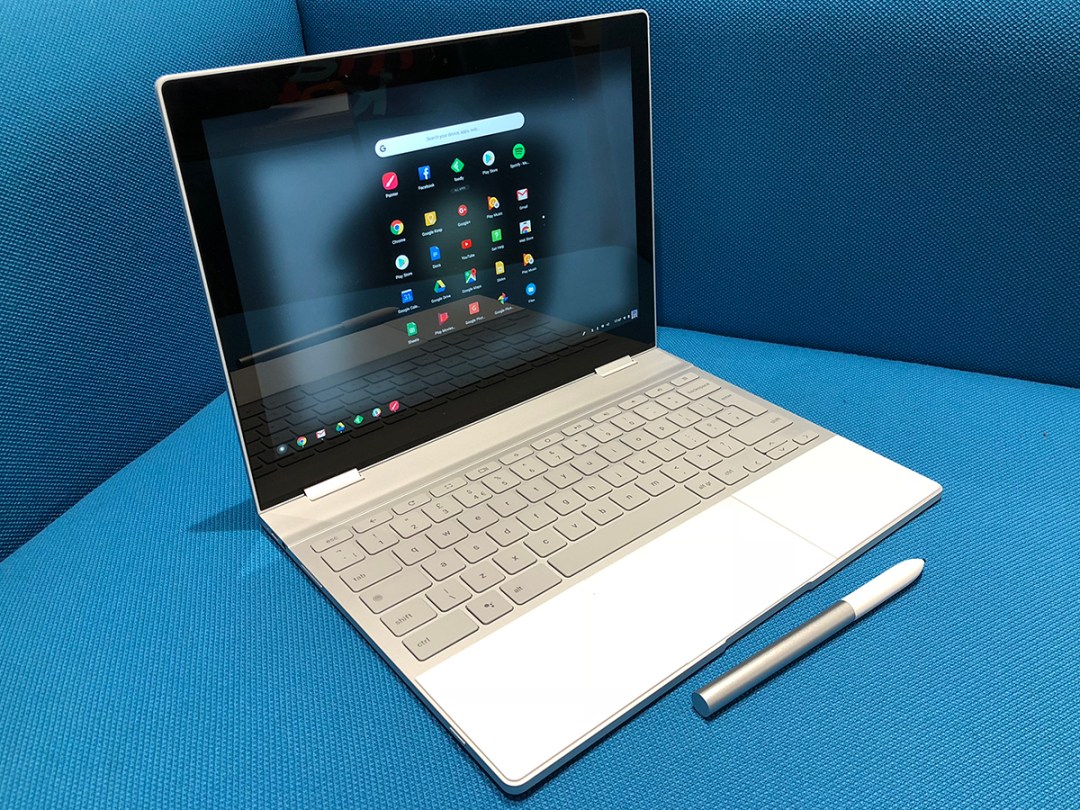 It's a Chromebook. And it costs a grand. Are you still with me?
Google's premium convertible might be the thinnest around, and might arrive packing extras like a digital stylus and the ability to run Android apps, but is that going to be enough for people to look past the limitations of ChromeOS? Maybe not.
But it would be a real shame to write it off completely – the hardware is truly excellent, and ChromeOS has come a long way from its tentative first steps in cheap, classroom-friendly laptops.
DESIGN & BUILD: SIMPLE STUNNER
Expensive or not, the Pixelbook really does look something special – like Google has taken the Pixel smartphone, stretched it out to 12 inches, and then flattened it with a steamroller.
It's only 10mm thick, and weighs a scant 1kg, so you'll barely notice you've got one sat in a backpack. The whole thing is made from aluminium, with a strip of shiny white silicone across the top third of the lid to really make it stand out from the crowd of existing Chromebooks – and Apple's MacBook Air.
There's a 360-degree hinge at the back, which lets you unfold the screen into a stand or tent mode, or lie it flat and use it as a tablet. It sits completely flush to a desk in this mode, so there's more chance it'll get some actual use – a lot of the hybrids out there right now spend most of their lives as laptops.
A USB-C port on either side is a nice touch, too – one just isn't enough for getting serious work done, as we discovered with the Pixel C. Google clearly hopes people will use the Pixelbook as their main system, so two feels about right.
You even get a 3.5mm headphone port – which is more than can be said about the Pixel 2 and Pixel 2 XL phones.
There's nowhere to tuck away the optional Pixelbook Pen, though, which can be annoying. It doesn't even hook on magnetically, like Microsoft's Surface Pro.
Still, it's a world away from the bargain basement laptops that usually run ChromeOS. If it was only design putting you off Google's cut-down operating system in the past, the Pixelbook might make you a convert.
SCREEN & SOUND: LIVING IT LARGE
There's nothing to complain about here: the 12.3in display has a QHD, 2400×1600 resolution that absolutely packs in the pixels, making sure your photos show plenty of detail and doing justice to 1080p videos.
Well, ok, maybe there is something to complain about: those screen bezels. With Apple, Lenovo and Dell getting progressively closer to the edge of the display, the chunky black borders around the Pixelbook's screen feel decidedly old-hat.
At least the whole thing is edge-to-edge glass, which hammers home the premium feel of the whole device. It means there's no bumps or edges to brush your fingers over when using it as a touchscreen – or for the stylus to scrape against when you're sketching.
Colours looked great, viewing angles were top-notch, and it appears plenty bright enough to use outdoors or in direct sunlight, too. You won't find a better display on anything running ChromeOS.
Audio isn't quite so impressive, but the Pixelbook certainly makes itself heard when you crank up the volume.
The speakers are hidden beneath the keyboard, so at least point up towards you while you're sat in front of it in laptop mode, but they favour mids and treble, with almost no bass presence at all.
It's fine for a spot of YouTube streaming or listening to a podcast while you work, but for serious listening you'll definitely want to plug in a pair of headphones.
KEYBOARD & TOUCHPAD: TREMENDOUS TYPIST
Just like every other Chromebook, the Pixelbook takes QWERTY keyboard layout we're all familiar with and gives it a few tweaks.
That means swapping the function keys for dedicated shortcuts, and ditching the Windows key. In its place is an Assistant key which, as you'd expect, wakes Google Assistant instead.
Extra buttons take screenshots and open contextual menus, but they don't get in the way of the typing experience – which is excellent.
Not everyone will be a fan of the shallow keys, which don't have much travel at all, but each one felt firm and the whole board was large enough to type at speed right away, without any typos creeping in.
Because the keys don't stick out beyond the frame of the machine, they don't feel weird when you're in tablet mode.
The spacious, glass-topped touchpad underneath is great, too, working as you'd expect – although of course you've got a massive touchscreen right in front of you as well.
Comfy silicon wrist rests sit either side of the touchpad, giving you something comfortable to lean on while you type. The whole thing is backlit, too, which makes it ideal for working in low light.
PIXELBOOK PEN: SUPERFLUOUS SCRIBBLER
The optional Pixelbook Pen stylus has the thousands of pressure levels you'd expect from something developed in partnership with Wacom, which makes it pretty handy for sketches and drawings.
Google hyped up its ultra-low latencies during the reveal event, but things don't feel quite as instantaneous as either the iPad Pro or Microsoft Surface Pro – leaving a slight delay between pen stroke and your lines appearing onscreen.
It works fine as an alternative to a mouse cursor, and in some ways is actually better: certain Play Store apps don't recognise mouse movement very well, and have tiny icons that are difficult to hit accurately with your fingers.
The bigger issue is that there just aren't many pro-grade drawing apps on the Play Store. It feels a little superfluous for the basic, pre-installed Painter app, and doesn't get much more useful in more complex ones like Adobe Sketch or Artflow. Unless you prefer a pen to a keyboard for note-taking, it feels a bit like overkill.
PERFORMANCE & BATTERY LIFE: BEYOND OVERKILL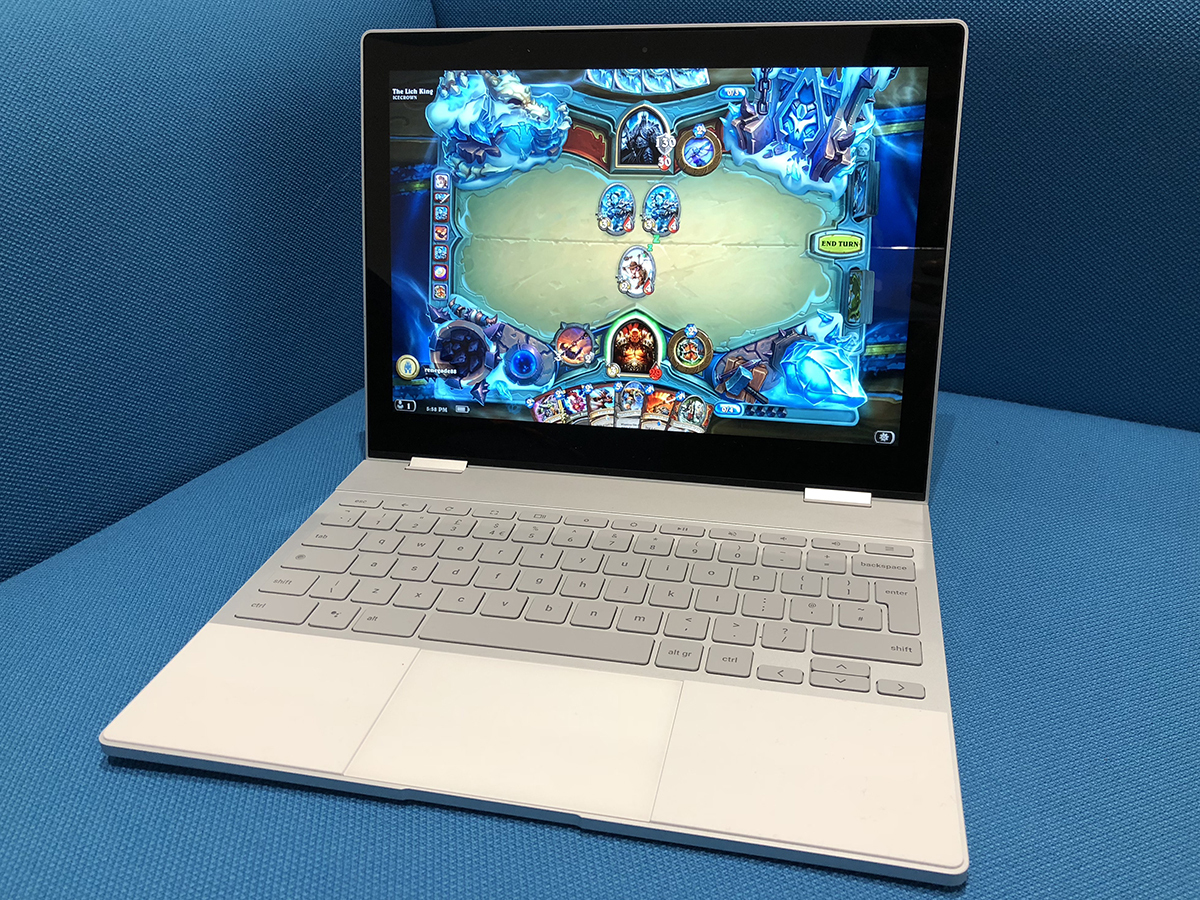 Google has never been shy about packing its home-grown ChromeOS machines with killer hardware, when the rest of the world is content with more entry-level kit, and that hasn't changed here.
The Pixelbook arrived with an Intel Core i5 CPU, 8GB of RAM, and 128GB of speedy flash storage – and that's just the 'basic' £999 model reviewed here.
If you really, really wanted to, you could pick one up with a Core i7 chip, 16GB of RAM, and 512GB of storage. Honestly though, that seems like total overkill – even with ChromeOS's new-found ability to run Android apps from the Google Play store.
Everything runs perfectly well on the i5 model, with windows opening quickly, multiple brower tabs not slowing the system down at all, and downloaded apps running without any stutter or slowdown. Quite why you'd need more power than that, apart from bragging rights, is a bit of a mystery – even the most demanding Play Store games ran smoothly on the basic i5 version.
When you aren't trying to max those frame rates, the Pixelbook is a capable performer away from the mains. It regularly managed between eight and nine hours on battery power, lasting longer when used purely as a work machine but dipping down when streaming video was thrown into the mix.
This is a decent, if not outstanding result – especially when a similarly-priced MacBook can go for ten hours between top-ups.
At least you get a fast-charging plug in the box, small enough to fit in a pocket but powerful enough to get you seven hours of use from 60 minutes plugged into a wall socket.
SOFTWARE & OS
ChromeOS itself has been tweaked slightly, with a new assistant button in the bottom left corner of the screen for activating Google Assistant with your mouse cursor.
There's a menu dedicated to the Pixelbook Pen, too, letting you draw circles around movie posters to pull up a plot synopsis or details on the actors involved. Right now results are a bit limited, but because the OCR and image recognition all ties in to Google's AI algorithms, time will soon tell if Assistant is smart enough now to deserve pride of place on the desktop.
There's a hidden feature for Pixel phone owners, too. When you're away from Wi-Fi, the Pixelbook can automatically borrow your phone's mobile data connection, no setup required. It's very similar to Apple's iOS and macOS connection sharing, and should be much more convenient than the current manual method.
GOOGLE PIXELBOOK VERDICT
Looking purely at the hardware, the Pixelbook is a fantastic hybrid laptop. It's thin and light, yet plenty powerful and with a fantastic keyboard. The screen is gorgeous, too.
If it was running Windows, it would easily trade blows with the Lenovo Yogas and Dell XPS 13s of the world.
But it doesn't, It's running ChromeOS. And most people are going to need a damn good reason to part ways with £1000 (or more!) just to own one.
Having spent a few weeks using one now, though, I'm not convinced. An iPad Pro costs less and has better support for Apple's Pencil stylus, while the MacBook and Surface Pro cost roughly the same, while being much more flexible thanks to their fully grown operating systems.
This latest iteration of ChromeOS is admittedly much slicker than before, with Google Assistant doing clever things with your voice and the Pixelbook Pen as well as your keyboard. The ability to run Android apps is sure to keep a lot of people happier than when ChromeOS was a purely web-based productivity tool.
If you can live with those limitations, the Pixelbook is a fantastic machine – but if you want more, you'll need to look towards a different OS.
Tech specs
| | |
| --- | --- |
| SCREEN | 12.3in, 2400×1600 LCD |
| CPU | 7th-gen Intel Core i5 |
| MEMORY | 8GB RAM |
| STORAGE | 128GB SSD |
| OPERATING SYSTEM | ChromeOS |
| BATTERY | 41Whr non-removable |
| DIMENSIONS | 290x221x10mm, 1.1kg |
Stuff Says…
It's tough to see who would want an ultra-high end ChromeOS convertible – however well built or equipped the Pixelbook might be
Good Stuff
Gorgeous screen
Excellent build & flexibility
Keyboard is great to type on
Bad Stuff
ChromeOS still fairly limited
As expensive as a full-blown laptop
Few pro-level art apps defeats the point of the Pen