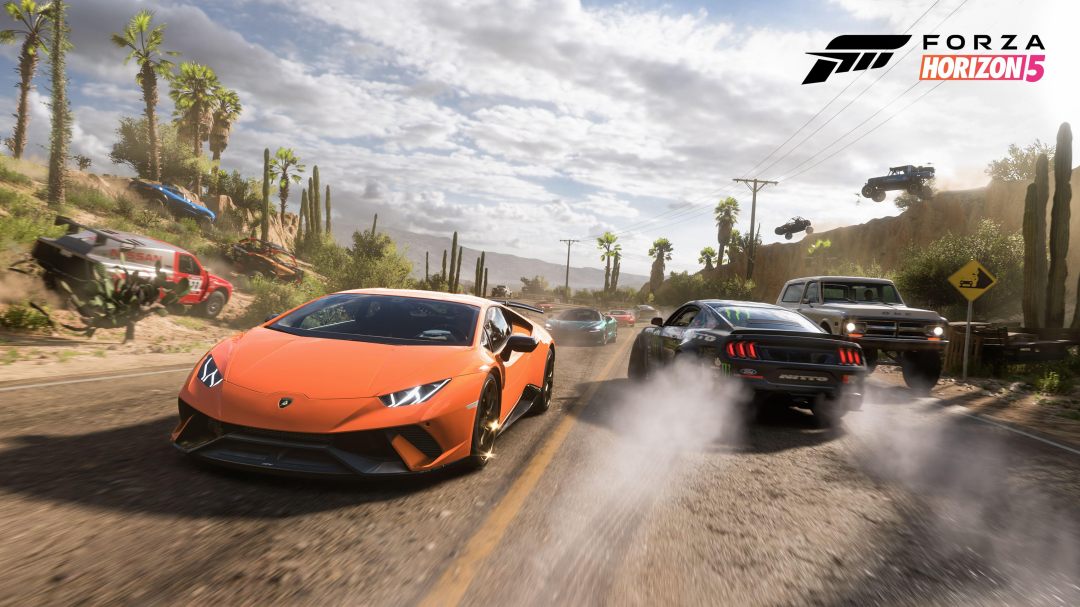 You just have to marvel at it. Playground Games' fifth venture into the Horizon is the pinnacle of open-world racing.
A gorgeous, absurdly generous and flawlessly playable gem of a game, and one that's – almost unbelievably – available as part of your Game Pass subscription. Amazing.
Viva Mexico
After Forza Horizon 4's jolly jaunt around the grey roads and skies of the UK, this fifth iteration takes players somewhere just a touch warmer. The Horizon festival hits Mexico, a vibrant combination of winding beach roads, dense jungle and sun-bleached desert, all overlooked by a gargantuan active volcano – Forza Horizon's highest ever summit.
It's an incredible place to set any open world game – and an absolute paradise for driving. The game handles the various automotive disciplines superbly. Obviously, road racing is long-established as a Forza forte, from the mainline track-focused series to every Horizon entry, but here we have a new focus on off-road, 'Baja' style dune-and-desert racing, with an incredible physics engine that lets you feel every bump and crash, but also gives players the right amount of feedback so they can navigate even the most treacherous terrain.
Whatever your automotive mood, Forza Horizon 5 caters for it (unless it's for powered-up kart racing with Nintendo icons). The Horizon series has always managed to combine intense events with laid-back exploration, and it's no different here – but there's now more events, more exploration, more cars, and more Mexico.
Unchartered
This is a hugely generous game, in every sense. For starters, it's possible to gain access for one British pound, if you sign up to Game Pass using the recent entry offer. Once you're inside, the sheer volume of events, races, side challenges, cars to find and buy, XP boards to smash – it's almost overwhelming. And even during the moment-to-moment racing, the game is constantly doling out praise – XP bonuses, skill points, discovery points, new cars, new events… it's ceaseless.
Of course, there are hours upon hours of regular events to enjoy, but Forza Horizon 5 adds new depth to its single-player campaign by introducing 'adventures'. Here, you team up with various members of the Horizon festival crew, and explore the most interesting parts of the map, learning about the culture and history of Mexico along the way. It's a fantastic way to break up the regular racing, and gives players a real appreciation of the setting.
One early example sees you finding a temple in the middle of thick jungle, and then learning a small amount about its history while you're, under the pretence of installing a radio antena so the festival can have a new 'outpost'. The whole process takes less than five minutes, and often the task involves leaping off a ramp or sprinting down a mountainside on a dirt buggy, but it's easily the most compelling addition to a series that has sometimes struggled to maintain players' interest once the initial 'wow-factor' has diminished.
There is always something spectacular to see and do in this game. It never lets you rest, but never pushes you either. It's a magic formula, and Playground has perfected it.
High Performance
While most of our playtest took place on an Xbox Series X, running in Performance (60fps, 4k) mode, it's quite incredible just how well Forza Horizon 5 scales. Even on a creaky old Xbox One S (you know, the tech from 2013), this is still a gorgeous looking-game, admittedly running without a lot of bells and whistles and at only 30fps, but the fact a game this beautiful and huge can even run on 8-year-old tech is astonishing.
Of course, if you're really flexing, you can get 4k, 120fps and every graphics setting on earth running on PC, but you'll need to drop the cost of a Ferrari to do so (well, maybe a Honda). A testament to Playground's tech, though – this is bleeding edge at the highest level, yet still incredible on a machine that's less powerful than your iphone. To see Forza Horizon 5 at the peak of its powers (pun intended. Deal with it), drive to the summit of Gran Caldera, that aforementioned active volcano, and look. Just look – the incredible urban sprawl of a Mexican pueblo in one direction, the dust-cloud swirling over the desert in another. The jungle, the beach, the open fields – the view is as breathtaking as Keanu Reeves at an Xbox press conference, and even further proof that the team at Playground is operating at the highest possible level. It's probably time to get excited about that new Fable as well.
Open road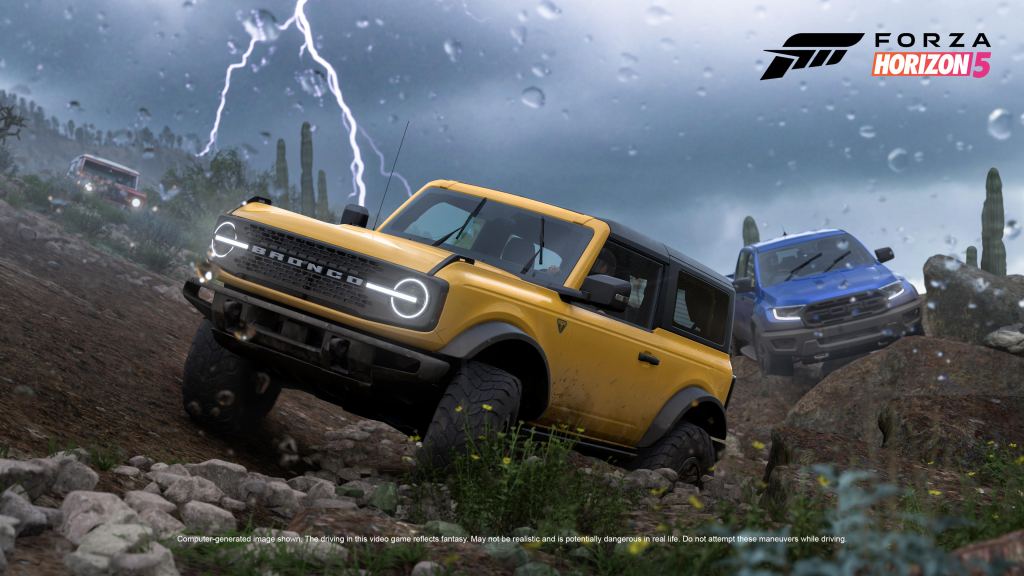 Horizon has always taken a progressive approach to online racing and it's the same here. Ranked races have been replaced with something much-less punitive (while upping the rewards you earn along the way). The Eliminator, the bizarre-but-thrilling battle royale that Horizon 4 introduced is back and here from the start – well worth trying out. Essentially, you're dropped into a large but ever-dwindling section of the map, and have to knock your opponents out by beating them in short impromptu road races when you find them. Faster, more impressive cars are dropped in like care packages, and the whole affair is truly like no game mode you've ever experienced. It's not going to trouble Warzone or Apex Legends any time soon – but more kudos again to Playground for innovating.
West coast customs
As if the near-endless amount of designed-content isn't enough, Forza Horizon 5 also lets players custom-build events, and feeds them into the campaign, making for a truly endless experience. The tools on offer are powerful – you can legitimately create events and experiences every bit as strong as the bespoke, developer-designed missions – and it lets players focus on areas of the map or vehicles you may have never considered. And this is on top of the now-famous livery creator that lets you share your wildest creations with the world.
Forza Horizon 5 verdict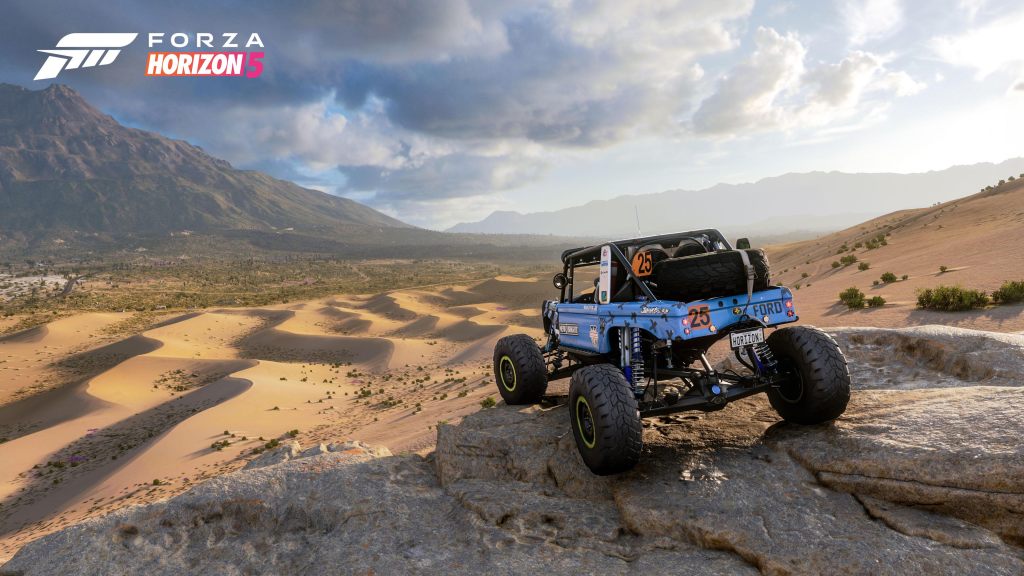 Sometimes, a game comes along that you just have to marvel at. Playground is operating at the highest-level possible, delivering products of unparalleled quality and generosity. An absolute must-play – and you can play it for literally one pound. Astonishing.
Stuff Says…
The pinnacle of open-world racing
Good Stuff
Impossibly beautiful
Endless content
Peerless driving model
Bad Stuff
Er, you hate cars?