Fitbit Inspire 3 review: the best of Fitbit
Comfortable, and with a new colour screen, the Fitbit Inspire 3 means maybe you don't need a smartwatch
Smartwatches aren't for everyone, but if you still like the idea of being told you've had a terrible night's sleep or you need something to remind you you're having a hectic day, then feast your eyes on the Fitbit Inspire 3 instead.
This fitness tracking band will tell you the time, fire out WhatsApp messages and will of course let you keep tabs on your health and fitness. It will even give you longer battery life than any of Fitbit's smartwatches.
For the latest Inspire, Fitbit is making one very important design change all while offering features that are fit to keep you moving, bank enough sleep, keep a close eye on your heart and your mind.
While smartwatches are on more wrists than ever before, is there still a place for a skinny fitness tracker like the Fitbit Inspire 3?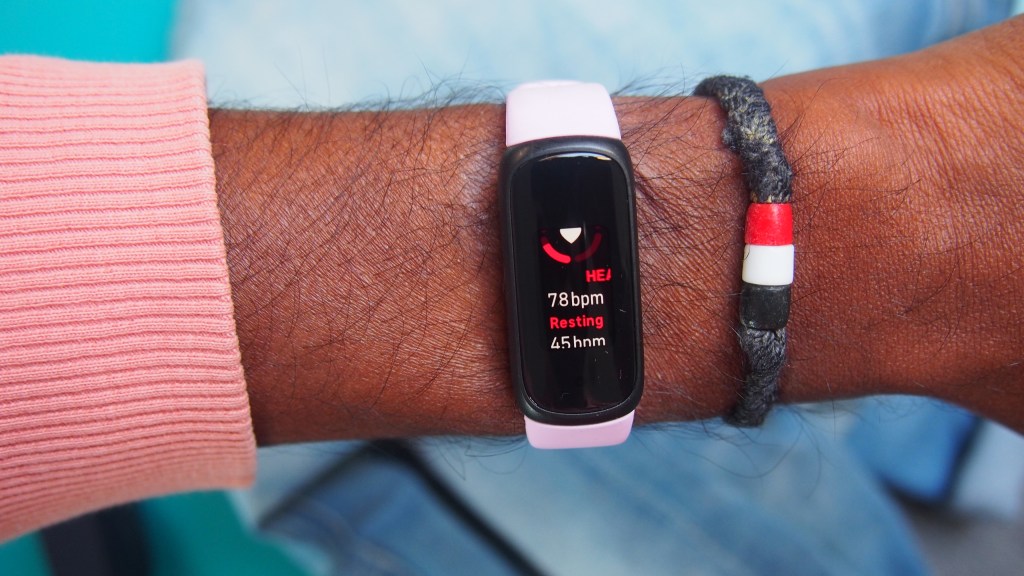 Design and build
Fitbit keeps things slim and light for the Inspire 3 just like the Inspires that came before it, so if you like the idea of a wearable that doesn't dominate the wrist, then this tracker will appeal.
You've got your pick of three plastic case colours and if the classic silicone band it comes paired up with isn't your bag, you can pick up additional bands that can be very easily clipped into its place. Fancy some stainless steel or Horween leather instead? Fitbit's got you covered too. Even if you don't want that tracking on show, you can pick up a case that lets you clip it onto the waistband of your trousers, keeping it firmly out of sight.
Whatever combination you go for you're getting something that sits light and comfortably on your wrist and isn't a problem to wear to bed or when you need to jump in the gym with it.
Fitbit doesn't put any physical buttons on show but does build one into the case, so when you press both sides of the case, you can wake up the display or get yourself back to the main watch screen when you're done hunting around other menu screens.
If you want to take the Inspire 3 for a swim or keep it on in the shower, this tracker is swimproof so it's safe to be submerged in water up to 50 metres deep.
Screen
The headline change here from the last Inspire is the screen. It's still unfortunately a relatively small one, which Fitbit doesn't give away the size and dimensions of, but unlike previous Inspire trackers, it's now a colour touchscreen display.
Fitbit has swapped a monochrome OLED screen for a colour AMOLED one, bringing some much-needed vibrancy to its tracker. It's one you can keep awake at all times, though that does come at the expense of getting the maximum battery life the Inspire 3 can offer.
The visibility of the OLED display in bright outdoor light was a big problem on previous Inspire trackers, so it's good that things on that front have improved massively and this is a screen you can comfortably check on indoors and outside.
It's a responsive screen as well when swiping your fingers across it and tapping it to turn on features, though the amount of bezel that joins it does mean it's a challenge displaying a lot of information in screen estate that struggles to make good room for it.
Interface
Fitbit uses what is effectively a scaled-down version of the Fitbit that features on its smartwatches and actually has more in common with what we see on the similarly sleek Fitbit Luxe.
You can use swiping gestures up and down and left and right to get around and it doesn't take long to get to grips with what the Inspire 3 has to offer on the software and features front.
The main watch face can be changed, but you have to do that from Fitbit's companion smartphone app and you can only store one face on the tracker. From those faces, you can tap to quickly roll through daily fitness stats saving you from swiping through multiple screens to do the same thing.
Unsurprisingly, you're not getting the same level of smarts as you get on Fitbit's smartwatches, but you can view phone notifications, set alarms and timers, turn on the sleep mode when you don't want to be bothered and even use it to track down the location of your phone it's usually connected to.
The lack of screen you have at your disposal means those features aren't perfectly optimised and you can definitely find similar-priced trackers that offer bigger screens to make reading notifications and checking calendar appointments a much nicer experience.
Fitness and health tracking
The Inspire 3 wants to offer those classic Fitbit features of letting you count your steps, reliably track sleep and even handle tracking some workout time as well. It's also delving further into areas like stress and health, though none of these features are designed to offer medical-grade insights.
Sensors-wise, you've got a pretty standard 3-axis accelerometer to track movement and enable sleep tracking, an optical heart rate monitor to track heart rate during exercise, sleep and throughout the day and you've also got red and infrared sensors to unlock blood oxygen monitoring during sleep and skin temperature monitoring for another hit of general wellness data.
Fitbit does those basics well offering daily step counts in line with rival fitness trackers, but it's the sleep monitoring where the Inspire 3 really delivers the goods. It's easy to wear to bed for starters and offers sleep stage breakdowns and scores that largely tell you a reliable story of that sleep time and just how good or bad it was.
It's a similar story for monitoring heart rate continuously or keeping an eye on resting heart rate with both offering a useful gauge into your overall fitness and the reliable fit you get with the Inspire 3 helps to ensure the HR data it spits out is pretty reliable on the whole.
It's a bit more challenging when you turn to the Inspire 3 as a means to track workouts as this is definitely not one of its strengths. You're relying on your phone's GPS signal to accurately track outdoor exercise as there's no built-in GPS. There are dedicated workout modes for activities like walking, pool swimming, running and yoga and support for automatic exercise recognition and tracking. The size of the screen counts against it once again for being able to absorb that information easily and the performance of that tracking is less data-driven and more about contributing to hitting daily exercise goals.
Stress is an area Fitbit is exploring more and on the Inspire 3, you can follow guided breathing sessions to help you relax, take part in mindfulness sessions via the companion app and receive Stress Management Scores based on heart rate variability measurements, sleep and activity tracking. To get the most detailed stress features you will need to sign up to Fitbit Premium, which does also open up additional insights like more advanced sleep analytics, health trends, skin temperature variation data and Daily Readiness Scores. Those are scores designed to tell you whether you're in good shape to tackle a tough workout based on elements like sleep, heart rate and activity data.
What you get without Premium will be good enough for most, but if you want that full Inspire 3 tracking experience, you're going to have to pay for it on a monthly or annually basis.
Battery life
The Inspire 3 currently gives you the best battery life you will find on a Fitbit. It's up to 10 days and you can absolutely get that 10 days.
Even with all features in use, this fitness tracker will comfortably get you through a week and longer. If you choose to set the screen to always-on, then that number does drop considerably and you can expect under a week from it, but it's still a pretty good showing.
There's no fast charging technology like Fitbit's smartwatches so it'll take around two hours to fully charge back up again. You do have to use a proprietary charging cable to do it, but it's a very good one at least that clips securely to the back of the Inspire 3 and doesn't let go.
Fitbit Inspire 3 verdict
The Fitbit Inspire 3 doesn't necessarily break new ground for fitness trackers but what it does do is give Fitbit's most affordable entry into the world of fitness and health tracking and gives it a colour screen it has really needed.
It could still be a bigger screen though, but it now means that using it to simply check your stats, get nudged when you're not moving enough or awkwardly read a phone notification is much nicer to do.
It was never going to compete with what you get on Fitbit's Sense 2 and Versa 4 smartwatches but what it does offer is the best of Fitbit in a much more attractive package.
Yes, there are more feature-packed trackers around this price, but if you're sold on Fitbit's approach to health and fitness tracking and don't want to spend huge amounts, then the Inspire 3 will be right up your street instead.
Stuff Says…
Comfortable, and with a new colour screen, the Fitbit Inspire 3 means maybe you don't need a smartwatch.
Good Stuff
A colour screen (finally)
Great sleep tracker
Best battery life on a Fitbit
Bad Stuff
Some insights require Fitbit Premium
It's a small display
No built-in GPS
Tech specs
| | |
| --- | --- |
| Screen | 72x128px AMOLED |
| Operating system | FitbitOS |
| Battery life | 10 days |
| Connectivity | Bluetooth |
| Durability | 5ATM |
| Dimensions | 39.37 mm x 18.6mm x 11.75mm |