Dell XPS 13 (2015) review
An excellent Windows 10 ultrabook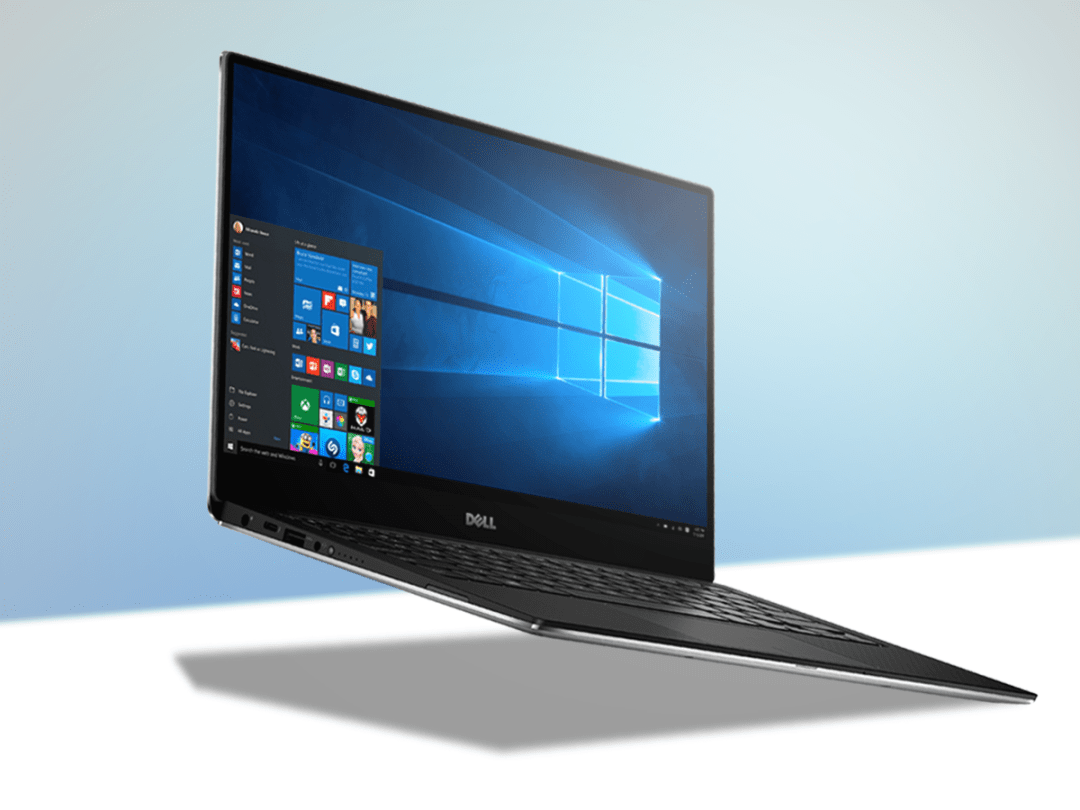 When we looked at Dell's pint-sized XPS 13 earlier this year, we came away convinced that it was one of the smartest ultrabooks you could buy.
Sure, it didn't quite have the glam factor of Apple's MacBook or the lightweight hybrid style of Microsoft's Surface Pro 3. Impressively, it did pack a brilliant 13.3-inch screen into the body of an 11-inch laptop without wrecking usability along the way.
If you spend long days lugging around a laptop – or ever need to fly economy with one – you'll know this is a very good thing indeed. Well, now Dell has given the XPS 13 a Windows 10 refresh and also sent us one with its fabulous Infinity screen. If the last one was the thinking man's ultrabook, this one's that and a whole lot more.
Staying small, sans compromises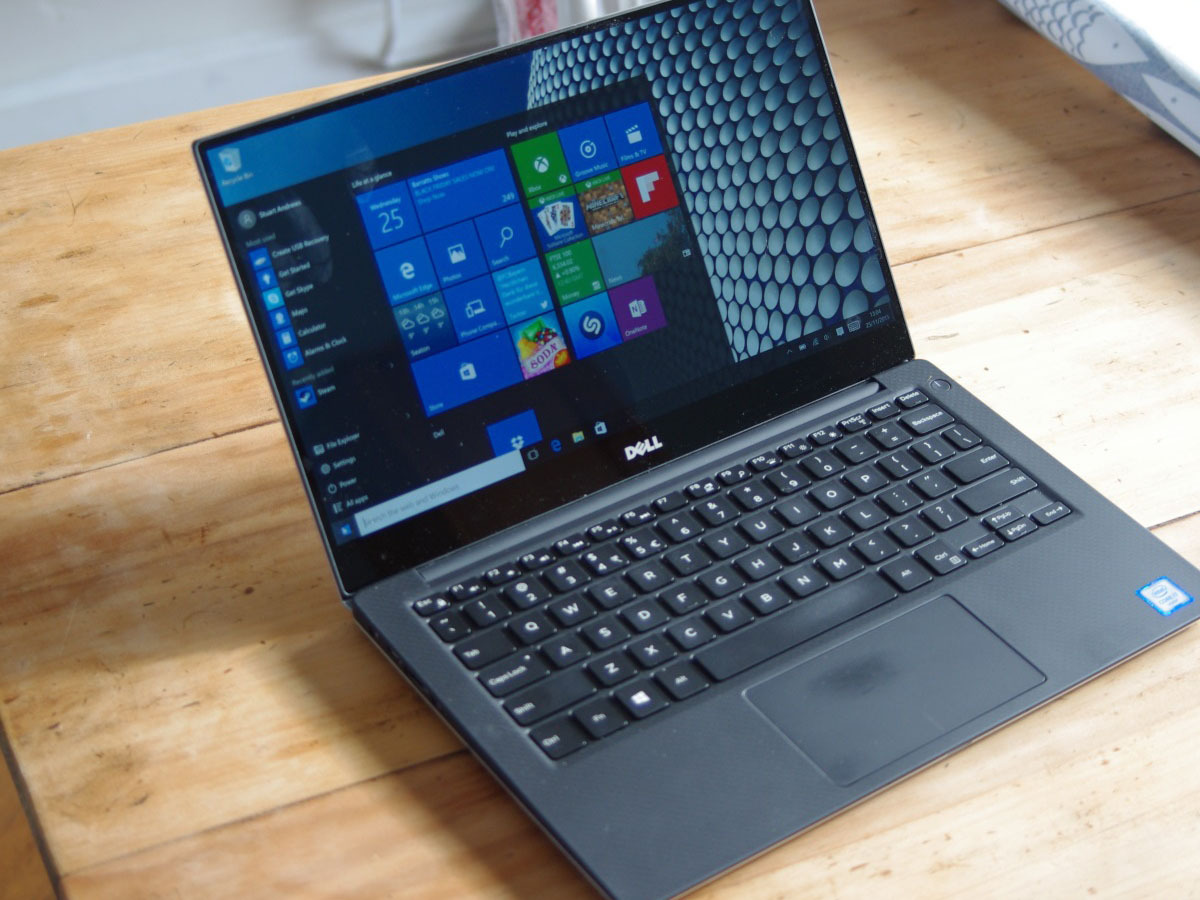 Like its earlier incarnation, to which it's almost physically identical, the new XPS 13 looks like it should be an 11.6-inch laptop. It measures just 304mm x 200mm when closed and is between 9 and 15mm thick, so it's actually roughly the same size as the 11-inch MacBook Air and only a few mm larger than the ultra-slim MacBook.
It's nearly 300g heavier than the MacBook – that thing is feather-light – and nearly 200g heavier than the 11-inch Air, but then it has the same-sized 13.3-inch screen as the larger 13-inch model. The screen isn't exactly frameless, but the frame is small even by tablet standards. It's one of the cleverest bits of laptop design around.
Otherwise, the XPS 13 is all about practicality. Its wedge-shaped profile gives you a comfortable working angle and keeps the thickness down, the hinge allows for a wide range of screen angles and the soft-feel coating on the carbon composite interior is very easy on the wrists. When closed, the machined aluminium lid and base look great while making sure that the whole construction feels rigid and robust. You'll want a case to protect it from scratches, but you won't need anything too heavyweight or tough.
We do have a couple of very minor complaints. Give the laptop some hard work to do and the fans kick in, creating a surprising din. What's more, the wrist rests seem to warm up fairly quickly, not to the extent that they become uncomfortable, but enough that you'll notice.
Making the most of the space
11-inch ultrabooks usually have two problems. On the one hand, the screen isn't big enough for a lot of applications, though that clearly isn't a problem here. On the other hand, you have to make compromises when it comes to the touchpad and keyboard.
Here Dell's boffins have made the very best use of the space available, and while the touchpad isn't huge and the keyboard has a shrunk-down Enter key, the layout isn't cramped and the action is light without feeling sloppy. I've been doing a fair bit of bona-fide work on the XPS 13 over the last five days and I haven't found it much harder to work on than my usual 17-inch laptop. Considering this sample came with a US keyboard, that's pretty impressive.
This one also comes with a touchscreen, and while this never feels entirely natural on a laptop, you soon get used to using it for certain Windows 10 activities, like prodding the Start button to call the Start menu or sweeping from the right to bring the Action Centre and Notifications in. There's only one reason why you won't want to do it; because you won't want to get a single smudgy print upon the beautiful, high-resolution screen.
Infinity looks good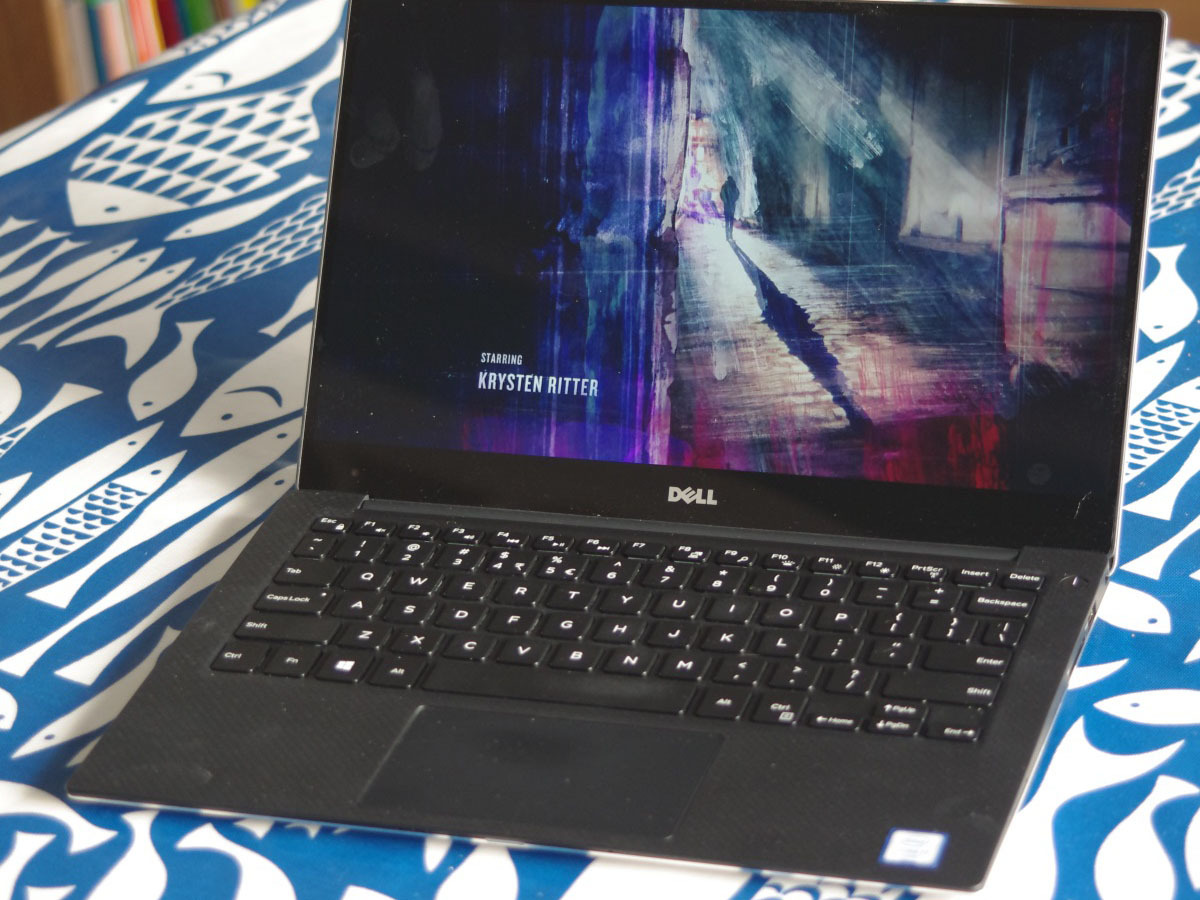 Buy the entry level XPS 13 with a full HD 1080p screen and it's still a great laptop, not to mention about £200 more affordable. Yet the more premium XPS 13's 3200 x 1800 resolution Infinity screen makes doing so almost impossible; it's irresistible. Even up close it's almost impossible to see individual pixels, while text looks spectacularly smooth. Colours are vibrant, blacks look deep and, erm, black, while there's enough contrast for the screen to be usable when you're sitting next to a window.
It's a fantastic display for watching streaming, full HD video, and an even better one for gorging on 4K videos from YouTube. In short, it's one of the most impressive laptop screens around.
We weren't knocked out by the sound on the earlier XPS 13, but this model is an improvement. It still isn't the richest or deepest output, but given the dimensions Dell's audio engineers have had to work with it's not bad at all. Sure, drums have that not-so-classic banging on a biscuit tin sound while it all gets harsh and congested at high volumes, but you can keep Spotify streaming quietly or watch your favourite Netflix shows quite happily without having to plug a pair of headphones in.
The Next Generation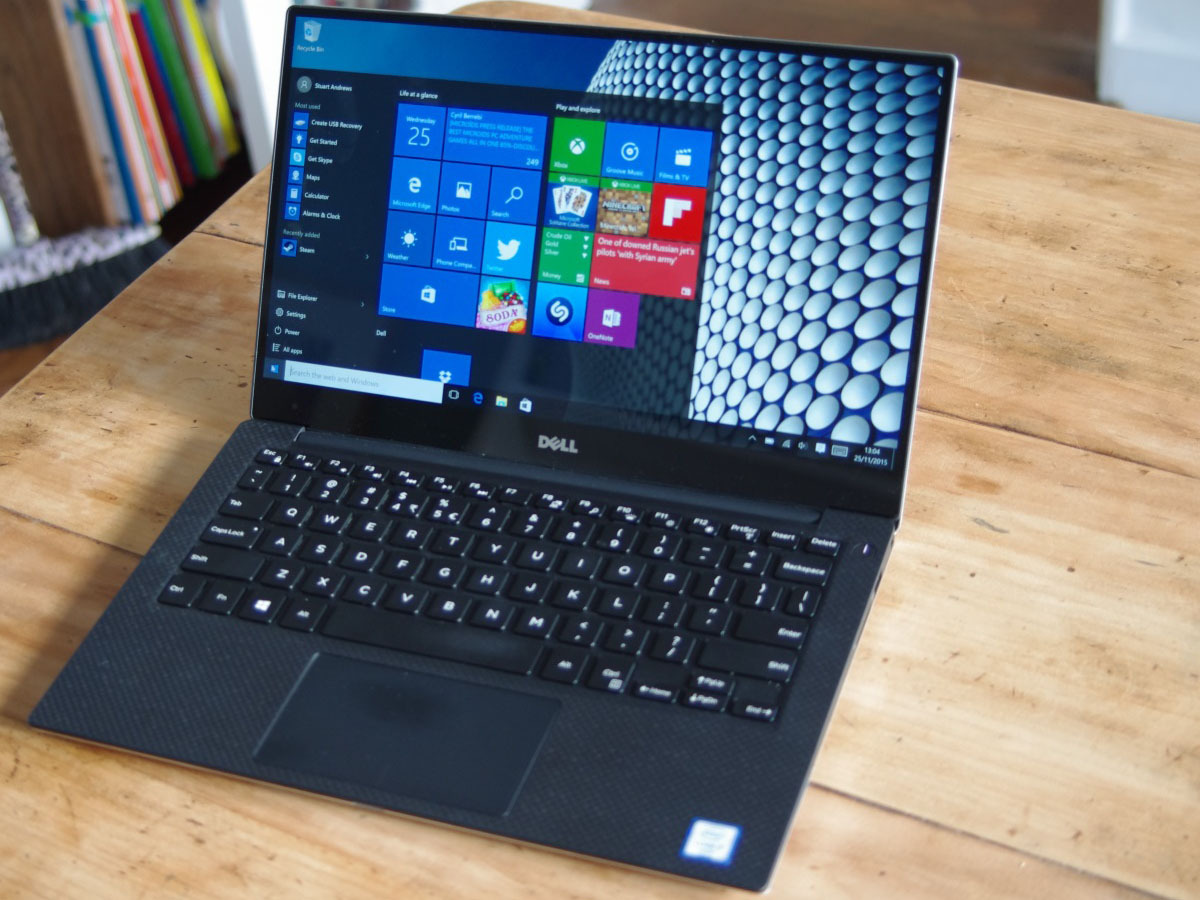 The biggest difference between this XPS 13 and the earlier version is that it uses Intel's new 6th-generation Skylake processors. Being the premium model, ours came with a Core i7 6500U running at a maximum of 3.1GHz plus 8GB of fast DDR3 RAM. Unlike the desktop Core i7s and some mobile versions this isn't a proper quad-core processor but a dual-core that can pretend to be a quad-core through the magic of Intel's hyperthreading. If so, it's still pretty damn fast.
The Geekbench scores of 3276 single-core and 6374 multi-core leave other high-end Ultrabooks in the dust. Basically, there aren't any normal 2D applications that the XPS 13 won't run with ease. From photo-editing to media-encoding to video, this little beauty will handle the workload with ease.
Of course, things get trickier when it comes to 3D horsepower. The 6500U is a low-voltage chip and its Intel HD 520 graphics cores aren't really built for console-quality gaming. While that means recent titles like Fallout 4 and Star Wars: Battlefront are off-limits, older stuff is fair game.
We had Call of Duty: Black Ops up and running at a playable frame rate with the detail settings turned down and the resolution dropped to 1600 x 900. You know what? It still looked pretty good while we fragged a few ne'er-do-wells.
No shortage of stamina
If Skylake doesn't give you maximum 3D graphics power, it does give you excellent battery life. Generally speaking, you're looking at around eight hours of web browsing, Microsoft Office and a little video streaming from the XPS 13, and when we set it to run a 1080p clip from the hard disk repeatedly, it still managed seven hours and twenty minutes before conking out.
That's not quite as good as the old model, with its 1080p screen and Core i5 processor, but all the pixels used here require a little more juice.
Storage and extras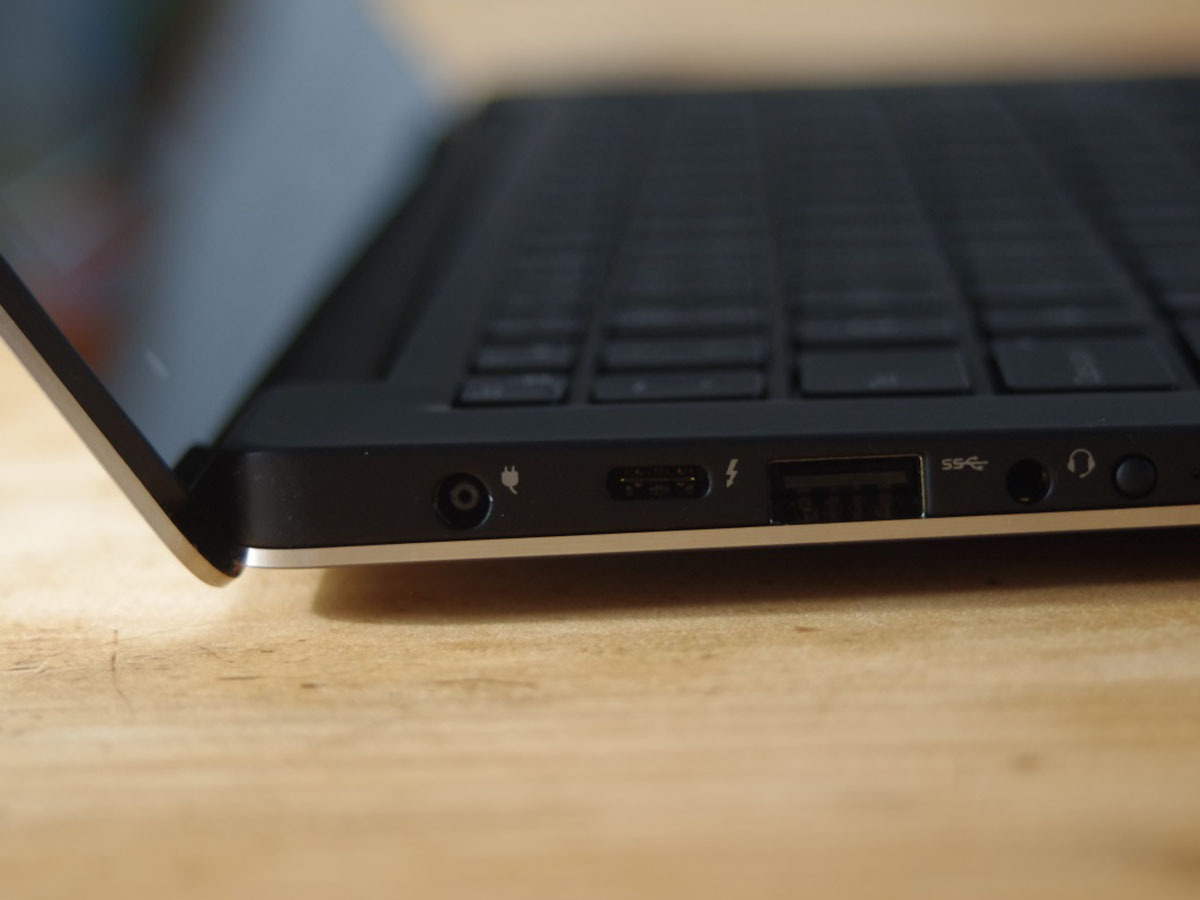 Like most ultrabooks, the XPS 13 uses an SSD, improving battery life and start-up speeds and removing any disk noise. Our sample came with a reasonably large 256GB SSD, and if you need more storage you can easily connect a USB 3.0 hard disk to one of the two ports provided and go from there. Otherwise, there's a Thunderbolt port which will also run a DisplayPort monitor with the right cable, plus a headphone output and an SD memory card slot. Wireless connectivity is excellent, with a dual-antenna 802.11ac radio and Bluetooth 4.0, the first giving you a super-speedy connection if your router supports the same WiFi standard.
Our biggest moan about the old XPS 13 was that the sheer lack of frame had forced Dell to put the HD webcam below the bottom-left corner of the screen and the same fate befalls this new mode. There's nothing wrong with the quality, but when it gives your significant other a fantastic view of your wobbly chin and rampant nasal hairs it's either time for a rethink or a makeover.
Dell XPS 13 (2015) verdict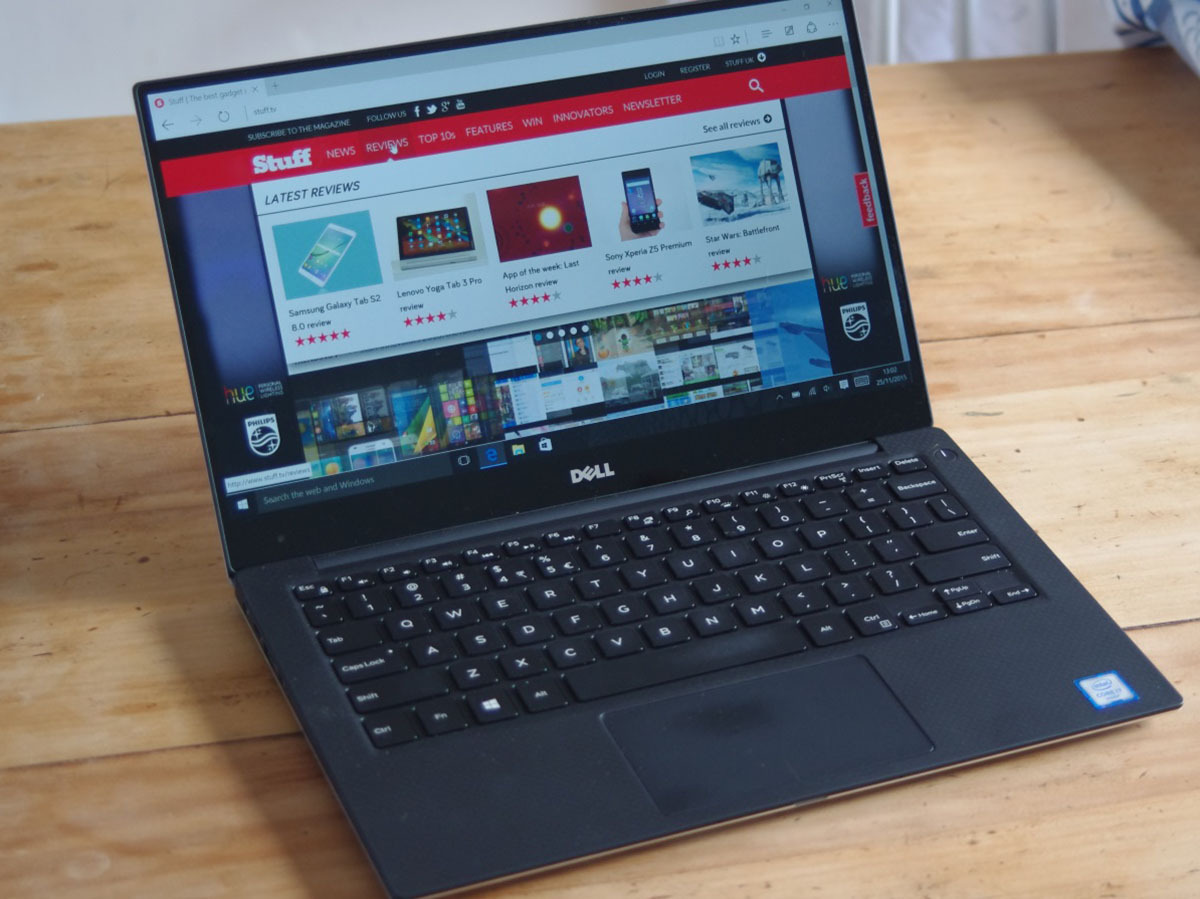 The old XPS 13 was already a great lightweight laptop. The new one is even better. With Intel's latest processors you get better battery life and more performance, and while there's a big price premium to be paid for the Infinity Display and Core i7 processor, it's one worth paying if you have the wonga.
We've seen other ultrabooks that are shinier and flashier, but none that packs so much into so little space while remaining practical. If you like to get around with your laptop, this one's hard to beat.
Buy the XPS 13 (2015) here from Dell
Tech specs
| | |
| --- | --- |
| Operating system | Windows 10 64-bit |
| Screen | 13.3in IPS LCD with 3200 x 1800 resolution |
| CPU | Intel Core i7 6500U 3.1GHz (2C 4T) |
| GPU | Intel HD 520 |
| SSD | 256GB |
| Optical drive | None |
| Connectivity | Wi-Fi 802.11ac, 2x USB3, 3.5mm, Thunderbolt |
| Dimensions | 304 x 200 x 15mm |
| Weight | 1.29Kg |
Stuff Says…
Small in size, great in stature.
Good Stuff
Fantastic infinity display
Great performance
Small but perfectly usable
Solid and stylish
Good battery life
Bad Stuff
Gets warm and noisy
Weird webcam angles