Creative Zen review
Creative's back with a serious-looking mini media player. How's it going to fare against Apple's ubiquitous iPod Nano?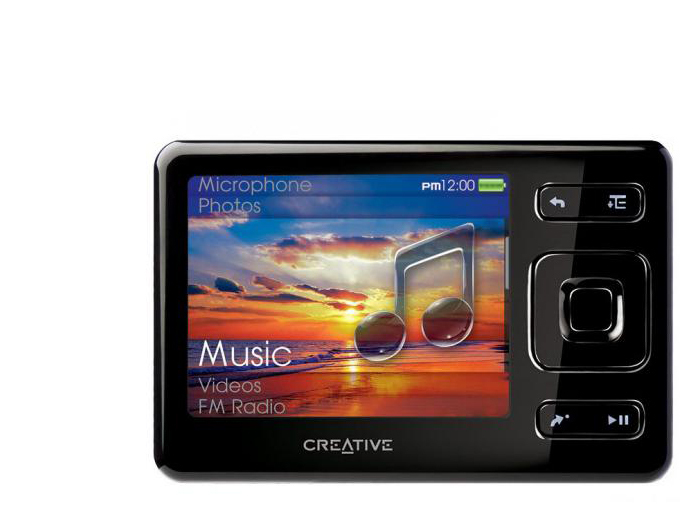 It's been a long time since we saw a new portable offering from the forefathers of MP3. Since the Zen Vision:M and Zen V Plus, everything has been rather quiet, except for the Shuffle-aping Stone range. Now it's back and it's serious: so serious that it's gone back to basics, calling its new media player simply 'Zen'.
The big screen
The Zen is a bit of an anomaly in the flash media player arena. Despite its diminutive proportions it packs a 2.5in screen, the same size as that of the far bigger Zen Vision: M and iPod Classic. This isn't just a pocket MP3 player; it has media pretensions far beyond that simple level, to which end it supports various video codecs and 30fps playback.
Naturally, that hefty screen absorbs much of the front of the player, leaving just enough space on the right hand side for controls. Though it's not the most elegant of systems, it's very straightforward to use and will not challenge any but the most simplistic of gadgeteer minds.
In fact, the lack of elegance is a theme – on looks alone you'd go for a Nano or an iRiver Clix – though the build quality and finish are exemplary. It's a solid feeling player, a little more substantial than its contemporaries, but still defiantly pocketable.
Micro movie star
When you switch it on things get even better. The screen's a QVGA number that's bright and vibrant, though, because of its lower pixel-per-inch count, it lacks some of the Nano screen's sharpness. However, the extra screen real estate means it makes more sense than Apple's finest as a movie player.
The videos we transferred over were initially beyond the Zen's capabilities but the Zen Media Manager re-encoded and transferred them over automatically. Playback was superb – smooth with minimal blocking – convincing us that you could watch a movie on the Zen without going cross-eyed. And there aren't many sub-£100 players you can say that about.
The story is similar with music. Aside from a hint of digital haze, the performance is superb. The Nano is a little more spacious-sounding and well-resolved, but the Zen digs up similar levels of detail.
Fun, fun, functionality
Other elements of the experience are similarly positive. The interface makes the most of that lovely screen and can be customised (ooh, purple). Scrolling through yields a few hidden treats – there's an SDHC slot that can be accessed directly, allowing you to store additional media or check photos as soon as you've snapped them. If you plump for the highest capacity 16GB Zen you'll have some serious storage for a device of this size.
A voice recorder is a handy addition and the FM radio is surprisingly good. Reception is best out in the open but it holds a signal well and there are plenty of presets.
One rather negative aspect, but one we're familiar with from almost all media players, is headphone quality. The Zen's included earbuds sacrifice all in favour of bass. It's a shame because, as you've already read, there's much to recommend the Zen's audio.
That aside, we're thoroughly impressed. It doesn't have the sex appeal of the Nano but this Zen is all about power and functionality, offering as good a video experience as it does audio, and it doesn't neglect user experience. If you want the extra features and don't mind the relative lack of finesse, this is a great option.