Canon EOS M6 review
Canon's little, viewfinder-less CSC is a big step in the right direction...
Canon and Nikon, traditionally the big beasts of the camera world, have been glacier-like in embracing the mirrorless compact system camera format – and that's let the likes of Sony, Panasonic, Fujifilm and Olympus run riot in the CSC playground. 
Nikon remains reluctant to leave its DSLR nest, but Canon has finally woken up – and stepped up. The EOS M5 flagship CSC was a solid effort, and it's been swiftly followed up by the arrival of the mid-range EOS M6.
It comes with a lot of the same attractions, including a 24.2MP APS-C sensor, but ditches the viewfinder for an even smaller body. It might just be Canon's best CSC yet – but can it go toe-to-toe with its more established rivals?
Canon EOS M6 design: pocketable with a pancake lens
Some compact system cameras aren't very compact at all, but that's not a criticism you could level at the EOS M6. Along with the Panasonic Lumix GX800 and Sony A6000, it's genuinely pocketable when paired with a pancake lens – although we're talking jacket rather than jeans.
Canon sent my review sample with an 18-150mm zoom lens, though, which juts out a long way and somewhat lessens that impact. Still, even with that barrel of glass bolted on, I found the M6 a breeze to carry around all day, and quite discreet even by CSC standards; little wonder Canon's marketing bods are keen to play up its suitability as a street photography camera.
The metal body is clad in a textured rubbery material, and a small protruding grip on the right side gives your fingers something to wrap around, so the tininess of the camera doesn't translate into trickiness when it comes to holding it up. There's a solid, premium feel to the M6 that puts it on a level with the Sony A6000, and I think above the slightly budget-feeling Panasonic GX800.
Canno EOS M6 in use: viewfinder required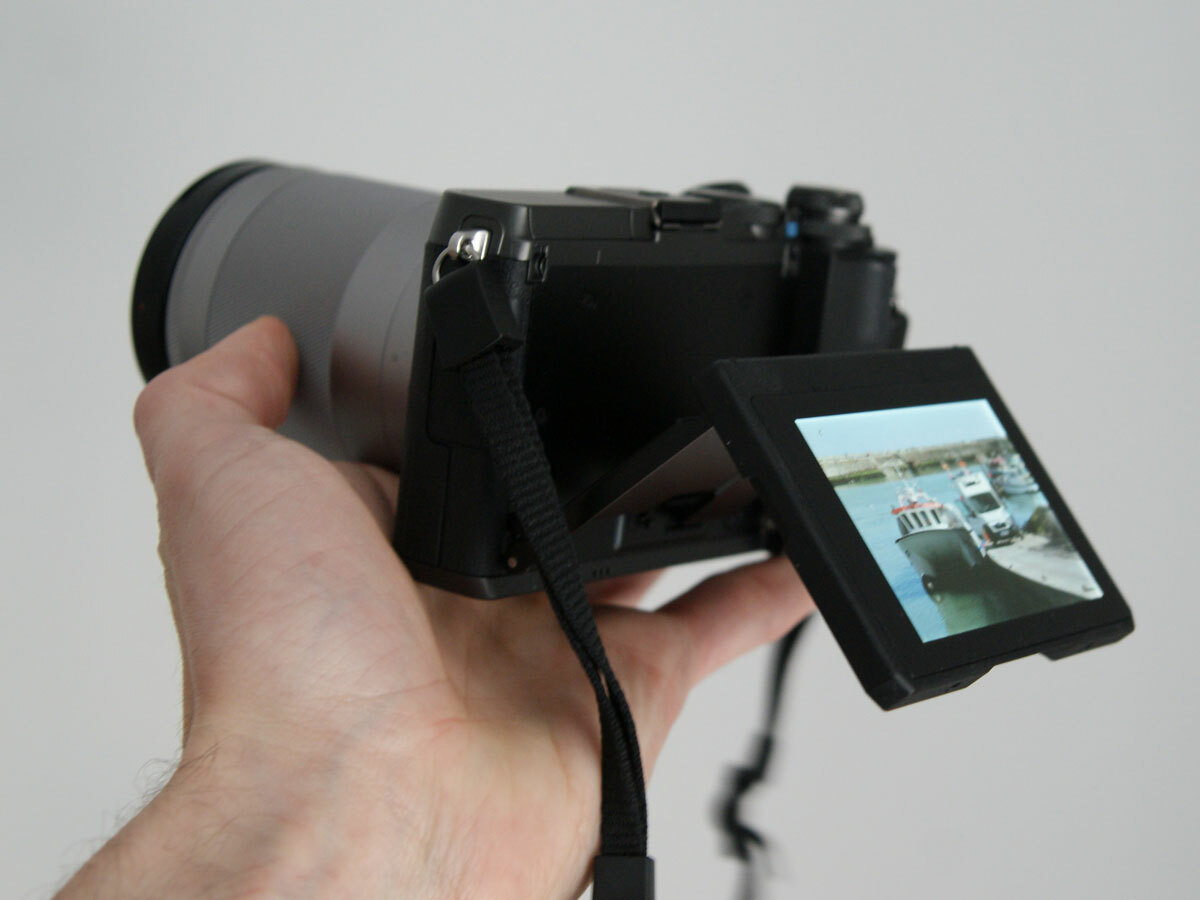 For me, the lack of an integrated electronic viewfinder is probably the most disappointing thing about the EOS M6. You could argue that the camera's dinky size and squared-off frame leaves no space, but Sony has managed to fit one in its A6000, which is roughly the same size as (and £100ish cheaper than) the M6.
A viewfinder is a valuable asset, because holding a camera up to your eye is still the best way to compose images. For starters, it acts as a natural form of image stabilisation, and when you're shooting outdoors and the sunlight is too bright to see the screen clearly, a viewfinder's shielded shade is virtually essential.
Canon's optional EVF-DC1 and EVF-DC2 electronic viewfinders will work with the EOS M6, but that means shelling out over £200 extra. Not ideal.
The M6's screen isn't bad by any means. It's sharp and bright, has touch capabilities (tap to focus is the best and quickest way to set a focus point), and is able to tilt up and down and flip 180 degrees forward, should you want to engage "selfie mode". I found it handy for composing videos too. I'd just rather have a built-in electronic viewfinder as an alternative.
Canon EOS M6 performance: a solid street shooter
One thing that doesn't disappoint is the M6's imaging performance. A walk around the harbour on a beautifully clear day showed what it's capable of: crisply detailed 24MP stills that pop with colour and contrast.
As mentioned above, I was using Canon's 18-150mm lens, a versatile zoom with built-in image stabilisation and a £419 price tag. A cheaper lens might not deliver such great images, but I suspect few will find cause to moan about the M6 from a performance point of view.
It focusses quickly and accurately, and can shoot at speeds as high as 7fps – all of which helps to cement its status as a good camera for street photography.
Canon EOS M6 controls: beginner-friendly layout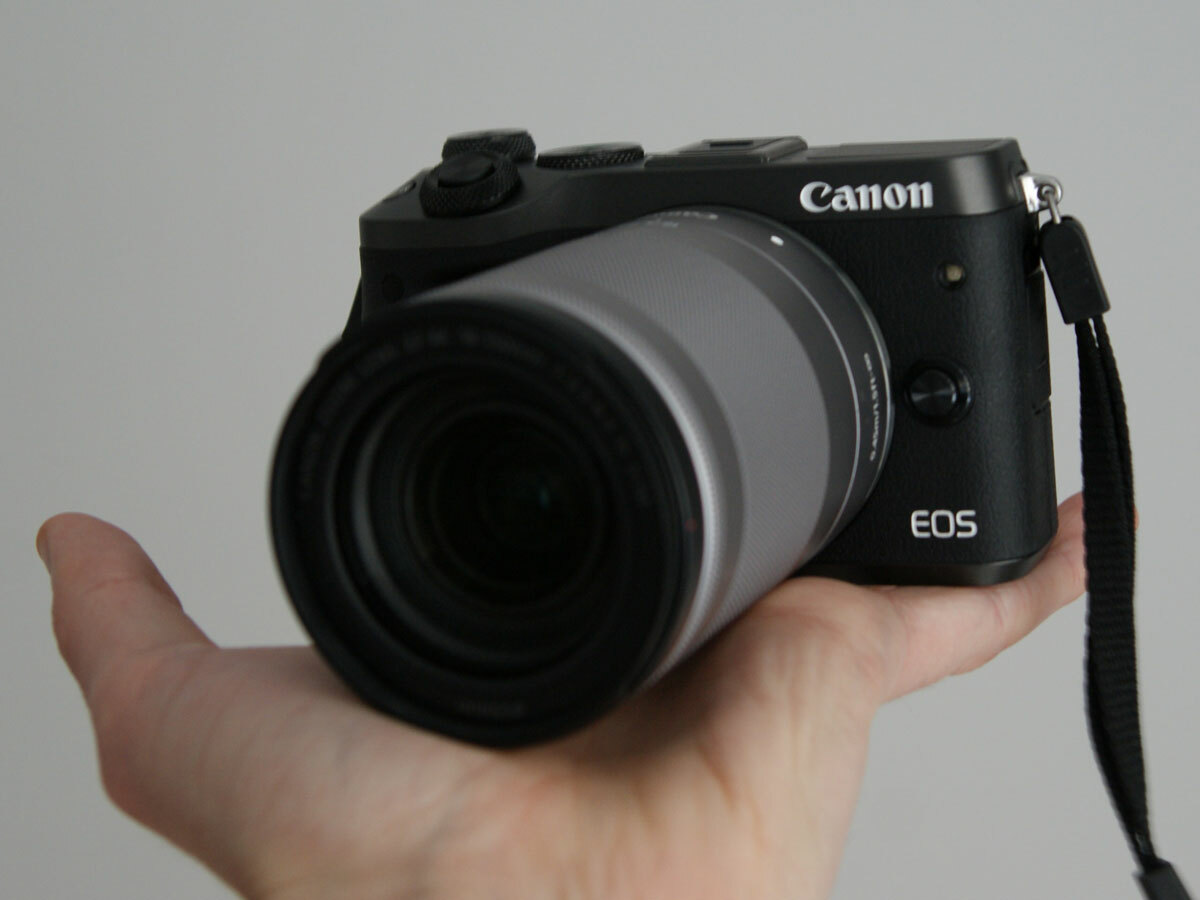 I also like the EOS M6's control layout, which manages to give you four accessible dials despite the camera's small size. The exposure dial is great and securely locks into place between each setting, like you're shifting between some nicely calibrated bike gears.