BMW i4 review: conventional looks, EV benefits
The BMW i4 makes a lot of sense if you want a no-nonsense fully electric beemer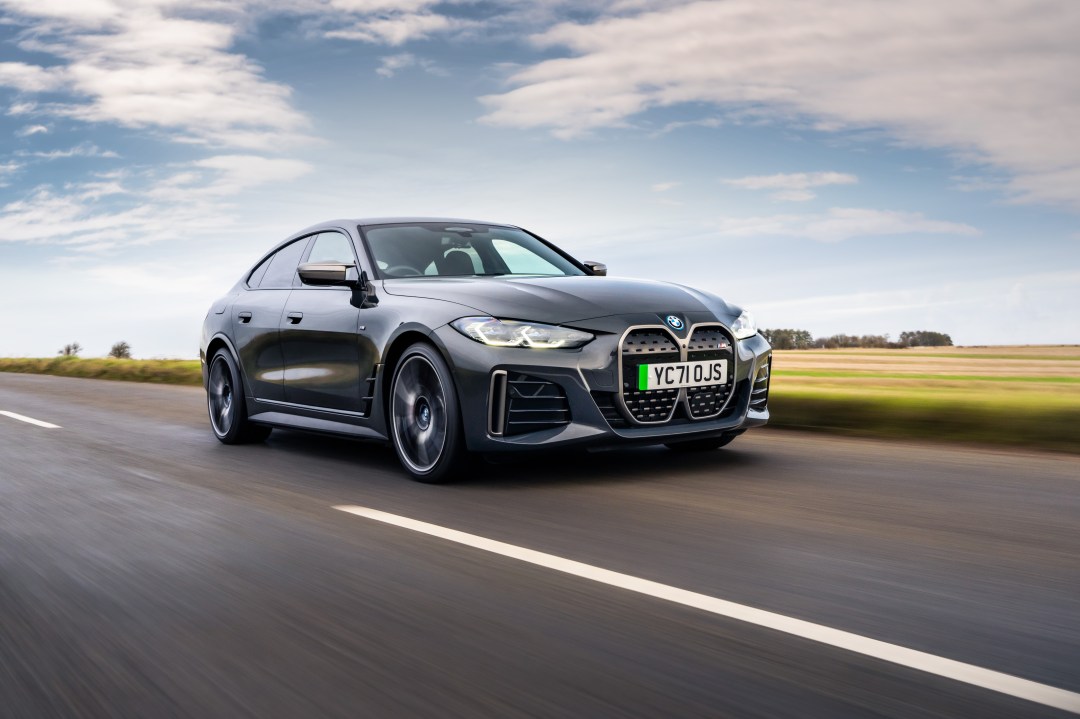 If you're increasingly tempted by the lure of an EV, but still prefer the look and feel of a conventional petrol-powered car then BMW's i4 makes a great place to start.
This, to all intents and purposes, is much akin to a BMW 4 Series Gran Coupe, so there's nothing to unusual about it in terms of styling. Yes, it comes with the latest grille styling, which isn't to everyone's taste, but it works well on this car we think. But, the big difference behind the distinctive styling is that it's all-electric.
You get a choice of two different models, with the rear-wheel drive, single motor, entry-level eDrive40 providing more than enough thrills to keep most people happy. However, if you're looking for additional excitement and higher monthly payments to go with it then head for the M50 edition.
The extra outlay means you get a pair of electric motors along with four-wheel drive and some more obvious flashy styling touches, such as air intakes to soothe the supersized brake discs that suggests performance with a capital P. While both cars are very tidy to drive, the M50 boasts 536bhp, which on the performance point puts it on a par with something like the Tesla Model 3 Performance.
Styling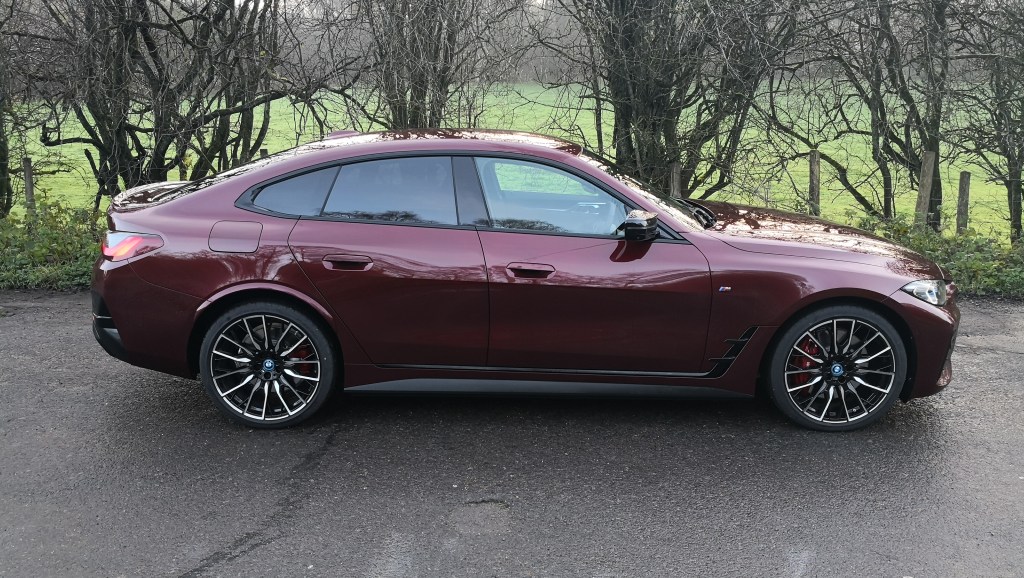 As mentioned, if you're rather fond of the BMW 4 Series Gran Coupe, but want it in an EV arrangement, the i4 makes perfect sense. In fact, a casual glance at the car will probably leave a lot of people none the wiser about its electric car credentials. The lines are smooth, seem nicely thought out in that methodical Germanic way with a neat attention to detail where it matters. The subtle rear spoiler, those cooling vents and smart rather than flashy design touches make the overall impression a low-key one.
Some EVs tend to go wild with the interior styling, see BMW's iX for reference, but by comparison, the i4 is much more restrained too. It's sensible even, and again will appeal to folks who want to make the transition from an ICE car to an EV without too much new stuff to contend with. In fact, sit in the front seat and the feel is that of a regular petrol-engined model with an all-enveloping pair of super-comfy front seats and a transmission tunnel arrangement that seems pretty conventional, despite the underlying battery power.
However, there is a 14.9-inch central infotainment hub to contend with, augmented by a 12.3-inch instrument panel. You'll need to spend some time acquainting yourself with that tech, but the usability factor is high and practical layouts make it fun once you've sussed where everything lives.
The drive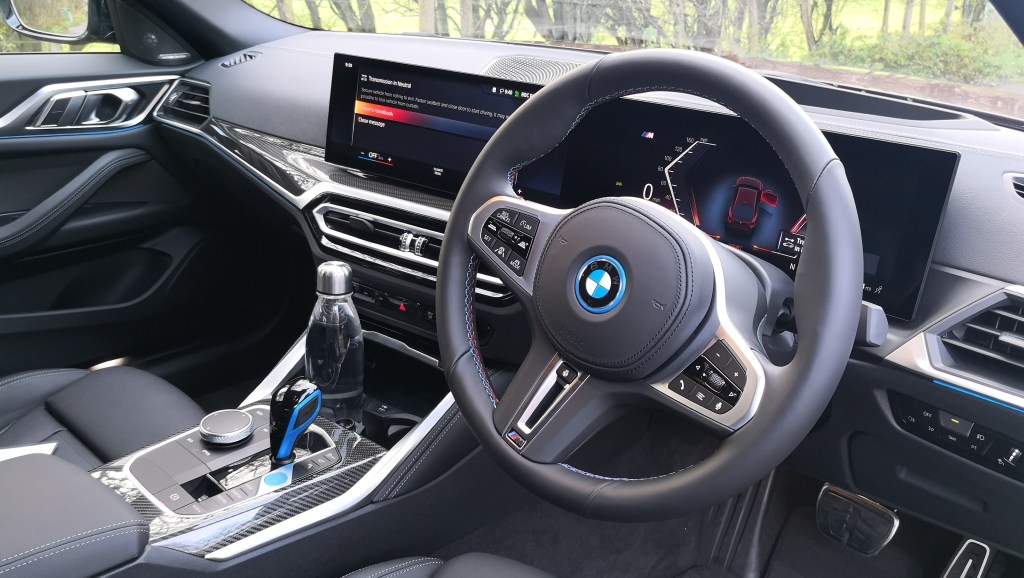 We got to drive the BMW M50 around the streets of Farnborough and then out into the sticks, where it was possible to see what the car could really do. Select the car's Sport mode and you'll really be able to work it through the corners, although the adaptive M suspension does occasionally fall foul of unpredictable surfaces, especially when you're on less-than-great B-roads. Of course, there's quite a lot of weight too thanks to those twin motors and the 83.9kWh battery, which is noticeable on occasion.
Nevertheless, plant your foot on the floor and the power supply is intense, with an official 0-60mph time of 3.9 seconds. That's easy to believe, but it's more fun squeezing the accelerator as you throw the M50 around backroads than it is going for straight-line speed on motorways and the like. Complimenting the speeding up part of the equation are the brakes on the M50, which can offer solid levels of regeneration while also making you never doubt the car's stopping ability.
The technology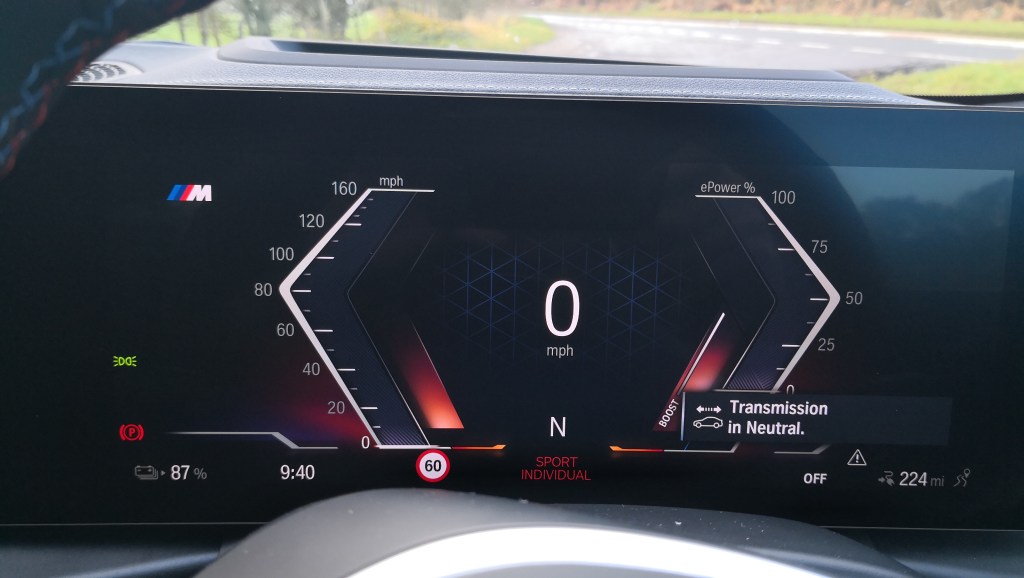 The i4 comes armed with the eighth iteration of BMW's iDrive and, if you've already owned a beemer before the overall effect is just as good as it ever was. A rotary controller aids the driver, providing quick and easy access to core controls while the crisp and clear graphics are spot-on. It's easy to get bogged down with sub-menus and other nonsense when you're submerged inside an infotainment system. Not so with the i4 and its iDrive setup. We'd say it has to be one of the best of its type currently.
Look out too for Apple CarPlay or Android Auto, while the speech option works to great effect, which is always a bonus when you initially fear the worst. There are minor niggles to contend with, with the need to use the touchscreen to adjust climate control options proving one of the most prominent distractions. Touchscreens have their place, but when you're roasting from a heater that's set too high you just want a quick and easy solution. It's the only gripe we have about the tech overall though.
BMW i4 Verdict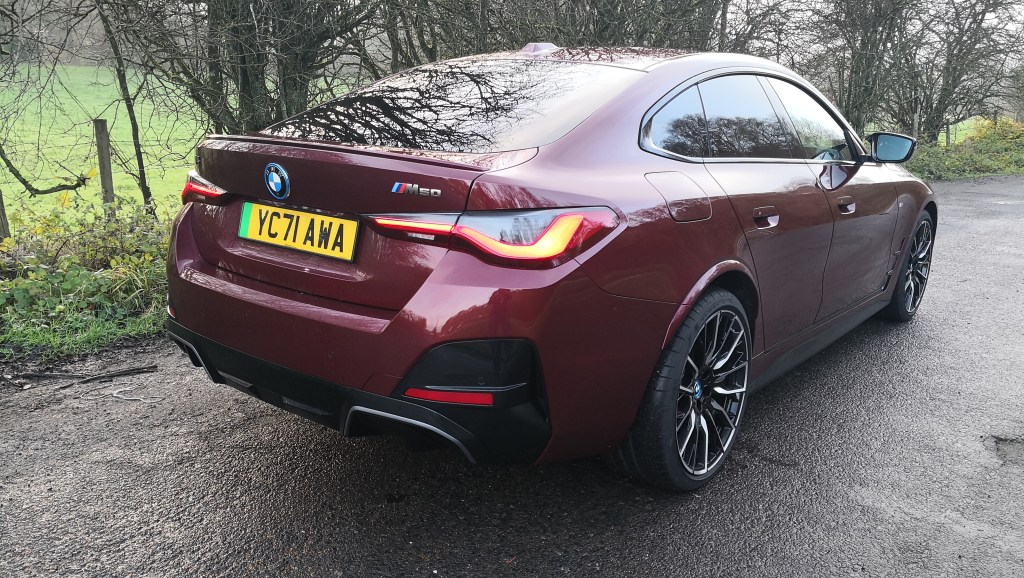 The BMW i4 boasts plenty of appeal to company car drivers, who love a beemer but want to benefit from the very decent benefit in kind tax savings that make this model a top choice. However, you'll want to plump for the Sport or M Sport model options in order to enjoy all of the BMW toys and trim treats. And that'll add cost. The eDrive40 is the perfectly serviceable entry-level car if budget plays a big part in your new car decision making.
However, if you've got no worries on the cash front then pick a fully-loaded M50, on a set of 19-inch wheels and armed with the optional Comfort Pack. Spending more will get you plenty of additional trimmings and the M50 goes like a rocket, no doubt. There are plenty who've driven the eDrive40 model of the i4 and think that's the better car to go for though. You pays your money, you takes your choice. Either way, the endless appeal of a BMW makes either variant a safe bet and, if you've yet to live with an EV, this is a great place to start, no matter which car you buy.
Stuff Says…
A great way to enter the world of electric cars with the added prestige of a BMW badge.
Good Stuff
Appears very conventional
Power when you need it
Bad Stuff
Twin motors add weight
Touchscreens not the answer to everything
Tech specs
| | |
| --- | --- |
| Range | 367 miles eDrive40 / 318 miles M50 |
| Dimensions | 4.78m x 1.8m x 1.44m |
| Battery charge time | 0-80% in 34 minutes 205kW |
| Cargo volume | 470 litres |