Audi SQ5 (2017) first drive review
An off road warrior in chinos and a dress shirt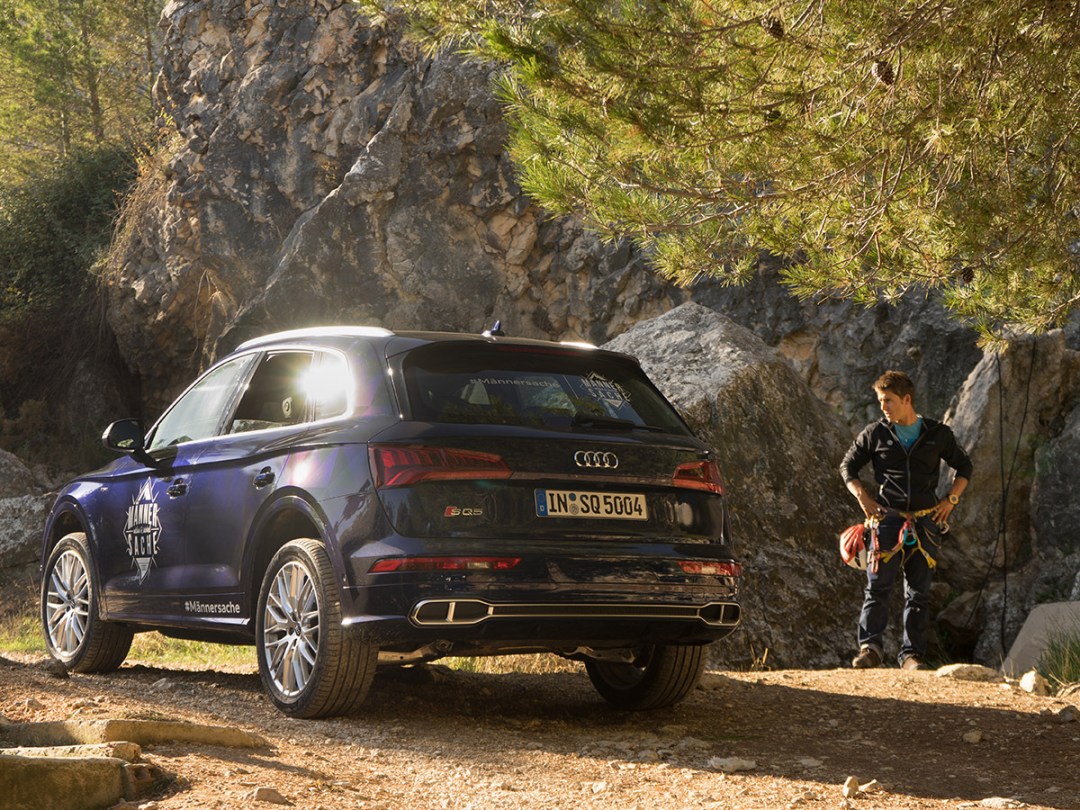 There are SUVs, and then there are 4x4s.
One is built for mud, gravel, snow and whatever else the elements can throw your way – and the other lets you lord it over normal-sized family hatchbacks and low-slung saloons while you're on the school run.
Try anything more adventurous than driving over a speed bump in one of these posers and you're out of luck – but not so in Audi's SQ5.
This is a premium SUV with all the luxurious interior bells and whistles you could want, and yet it can still hold its own when the going gets rough.
I proved as much after driving one half-way up a mountain in southern Spain – then putting its 345bhp V6 engine to good use on some winding country roads the other side.
Exterior design: sport meets subtle
The SQ5 makes fairly subtle changes to Audi's middle child SUV, with a wider front grille, more aggressive air intakes, and a relatively sedate roof spoiler. This means you'll fit right in on long motorway cruises.
The aluminium mirrors are a little more obvious, as are the chunky 21in alloys with massive brake callipers peeking out behind them. They aren't exactly ideal for off-roading adventures (if you want to keep them looking pristine, anyway) but make an impression in the office car park.
It's the angry quad-pipe exhaust tips that really stick out – although get up close and you'll spot that they aren't actually connected to the exhaust system at all. You get the sporty look, but without the neighbour-bothering noise that comes with it.
LED headlamps and taillights complete the look. It's familiar, with just a hint of sportiness that justifies that S badge.
Inside the cabin: A familiar fit
The sporty vibes continue inside the cabin, with a flat-bottom sport steering wheel, Audi's signature quilted sports seats and aluminium pedals.
Everywhere else it's a combination of carbon fibre, aluminium and leather, fitted to Audi's usually high standards. It's not quite as luxurious as the bigger SQ7, or indeed the limo-like A8, but I had no complaints after a day spent jumping in and out of the driver's seat. For the price, the fit and feel is up there with the best of them.
The SQ5 will feel familiar if you've seen the inside of an A4 or higher at any time in the past few years, but that's not a bad thing: there's plenty of space, an excellent driving position and plenty of rear passenger space, if not quite as much as its rivals. The kids are unlikely to complain, though.
Everything is electric, of course, so tweaking seating positions just takes a few prods and taps to the panel at the side, instead of messing around with levers. These also control the in-seat massagers – perfect if you've had enough of the great outdoors and are ready to head home.
In-car tech: Nobody does it better
Audi is still the king of infotainment right now, thanks to the excellent combination of MMI centre console screen and Virtual Cockpit dashboard.
You of course get both here: an 8.3in MMI Navigation Plus central display, and a second screen built into the dash, putting handy info like sat-nav directions – or a rev counter, for when you're gunning it around Valencian S-bends.
It's completely controlled by buttons on the steering wheel, so you don't have to take your eyes off the road.
The MMI screen has a touch panel and control wheel that work together well, letting you scroll through menus or flick between modes. A touchscreen would have made tapping in text a little quicker, though.
Audi's system is slick and easy to navigate, but you can always plug in an iPhone and use Apple CarPlay instead – it takes over the centre console screen, leaving the Virtual Cockpit to display the stock sat-nav.
The top-spec model I drove came fitted with an optional heads-up display, shifting the speed and sat-nav directions even closer to your sight lines while driving, and a wireless phone charger. Handy for any iPhone 8 owners that have just discovered how useful wireless charging can be.
There's an optional Bang & Olufsen sound system, too. You might think that packing 19 speakers and 755w into a car would be overkill, but once you've blasted out a few tunes, that's absolutely not the case – it sounds ace.
Drive: Going everywhere, fast
I got to put the SQ5 through a range of different driving situations – and it manages to feel like a different car in each one.
Flick the Drive Select to Comfort and it's quiet, comfortable and very easy to drive, with little in the way of wind or road noise. An impressive feat for something running on 21in alloys and low-profile tyres.
On the other side of the coin, Dynamic mode cranks up the 'engine sound modulation' to the point that it's impossible to ignore. Some will love the way it mimics an angry, fire-spitting engine and exhaust combo, but others are going to hate its fakery.
It's a shame, because there's an undeniably good motor under the hood. The 3-litre, turbocharged V6 pumps out 349bhp, which is enough to propel you to 60mph in around 4.5 seconds. Which is mighty impressive for something that weighs 1870kg.
This mode stiffens up the steering and suspension, too, but to almost uncomfortable levels. For the best body control, grip and natural-feeling steering, you're best sticking to the Auto or Individual modes.
The eight-speed auto gearbox is quick to shift and very smooth, with noticeably faster and more aggressive changes in Sport mode. There's no launch control or redline hold here, but that's hardly surprising. You're driving an SUV, not a sports car.
That being said, you can still throw the SQ5 into corners with a surprising amount of gusto. Just remember how tall it is – body roll isn't normally a problem, but it has its limits.
When the tarmac ends, the Off-road mode changes up the MMI display with all manner of angles, cambers, ride height information and steering lock. The suspension raises a full 50mm from standard, and it absolutely sucks up the bumps – even on those massive 21in wheels. It would have been nice to get all that info on the Virtual Cockpit display, though.
The engine has more than enough low-end torque to climb up steep gradients, and hill descent control helps you get back down again without riding the brakes yourself.
For something you're more likely to see in Morrisons than up a mountain, the SQ5 acquits itself from dirt and gravel very well.
Audi SQ5 (2017) initial verdict
Is the SQ5 the ultimate driver's SUV? Nah, not really – it's trying to be too many things at once.
The thing is, this is a car that's not bad at any of those things. It'll eat up motorway miles in comfort and quiet, put pedal to the metal when you want performance, cruise around town, and can even tackle off-road adventures.
The SQ5 certainly feels like it can do it all, even if there's not quite as much power or pace to topple the Porsche Macan GTS and Jaguar F-Pace as the go-to SUVs for performance and excitement.
As an all-rounder that can still put a smile on your face, though, this relatively mild upgrade is still potent when it needs to be.