Assassin's Creed Nexus review: leap of faith
Does Ubisoft's VR gamble pay off?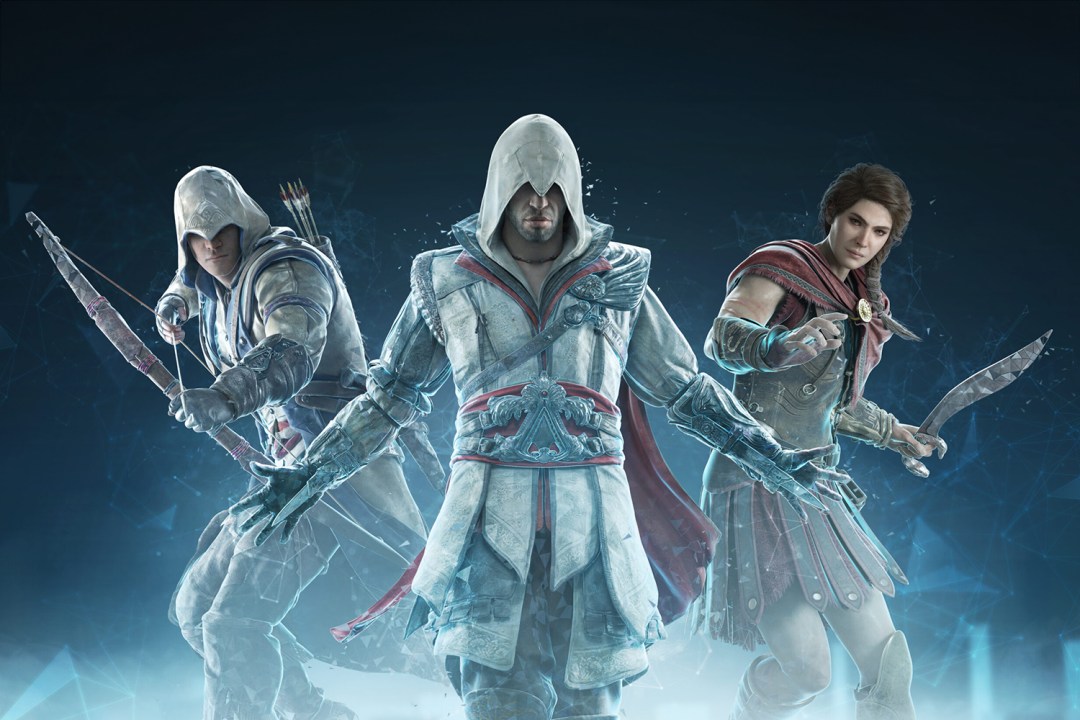 Stuff Verdict
A leap of faith that thankfully paid off, Assassin's Creed Nexus is one of the best VR experiences out there. Just make sure you have a barf bag on hand…
Pros
Immersion is top-tier
Incredibly fun, with great gameplay
Pushes VR to its limits
Cons
Expect to feel very nauseous…
Ubisoft is taking a big gamble with its next Assassin's Creed outing. After some disappointing console entries of late, Assassin's Creed Nexus enters virtual reality for the first time on the Meta Quest 2, 3 and Pro. As such, there's some lofty expectations.
Alongside Resident Evil, Assassin's Creed is arguably one of the most well-known gaming franchises to hit VR hardware of late. But does it also follow in Resident Evil's footsteps by being a successful VR adaptation?
VR parkour
A common criticism of the Assassin's Creed series is that if you've played one you've played them all, at least when it comes to storyline. Assassin's Creed Nexus is no different. The game has you transported through time to assassinate members of a shady organisation, armed with cunning, a hidden blade, and the gymnastic abilities of an Olympic champion.
In Assassin's Creed Nexus, we're navigating three different time periods; the Renaissance Period, Ancient Greece, and the birth of America. We've visited these locations in Assassin's Creed before, but across a 15ish hour campaign, it's clear to see that Assassin's Creed Nexus is more of a showcase of VR gameplay, rather than a wholly original premise filled with depth of story. It would be nice if that were different, but it doesn't hinder the game as a result. With Assassin's Creed Nexus, Ubisoft is simply providing the playground.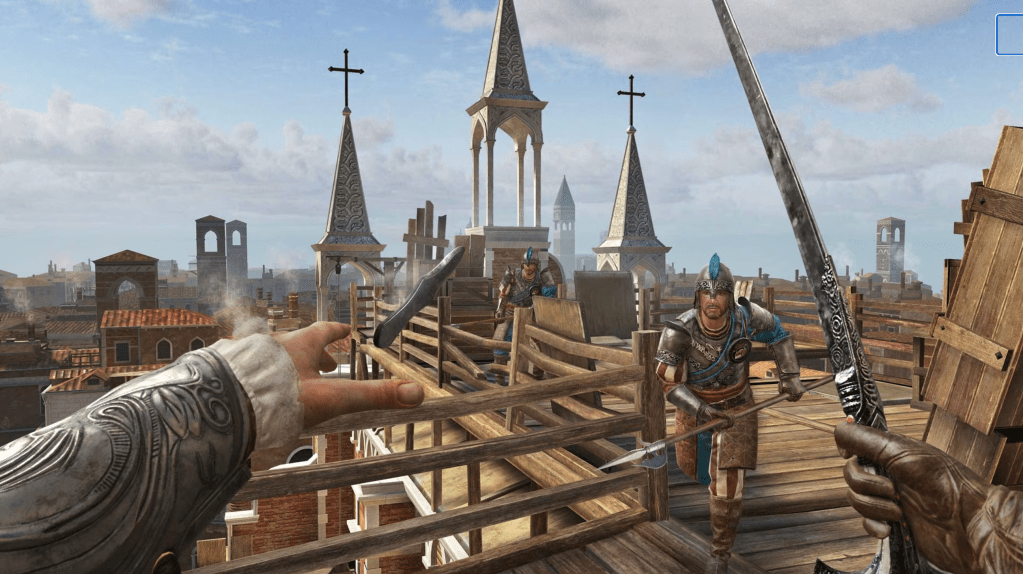 The Assassin's Creed world is already perfectly suited to VR. Gamers have been scaling towers, slashing foes and parkouring their way around ancient lands since the first Assassin's Creed game released in 2007. The choice take these core gameplay elements and applying them to a first person experience should be an easy win.
And a win it is. From the moment you switch on, you become immersed in the virtual world. It urges you to explore, with there being no shortage of walls to climb or balconies to skip over. The two Meta Quest 3 controllers I'm using differ very little to how I'd play Assassin's Creed on the PS5. I move with the left joystick, look around with the right, and interact with the right and left triggers. My blade, hidden on the inside of my forearm, is unsheathed with a satisfying, Spider-Man-esque flick of the wrist.
There are dozens of settings to tinker with that are designed to improve the experience, but are mostly there to reduce nausea. The level of thought here is impressive. Basic settings include snap turning and teleport can be tweaked. There are settings to aid those with a fear of heights, or to place a virtual nose on your face for an in-game focal point. I can also set 15, 30, 45 and 1hr time alerts that remind me to take a break. That's a much needed motion sickness feature, which we'll get on to later.
Medieval Metallica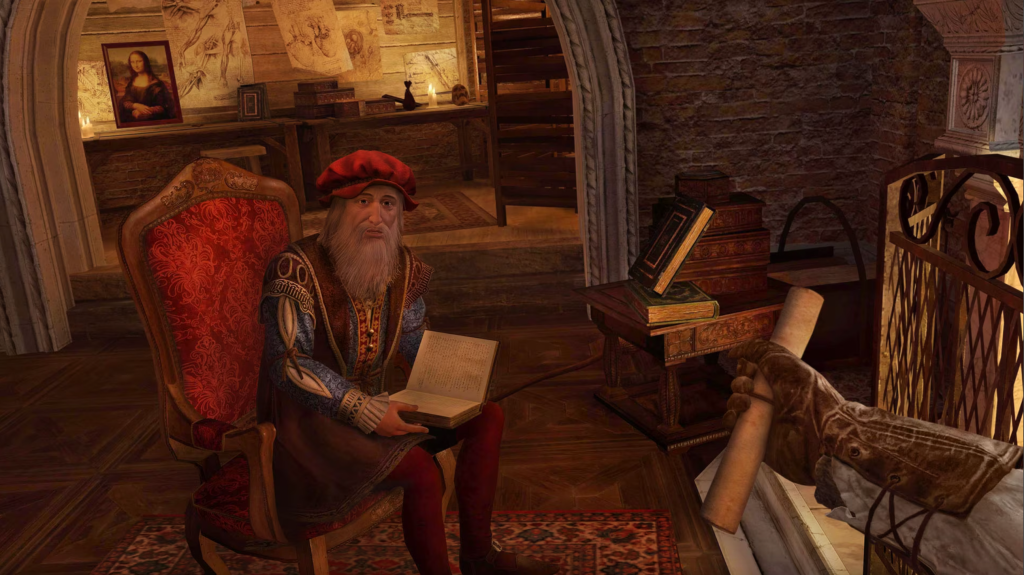 Like many VR titles, Assassin's Creed Nexus plays more like an experience, rather than a typical narrative game. The storyline guides you to the most interesting and immersive VR moments, but that's not a bad thing. Gazing down at the canals of Venice, having just offed some palatial guards, makes for an enthralling feeling. Wading through the streets as a Greek soldier just feels good. I can hurl wine goblets across the room and shred the lute like I'm in the Renaissance Period's answer to Metallica. I have swords, a tomahawk, bows, crossbow, throwing knives and smoke bombs at my disposal. The temptation to impulsively attack a random NPC or bully Leonardo da Vinci for being a nerd is a constant temptation, and takes up much of my in-game time.
Gameplay rarely gets tedious, with only the stealth elements being a little repetitive. The most fun is to be had in simply exploring the setting, which is true of almost every Assassin's Creed title. There is one thing that stops me from playing, though.
Motion sickness is very real in Assassin's Creed Nexus, and is hard to ignore. To Ubisoft's credit, the game encourages you to take regular breaks and offers numerous settings to help quell the sickness. But even after changing the settings in every way I can imagine, little helps. Taking on enemies in close combat can be a discombobulating experience. I acclimatise myself to scaling buildings, only for a swift right turn to turn my stomach. The leap of faith, perhaps the game's most famous ability, feels like being sucked into a vortex of hay and horse manure. My first leap ends with me taking off my headset and needing a lie down.
Is motion sickness enough to stop me from playing the game entirely? Perhaps, but that would really depend on how experienced you are with VR and how strong your stomach is. I personally couldn't last much beyond 20 minutes before taking a break.
Assassin's Creed Nexus verdict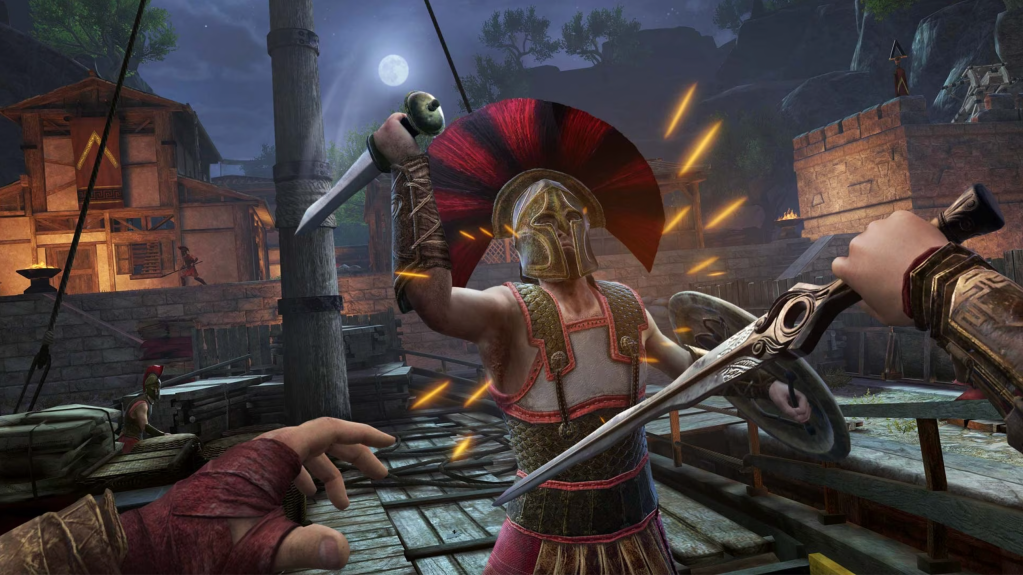 Ubisoft could have easily phoned it in with a VR version of Assassin's Creed. But credit where credit is due, Assassin's Creed Nexus offers an original, engrossing and most importantly, hugely entertaining experience for VR gamers.
While the game is lacking in a truly engrossing story, the thrill of bringing the ruckus to ancient worlds is a fantastic one… just don't play on a full stomach.
Stuff Says…
A leap of faith that thankfully paid off, Assassin's Creed Nexus is one of the best VR experiences out there. Just make sure you have a barf bag on hand…
Pros
Immersion is top-tier
Incredibly fun, with great gameplay
Pushes VR to its limits
Cons
Expect to feel very nauseous…