Apple iPhone 12 Pro Max review
Is bigger better?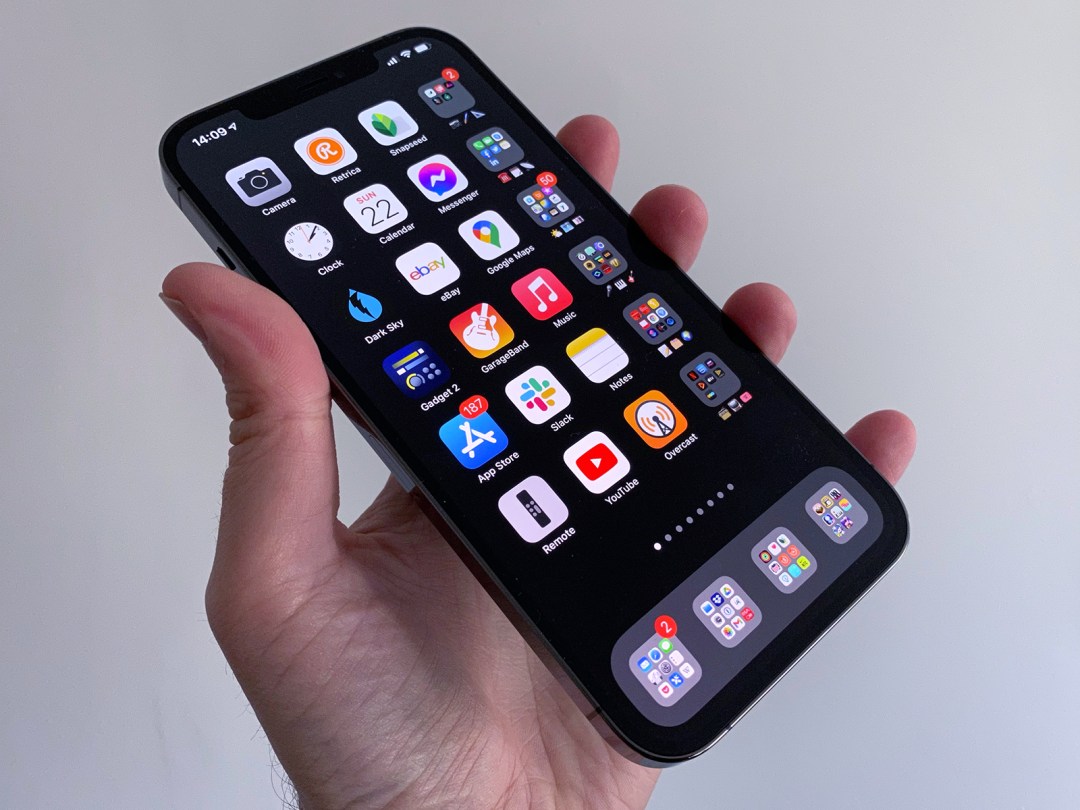 Apple's iPhone 12 was a big step up from last year's vanilla iPhone 11. The iPhone 12 Pro also tickled our fancy. But now we're on to the flagship: the Apple iPhone 12 Pro Max.
With Apple's smaller iPhones now better than ever, can Apple convince you to splash out extra cash on its priciest blower?
Pro to the Max?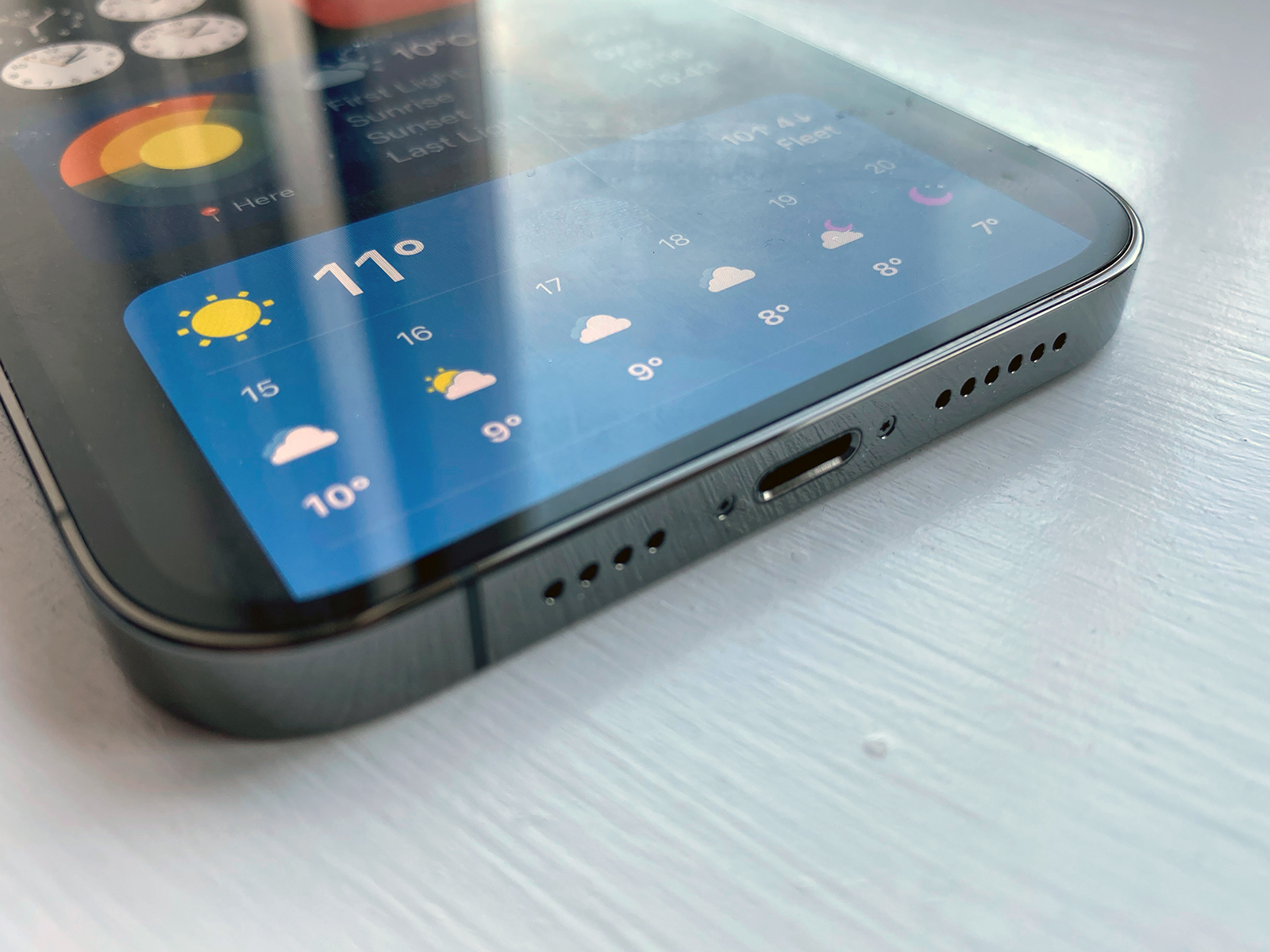 For most features, the iPhone 12 Pro Max matches the iPhone 12 Pro. We've covered the latter in our review and so here will mainly concentrate on what differentiates the Pro Max: its physical dimensions, larger display and superior camera system. But if you don't fancy clicking a link, we'll blaze through some of the other key improvements Apple's latest has over last year's flagship iPhone.
The A14 chip deftly deals with any app/game you throw at it. The extra power over the A13 isn't overly noticeable in general use, but provides extra headroom for compute-heavy tasks. 6GB of RAM (up from 4GB) helps when throwing around virtual instruments in a DAW or editing 4K video.
There's 5G, if you're fortunate enough to live where it's been rolled out (and can deal with the hit to battery life). MagSafe provides scope for accessories you click on to your phone, rather than suffering the indignity of having to first line them up properly.
To keep your iPhone safe, Apple claims this one has IP68 water resistance to 6m for 30 minutes, "super tough back glass" and "Ceramic Shield" glass on the front with 4× better drop performance. We declined to test these figures by hurling the phone off of a cliff and into the sea, and so you'll have to take Apple at its word.
Bad bits? The device uses Lightning rather than USB-C, lacks Apple Pencil support, and has no Samsung DeX equivalent with external displays. We get that Apple wants you to buy iPads or MacBooks for work, but it's frustrating that the iPhone 12 Pro Max cannot be your sole computing device when it's clearly capable and powerful enough.
Design: it's a handful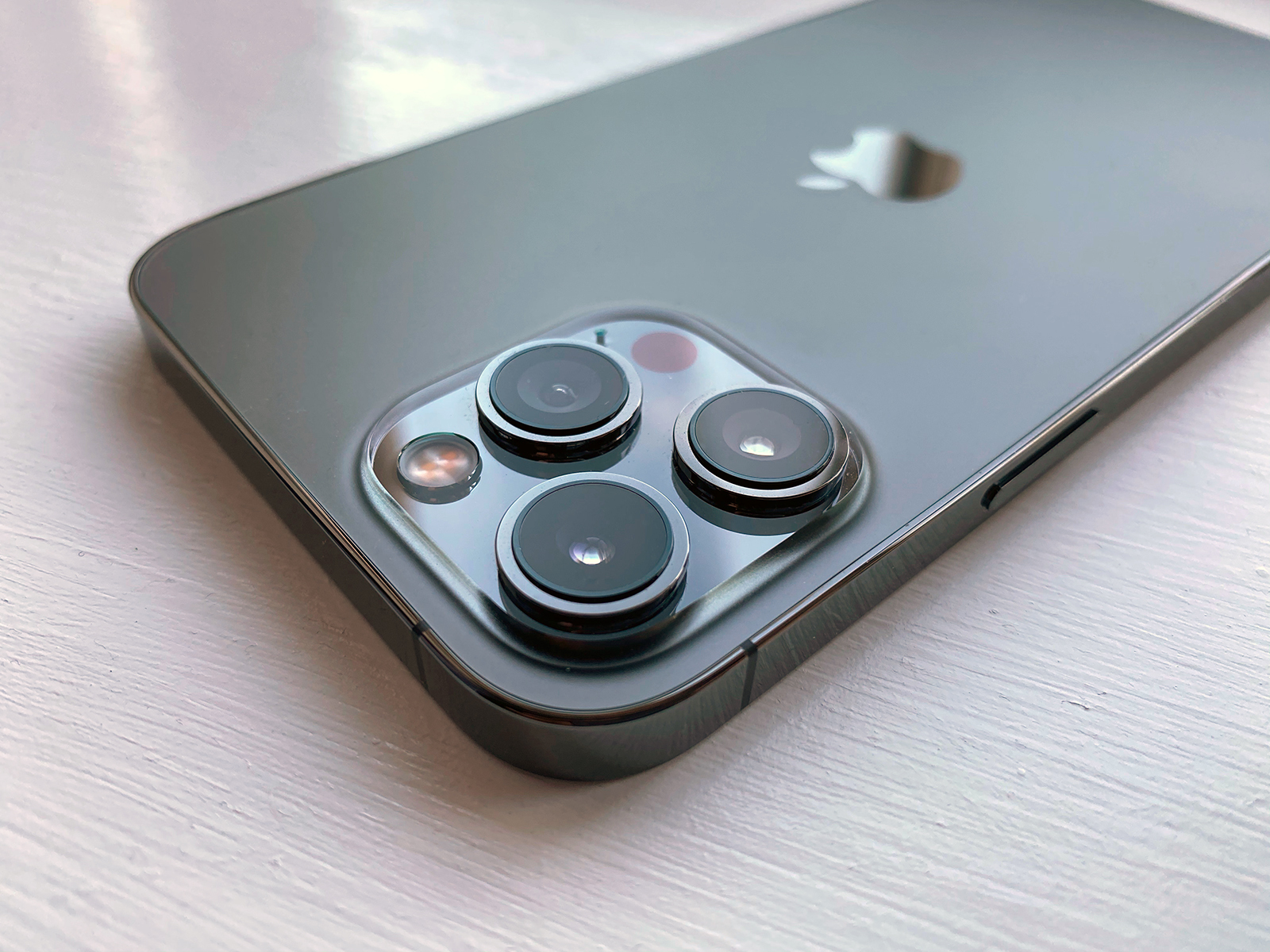 To date, there have been two truly iconic iPhone designs: the beautiful original and the boxy, flat-edged one from the iPhone 4/5 era. This latest effort is a love letter to the latter and feels like Apple's Porsche 911: a timeless design unconcerned with what everyone else is doing.
From a practical standpoint, it works. The flat edges don't cut into the hand and provide purchase for fingertips. The phone feels solid. You're less likely to drop it than last year's curvier flagship.
But like its predecessor, this phone is heavy (228g) and unwieldy (160.8mm tall; 78.1mm wide). If you've tiny hands, forget it. Standard pockets? It'll stick out. Thinking of using the MagSafe wallet? Don't – unless you like playing 'hunt the missing credit card' when it inevitably flies off the back of your iPhone as you shove the thing into your jeans.
Additionally, the larger camera bump means this iPhone rocks back and forth when set flat on a table. If you plan to use it that way, get a case – which is also handy for stopping the stainless steel edges becoming a fingerprint magnet.
Display: the big screen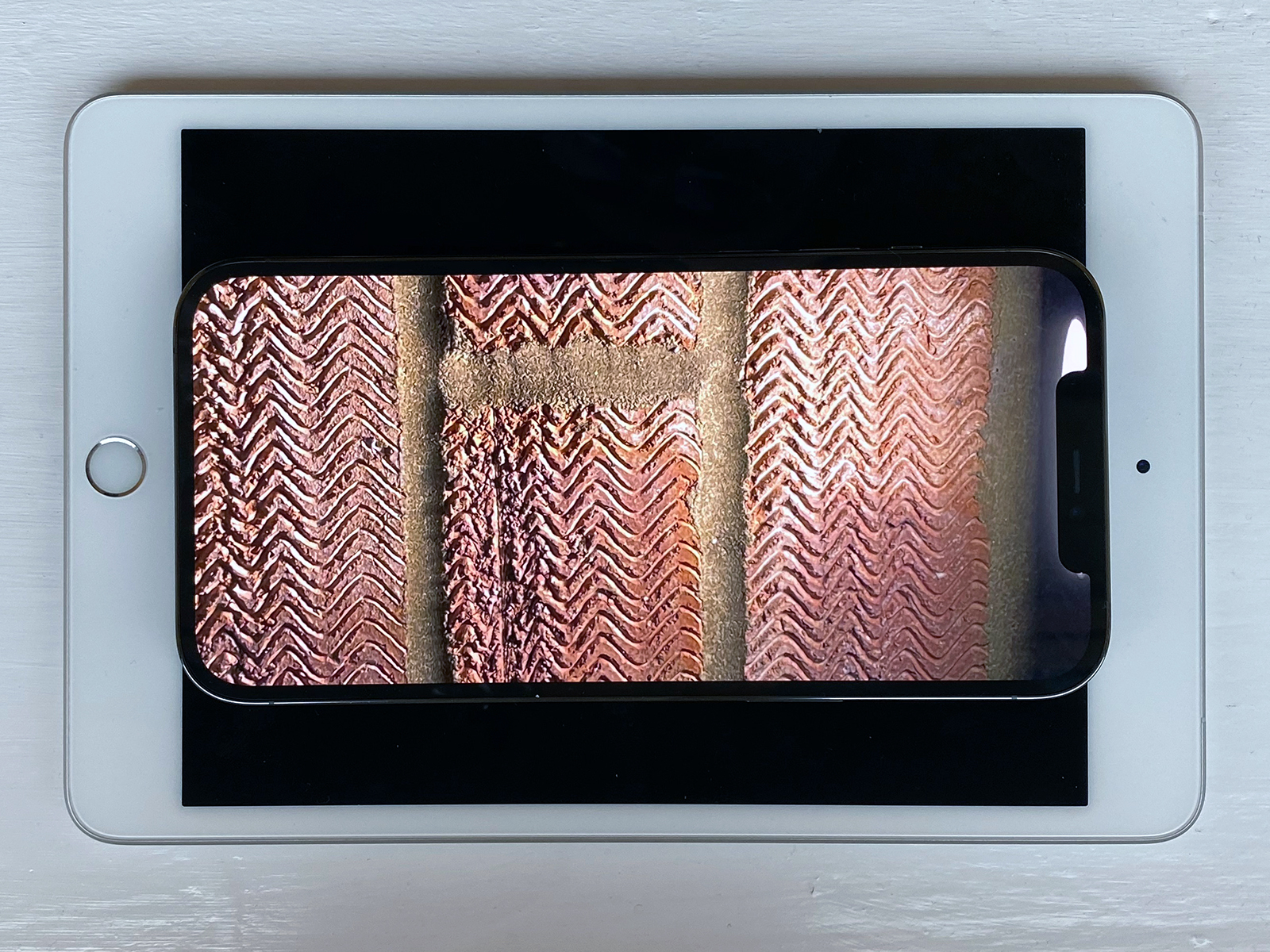 The Pro Max display matches that of its smaller sibling in being bright, colour-accurate, offering great contrast and not being a mirror. Optional True Tone adapts to local lighting, so what you gawp at always looks great.
The differentiator from the iPhone 12 Pro (and iPhone 12) is the display being larger – clocking in at about half an iPad mini, but with a far higher pixel density. The screen's specs also marginally better the one on last year's iPhone 11 Pro Max: 6.7in (2778×1284px) compared to 6.5in (2688×1242px).
Extra screen space over smaller iPhones can be a boon for content creativity. In a DAW, graphics package or video editor, there's more space to work. In landscape, some apps offer a two-pane view – unique to 'Max' iPhones – although as of iOS 14, Apple itself is broadly abandoning this feature.
For consumption, there are benefits too. Content has space to breathe. Thumbs don't obscure vital elements in games. However, the new resolution has resulted in some poorly optimised apps: Facebook Messenger, for example, is scaled up and blurry.
Another grumble is Apple sticking with 60Hz displays. At this price point, we'd like to see 120Hz – like on iPad Pro and several flagship Android devices – even if the responsive nature of iOS and the A14 alleviates this issue somewhat.
Camera: picture perfect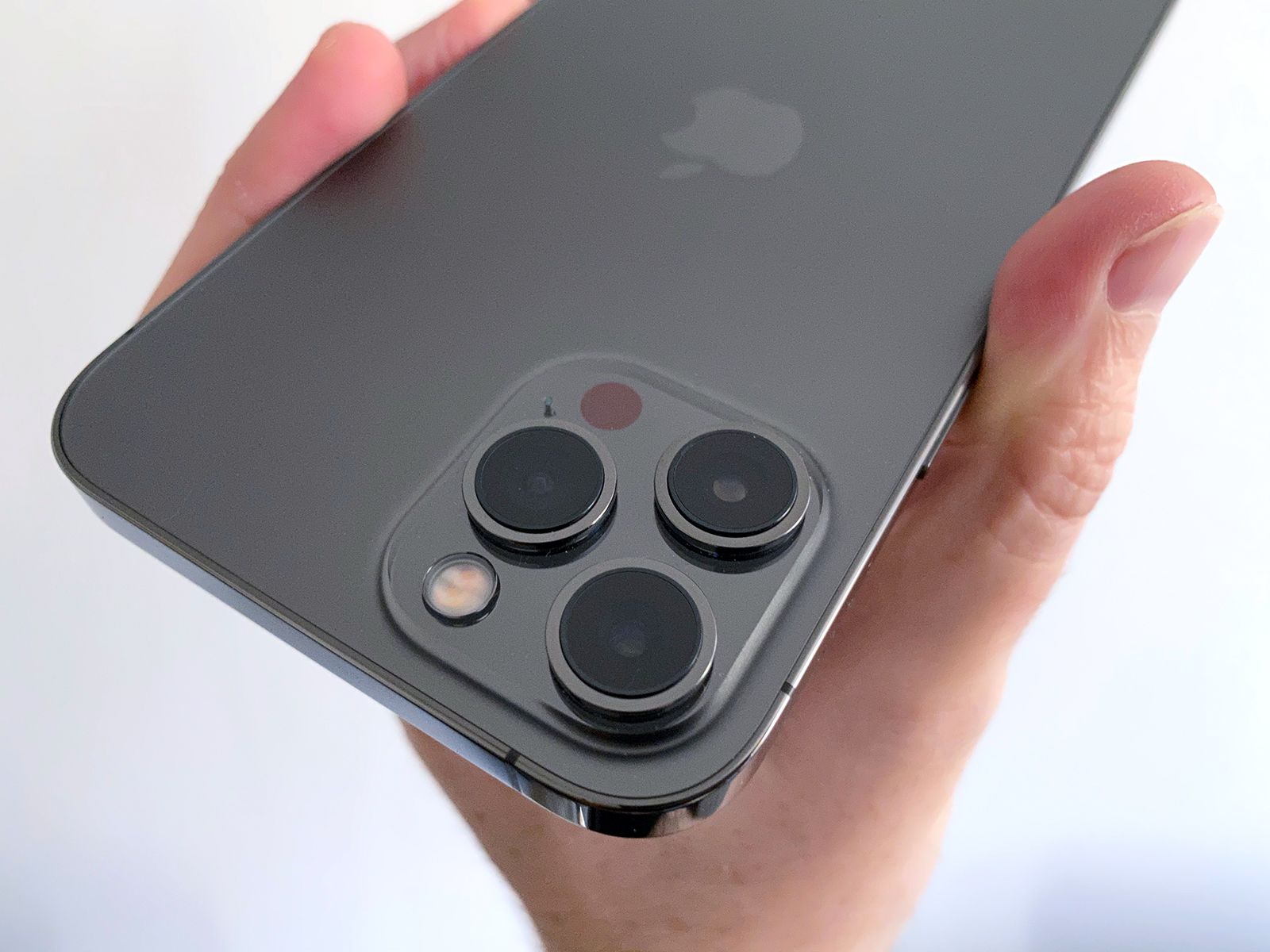 Last year, the iPhone 11 Pro and iPhone 11 Pro Max shared a camera system. That's not the case with their successors. They both have ultra wide, wide and telephoto cameras, but the Pro Max has a 2.5× optical zoom and Apple's new sensor-shift OIS (Optical Image Stabilisation) system, which stabilises the sensor rather than the heavier lens. The main camera sensor is 47% larger, which Apple states offers 87% better low light performance.
What does this mean? It depends on what you shoot, when you shoot and the keenness of your eye. In bright conditions, you won't notice major differences over last year's iPhone, bar slightly superior colour, improved details and reduction in noise. This all becomes more apparent in lower light and when shooting to RAW.
The improved optical zoom becomes interesting when arriving from Apple's previous Pro Max iPhones. At first, it feels a touch alien, like it's zooming in too far. Quickly, though, you find the ability to get closer in is something you can't do without – and you wish the iPhone could go further.
As night draws in, the combination of LiDAR, OIS, larger sensor and Apple's fancy software makes for shots that range from impressive to surreal. When it's not too dark, the larger sensor means you needn't depend on Night mode so much. In the dead of night, with nothing more than street lamps lighting a scene, you can still capture a surprising amount of detail. In more favourable conditions, you end up with less noise, a lower likelihood of blur and all-round faster shots.
Much of this extends to video, with the revamped sensor lessening blown highlights in scenes with tricky lighting, while the OIS system makes for steadier shots.
Verdict: iPhone 12 Pro Max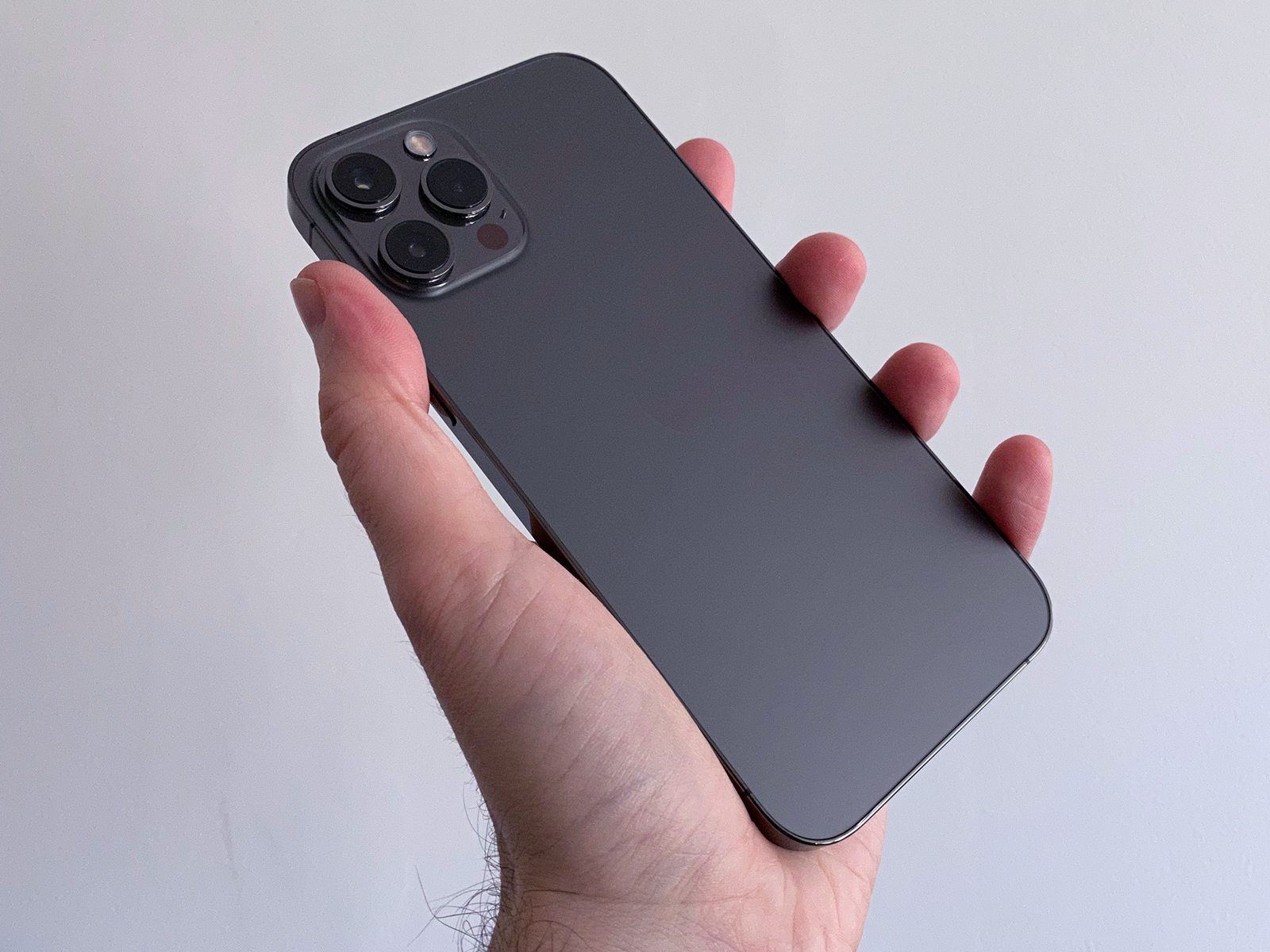 There's no doubt the iPhone 12 Pro Max is a quality iPhone – on paper, the best Apple's ever made. On that basis, it might be the iPhone you want – but you must decide whether it's the iPhone you need. That will hinge on your level of comfort with a device this size and your desire for the deeply impressive camera system.
As a straight upgrade from an iPhone XS Max or older, you'll likely grin ear to ear. If you absolutely must have the top spec Apple has to offer, you'll have already made your mind up anyway. Otherwise, mull over the screen and camera. If you can live with a smaller display and simpler snapper, get the iPhone 12 instead.
Apple iPhone 12 Pro Max tech specs
| | |
| --- | --- |
| Display | 6.7in 2778×1284 OLED HDR |
| Processor | A14 Bionic |
| RAM | 6GB (est) |
| Storage | 128GB/256GB/512GB |
| OS | iOS 14 |
| Cameras | 12MP ƒ/1.6 wide/ƒ/2.4 ultra wide/ƒ/2.2 telephoto (2.5× optical zoom in) rear; 12MP ƒ/2.2 front |
| Battery | 3687mAh (est) |
| Dimensions | 160.8×78.1×7.4mm |
| Weight | 226g |
| Connectivity | Lightning |
Stuff Says…
The only choice if you want to fully Max your iPhone experience, but make sure that's you before plonking down any cash
Good Stuff
Excellent new design
Impressive camera set-up
Lovely large display
Almost unreasonably powerful
Bad Stuff
No ProMotion/120Hz display
Edges are a fingerprint magnet
Lightning instead of USB-C
Big, bulky and heavy