Alpine A110 (2018) first drive review
A lightweight legend in the making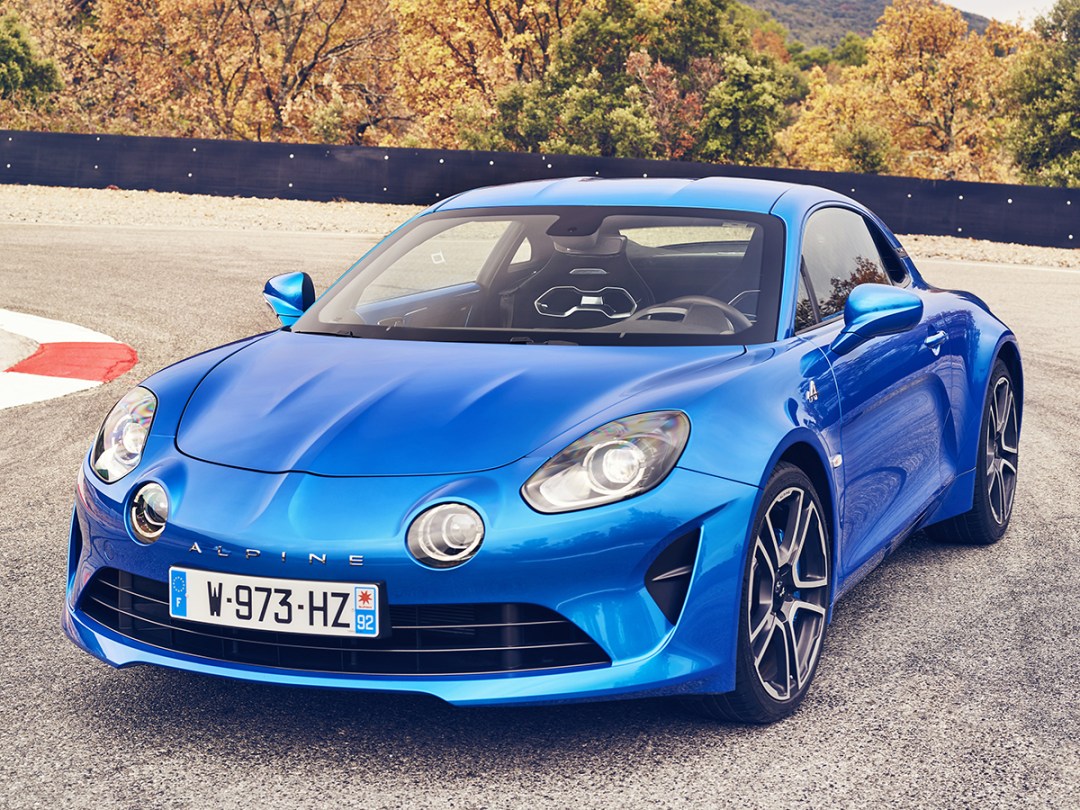 So you're on the hunt for a two-seater sports car – but you want something a little different from the usual suspects.
Nothing clinical, conformist and German, like a Porsche. Nothing ostentatious, OTT and Italian like an Alfa Romeo. No, you want something with a little va va voom. A bit of Je ne sais quoi. That's something only the French can provide.
Enter the Alpine A110.
Renault has resurrected the classic marque with a rear-engine, rear wheel drive stunner that stays true to the rally-bred pedigree of the 1960s and 70s originals – meaning weight is very much the enemy.
It's ultra-light, brilliantly balanced, and might just be the best thing I've driven all year. Here's why.
BUILD: WEIGHT WATCHER
Find a set of scales big enough and they'll tell you the A110 weighs a minuscule 1103kg – but that's more than just a happy coincidence. Everything about this car was designed, tested and manufactured with weight-saving in mind.
The whole thing is built from aluminium. Not just the body panels, but the sub-frame too. Practically everything is riveted and bonded together, rather than welded, to save every gram possible.
Almost every part of the car has one clever way to save weight: there's no boot spoiler, because a rear diffuser does a better job at creating downforce. The rear brakes double up as parking brakes, instead of using two sets of brake pads. Even the windscreen washers do their bit.
It's such an integral part of what makes the A110 that we've written a fact-stuffed listicle devoted to how Alpine shed so many pounds.
Could the engineers have gone lighter still? Sure, with carbon fibre – but then the price would easily have doubled.
All you really need to know is that the A110 weighs 350kg less than a Porsche Cayman. I never thought I'd be calling Porsche a porker – but here we are.
DESIGN: HEAD-TURNER
The A110 is a tiny car. But with good reason: compact is lighter, y'see. And lighter is faster. Those compact dimensions haven't come at the expense of good looks, though.
From the front, it has the same signature running lights as the 1960s car, only updated for 2018 with LEDs. The pointed bonnet is another nod to the original Alpine, only here the latches have been replaced with accents that give aerodynamics a boost.
Around back, a single, central exhaust is flanked by that massive rear diffuser, and the sloping glass rear window gives a cheeky peek at the engine hiding inside. It easily gives the Porsche Cayman 718 and Alfa 4C Spider a run for their money in the looks department.
This Premiere Edition sits very low to the ground on 18in Fuchs alloys, and the Alpine-signature blue paint is a guaranteed head-turner.
Any downsides? Well, that rear window is teeny tiny from inside the cabin, with pretty awful visibility. But that's about it.
INTERIOR: VIVE LE FRANCE
Alpine (pronounced "Al-peen", lest you forget the A110 comes from the land of baguettes and fromage) is proud to be French. So proud, in fact, that you'll spot little nods and winks to the Tricolour just about everywhere you look.
The French flag is emblazoned on the door panel. It's on the B-pillars. It's even on the digital instrument cluster, right beneath the gear indicator. It's not exactly subtle, but it suits the car down to the ground.
The stubby steering wheel uses a mix of leather and alacantra, but I'd have preferred one or the other. The column-mounted gear shifters are very satisfying to use, especially on a track, with real weight behind each pull.
Elsewhere, you'll spot lashings of carbon fibre, leather and aluminium. Interior materials aren't quite up to the same standard as the equivalent Porsche, but that's kind of unavoidable when every gram of extra weight counts.
Take the Sabelt bucket seats: each one has angry cut-outs in the back rest to delete unnecessary materials, making them half the weight of the seats you'd find in a Renault Megane RS. They're not huge, but keep you snugly in place when you're chucking the car around tight corners.
I'm not sure why the passenger needs an aluminium kick plate, though – surely that could have been ditched in the quest for shedding kilos.
Small dimensions also mean you're out of luck when it comes to storage: there's space under the bonnet for a pair of carry-on bags, and a boot at the back good enough for a few winter coats, but that's about it. There's not even a glove box or door wells.
IN-CAR TECH: NO COMPROMISE ON COMFORT
The A110 isn't a stripped-out road racer – it's supposed to be usable every day of the week. That means you get plenty of creature comforts like air conditioning, Bluetooth and a centrally-mounted touchscreen.
The display isn't particularly bright, and could have been pinched from the Renault parts bin, with a fairly basic UI that merely gets the job done. There is a dedicated Alpine mode, at least, which throws up performance figures like a G-meter, temperature gauges and lap times for when you take to the track.
The digital instrument cluster puts on a serious face when you drop into Sport or Track mode, sticking rev count and the gear indicator front-and-centre. You can't stick the sat-nav there for regular driving, though, like you can on Audi's Virtual Cockpit display.
The stalk for controlling the sound system feels like it fell off an early 2000s Scenic, and is completely out of place here. Some of the other switch gear is shared with decidedly more vanilla cars like the Clio, too.
The stereo could have been another victim of weight saving, but instead Alpine partnered with audio experts Focal to build a system that didn't weigh a ton. It probably helped that the Focal factory is just down the road from Alpine, too.
The two main driver, two tweeter system uses neodymium magnets that weigh a whole lot less than a standard stereo. It sounds fantastic, too, with impeccable clarity and bass that makes itself felt when you're driving hard, even without a dedicated subwoofer.
PERFORMANCE: GOOD LUCK KEEPING UP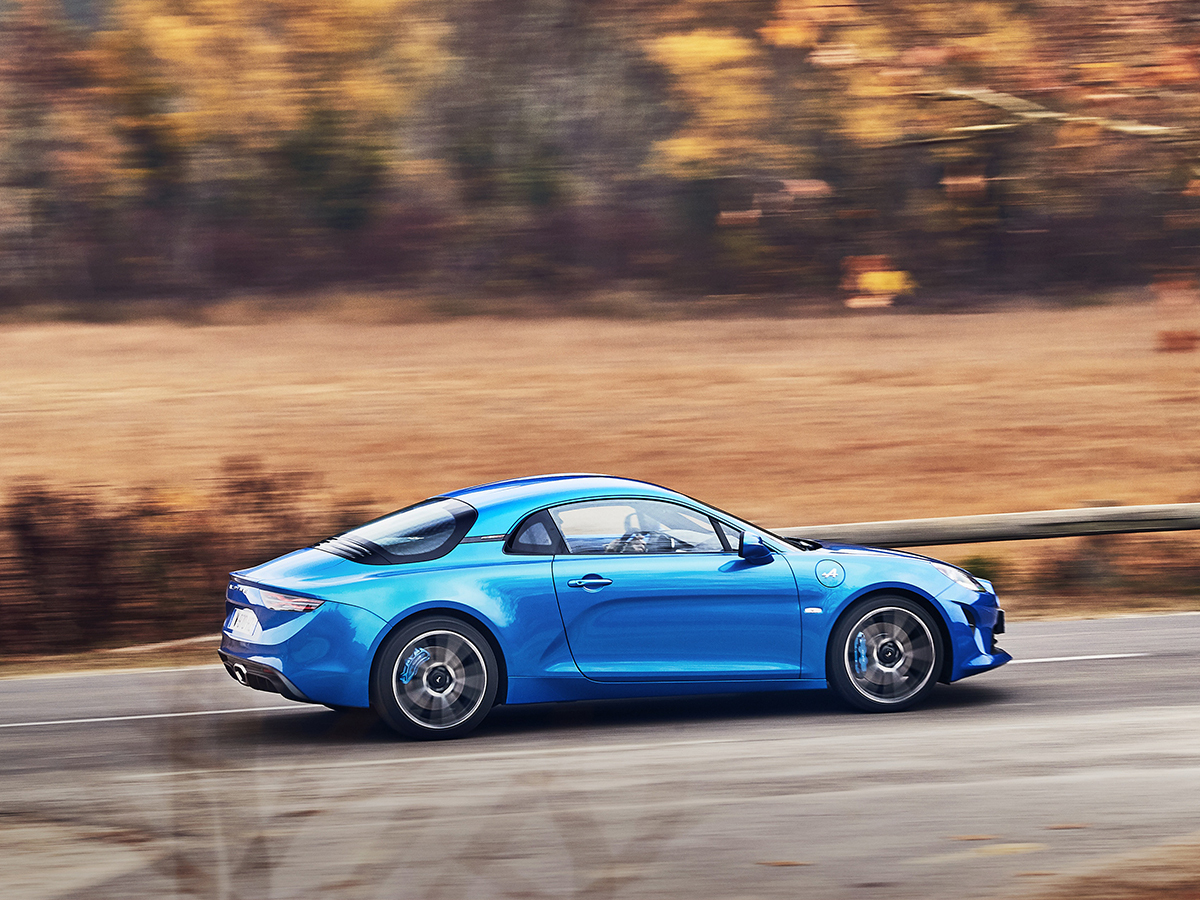 With so little weight on board, Alpine could have stuck a lawnmower motor in the A110 and it would have still gone like the clappers. It didn't, of course: you get a 1.8-litre four-pot, mated to a twin-scroll turbocharger and driven through a 7-speed dual clutch gearbox.
That translates to 249bhp – which might fall short of a Porsche Cayman, or even some of the hottest hot hatches out there right now, but that's not the whole story. With so little to lug around, the power to weight ratio is an astonishing 226bhp/tonne – more than Porsche's portlier rival.
Foot to the floor and you'll hit 62mph in a neck-snapping 4.5 seconds. Top speed? 155mph, but artificially leashed to stop it going faster.
It's not the straight line speed that impresses most, though: it's how the A110 makes driving at any pace put a massive grin on your face.
RIDE & HANDLING: NOTHING ELSE LIKE IT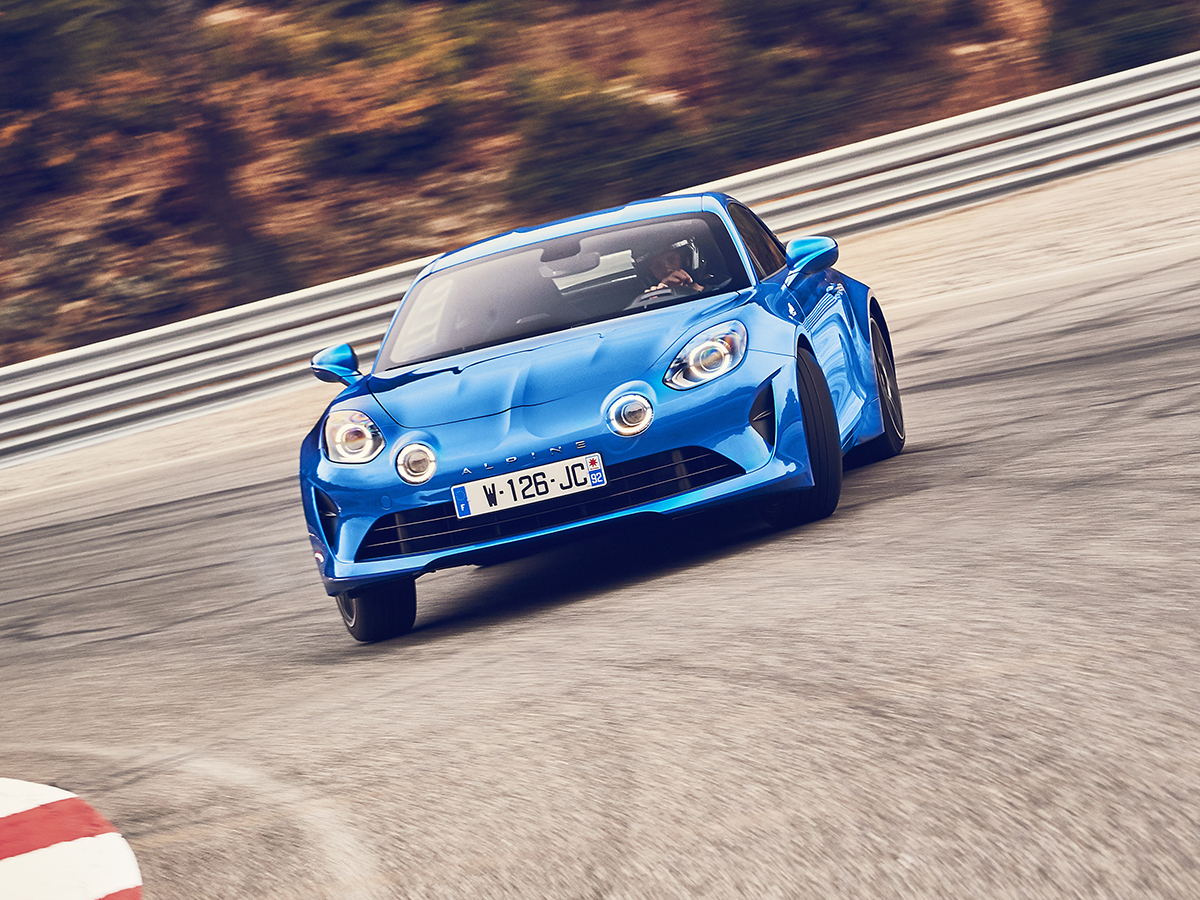 Double wishbone suspension on the front and rear meant a fair bit of drivetrain Tetris to make everything fit underneath the bodywork, but it was worth it.
With the engine at the back, and fuel tank at the front, the A110 has a 44% / 56% weight distribution that sticks the centre of gravity firmly around the driver's hips. It means you feel more connected to every movement.
Getting too trigger-happy and stepping the back out can be a bum-clenching experience, but here you always feel in complete control, able to rescue a slide with smooth motions instead of angrily stabbing at the steering wheel.
There's no obvious body roll, even when you're chucking it through sharp hairpins and chicanes. Steering might be a bit on the light side, but it always stays accurate. And it absorbs bumpy, pothole-scarred roads like few other sports cars – you still feel the road through its skinny tyres, but it's less likely to give you a slipped disk than many of its harder-running rivals.
Braking is exceptional, too. When you've not got much weight to stop, and massive 320mm discs doing the stopping, you're going to be stopping very quickly indeed.
In the Normal driving mode, the A110 is a bit too hesitant on gear changes, and upshifts long before the redline – you're much better jumping straight into Sport for faster, more ferocious changes. Step up to Track and things are faster still.
Sport mode also angrys up the exhaust, with a few induced pops and bangs on the overrun reminding you of what's sat directly behind your head. It was never going to be as shouty or aggressive as a bigger engine block, but still sounds delightfully throaty.
RENAULT NEW ALPINE A110 (2018) INITIAL VERDICT
The rest of the car world might be steadily marching towards high-tech hybrid and electric power, but Alpine has chosen to keep things simple. And the results are phenomenal.
The A110 shows what is possible with a laser focus on keeping weight to a minimum, but never forgets that not everyone wants to take their car onto a racetrack. There are few compromises in the cabin, and it's just as fun at slow speeds as it is when you're at the limit.
However and wherever you drive it, the A110 feels rewarding, with poise and agility you'll struggle to find elsewhere – on either road or track. Others might have more power, more tech under the bonnet, and more electronic aids to keep you glued to the tarmac, but they aren't as fun to drive as this.
Alpine has crafted an incredible car – and a better advert for weight loss than fitness first and slimming world combined.
Tech specs
| | |
| --- | --- |
| Engine | 4 cylinder, 1.8-litre turbocharged |
| Gearbox | 7-speed dual clutch automatic |
| Power | 249bhp, 239lb ft torque |
| 0-62 time | 4.5 seconds |
| Top speed | 155mph (restricted) |
| Fuel economy | 46.3mpg (combined) |
| Emissions | 138g/km CO2 |
| Weight | 1103kg (with fluids) |