Alienware AW3423DWF review: hits the mark
Is the Alienware QD-OLED a game changer?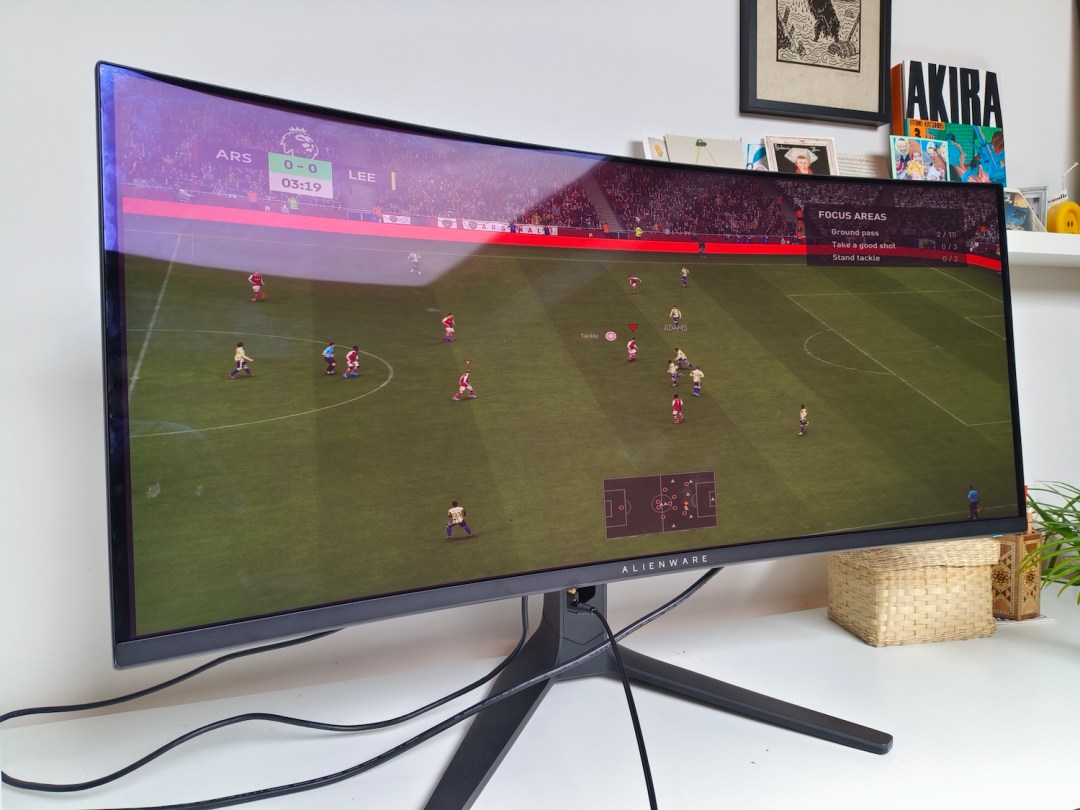 With FPS-friendly features and a frankly ridiculous set of specs, the Alienware AW3423DWF is the figurehead for a new generation of premium gaming monitors. LCD tech is out and quantum dot OLED is in, bringing unbeatable contrast, epically fast response times and impactful colours that will put many top-tier TVs to shame.
New technology is never cheap, though, so the AW3423DWF will nearly make as big a dent in your bank balance as a big-screen telly. The jury is also still out on whether a curved or flat screen is better for owning teenagers on Fortnite. Flat screens are usually cheaper and don't catch sunlight as much as curved, so are still generally the go-to for gamers – but perhaps that owes more to buying habits than specs. Curved panels take up more room on a desk, but up immersion, and look pretty cool to boot.
It certainly looks great on paper. How will it perform in practice?
Design and setup: low key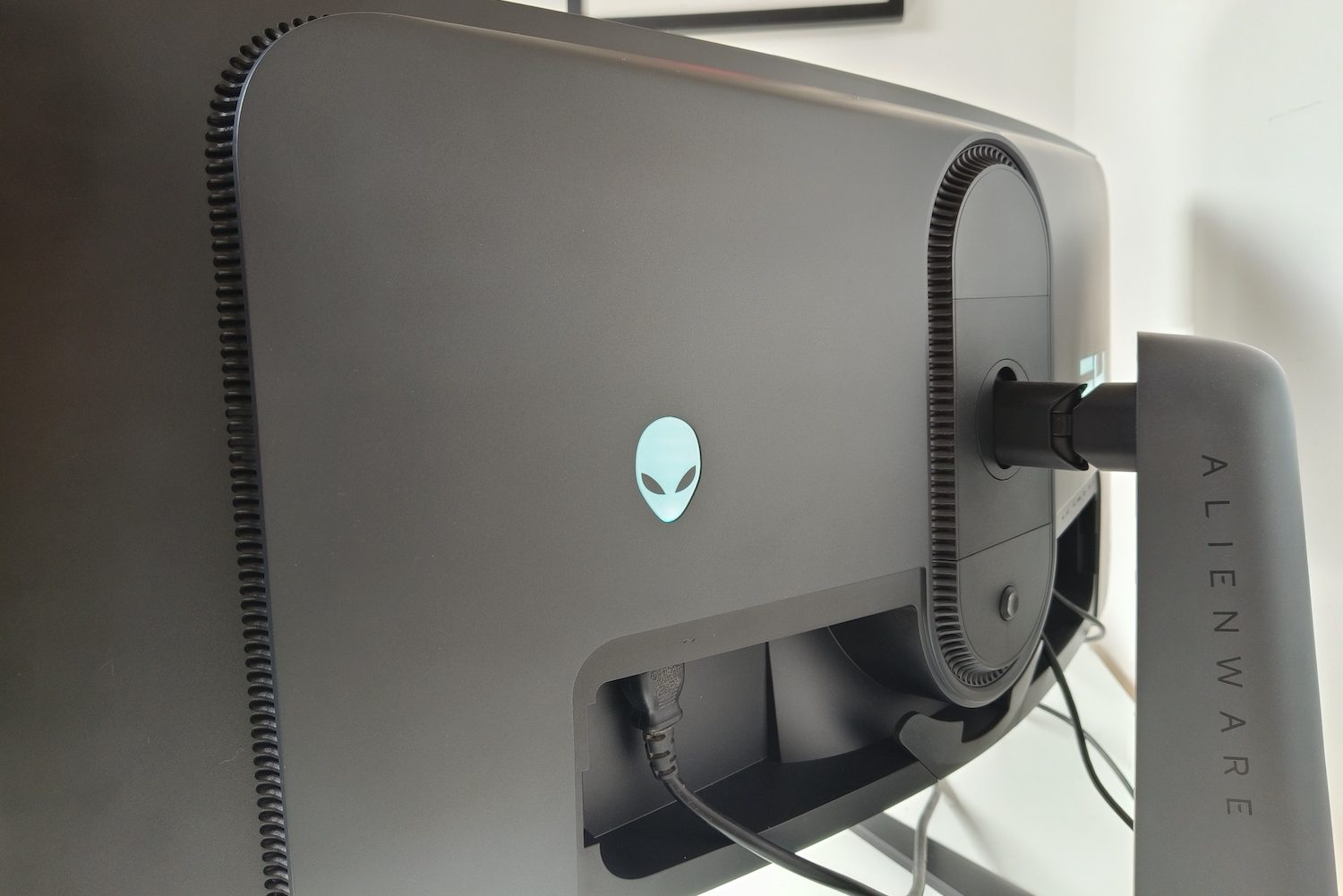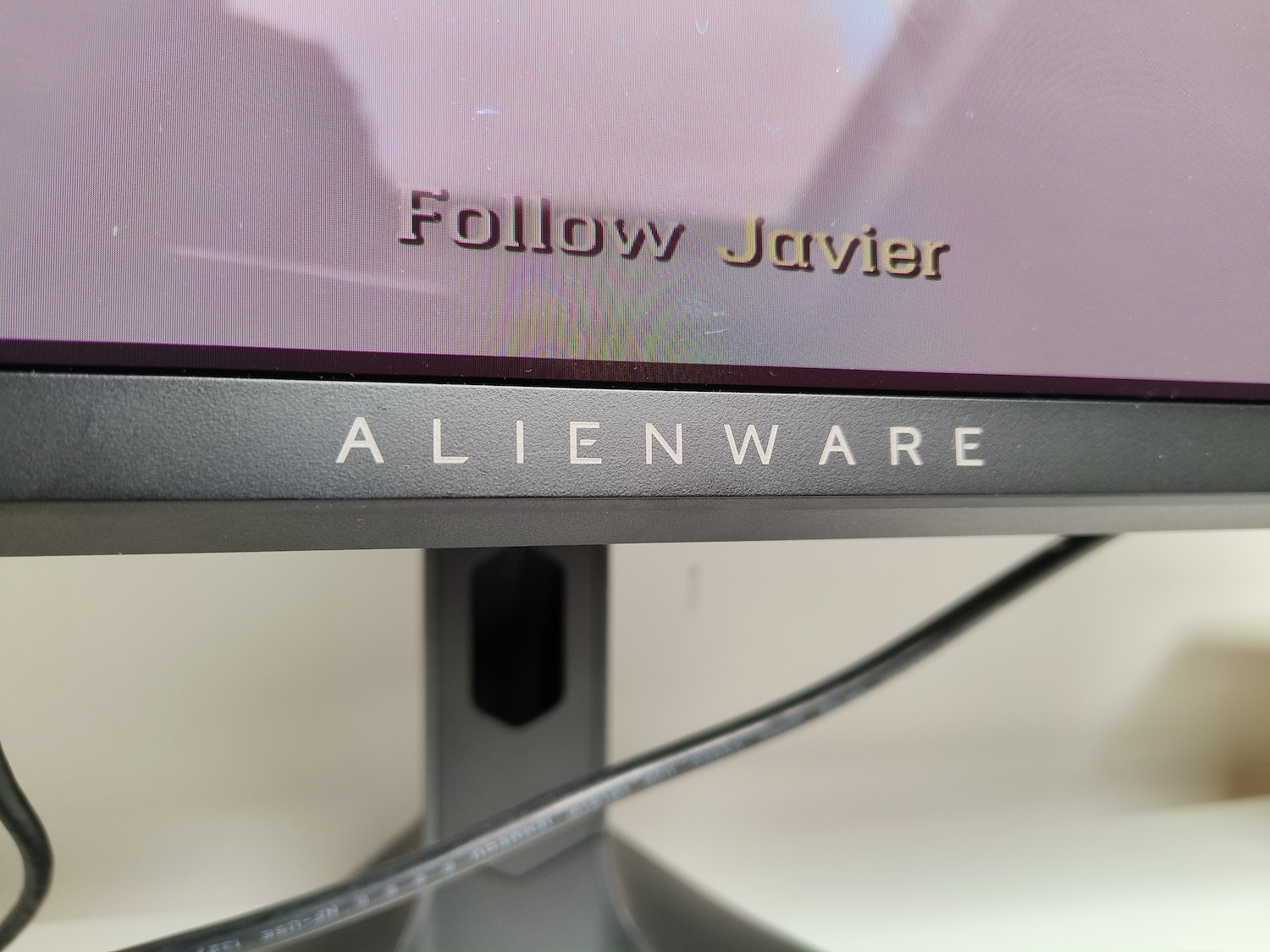 The Alienware AW3423DWF certainly looks every bit the high-end gaming screen. It's thin, light and sits nicely on a desk without looking too 'gamey'. That is to say, it won't dominate a room with overly bright lights and add-ons.
The jet black, curved screen sits on a tripod-like stand. An alien head and Alienware logo on the back emanates a soft glowing, lime coloured hue when the screen is switched on. This gives a nice, wall bounce effect, but isn't entirely vital to the playing experience. The screen tilts and rotates with a reassuring sturdiness. The slightest positional tweak stays firm, offering much greater viewing personalisation. 
Features & connectivity: in the crosshair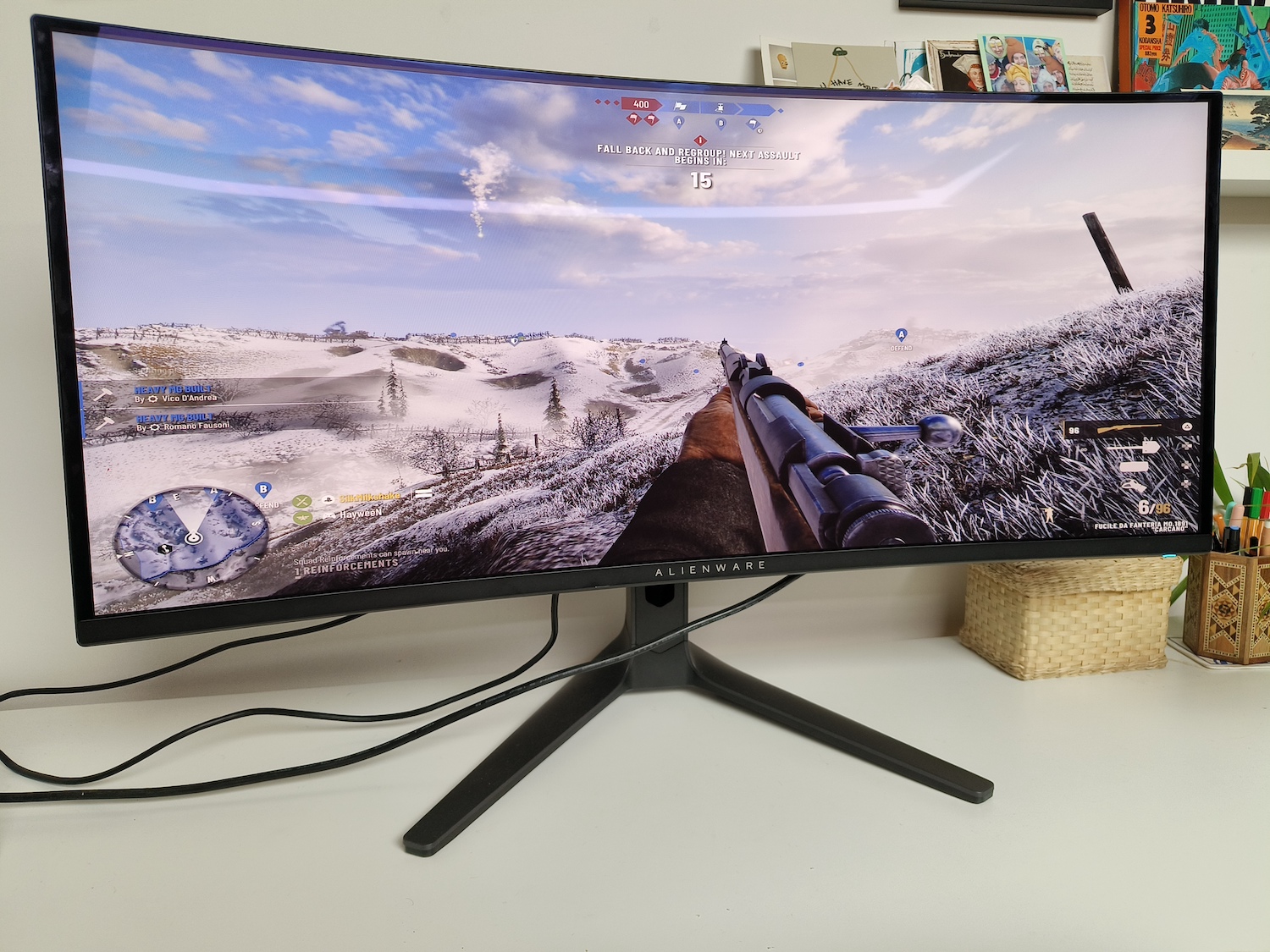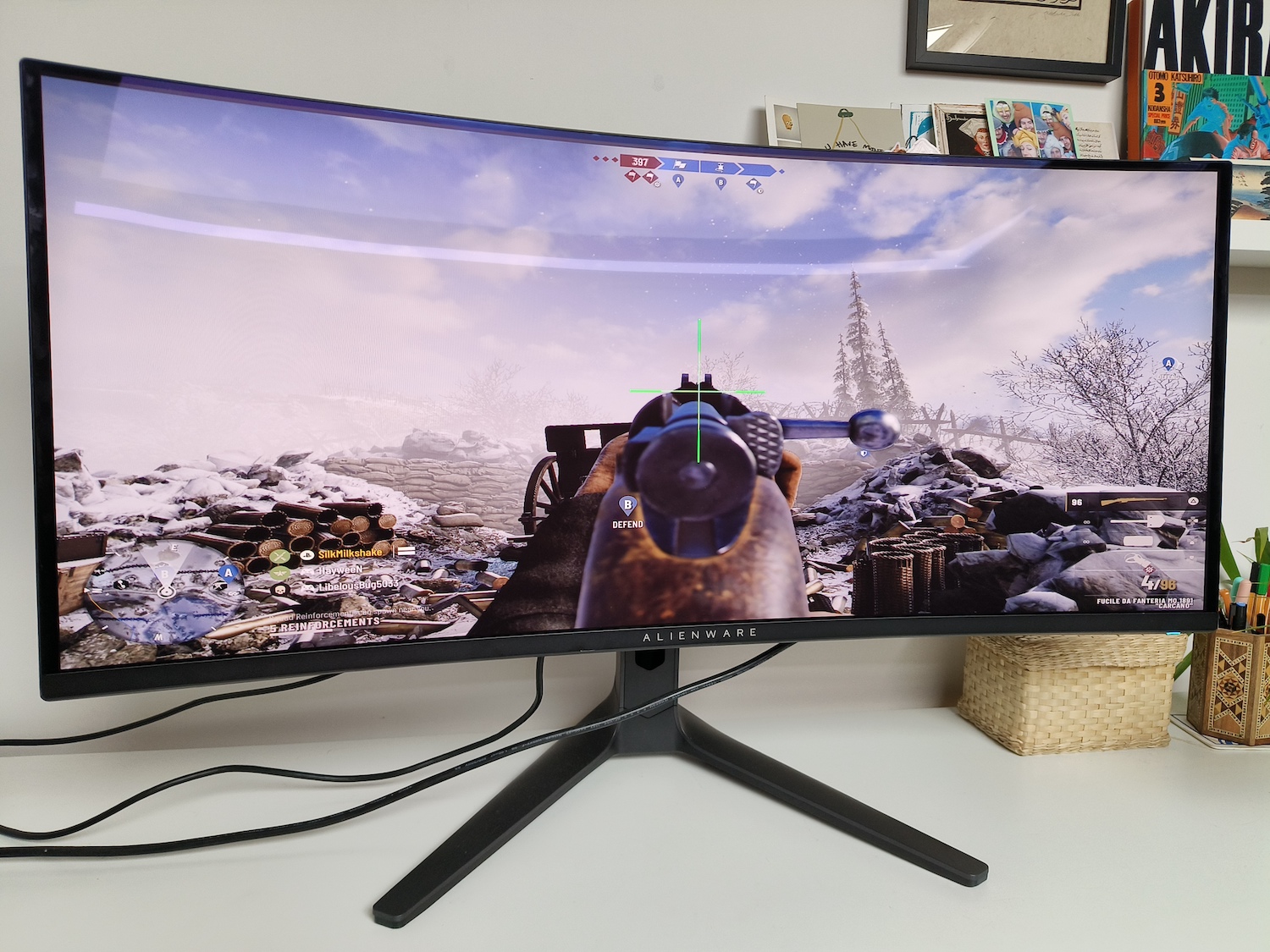 An abundance of ports at the rear include a single HDMI, twin DisplayPort 1.4s, two USB 3.2 Gen 1 ports and two USB 3.2 Gen 1s, plus an upstream USB 3.2 Gen 1 port for connecting to your PC. There's also an audio line-out and headphone port. 
A lot of ports require a lot of cables, but this is somewhat tidied up by a well-considered cable layout. The display and power ports are on the back, with two USB ports and the headphone jack conveniently placed on the front. This helps stop the cables from being tangled into one big messy braid. But really, a wire-heavy setup is par for the course. 
Configuration is handled by clearly laid out onscreen menus, controlled through a small joystick underneath the front of the monitor. This can be quite a fiddly way of doing things, but once you find your optimum preferences we found little need to change settings. It has all the usual brightness, colour and power saving modes you'd expect, plus an AlienVision section that holds a number of presets designed for different types of gamers. Night Vision increases in-game visibility by boosting clarity and contrast in dark scenes, while Clear Vision mode improves sharpness by dialling back obstructive elements like smoke, haze or mist. Chroma Vision applies a heatmap effect to your game, which can be useful for spotting enemies in crowded areas.
There's also an option to overlay a custom crosshair on top of your game, to help make aiming in first person shooters a little easier. We're not skilled enough at Modern Warfare or Destiny 2 for it to make a huge difference to our multiplayer matches, but in online FPS WW1 Isonzo it was incredible how quickly our performance improved. It feels like cheating at times – but we're not above turning it on in a pinch.
Any heat the QD OLED panel produces is expelled through a 360° ventilation system. Even in a slightly boxy office attic, there was no noticeable increase in heat or comfort.
Screen and sound: fluorescent hadoukens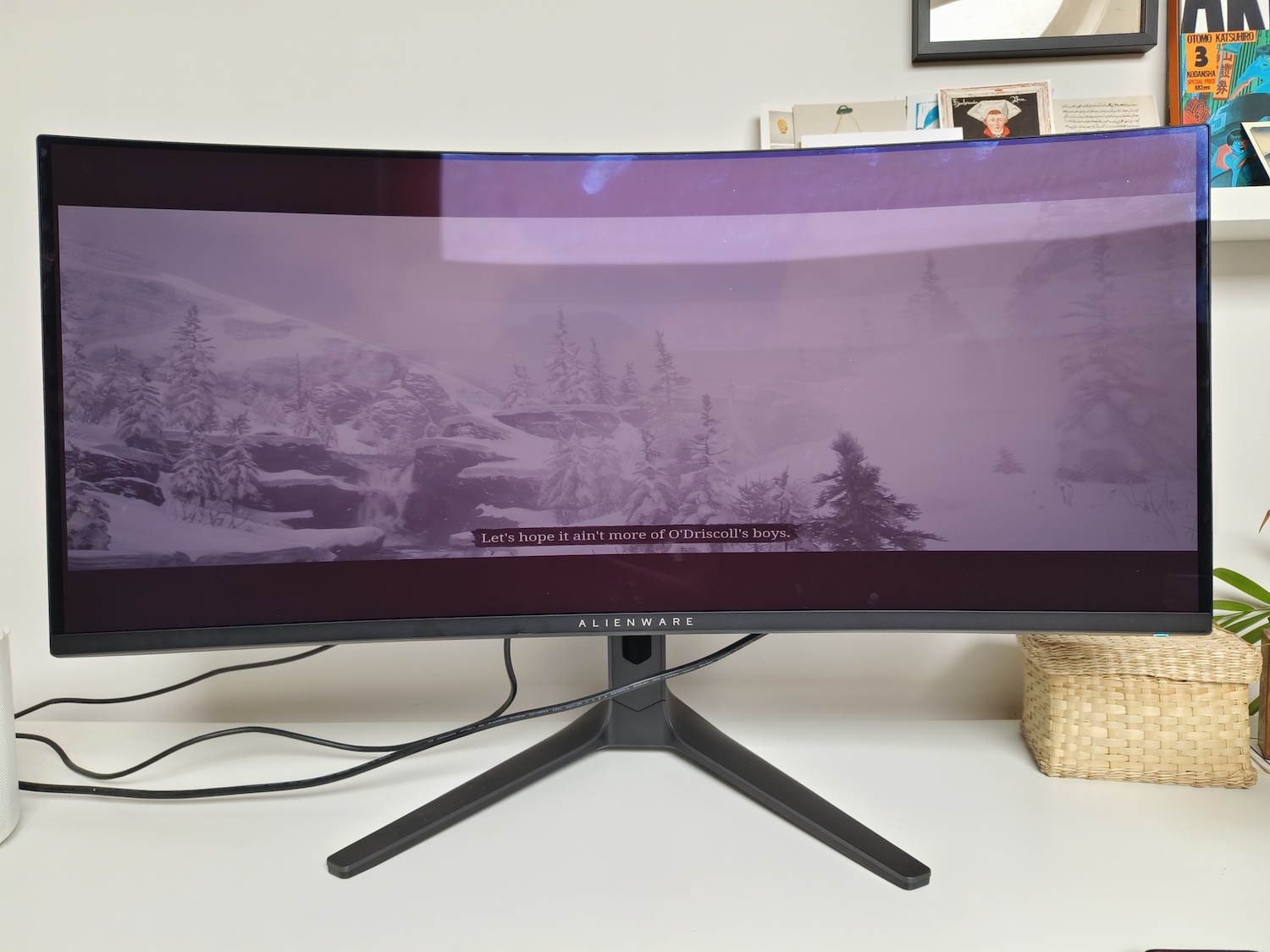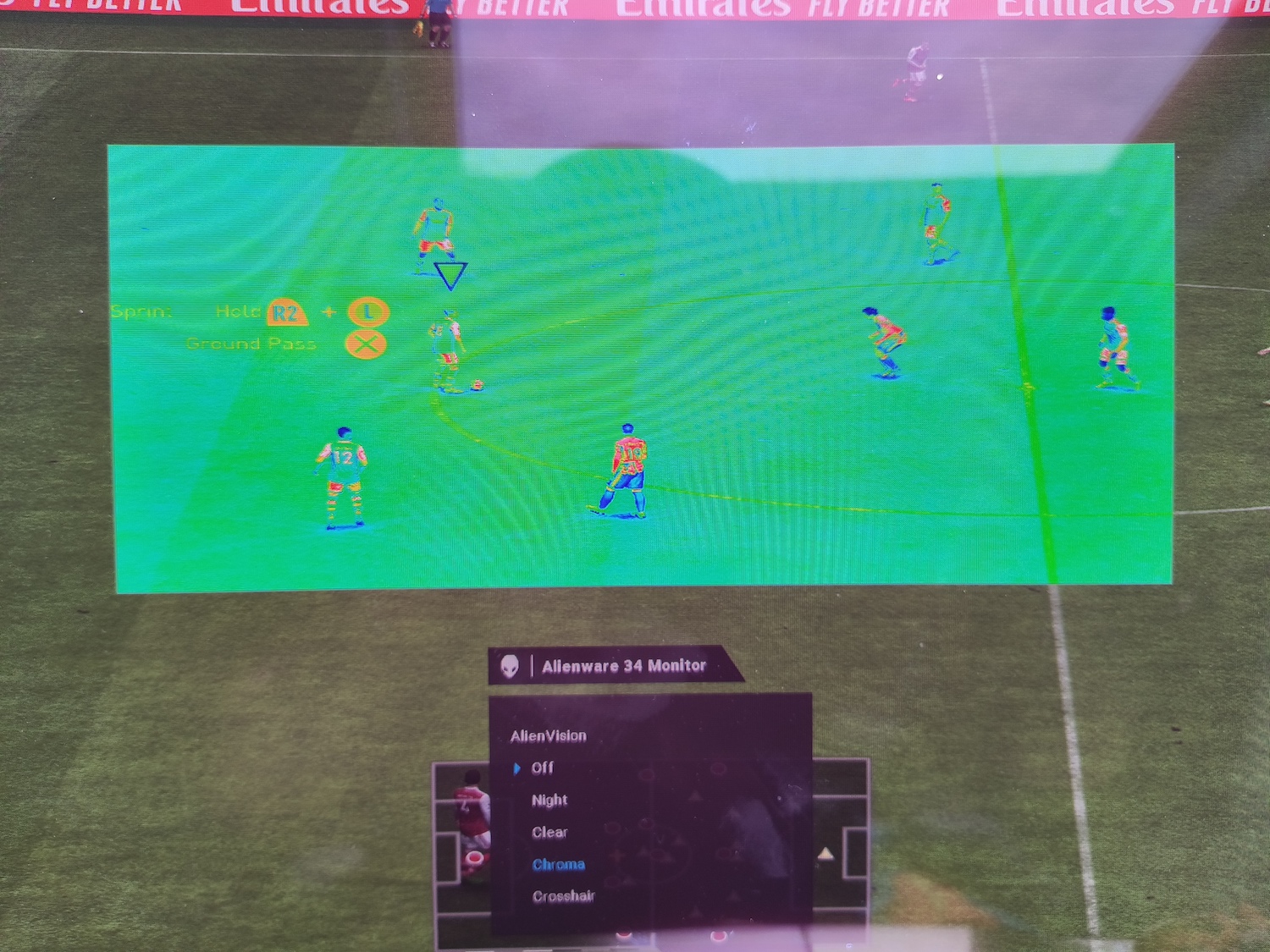 The Alienware AW3423DWF's QD OLED panel is a quantum leap from the IPS and VA display tech used by most monitors. It uses blue light to brighten red and green quantum dots, which give colours overall more vibrance than even a regular OLED screen can manage. Even among similarly-priced rivals, we found the AW3423DWF delivered vastly better colour performance.
Everything has incredible impact, from games and movies to simple desktop backgrounds. The vibrant, comic book-esque graphics of Street Fighter 6 pop as the game as the game intended. We've never seen a more beautifully fluorescent hadouken. Red Dead Redemption 2 is as cinematic as ever – roaming the expanses of Ambarino felt fresh and new, despite previously pumping a good 100 hours into the game. Alienware says it delivers a cinema-grade 99.3% colour coverage of the DCI-P3 gamut, so creative pros should have little to complain about.
This is a 3440×1440 resolution panel, which won't work your PC's graphics card quite as hard as a 4K display might, but you'll still need something beefy to play newer games at maximum settings. The 165Hz refresh rate is more than quick enough for single-player gaming, and AMD FreeSync Premium Pro certification means screen tearing shouldn't be an issue either. While serious esports fans might insist on even higher refresh rates, the other benefit to OLED tech is rapid response times. 0.1ms rapid, to be exact. This makes motion look extremely smooth, and is especially noticeable playing games like FIFA where back and forth action can trip up lesser screens.
A 1000 nits peak brightness means all of the above gets delivered even when you're battling sunshine glare. Well, almost. Smudges and fingerprints also stick around, so treat the screen the same way you would a 16th Century first edition novel. You'll also want to steer clear of static images where possible, as despite the AW3423DWF having pixel and panel refresh modes that run while the monitor is on standby, burn-in is a possibility.
As curved screens rely on the viewer sitting directly in the middle of the screen, they're not always a great choice for social viewing. The Alienware AW3423DWF does surprisingly well here, with image clarity that doesn't seem to blur or warp too much when viewed at different angles.
Alienware AW3423DWF verdict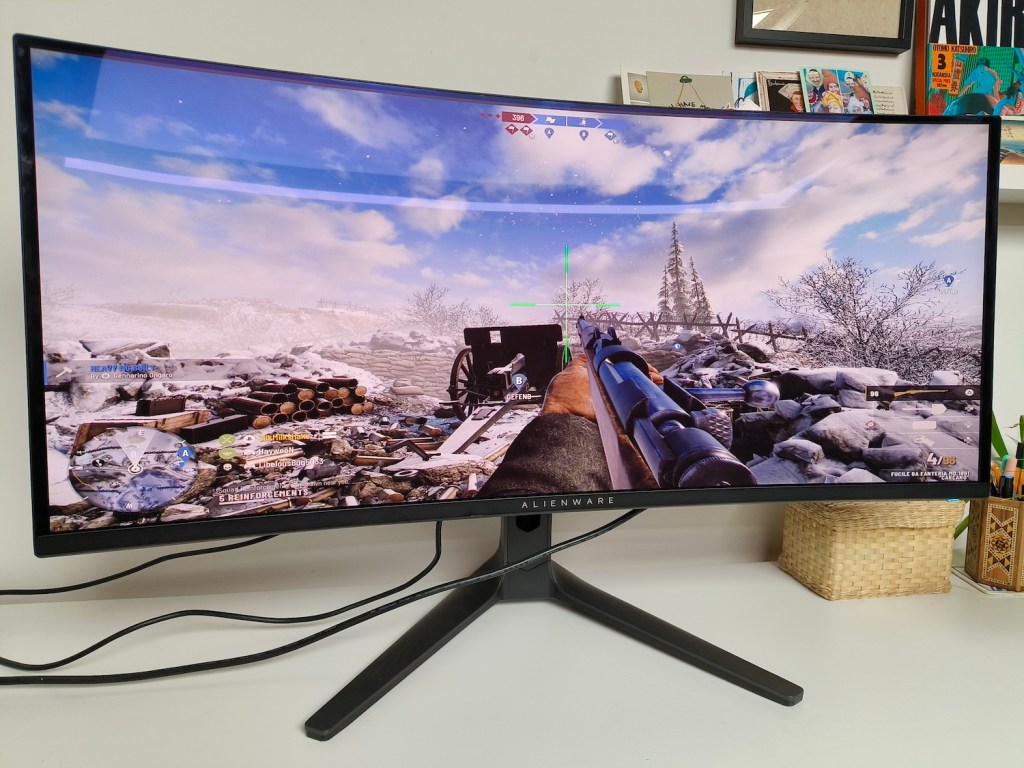 The Alienware AW3423DWF is undoubtedly overkill for the more casual gamer, and its curved screen makes it a little less suitable for co-op gaming sessions – but in all other respects it's a fantastic monitor. The QD OLED panel is huge image quality step up from anything that uses any kind of LCD display.
If you learn its ins and outs and how it can help up your game, the AW3423DWF is also a monitor that will pay you back in trophies and achievements.
Stuff Says…
The Alienware AW3423DWF not only changes the game with impeccable image quality, but it's player-friendly features will help you win it too
Good Stuff
Incredible QD OLED image quality
Specs that bring the best out of your gaming
Lots of customisation options
Bad Stuff
Expensive, but you get what you pay for
Alienware AW3423DWF technical specifications
Screen size
34in
Resolution
3440×1440 (DisplayPort: 165 Hz, HDMI: 100 Hz)
HDR
DisplayHDR 400 True Black
Inputs
HDMI, 2x DisplayPort 1.4, 2x USB 3.2 Gen 1 downstream with Battery Charging 1.2, 2x USB 3.2 Gen 1 downstream, USB 3.2 Gen 1 upstream, Audio line-out, Headphones
Dimensions
815.25mm width x 305.71mm depth x 525.57mm height – with stand (lowest position)
815.25mm width x 127.11mm depth x 364.15mm height – with stand (highest position)
Weight
6.27kg (without stand)
9.65kg (with stand)