66 degree North Glymur Pants review
These waterproof and breathable eVENT trousers are designed for Icelandic winters so will keep you safe and dry anywhere you dare to tread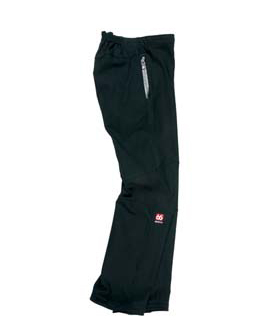 Some so-called breathable materials collect water on the inside before moving it out, leaving you feeling like some sweaty old man at a peep show.
But these Glymur pants use eVENT, a breathable fabric which works by allowing water vapour from sweat to pass straight through its open-pore membrane. Unlike many other breathable fabrics, it's porous and doesn't have to condense vapour before diffusing it out.
Breath out
Even after a hard workout the eVENT works very well. There was a slight build up of moisture inside but far less than with many other breathable fabrics, which often leave you feeling clammy.
They're also waterproof and cut to move fluidly whatever you're doing, from a gentle walk with the dog in a drizzle, to high alpine mountaineering in a raging blizzard.
Velcro straps and an elastic drawstring at the ankle lock you in tight and a webbing belt for tailored torsion keeps things comfortable.
Fit for action
The Glymurs are also very easy to pull on, thanks to a water resistant zip that runs from hip to ankle. This is backed with a wide flap to increase water-resistance as any zip is vulnerable to letting moisture in.
Our only criticisms, and this is nit picking, is that the waist is a little low cut, would ideally need to be paired with a longish jacket. It's also a single skin so you'll need thermals for very cold conditions.