Updated Samsung Odyssey Ark gets even more productive
Mammoth multi-purpose monitor is more work-friendly than ever
When it landed last year, the Samsung Odyssey Ark was about as uncompromising as gaming monitors got. The 55in curved Godzilla of gaming displays could envelop your vision in landscape mode, or rotate to portrait mode for multi-screen productivity without actually needing multiple screens. Well apparently Samsung decided that wasn't quite productive enough, so it has added a whole heap of new Multi View modes to a successor model.
You'll now be able to see up to four separate inputs onscreen at once, without having to make space for extra screens or mess about with monitor arms. That means up to three HDMI inputs, plus the new DisplayPort 1.4 connection, which supports 4K resolution playback for UHD streaming services, via the OneConnect box. That lets you stash everything out of sight and have just one wire going into the monitor itself. The original Ark could only hack a single HDMI source at once, so this is a major step up.
Samsung has also added a KVM switch, letting you hook up a single set of peripherals to control multiple systems, cutting down on cable clutter.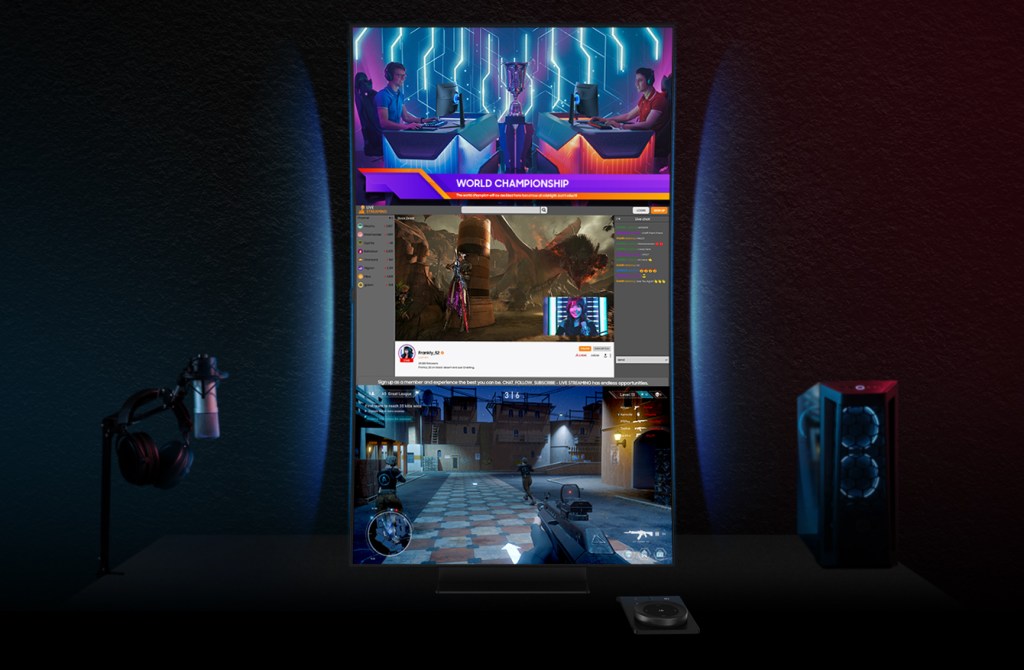 As before, the Odyssey Ark is still backlit with mini-LED tech, and has blindingly bright Quantum HDR 2000 certification for impactful colours (sorry, you still won't find OLED tech here – the 34in Odyssey G8 OLED remains your only Samsung option there). Refresh rate maxes out at 165Hz, and there's still AMD Freesync Premium Pro on-board to eliminate image tearing while gaming.
Portrait mode remains its party piece, letting you rotate the giant 55in curved panel around on its stand and virtually stack three separate inputs. Only now you aren't limited to Samsung's own smart TV interface (including Games Hub cloud streaming). It has the familiar TV remote for sitting back on the couch, and the Ark Dial rotary controller for tweaking settings on your desktop.
The updated Odyssey Ark 55in will be available to buy later this year. Samsung has yet to reveal pricing, but the first-gen model cost a substantial $3500/£2600; we're betting on a similar (and likely higher) amount for this latest edition.