Stuff magazine October 2021 issue is out now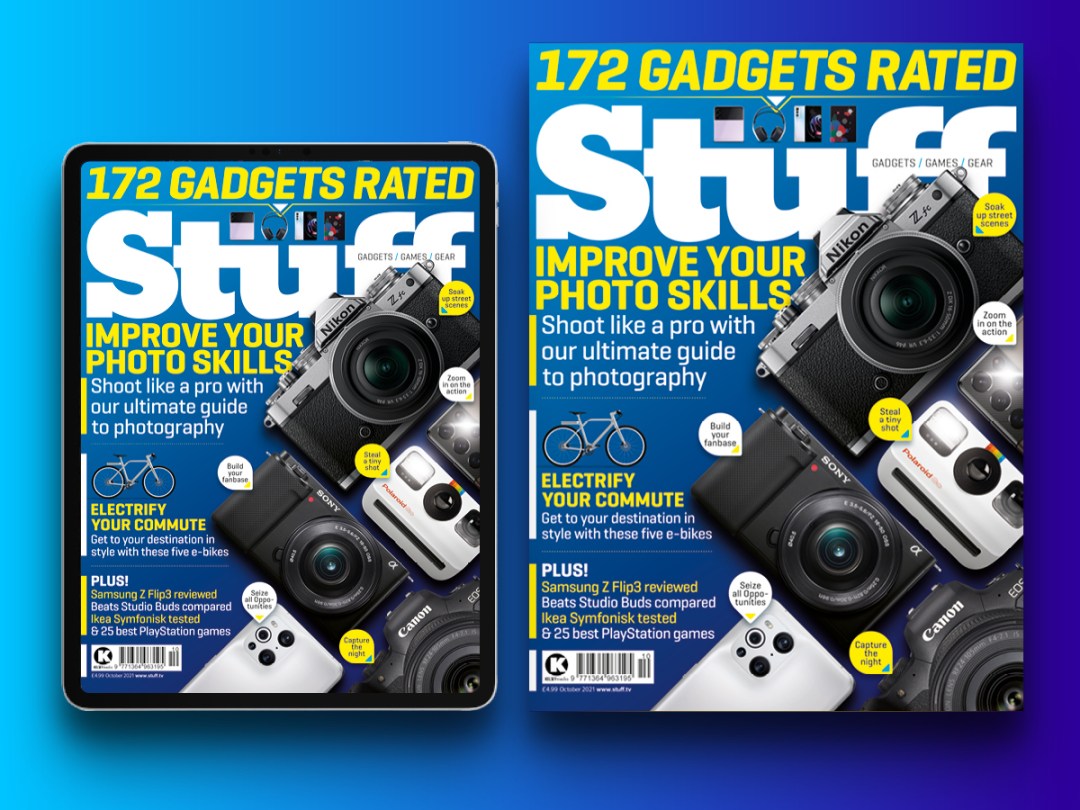 Another month has crept up on us all, so that means another issue of the best gadget magazine around.
Although we may be biased, we think this is as least as good as the last one, if not better, full of pages which are going to engross you to the point you miss your bus stop.
We've spent some time getting our noggins around all the best cameras to shoot like a pro with tips and tricks from experts. And for every camera and category, we've selected a smartphone snapper which is a serious contender to these mirrorless marvels from the likes of Nikon, Fujifilm and Sony.
The e-bike group test saw the Stuff team mount the saddle to test the best leccys to get you from A to B in style, plus we even had a tête-à-tête with Chris Froome on the Zoom-o-phone, who confessed his penchant for electric two-wheelers.
Stuff October issue: Foldable phones, wireless buds and the best playstation games
The focus is on photography this issue, because with the outside world opening up and calendars filling up, there's a lot going on out there to capture and we wouldn't want you to mess it up. Say no more to mediocre shots with our ultimate guide, whether it's portraiture or capturing night time scenes, we've got you covered.
We've also managed to squeeze in a review of the dinky and delectable Samsung Galaxy Z Flip 3 just before sending the pages off to the printers.
There are more wireless earbuds in production than fish in the sea (probably and sadly), so we're extremely picky on only bringing you the cream of the crop, like the Beats Studio Buds for instance and pitting them against German stalwarts Sennhesier's CX true wireless.
Plus, we've poured over every single PlayStation game (nearly) to bring you a controversial list of the '25 best PlayStation games ever'. Send us a tweet if you think we've made a grave error.
Stuff October issue: Cheap thrills
It's not all about buying new stuff either. We want you to explore your existing tech and get the most out of it, which is why we've trawled through the good parts of iOS 15 and offered some tips on how to prepare for your new iPhone. If all that sounds too much like hard work, we've trialled some of the most entertaining classic games you can play on your mobile, including one which is like having a miniature retro arcade machine in your mitts. Imagine.
STUFF SEPTEMBER ISSUE: HOW TO GET YOUR COPY
There's a lovely spread on synths too and a review of the Motorola Edge 20 Pro, plus the top tens and a ton of other juicy stuff to get your teeth into.
You can munch on the classic paper edition, which you can buy from the Kelsey shop here, but if you're on a digital diet, then you're catered for too at the App Store, PocketMags and Readly.
Thank you for being a legend and keeping Stuff alive!