Pentax Optio RZ10, K-r and RS1000 Chameleon see the light
A trio of new cameras emerge from the Pentax labs in a blast of colour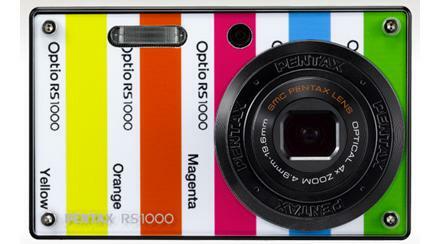 Pentax has launched three colourful new snappers to help us look on the bright side of photographic life. We're all eyes…
Optio RS1000 Chameleon
On the inside it's a credit-card-sized 14.1MP point-and-shooter with regulation 3in LCD, 4x optical zoom and HD video (720p @30fps). But it's the outside that's really striking, hiding behind a case that can be customised with your own design or – naturally enough – picture. Available in October 2010 for £120.
K-r
The K-r is a mid-range DSLR with a 12.4MP CMOS sensor, 6fps continuous shooting and HD (720p @25fps) video. But while it's available in boring black, it also comes in white, red or olive green. Available in October 2010 from £600 with an 18-55mm lens.
Optio RZ10
Shaky hands? The Optio RZ10 has you covered with dual shake reduction. It shoots 14.1MP stills and 720p video at 30fps through a wide angle 10x zoom lens. And like the other cams in this trio, it comes in a range of colours, including violet and lime (pictured). Nice. Available in October 2010 for £180.