Nokia N8 flagship handset confirmed
Not long after announcing a trio of social networking handsets a few weeks ago, Nokia has finally spilled the official deets on the previously-leaked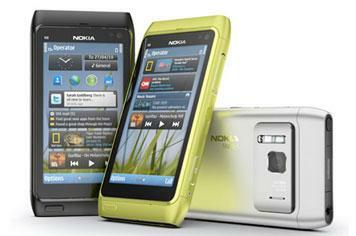 Not long after announcing a trio of social networking handsets a few weeks ago, Nokia has finally spilled the official deets on the previously-leaked N8 handset.
As the new flagship smartphone from the Finnish phone giant, the N8 packs some suitably high-end featues, including a 12-megapixel camera, 720p HD recording and the brand-spanking multitouch-capable Symbian 3 OS.
On-board you can expect 16GB of storage as standard, with a microSD card slot offering the chance to boost that up to 48GB.
Finishing touches appear in the form of an HDMI output for whacking your HD masterpieces onto your telly, Ovi Maps, a Web TV app and all the social networking integration we've come to expect from phones these days.
Thought to hit shelves in towards the end of this year, the price tag will read €370 before taxes.
We'll keep you updated with any details we get on the Nokia N8, but in the meantime be sure to check out what we thought to the Nokia X6 music phone in our hands on video.