New video! Super slow-mo paintball, 1000fps Phantom Flex
A Phantom HD Gold that shoots in 1080p at 1,000fps + a paintball gun a = a very happy Stuff team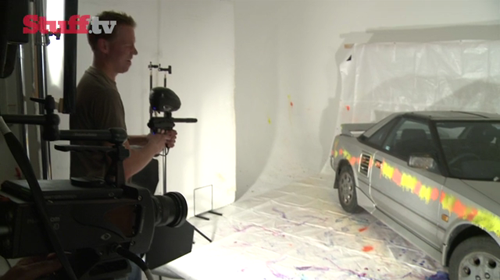 It's true that some things just look better in slow motion. If you've ever watched a super slow-mo video of anything – including the menial stuff – you'll know just how jaw-droppingly amazing the outcome can be. Who knew that watching water trickle out of a tap, or a man jumping onto his bed could keep us so gripped, while gawping at the screen like a bunch of dumbfounded neanderthals?
Inspired by the smattering of super slow-mo videos out there, we decided to don our creative hats, hire a Phantom HD Gold for the day and film life in the slow lane – helped along by a powerful paintball gun, and a couple of willing participants, Lucy and Luke. Grab the popcorn and prepare to be dazzled.
We'd just like to give special thanks to Scrap Car UK for supplying us with the Toyota MR2 and paintball gun target used in our awesome vid.