Hands-on: Sony's a7 and a7r are the NEX-sized full-frame snappers your camera bag's crying out for
We have a first fondle with the Alpha phoenix cams rising from the ashes of Sony's NEX system camera series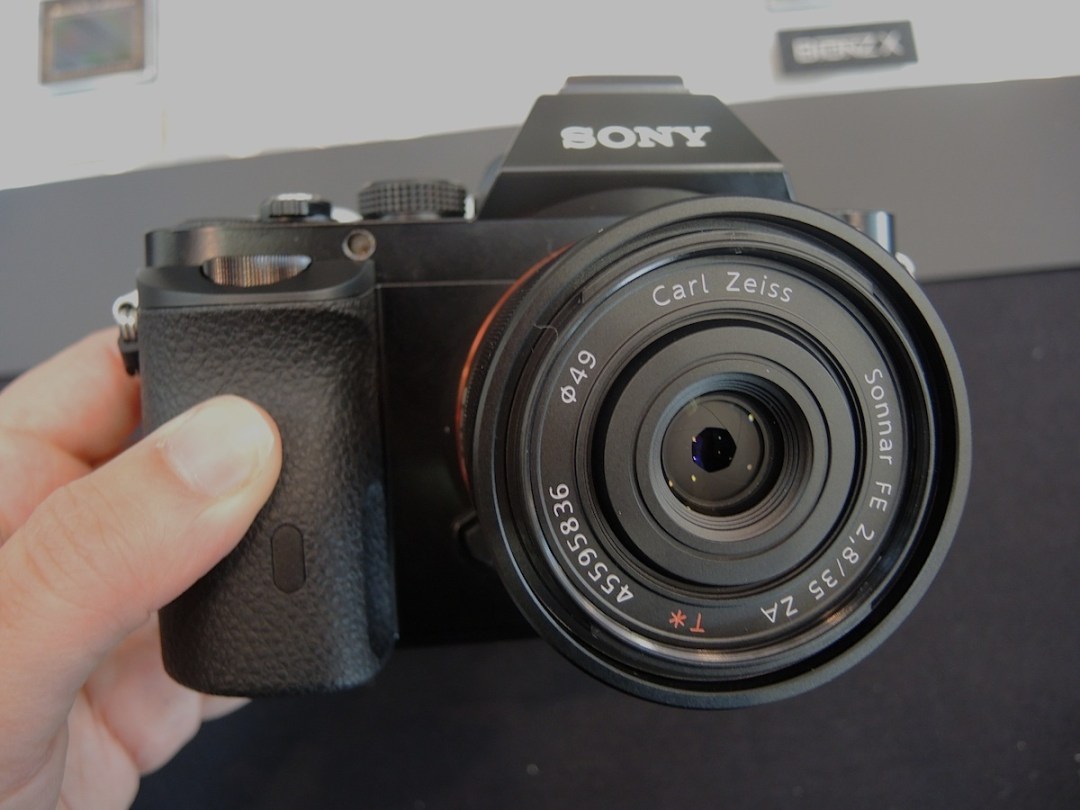 It's sad, but NEX is gone. The Sony NEX-7 may have propped up the top half of our list of the best cameras money can buy for a while now but Sony has seen fit to abandon it.
Instead it's merged the Alpha and NEX lines into one beastly series to compete not only with the likes of the Olympus OM-D E-M5 and E-M1 but also Canon and Nikon's top DSLRs.
Today, it announced its first ever full-frame interchangeable lens cameras, the a7 and a7r, as the brave new ambassadors for its revamped flagship line – we went hands on in London.
Compact, stylish, Sony controls
The a7 is comfortable to grip, perfectly weighted (it's only slightly heavier than the a7r at 474g with a battery) and smaller than some Micro Four Thirds cameras, an impressive feat from Sony. It's very similar in size and build to the NEX cameras we've encountered with perhaps a touch more of Olympus styling than we've seen before.
The a7r might be the 'world's smallest' and its magnesium alloy build might also be water and dust-resistant but both Alpha cams are beautifully made and fit in the hand really well.
Of course the lenses you choose will have a big effect on how pocketable they end up being – but with an LA-EA4 adapter for A mount lenses, new FE lenses and the whole gamut of compatible E mount lenses, Sony has your back. It also extends the number of Sony owners who can upgrade to either of these 2013 Alphas safe in the knowledge that their existing glass can join in.
The controls are as expected – mode and exposure compensation dials up top with a DSLR-style thumbwheel on the rear next to the handily tiltable (by 90 degrees upwards) 3in LCD. If you'd prefer there's also a high res, electronic OLED viewfinder which is gorgeously bright and crystal-clear in use – though as with other eye-activated viewfinders, there's a split-second before it kicks in.
Fast AutoFocus, detailed images
Sony promises that the AF on the a7 and a7r is 35% quicker than the NEX 7's – from our brief play with it, we're tempted to agree. That's because it's a whole new hybrid system with new spatial object detection tech but all you need to know is that in use, the 25 point AF is damn nippy.
Now, Sony tells us that the cameras we tried out are pre-production models – so testing image quality was off the cards. But we took some snaps with the 24.3MP a7 and a f/2.8 35mm Zeiss lens and opened up the big (4-5MB) files up on a monitor. The detail for a camera this size really is impressive and it looks like the a7 will let enthusiasts play around with the depth of field, keeping things sharp even at the edges.
Of course, we'll hold out on full judgement on picture quality until we can get both Sony snappers into our camera labs and square them up against Olympus, Canon and Nikon's finest.
You can get your hands on the a7 and a7r from mid to late November with the a7 body starting at £1300 and the 36.4 MP a7r at £1600.