Fully Charged: Mario Kart 8 adding Link and more in DLC, Jabra's wireless heart rate-sensing earbuds, and Instagram's impressive time-lapse video app
Start off the day with a burst of quick-hit tech and gaming updates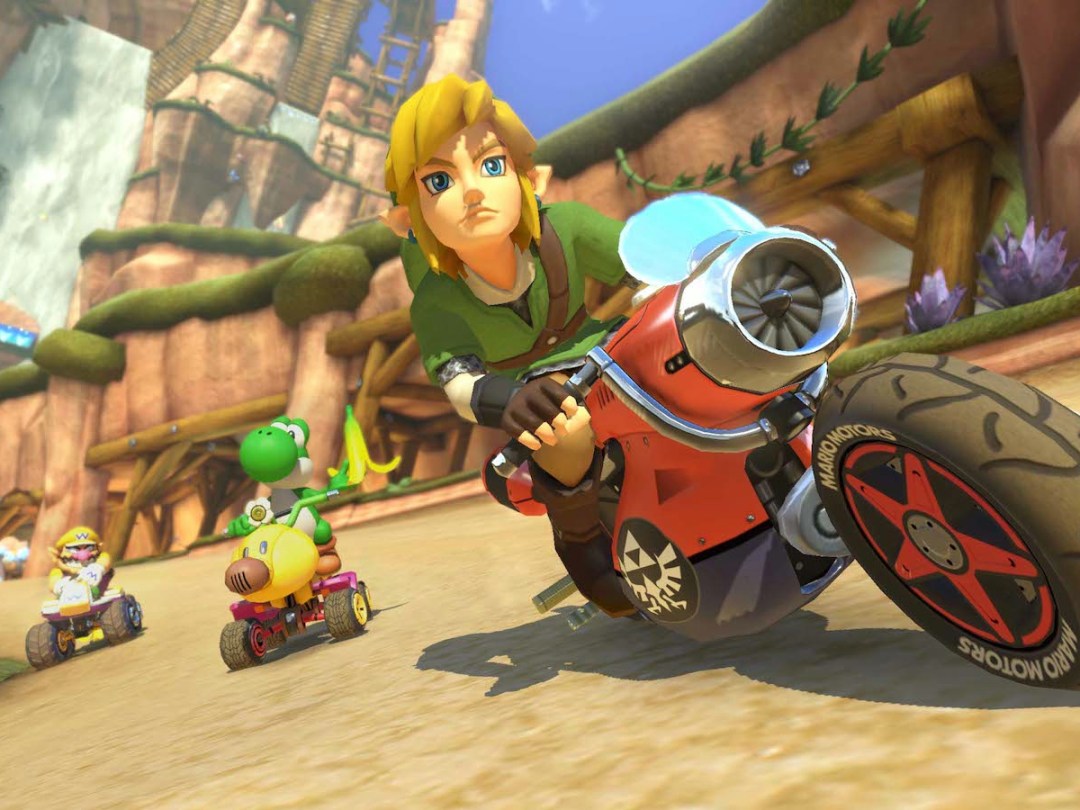 Mario Kart 8 adding familiar Nintendo faces and places
While Super Smash Bros. has opened its doors to the wider Nintendo cast of characters (and beyond), the Mario Kart series has always maintained its Mario series boundaries. That won't be the case for much longer, as Nintendo UK has leaked details and images of a pair of downloadable content packs (since officially announced) coming for Mario Kart 8 on Wii U.
The first pack will arrive in November and bring Legend of Zelda lead Link as a playable character, along with Tanooki Mario and Cat Peach, eight courses, and four vehicles. It'll be some time before the second pack debuts in May 2015, but it'll bring Dry Bowser plus Isabelle and the Villager from Animal Crossing as drivers, along with eight more courses and four rides.
Each pack will sell for £7, and Nintendo says that tracks from the Legend of Zelda and Animal Crossing will be among the new ones, while older locales like Wario's Gold Mine from Mario Kart Wii are also planned, as well as a Blue Falcon kart from F-Zero. Seeing as Mario Kart 8 is arguably the biggest driver of Wii U sales to date, it makes a ton of sense to keep interest alive well into 2015.
[Source: Nintendo UK]
READ MORE: Mario Kart 8 review
Jabra launching heart-monitoring Bluetooth earphones
Just this morning, Jabra announced plans to release its own pair of heart rate-sensing earphones this autumn, but unlike the wired ones that SMS Audio and Intel unveiled a couple weeks back, the Jabra Sport Pulse Wireless earbuds feature Bluetooth connectivity and tie into a specialized Sport Life app.
The IP55-rated waterproof earbuds should run for about 5-6 hours on a full battery charge, and because music playback uses more power than the heart rate-monitoring feature, you'll still be able to track your vitals even when the music stops (should you run low). With the app, you'll be able to set heart rate zone goals and adjust on the fly to maximize your workout. Also, you can determine your VO2 Max level by performing a walking test with the Sport Pulse Wireless earbuds, which Jabra claims is 98% accurate compared to proper specialized medical gear.
The Jabra Sport Pulse Wireless earbuds are expected out on 15 October for £200, and they'll ship with all manner of buds and ear wings to ensure a quality fit. In fact, Jabra has a "wall of ears" comprised of varying moulds of real ears to make sure they're covering a wide range when bundling in options. That's right: a wall of ears.
READ MORE: Fully Charged: SMS Audio debuts heart rate-sensing earbuds, Tom Hanks' surprising iPad app, and Samsung's big smart home acquisition
Instagram's Hyperlapse generates stable time-lapse clips
Launched yesterday for iOS devices, Hyperlapse is a new free app from Instagram that allows you to quickly and easily film and share time-lapse videos. Thanks to stabilization technology, the results aren't super-shaky and disorienting, but actually rather smooth and effective.
Weirdly, Microsoft just showed off similar tech under the same name a few weeks back, with plans to launch it on Windows – but Instagram just beat it to the punch, and the results look even smoother. Sorry, Microsoft. An Android version is planned, reports Wired, but isn't yet in development.
READ MORE: Microsoft tech turns frantic GoPro footage into slick, stable time-lapse clips
Pokkén Tournament is Pokémon meets Tekken (really)
Nearly two decades out and we still can't get a proper Pokémon adventure for consoles, but here's Nintendo and Bandai Namco with a Pokémon fighting game powered by the Tekken engine. Why? Because it will make stupid amounts of money. Pokkén Tournament is slated for a Japanese arcade release next year, before a surely inevitable Wii U launch.
[Source: YouTube]
READ MORE: A set of keys with eyes: Nintendo's running a bit low on new Pokémon ideas