Apple unleashes 4K Retina 21.5-inch iMac and new 'Magic' accessories
New iMacs! Hurrah! New keyboards! Hurrah! New trackpads! Hurrah! New price-points! Hurroo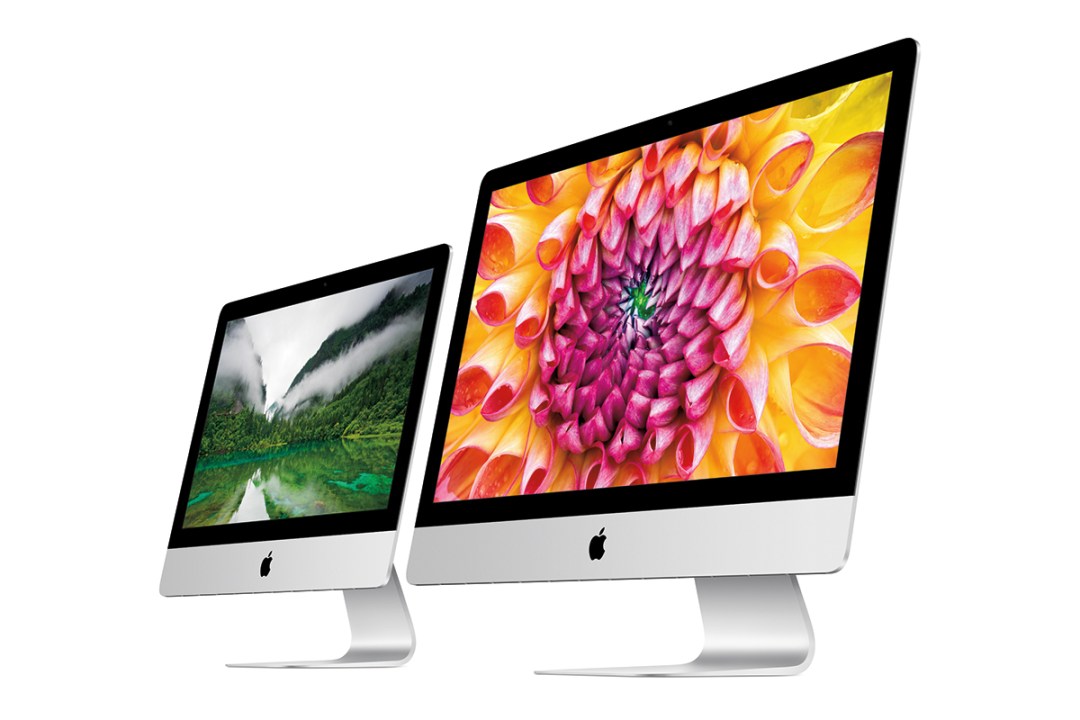 Apple has announced its latest attempt to mug your wallet by way of revamped iMacs and a new range of input accessories that, according to their names, are all magic.
The 21.5-inch iMac now comes in a 4K flavour, which starts at £1,199. The Retina 4096×2304 P3 display will ruin your eyes for any of the still available non-Retina iMacs, making it feel like the very pixels are burning into your own retinas. The extra £150 over the non-Retina 21.5-inch iMac's price also nets you a slightly faster processor (3.1GHz vs 2.8GHz).
The 27-inch iMac, which was already 5K, also gets a boost. The new model's display has a larger colour space (which is also enjoyed by its smaller sibling) and comes with "sixth-generation Intel Core processors and the latest AMD high-performance graphics that deliver up to 3.7 teraflops of compute power". Additionally, all-Flash storage can be configured up to 1TB, if your bank account can take it. If you're less flush, you can grab the cheapest model in the line for £1,449.
Accessories: now with added magic
Alongside the new iMacs, Apple unveiled a new line of wireless accessories: the Magic Mouse 2, Magic Trackpad 2, and Magic Keyboard. (The previous keyboard was, it seems, merely wireless and not magic.)
All of the devices will free up your rechargeable AAs for other uses (or flogging on eBay), given that they feature rechargeable internal batteries. They're now charged by the same kind of Lightning-to-USB cable you get with an iPhone. This means when they run short of juice — which Apple reckons will take about a month — you just plug them into your Mac or a charger for a bit.
With the keyboard, you can even carry on using it while it powers up; with the others, two minutes plugged in will be enough to get you through the day. You could spend longer finding and changing batteries. The plugging-in also eliminates Bluetooth pairing faffage, and Lightning's inclusion suggests that connector is sticking around. (Cue: four billion rumours about how the iPhone 7 will only have USB-C while simultaneously hurling your Lightning cables into the heart of the sun.)
Bigger! Better! Pricier!

There are further changes, too. The trackpad and keyboard both look wildly different from their predecessors. Both have lower profiles, which should be beneficial for anyone with RSI or similar issues. Design-wise, the trackpad is more of an oblong than its predecessor, with a a flat metal base and white top. Apple says it provides 29 per cent more surface area, and incorporates Force Touch, meaning you can click anywhere. The keyboard has a new scissor mechanism, full-size function keys, and full-size left- and right-arrow keys, the last of which will mess with your muscle memory.
The new mouse has the fewest changes, Apple merely noting it's "lighter, sturdier and features an optimised foot design for a smoother glide". It also has the smallest price-hike. Previously, these accessories each sold for £59 in the UK, but the mouse is now £65, the keyboard's £79, and the trackpad's a whopping £109. Choosing the latter with a built-to-order Mac adjusts the price accordingly, adding £44 to your total, which could affect uptake. At any rate, Apple had best hope, given the new prices, that users reckon these accessories really are magic.
Note that all the 'magic' devices require any Bluetooth-capable Mac running OS X 10.11 (El Capitan), aside from the Magic Trackpad 2, which demands a Bluetooth 4.0-enabled Mac. You can find out whether your Mac's covered by going to About This Mac in the Apple menu, selecting More Info… and then System Report…. Click Bluetooth. Under LMP Version, 0x6 means you're sorted. Anything lower and you'll need a new Mac to use your new trackpad. Fortunately, Apple's just released some of those!