Samsung Galaxy Note 7 vs Apple iPhone 6s Plus
Flagship phablets battle it out, but only one can take the crown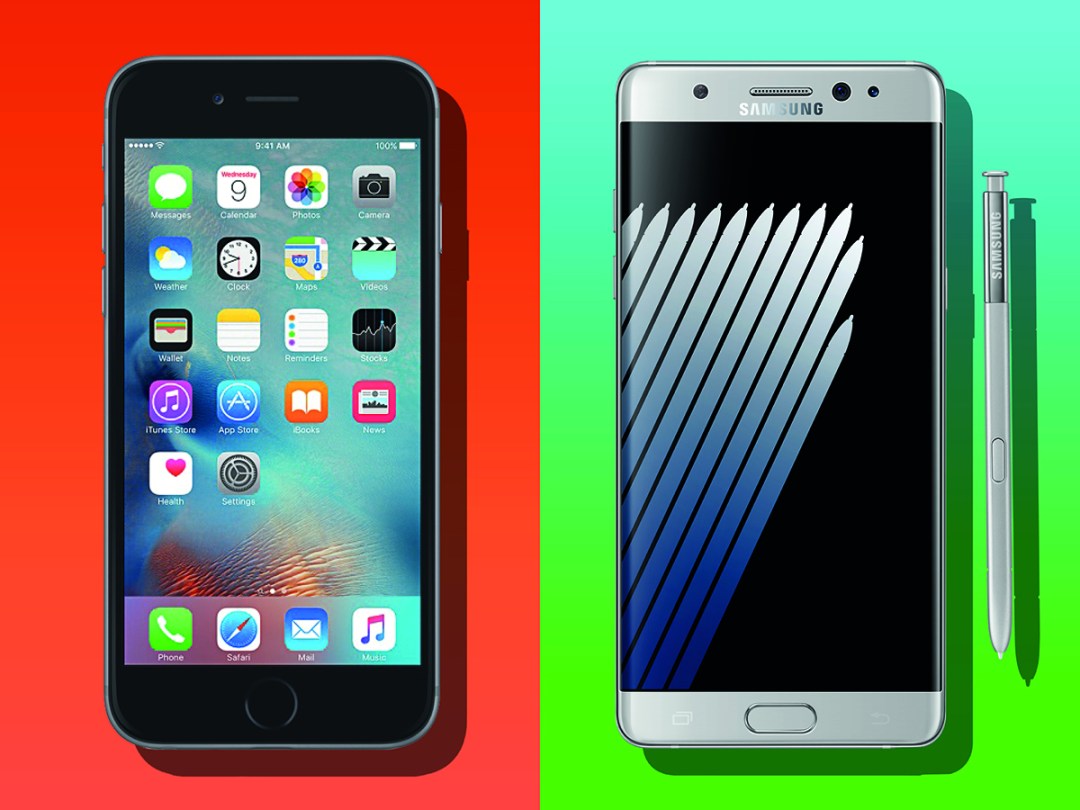 As much flak as Samsung has taken for copying Apple over the years, the iPhone's move into phablet territory came well after the Galaxy Note established the space.
And Apple hasn't necessarily made the perfect case for its super-sized iPhone 6s Plus. It has a larger, sharper screen than the iPhone 6s and slightly better battery life, but it also feels larger than it needs to be and doesn't really have any other major big-phone bonus perks.
Meanwhile, the Galaxy Note 7 is an ideal pairing of phablet productivity smarts with the brilliant design philosophy that Samsung's been sporting of late. Now that we've had plenty of time with the Note 7 and posted our review, here's our take on how the two handsets match up.
Design: Fancy vs fanciest?
The iPhone 6s Plus is a slim and sleek phone, and thankfully a bit thicker and sturdier than the iPhone 6 Plus, which introduced the world to "Bendgate." However, some extra bezel on the sides means that Apple's biggest phone feels a little larger in the hand than it maybe should, and that can make holding it feel clumsy.
And while the iPhone 6s Plus' ultra-minimal design is quietly attractive, it lacks the Galaxy Note 7's wow factor. It's not just the curved display but also the matching curved glass on the back. It's big and beautiful, but it also feels comfortable in the hand. The Note 7 wins this one all around.
Winner: Samsung Galaxy Note 7
Display: 2K or 1080p?
As is usually the case when a new Samsung phone goes against the competition, it's no real battle in this category: the Galaxy Note 7's 5.7in AMOLED display is a 2K stunner, delivering vivid colours, deep blacks, and staggering crispness to everything you view. Every top-end Samsung screen since the Galaxy S6 has been an absolute winner, and nothing's really changed here.
The iPhone 6s Plus has the best screen you'll find on an iPhone: it's a 5.5in 1080p LCD with natural-looking colours and great contrast, but put the two side by side and the Galaxy Note 7 just pops. Then again, Samsung's screens even beat rival Android phones' 2K/Quad HD options, so it's not that fair of a fight. And it has those sweet, sweet curves.
Winner: Samsung Galaxy Note 7
Camera: Serious shootout
The Galaxy Note 7 uses the same sensors as the Galaxy S7 and Galaxy S7 Edge, and believe it or not, that's the best smartphone camera on the market today. Curiously, Samsung trimmed down the megapixel count for this year's flagships, from 16MP on the great Galaxy S6 and Note 5 to 12MP this time around.
But it's the other details that make it a better overall camera: the f/1.7 aperture and 1.4μm pixels. The iPhone 6s Plus also has a 12-megapixel back camera, but with an f/2.2 aperture and 1.22μm pixel size. Ultimately, the Galaxy cameras seem to pull in a little extra light and deliver a bit more detail and vibrancy in the best shots.
Both have optical image stabilisation and shoot sterling 4K video, and honestly, both are great cameras – two of the best you'll find on top-end phones today. But the Galaxy Note 7 has the upper hand here.
Winner: Samsung Galaxy Note 7
Power: battle of the beefcakes
We're not going to fuel the Android vs. iOS wars with any mudslinging here: both operating systems are slick and useful, and both have positives and drawbacks.
With iOS, you get a closed ecosystem that's super user-friendly, but not very customisable – but you do get access to the best mobile app and game selection by far. On Android, the selection isn't as strong and compatibility can be hit or miss at times, but there's more core OS functionality, and more ability to form the experience into what you want it to be.
Samsung's TouchWiz launcher isn't quite as ideal as stock Android, but it's still a fine-looking and totally useable OS. We love both iOS and Android. Pick your favourite.
When it comes to processing punch, the A9 processor in the iPhone 6s Plus might score lower than the Galaxy Note 7's Exynos chip in benchmark testing, plus the iPhone has half the RAM (2GB vs 4GB). However, in real-life usage, both are super speedy across each respective OS and in games and media. For that reason we're calling this one a draw.
Winner: Draw
Essential extras
When it comes to bonus features that go above and beyond the standard set, the Galaxy Note 7 is built for both work and play. It has the S Pen stylus, of course, which pops out and lets you jot down notes, quickly create animated GIFs from online videos, translate words from other languages, and several other things too.
It's also compatible with the Gear VR headset, which is the best mobile virtual reality experience on the market right now (although Google Daydream is coming). Also, unlike the iPhone 6s Plus, the Note 7 has built-in wireless charging standard. It's also IP68 waterproof rated, has a microSD slot for expandable memory, and includes iris scanning security features.
Really, the only one-of-a-kind hardware perk you'll find on the iPhone 6s Plus is 3D Touch, which admittedly is a big one: that pressure-sensitive screen tech lets you press harder into the display to access quick-use menus, added features, and gameplay elements.
It's still a relatively new feature and hasn't become completely indispensable, but it's handy and will become more useful in time. Still, if we had to put these features on opposite ends of a scale, the Note 7's bundle of perks just seems a lot weightier overall.
Winner: Samsung Galaxy Note 7
Verdict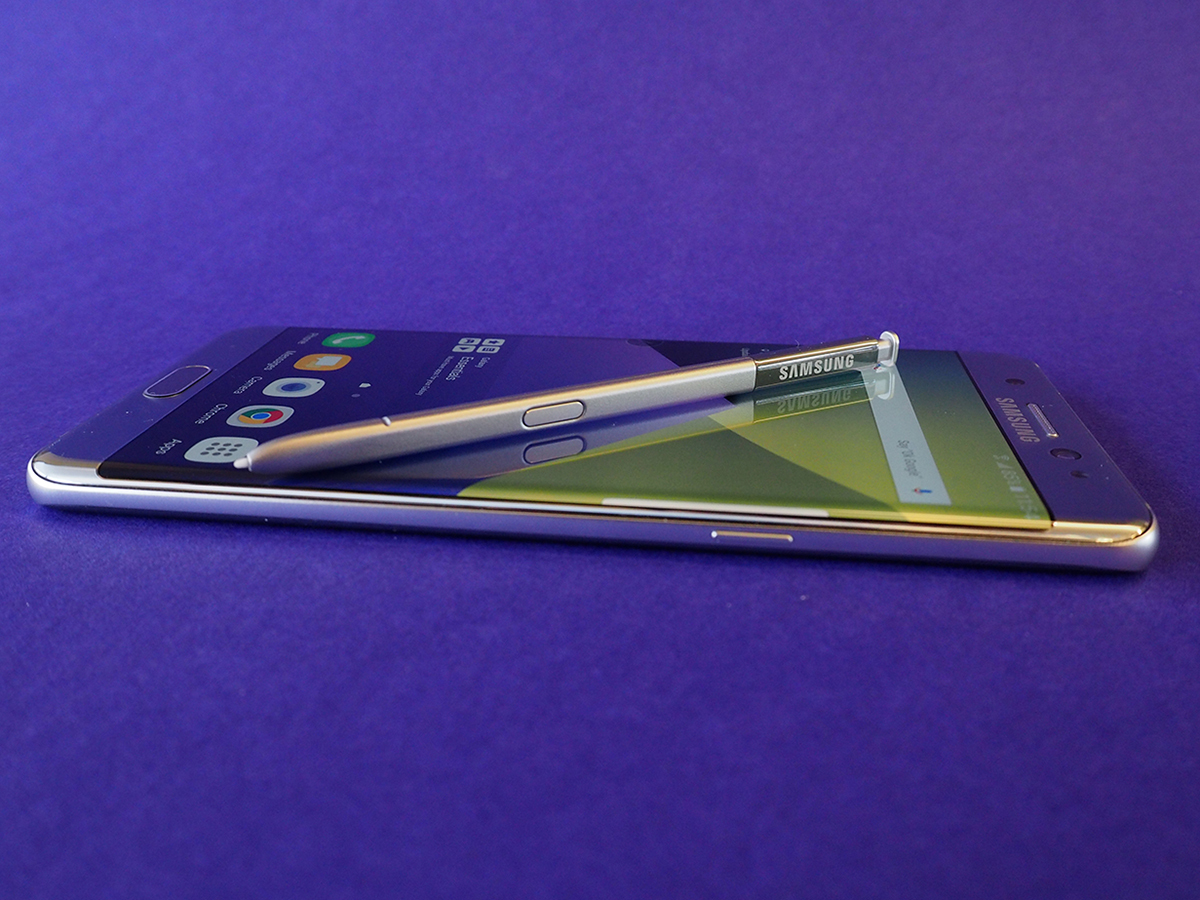 Bit of a lopsided battle here, isn't it? The iPhone 6s is a great phablet for Apple fans, but honestly, we were more enamoured with last year's Galaxy Note 5 – and the new Galaxy Note 7 improves upon its design and feature set across the board.
Of these two phones, the Note 7 has the more exciting design and more comfortable shape, a much nicer screen, a slightly better camera, and lots of handy perks you won't find on an iPhone.
Apple has the advantage in app selection, but if you're looking for a big phone that'll do loads of stuff and do it well, the Galaxy Note 7 will be your best option on the market when it actually reaches consumers in the coming weeks. It's the best phablet out there… but we'll see what happens when the iPhone 7 Plus debuts next month.
Winner: Samsung Galaxy Note 7
Buy the Note 7 SIM free here from Samsung – or see our best contract deals here