Office upgrades: 13 gadgets to boost your 9-to-5
Home office essentials
Just when you thought the office Christmas party might be back on, there's a fresh Covid variant giving the HR department nightmares.
Not excited by the prospect of celebrating the festive season with a Zoom shindig in your spare room? Whether you're teleworking on a temporary basis or operating remotely for the foreseeable, there are many ways to improve your office space. And not just with tinsel.
From standing desks to desk tidies, the list below features a range of stellar tech to transform your half-hearted home office into a productivity hub that any workspace consultant would be proud of. Don't worry: you can still keep your pyjama bottoms on.
---
Readydesk 2-Standing Desk Converter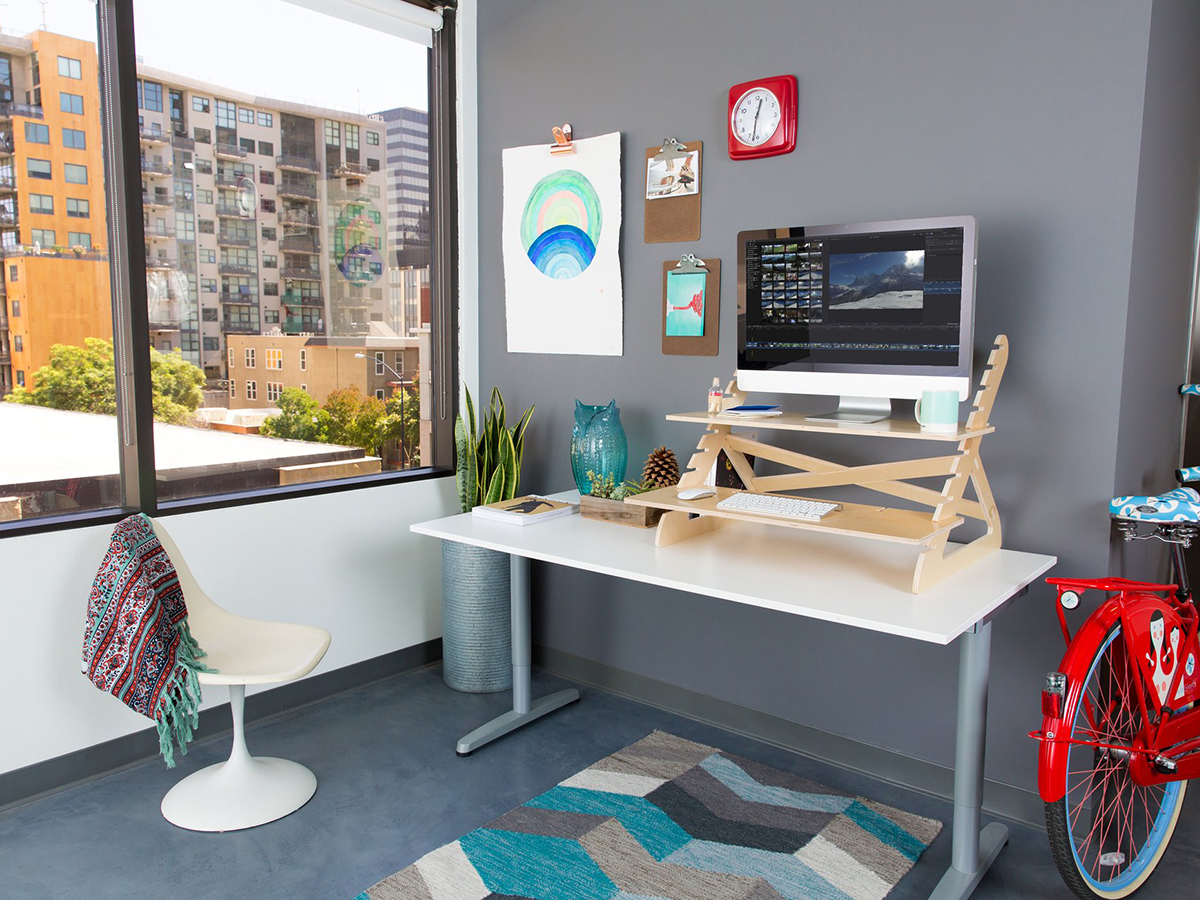 The Readydesk is the ideal choice for those of you who want more platforms for your money. The multi-tiered converter has two adjustable shelves that can be shuffled about and placed at your idea height, helping you achieve your perfect standing posture.
It's big enough to hep two monitors as well as your keyboard and mouse, is supported by some rather nifty shake-free cross bracing, and can even be assembled without the use of tools. What a beaut!
---
Tic Toc Chair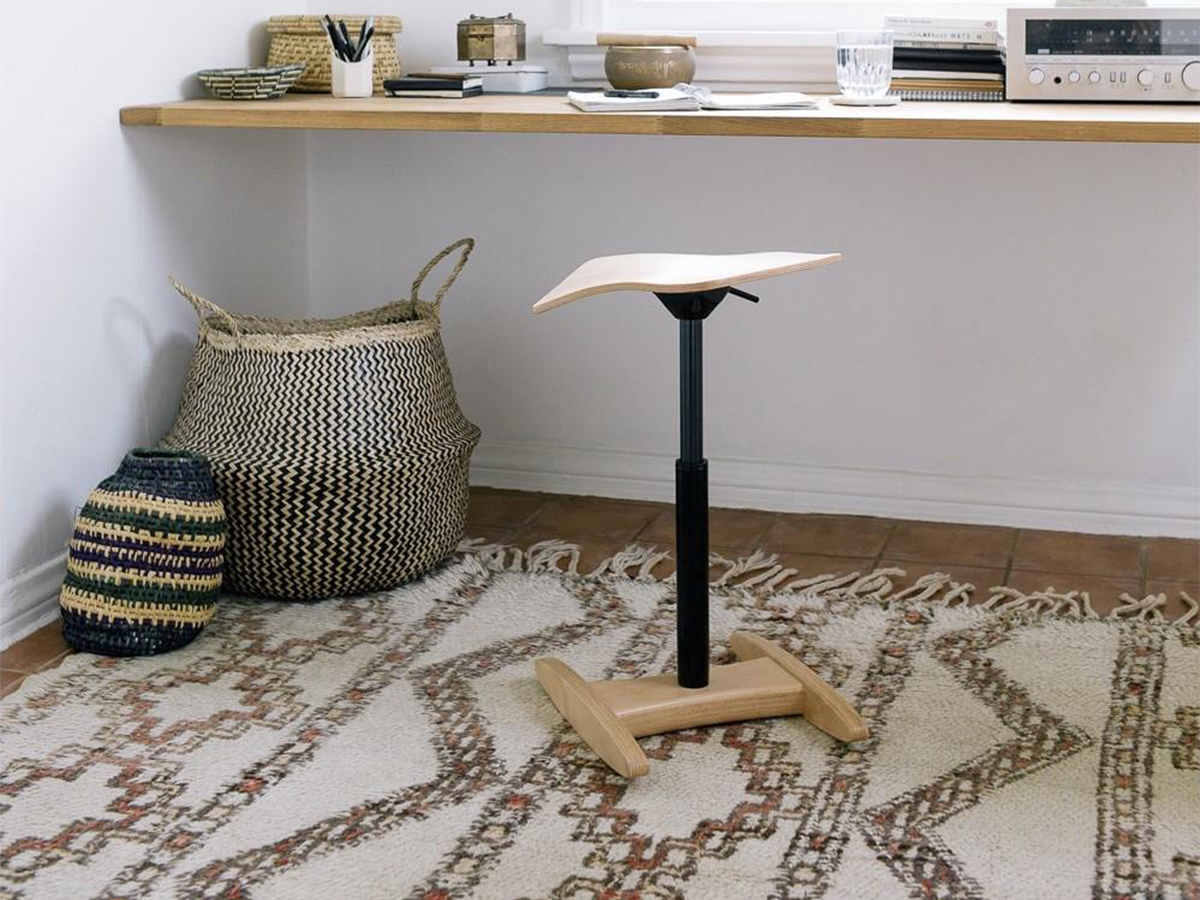 If you're not smitten with the idea of a standing desk, but are still keen to be more active during work hours, you'll want to clap your peepers on the Tic Toc chair.
The curvaceous stool is designed to keep you in motion during the day, because sitting in the same position for hours on end isn't all that good for ya. The seat's curved H-form pattern allows you to balance and rock from side to side, straightening your back in the process and helping blood flow so you'll feel active and healthy all day long.
Aside from the obvious health benefits it brings, the Tic Toc chair also happens to look the part, and will be a classy addition to your fledgling home office.
---
Topo Anti-Fatigue Standing Desk Mat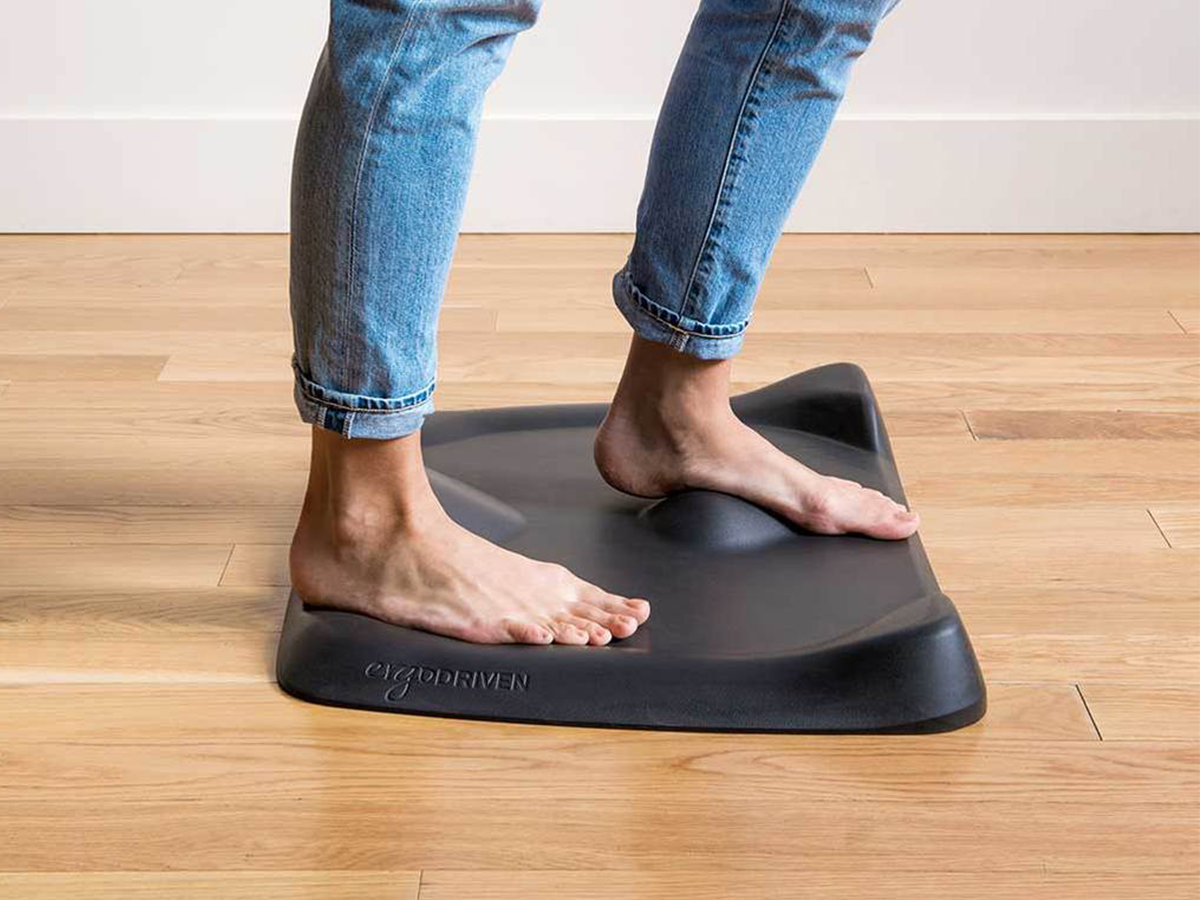 Alternatively, if you want to become the human embodiment of a meerkat and stand around while you work, you'll might want to consider grabbing the Topo Anti-Fatigue Standing Mat.
The mat's peaks and valleys will encourage you to move around while you work, keeping your muscles active, reliving postural fatigue, and activating blood flow. It also looks like nice and squidgy, like a foamy friend for your feet.
---
MoovRite Standing Platform and Footrest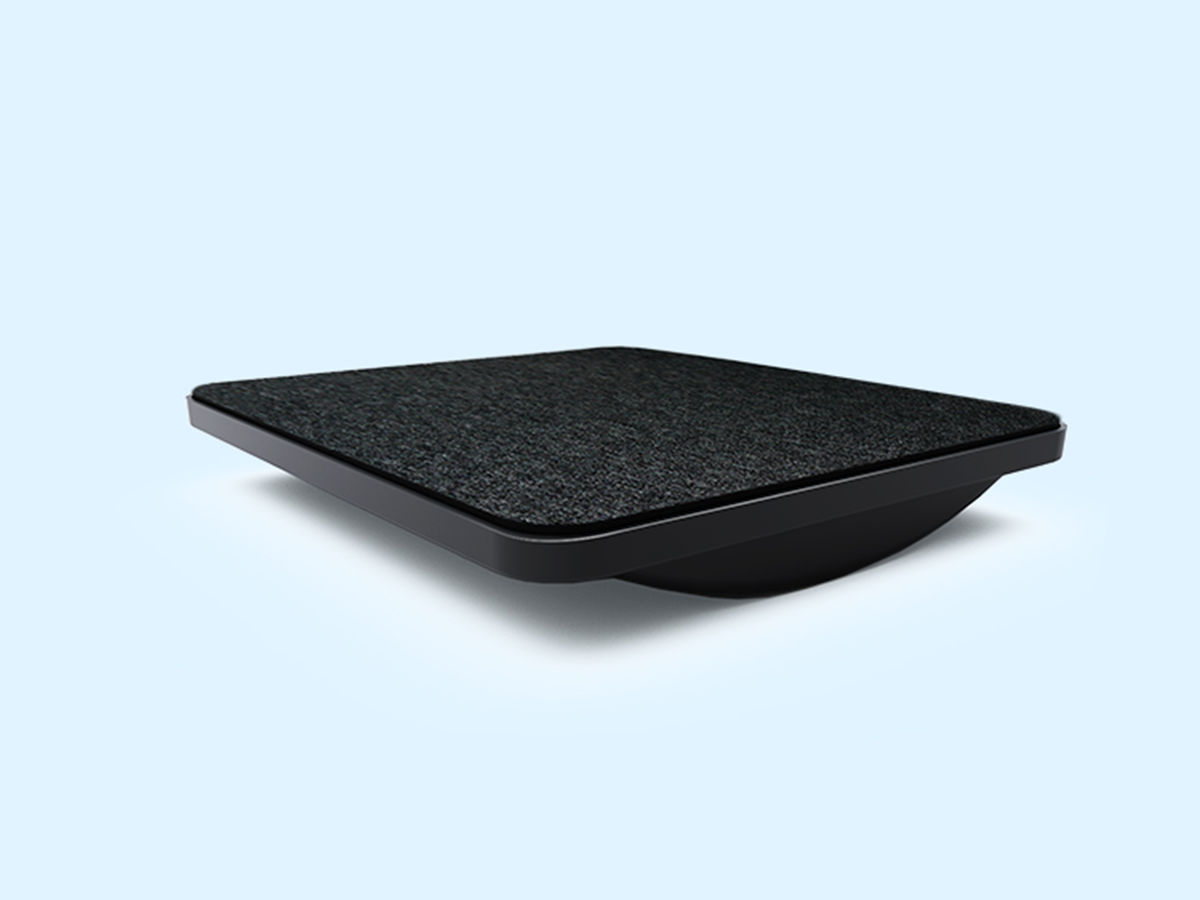 The MoovRite aims to go one better than the Topo by combining the comfort of an anti-fatigue mat with the wider health benefits of a balance board.
Pitched a both a standing board and footrest, the MoovRite promotes both forward-backward and side-to-side movement to combat the unhealthy effects of static posture.
According to the boffins behind the dotty plank, the comfy mat activates the core while simultaneously encouraging oxygen and blood-flow to the brain to help you focus. Who knew wobbling while you work could have so many benefits?
---
Logitech MX Vertical Mouse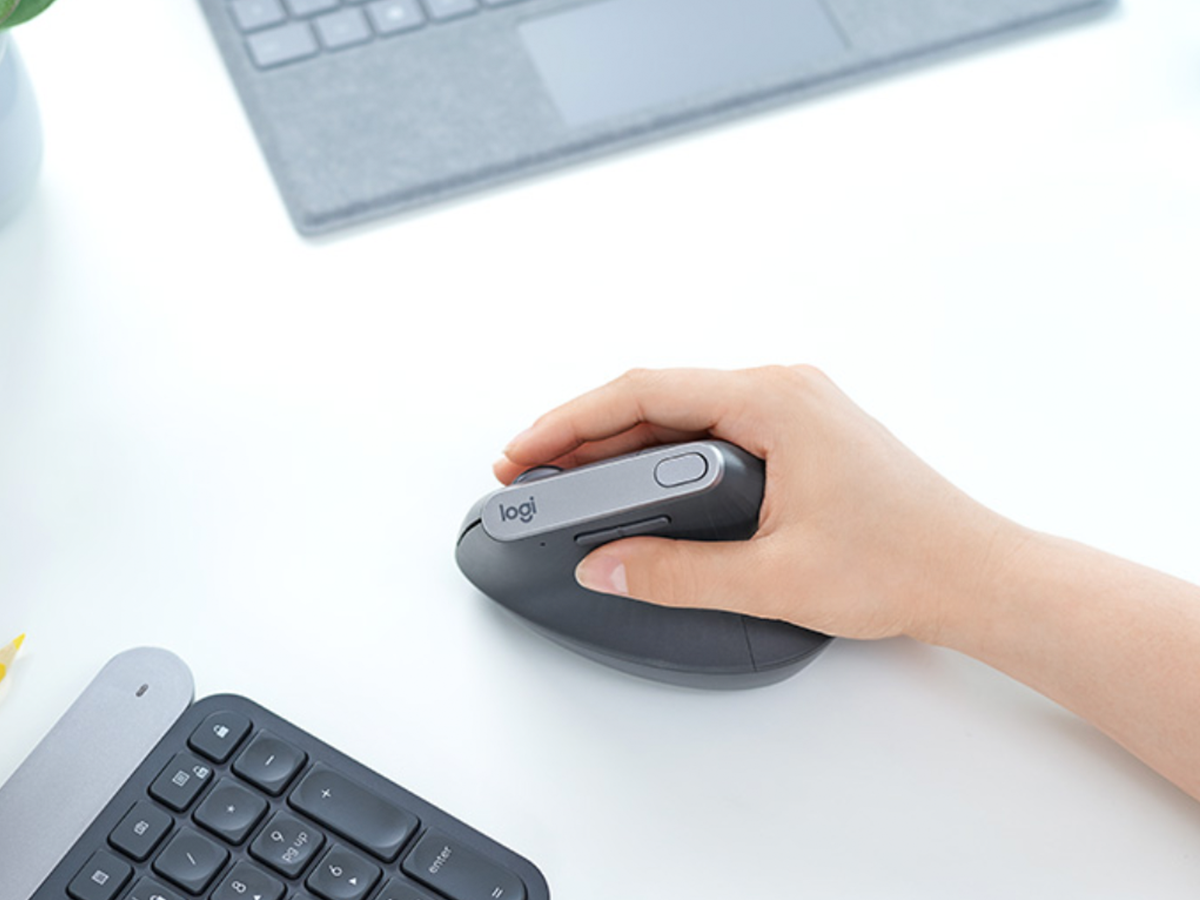 Your back isn't the only part of your body that needs looking after if you're a desk junkie. It's also important to take care of your arms and wrists, because believe it or not, they take quite the battering over the course of a working day.
By grabbing a vertical mouse like the Logitech MX, you can help reduce muscle strain, ease pressure on your wrist, and promote a more ergonomic posture. It's a little change that can make a big difference to your wellbeing.
---
Logitech M330 Silent Plus Wireless Mouse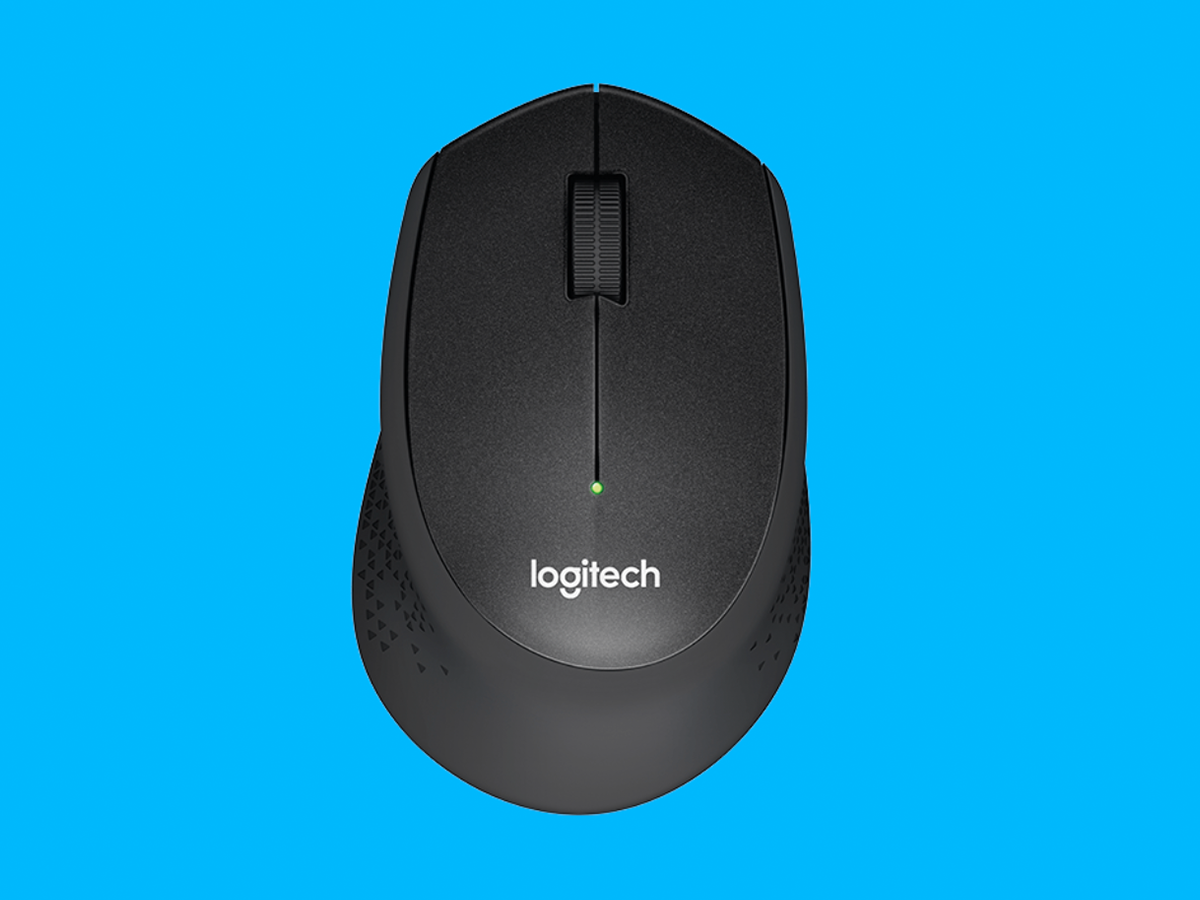 Laptop trackpads might do the business when you're working from a cafe for a few hours, but if you're going to be shifting your entire 9 to 5 to the home front, you'll want to invest in a decent mouse. Naturally, the Logitech MX Vertical Mouse we spotlighted above remains a solid option, but we're also aware that it's a pretty pricey beast. So, if you're only planning on becoming a remote worker until the coronavirus pandemic is brought under control, why not opt for the Logitech M330 Silent Plus Wireless Mouse.
The affordable clicker costs around £30 but can usually be found a lot cheaper. It's also as quiet as they come, which will help keep the peace in your increasingly busy flat, features contoured soft rubber grips for comfort, and should last for 24 months on a pair of standard AA batteries. Better yet, it'll work with your Windows, Mac, Chrome OS, or Linux-based computers without any additional software – just whip it out of the box, plug in the bundled nano receiver, and get to work!
---
Kensington StudioCaddy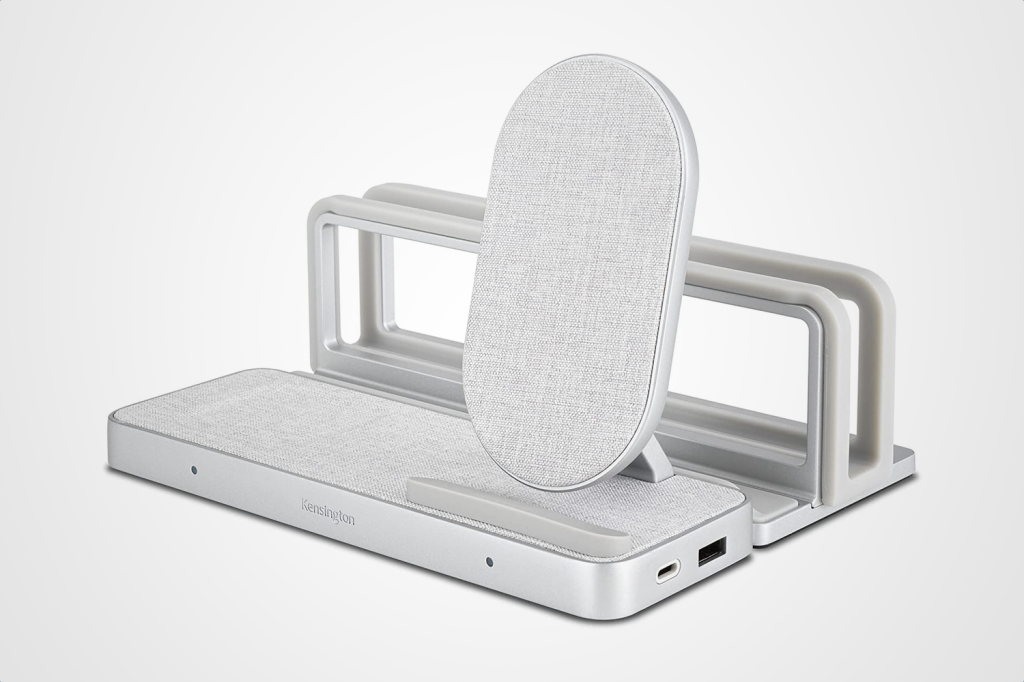 A cluttered desktop is the kind of thing that keeps Jony Ive up at night. If your domestic workspace is a shrine to Apple, honour the maker with a streamlined stack of stuff. This multi-device dock from Kensington neatly harbours every portable piece of kit in the Apple ecosystem – and charges them all at the same time.
Rest your iPhone against the upstanding plinth, drop your AirPods on the charging pad, then slot your iPad and MacBook in the docks behind. Your phone and 'phones will be refuelled wirelessly, while 20W USB-C and 12W USB-A ports power your tablet and laptop. Those USB outputs also work with non-Apple accessories, should you ever let such foreign objects into your Cupertino-themed office.
---
Spark Cardboard Standing Desk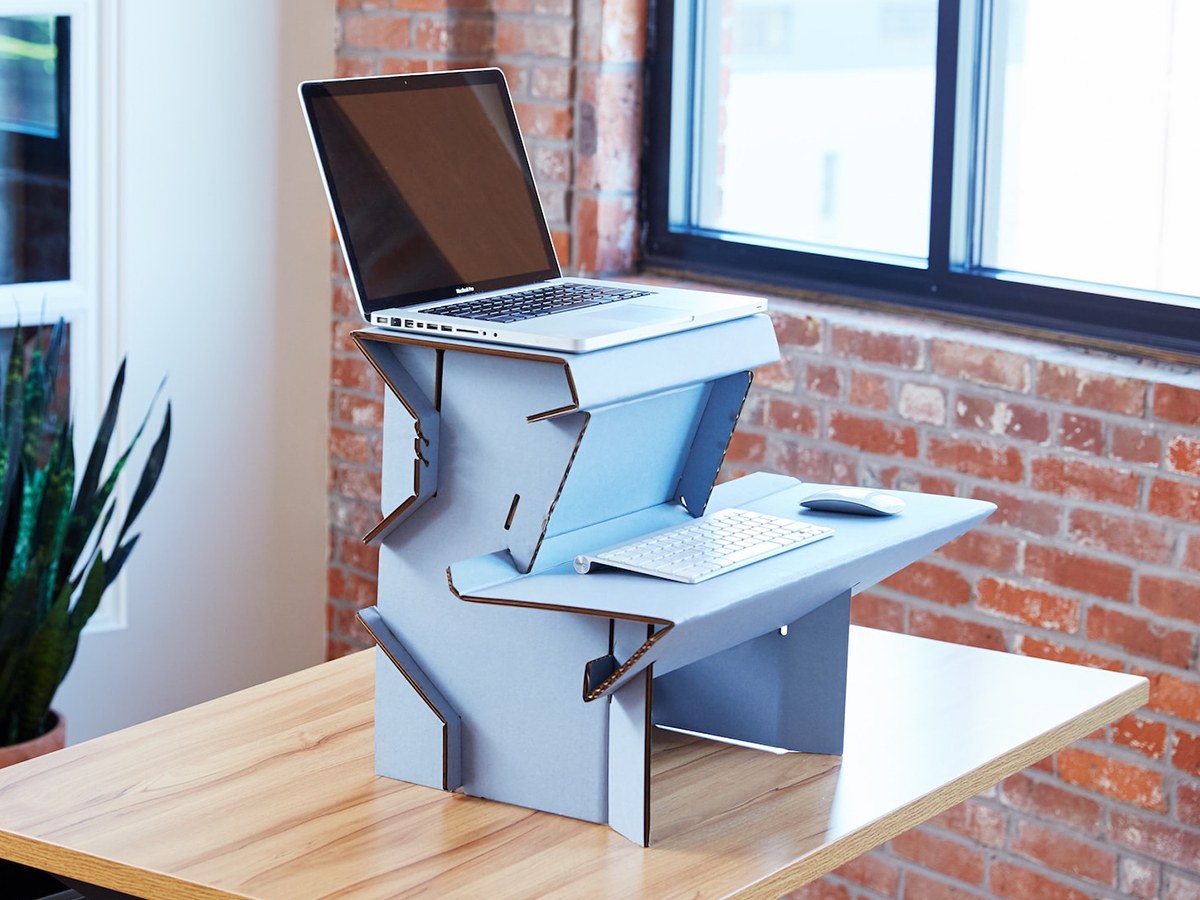 If researching this article has taught us anything, it's that standing desks aren't cheap. The Spark 'Start Standing' Desk wants to change that.
Built entirely out of cardboard, the $25 desk converter is the definition of 'entry level,' but it's also cheap as chips. That makes it the ideal option if you're not sure whether a standing desk is your jam, and you don't want to fork over a giant wad of cash to find out.
---
Google Nest Mini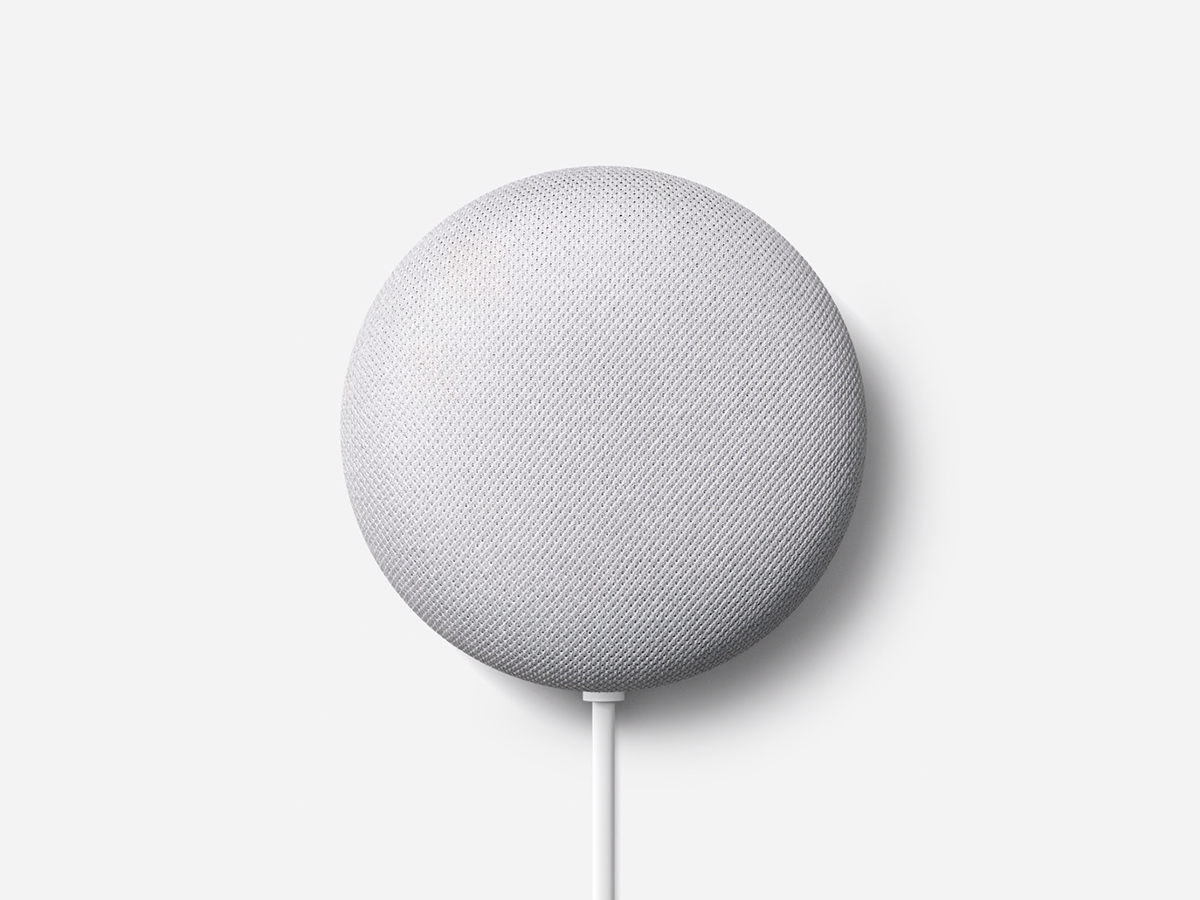 No office would be complete without a speaker capable of cranking out your co-workers' God-awful (or surprisingly brilliant) Spotify playlist. Unfortunately, you probably won't hear it for a while if you're going to be sampling the delights of remote working over the next few weeks, but that just means it's time to create your own. The thing is, you'll need a decent speaker to play it on, and those things don't come cheap.
Well actually, they kinda do. Enter the Google Nest Mini, a surprisingly spritely smart speaker that's not only capable of blasting out tunes, but will also dish out news updates, control any smart appliances you might have, and just generally keep you company while you self-isolate. The chirpy speaker was recently given a refresh by Google, imbuing it with twice as much bass as the original Mini and improving its voice recognition capabilities – all while preserving that £49 price tag. Smashing.
---
Bibo Classic Water Dispenser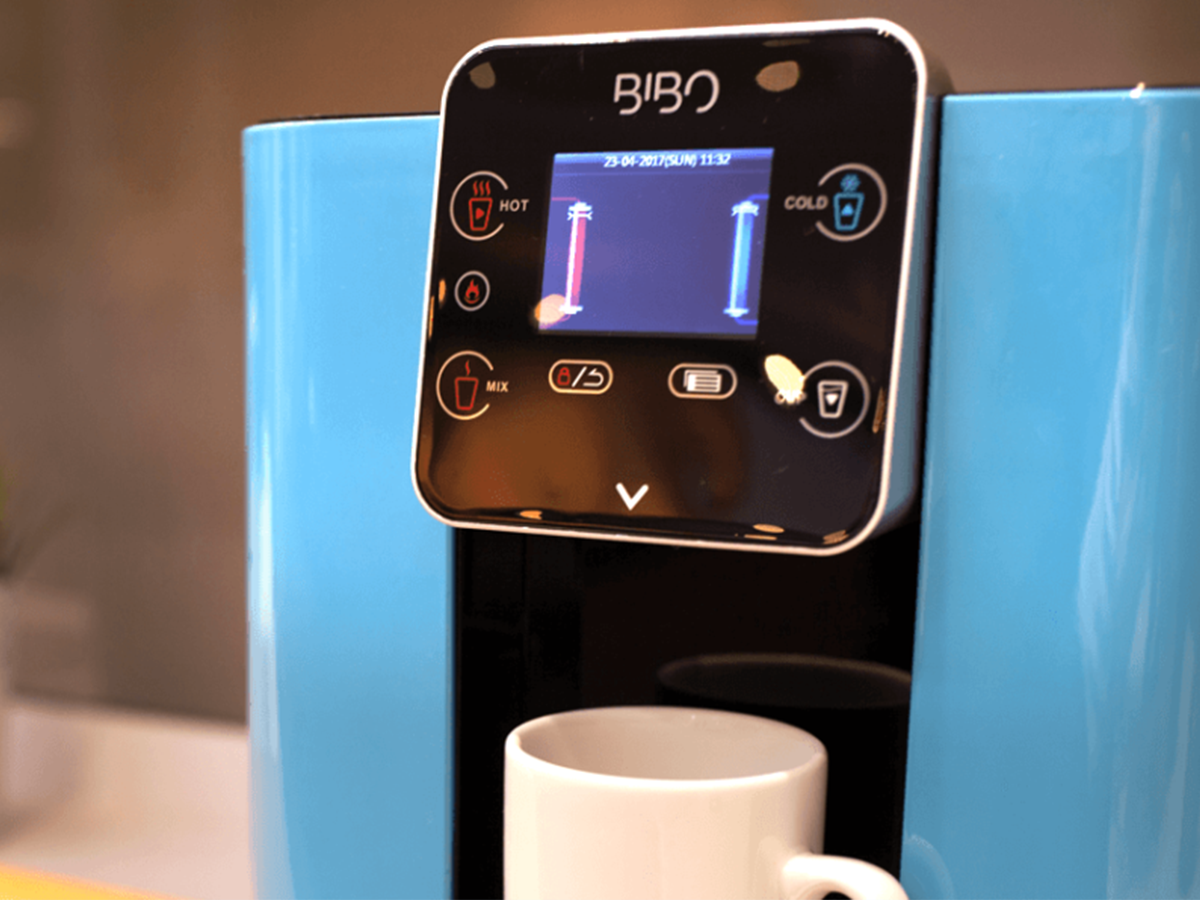 If you're in the business of hydration but can't stand the taste of boring old corporation pop, the Bibo might just be your new best friend.
The smart water dispenser connects to your mains and delivers boiling, chilled, and filtered water in an instant. Not only will it motivate you to gulp down plenty of water during the day, but it'll also help you save the environment (and cash) by reducing the amount of electricity you use boiling the kettle.
What's more, the Bibo's tabletop filtration system employs a multi-stage carbon and UV lamp filtration process to retain all the good stuff while getting rid of contaminants, serving up water that's purer than a bundle of puppies.
---
Samsung Space Monitor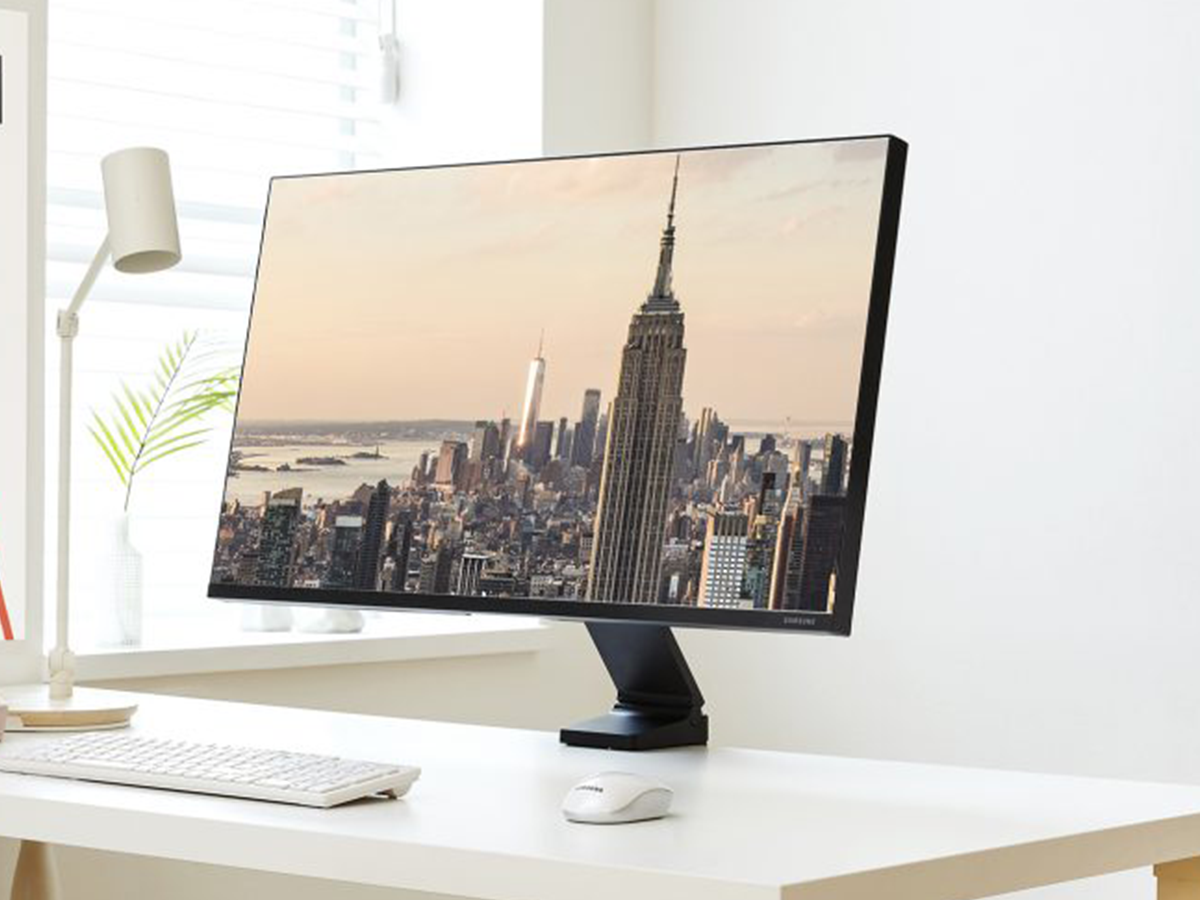 When you spend most of your day staring at a monitor – be it at home or the office – it's important your screen is placed directly in front of you, and positioned at a comfortable height. Most desks don't really allow for that, and you usually wind up hunched over your screen like some kind of productivity gremlin. The Space Monitor wants to change that.
The sleek screen is equipped with a sophisticated stand that can be rotated, elevated, and stored completely flat. It can be placed exactly where you need it, helping to reduce neck strain and save space while making your desk look supremely cool. That's what we call a triple threat.
---
Ducky One 2 SF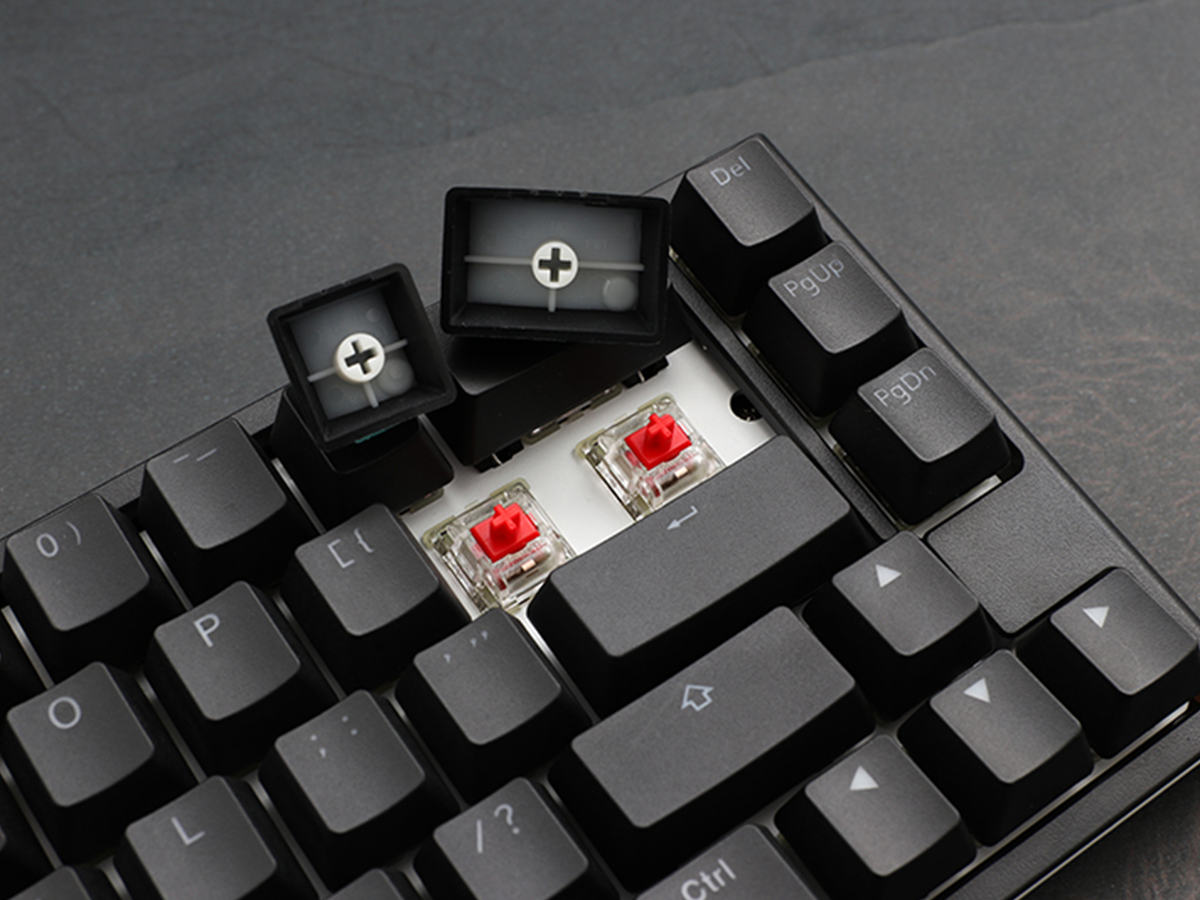 If you're serious about typing, by which we mean you're someone who lives for the symphonic clickity-clack of fingers on keys, then you might want to consider investing in a mechanical keyboard. Designed to be more tactile and responsive than their membrane counterparts, mechanical keyboards use actual physical switches to register key inputs and as a result last longer, feel sturdier, and provide a better overall typing experience.
If that sounds like the sort of setup you can get behind, you could do a lot worse than starting with the Ducky One 2 SF. A slick addition to any home office, the One 2 SF is a minimalist mechanical keyboard that boasts industry-leading Cherry MX mechanical keys switches (in a variety of colours), dual colour bezels, a 3-level angle adjustment stand, stunning RGB light effects, and a 1000Hz polling rate that delivers lightning fast inputs. Just make sure to do your research before you take the plunge so you know which switch type is right for you.
---
RIGGAD LED Work Lamp with Wireless Charging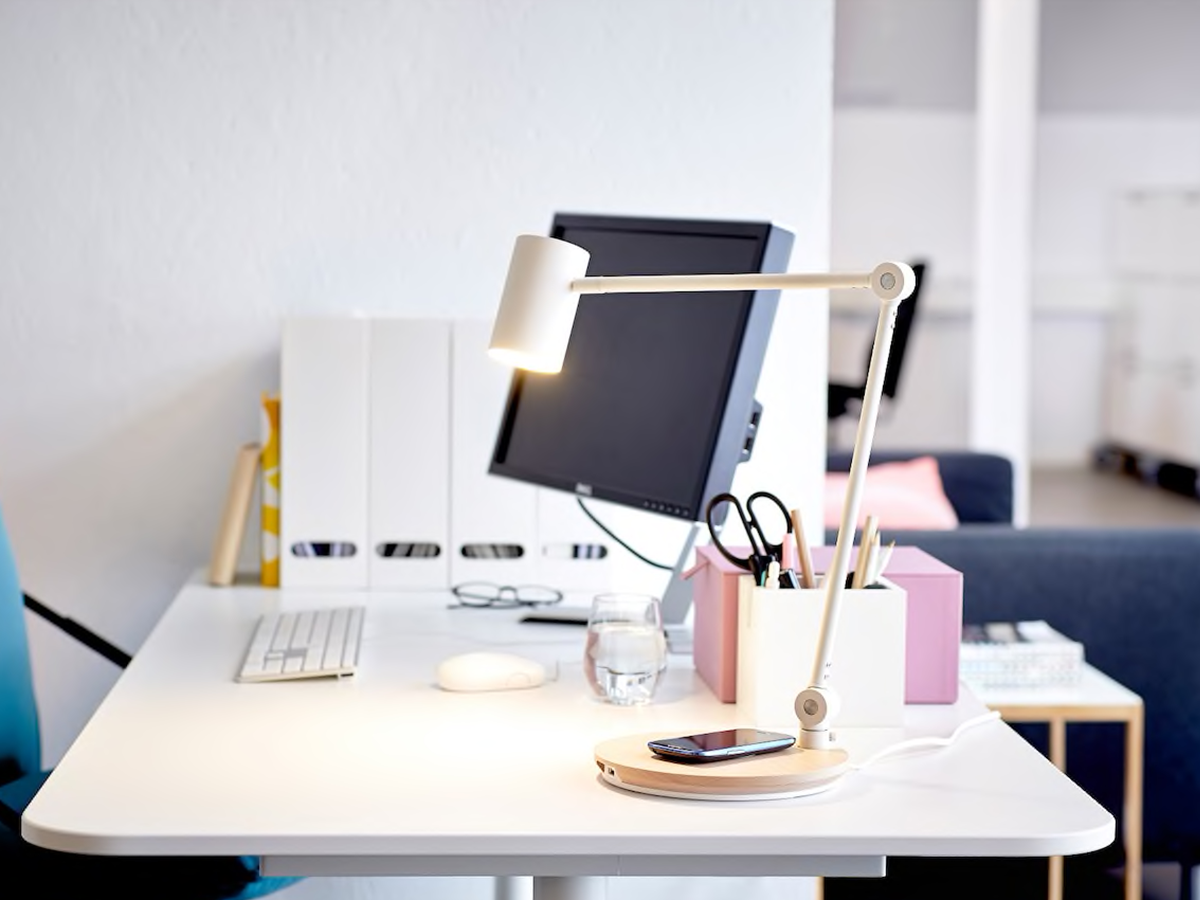 Look, if you're going to be working from home you'll need to grab a desk lamp. We don't make the rules, that's just the way it is. Before you order any old lamp though, allow us to suggest the RIGGAD LED Work Lamp from the Nordic masterminds over at IKEA. Winner of the international iF Design Award, the RIGGAD is an understated, flexible, and energy efficient lamp energy that also doubles as a wireless charger for your smartphone – giving you the productive power of light and helping ensure you don't miss any important work calls. The LED lamp consumers up to 85 percent less energy and lasts 20 times longer than incandescent bulbs, while the wireless charger is Qi-certified and compatible with a variety of handsets including modern Apple iPhones and Samsung Galaxy models. Oh, and it even comes with an additional USB port for charging two devices at once. Talk about a bright spark.