New Volvo XC90: Say hello to the safest SUV ever
According to the Swedish marque, nobody will be killed or seriously injured in one of its cars by 2020. The tech-heavy XC90 is one step towards that goal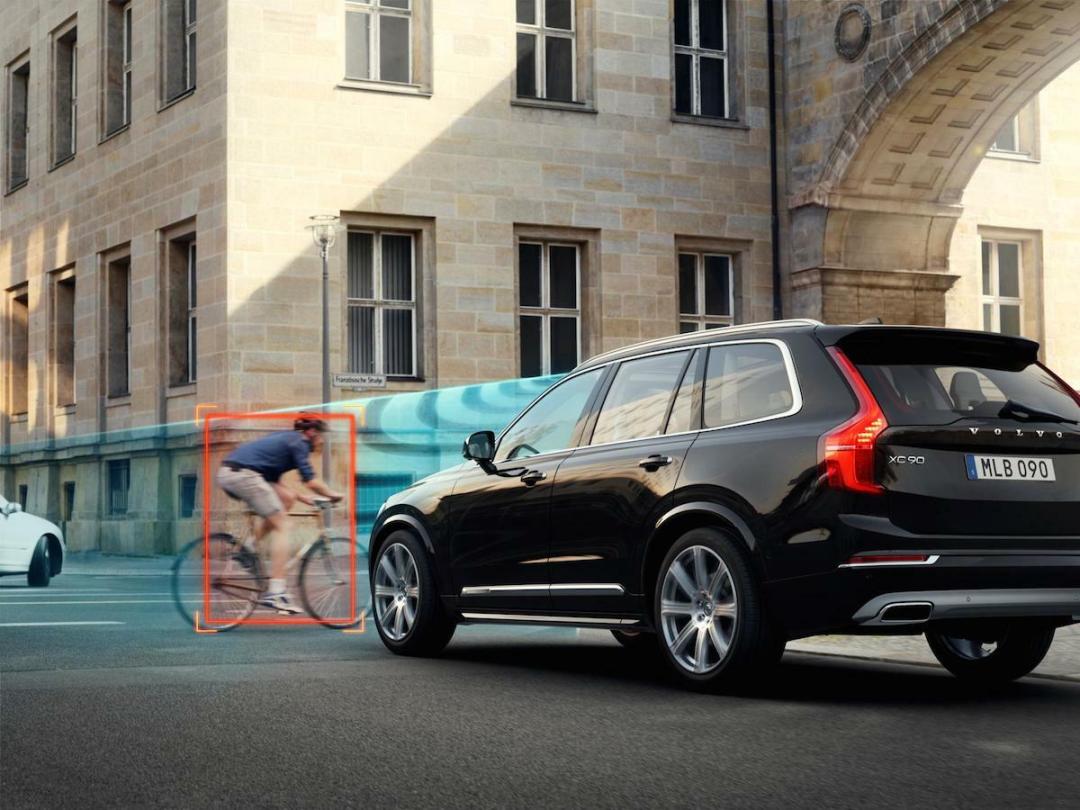 Volvos may not be the fastest, sexiest or coolest vehicles on the road – but they have always been among the safest.
The Swedish marque was among the first European manufacturers to adopt the use of airbags, it introduced a Side Impact Protection System as an option in the mid-90s and is the only manufacturer to currently offer an exterior airbag for pedestrian safety in its V40 model.
Volvo's also taken the bold step of announcing Vision 2020: a pledge that not one Volvo owner will be killed or seriously injured in one of its vehicles by the year 2020. It's a huge ask – but the recently unveiled XC90 packs the sort of life-saving technology that could see this dream become a reality. Here's how…
READ MORE: The all-new Volvo XC90 is a tech treasure chest on wheels
Autonomous = accident free
"Human error accounts for 90% of all accidents," reveals Lotta Jakobsson, Senior Technical Specialist for Safety and the woman responsible for the new XC90's safety systems. "I feel that autonomous driving should be used to reduce accidents rather than act as a convenience for drivers wanting to text or email behind the wheel."
That would explain why Volvo's new Queue Assist function, which uses radar technology connected to the Adaptive Cruise Control to autonomously keep up with slow moving traffic, only works up to speeds of 15mph rather than motorway cruising speeds.
The tech is extremely sophisticated, requiring the use of a number of radars and sensors, and can work in conjunction with Lane Keep Assist to ensure the vehicle doesn't stray into the path of other road users.
"The vehicle will require some input from the driver but it will step in and assist when concentration wanes during those long traffic jams," Lotta adds.
Brace, brace, brace
Volvo has legally been able to attend accidents that occur within a set radius of its Gothenburg HQ since the 1970s and as a result, it knows that some prangs are simply unavoidable. "We realise that accidents do happen," says Lotta.
"But we want to know how they happen and whether we can do anything to prevent them or reduce the seriousness of the resulting injuries."
The new Volvo XC90 features a run-off road protection package, a world-first piece of technology that can detect when the vehicle is about to leave the road and tighten the seat belts to keep the occupants in position.
"Radar technology and a multitude of sensors is key to this technology working. We even have a system that can detect a rear end shunt. It flashes the hazard lights to warn the driver in the car behind before tightening the seat belts to brace the occupants for impact," Lotta reveals.
These sensors and radars are called in to question again at junctions when the second piece of cutting-edge technology comes into play. As the XC90 is preparing to turn into a junction, it scans the road ahead to make sure the driver isn't about to cross the path of an oncoming vehicle. If it feels it needs to step in, the big SUV will first warn the driver and then slam on the brakes to avoid a head-on collision.
READ MORE: 100 self-driving Volvos hit the streets of Gothenburg
Pedestrians aren't postboxes
The camera technology built into the new Volvo XC90 can detect pedestrians and cyclists, track their movements and then apply the brakes should someone decide to unexpectedly step in the road or cycle into the SUV's path.
"A huge amount of algorithms are constantly running," says Lotta. "The software can distinguish between a person and a postbox, it knows that a human has arms, legs and a head. It can even distinguish between those wearing waterproof cycling clothing, which might cover the bits that distinguish a person from other road furniture," she adds.
An alarm will sound if the technology senses that a pedestrian or cyclist's path conflicts with that of the car. It will also flash a warning on the LCD instrument binnacles before automatically applying the brakes should the driver fail to intervene.
We're safer connected
Volvo is already trialling an autonomous vehicle programme in its hometown of Gothenburg but Lotta Jakobsson believes that the lessons being learned will begin to filter through into non-autonomous products long before we see driverless cars on our roads.
"Autonomous vehicles require constant information from the grid, they must be connected not only to other vehicles but also the world around them," Lotta explains.
"Once more vehicles start connecting to the wireless network, we can begin working on technology that knows when another car has jumped a red light at a junction, for example, or when an emergency services vehicle is approaching at speed."
The future will see more and more vehicles 'talking' to one another and interacting with connected road furniture, which will work to improve the flow of traffic and reduce jams. It should also help Volvo achieve its Vision 2020 goal – which is starting to look like a realistic goal, and not just a lofty ambition.
READ MORE: All our amazing Hot Stuff