LG G3 hands-on review
This is it. The wait is over. We finally meet the pixel-packed G3 in the flesh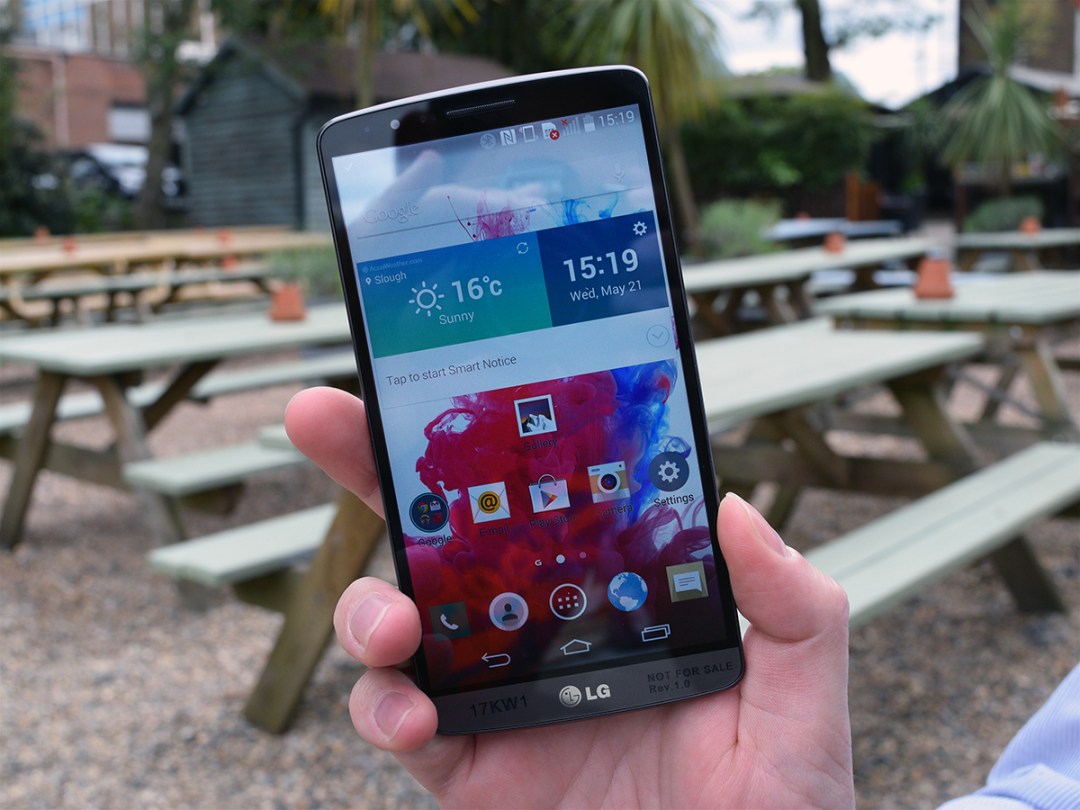 The LG G3 has a lot to live up to. It's rivalled the HTC One (M8) in pre-launch leaks, and its predecessor the G2 raised the smartphone bar so high that it wasn't knocked off its top spot in Stuff's Top 10 Smartphones list for a solid six months.
Now it's finally revealed itself to the world in all its glory, packing in a boatload of specs for Android fans to drool over.
We were lucky to spend some time with the LG G3 ahead of its launch to record our first impressions ahead of our full in-depth review.
Please note that these observations were based on a pre-retail sample, which did not have the final software version installed, so performance may be subject to change. This will be reflected in our final review.
Right then. Let's meet the LG G3.
An object of beauty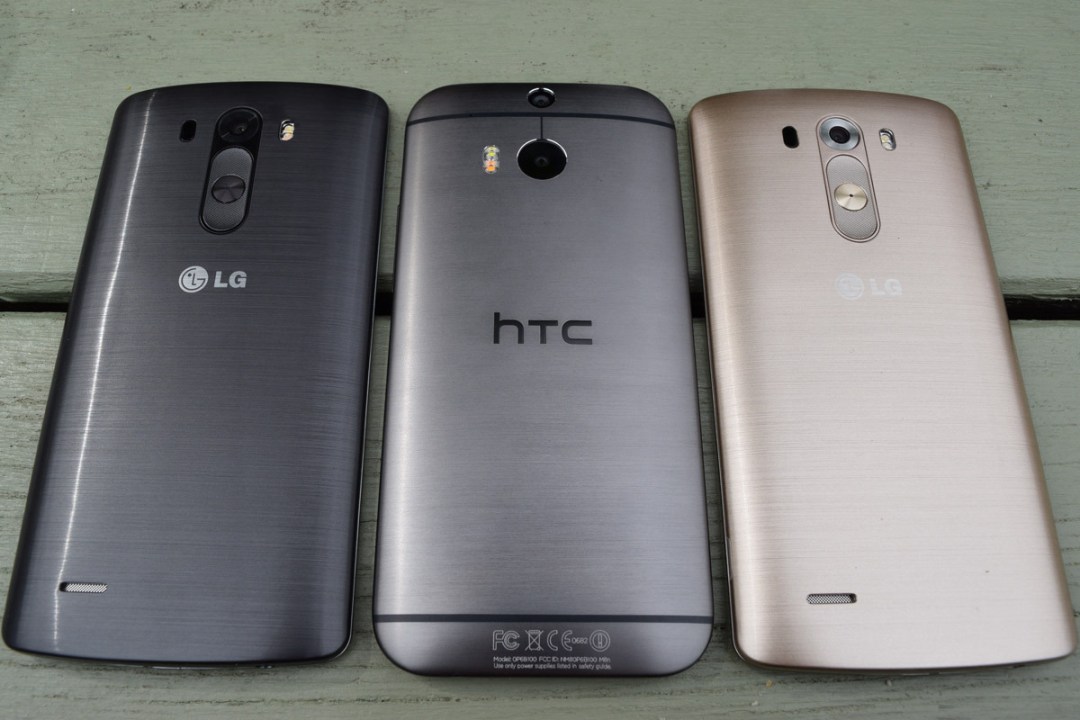 The LG G3 is as beautiful in the flesh as its pictures would have you believe. We only saw the Shine Gold and Metal Black versions, and both look stunning.
In the hand, the G3 is surprisingly light, weighing in at around 150g, ten grammes less than the HTC One (M8), and it feels comfortable to hold thanks to its curvier design and balanced weight.
Despite having a larger 5.5in screen, LG's use of witchcraft to somehow shrink the bezels down to almost nothing means that it's not as awkward to hold as other phones with equally gigantic screens.
In fact, LG has done such an amazing job of slimming down the bezels that the G3 is actually slightly shorter than the HTC One (M8), which itself has a smaller 5in screen. Impressive stuff.
The rear of the G3 is in fact plastic, which will disappoint fans of the HTC One (M8)'s premium metal design. Place the G3 next to its HTC rival however, and you'll be hard pressed to tell the difference in material, thanks to its lovely brushed-metal finish. It catches the light and reflects it back in a manner that's almost indistinguishable from metal.
Observant gadgeteers will notice that the speaker has been moved to the back. It's now a more powerful 1W affair, which we have yet to test in detail.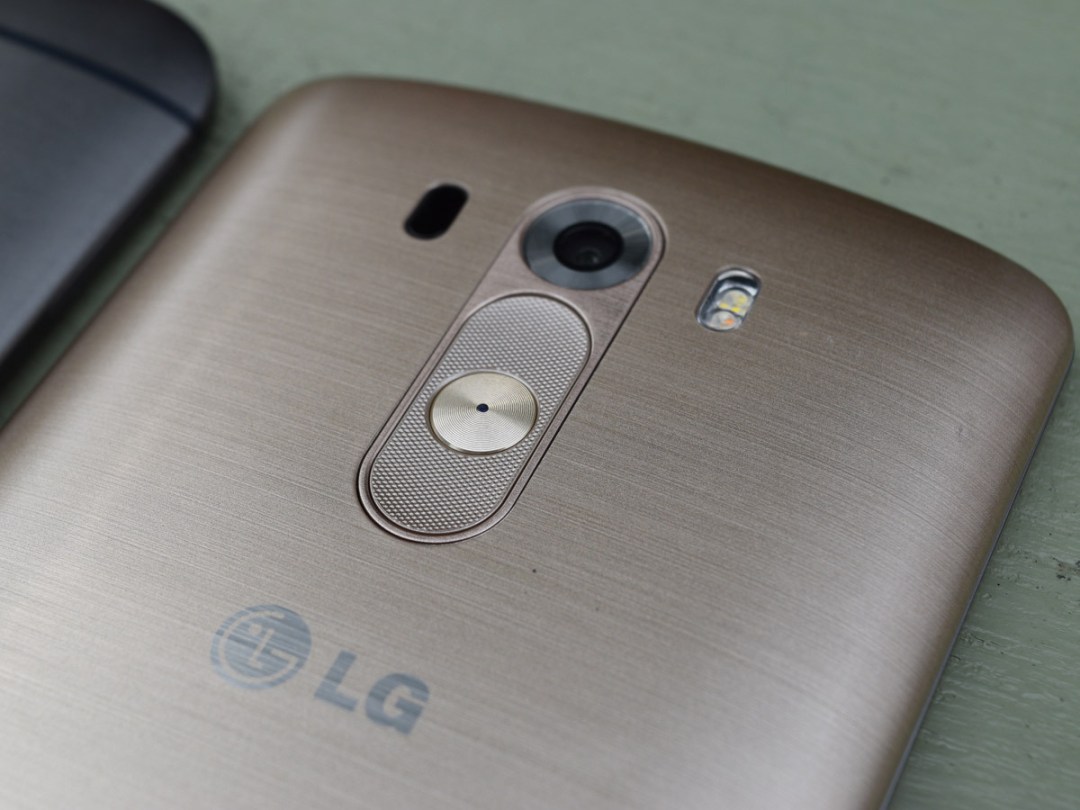 When you do pick up the G3, however, it lacks the reassuringly weighty premium metal feel of the One (M8). You can fool the eyes, but not the fingertips.
Still, that's not to say that the G3 feels cheap, and that non-metal back brings with it some definite plus points – wireless charging, microSD support, and a removable battery.
All of which means that Android fans seeking both removable batteries and storage now have an alternative to Samsung devices, where before there was little choice at the top end of the tree.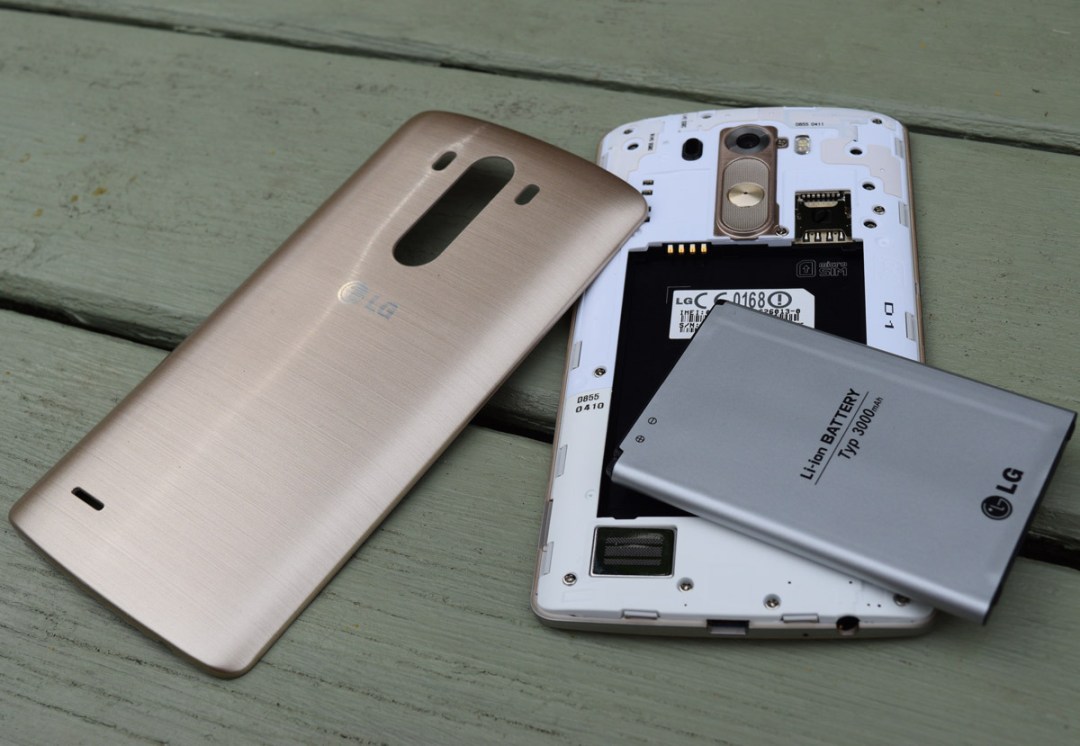 And finally, back to the front. We're not sure if we're fans of the front bottom bezel, which carries over the rear's faux-metal design; we'd always liked the minimalist all-black front of the G2, so it might take a little getting used to.
Baby got back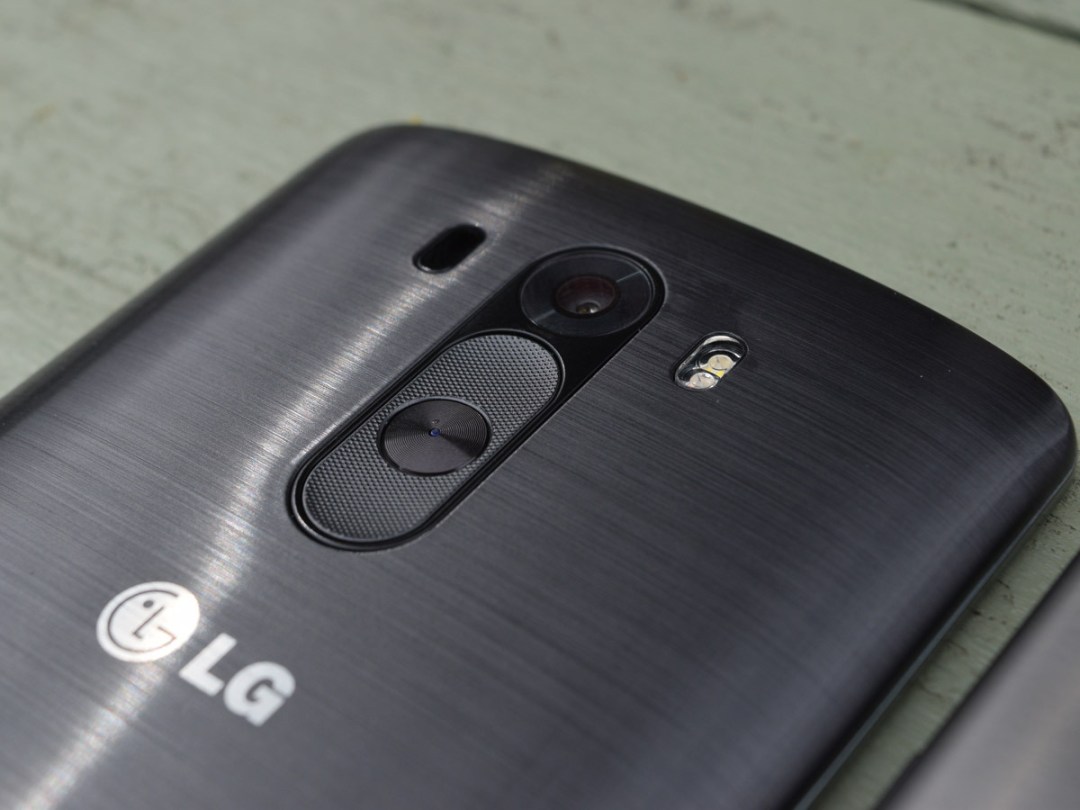 The rear power and volume buttons which made their debut on the G2 return on the G3, and their non-traditional location is one factor behind the G3's deliciously miniscule bezels.
It's fair to say that their placement divided opinion on the G2, but LG clearly plans to stick with its guns on this front. Don't like it? Tough. In all fairness, we did soon get used to having them on the G2, and the good news is that the buttons themselves have been improved for the G3.
The power switch is larger and flatter, while the volume keys are also bigger and now have a classy perforated finish. The end result is comfortable to use, and it's much easier to distinguish between them from feel alone.
Ridiculously pixel-packed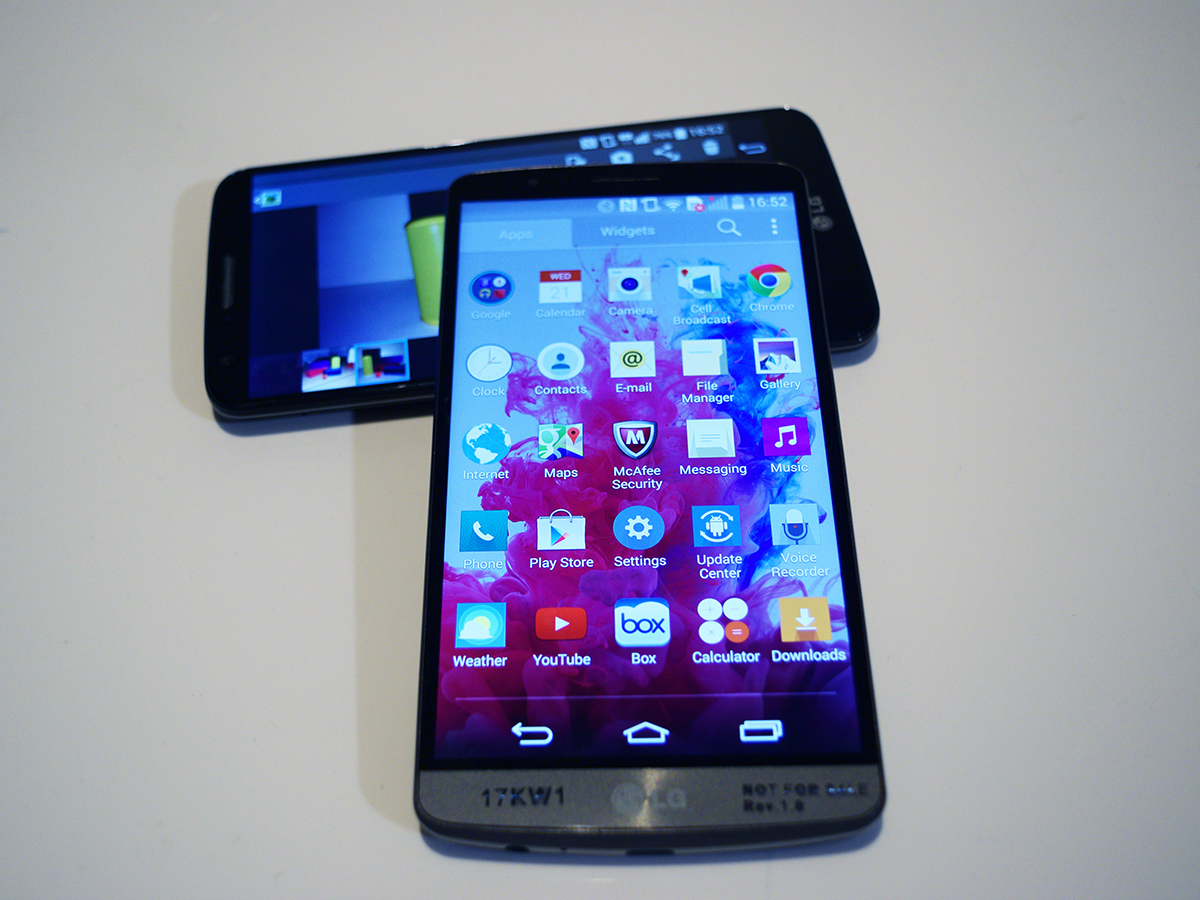 The LG G3 is the first smartphone from a major manufacturer to land in the UK with a QHD, 2K display.
Its 5.5in screen has an insane 2560 x 1440 resolution. That's the same as you'd get on a high-end gaming PC monitor, except it destroys that, and the smartphone competition, with a crazy 538ppi count.
In the flesh, the screen is equally impressive. Despite its large size, it's not too awkward to use, thanks to the G3's smaller footprint compared with other mammoth phones. That said, you'll still have to do a few finger-shuffles during one-handed use.
In our limited time with the G3, it was hard to say whether or not all those extra pixels made a difference, in the home screen and menus at least. It looked razor-sharp, sure, but then again, so did the G2 and HTC One (M8) screens which were right next to it.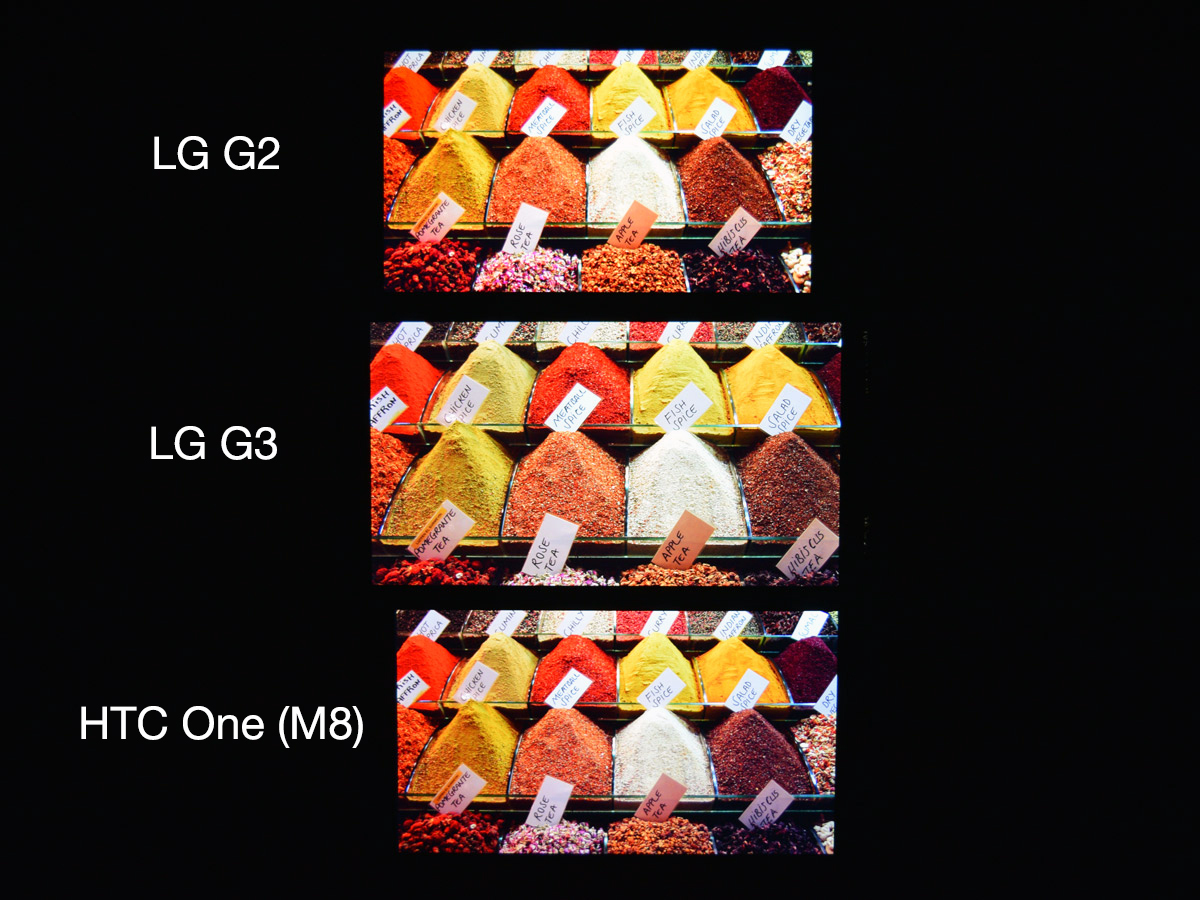 Only when we compared an identical reference shot on each screen did the benefits of the G3's display become apparent. We used a high-resolution image of spices in a bazaar and to our eyes the G3 picked out noticeably more detail than both the G2 and One (M8), allowing us to see better separation between the individual grains.
That was with us pressed up close to all three screens, mind. At regular arm's length, the difference might not be so obvious. One thing we can say now is that the G3 had the most natural colours of all three phones. The One (M8)'s screen is superb, serving up natural tones, but we still preferred the G3's display: it just seemed a little more accurate, with natural colours, excellent contrast and fine blacks.
For now, we'll tentatively say that the G3 sample we looked at could very well have one of the best smartphone screens we've ever seen. We've yet to test it properly in sunlight however, and there's no way of knowing how hard it'll hit the battery life, so we're reserving our final judgement until our full review.
Sharpshooter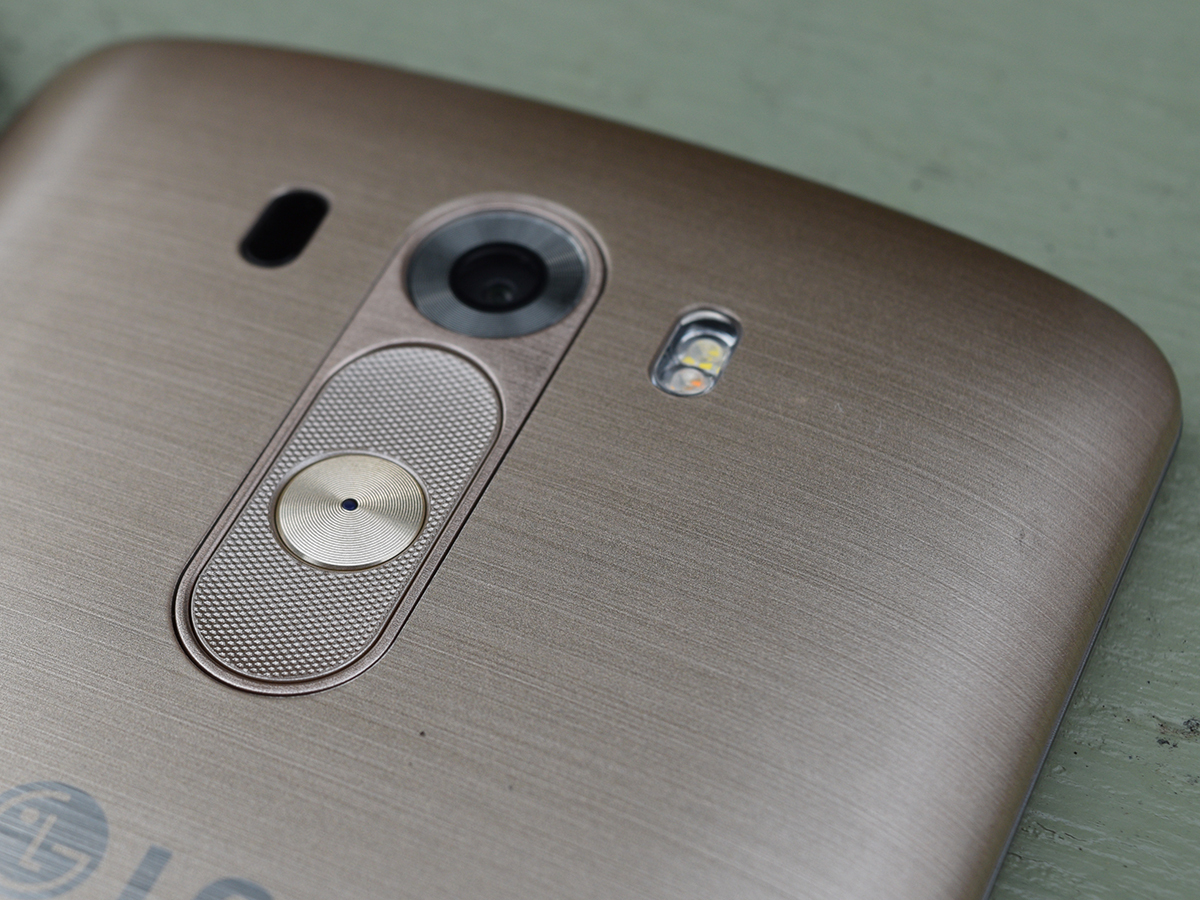 The LG G3 retains the G2's 13MP camera and optical image stabilisation (OIS), but has been upgraded with the same OIS+ system as that on the G Pro 2 phablet. Essentially, this means that while the physical floating OIS lens design has stayed the same, image stabilisation software tweaks have been thrown in to improve performance.
The G3 also has a white/amber dual-LED flash, similar to the one found on the Apple iPhone 5s and HTC One (M8), which promises to produce more accurate colours and skin tones. Oh, and it also has a laser autofocus sensor.
That's right. That little black sensor on the left of the camera? That's not a fingerprint scanner. It's a frickin' laser beam shooter.
LG tells us that the red laser dots emitted by this sensor can measure depth very accurately, and therefore help the camera focus better, even in low-light conditions. It also apparently enables more accurate shutter speeds, based on the depth information that it records.
This, combined with the OIS+ system which itself allows for longer shutter speeds, more light and less blur, should result in some impressive snaps.
We only had about 15 minutes to pit the G3 against the LG G2 and HTC One (M8), so you'll have to wait until our final review for our definitive judgement.
We should also point out that the G2 unit that we used has been rooted, and its camera app has been tweaked with a cutomised settings file, which improves the G2's already formidable imaging performance by quite some margin. In our final review, we'll be using a stock G2 camera for comparison.
Note: click on the settings icon in the top right to compare all picture samples at their full resolutions.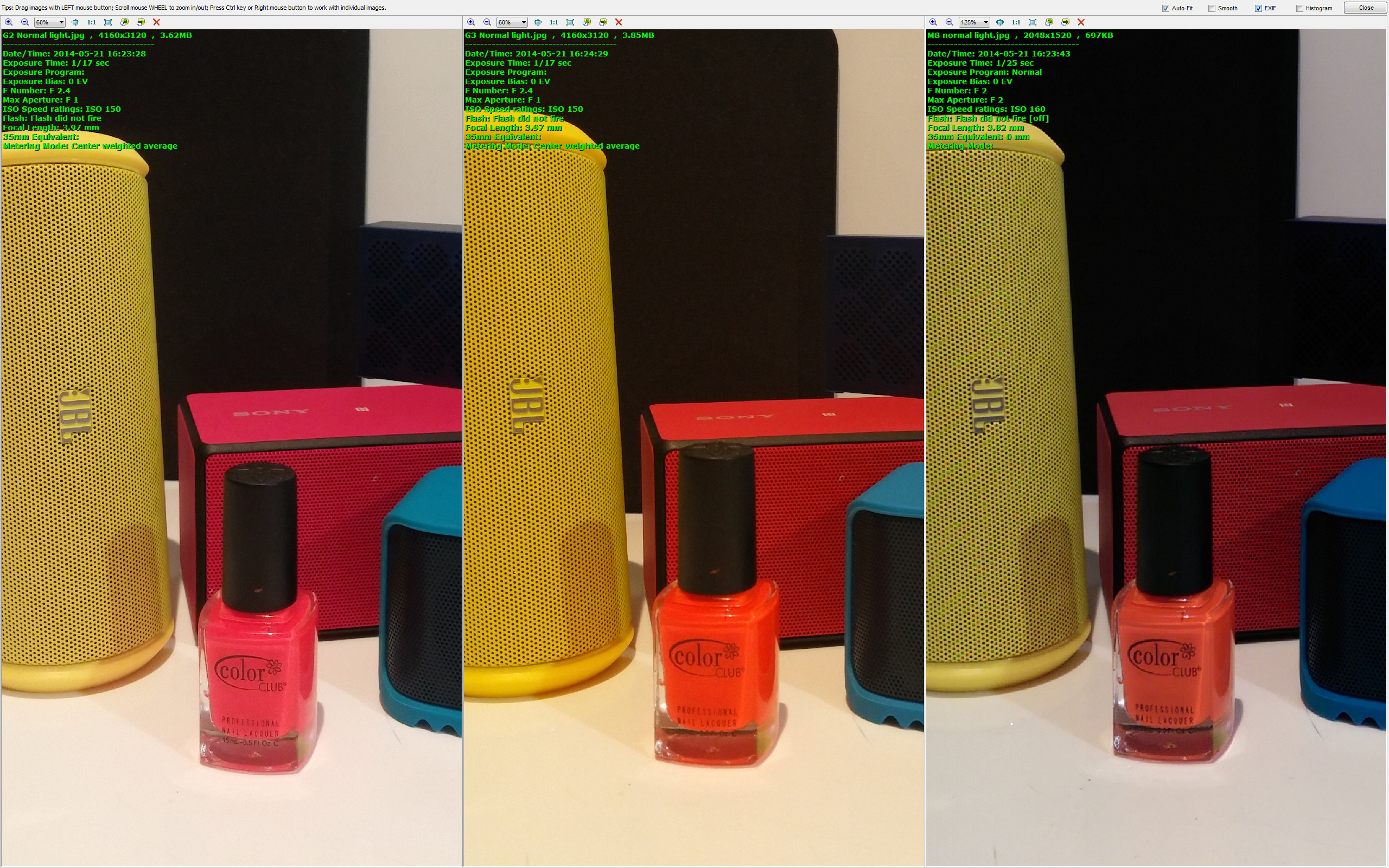 NORMAL LIGHT
In normal indoor light, the G3's shots had a more balanced exposure than the One (M8)'s offerings, picking up more detail in both dark and light areas.
While the M8 actually had the best colour accuracy of the three devices, it suffered from very noticeable chromatic aberration in some areas of the photo, primarily in the yellow speaker grille holes.
DIM LIGHT
In dim light, the One (M8) fared the worst, with fuzzy details compared to its LG rivals.
Both the G2 and G3 performed well, though the G2's shot appears to have slightly finer detail and more accurate colours.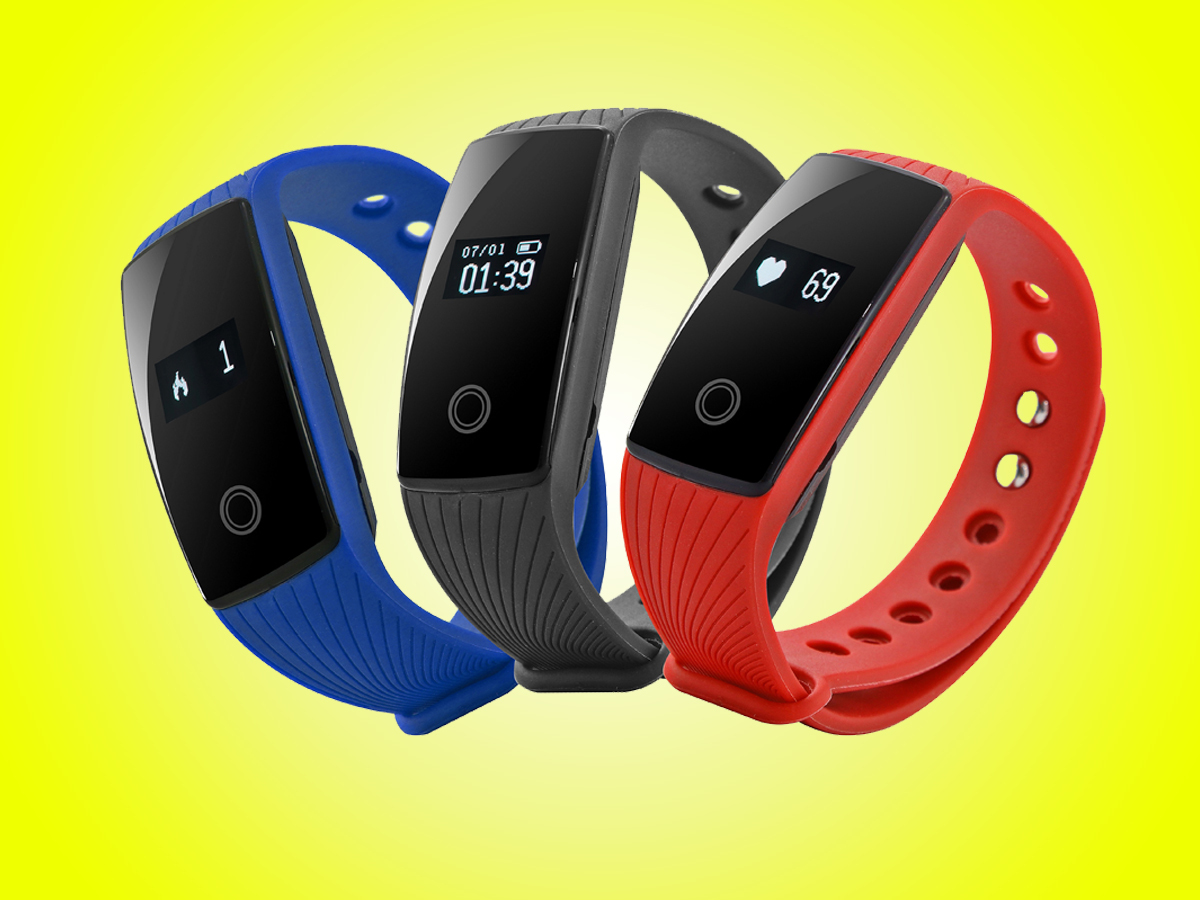 DIM LIGHT (FLASH)
Next up, we took the same photo in dim lighting, this time with flash. Once again, the LG brothers bested the One (M8), which produced less detail.
The G3 actually performed the best under these conditions, picking up a little more detail than the G2, although the G2 still produced slightly more accurate whites.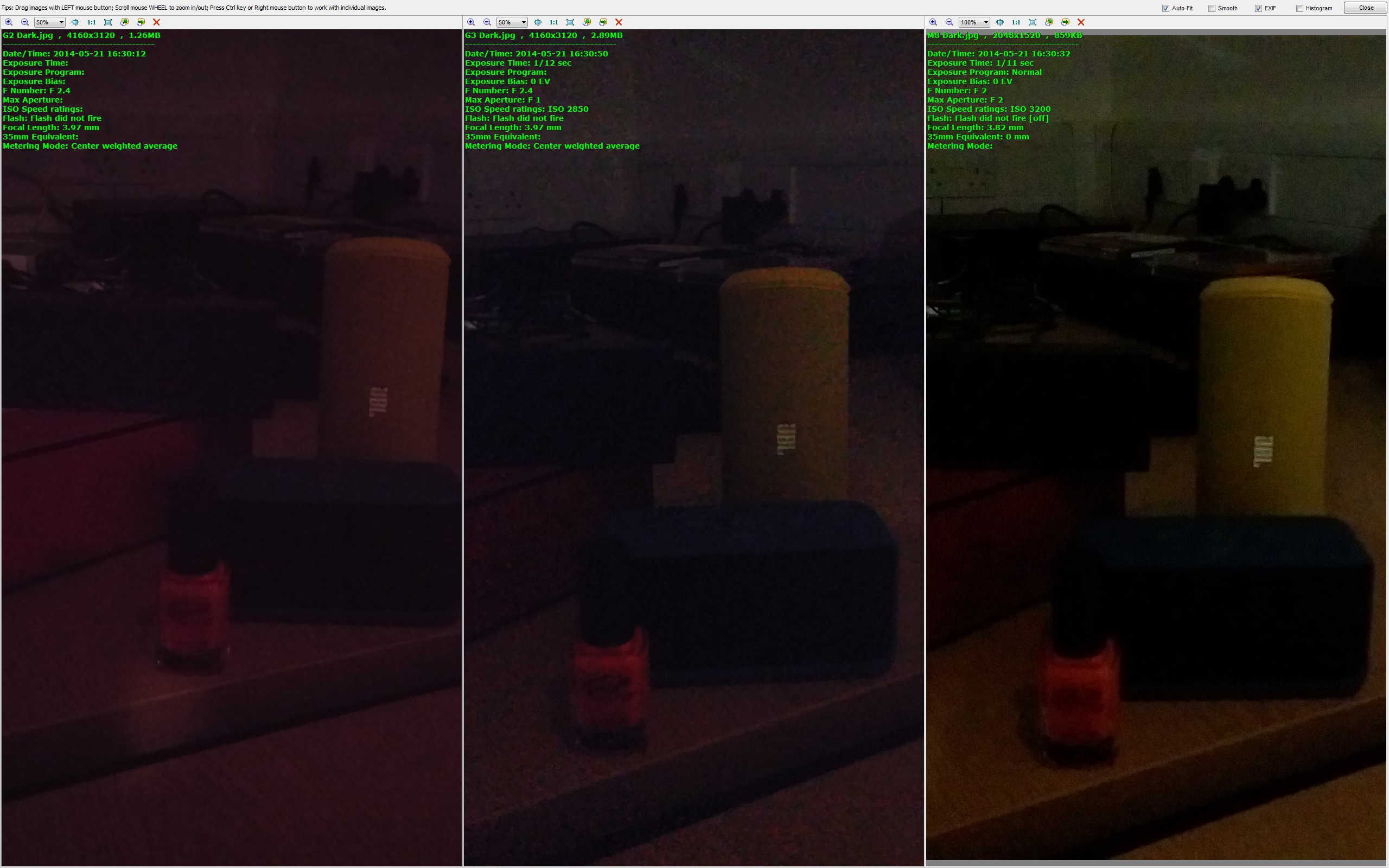 DARK
Dark conditions (not pitch black, but very dim) with no flash are the One (M8)'s forte, thanks to its light-guzzling UltraPixel camera. It did record the most detail and the brightest subjects, although there's still noise present.
While the G2's shot is a little less fuzzy than the G3's, the G3 managed to resolve more detail in the foreground, despite the dark conditions.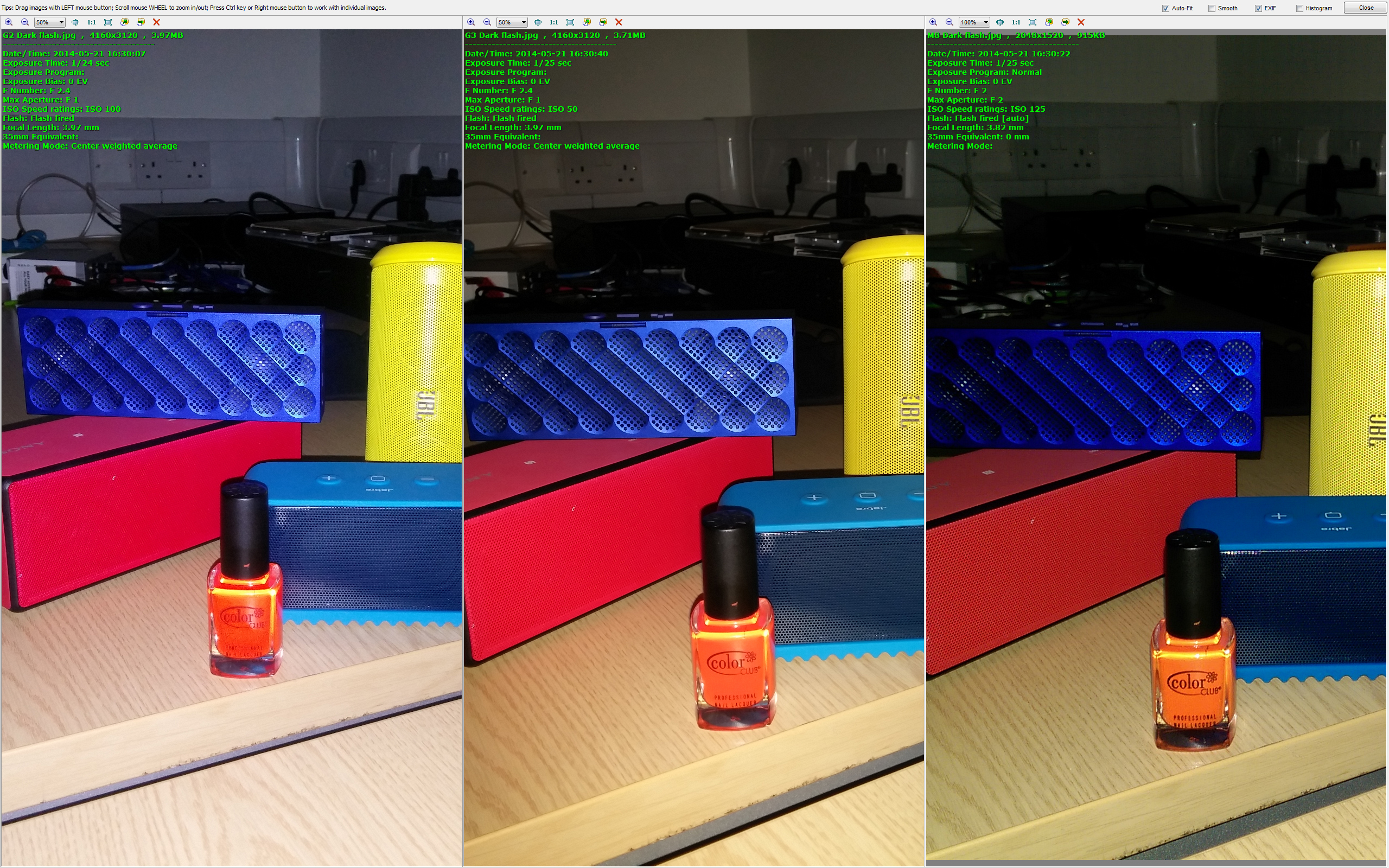 DARK (FLASH)
Finally, we pitted all three phones against each other in the dark, with flash. The One (M8) picked up the most foreground details, right down to the individual holes in the speakers grilles, which the LG brothers missed.
To our eyes, the G3's shot is the best overall however, as it picks up more foreground and background detail than the G2. Again though, its whites aren't as pure.
Overall, from our brief time spent with its camera, we felt that the G3 produced extremely respectable shots in all lighting conditions. Our main gripe with its camera are its off-whites, but again, we have to stress that we carried out these sample tests in a very short period of time, and the G3 sample unit we were using was was not a final retail model with the final software.
Our full in-depth LG G3 review will show off the G3 camera's true colours, so stay tuned.
This dragon looks familiar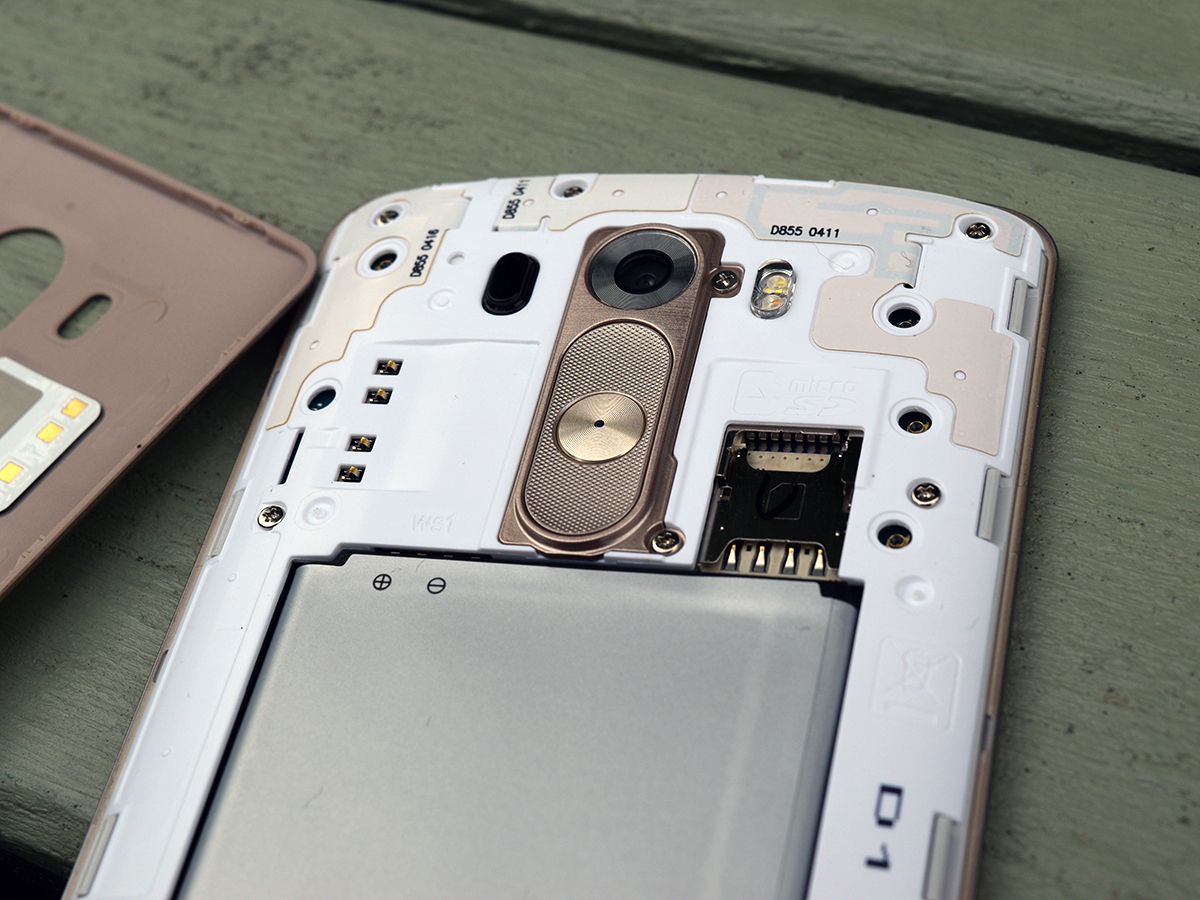 The 16GB LG G3 will launch in the UK in the with 2GB of RAM, while the 32GB version (which won't be available at launch), will have 3GB of RAM. LG has not confirmed when the 32GB version will land, but suggested that it could arrive in the future, along with a colour refresh.
Both models are powered by the fastest 2.5GHz version of Qualcomm's mighty Snapdragon 801 processor. That's the same one found beating within the ribs of the Samsung Galaxy S5, but we were hoping for the more powerful, yet-to-be-released Snapdragon 805, as the G3 has many more pixels to push.
LG has assured us that the 801 is more than up to the task of handling those extra pixels, but in our time with it we did notice the odd bit of stutter and lag. Scrolling between the dialler and contacts menus served up a noticeable delay, as did exiting the camera app to return to the home screen. There's a good chance these are minor software issues related to the sample unit not running the final software release, so hopefully they'll be ironed out come release day.
Beyond those hiccups, the G3 seemed fine, although we didn't have time to load up a demanding game during our session with it.
A welcome facelift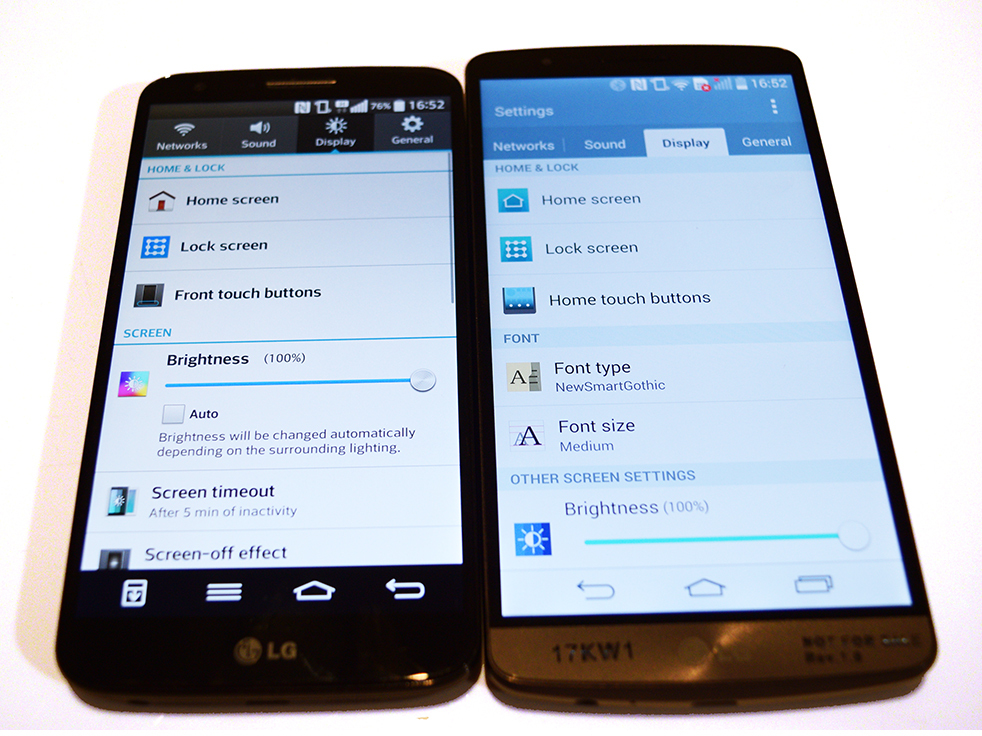 LG has mercifully taken a leaf out of Samsung's book and gone back to the UI drawing board. While it's nowhere near stock Android, the G3's skin now has a flatter, simpler design which no longer looks like it was inspired by an explosion at a crayon factory. From its simple, rounded icons to its gorgeous hi-res wallpapers, it's a huge improvement.
LG has also reduced the bloatware by up to 30%, which is good news for storage space. The 16GB G2 had around 10GB of useable internal memory available, and LG tells us that the G3 has increased this to just under 12GB.
The crowded notification bar on the G3 can also be slimmed down to include the options of your choice, which was a task which previously required rooting the G2.
LG has also thrown in a few new software tricks which sound genuinely useful. The first of these is Smart Clean, which will supposedly help keep it running in tip-top condition by urging you to delete or clear the cache of apps which you haven't used in a while. Given the number of apps which we install, use once then promptly forget about, this is probably a good idea.
Another feature is Smart Notice, which brings Google Now-like powers to the table, reminding you of birthdays, telling you if you need an umbrella, and other butler-like features. We didn't have time to test it out and frankly we're a bit sceptical that it will prove better at any of these things than Google Now itself. Still, we'll give it a chance when we get our review unit in.
Holding down the back button also lets you use certain LG and Google apps in a split screen configuration, which is a useful feature that we've been using on Samsung's phones for quite some time.
LG's excellent Knock Code feature (shown on the G Pro 2 above) also returns, negating the need for faffing around with fingerprint sensors or pin codes. Simply tap out a combination pattern on its display, and bam – you're straight into the home screen.
A more traditional double tap (Knock On) wakes up the lockscreen, letting you check the time or notifications at a glance. Two brilliantly simple, yet elegant solutions, which will soon become second nature if you're not used to them already. And while the HTC One (M8) and Sony Xperia Z2 both have their own versions of Knock On, neither have Knock Code.
Stamina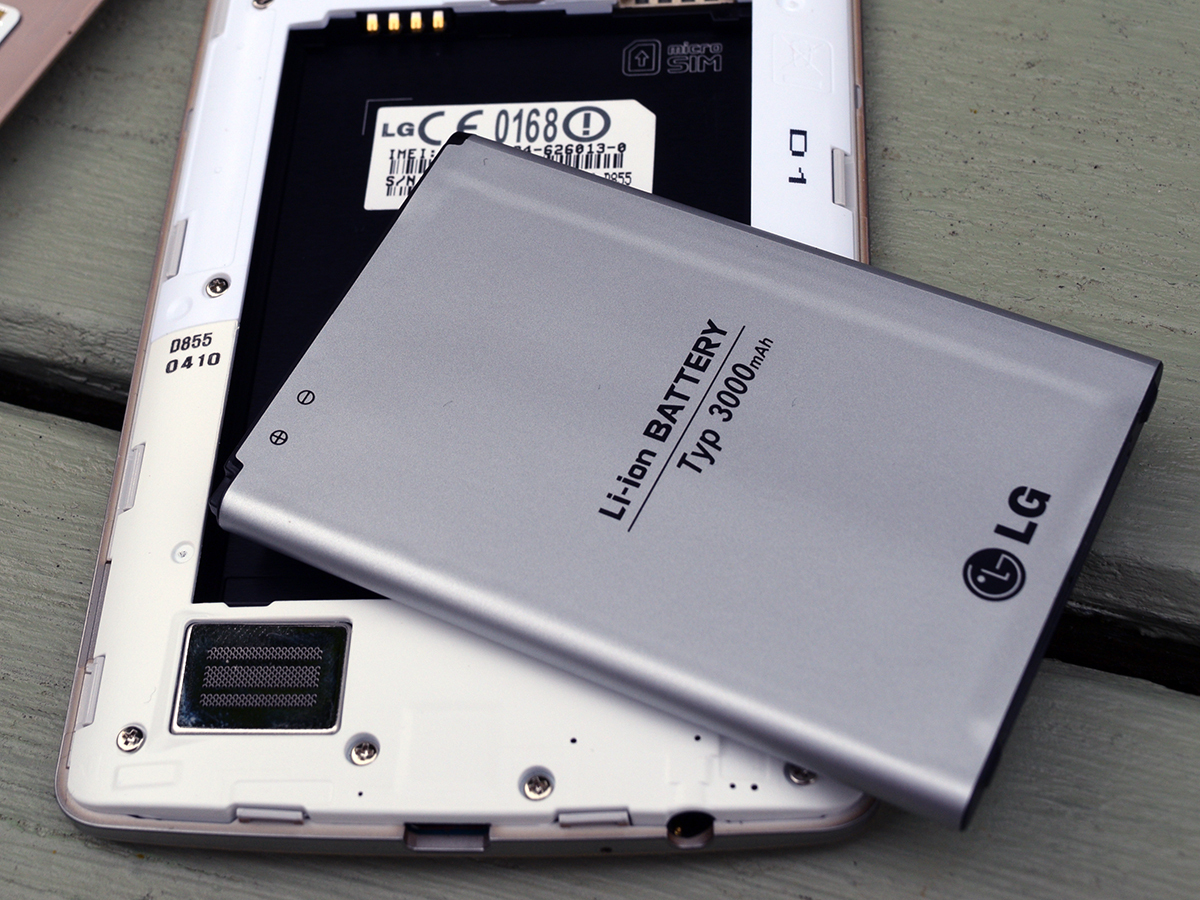 While we obviously couldn't test out the G3's battery life in the short time we had with it, we did voice our concerns to LG about its 3000mAh cell.
It's not a small battery by any means, but it's the same capacity as the one found in the G2. The difference is that this time it has to power a larger, substantially more pixel-packed display.
LG has assured us that the G3 was built to last as long as, if not longer, than the industry-leading G2. It claims that the newer, more efficient processor, coupled with a reduction in bloatware and software optimisation, will keep power users happy, and at the very least, you can swap out another battery for an instant recharge.
Given LG's track record, we're happy to give them the benefit of the doubt at this stage, but we'll be putting the G3's stamina to the test just as soon as we can.
Initial Verdict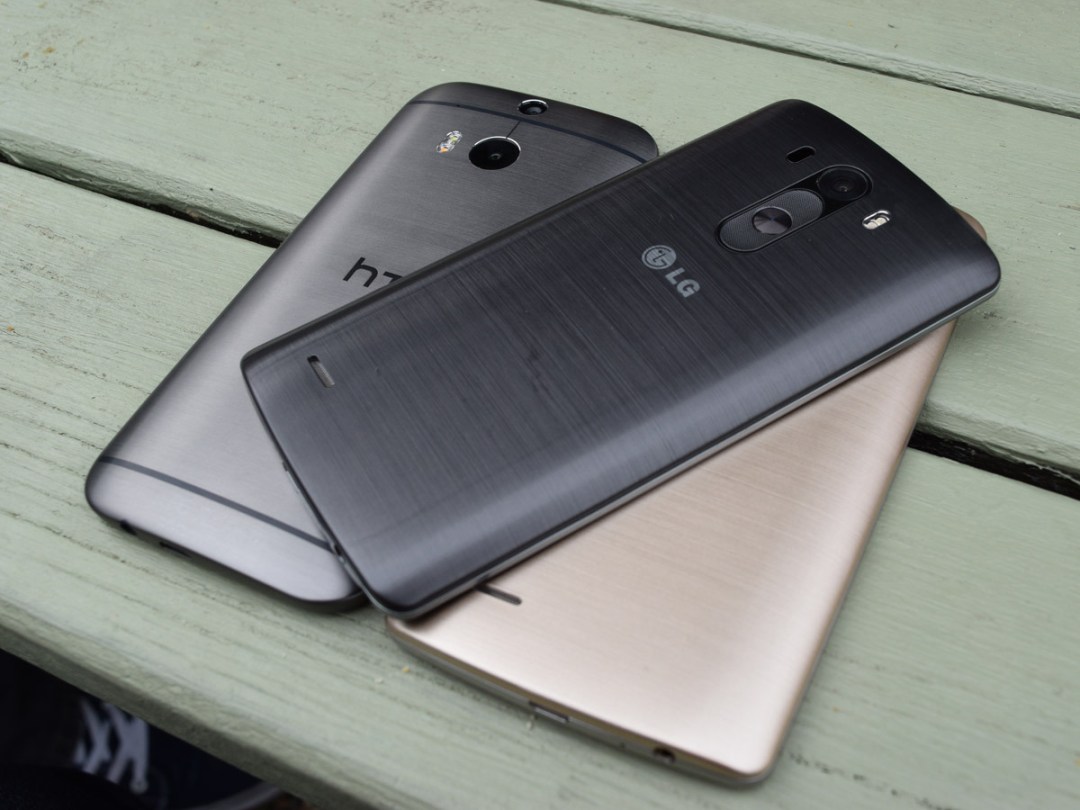 The LG G3 will definitely give the HTC One (M8) and Samsung Galaxy S5 some serious competition. With its super-thin bezels and metal-style finish it looks great and while it may not feel quite as premium as the M8, the addition of a removable battery, wireless charging and expandable storage will for many people be enough to make up for that.
Its innovative rear buttons and intriguing laser autofocus also prove that LG is willing to carve out its own path in a crowded smartphone world, while its 2K screen has the potential to be the best there is.
Time will tell if those extra pixels will truly make a difference, especially as there's a lack of 2K content to view on it at the moment, and we'll also have to wait and see if its battery life and performance can handle such a high resolution. If they can, we could very well be looking at the best phone in the world.
Either way, check back soon for our full in-depth review.
READ MORE: These are the 10 best smartphones in the world right now