How to play PS4 games on your Android smartphone
Carry a PS4 in your pocket, and never be bored again
"The 08:05 train to Sutton is delayed for approximately two hours, due to a member of the train crew being unavailable. Thameslink apologises for this inconvenience, and any delays it may add to your journey".
Welcome to my life.
Normally this all-too-common event would instantly flip me into a state of Commuter Rage, but not this time. Instead, I calmly wander over to the waiting room, whip out my phone, clip it onto my PS4 controller, and de-stress with a bit of Rocket League.
Sure, everyone's staring at me, but that's only because they're jealous of my pimped out two-tone pink van with skull decals. And it's all thanks to PlayStation Remote Play.
The ability to play on Sony's console remotely isn't a fancy new tech trick. PS Vita and Sony Xperia smartphone users have been able to tap into this particular pleasure for quite some time, but now, thanks to a little bit of tech wizardry, a lot more people can get in on the action.
That's right – a version of the PlayStation Remote Play app has been modified to work with almost any Android device, with – crucially – no rooting required. I'm talking about the ability to game almost anywhere you fancy, with an actual PS4 controller to boot.
It's time to get excited, people.
1. Download the Remote Play app
Sony's official Remote Play app is in the Google Play store, but you won't be able to use it if you don't have a supported Sony Xperia smartphone.
Thankfully a generous fellow going by the name of twisted89 on the XDA Developers forum has packaged up a version of the Remote Play app that will work on any Android 4.2 (or higher) device.
Download the app from here, or here, and install it on your phone.
If it doesn't work, then you'll need to go into Settings, then Security, and check the option which allows you to install apps from unknown sources.
2. Sort our your PS4
Fire up your PS4, go to Settings > Remote Play Connection Settings, then hit Enable Remote Play. Next up, you'll want to make sure Rest Mode is enabled, as it'll keep your PS4 in a low power state, allowing you to turn it on remotely.
Go to Settings > Power Saving Settings > Set Features Available in Rest Mode.
All done? Then it's time to let your smartphone and PS4 become good friends.
3. Shake hands
Fire up the Remote Play app and make sure your PS4 and smartphone are on the same Wi-Fi network. The Remote Play app should detect your PS4 automatically, but if it doesn't, you can follow the on-screen instructions to use a manual pairing code.
At this stage, ignore any prompts to pair up your PS4 controller with your smartphone, as we'll cross that bridge in a moment.
Once you're connected, take some time to soak up the fact that you're controlling a PS4 from your smartphone. What a magical age we live in.
The on-screen controls will be good enough at this stage just to test that everything works. When you want to turn it off, hit the on-screen PlayStation button in the Remote Play app to bring up the power options, and select Enter Rest Mode to put the PS4 in a low-power state so you can turn to on remotely again when required.
Box out – ethernet for best experience etc?
4. Control Freak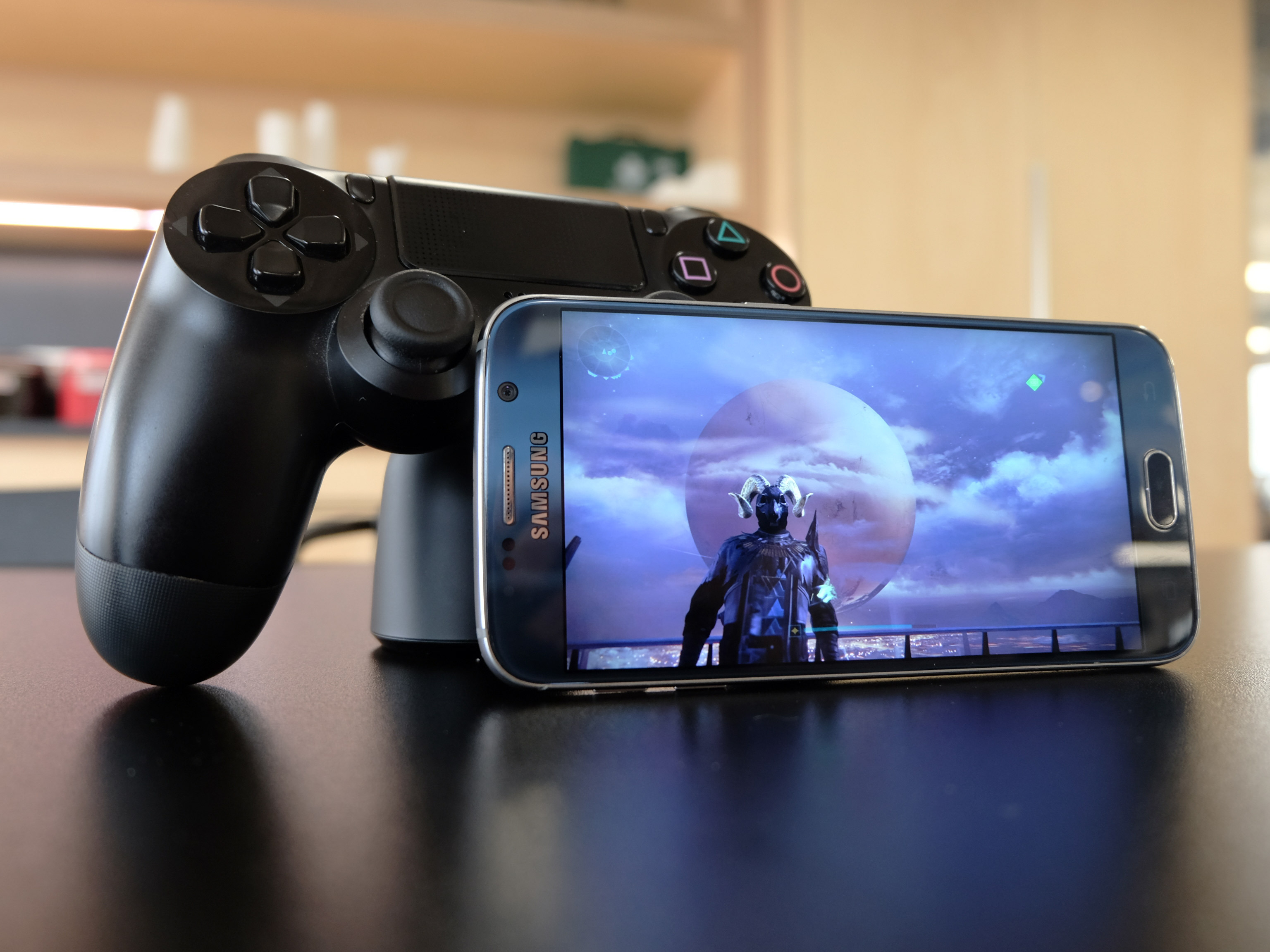 The tweaked version of the Remote Play app doesn't natively support PS4 controller pairing, but there is a relatively easy fix.
Grab a PS4 controller, and hold down the Share and PlayStation buttons, until the in-built light starts flashing.
Open up your phone's Bluetooth settings and search for new devices. The PS4 controller should be listed, so select it and you should be connected. It's as easy as that, and you won't need to faff around re-mapping controls and buttons – everything in-game works as normal.
The only issue at this stage is that there's a fair amount of input lag between the controller and the smartphone, which makes for a very frustrating gaming experience, with an annoying delay between your controller movements and your on-screen actions.
Luckily for us, a reddit user has discovered a free app called Bluetooth Auto Connect, which removes this input lag entirely. Once it's downloaded, start it up once your PS4 controller is paired, and simply tap Connect Now.
That's it. You're now ready to roll, with a responsive controller.
5. Enjoy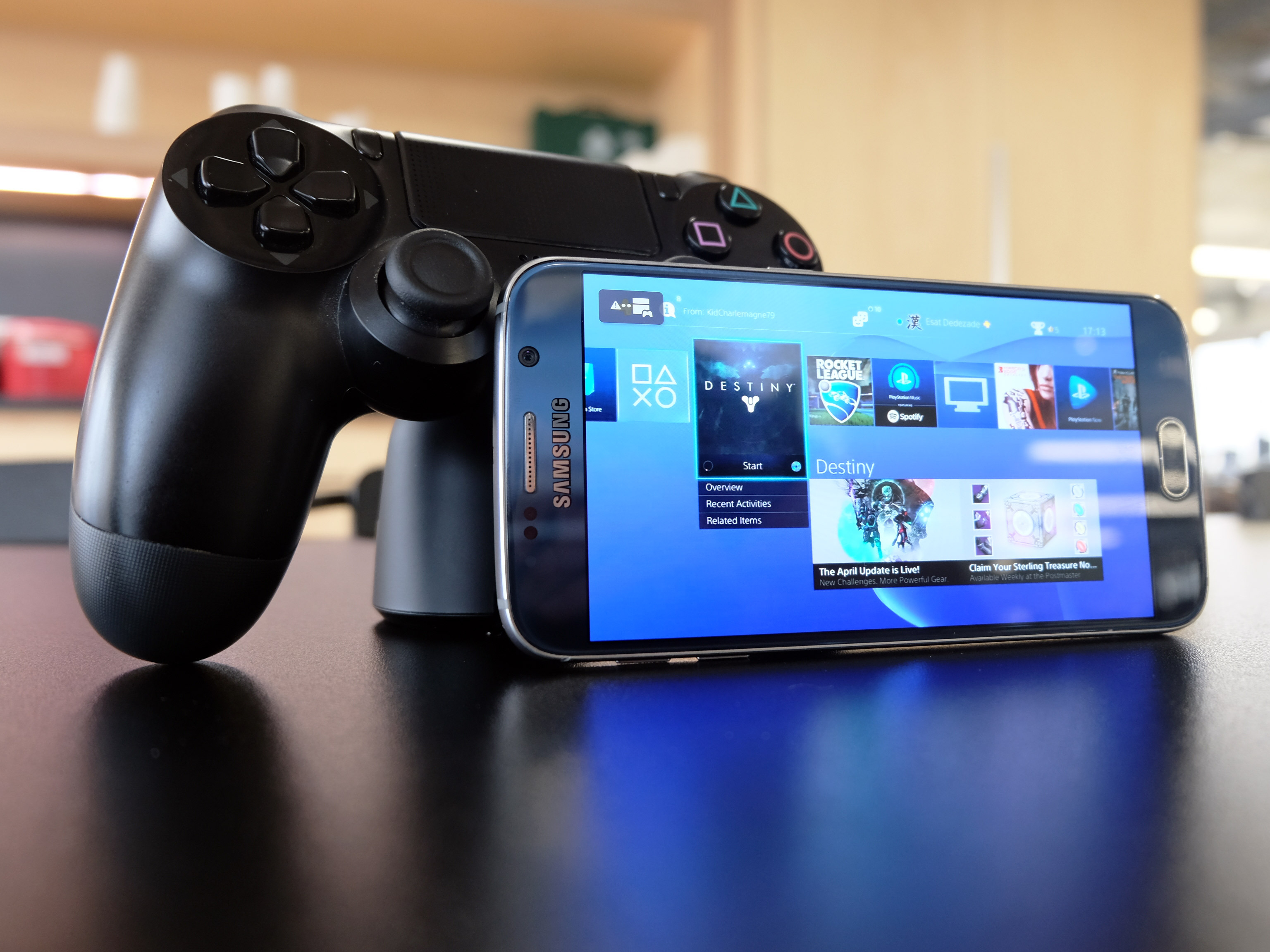 Once your controller is connected and lag-free, open up the Remote Play app again, connect to your PS4, and game as normal.
It's worth bearing in mind that you're going to need a solid internet connection for the best experience, especially if you're not on the same Wi-Fi network, and an ethernet connection for your PS4 is definitely recommended.
I've managed to successfully play The Division and Rocket League during my lunch break at work without any major issues, though the search for the PS4 can take quite a while initially.
The simplicity of Rocket League was an advantage over the run and gun pace of The Division (which requires faster, more precise movements), but overall the experience is surprisingly good (connection-permitting), and definitely a viable option for procrastinating throughout the day.
Housekeeping
It can take quite a while to detect your PS4 if you're not on the same network, so be patient. It's also worth bearing in mind that if you briefly leave the app to check a WhatsApp message, for example, then you'll need to search and connect once again, before resuming where you left off.
You can also adjust the resolution and frame rate in the Remote Play app's settings to find the best fit for your connection, but apart from that, everything should just work, as long as your connection is decent.