The best large Lego sets: 52 enormous Lego kits you should buy
Let's have a block party, with dozens of superb Lego sets that'll keep any fan of plastic bricks occupied for weeks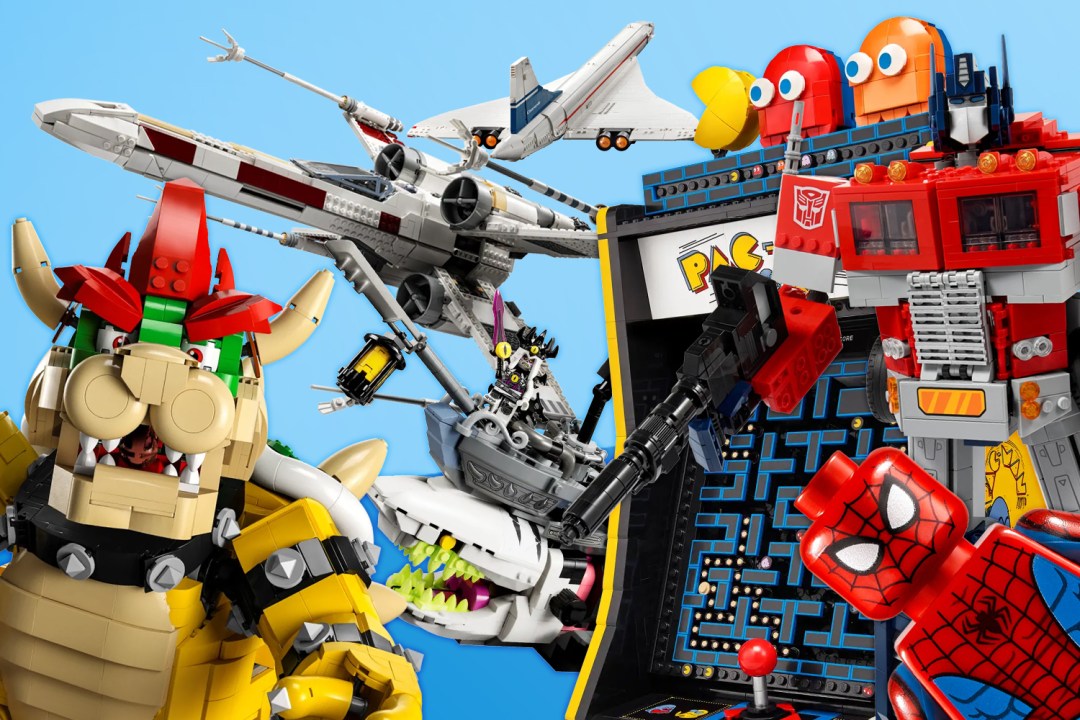 When there's no shortage of consoles out there to demand hours, weeks, months, years of your time, it's endearing to know that Lego is still going very strong. As everyone from kids to artists knows, Lego is only limited by your imagination. And Lego's designers have big imaginations if the size of many current sets is anything to go by.
This update to our long-standing guide of the best large Lego sets adds 23 new corkers. Many of these sets are flagships. Each of them has 1000 pieces or more and is available to buy. All of them are of the kind you'll immediately want in your mitts. Let's brick on!
Brick-built cars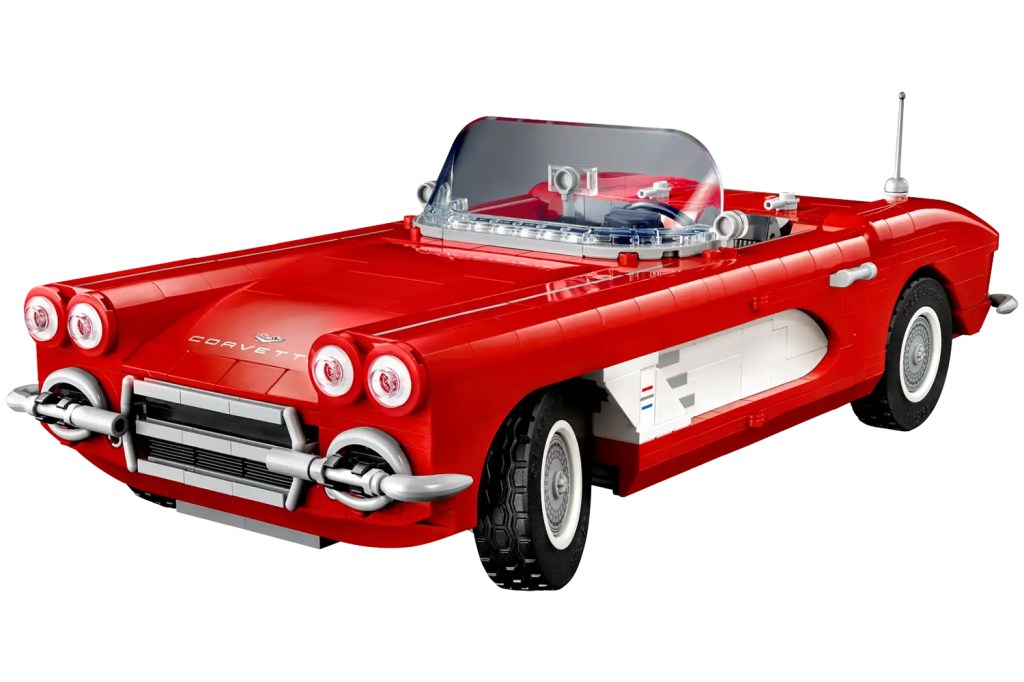 On hearing the word 'Lego', you might think of dinky oddly proportioned cars you shove a minifig inside of. Guess again. Lego's Chevrolet Corvette 1961 (1210 pieces, $149.99/£129.99) reimagines an icon in fine form. It has all the classic curves and an option to build it as a hardtop or open-top model.
Land Rover Classic Defender 90 (2336 pieces, $239.99/£209.99) is a stunning replica of the rugged off-roader. You get working suspension, functional steering, and a roof rack into which you can bung all kinds of junk for a full-on Lego adventure.
Vespa 125 (1107 pieces, $99.99/£89.99) is just the ticket for anyone who prefers zooming about on two wheels rather than four. There's a kickstand and working steering to fiddle with as you gleefully shout "Ciao!"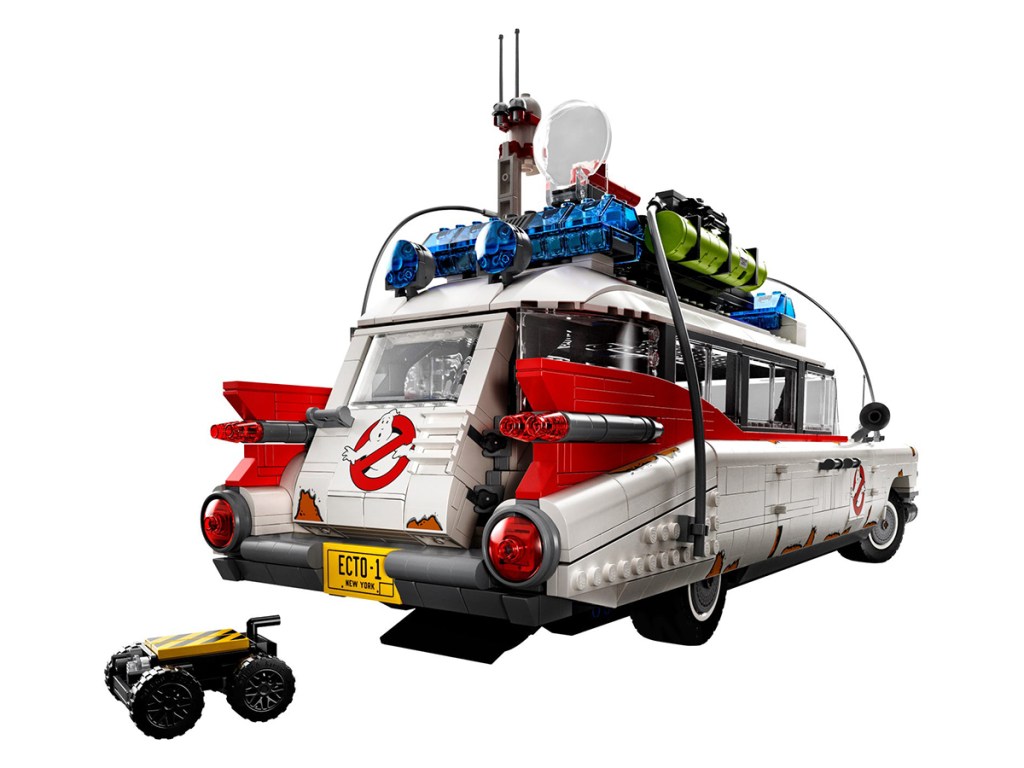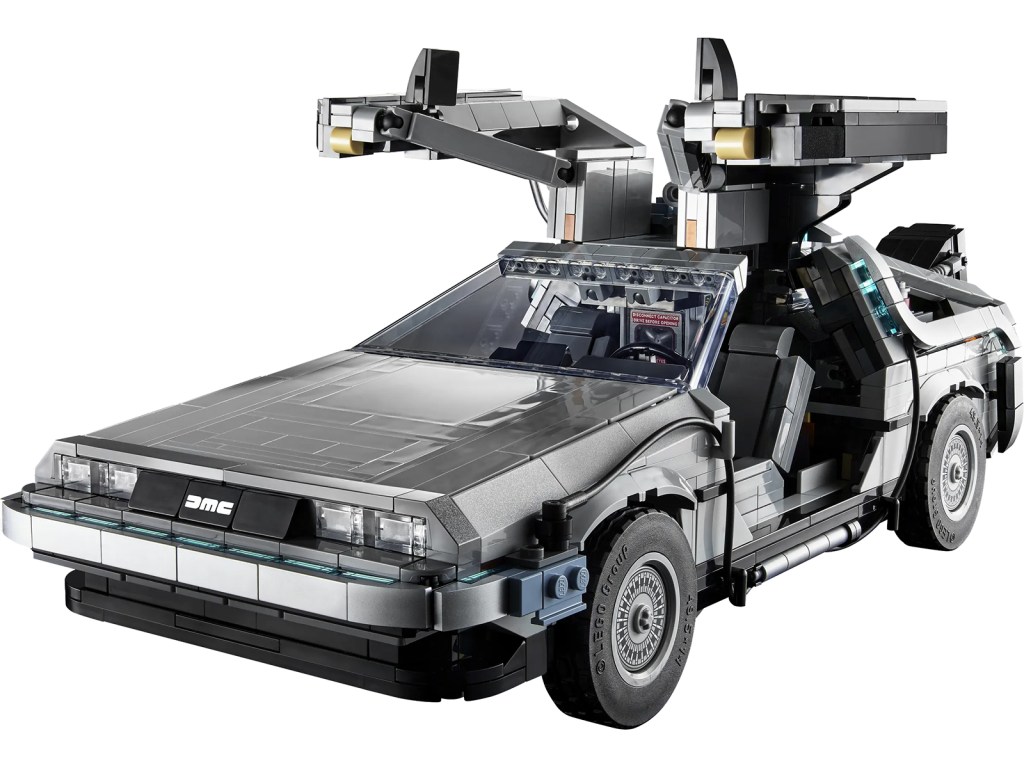 Taking brick-built vehicles in a more fantastical direction, Ghostbusters ECTO-1 (2352 pieces, $239.99/£209.99) is the most impressive Lego ECTO-1 to date. You build a detailed 47cm/18.5in long converted 1959 Cadillac Miller-Meteor ambulance with moving ghost sniffer, extendable rear gunner seat, working steering wheel and authentic logos.
If your movie vehicle desires are more gothic in nature, there's always Batman. DC Batman Batmobile Tumbler (2049 pieces, $269.99/£229.99) reimagines the imposing jet black military vehicle that debuted in Batman Begins. (It's suitably described in the script as a "cross between a Lamborghini Countach and a Humvee".)
Back to the Future Time Machine (1872 pieces, $199.99/£169.99) nets you a scale model of Doc Brown's souped-up De Lorean. You can mod it into the second film's hover form, or add the hood-mounted circuit board from Part III. But don't zoom it along at 88mph, or it'll disappear in a blaze of timey-wimey glory.
Lego ships and planes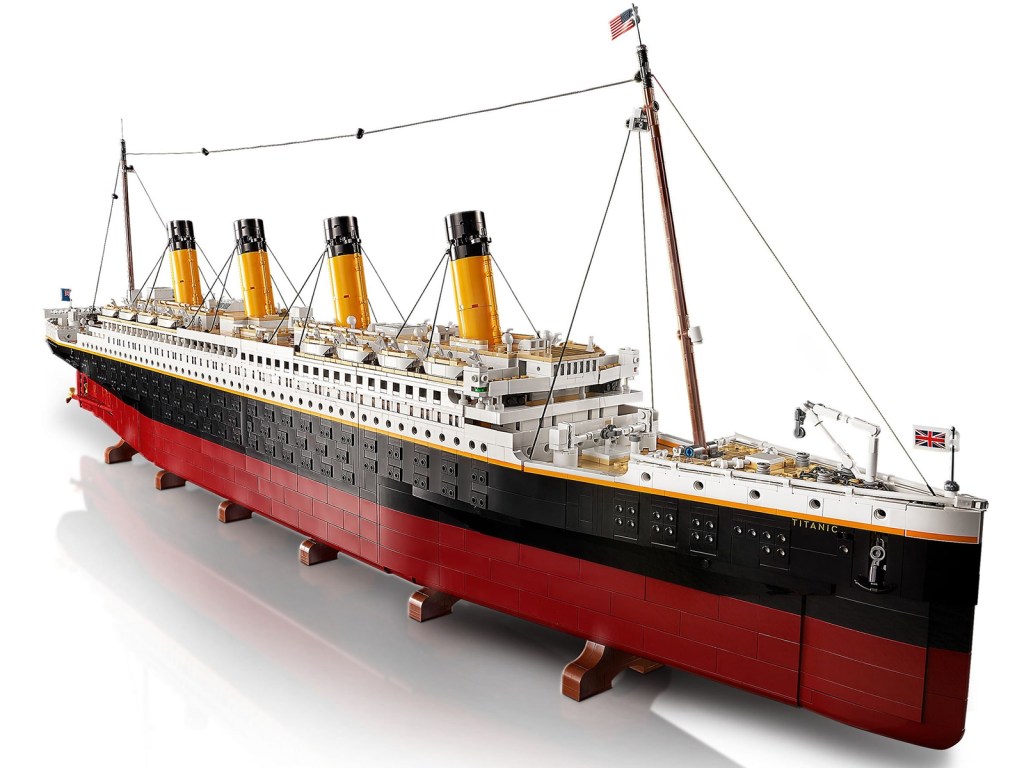 Prefer water to roads? Try Titanic (9090 pieces, $679.99/£589.99). This gargantuan set faithfully recreates the legendary ship. Gawp at a tiny grand staircase! Mess about with propellers to turn the piston engines! However, don't let your kid smash it into a homemade 'iceberg' or you'll get that sinking feeling as dozens of parts disappear from view.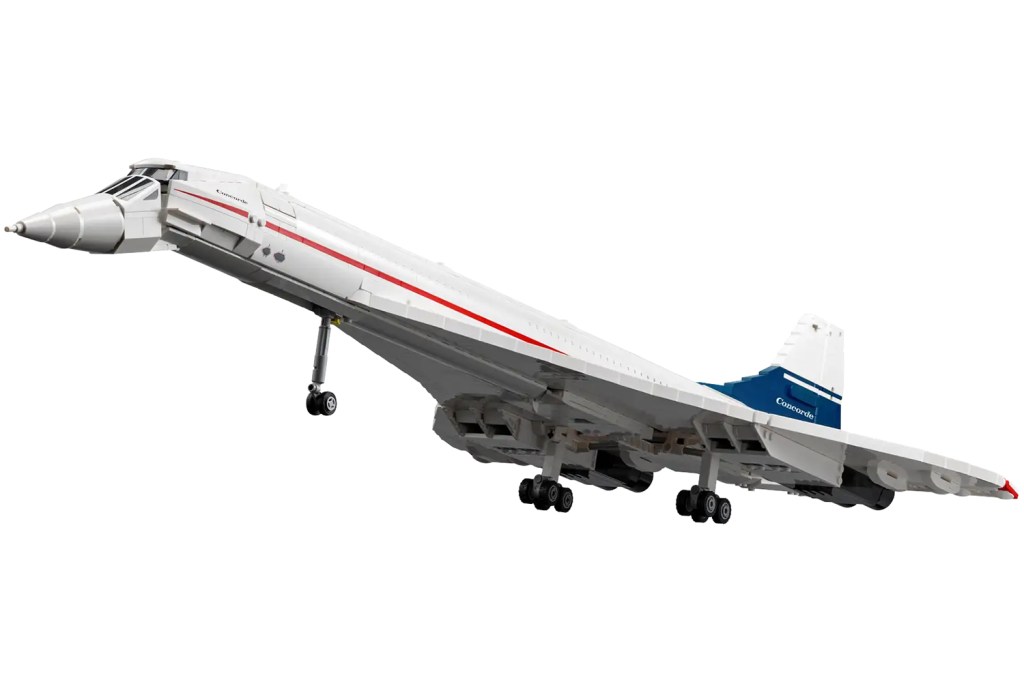 Alternatively, take to the air with Concorde (2083 pieces, $199.99/£169.99). This set lets you remake an engineering masterpiece as a huge (105cm/41in long) brick-built model with realistic tiltable nose and cramped seating. Maybe avoid swooshing it around, though, or you'll have your very own aviation disaster.
Star Wars Lego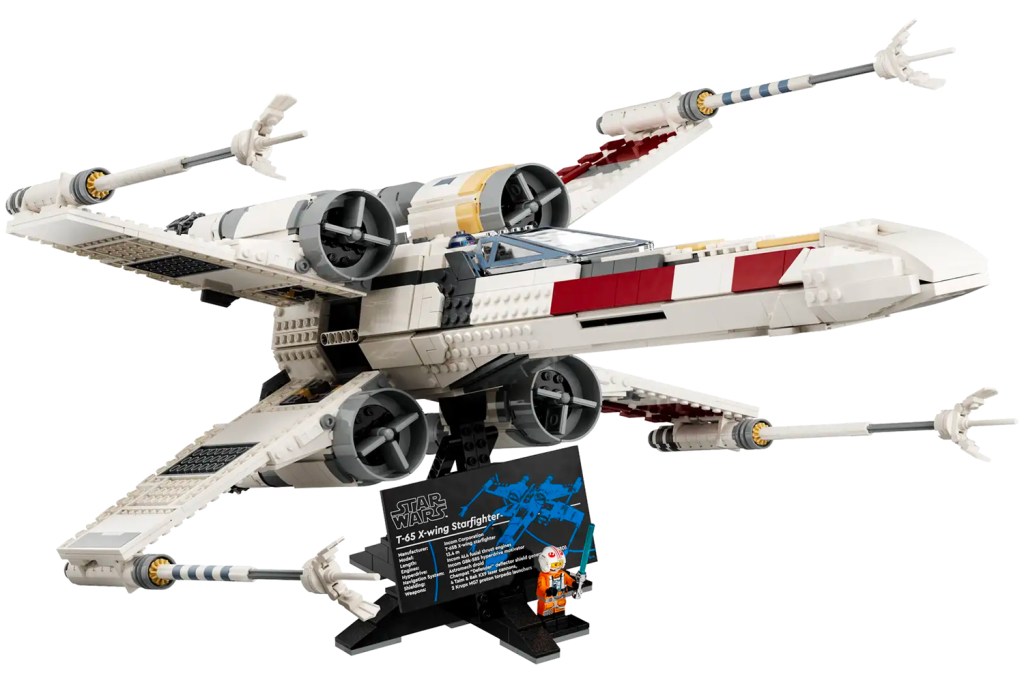 The Star Wars theme brought Lego back from the brink during its darkest days. And it remains something of a cash generator.
X-Wing Starfighter (1953 pieces, $239.99/£209.99) is Lego's latest take on the craft Luke used to showcase the Death Star's notable security flaws. Twiddle a dial to switch it from flight to attack mode. And pose the relatively tiny Luke alongside, so he can wonder how he'll fly such a monster creation.
You can also get your swoosh on with Millennium Falcon (7541 pieces, $849.99/£734.99). This 83cm/32.5in-long monster's jam-packed with details and you even get two sets of minifigs to pop in the cockpit.
Fancy something closer to life-size? R2-D2 (2314 pieces, $239.99/£209.99) is "the kit you're looking for" – if you're into droids. When complete, it's a 30cm/12in tall bleepy robot, with hidden compartments, a retractable leg, and a tiny mini-me that goes on a stand.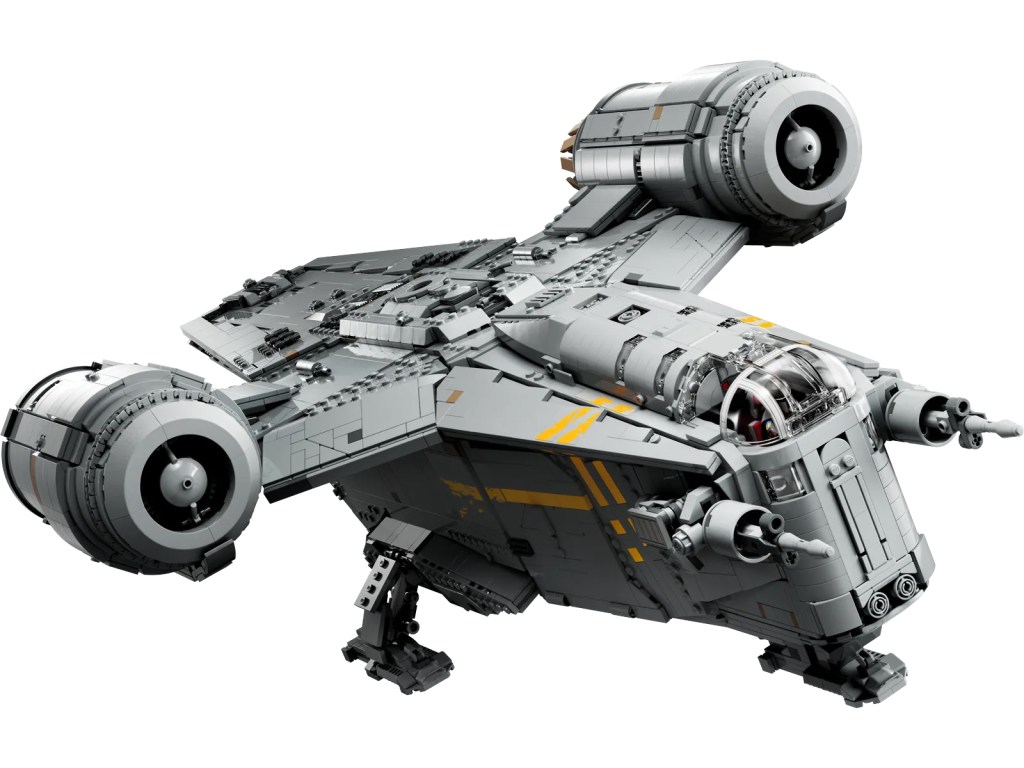 The Razor Crest (6187 pieces, $599.99/£519.99) gives us a gigantic take on the hero's ship from The Mandalorian, along with a handful of minifigs and a brick-built Blurrg. As a bonus, [spoiler alert] chuck the ship at a wall and you'll get a Lego take on how it ended up in the show.
Want to unleash your inner Sith instead? AT-AT (6785 pieces, $849.99/£734.99) is an eye-popping take on the stompy war machine, with room inside for 40 minifigs and four speeder bikes. To Lego Luke Skywalker's relief, Lego only initially supplies four minifigs and two bikes, though. Phew!
Lego space sets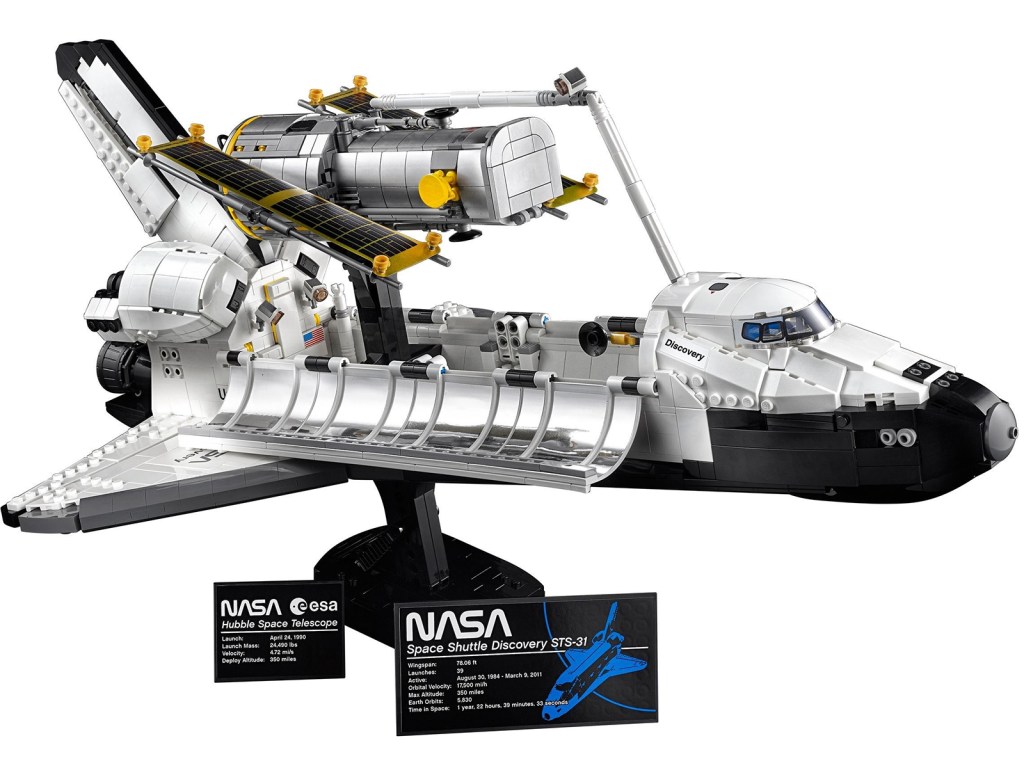 Lego's keen interest in space predates even Star Wars, however, as evidenced by Space Rocket, from way back in 1964. Naturally, modern sets ramp up the realism significantly. NASA Mars Rover Perseverance (1132 pieces, $99.99/£84.99) is actually a Technic set, which feels well-suited to the subject. When built, the rover can scoot about on articulated wheels and perform various functions while daydreaming about its sibling in space.
If you're more into Lego System blocks, you'll be over the moon with NASA Space Shuttle Discovery (2354 pieces, $199.99/£169.99), based on the April 1990 STS-31 mission that deployed Hubble. And NASA Apollo 11 Lunar Lander (1087 pieces, $99.99/£89.99) is a beautiful centrepiece that comprises the Apollo 11 lunar lander, a crater and astronaut minifigs making a giant leap for Legokind.
Microscale Lego buildings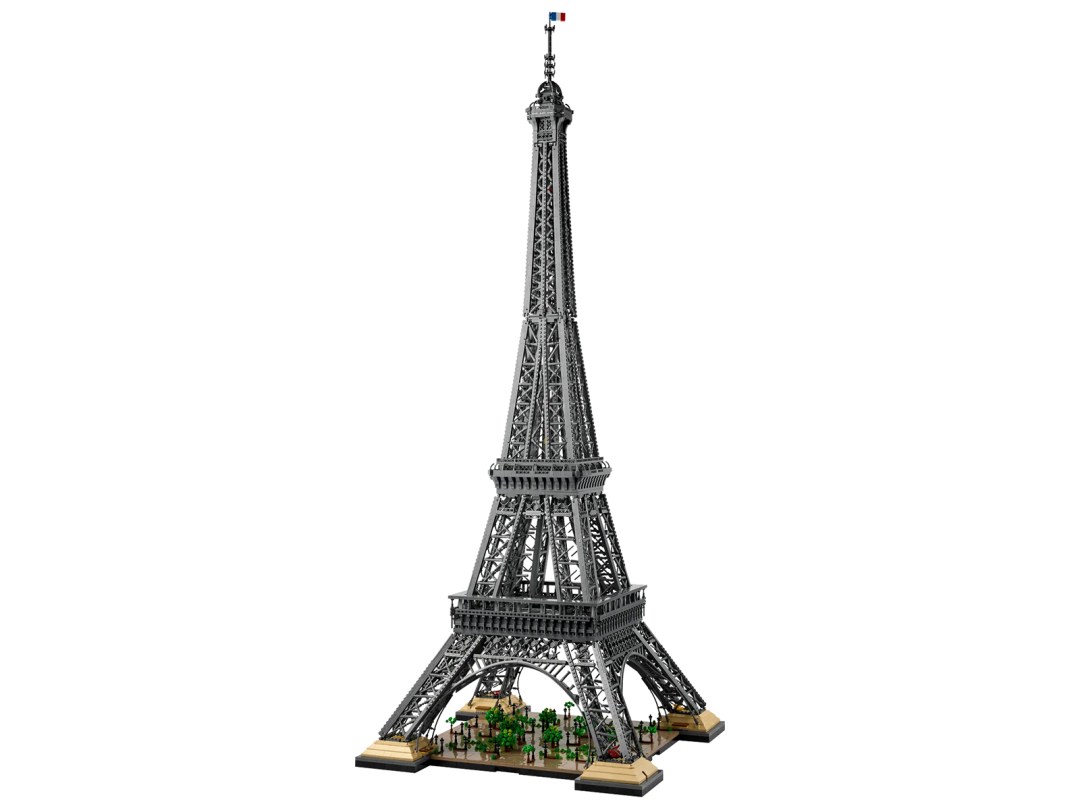 The earliest Lego sets focussed on buildings, but today's incarnations are considerably more elaborate than anything Lego founder Ole Kirk Christiansen and chums dreamed up.
Eiffel Tower (10,001 pieces, $629.99/£554.99) is quite the 'eiffel'. When built, it's almost 1.5m (nearly 5ft) in height. Fortunately, the model separates into four sections, to give you a fighting chance of lugging it around. No Lego set has been taller. And nor has one before – even Star Wars sets – presented this level of challenge if you decide to mix up all the grey bricks before you start. (Stuff top tip: don't do this.)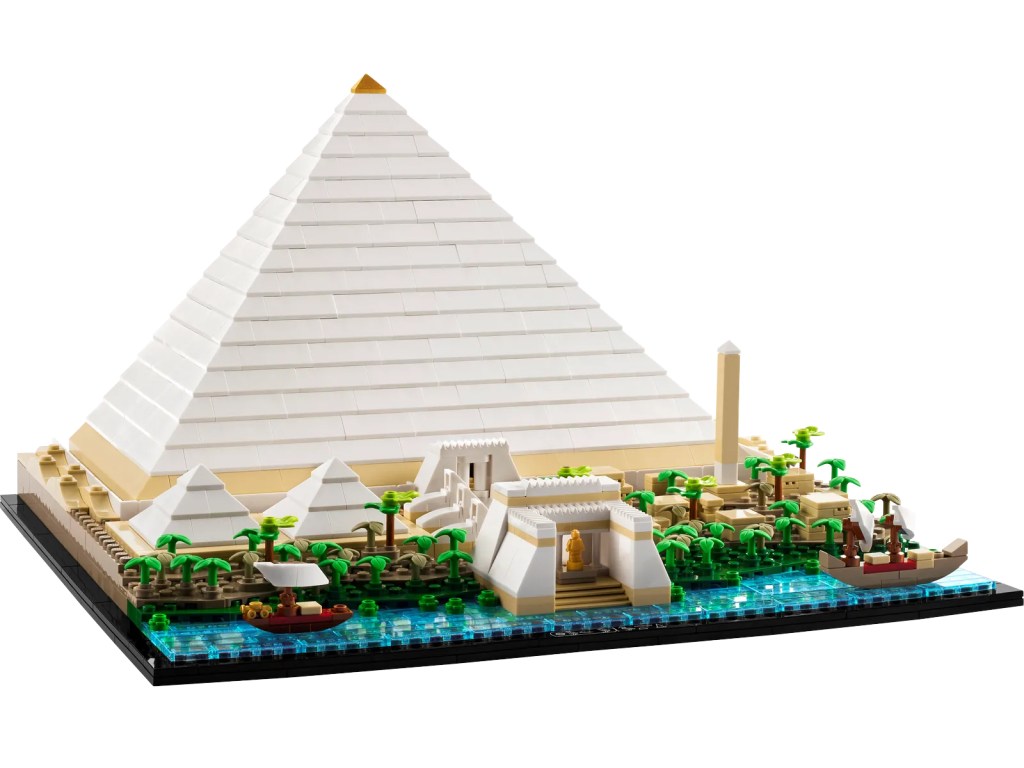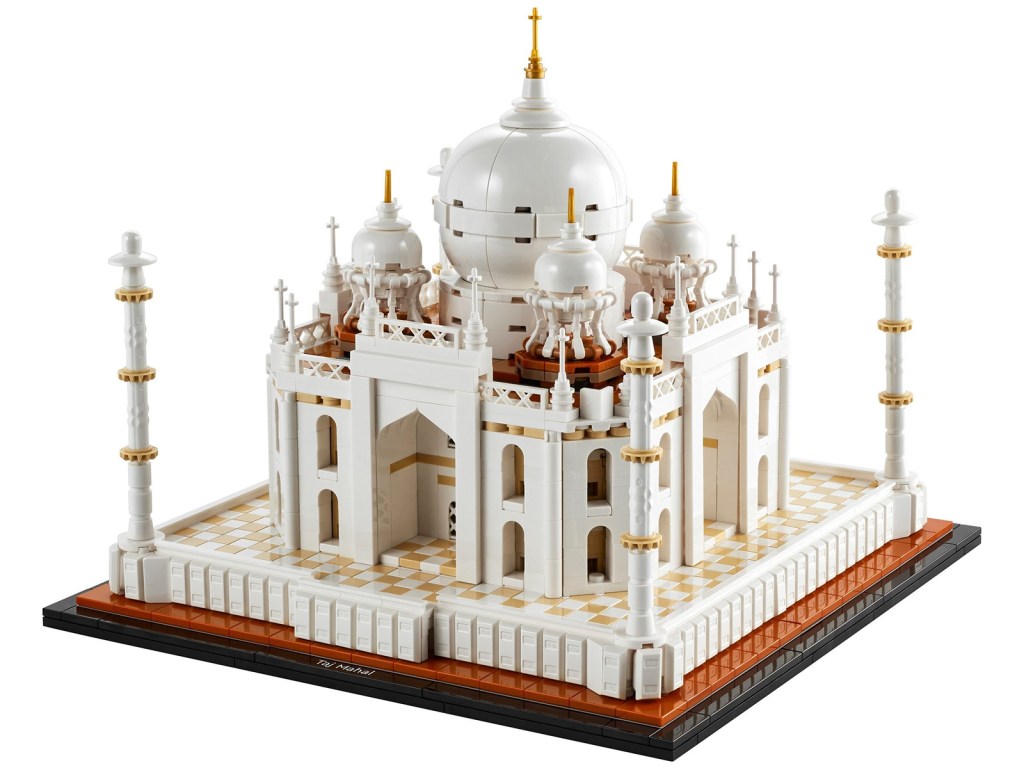 Great Pyramid of Giza (1476 pieces, $129.99/£119.99) imagines how the structure originally appeared, with a smooth limestone finish. Lift that off and you get a scene of the pyramid under construction. Spin the model round to gawp at a cross section – and immediately realise you only get half a pyramid. (Shove it against a wall. No-one will notice.)
Plenty of other famous landmarks grace the Architecture line. When heading north of 999 bricks, our top picks beyond pointy buildings in Egypt are the gorgeous Taj Mahal (2022 pieces, $119.99/£104.99) with its brick-built dome and sarcophagus elements, and Himeji Castle (2125 pieces, $159.99/£139.99). This tiny take on the revered Japanese building beautifully captures its turrets, walkways and asymmetric walls, and gives you some dinky trees to brighten up the place.
Movie and TV show Lego sets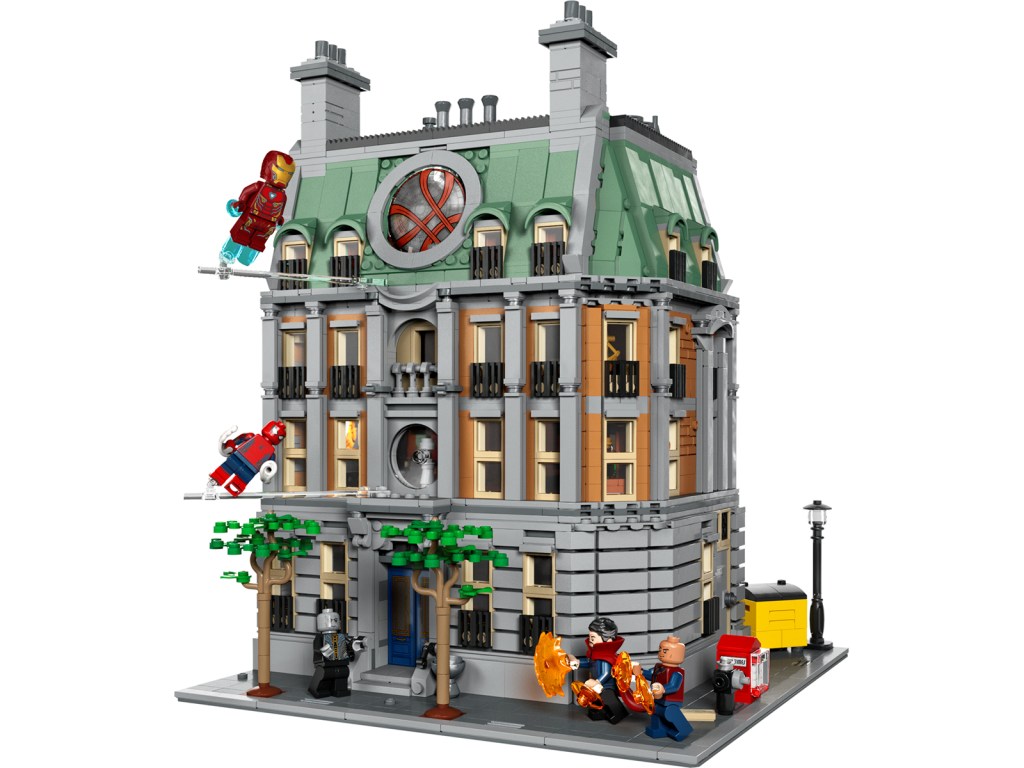 1999 saw the first Lego products based on movies and TV shows. The range has grown since – sometimes in a literal sense. Daily Bugle (3772 pieces, $349.99/£299.99) is huge. It crams a wealth of Marvel history within its 82cm/32in tall building and whopping 25 minifigs. Your fingers will be rougher than Sandman's when you're done.
Sanctum Sanctorum (2708 pieces, $249.99/£214.99) is less imposing, but still peppered with details like portals for Gargantos to burst through and gateway panels to slide around. It also conforms to the modular building spec, and so fits well within a typical Lego city.
Batcave Shadow Box (3981 pieces, $399.99/£344.99) lets DC get in on the action. This set has a novel design, having you peer through a Batman logo punched out of one side of the box. Beyond is the Batcave, and a Batmobile you can VRROOOOMMMM along the desk when no-one's looking. Ideal for Lego builders who only work in black. And sometimes very very dark grey.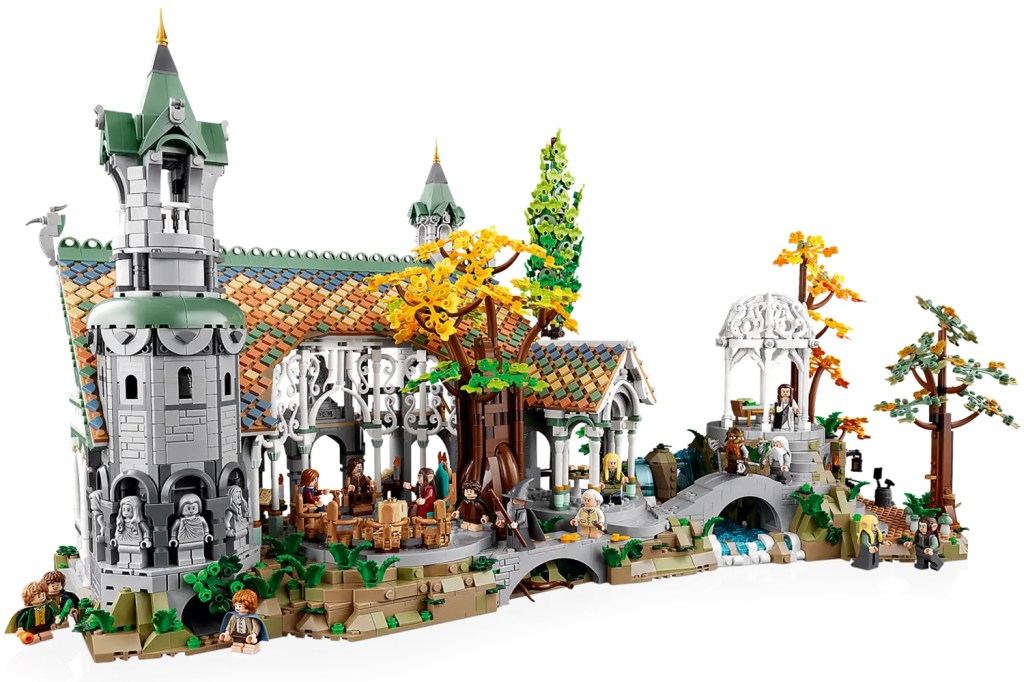 Other big Lego sets have you build characters and play out key scenes from classic films.
The Lord of the Rings: Rivendell (6167 pieces, $499.99/£429.99) is the one set to rule them all. Given its size, this one may take as long to construct as the movies do to watch. But while building the place where the Fellowship is formed, you can happily take in its many Easter eggs. Or grab the bricks and hiss "my precious" if anyone ventures too close.
Temple of the Golden Idol (1545 pieces, $149.99/£129.99) brings Indiana Jones back to Lego, for a brick-built take on the opening scene from Raiders of the Lost Ark. You can light the Golden Idol and then threaten to crush Lego Indy with a massive rolling boulder if he doesn't flee.
And Home Alone (3955 pieces, $299.99/£259.99) provides a house full of booby traps for Lego Kevin McCallister to thwart the Lego Wet Bandits. (Kevin should have just stolen their shoes and peppered the floor with Lego in the original film. That would have had the bad guys flee to safety.)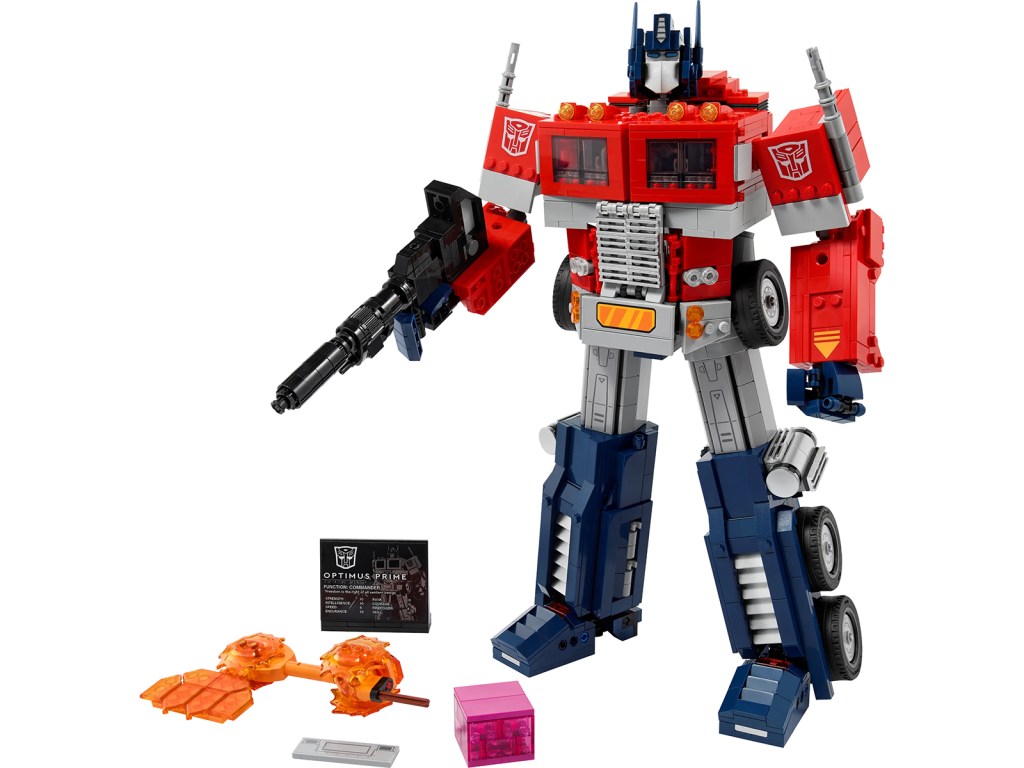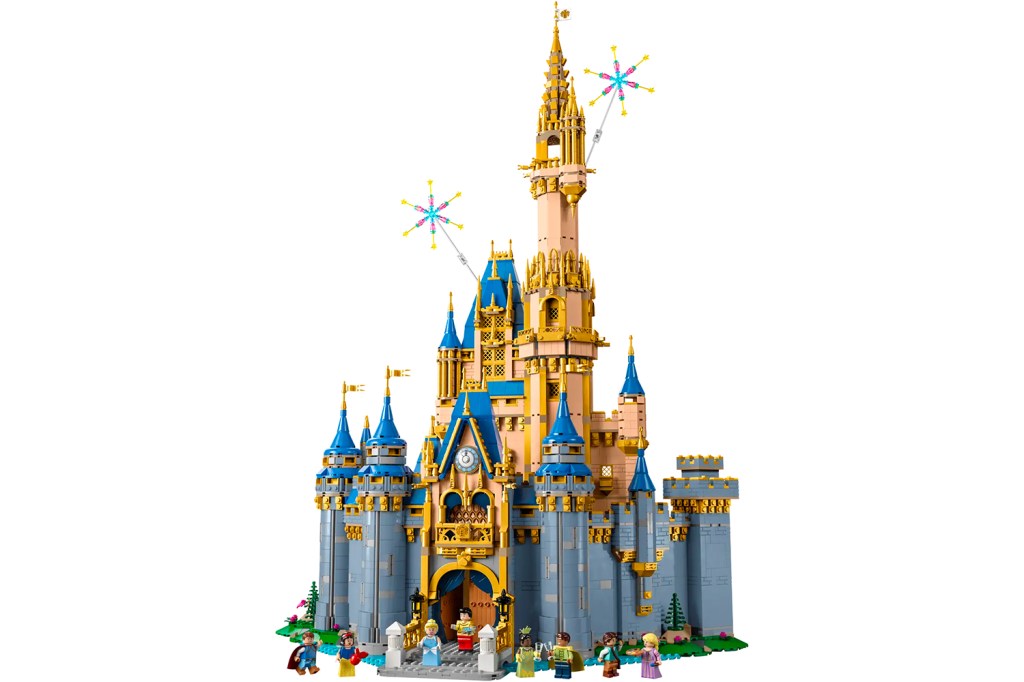 The rivalry between Lego and Hasbro makes the conflict between Autobots and Decepticons look like a minor tiff. Yet somehow we got Optimus Prime (1508 pieces, $179.99/£159.99). He transforms. He has a glowy laser axe to wave around. And we desperately hope he'll soon have a Lego Soundwave, Megatron or Starscream to battle.
Two very different castles are also available to buy. From the house of mouse is Disney Castle (4837 pieces, $399.99/£344.99). Within, minifigs can play out scenes from famous Disney films, such as the ballroom from Cinderella, the magic mirror from Snow White, and the mop and bucket bit from Fantasia once everyone's inevitably made a mess. Again.
And Hogwarts Castle and Grounds (2660 pieces, $169.99/£149.99) is like someone rethought Lego's Hogwart's Castle for the Lego Architecture line. Still, with 2660 tiny pieces, you might want to yell "Constructio!" and have it magically make itself.
Video game Lego sets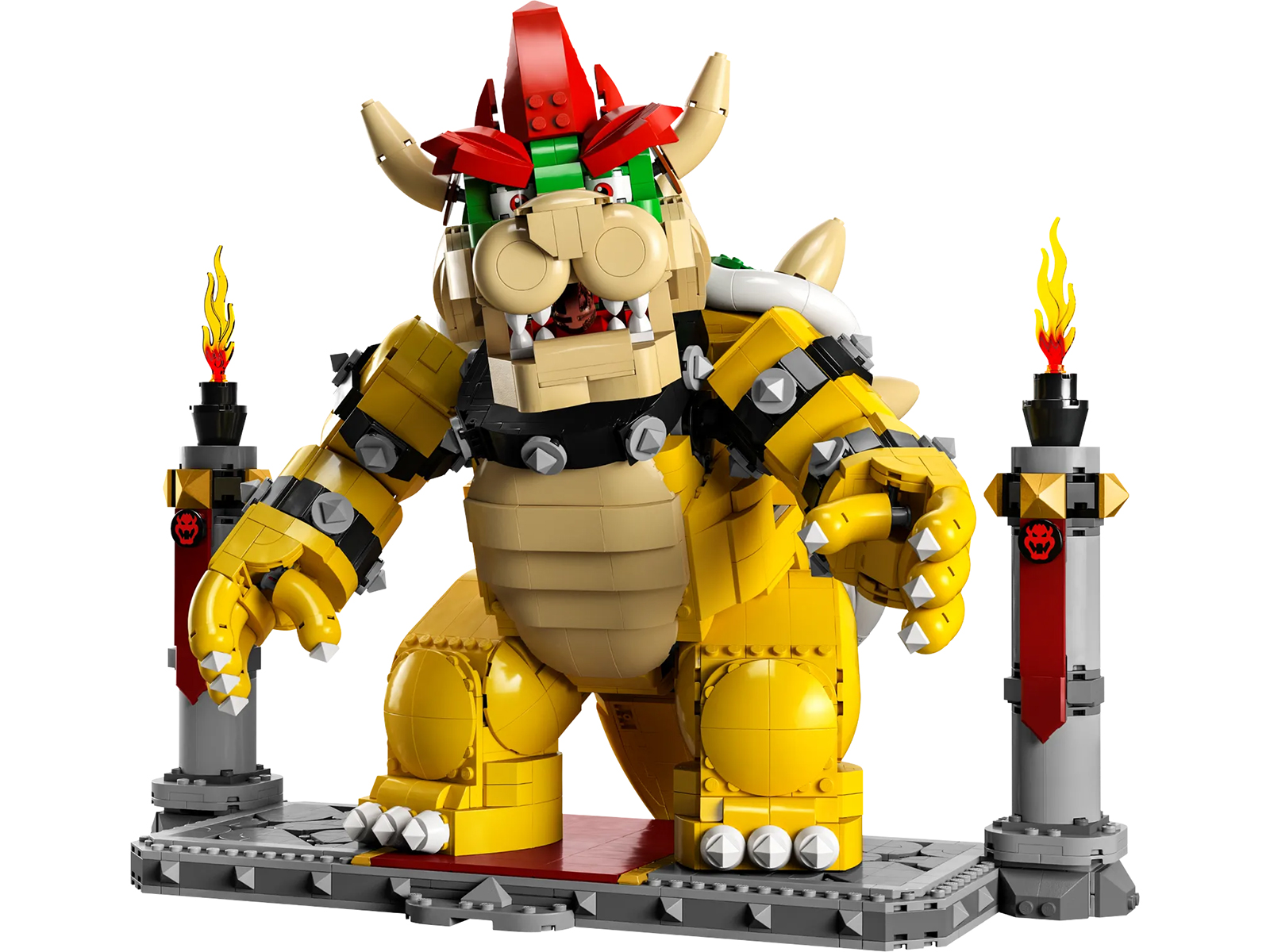 The Mighty Bowser (2807 pieces, $269.99/£229.99) recreates a Mario foe in eye-popping brick-built form. He's a chonky one, highly posable, and can blast fireballs, like in the games. And although he probably should make Lego Super Mario flee in terror, you can connect a Lego Mario starter pack figure to Bowser to see some new reactions.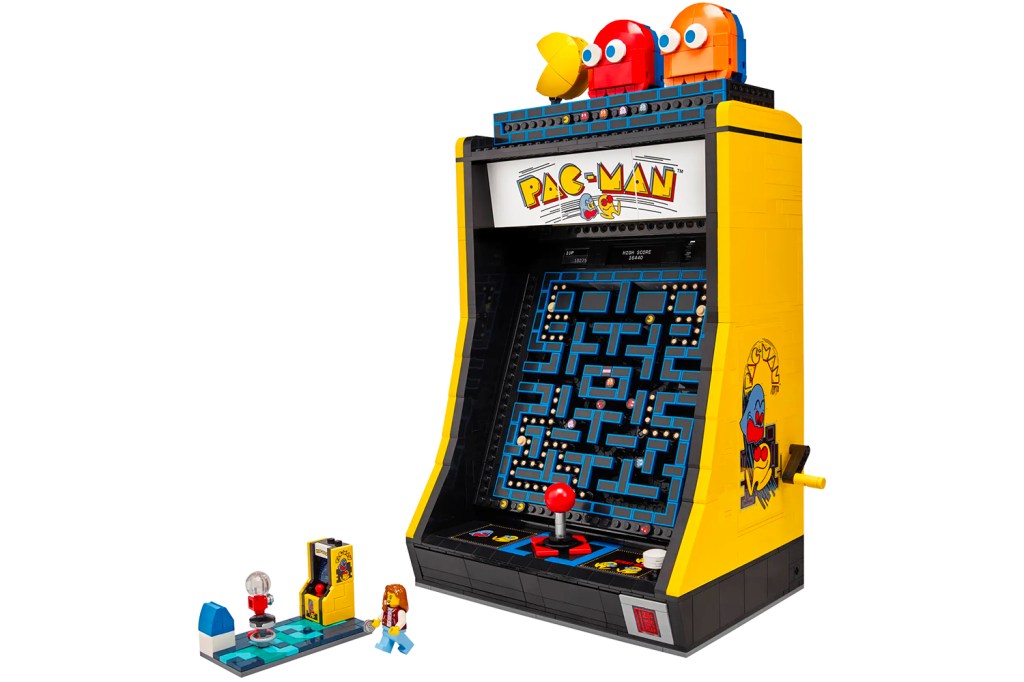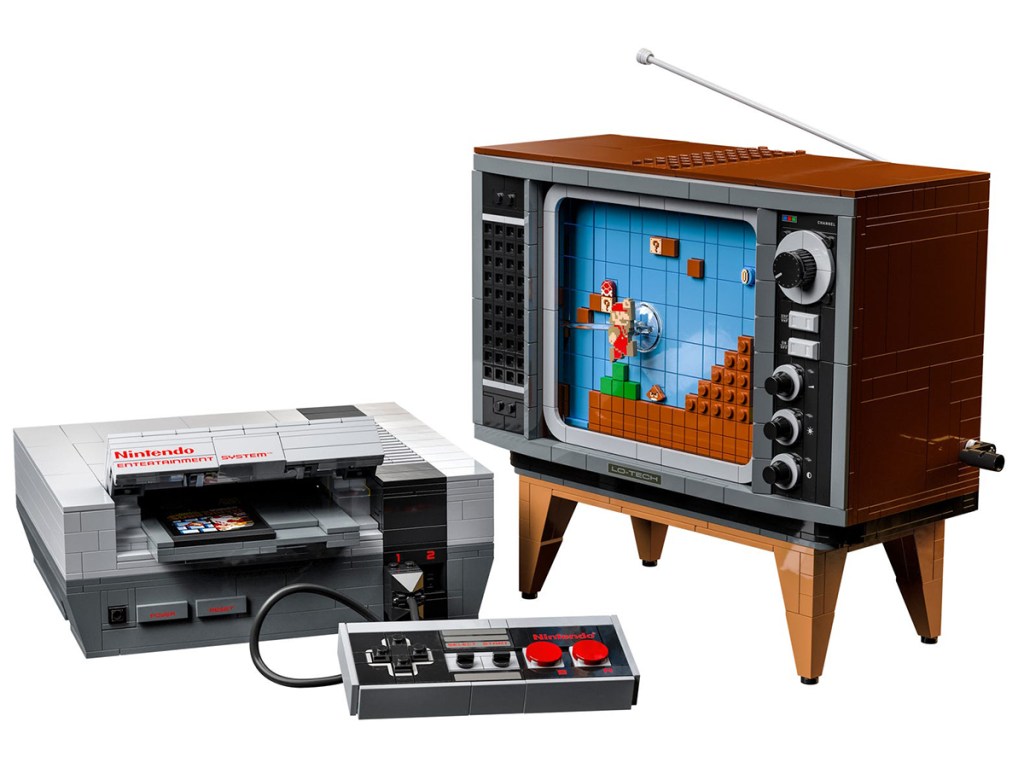 Speaking of games, having perhaps once feared it would be replaced by them, Lego's decided to assimilate them.
Pac-Man Arcade (2651 pieces, $269.99/£229.99) channels the spirit of the arcade machine rather than being a slavish recreation. But it retains plenty of character. A crank handle drives a simulation of sprites roaming the maze – and spins brick-built takes on Pac-Man, Blinky and Clyde when they're attached.
Nintendo Entertainment System (2646 pieces, $269.99/£229.99) is a more accurate Lego console. It's the spit of Nintendo's 8-bit system, with its controller, cartridge and working cartridge slot. Astonishingly, the tiny TV set has a crank that when turned animates a 2D Mario on a brick-built scrolling screen.
But much as we love the NES, the Atari 2600 arguably kickstarted home gaming. Atari 2600 (2532 pieces, $239.99/£209.99) gives you blocky takes on the console, joystick and three carts. Ironically, you also get less blocky takes than the console offered for three famous games, recreated as dinky vignettes.
Lego sets for minifigs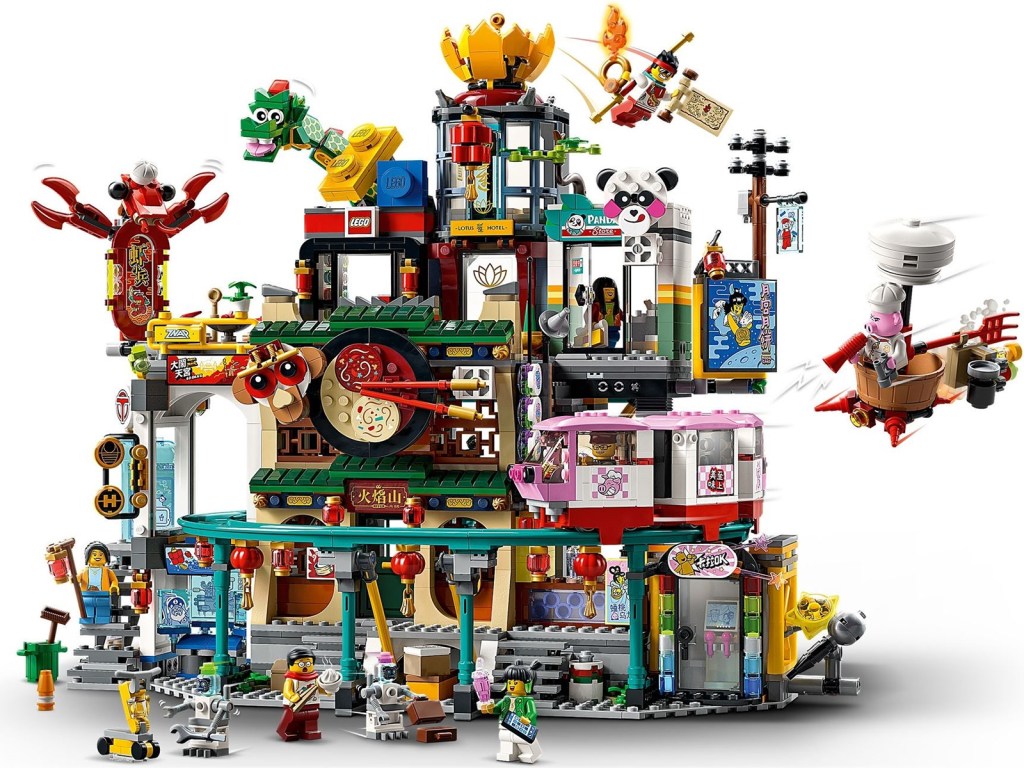 Everything changed for Lego in 1978 when the minifig rocked up. Sets were suddenly built to house them, rather than merely echo real-world buildings and transport. And with larger sets come far more ambitious builds.
Ninjago City Markets (6163 pieces, $369.99/£319.99) is the latest massive Ninjago modular. This one has four storeys and a whopping 21 minifigs. Highlights include a working cable car and a slew of shops. We're less excited about the working toilet that can flush a Lego poo into the water below.
The City of Lanterns (2187 pieces, $159.99/£119.99) is from Lego's Chinese theme, Monkie Kid. It's similarly vibrant and bonkers, from the colourful characters and signs to the little sky train that trundles around its middle.
Nightmare Shark Ship (1389 pieces, $139.99/£119.99) is a flagship set from Lego's oddball Dreamzzz theme. These offer branching builds, where you create a base model and then decide how to finish it. And while it's technically a theme for kids, who doesn't love a terrifying flying shark ship with a spooky giant eyeball glaring at its enemies?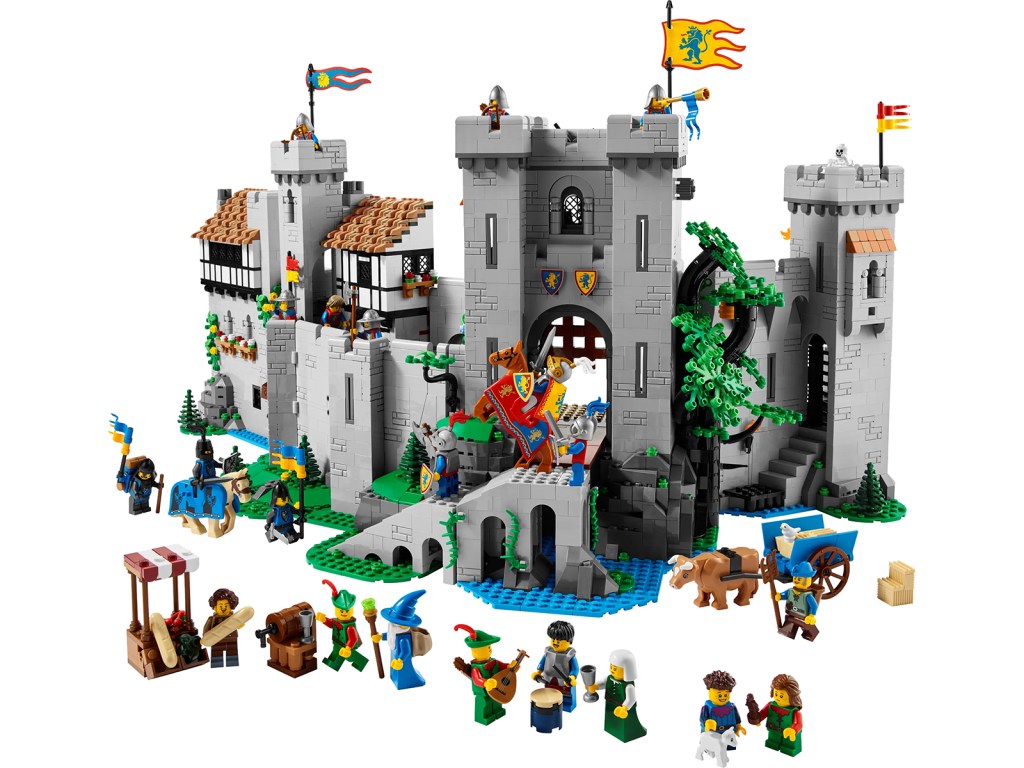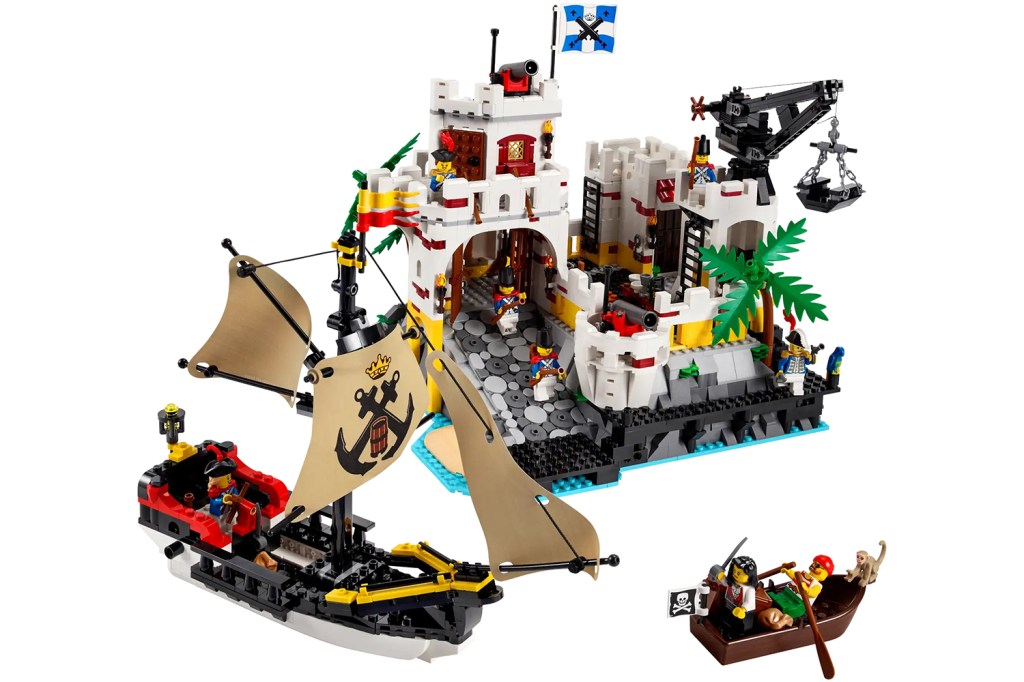 Galaxy Explorer kickstarted a welcome period of Lego reimagining classic themes. Lion Knights' Castle (4514 pieces, $399.99/£344.99) does this for classic Castle. It's a beautiful set with loads of detail, which can be folded to make an enclosed structure, and includes ways for forest folk to sneak into the castle and pilfer bling.
Eldorado Fortress (2509 pieces, $214.99/£189.99) is along similar lines, but for Pirates. Although it draws inspiration from the 1989 set of the same name, this modern Lego creation surpasses it in every way.
Medieval Blacksmith (2164 pieces, $179.99/£159.99) also takes you far back in time. It's a stunner with its glowing coals, medieval feast, and two knights with stabby weapons that suggest the blacksmith should think twice about putting his prices up for the third time this week.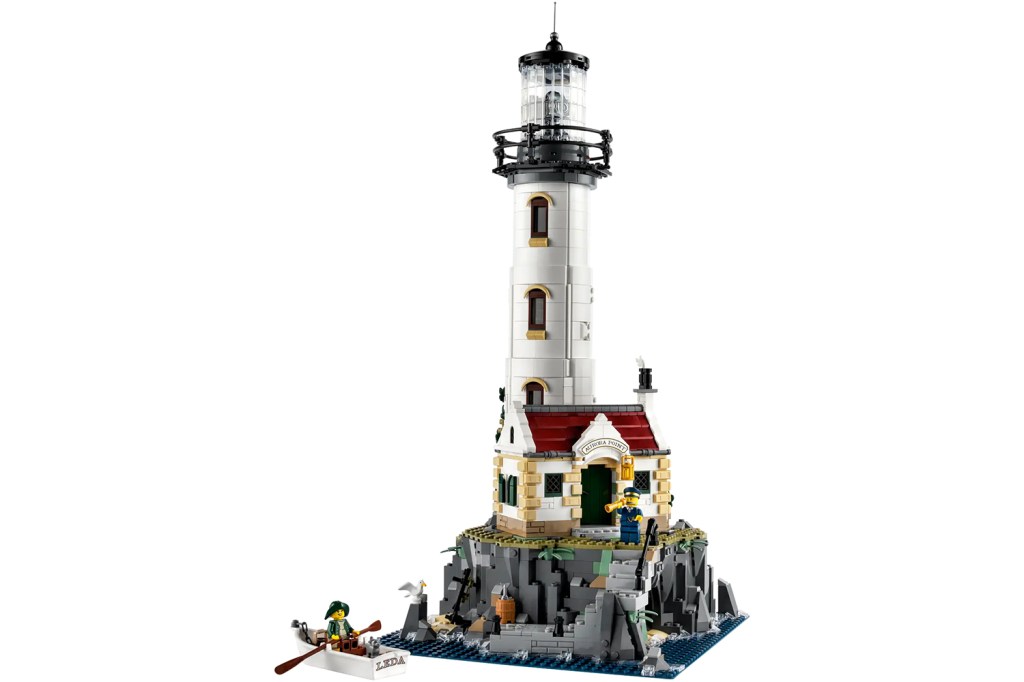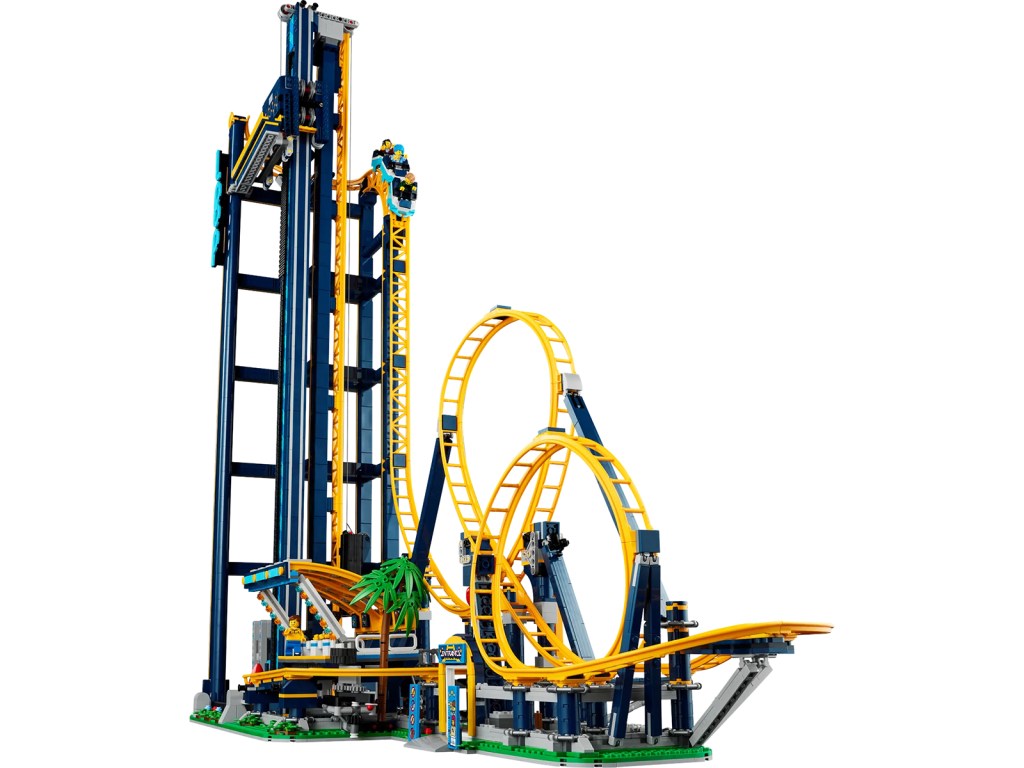 Heading to the present, Motorised Lighthouse (2065 pieces, $299.99/£259.99) lets you play lighthouse keeper. A brand new element deals with the 'light' bit in a realistic manner. Let's just hope the keeper remembers to turn it on before Lego boats start smashing into the rocky foundations.
Elsewhere, see if your minifigs can keep down their lunch by leaving them on Loop Coaster (3756 pieces, $399.99/£344.99) until their yellow faces turn a fetching shade of green. Then let them recover in Boutique Hotel (3066 pieces, $229.99/£199.99). This is the best of the currently available modular buildings, with an angular design never before seen in an official Lego set.
Technic sets to challenge you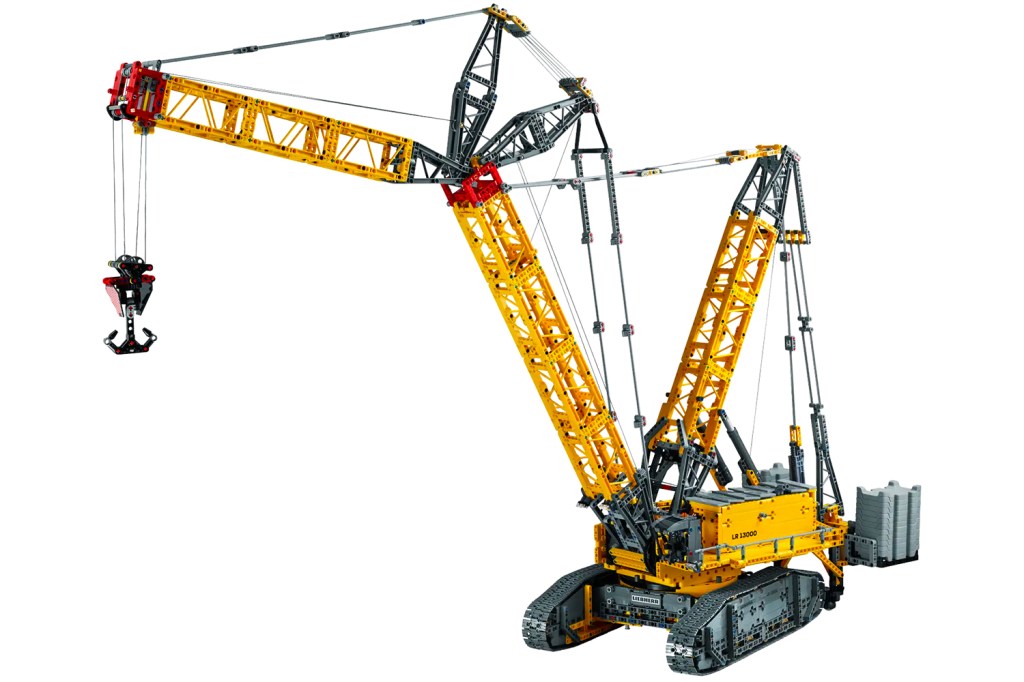 Standard Lego bricks give you a warm fuzzy nostalgic glow. But grown up model-makers might fancy something a bit more technical. That's where Lego's Technic line comes in.
Liebherr Crawler Crane LR 13000 (2883 pieces, $699.99/£579.99) is a giant of a set. When complete, it stands over 100cm/39in high. Handily, you can control it with an app to – very slowly – clear up that pile of Lego pieces you 'accidentally' dropped on the floor. (See: this one's a legitimate investment!)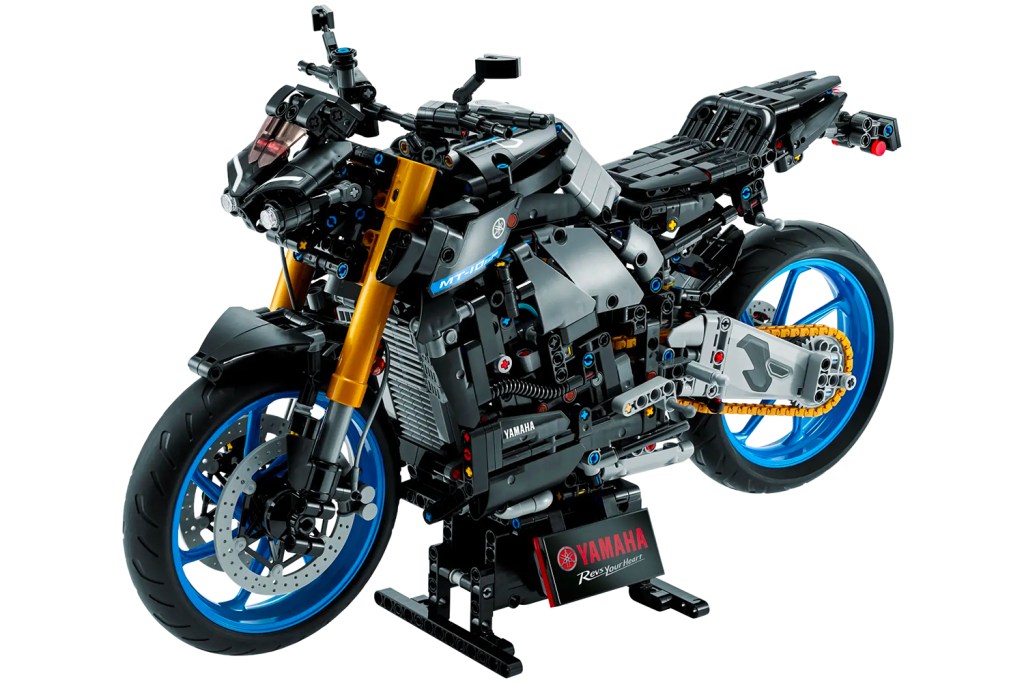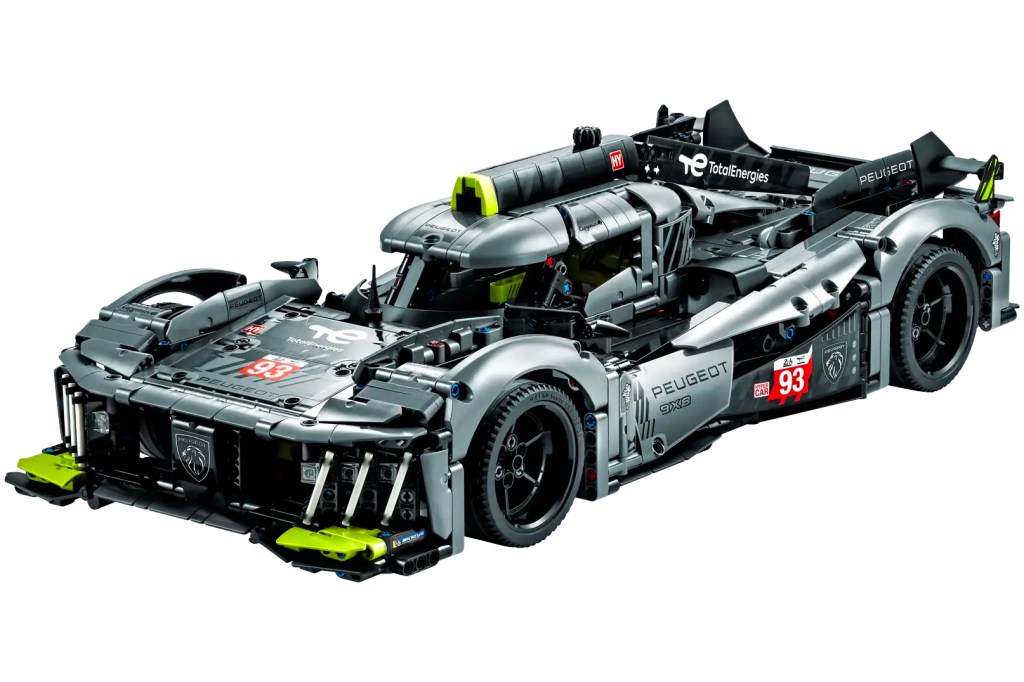 Got more of a need for speed than a need for emulating the construction industry? Yamaha MT-10 SP (1478 pieces, $239.99/£199.99) is the best Technic motorcycle to date, with whopping tyres, functional steering, and a fancy stand to plonk the thing on so it doesn't fall over.
Peugeot 9X8 24H Le Mans Hybrid Hypercar (1775 pieces, $199.99/£169.99) is for folks who prefer four wheels. This endurance racer comes complete with glow in the dark doors and light elements that mimic the real thing.
2022 Ford GT (1466 pieces, $119.99/£104.99) also lets you put your foot down. When it's built, you can play with the car's adjustable spoiler and opening bonnet. And then zoom the thing along a worktop while screaming VROOOOOOM when no-one's watching, and look on in horror as you accidentally smash it into a wall.
And Lego for grown-ups…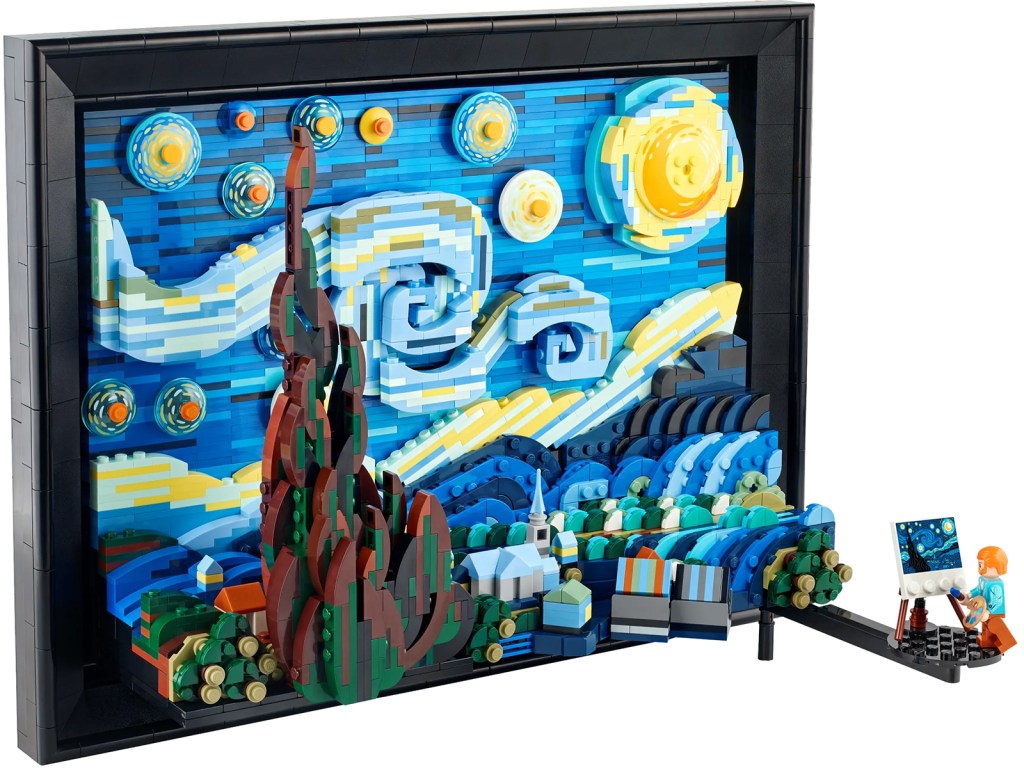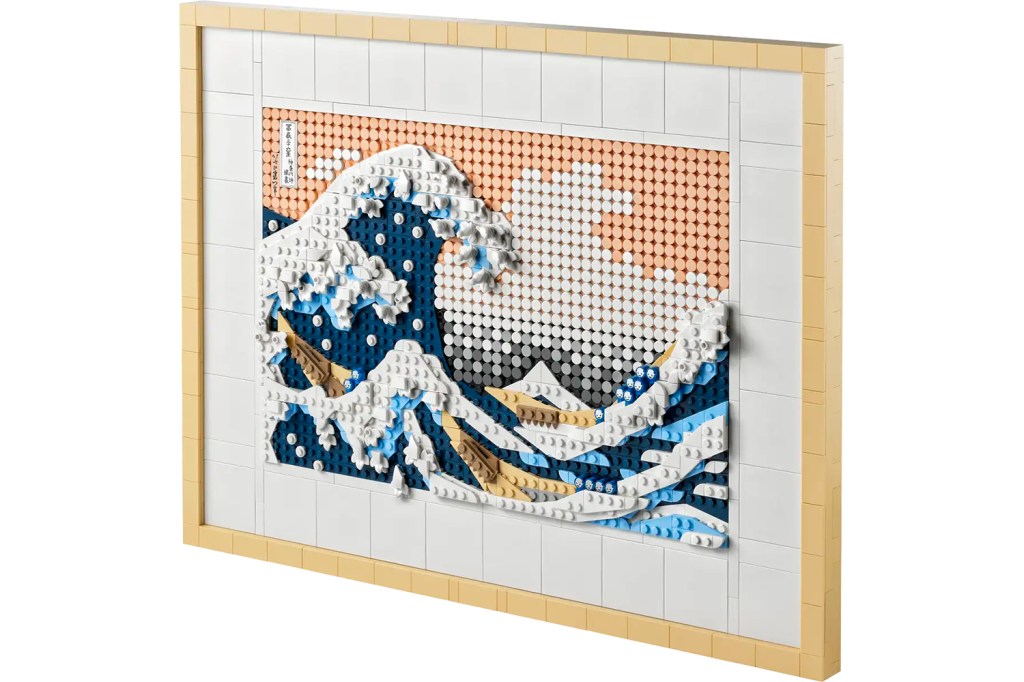 Whether you've got one of these sets or a dozen, someone at some point will scoff. "Toys?" they'll say. "Really? At your age?" At which point, you can direct them towards Lego's range of display pieces.
First up, you can get your art on with sets like Vincent van Gogh – The Starry Night (2316 pieces, $169.99/£149.99) and Hokusai – The Great Wave (1810 pieces, $99.99/£89.99) that ambitiously attempt to rethink famous works in Lego, along with adding unique 3D elements. And, yes, you can hang those Lego frames on a wall, like any other painting.
If you want to be more creative yourself, try 100 Years of Disney Animation Icons (1022 pieces, $59.99/£49.99). This set has you build simplified takes on famous characters on 8×8 plates. Dozens of ideas are provided, although you can also try custom designs. That's certainly a touch easier than animating your own feature.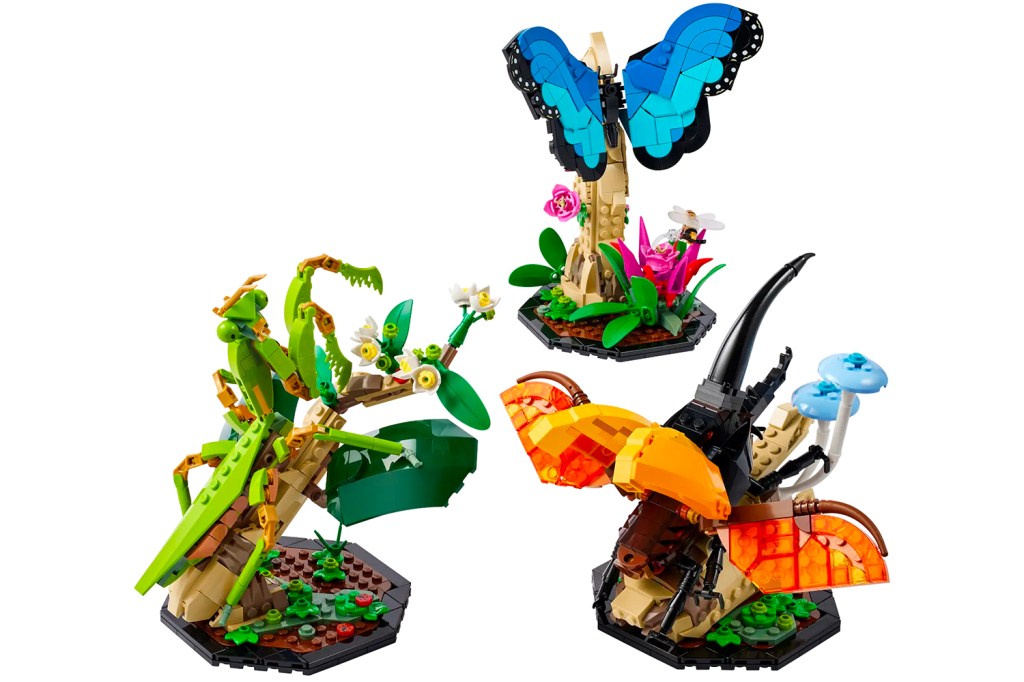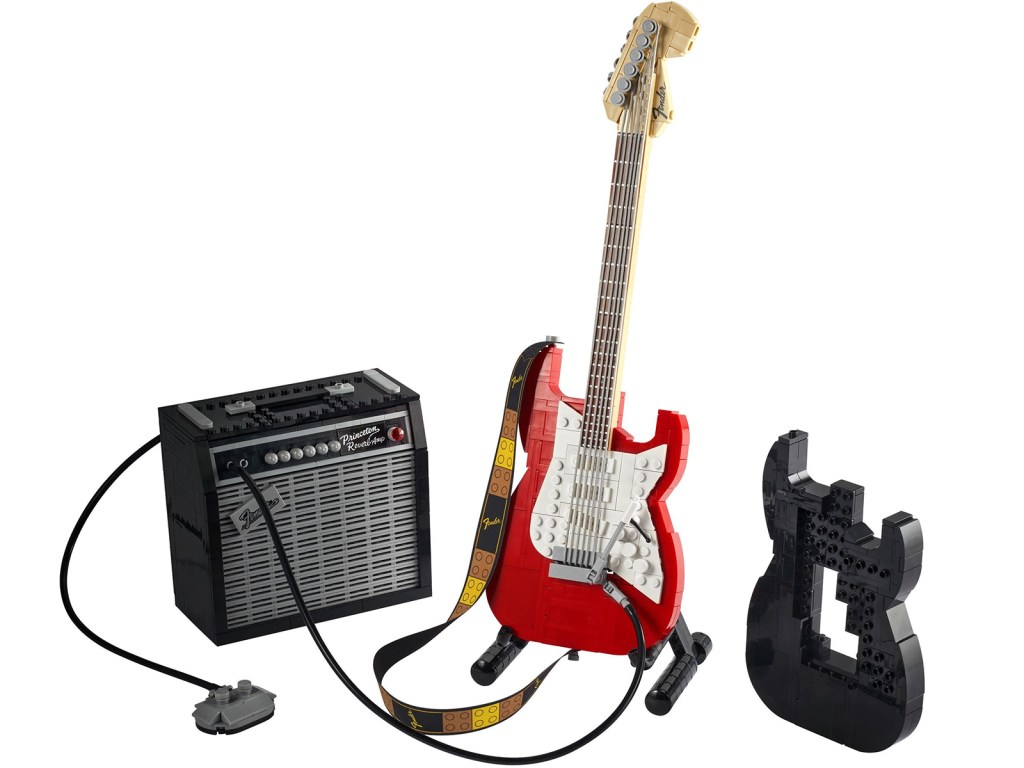 Brick-built animals are nothing new, but The Insect Collection (1111 pieces, $79.99/£69.99) is unlike anything Lego's released before. The set comprises three life-sized, posable critters atop buildable dioramas.
Lego's also continuing its obsession with turning real-world items into Lego. Presumably, the end game is you'll eventually buy a full-size Lego house to store them in. Our current favourites are Fender Stratocaster (1074 pieces, $119.99/£104.99) and Typewriter (2079 pieces, $249.99/£214.99).
The former invites you to brick out with a little guitar, tiny amp and dinky stomp box. The latter has a working carriage and keys, but, alas, no way to type an actual letter to your significant other, to apologise for how much you just spent on Lego.