The Best Hybrid and Convertible Laptops of 2016 – Reviewed
Laptops, your end is nigh. The age of the hybrid is finally upon us - but which is best?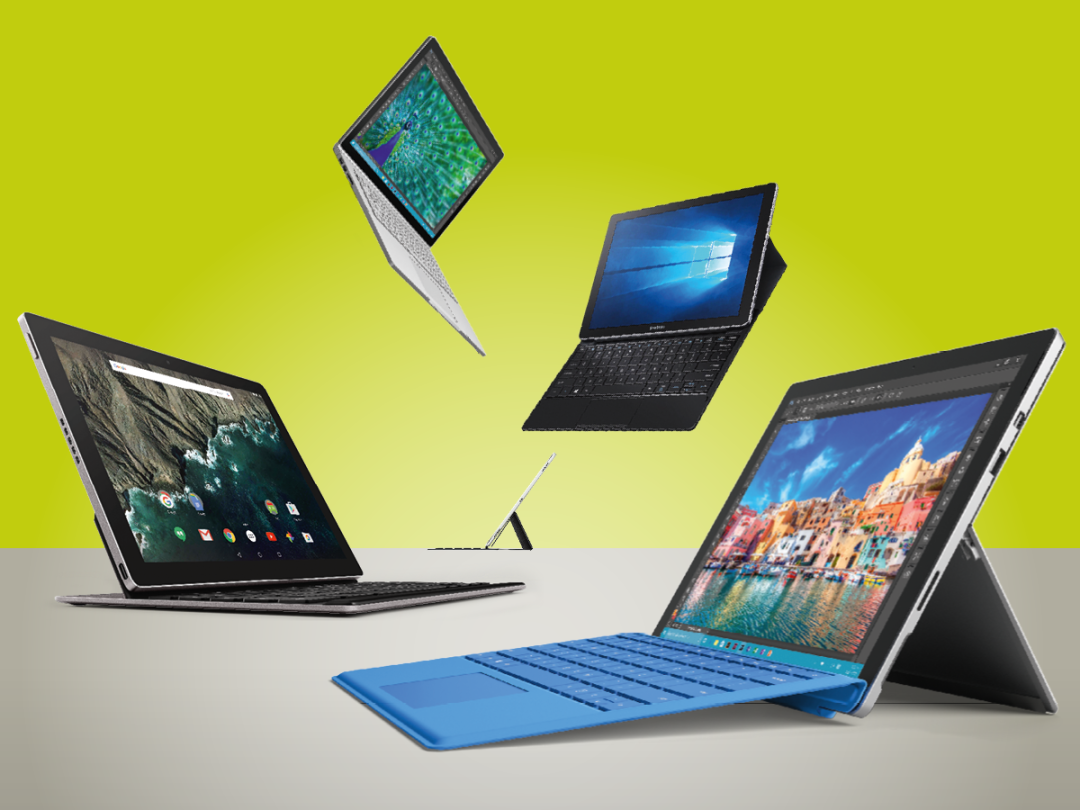 'This won't hurt much.' 'Size doesn't matter anyway.' Life is full of platitudes, and so are gadget makers.
Want to hear their latest favourite? 'It's just like a laptop.' This time around, though, they might just be onto something. That's because a tablet and keyboard combo gives you pretty much the same device as a laptop. Only it's twice as lightweight and even better suited to your late night Netflix binges.
Better still, Microsoft isn't the only manufacturer churning out these Frankenstein machines any more. Google, Apple and Samsung have all weighed into this burgeoning bunfight with hybrids of their own.
Faced with a sudden abundance of choice, you're probably wondering which tabtop is the one to buy. That's why we've rounded all the major contenders up into one handy supertest, so you'll know whether to stick with a Surface Pro or spend your cash on one of its newfound rivals – these things don't come don't come cheap after all.
Microsoft Surface Pro 4 (£749 + £110 keyboard)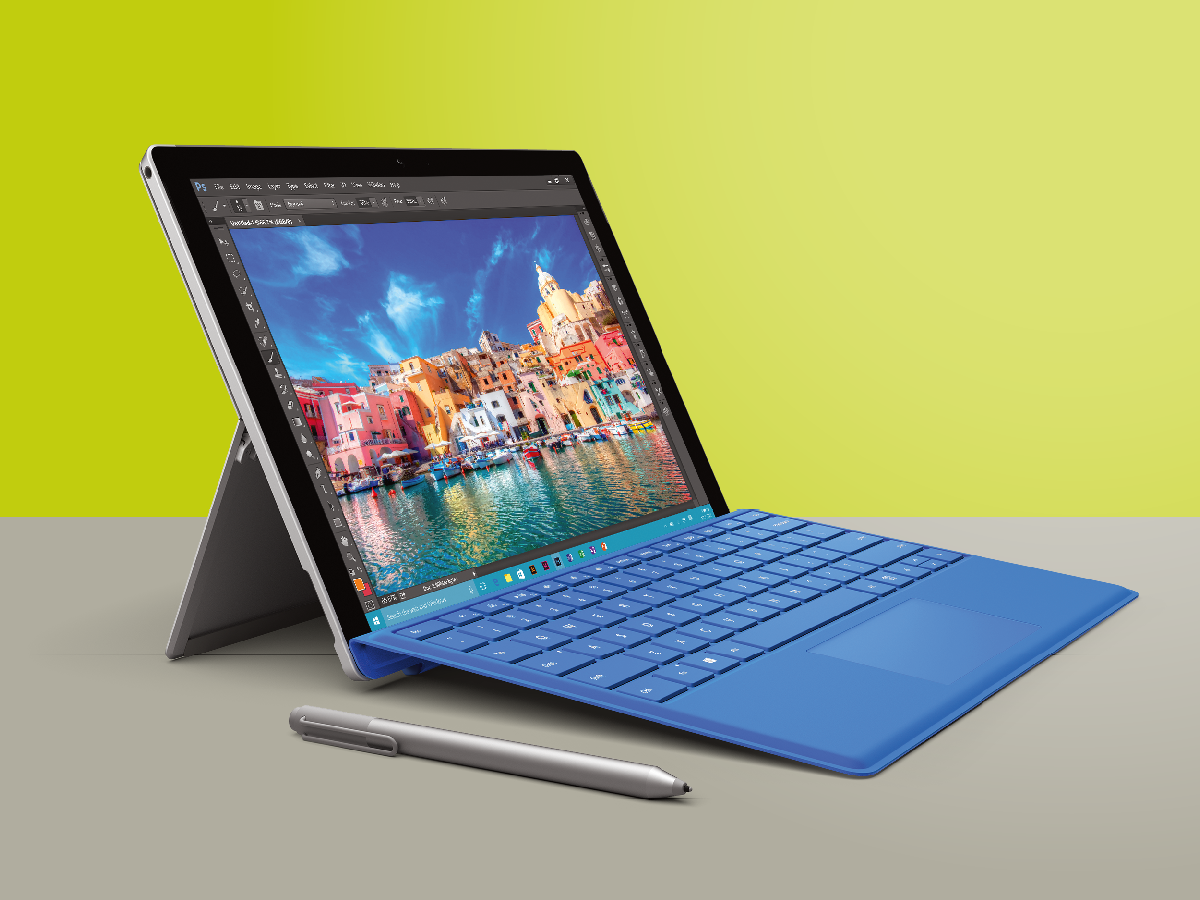 To put it politely, the Surface Pro 4's launch last year was a bit of a palava. Stymied by a bug-laden edition of Windows 10, we found the fourth edition of Microsoft's most popular hybrid to be only slightly less prone to crashing as Dick Dastardly and the cast of Wacky Races.
The problem? A 'tablet mode' that didn't play nice at all, and could quickly put pay to a round of Tomb Raider Go on your lunchbreak. Mercifully, many a software update has rolled through this hybrid since November 2015 and the Pro 4 of today is an infinitely superior machine to its previous incarnation. That's because Microsoft got the hardware side of things spot on at the first attempt.
Having set the template for what a hybrid looks like, each new Surface Pro has refined that design into something which is supremely portable and quite the looker. The Pro 4's stylus now attaches magnetically to its tablet, while a kickstand that can rotate up to 150 degrees means this hybrid no longer wobbles around precariously on your lap.
And while Windows 10 lacks the vast app library of Apple's App Store or even the Google Play Store, there's still just about enough to be getting on with. Especially since you can always stream BBC iPlayer and Amazon's Prime Instant Video through the Edge web browser.
It takes a lot of effort to get a hybrid's work-play balance just right, but all this fine-tuning shows in a product you don't want to ditch as soon as the office clock strikes 5pm.
The Pro 4's display is a thing of beauty. A 12.3in affair with a supreme 2736×1824 resolution, it screens your current televisual obsession in brilliant fidelity. The latest season of Daredevil looks particularly visceral with a great amount of contrast between deep blacks and blood red.
Thanks to an Intel Core processor, the Pro 4 can breeze across a day's worth of email, photo editing and documents without breaking a sweat. To stop that from happening, you'll have to put up with a relatively chunky tablet that's been built to accommodate a fan.
After the tablet-centric mess that was Windows 8, Windows 10 is a welcome step back to stability for Microsoft's Marmite-like operating system. In bringing back the Start Menu and eradicating the many irritating quirks of its predecessor, you're left with an OS that's pretty well-suited to hybrid use.
When you're not using the Pro 4's reassuringly sturdy keyboard and trackpad combo, yo
MICROSOFT SURFACE BOOK (£1300)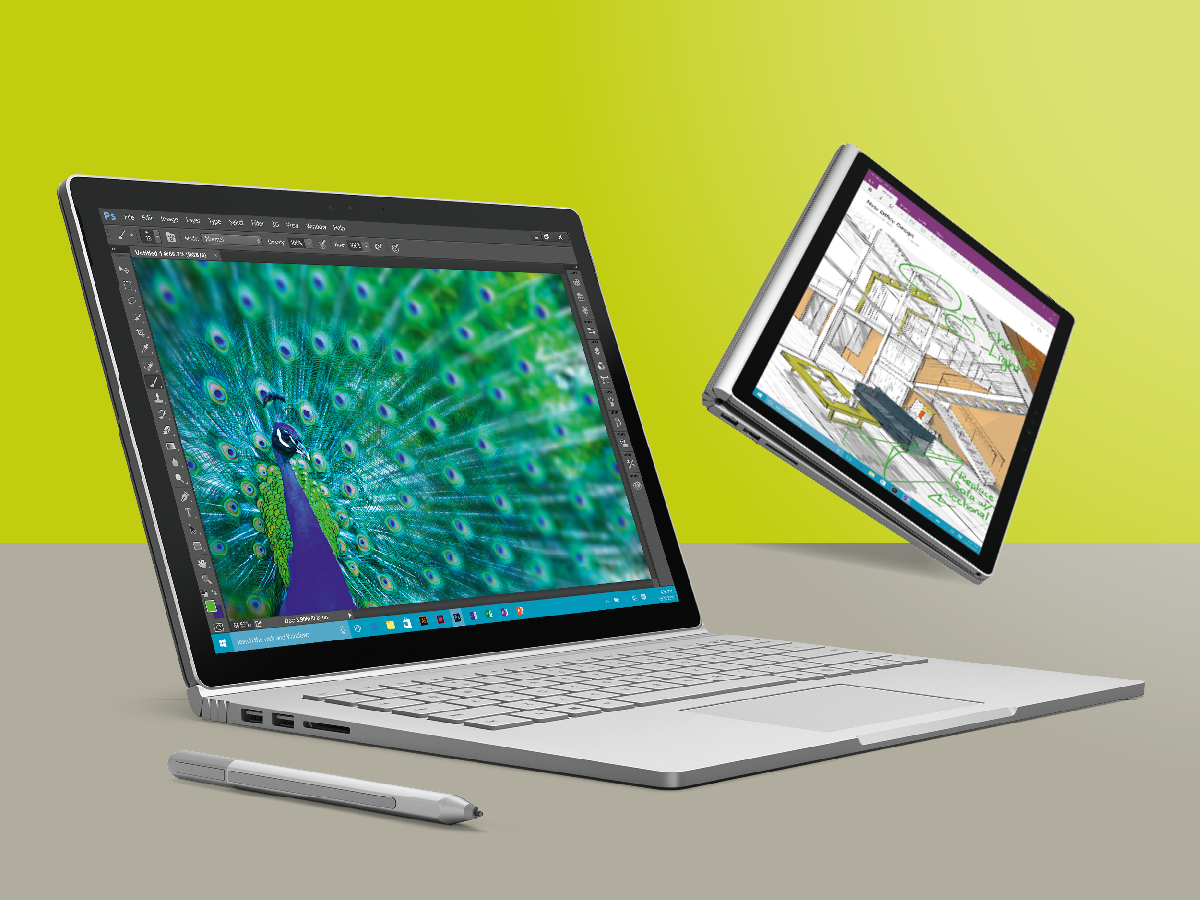 The Surface Book is a really strange product for Microsoft to make. Why? You won't want to buy one out of sheer obligation. Honestly, this may even be the best-looking Windows machine ever made.
All sleek magnesium casing and resplendent glass, with a full-sized backlit keyboard to boot, it's a seriously desirable bit of kit. Granted, you'd expect as much for an asking price of well over a grand, but the achievement still stands. Looks alone don't make the Surface Book worthy of your attention either. You see, this thing is more akin to a laptop than a tablet and that means it's got a whole load of power to spare.
In addition to an Intel Core processor, the Surface Book also packs in a dedicated graphics card. You still won't be able to play anything close to The Division on this hybrid, but that added oomph will certainly help when it comes to video and photo editing.
Despite being the largest device on test here, you won't feel bogged down when carrying the Surface Book around. It'll add about 1.5kg in weight to your rucksack, and that's still about 500g less heftiness than what you'd get from a MacBook Pro.
If there's anything holding this hybrid back, it's the amount of cash you'll have to shell out to own it. Similarly specced laptops are available for significantly less and if you're not bothered about the idea of owning a Microsoft-made hybrid, then it may be worth you plumping for one of them instead.
This Surface boasts an absolutely marvellous screen. At 13.5in in size, the Book's is a smidge larger than the Pro 4's, but you still get an equivalent resolution of 267 pixel per inch. Whatever you watch on this will prove a feast for your peepers.
For the most part, the Surface Book is a handsome machine. It does have one design flaw however, the hinge connecting its tablet and keyboard doesn't fold flat with a clear gap between the two. The result is that it resembles a chunk of parmesan.
Windows 10 is strongest when used in used in its traditional desktop mode, and that plays straight into the Surface Book's hands. Download Steam and you'll be able to ditch Microsoft's Store for apps in favour of a vast library of the latest PC gaming favourites.
The great surprise of Microsoft's Surface Book is just how much of a delight its keyboard is to use. Its big, chunky keys have plenty of travel, and there's also a full-sized trackpad for you to enjoy as well. Plus, you get the same Surface Pen stylus as with the Surface Pro 4.
TECH SPECS
Microsoft Surface Book in figures: Screen: 13.5in 3000×2000 LCD • Processor: Intel Core i5 or i7 • Storage: 128GB/256GB/512GB/1TB SSD • Operating system: Windows 10 • Battery: 2387mAh (tablet) 6800mAh (keyboard) • Dimensions: 312.3 x 232.1 x 22.8mm
GOOGLE PIXEL C (£399 + £119 KEYBOARD)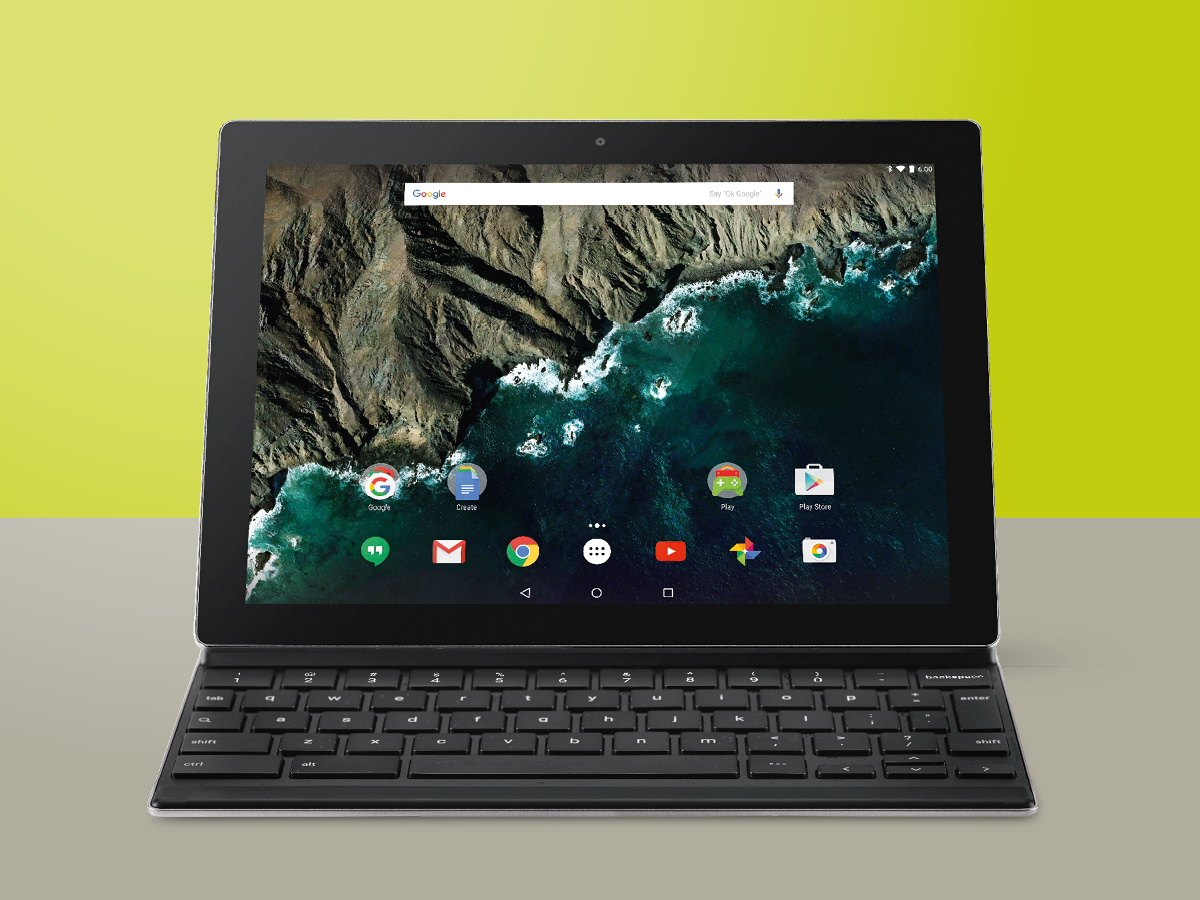 Wait. You didn't think Google would go about this hybrid business the same way as everyone else, did you?
The simplest device on test here is essentially a supercharged tablet that you can buy an optional keyboard for. Rather than running on Chrome OS for desktops, the software you'll find on a Chromebook, the Pixel C boasts Android 6.0. You know, the interface every Nexus, Samsung and LG smartphone runs on.
Why? Apps. Whether you want to catch up on last night's TV, whizz through a Google Doc on your daily commute or live out your most explosive Goat Simulator fantasies, this hybrid has a wealth of potential downloads available straight out of the box. As you'd expect, Google's own offerings are particularly slick.
This emphasis on ease-of-use extends to its design as well. The Pixel C is small (for a hybrid) 10.2in display and a diddy keyboard combo means that your fingers naturally type close to the tablet's touchscreen, so using it is refreshingly intuitive. Fancy sticking with a trackpad instead? Tough. This keyboard doesn't come with one.
Like most Google devices, the Pixel C is intended to be a taste of the tech future. Or, at least, a vision of what that future should look like. One where you're untethered from your office desk and can control a business empire from the corner table in Cafe Nero. Because do you what? That loyalty card won't stamp itself to a free latte.
If you like pixels (and who doesn't?) then the Pixel C's display has them by the spadeful. About 308 per inch, to be precise. That's more than you'll get from either Apple's iPad Pro or the Surface Pro 4. So however you use this hybrid, you'll see the results in pin-sharp detail.
The Pixel C is basically Google's Chromebook Pixel reimagined in diminutive form. To put this hybrid into laptop mode you pull its tablet and keyboard apart, flip the tablet over and let the magnets click it into position. This trick is a bit pernickety at first, but you'll soon get used to it.
Android isn't quite as well equipped for tablet use as Apple's iOS, especially in terms of more creative sketching and video-editing apps. Nevertheless, Google's mobile operating system does a perfectly serviceable job and, crucially, it boasts all those apps that Windows 10 doesn't
Android isn't really built for stylus use, so Google hasn't made one for the Pixel C. Thankfully, its touchscreen is breezily responsive, while the keyboard itself is much better than its diminutive stature belies. The typing area is normal, while the keys themselves are full-sized.
TECH SPECS
Google Pixel C in figures: Screen: 10.2in 2560×1800 LCD • Processor: Nvidia Tegra X1 @ 1.9GHz • Storage: 32/64GB SSD • Operating system: Android 6.0.1 (Marshmallow) • Battery: 9243mAh • Dimensions: 242 x 179 x 7 mm
APPLE IPAD PRO (£499 + £129 Keyboard + £79 Apple Pencil)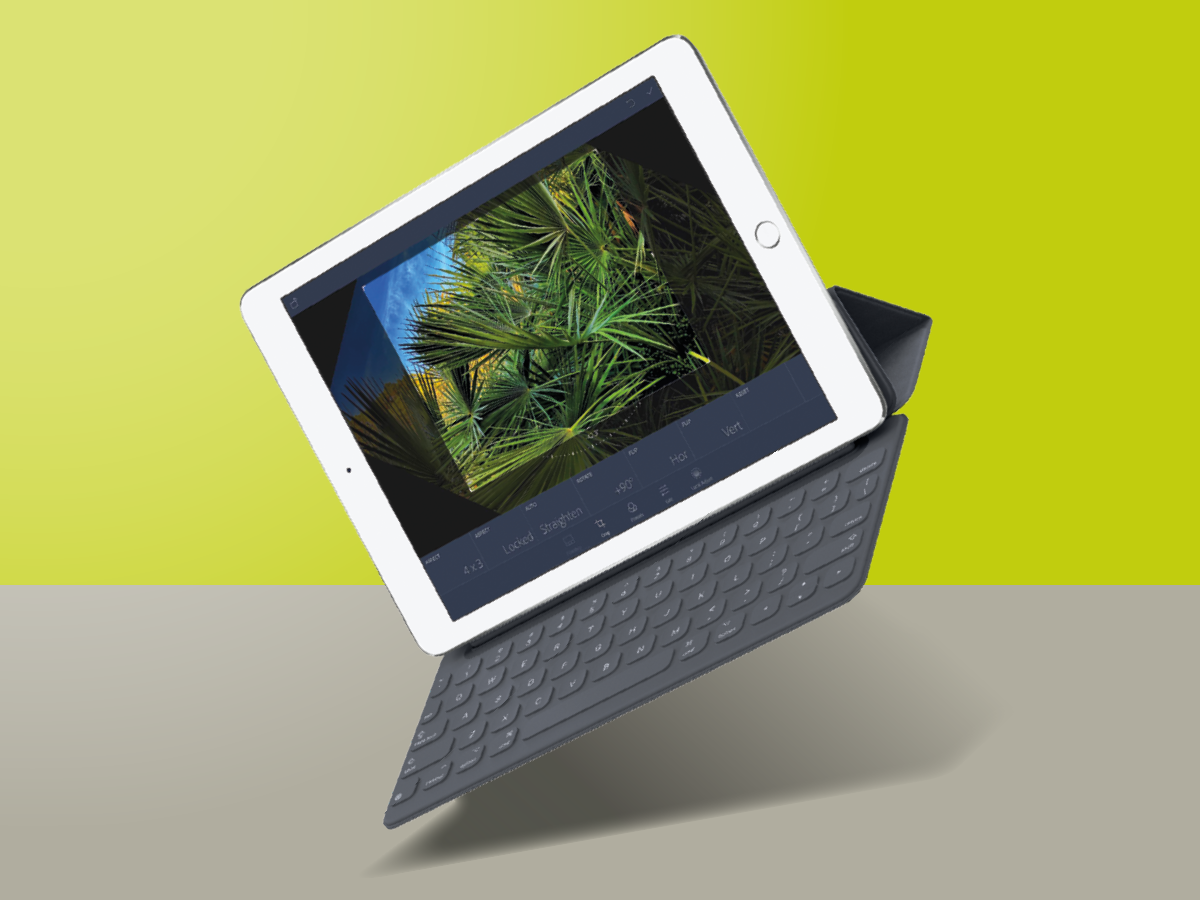 Apple may not have invented the tablet, but it certainly helped to ensure everyone owned one within a few years of its iPad launching. Trouble is, convincing your Nan to upgrade to a new mini has been proved a tad tricky. So here's the iPad Pro 9.7, a hybrid for professional sorts that runs on iOS.
That means the smaller Pro, a gargantuan 12.9in model is also available, is imperious when used as a traditional tablet. No other device boasts the same breadth of quality apps, especially when it comes to design work with the Apple Pencil. Despite Steve Jobs' former opposition to styluses, the Pencil easily justifies its existence when you're swiping away in an app like SketchBook or Photoshop Express. Our greasy fingers can't simply achieve the same levels of creative finesse, and they tend to leave the Pro etched with leftover sandwich.
While both Surfaces are better picks for 9 to 5 drudgery, this iPad knows that creativity can strike at any time. With Apple's most powerful A9X processor, well over 10 hours battery life and a beautiful Retina display, it can handle pretty much any task you throw at it. Not just the ones your boss set a deadline for. Its four speakers – one on each corner – are especially well suited for late night streaming sessions.
In other words, this is the ultimate iPad. Rather than a laptop with a clipboard-style screen, and that suits us down to the ground.
The Pro 9.7's screen is a replica of the iPad Air 2's great Retina display, but with one key difference: it's the first to sport Apple's True Tone technology. This snazzy tech allows the Pro to react to the ambient light around it making its screen easier to read.
Aside from a protruding camera, this Pro is a dead ringer for the iPad Air 2. Both devices are just as gorgeous as each other, and that's why we can forgive Apple for squeezing maximum much mileage out of its product design.
Apple didn't introduce any new features to iOS to tally with the launch of its Pro tablets, but it didn't really need to. You might miss the lack of 'start menu' at first, but arrange your home screens properly and you'll be able to quickly flit between the best apps for productivity and slacking off.
If the Apple Pencil is a designer's dream then we can't quite say the same for its keyboard. It's smaller than what you'll find on a laptop, has keys with shallow travel and no trackpad. Penning emails and one-page documents are fine though.
TECH SPECS
Apple iPad Pro in figures: Screen: 9.7in 1536×2048 LCD • Processor: Apple A9X @ 2.16GHz • Storage: 32/128/256GB SSD • Operating system: iOS • Battery: 7306mAh • Dimensions: 240 x 169.5 x 6.1 mm
Samsung TabPro S (£849)
Anyone who ever got their hands on an original Galaxy Gear smartwatch will know that Samsung used to chase tech trends like a puppy hounding after a tennis ball. Mercifully, it's first proper stab at a hybrid has been years in the making, and boy does it show.
For starters, it runs on Windows rather than Android – so you can exact some serious work out of what is a quite expensive piece of kit. An Intel Core M3 processor and 4GB RAM also mean it's got plenty of power too hand as well. Not as much as you'll get with a Surface Pro, but the trade-off ensures you an improved battery life performance and a cheaper product. Make no mistake, this hybrid is a genuine contender.
Setting it up is easy enough as well. Like Google's Pixel C, the TabPro S' keyboard and tablet are separate entities. With Samsung's hybrid, you slot these two parts together and you're ready to go. There's no need to faff around with Bluetooth settings or anything like that.
It's not all plain sailing though. With only one USB-C port for charging, hooking up a mouse or indeed connecting any kind of additional device to the TabPro S, this device can be quite limiting at times. Unless you buy an adapter for all your old USB devices.
So while this hybrid doesn't earn Samsung full marks, it's a damned good first effort. If getting a job done is your priority with these devices, then the TabPro S is well worth your attention.
A 12in OLED screen is this hybrid's most dazzling feature by an absolute country mile. This is the same tech used in Samsung's top Galaxy phones, but blown up to laptop size. As a result, its colours are richer and more intense than any of the hybrids here. Truly, the TabPro S looks amazing in all conditions.
Despite its effervescent display, this Samsung is a markedly economical hybrid. Its 5200mAH battery will get you about 11 hours of use, which is again a couple more than the Surface Pro 4 offers. And while the tablet's matte black and metal trimmed casing is hardly awe-inspiring, it looks sleek enough.
Windows 10 is well-drilled in the drudgery of Word, Excel and Powerpoint, we all know that. Want to sack all that off and play some Xbox One on the sly? We thought so. Download the Xbox app and you'll be able to stream gameplay from your console at home to your hybrid in the office. Not that we endorse that sort of thing.
Samsung has neglected to make a stylus for its hybrid, which is one of its few real shortcomings. The TabPro S' keyboard is roughly on par with the iPad Pro's as well. It's full-sized keys are easier to use, but still have less travel than with the Surface's Touch cover and, as such, aren't all that comfortable.
Tech Specs
Samsung TabPro S in figures: Screen: 12in 2160×1440 OLED • Processor: Intel Core M3 @ 2.2GHz • Storage: 128GB SSD • Operating system: Windows 10 • Battery: 5200mAh • Dimensions: 290.3 x 198.8 x 6.3 mm